Foamboard Signs: Posters, Promotional Foamcore Signage, Gatorboard Signs
Foamboard or fomecore signs come with personalized full color flair and in any custom size and shape.
These foam signs are used for photographic prints or directional signage, POP displays and even autograph boards.
Foam board signs is a cost-effective and highly versatile advertising tool. It is made of a light foam core and a rigid cardboard coating. Individuals, Business owners and marketers highly benefit from this low-cost yet durable and high-tech looking material.
Although it is not recommended for outdoor usage, its smooth surface is ideal for printing projects – can be found as interior decoration, poster, drawing, wall cluster, gallery art and many more! It can easily be bent, cut and shaped to meet any tricky requirement.
Note: The material is not designed to be waterproof, thus avoid inclement weather conditions while used outdoors.
We digitally print using UV fade resistant inks, which stay vibrant and preserve its color density and vividness after many years of exposure. One or double-sided printing options are available. It's great for hanging from a ceiling: you can use it during your presentations where you can flip the sign for extra visual aid.
Your artwork will arrive with pre-drilled holes or a hanging mechanism, so you don't have to worry of how to secure it in place.
Your foam core display with an eye-pleasing imagery and is the most economical way to showcase any message – a special memory, scenery, gallery exhibits or a product line.
The surface of the Foamboard is ideal for printing, mounting photos, artwork prints and all creatives. It's lighter and costs less than Gatorbaord, and therefore is the ideal choice for short and mid-term uses.  
Very often Foam Board prints are used as indoor posters, exhibition boards or indoor displays with different messaging. Furthermore, is ideal choice to create Gallery captions, hanging promotional signs. Shops, hotels, science and industrial fais, and even individuals can have custom prints with the guaranteed quality finish.
Apart from mounting options, foamboard, lightweight yet flat and enough rigid, can be used as a standee cut outs, or a photocall at special events and holidays.
Moreover, can be cut and used as a 3D structures, multiple displays, architectural models of building and fabrications.
Foamboard can have more practical use, for example be a counter top displays or a tabletop signs attached to the Easel back,
Foamboard signage, last but not least, is very popular artwork during trade shows in the form of directional, promotional aor functional signage, for example "come to our Booth", "Last offer", Menu listing, etc.
Trimmed to ensure accurate, smooth edges

Better quality finish of the prints

Easy to handle material
We directly print on this material using the latest digital printer and UV quality inks. The Graphics are cured with UV rays, which make the artwork sun and fade resistant.  
One sided and double sided printing options are available, as both sides have printable surface.
Thickness: 0.125", 0.188", 0.5", 1"
Material Color: White, Black
Printing options: One or double sided
Usage: Mainly indoors
Lifespan: 5+ years
The installation option depends on the purpose of the sign, but generally its hung, mounted or freestanding.
There are different installation accessories. Our top recommended options are: standoffs(excellent way to showcase the artwork in full dimension), command strips or a Easel back.
Gator Board Sign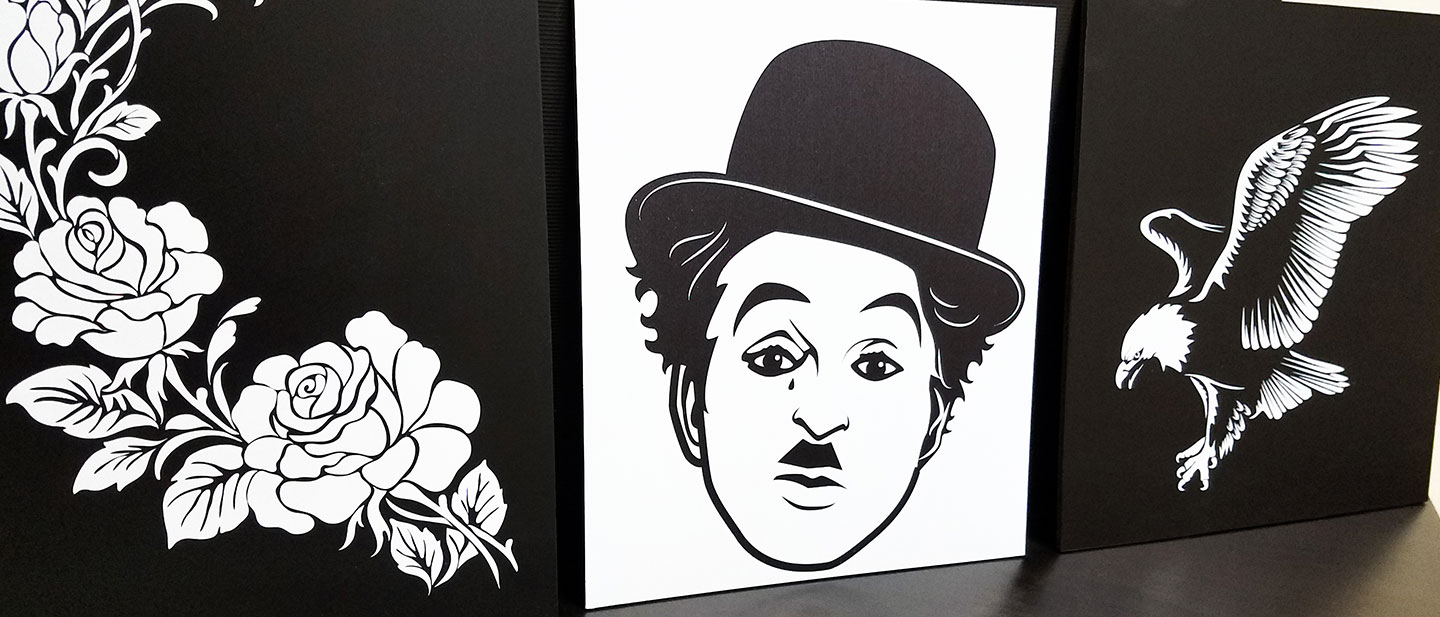 Gatorboard Signs are widely used indoors, and due to the  shorter lifespan outdoors, they are not recommended for exterior usage
Gator Board Signs can be used for various purposes, be it personal or business applications. For decorative purposes, you can get your desired image printed on Gatorboard and decorate any interior with it. You can create beautiful wall clusters with your family photos or just display a collage of a breathtaking scenery in your office. As for the business purpose, Gator Board Signs can promote the name and the logo of your company in your office or elsewhere.
Moreover, Gatorboard prints can be used as wayfinding signs in hotels, hospitals, lobbies, etc. Gatorboard Signs can be used to provide information about working days and hours. These Signs can be used for promotional campaigns as well. Let your customers know about seasonal discounts or any other announcements.
Double-sided printing available

Long lifespan indoors

Vivid printings with UV inks

Perfect for interior decoration
For printing on Gator Board Signs, we use UV curing printers. After the printing process the inks are dried with ultraviolet rays, which make the inks sun and fade resistant. You can get any image printed on Gatorboard, the long lifespan of the vivid colors of the printing are guaranteed. Double-sided printing for Gatorboard is also available.
Thickness: 0.188″
Weight: 0.25lbs/sqft
Colors: White and black
Common Sizes: 12″ x 18″, 24″ x 48″, 48″ x 96″, can be customized
Installation: Wall mounted, hung, easel backs, command strips
Printing: Full-color printing with UV inks, double-sided printing available
Lifespan: 10+ years indoors, with short time outdoor use
Usually, Gatorboard Signs are wall mounted onto the wall and similar solid surfaces or hung. The Signs can be displayed as a tabletop sign with the help of easel backs. Another installation option for Gatorboard Signs, is with the help of command strips. Overall, the installation of these signs does not require much effort, but our team of professional craftsmen are always ready to provide you with installation services․
Get Quote
Please submit your information and a Front Signs representative will contact you
Foam Core Signs FAQs
What are the alternative materials for PVC?
For Outdoor applications, Acrylic, Aluminum are ideal alternatives to PVC. For Interior purposes, we suggest you choose soft materials such as Foamboard, Gatorboard, ultraboard, etc. To get more information about other materials like PVC, check out our blog on
the comparison of PVC, Foamboard and Gatorboard signs
.
What are use cases for Gator Board Signs?
Gatorboard is a cost-effective and affordable sign-to-have for small and medium businesses. Gatorboard prints usually come with matte finish and are used for menu boards, conference and event displays, tradeshows and even job and craft fair exhibitions.
Can be ideal choice for promotional and kiosk displays.
Can you custom cut gatorboard?
Yes, our digital cutting machine allows us give different shapes to any material - let it be gatorboard, PVC, foamboard, etc. This means that you are free to design any type of sign for your business or personal use.
Can I have double printing on Gatorboard?
Yes, Front Signs can print your graphics on both sides of the gatorboard. You can have the same graphics on both sides or have different designs on the sides of your sign. This will add extra visibility to your sign from different sides.
What's the difference between Gator board and PVC?
PVC is foamed polyvinyl chloride and gatorboard is polystyrene. PVC can be used in indoor and outdoor applications, yet gatorboard is less durable and has shorter exterior lifespan. We have a whole blog post dedicated to the comparison of
these two materials
and plus foamboard.
Can I use Gatorboard outdoors?
Not recommended. Gatorboard is a durable material meant for long-term indoor usages yet harsh weather conditions and sun rays may be harmful for it when used outdoors. Though short term applications in good weather conditions will not harm the display. Anyway for longer usages and better look of your sign - keep gatorboard for interior promotions and decorations.
What is the original color of foam boards?
The default colors of our foam board material are white and black. This means that the parts without any graphics will remain with the default color of the material - so choose the one which you think will best showcase your design and mood. Also mind that the sides of the sign may remain unpainted, so take that fact into consideration too.
Do you print double sided on foam board?
Yes. We are happy to inform you that we provide you with double sided printing on foam boards. This is an incredible way of increasing sales, getting more visible and drawing the attention of more potential customers.
Can I have drilled holes on my foam board sign?
No. Foam board is a soft material and any hard work on it can cause the deformation of your sign. Drilled holes work well on rigid materials such as aluminum, acrylic, wood, etc. Other than these materials drilled holes are not recommended and you can think of other alternatives for your sign installation such as velcro, hanging strips, wires and ropes, etc.
Is there any difference between foam board and gatorboard?
Foam board is a material with foam core and paper veneers. Gatorboard is a material with polystyrene core. This means that gatorboard is more durable. Yet they both are used indoors and have a professional look. For more detailed information read our post on the comparison of the two alike
material characteristics
.
Can I use foam board in outdoor applications?
Yes. Being a soft material accustomed to stable temperatures Foam board will serve you longer if you use it indoors. This will allow you to use the sign longer and with a fresher look.  Yet short-term exterior applications are also permissible
․
How can I take care of my foam board sign?
Here are some tips that will help you keep your foam board sign in the ideal condition:
Keep the sign environment at 68°F – 75°F (20°C – 24°C)
Keep the sign at a relative humidity between 45-50%.
Store or put it on flat surfaces.
Try to keep the foam board away from exterior doors and windows for stable temperature.