Mesh Banners
Wind resistant

Lightweight and see-through

Extra large graphics

Easily noticeable
Mesh Banners
:
Wind Resistant Banners, Banner Printing, Outdoor Advertising Banners
Good advertising can be the key to the success of the business. Every company needs a good advertisement to spread awareness and create brand presence. Outdoor advertising is perfect for that, which allows more visibility and awareness.
We offer a variety of outdoor and indoor advertising banners and among them are Mesh Banners. These are especially perfect for outdoor – windy locations. The small holes on the Banners let the wind pass through it without ripping it off.
Hang your custom Banner in any location with the help of various hanging accessories. Printed with bright UV inks, Mesh Banners catch everyone's attention, even from afar.
Often you can find these banners for rooftop advertisements, on constructions and on building walls. Many companies use Mesh Banners to inform that they are already open or when they are about to open their company. In this case they order Mesh Banners with messages "now open" or "opening soon". These are perfect for attracting attention as you can get huge Banners without worrying that the wind will blow them away.
Mesh Banners can often be seen on sports fields and open-air stadiums. For instance, these are used in soccer and football fields for advertising the sponsors of the match. Also, these Banners are used for displaying the logo of the team.
Another common use of Mesh Banners is at concerts and festivals. People use Mesh Banners for commercial purposes. Frequently Mesh Banners can be seen on stages as well, as a background with the logo of the festival.
Mesh Banners help attract attention at various tradeshows and exhibitions as well. You can print anything on these Banners, be it the logo of your brand or any other piece of information.
Perfect for windy locations

fade resistant

Durable

Custom design

Lightweight
For printing on Mesh Banners, we use sun-resistant inks. The UV inks are dried right after printing with ultraviolet rays. Therefore, the vivid colors of your Banner will not fade away over time. You can order Mesh Banners with custom design printed on them.
Thickness: 0.016"
Weight lbs: 9 oz
Print sides: One-sided printing
Lifespan: 3+ years, if kept properly
The installation process is pretty simple and it does not necessarily require a professional hand. You can install the small or medium size banners yourself, however, in case of larger graphics and for 100% safe and secure installation, we highly recommend you use professional installation service.
These banners are installed with the help of grommets or pole pockets. These give the ability to hang the banner from anywhere. In order to make the grommets more secure, we hem the edges of the Banner. This is the process of folding the edges where grommets are fixed.
Here are some accessories that are used with grommets or pole pockets to hang the Mesh Banners from.
Mesh banners do not require any specific care. When the Banner gets dirty just wash it with water. If you want to take off the banner you just need to unhook them and store them in a safe place. So you can use it anytime you want.
Vinyl Banner - Mesh banners are ideal for outdoor locations, and windy locations. Its comes with bogger graphics with attracts prospects from far away. Vinyl banners, on the other hand, can be printed with rather informative messaging. Vinyl banners are ideal while used during trade show, exhibition promotions, announcing upcoming concerts, events and corporate meetings alike.  
Materials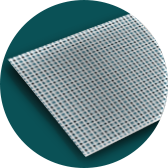 Mesh Banner
Get Quote
Please submit your information and a Front Signs representative will contact you