Understanding the Difference Between Vinyl Lettering and Wall Decals
Whenever you need to deliver a message to your audience, one of the best ways of doing this is through signage. Among all the types of signage vinyl letterings and wall decals are possibly the most elegant and attention-grabbing ones. But which one of those you should use and which will better suit your specific needs? Let's see…
The Process
One of the things that makes vinyl lettering and wall decals different is their production process and materials which go into their creation.
What are Peculiarities of Vinyl Lettering?
During the production of vinyl lettering, the color for the lettering does not get printed onto the vinyl material. The material used for this type of letter comes in different colors. When you chose the color you want for your lettering that particular roll of vinyl color will be used to make the letters. These are always solid colors and do not have any color gradients to them.
There are some great color choices to choose from, and there are 30+ colors that are available. Then you can also select the type of font you want. The color and the choice of font is what allows you to create customized signage for your business or personal use.
There are some guidelines that you will need to follow if you are going to have designed such as your logo and business signs, for example, created with vinyl lettering material. Vinyl lettering materials will work for basic designs, but those which have thin lines or are intricate in their design may not be suited for vinyl materials.
There are other options that are going to come with your choice of vinyl lettering. You can have this type of lettering used in a custom sign that you are going to have the professionals make. Or, you can apply the lettering to a surface yourself.
If you are going to install the lettering yourself you will find it is an easy process. When you have obtained this from a large format printing company, then you will see that when you remove the lettering there is no damage to the surface. Do keep in mind that in most cases vinyl lettering can only be used once. Once you remove it from a surface, it will not adhere properly to a new surface.
The vinyl materials will allow for the cutting of not only letters but also numbers as well as symbols and basic designs.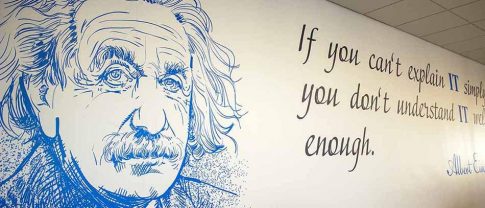 How Different are Wall Decals?
The difference with wall decals is that these are used more for creating areas of colors and are mostly used as images or logos. Whereas with the vinyl lettering you are creating a text message with these.
Another difference is that the wall adhesives are available in multiple colors. The colors are printed onto the material that is used for the making of the decals.  The material is another type of vinyl. With this process, it means that decals, are comprised of gradient colors if required, different shapes, and it is used to create various text effects.
There is more flexibility when it comes to cutting wall decals compared to vinyl lettering. With the wall decals, they are standard cut or the halo cut is an option. The halo cut is where a slight border is left around the design of the decal. There is also a contour cut which means the adhesive can be cut in the exact shape of the design itself.
With the vinyl lettering, you have the advantage of being able to use the individual letters as they are cut-out this way. You do not have this option with wall decals. The reason is that the design of the wall decal is printed on one piece of material that is opaque. The color of the letters will be the same as the background color of the wall decal. The default material for wall decals is white.
Which Do You Choose
The differences that exist between the vinyl lettering and wall decals will often dictate where they are used best.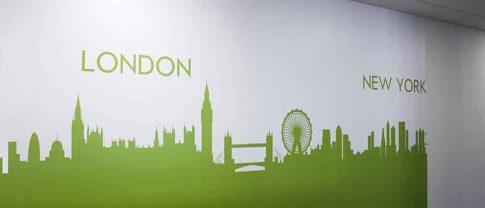 Best Use of Vinyl Lettering
Once you know what your signage project is and you understand the benefits and limitations that come with vinyl lettering you will be able to make a better decision as to whether vinyl lettering is your best choice.
Vinyl lettering has excellent adhesive qualities, and each letter is individually cut. Once you have placed this lettering where you want it, you cannot change it.  Using a quality vinyl material means that it is ideal for both indoor and outdoor signage use.
If your sign project requires text such as slogans, quotes or a name for example, then choosing vinyl lettering is an excellent choice.
Best Use of Wall Decals
There are choices in which you can have wall decals cut. They can cut in a standard version or halo. With proper care, you can remove the wall decals and use them again on another surface. When you want to use an image to display your message in your signage, then these are a perfect choice. One single sheet of material is used to create the wall decal. Color is the key here when it comes to wall decals. They allow for the use of multiple colors and variants. Wall Decals are ideal for signage that is being created to depict a logo or to use an image to create some form of direction.
It is important to think carefully as to the purpose of either the vinyl lettering or the wall decals. They both have significant uses, and they can create an amazing message when used as proper signage. The quality of either of these is going to be critical to the success that you hope to achieve from their use. Poor quality materials will not last very long. If they become worn or faded then it has been a waste of money on your part.