Vinyl Lettering
Perfect for information promotion

Easy installation and removal

Variety of letter styles

Highly adhesive
Vinyl Lettering
:
Vinyl Numbers, Custom Stickers, Adhesive Letters and Numbers
Take your brand advertisement to a new level with the help of Vinyl Letterings. These are the most common types of outdoor as well as indoor advertisements.
These letters are cut out of a solid Vinyl roll with a Vinyl plotter, then pre-spaced on a transfer tape which allows hassle-free installation.
Add extra branding to your business space with our custom removable Vinyl Letterings which can be applied to all types of smooth surfaces.
Custom letterings can be used for advertisement as well as for decorative purposes.
Vinyl numbers and letters are also a durable type of advertisement. They are water and sun resistant and will not fade over time.
Vinyl Letterings applied to all types of smooth surfaces can be used for business and decorative purposes.
Let your advertisement stand out and speak louder than words with striking Vinyl Letterings.
Whether you own a huge shop or a small convenience store your storefront is the most visible part of it and you need to use that. Vinyl Letterings can be used to write all kinds of information on windows and doors. For instance, many shops use custom letterings to write their working days and hours, or to give some information about sales.
Vinyl Letterings are also widely used during sales and promotions. These easy-to-remove signs leave no stains on the surface, thus  you can use a new one for every season.
One of the most effective uses of Vinyl letterings is on a vehicle. Many brands use this mobile advertising method. The letterings can be applied to all parts of the car promoting the name or the contact details of the company. The car driving around with this type of advertisement will immediately attract attention which is a great way to increase brand awareness.
Being a versatile material, Vinyl Letterings can be applied to walls as well, for both advertising and decorative reasons. You can use these letterings to decorate the walls with, for instance,  motivational quotes.
These stickers can be attached to smooth floors as well. You can use Vinyl Letterings on the floor saying "welcome", which will be the first thing customers see when entering your establishment.
You can also get Vinyl Numbers to display any numeric information on all sorts of smooth surfaces.
Can be used both indoors and outdoors

Durability of more than 2 years (with proper care)

UV resistant

Affordable

Come in custom sizes and styles

Easily applicable and removable

Require simple installation

Attractive

Require little space
You can get a help from our professional craftsmen or you can install the letterings yourself.
Follow the steps for smooth installation.
First, you need to clean the area where the Vinyl Letterings need to be installed. Otherwise, dust will form air bubbles under the Vinyl. The letterings come with a transfer and a back paper.
Take the back paper off and apply the letters with the transfer paper on the surface. Then smoothen the Vinyl Letterings with a flat object, we use a squeegee but a plastic card can work great as well.
After making sure the letters are fully attached to the surface, you can peel off the transfer paper. Smoothen the letters with hand as well to ensure that no air bubbles are left.
Usage: Outdoor and indoor
Color: Any color
Size and style: Customized
Lifespan: 2+ years, if kept properly
Materials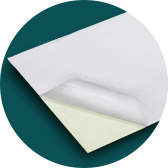 Opaque Vinyl
Get Quote
Please submit your information and a Front Signs representative will contact you