Wall Decals
Variety of size, shape and design choice
Business and decorative use
Creating personal space
Interior branding
Wall Decals
:
Murals, Wall Decor, Wall Stickers, Adhesive Vinyl, Wall Graphics
Promote your brand and create beautiful decorations with custom Wall Decals. Perfect for indoor applications, Wall Decals can have a promotive as well as a decorative use.
These are graphics printed on an adhesive Vinyl, which can have any shape, size and design you want.
Wall Decals are great for turning empty, dull walls into bright and eye-grabbing sights.
Create brand identity with eye-catching Wall Decals. Printed on a durable Vinyl, these Decals serve you for a long time.
Wall Decals are mainly used indoors, but they have outdoor applications too.
Whether you want to decorate your house, office, or display the logo of your brand on the wall, Decals will work great for both.
One of the most common types of office decorations, are inspirational quotes on walls. These Decal quotes motivate the staff and increase their productivity.
In offices you can often find the logo of the brand fixed on the wall with a Wall Decal.
An alternative use of Wall Decals in offices is a themed design. For example, if you have an IT company then the decorations can be in that theme, for example, you can have a light bulb indicating an idea. Or if it is a lawyers' office you can have, for instance, money or the judge's hammer on the wall.
Another interesting decoration idea with Wall Decals, is an accent wall. Especially, if the office is in one color, the accent wall will create a separate space in the office.
Most people spend a lot of money on painting their walls every year to give their house a fresh look. But it is a filthy process, as you need to take down the old paint and add a new one. Instead, you can use custom Wall Decals, which are a more affordable and a neat way of redecoration. And as they do not leave any stains on the walls you can change them as often as you wish. So your house will always have freshly decorated walls.
Family tree Wall Decals are one of the most common uses of Wall Decals at homes. You can order these in any size you want.
Wall Decals can be used for decorating your children's bedroom. With all the bright colors that decals offer, you can create a fun atmosphere in your child's room with the Decals of their favorite cartoon characters.
You can also add a growth chart Wall Decal in your child's room which will help record your child's height growth.
UV protected and fade resistant

Easy to apply and remove

Perfect for indoor and outdoor use

Affordable

Customized

Durable

Moist resistant
For printing on Vinyl Wall Decals, we use premium-quality UV printers. The inks are dried with ultraviolet rays, right after the printing process. This makes the inks sun resistant, thus the vivid colors of the Decals are guaranteed to remain for a long period.
Thickness: 6mll
Weight: 0.08 lbs/sqft
Usage: Mainly Indoors
Size, Shapes, Style: Customized
Material Color: White
Lifespan: 2+ years, if kept properly
For the installation, you do not make any holes in the wall and you do not need any tools apart from squeegee. Just do right measurements to know where to attach the Decal, take the back paper off and stick it to the wall.
But before the installation, make sure that the wall is completely smooth and clean. Preferably the wall should be painted to have an ideal finish. Avoid walls with bumps otherwise the air under the Decals will not let them stick to the wall perfectly.
In case you need professional helping hand, Front Signs provides installation and replacement services to minimize the potential damage and mistakes for you.
When tired of the graphics, you can take away these removable Wall Murals and attach a new one. The removal of the Decals does not leave marks on the surface, thus you can change the design of your walls as often as you want.
Vinyl Lettering -  Apart from Accent wall and decorative wall decals, we also offer Vinyl lettered quotes, motivational or inspirational quoting to decorate the walls of your interior.
Materials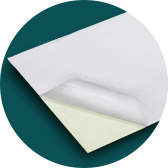 Opaque Vinyl
Get Quote
Please submit your information and a Front Signs representative will contact you