5 Basic Questions Answered About Sneeze Guard Requirements
Let's have a look at 5 core questions about sneeze guard requirements that you need to take into account.
In this article, we're going to cover the essential specifications for defensive sneeze guards,  You'll also learn about their suitable dimensions like height and thickness to protect both your employees and customers in various settings. 
Question 1. Are There Established Sneeze Guard Regulations?
As we deal with the novel coronavirus pandemic, CDC recommends personal and environmental prevention practices. Currently, there are no binding government standards for sneeze guard regulations established in regards to COVID-19.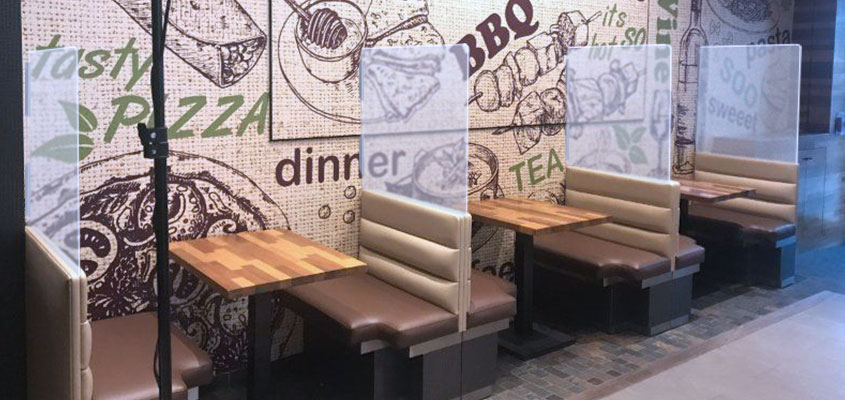 The FDA controls sneeze guard requirements and standards for food safety only. T"his concerns all types of buffets, restaurants and other establishments with food displays. Do you think they'll make the place dull? Use our large format printing services to apply any graphics to these barriers and and go as far as to use them as part of your trade show displays.
To get the whole scoop on sneeze guards, read the article: The A to Z About Sneeze Guards: Questions and Specifications.
Question 2. What are the Sneeze Guard Height Requirements? 
How high does a sneeze guard have to be? The calculations for sneeze guard dimensions are based on the average person. The most effective screens vary between 5-6 feet tall. 
The height and width of these guards should be enough to protect a sitting or standing person. It's necessary to provide full cover between people who are in close proximity to one another, such as while dining. 
How high a sneeze guard should be in your premises depends on the height of your dining booths and other relevant decor features as well.
Question 3. What are Sneeze Guard Glass Thickness Requirements? 
Just as there is room for flexibility when it comes to defining the height of a sneeze guard, specifying the most suitable sneeze guard glass thickness is more a matter of practicality than regulation. A shield of any thickness creates an impenetrable barrier against contaminated respiratory droplets and splashes.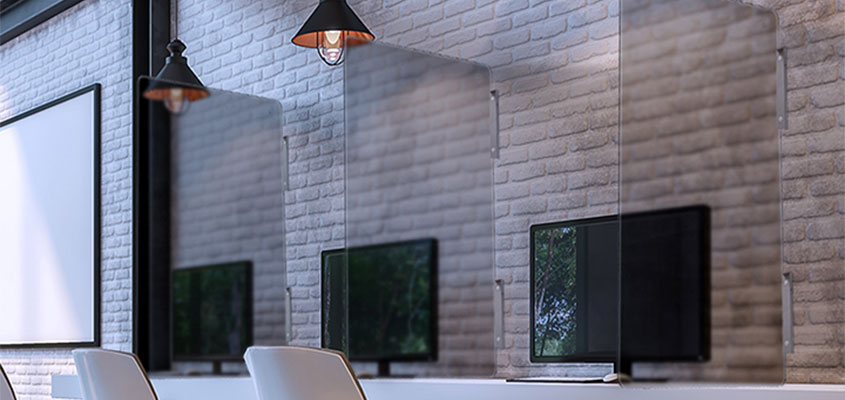 Though there are no defined dimensions, it's recommended to use 10mm glass for most applications. The only considerable difference arising from thickness is the weight of the product. Penetrability and transparency remain unaffected. Having your glass thickness customized to your needs is easily accomplished and only a matter of preference. 
Get a sneeze guard with custom dimensions with the help of our professional support team. Contact Us!
Question 4. How Far Above the Counter Should a Sneeze Guard Be Placed?
There is a good assortment of sneeze guard dimensions to shield your entire workspace while optimizing efficiency and taking functionality into consideration. This largely depends on the business specifications. For the safe transfer of documents or money exchange, you can have the guards raised four inches off a given surface.
Question 5. How Durable Does a Sneeze Guard Have to Be?
In order to ensure they'll withstand disinfection processes that utilize potentially harsh chemicals, it's recommended to opt for the highly durable plexiglass (e.g. acrylic signs). It's lighter than tempered glass and can be easily customized to various thicknesses, shapes and sizes.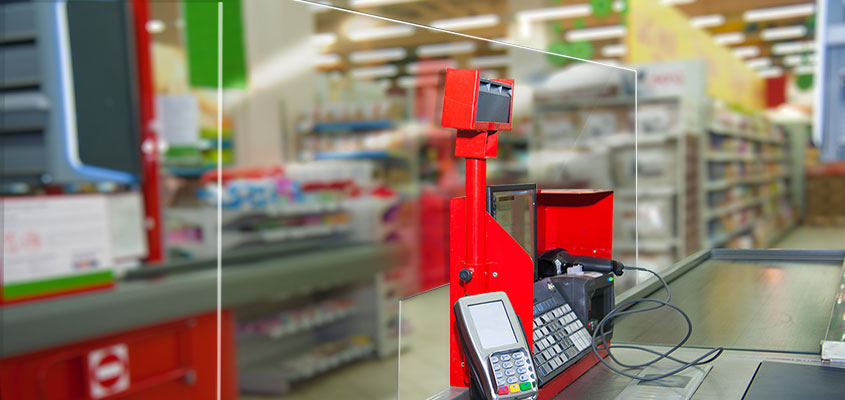 We are hopeful that you've determined the most appropriate sneeze guard dimensions by now to keep safe and secure.
Haven't checked our article on Specifications for 2 Key Sneeze Guard Use Options yet? Go on and get informed!