Custom Acrylic signs: Quality Print Signs in Los Angeles
In recent years, custom acrylic signs enjoy mass popularity for its high gloss surface, sophisticated and luxurious look.
Acrylic or Plexiglass Signs are commonly used in the field of indoor and outdoor advertising as an asset to business' branding efforts. More often the acrylic signage can be found inside offices, retail stores, or as a promotional or directional sign, basically anywhere in and around LA professional display is needed.
These signs are highly durable, UV stable and modern in appearance. The material is highly sought after for its versatility and color stability. Acrylic has an anti-yellowing feature and clarity that can be restored by polishing. Moreover, it is waterproof, fade, cold and hot weather resistant.
Plexiglass has a glass effect, but it is a shatterproof rigid material. It comes in virtually any color; clear and colorful cast acrylic sheets are a popular solution for corporate branding, matte finishes are seen as door name plaques, etc. Furthermore, we can digitally print your sign with a full-color density with any custom color under the sun!
You can get your signage with any size, custom shape, and design with any artwork, logo and messaging. The message can be either directly printed or Vinyl Lettered. Also, you can get acrylic letters to display your brand name or other information.
Used for a range of applications as a company sign or house sign, Plexiglass conveys an exclusive feel and emphasizes your elegant choice.
If you have a special sign project in mind you've come to the right address.
Front Signs offers custom acrylic signage to upscale exterior and interior premises and create a lasting impression. Our team of experts can assist you in creating the exact – desired look to give an exceptional and 3D appearance.
Acrylic is available in clear, frosted and number of colorful sheets. In our in-house sign making studio located in Van Nuys, LA, we manufacture custom acrylic signs in any shape, design and finish from round shaped logo and square wedding welcome signs to large plexi decorative prints.
Acrylic 3D Letters make an ideal branding tool for any enterprise whilst wedding decorative stands give a glamorous finish to the overall design.
Standoff Signs
With the plethora of acrylic material at our disposal, we offer the Standoff acrylic office signs to recreate a solid and professional look.  
The standoffs are silver, which suits all layouts and do not disgrace the look. You can have name plate Standoff signs, Logo sign cut to any shape fixed with these durable standoffs.
Standoff signs make ideal decorative or wayfinding signs as well. You can have it printed with a landscape view or photos for your exhibition.
Acrylic Decorative Stands
The decorative stand can be from tabletop sign size to huge freestanding construction. The stand is a beautiful way to welcome your guests to their tables and thus leave a nice experience for them at a wedding, parties, official and special events. This means acrylic sign stand is the preferred choice for a wedding, birthday or any other celebration decorations.
Acrylic with its look bits any other material with its durability and flexibility in formability.
Plexi sign stands are a unique addition to any occasion.
Acrylic Prints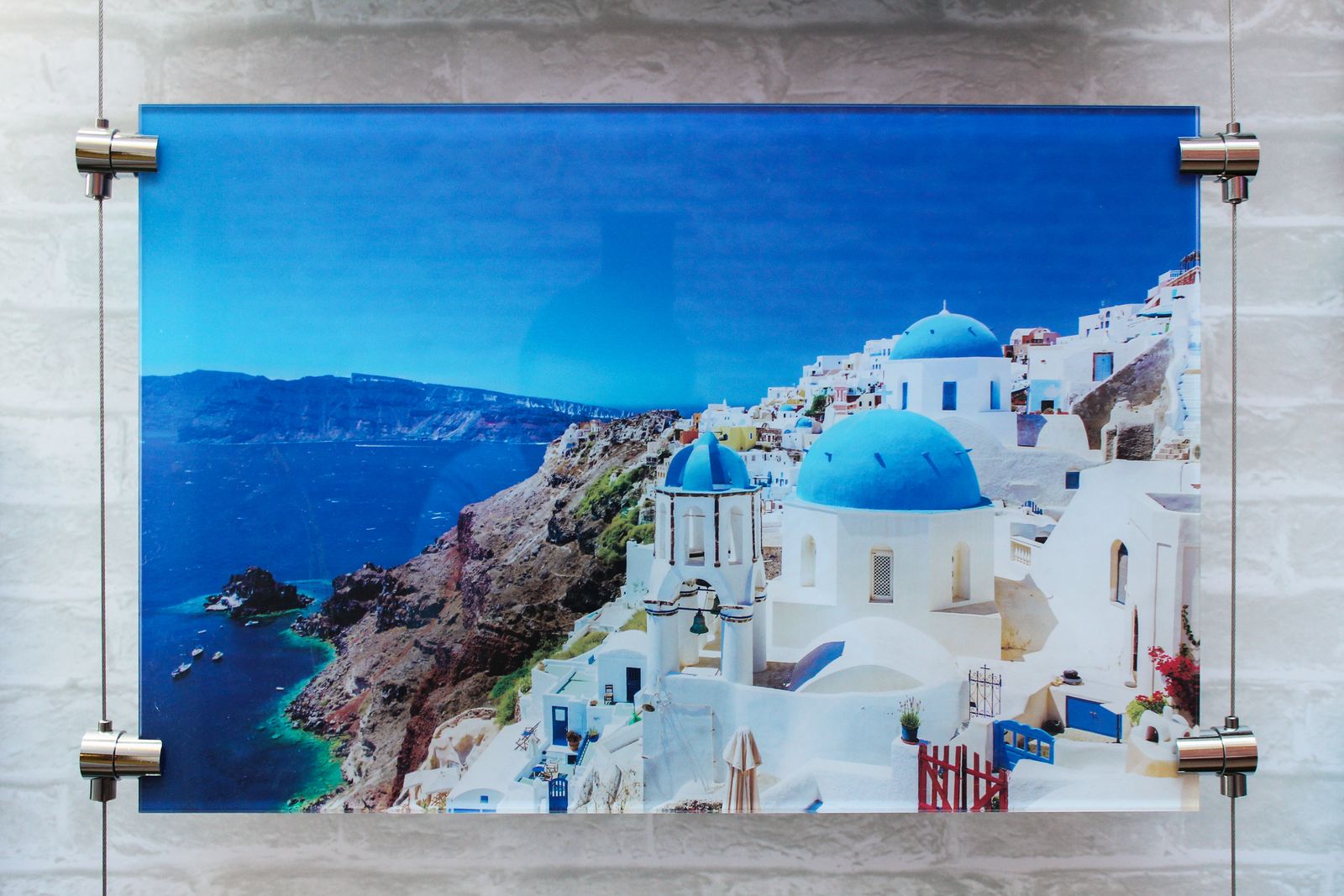 Custom acrylic prints are the stylish latest trendy way to display images, wall decor or exhibitions at art galleries. At Front Signs local sign printing company based in LA, California, the graphics are usually printed from the backside of the acrylic, which firstly protects the artwork from serious scratches and secondly gives a floating away - dimensional look to the plexi prints. Compared to glass, acrylic poster sign has better clarity prints and surpasses glass with its incredible detail and depth of the image.
Custom Acrylic Logo Sign
Plexiglass logo signs are aesthetic and impeccable looking, elevate the luxurious design of your establishment with striking print quality and elegance. Furthermore, acrylic business sign with your logo engraved or printed is the perfect design finish for lobby and conference room decor.
Acrylic Wall Plaques
Plexi door signs are an ideal piece of decoration for offices, entryway, to depict motivational saying or a humorous quote.
Apart from decorative purposes, acrylic wall signs serve as an address plaque or department wayfinding sign. With plexi door signage, adding a modern twist to your venue is a breeze.
Add polished- intricate touch to elevate your business or home environment.
Engraved Acrylic signs
Engraved plexi signs deliver a specific message, add professional appearance and create a high-end impression. Establishments like government offices, hotels, hospitals, churches, schools use acrylic plastic engraved signs to signify professionalism and add a symbol of prestige.
For outdoor usage, Plexiglass is widely used and preferred for business purposes. Get clear acrylic signs to display brand name or fix it on the entrance or lobby so that passers-by notice. Showcase the hotel entrance and main entrance with Frosted acrylic signs or use acrylic LED signs in your office. Depict the uniqueness of your brand and please both your customers and workers.
Acrylic has mass usage for home applications as well. Acrylic can be used as a home number sign, photo print, or any decorative purpose one would think of.
These plastic sign is used as a decorative display as well. Plexi has wide applications in the form of calendars, wedding stands, ring boxes, flower stands and established displays. Plexiglass comes as an ideal family photo cutout, motivational quote or name letterings and etc.
For more creative custom acrylic signs ideas you can visit our showroom located in Los Angeles.
      Resembles glass

      Weather and fade resistant

      A versatile and durable material

      Can be shaped, engraved and cut

      Perfect for indoor and outdoor usage

      Can be used with a combination of other materials
Thickness: 1.5-30 mm, 1/4", 1/2, 3 / 4, 1"
Shape/Size/Font/Style: Customized
Printing: Direct printing with UV inks
Finish: Glossy, Matte
Lifespan: 5+ years, if kept properly
Being a multifunctional material, acrylic sheet is used as an advertising tool for many companies. The installation of Perspex signs should not require much time and effort, but you can always get help from our experienced craftsmen.
Acrylic signs can be mounted with standoffs effortlessly, can be attached straight to the wall with pins or spacers for more dimensional and rich look.  
Custom plexiglass signs can have a hanging mechanism too, with elegant metallic supporters for a smooth and hassle-free installation.
For large acrylic signs, or complex displays - which require professional installation, Front Signs offers installation services for its customers in LA and nearby areas.
Aluminum signs are one of the most durable types of signs. You can choose solid standard, brushed or reflective and use them in the offices to showcase the name and logo of the brand.
PVC signs are another type of rigid signs used both for advertising and decorative purposes. You can get a unique PVC Logo for your brand, or PVC Letters to write the name of your brand.
Get Quote
Please submit your information and a Front Signs representative will contact you
Acrylic signs FAQs
What are other uses of Acrylic Sign?
Acrylic material is an endless source for sign makers to help realize the business and individual needs. Among diverse collection of unique styles, acrylic business cards are highly popular among designers and artists. Apart from acrylic plaques, lighted acrylic signs are also widely used to brand the offices.
Oftentimes, acrylic is used as in making wedding invitations. Moreover, the wedding vow can be printed on an acrylic sheet, and create a luxurious hype.
What colors of Acrylic are available?
One of the types of Acrylic is colored Acrylic and we offer the following colors: blue, green, yellow, red, black and white. But in case if you need a custom color, we offer painting services as well. You can get Acrylic painted in 80.000 various color shades.
Where can I use a Plexiglass Sign?
Customized Plexiglas signs have versatile signage applications.
There are many options for using these elegant signs. You can get beautiful and
creative things made of Acrylic
for both home and office decoration.
What's the difference between Acrylic and Lexan?
The difference between Acrylic and Lexan is that the latter is lighter and more damage resistant. Also, plexiglass sheet has a standard size, while Lexan comes in a roll and can be cut to any size. This means that we can create any size and shape of a custom sign with a whole list of Lexan material. Thus, lexan is ideal to create any custom size light boxes and Channel Letter signs.
Acrylic signs are equally used for exterior and interior applications.
What is the difference between Acrylic and Glass?
Acrylic is a very similar material to glass. But it is more shatterproof and resistant than glass. Also, if you want to differentiate any two of them in less than a second – just check the edges. If it's glossy green than it's glass.
What can be printed on Acrylic Signs?
You can print custom graphics to your liking, it's completely up to you. It can be office working days and hours, the name and the logo of the brand and any other information. You can also print a photo on Acrylic and hang it on the wall.
Which type of Acrylic Sign should I choose for my office?
This highly depends on your taste and on the purpose of the signage. You can get acrylic door name plates or department signs. For your office table, you can get acrylic or Plexiglas name plaques or tabletop signs for brochures, documents or for something else. Plexiglass letters can be used to display the brand name in the office or for showing working hours. Acrylic Perspex Signs are perfect to display the name of the brand next to an entrance door. You can choose the custom signage solution that fits best to your needs.