PVC Signs
:
Plastic Signs, PVC Outdoor Signs, PVC Panel Signs, PVC Prints, Plastic Decorative Stands
PVC signage are cost-effective and durable for both indoor and outdoor applications. They are considered a semi-permanent and long-lasting signs for investments.
PVC sign, also known as a foamed polyvinyl chloride, is famous in several names such as Foamex, Sintra board, PVC foam. Actually, they are the same durable, rigid, yet lightweight material. PVC can take custom shapes undergoing PVC cutting process.
PVC is one of the versatile materials that is able to withstand different weather conditions. Thus allow us to work with various enterprises to design customized accessories, interior decorations and sign project.
Without any large investment, PVC plastic signs pay off in no time, say and represent more for you. They promote your business with style and flare. You can wow your customers with PVC custom sign, to give a preview of what to expect from your brand and your service.
The spheres of its usage are as diverse as the landscape: from real estate signs to photo displays, from house plaques to POP displays. You can get anything printed on PVC signs, be it a brand logo or some advertisement. Its clean surface gives a smooth and neat look to any sign.
So if you are looking for a multifunctional panel with few more times usage, Fronts Signs offers you to go for PVC signs.
PVC logo signs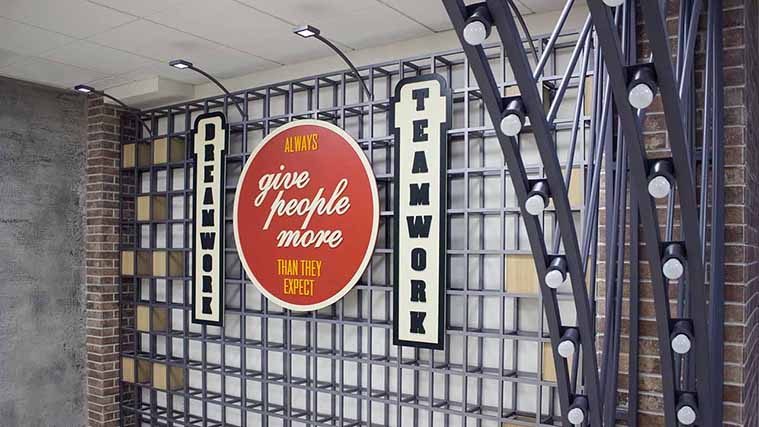 Generally it is aesthetic and functional, gives a unique look to the establishment. It provides traditional benefits of PVC in educational, financial, dining and health industries, commercial and architectural services.
PVC Letters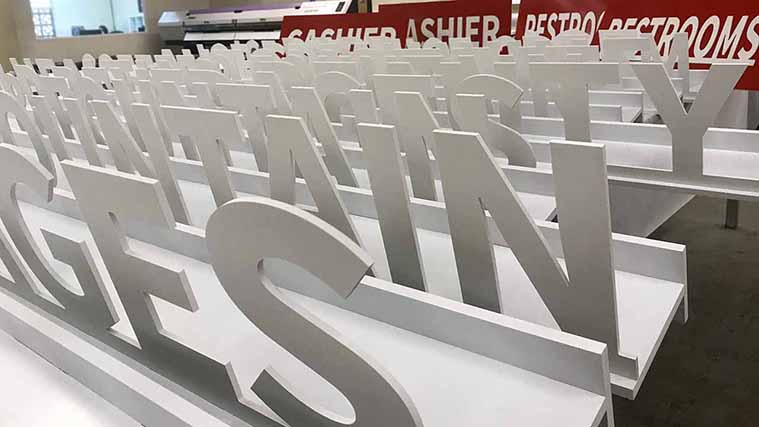 PVC custom Letter signs can be used to display the company logo, give the professional feel to guests and potential clients. Furthermore, daily companies can utterly benefit to withstand the harsh competition with their strong signage.
PVC directional signs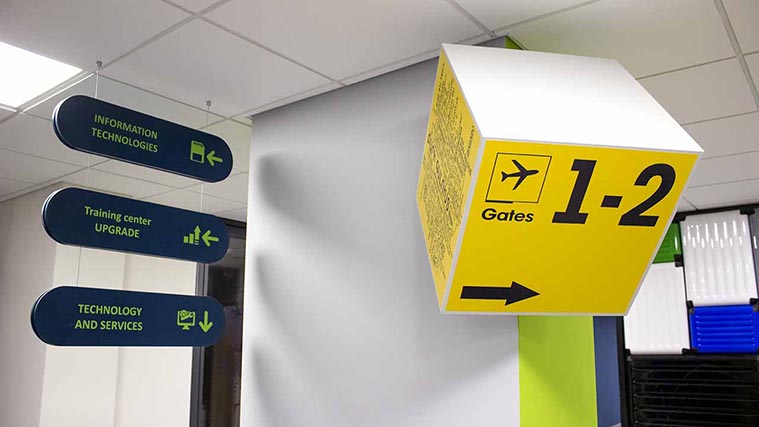 PVC plastic signs can also be used as directional signs, or to promote the sales and special offers and promotions. Finally, entertainment representatives also benefit from this signage possibilities to professionally showcase their message and upcoming event. PVC signs are the perfect choice to use as a lobby or reception decoration, emphasize the logo or easel signs and many more.
PVC stands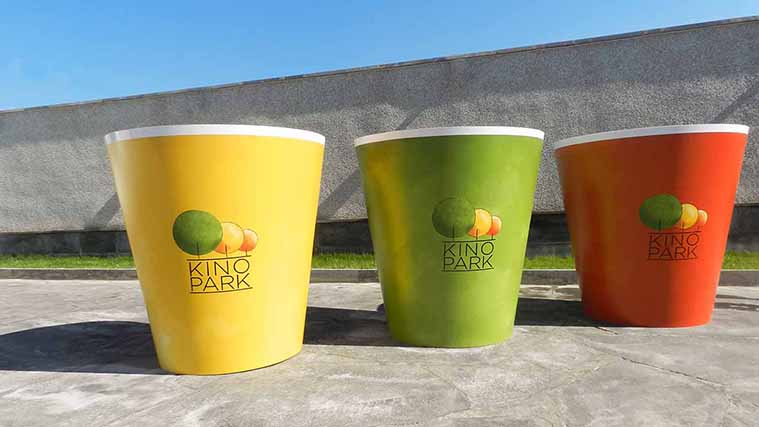 The available color and thicknesses make the PVC custom signs highly used for trade show booth, factories, warehouses or retail store signage, interior displays and graphics.
Other types of PVC signs
PVC flat signs – Storefront, restaurant, cafe, gallery signs
Interior PVC sign – Wall decors, Logos, office door plaques
PVC hanging signs – storefront signs, exit, directional, real estate sign
PVC is meant for long time indoor and short time outdoor usages.
The specter of usages is diverse:
House address and name plaques – personalized plaques for houses.
Photo displays – Photo prints on PVC with matte and clear look.
Point-of-purchase displays – An effective way to stand out and promote sales.
Tradeshow signage – The most important investment in trade shows.
Lightweight

Waterproof

Cracking, rotting or peeling and smudge resistant

Resistant to chemicals and corrosive conditions

Printed on smooth, solid surface with matte finish

Can be printed on both sides

Last for decades inside and comparatively short-term outdoor usage

Ideal for hanging

Customized size, shape, thickness, style and design

Easy to install and mount
Thickness: 1″, ¾", ½", ¼", ⅛"
Size/ Style/ Shape: Customized
Lifespan: 4+ years, if kept properly
PVC being a lightweight material has easy installation methods depending on the sign type.
Wall mounted – Due to its lightweight PVC is easily mounted to the walls or other backgrounds without any strong hardware.
Hanging sign – hanging from scroll brackets, hooks, wires. With these mechanisms, you can hang these sign from almost anywhere.
PVC stands can be put on the ground for promotional as well as for decorative purposes.
Aluminum Signs – Aluminum is the most durable sign material and is used for signs of long-term usages. You can get elegant aluminum name plates for your office.
Perspex Signs – Acrylic is a glasslike and durable material for more delicate works. You can order unique acrylic letters to display the name of your brand on the wall. Or you can get beautiful acrylic signs for the decoration of either your office or your home.
Get Quote
Please submit your information and a Front Signs representative will contact you
PVC Signs FAQs
What are the alternative materials for PVC?
For Outdoor applications, Acrylic, Aluminum are ideal alternatives to PVC. For Interior purposes, we suggest you choose soft materials such as Foamboard, Gatorboard, ultraboard, etc. To get more information about other materials like PVC, check out our blog on
the comparison of PVC, Foamboard and Gatorboard signs
.
Can Vinyl Lettering be applied to PVC?
Yes, Vinyl custom letterings can easily be applied to PVC. If you do not want your message to be directly printed on your sign, we can use Vinyl Letterings.
Can I use both sides of PVC material?
Yes, PVC boards can be printed single or double sided. The prints from two sides make your sign visible in high traffic and grab attention.
Can PVC be used outdoors?
Yes, PVC is usually used indoors but you can use it outdoors for short-term applications. Compared with Foam board and Gator board that are like PVC in appearance, PVC is more durable and can be used outdoors for quite a long time.
What does PVC stand for?
PVC stands for polyvinyl chloride. It is synthetic plastic polymer and comes in different forms depending on the added plasticizers.
What's the difference between Gator board and PVC?
PVC is foamed polyvinyl chloride and gatorboard is polystyrene. PVC can be used in indoor and outdoor applications, yet gatorboard is less durable and has shorter exterior lifespan. We have a whole blog post dedicated to the comparison of
these two materials
and plus foamboard.