3 Important Things to Consider For Choosing the Best Sneeze Guards
Different measures are being implemented throughout the business industry to reduce the risk of Covid-19 in shared spaces. Besides masks, protective shields have become a key means of defense against contaminated respiratory droplets. There are many companies offering variations of this contraption. Still, you may be wondering where to buy sneeze guards that will fit your criteria. Below, we're going to answer 3 commonly asked questions to guide you towards the most appropriate solution.
3 Questions to Ask When Selecting the Best Sneeze Guards
To make sure you get the best sneeze guard, ask yourself the following questions before purchasing. 
Question 1. What are the best materials used for protective shields?
These barriers are available in different kinds of materials. Let's look into the most common and advantageous types. 
Material 1. Acrylic

is the most popular medium utilized for manufacturing effective

sneeze guards

. Let's dig deeper to discover the pros and cons.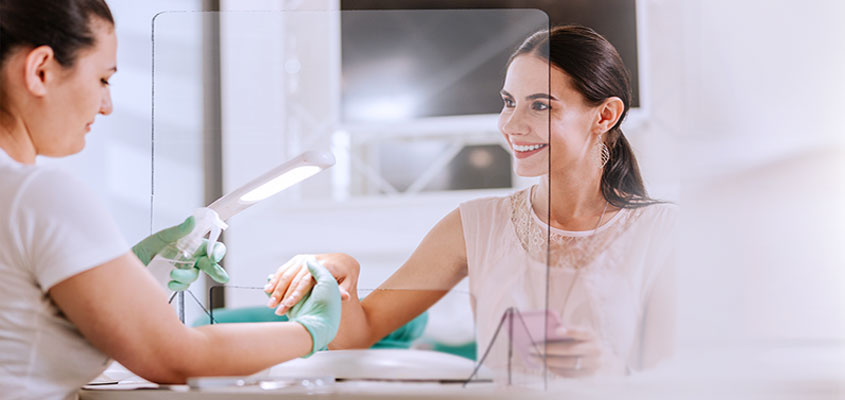 Pros: The material is 50% lighter than standard glass. It's stronger, more durable, doesn't shatter and withstands temperature changes of up to 320°F. It's also waterproof and resistant to harsh weather conditions. Furthermore, screens from acrylic signs are less prone to scratches and abrasion. The other benefit is that it's available in different colors and finishes such as clear, frosted, mirror and tinted. It's transparency and high-end look are winning factors for producing protective shields.
Cons: The biggest drawback you will have to evaluate when choosing this medium is that it's more expensive than regular glass. 
Material 2.

Did you know that human beings used glass stones like obsidian during the Stone Age to make weapons?

Glass

is now more commonly used as a building material.  
Pros: Glass is an organic compound praised for its transparency, allowing items to be visible on either side of it while creating an air-proof barrier in between. It's also dustproof, waterproof and is produced with minimal consumption of energy and time. You can even use tinted inner layers within the glass to provide unique lighting effects and incorporate them into your trade show displays.
Cons: Brittleness is a big disadvantage of this material. It can shatter relatively easily or be broken into sharp pieces that can cause injuries upon direct contact. The other disadvantage of glass is that it's heat absorbent, creating a greenhouse effect when used as a means of enclosure.
Material 3. PVC

is an acclaimed material and in many ways, it is advantageous. However, it does have limitations. Let's see why. 
Pros: PVC is extremely sturdy and impact resistant which makes the installation process easier and the functionality more enduring. PVC comes in handy for a wide range of uses and environments. This chemical and corrosion-resistant substance is considered a safer option when used for industrial buildings. Protective PVC signs can be made see-through or opaque.
Cons:  It has poor heat stability and the maximum temperature that PVC can withstand is relatively low. Its properties starts to become susceptible to change at 140°F with a melting point of 185°F. This can limit the unit's methods of application.
Protective Shields Material Comparison Chart
Material

Durable

Heat Resistance

Prone to Scratching

Specific Gravity

Coloring Interlayers

Acrylic

Yes

320 °F 

No (scraped when hardly pressured)

1.19 SG

Yes

Glass

No

470 °F

Yes

2.4

SG

Yes

PVC

Yes

185 °F 

No

1.36

SG

Yes
We recommend these materials because they're the most commonly used due to their aforementioned advantages in comparison to others. Regardless, you're free to select custom-designed ones using any other material you prefer such as wood.
 Related: The A to Z About Sneeze Guards: Concepts and Specifications
Question 2. How are privacy screens used?
The primary factors to explore regarding protective shields is how and where to install them. Will they serve as event signs to separate different parts of the crowded venue? Will they be installed as a part of lobby signs? Or maybe they can serve as a part of office signs in the form of barrier between team members? Outline the requirements in order to define all of these points when selecting or designing the product. Their common uses include barriers between store clerks and customers, library dividers, office desk screens, dessert displays and more.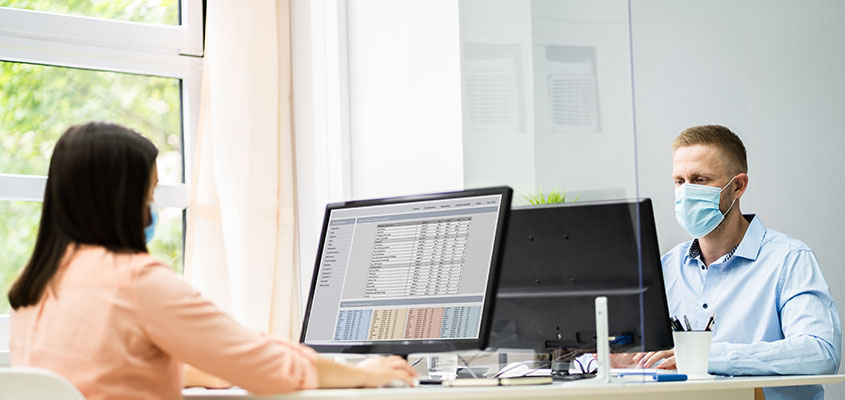 Question 3. Are there custom panels available? 
Yes, some companies do offer custom safety screen products. After all the conditions of usage are specified, you can design tailor-made mechanisms that fully cover your needs and preferences. You may even personalize them with vinyl decals that display the company name and logo. Don't hesitate to consult specialists in the field in order to figure out the most suitable solution for your line of work.
Interested in obtaining custom sneeze guards? Contact us!
Top Recommendation for Where to Buy Sneeze Guards
Attempts to slow down the spread of coronavirus have led to the implementation of a broad range of safety precautions. Protective measures like acrylic screens are rapidly becoming a staple in public and crowded spaces.
To stay fully protected, especially at your place of business, you will need to consider where to get sneeze guards. Will the quality of your product withstand the test of time? Will it offer adequate protection? Will you be able to customize your screens prior to production or retrofit them to your preferred shapes and sizes to go with the rest of your business signs? 
There is a wide range of companies offering this product but not all of them are capable of meeting all your requirements. Front Signs can.
Why choose Front Signs for your safety shields?
Front Signs, a leading signage company headquartered in Los Angeles, CA, offers barriers fabricated according to customer specifications. The professional crew at Front Signs is always happy to visit your site to ensure that the requirements for your guards are the best fit possible. They can custom design your screens from a wide-range of materials and for any purpose. Large format printing can also be done to make them more visually appealing. They also offer free consultation and delivery across the US. The turnaround time and quality of their products makes them stand out in the industry.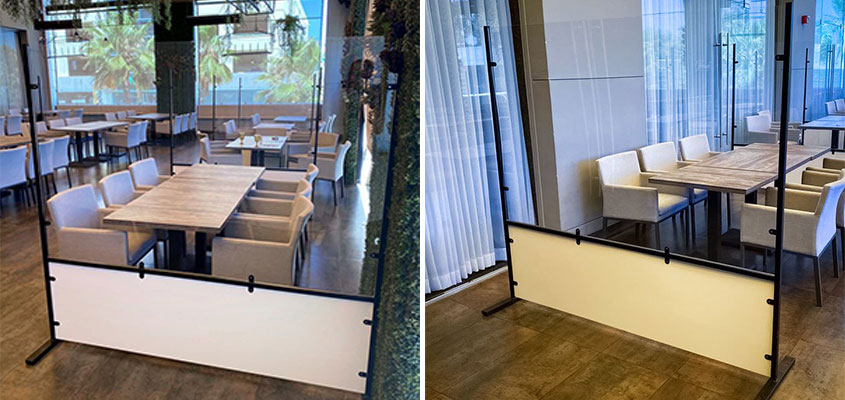 Let's see what makes Front Signs unique.
Highly durable and scratch resistant guards

Provide on-site measurements

Quick turnaround times

Installation available if required 

Fully customizable and high-quality materials
Turn to the specialists at Front Signs. Get in touch with their customer support team if you have any questions regarding your screen guard specifications. They'll ensure the best fit to safeguard you and your customers during this challenging time.