Skip to content
Engraving is done with a multitude of purposes – to leave a permanent tattoo or some 3D Graphical artworks on Wood, Acrylic, Aluminum, etc. However, given the enormous amount of different engraving solutions – choosing the right one for yourself or your business may become an overwhelming task.
Thus…
To save you time and headache, we put together a brief, comprehensive guide which will help you understand the most popular engraving solutions… and… help you chose the one which will produce the perfect-fit results for you!
Preview
Over the past few decades towards our era, engraving industry experienced robust progress.
Most of today's engraving methods can be grouped into two main categories: CNC Rotary and Laser embossing. However, one doesn't work for brittle or soft materials and the other can cause hazardous, life-threatening situations. Thus, these two machines are used interchangeably in a whole host of applications.
1. CNC Rotary engraving
CNC Rotary engraving is very similar to the traditional – ancient hand carving technique. This milling machine, with only one difference from the traditional carving, is ideal for highly detailed engravings.
The Rotary machine is designed to produce ideal copies of a piece with its rich details, in well-polished, precise and short-term manner.
CNC (computer numerical control) miller has a 3-axis tool, which follows and interprets certain path (lines) pre-drawn in a CAD software by the designer.
G code – is the language which tells the rotary machine to cut through the material or cut (engrave) to a certain depth. It also reads inside the line, outside the line and on the line cutting commands.
3 axis
X axes – runs from left to right
Y axes – runs from top to bottom
Z axes – is the zero point and the process
Techniques
CNC rotary machine is able to make deep cuts into many materials from plastic to Aluminum. Milling routers, are computer-controlled drills, which can engrave shapes and patterns in a variety of models and makes.
• Flat groove engraving
Flat groove engraving is a routing technique, which by removing the material leaves a flat area at the bottom of the sign face.
The depth of the cut can be tailored to individual needs.
The biggest advantage of the Flat groove engravings is that the sign can be painted quickly and easily.
Cast Acrylic Flat groove engraving comes with white matte finish.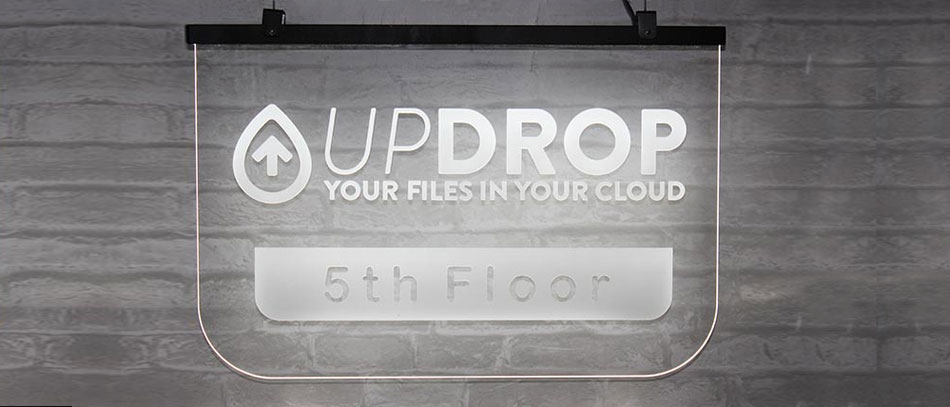 Wooden Flat groove engraving sample. ⬇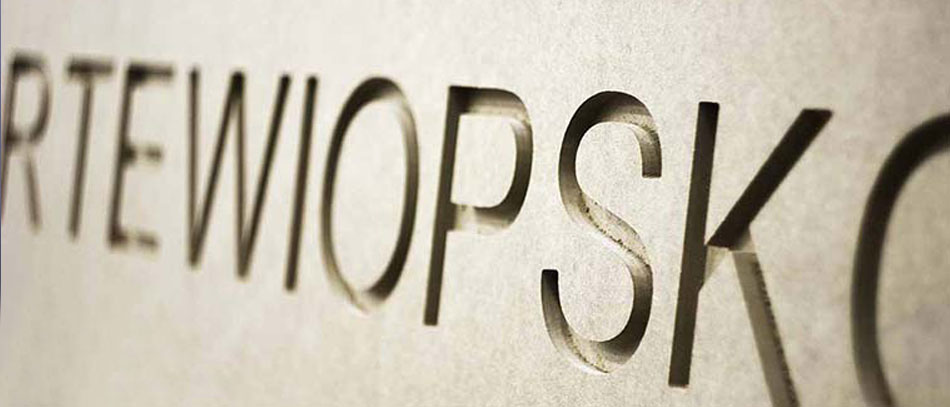 • V- groove engraving
This technique is widely used throughout the sign making industry mainly to create Door name plaques, tabletop signs, decorative items, etc.
Unlike Flat groove engraving, V groove comes with a fine line with a bottom tip – ideal both for graphics and lettering. The end-result engraved text can be painted or gold leafed.
V groove works wonders on materials like wood, plywood, MDF and other composites, plastics, etc.
V groove engraving process on a wood. | pay attention to the V groove bit. ⬇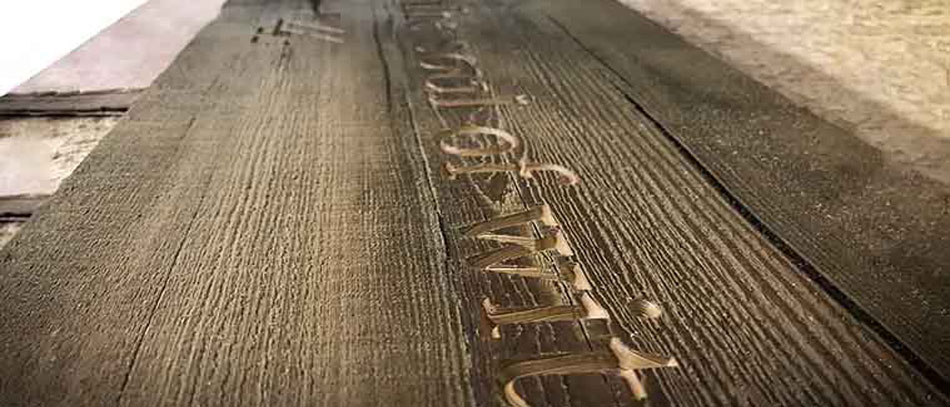 Ornamented Elephant with V groove graphics | while painted with a roller ⬇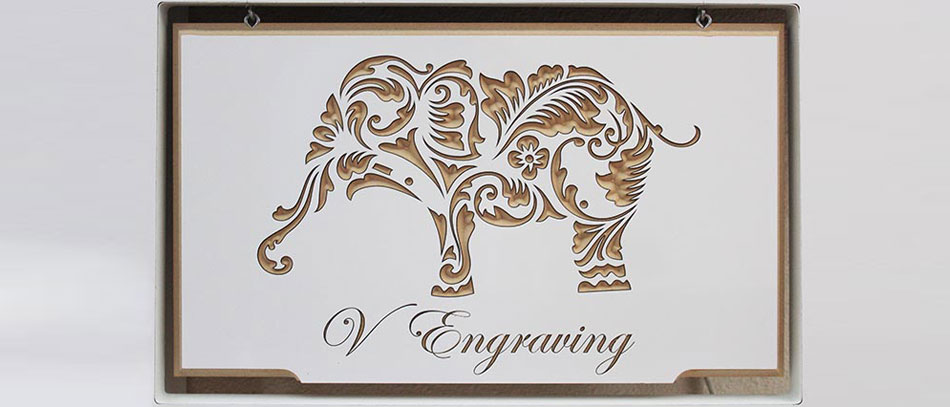 2. CNC Laser engraving
The laser engraving sends laser pulses to make incisions – burns or cuts host of materials.
The laser head runs back and forth to produce clear cut and very detailed engravings.
The materials that work wonders for laser engraving are Acrylic, wood, Lexan, etc.
Depending on the final effect, we can control the direction, speed, depth and the size of the detailed engravings on different surface properties.
This computerized machine must have illustrator files for the laser to cut at a certain thickness and certain lines.
Different laser machines offer variety of depths to personalize and customize the suitable material. For example, dense materials can handle up to 0.020 deep engravings.
Techniques
The laser beam removes selected areas of the subject material creating a desired effect or mark. There are two types of this marking.
As engraving is the common term for both, there is a slight difference between etching and marking.
• Laser Marking
Laser marking is an umbrella term – it includes a whole bunch of laser applications. Marking creates discoloration and pattern (usually of a darker shade than the actual material) into the surface altering both appearance and the properties of the material.
Again, no inks are used – laser marking is permanent and eco-friendly.
Materials such as Wood, leather are ideal for marking – the desired effect depends just on the intensity of the laser beam.
ACM 2018 welcome hammers with laser engravings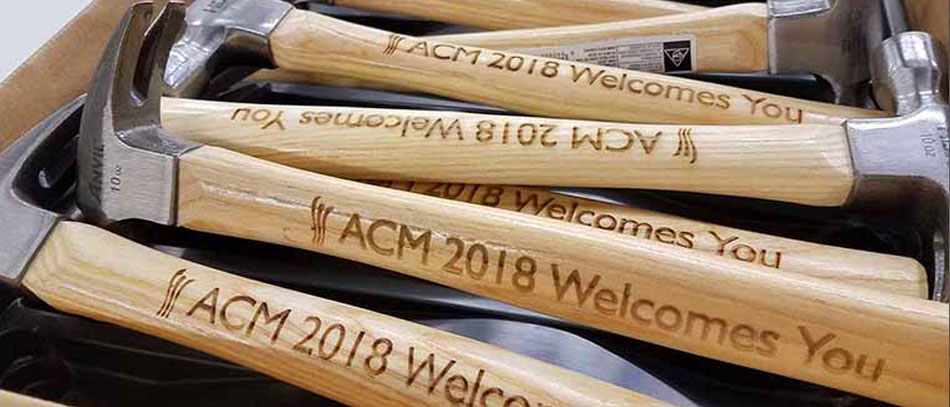 • Laser Etching
Etching, a subset of laser marking, is somewhere between laser marking and engraving.
Laser Etching distorts the material a permanent message leaving the surface raised above the rest. Unlike engraving,which can cut as deep as 0.125", it only has 0.001" depth.
Laser wood etching process of the Coca-Cola logo⬇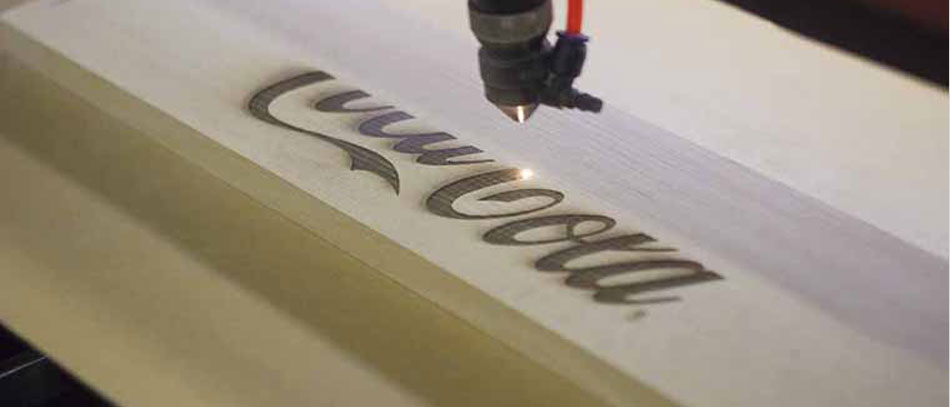 3. 3D engraving
At a touch of a button, CNC milling can create 3D engravings or carvings. The Milling machine can engrave graphics, ornaments to a fine piece of artwork.
3D design process is practiced on materials such as Wood(of course), Acrylic and even metal.
The multi-spindle router creates squiggly, curved lines with a batch of extensive CNC tools which highly resembles manual carving – but done at less time and reduced manpower.
But there's more than that.
Techniques
3d engraving on the CNC routers is similar to bright-cut engraving with V-point engraving tools. The G-code language (the encrypted dialect of the CNC routers) interprets the vectors and raster images from the results obtained by the software. The V-point can vary to 360 degrees. The tools mimic the cutting and texturing motion of hand tools such as roulets and burnishers (Source: Wikipedia — engraving) by removing the material as the piece rotates on the 360 degrees rotary.
Techniques
There are two kinds for 3D engraving: surface 3D engraving and Subsurface internal engraving.
Getting more interesting, huh?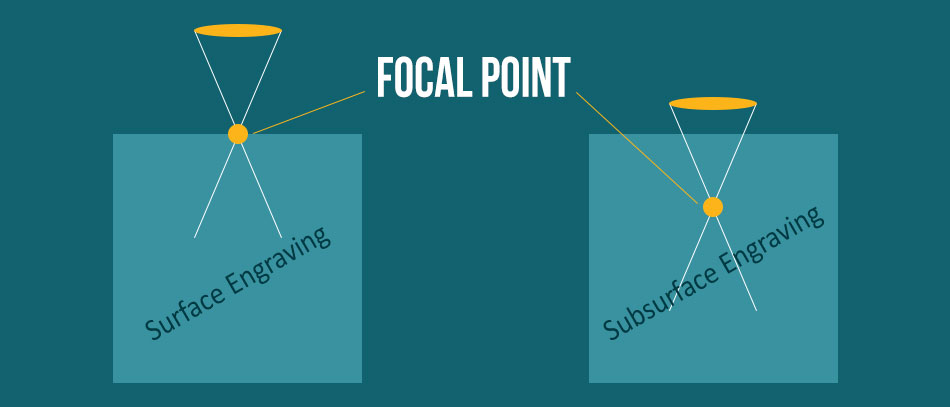 Surface 3D Miller Engraving 
Surface 3D engraving is a broad term which is generally known as just 3D engraving. The fact it is computer milled, makes it ideal for creating a unique, highly textured Graphics and artworks.
The rotary machine can create 2D and, of course, 3d shapes, 3D contours, etc.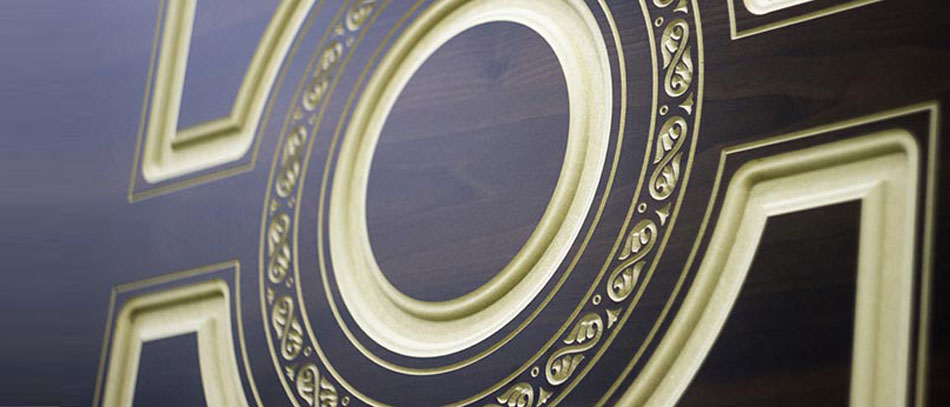 Subsurface 3D Laser Engraving
Have you ever wondered how they create 3D images inside Acrylic, let's say?
Also referred as Vitrography, is quite effective despite what you might think.
But how do they get the image inside the glass like materials?
Well, you see, laser engraving system has a lense to focus the beam to a tight concentrated point.
So, due to the optically transparent features of Acrylic, this point can be in fact within the material. The laser beam thus creates internal micro fractures with the point size of 40-80μm(micrometers) and a bonus – no damage to the surface.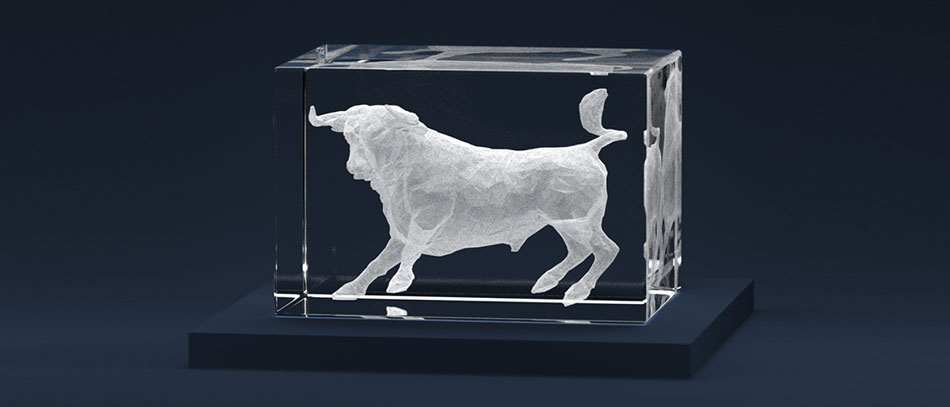 Conclusion
Engraved Signs can be used as a room number, informational signs like "Exit", "No smoking area", department and office name plaques and directions, etc.
Our CNC machines – Miller and CNC engravers provide a whole spectrum of engraving capabilities and the flexibility to meet our customer's requirements.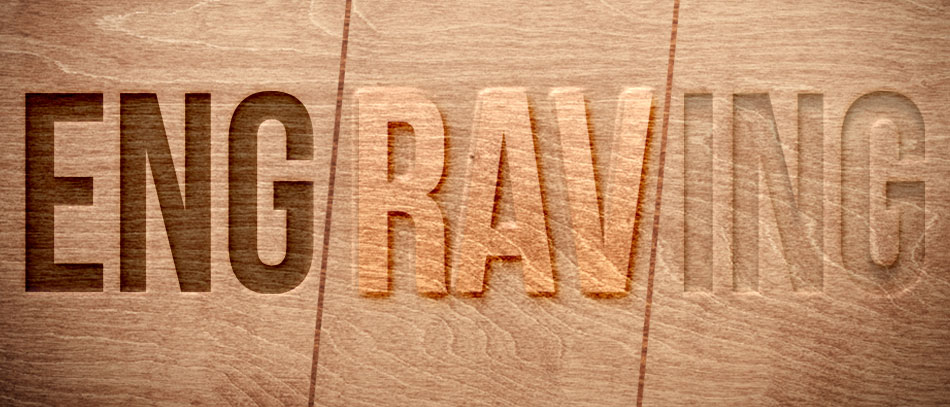 Choose the technique which is something very special and personal to you. Take into account the best practises and transform your home or office interior into something that can be treasured for a lifetime.
So, did you get inspired? Let us know in the comments down below.