Beyond Safety Signage: COVID-19 Reopening Guide For Businesses
Business reopening guides for post-COVID-19 lockdowns call for safer working environments. Below, we'll provide information about COVID-19 protocols and safety measures.
Included are 11 essential safety steps plus 2 bonus tips you'll find useful. They go over interim reopening procedures and specify how to safely meet the challenges posed by the novel coronavirus.
Covid-19 Safety Essentials To Help Business Reopening After COVID-19
For struggling businesses, the loosening of restrictions is a long-awaited and welcome respite. Let's go over essential recommendations for business reopening following COVID-19 lockdowns.
Step 1. Provide PPE Stations
The CDC business reopening guide advises the use of protective equipment for all business sites. This will protect your workers and enhance your customers' sense of security. Below, you'll find useful information according to COVID-19 protocol.
Install sneeze guards to provide safe and effective means of socializing. Clear screens are commonly used for displaying foods according to health standards. Businesses can now repurpose this mechanism to prevent the spread of airborne illnesses. When they're used as part of your trade show displays, they'll shield your guests and employees from potential harm.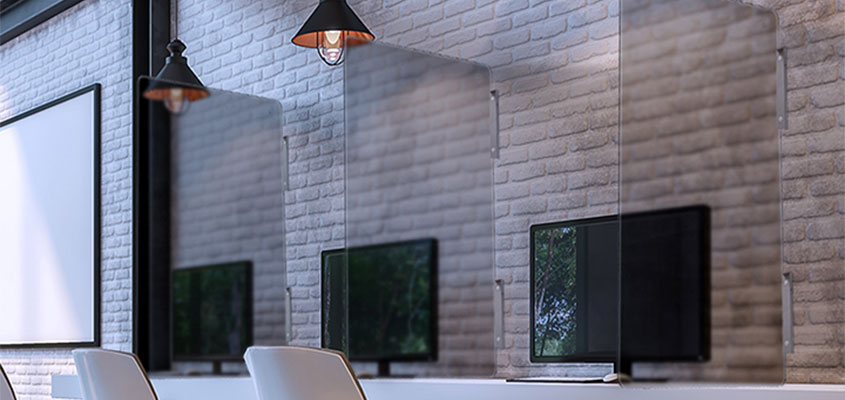 These barriers are great protection against viruses and contaminants. They also double as physical barriers to enforce social distancing between people. When printed with custom designs, they make excellent lobby signs, office signs and more.
The shields are applicable in various establishments. They're common in supermarkets, beauty salons, retail shops, restaurants, banks and so on. We offer large format printing services to customize them with any design you desire.
The product's use is increasing in many countries due to a rising number of COVID-19 cases. Businesses reopening after COVID-19 must follow these recommended health and safety measures. They will help stop the second wave of the pandemic before it escalates.
Related: The A to Z about Sneeze Guards: Questions and Specifications
Provide face shields

and masks to safeguard the entire face from contagious particles. Among the few certainties about COVID-19, one thing is clear. It transmits through the mouth, nose as well as through the eyes. Face shields will virtually eliminate the threat of infection when used in conjunction with medical masks.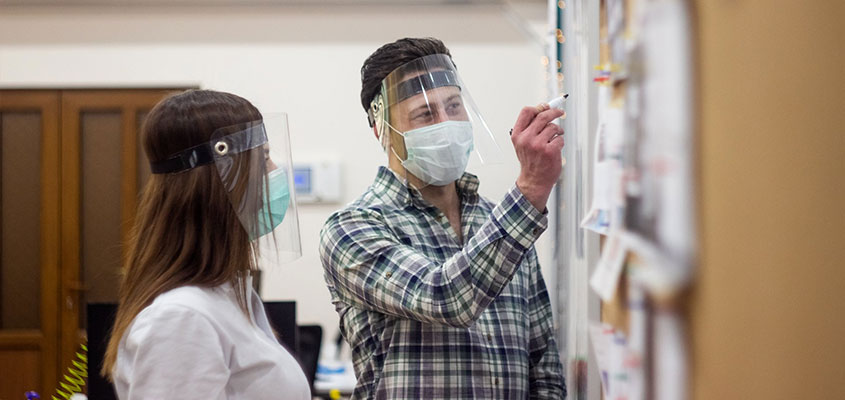 For further insights, refer to the Front Signs Case Study: Pandemic Planning for Businesses in 2020. It goes over how to keep your business safe and operational during the lockdown.
Step 2. Place Warning Notes according to COVID-19 Protocol
Set up visual cues

to remind people of safety measures after your business reopening. Put

foam core signs

with safety notices in every noticeable corner. Get down to the nitty-gritty of relevant and potentially life-saving information. Indispensable etiquette guidelines are not always common sense. Make sure to have warning and business signs prepared to inform of these details.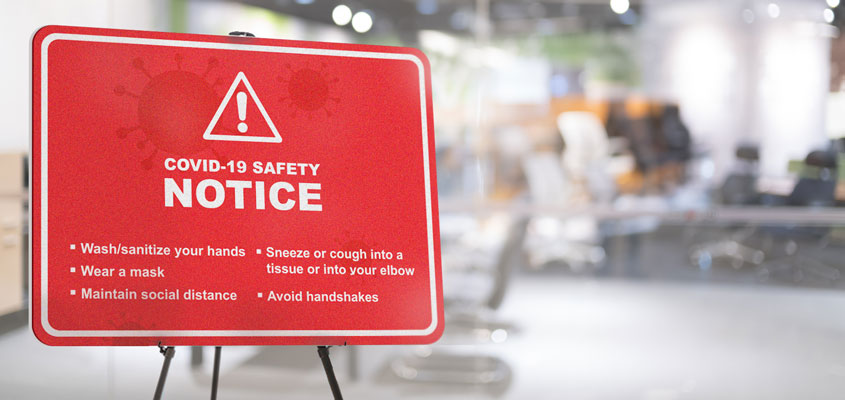 Ask people to follow the COVID-19 protocol about interpersonal accountability and cooperation. Use coronavirus notices to inform people about the updated social standards at your place of business. 
Guide with floor decals to help your visitors keep the proper social distance. Floor stickers show people where to stand while conducting business or lining up for check-out. Apply customized fonts and colors to the decals and place them six feet apart from each other.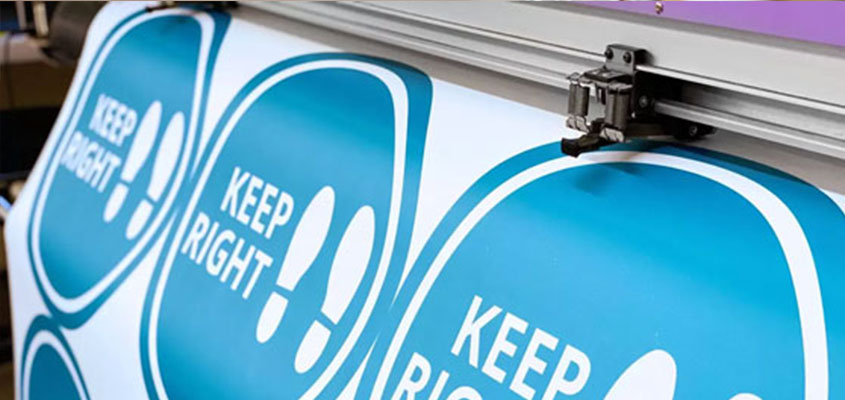 Get creative with your interior signage by adding your logo or interesting texts and images on them. Help ease up tension throughout the process. Support people as they adopt a healthy attitude towards these temporary boundaries.
Encourage COVID-19 safety protocols by buying your business safety essentials from us. Contact our team now!
COVID-19 Safety Tips And Reopening Guidance For Businesses
There are several ways to meet anti-coronavirus challenges for safe business reopening after COVID-19. Below you'll find tips regarding the new protocols.
Step 3. Form a committee to organize your business reopening 
Form a team that will train your staff about basic regulations. Maintaining these principles will keep them healthy and aware of safety measures. Lastly, responsible members can also inform customers and uphold a professional standard. 
Ask your committee to develop a guide for a safe return to the working environment. They should contact all relevant personnel, inform them and oversee the implementation of preventative measures for business reopening after COVID-19. 
Step 4. Assess all the risks according to COVID-19 protocol
Ensure that you're prepared for a safe and successful reopening. Pre-determine your opening dates and the number of employees that will be asked to return. 
Establish controlled precautions and preparations as mentioned in the business reopening guide. These should be assessed and enacted before beginning work. Take a phased approach to resuming normal operations.  Identify and train the team members that should be present during the first interval and so on.
Reopen your business starting with a limited level of services and activities. Slowly bring it back to normal as you go along.
Step 5. Clean and disinfect your premises after business reopening
Provide a thorough cleaning and disinfection routine before, during and after each day's operations. This is one of the most crucial points of reopening guidance for businesses. 
The virus can remain active for a few hours on most surfaces. Apply effective spray disinfectants and approved chemical agents. Do so more frequently in zones with heavy interaction.

Step 6. Maintain personal hygiene 
Provide your staff with conditions that promote and enable safe practices. Encourage them to wash their hands with soap for forty seconds whenever appropriate. They can also use 60% disinfectant gels and rub their hands together for at least twenty seconds. 
Give priority to disposable paper towels over fabric ones. 
Inform your crew members about the need to cut back on handshaking and touching of the face. COVID-19 protocol stresses the need to disinfect after every such unavoidable interaction. 
Ask them to cover the nose and mouth while sneezing or coughing.
Encourage them to avoid sharing personal items, food or drinks in the kitchen or elsewhere. 
Prioritize online payment over the use of cash. Encourage everyone to comply with the business reopening guide.
Step 7. Monitoring health after your business reopening
Measure your staff's body temperature daily and throughout the day if necessary. Check on their health status. Kindly ask them to inform you of even seemingly trivial health complaints.
Strategize around suspected or confirmed infection cases according to the business reopening guide. Stay informed of current medical data. Avoid any violation of personal rights according to local and national guidelines. 
Identify employees who have been in close contact with suspected sources of contagion. Guide them to follow healthcare service instructions. Inform the corresponding authorities about confirmed COVID-19 cases.
Step 8. Encourage remote working
Ask your staff to work from home if doing so is an option. Reducing exposure risks whenever and however possible is paramount. Support them throughout the process. Provide the tools necessary for work and remain flexible if challenges arise. The ability to adapt will prepare everyone for success in the future. 
Step 9. Avoid clustering within the workspace
Discourage the use of communal kitchens for lunch. Ask your employees to either eat at their desks, at different intervals or to go outside. Large gatherings are the number one contributing factor to the spread of the virus. In line with the business reopening after COVID-19 guidelines, they must be temporarily discouraged.

Step 10. Postpone traveling options
If at all possible, cancel business travel plans. Avoid international trips to keep yourself and your crew as safe as possible.
This business reopening guide will establish a healthy environment and streamline your work. COVID-19 protocols will help you take care of your staff and guests so we can all do our part in flattening the curve. The better we prepare and cooperate, the sooner we can get back to business as usual.
Step 11. Follow the example of other businesses
Amidst the pandemic, a lot of businesses changed their service objectives. They shifted the focus to help overcome the pandemic based on COVID-19 protocol.
Our sign company switched to producing and donating face shields to minimize the threat of infection.

Others reduced service rates for healthcare workers and so on.
Prioritizing safety will enable both employees and customers to maintain health. This way, we can all continue life with a level of normalcy. 
We advise all businesses to adopt this approach as an essential part of their business reopening after COVID-19.
Related: 31 Inspiring Business Responses To COVID-19
BONUS STEPS for Business Reopening after COVID-19
Step 12. Help the Community 
During times of adversity, the need to unite and help each other is crucial. Many companies have presented solutions to the challenges posed by COVID-19. A helpful means of advancing this effort is through donating items of necessity. 
At Front Signs, we were eager to donate more than 600 face shields to Los Angeles hospitals. To contribute, we addressed the shortage of PPE for healthcare workers. Selling the shields on the market meant we could also help people at large. We used sales proceeds to make more donations to doctors working on the frontlines. 
Learn more about our campaign: Front Signs is Donating Face Shields to US Hospitals
Step 13. Stay positive!
"What doesn't kill you makes you stronger," as the saying goes. Let's follow the safety protocols so we can all go back to our regular, "boring" lives. Hopefully, we'll find a new appreciation for them sooner than later!
Now you know how to conduct yourself in the office space. It's time to implement the knowledge and create a healthy environment for you and your colleagues.