Skip to content
Checklist for Tradeshow preparations, D-Day and post-event activities
12-9 months before the trade show – months of research
Choose which show/shows to attend
Booth logistics
Get to know your competitors and attendees
8-5 months before the trade show – months of planning
Develop a marketing strategy
Business plan
Signage
4-1 months before the trade show – months of paperwork
Schedule a vendor presentation
Reserve meetings
Weeks before the trade show – month of social media
Be active on social platform
Invite people to the trade show
Organize a meeting with your team
The Day Before – calm-before-the-storm day to get some rest
Socializing
One last final post
Charge the technology and yourself
D- Day
Do's and Don'ts
Don't-forgets
Create public relations
Post-event
Gather your alumni
Make stronger connections
Prepare for your next trade show
CHOOSE WHICH SHOW or SHOWS TO ATTEND
Use your network to find trade shows
Do research to find the best show suitable for your business development
Get other attendees and participants' feedback
Also, make sure to read the exhibitor's promotional brochure when it arrives. Sometimes it's a bit confusing to fill out the form. Moreover, try to meet the deadlines, as it's very important.
Take a note that you will probably work with one and more companies responsible for different organizational parts.
Note: Having the feedback of previous attendees, you'll go for better show choice if you are a newbie.
BOOTH LOGISTICS
Talk to the floor manager.
Take the advantage of the early bird discounts for booth
Use the location of your booth as a strategic advantage
Yes, talk to the floor manager as shows do discounts for the first-timers. Take advantage of the early birds on booth space.
Learn where your booth will be near to and how to get to certain important points. Bathrooms, information stands, presentation locations are the most questioned things. Be a friendly guide and people will respect your delicate attitude.
Best booth locations
A good tradeshow venue must be designed to be as visible as possible. However, certain locations on the trade show floor are not the best ones whereas others are great.
Let's see the 3 main locations that will guarantee high visibility and foot traffic.
When attendees first enter the show, your booth can overwhelm their fresh eyes and create a perfect first impression.
If, by chance, your booth is located in a corner just near the entrance, you just killed two birds with one shoot. How come? Because you are seen from two directional traffic areas.
Near the snack and beverage point
Many attendees will eventually pass near your booth and you surely will get more curious glances towards your booth.
In case you are not located near the food chains, take your time and have lunch for 1-2 hours. Why? Because people tend to be more open to friendly conversations when they are eating or just finished.
Surely central aisles are the highest traffic intersections. Thus, they make the best location out of the above mentioned. However, take notice of the high price as well.
No matter where your location is, don't forget to WOW the attendees.
GET TO KNOW YOUR COMPETITORS
Entrepreneurs who'll be attending the show
Set your target lead group
Your booth neighbors
Attendees
Know the potential attendees and never underestimate them.
Firstly, you can ask statistics and relevant information on people who attended their show back to previous shows. Knowing the specific interests will help you to serve your best.
Secondly, Attendees might be higher quality leads than what you think. More than the half of the attendees travel miles to attend the event with a buying authority. Which means that people spent a decent amount of energy to be in front of your booth and make buying decision.
Competitors
Based on your initial research, you need to know what you will be up against during the Trade Show. Make sure that you are prepared to whatever they offer. Create a business case models, take note of the services they offer and what they are bringing to the show.
Create your own business plan, which is far more creative and unique.
Scroll down to Develop a marketing strategy; Business plan.
Booth neighbors
Promote your neighbor's product and let them showcase yours for you. Highly beneficial for you, when you are in good terms with your neighbor.
Of course, some will say don't forget about the competition. But take this as a chance as a possible cooperation.
DEVELOP A MARKETING STRATEGY
Create a realistic budget
Choose your staff members
Set specific goals and a business plan
Budget
Consider: travel expenses, signage transportation, accommodations, meals, snacks, giveaways.
Make sure you have a realistic budget. Take in consideration all the facts and problems that might appear.
Staff
Choose teams of experienced workers. You will need personnel to do the preparations and people who will actually represent your business.
Sometimes its two in one if you have tight budget. I love multifunctional people, hope you too. Anyway, let's go back to the main topic.
Attendees need to feel your sincerity. Having a smiling, friendly staff, who will attend the show is irreplaceable. Be prepared that attendees will overload you with questions, thus, a professional and well-educated team will be your best choice.
Note: just before the start of the trade show have a general meeting with your team members to make sure everything is shiny ready for the participation.
Note #2: Talk to the organizers and specify about the photographer services.
Business plan
Determine your call to action plan and make it clear in your booth graphics design. The clear goal will have a crucial role to find your target group and attract them.
Scroll down for schedule a vendor presentation.
Here you to be CREATIVE.
Think of the exceptional features of your product or service and turn them into small giveaways.
Brochures will be everywhere. But only the one with unique graphics and design will interact on its own and bring more curious attendees towards your booth.
Snacks, candies, stickers, pens or pencils, mugs, T-shirts, interesting program or game and more just depends on your creative team.
Scroll down for other important things at D-Day: don't forgets.
Make transportation, rental car and airline reservations. Contract with carrier for shipping materials from company
Keep the Insurance requirements with forms and deadlines. Contract the organizers for a photographer. Order signage, name badges, uniforms, giveaways, etc.
SIGNAGE
  Design your booth with hospitality in mind
  Make a plan for the trade show booth manufacturing
  End of the tradeshow: Correctly organize the signage
Booth Design
Your booth design is the key to your trade show success. Everybody is attracted to great design where everything is just blended visually together.
Let your booth graphics speak loudly and visually.
Get permission for unusually large or tall signage, if needed
Order overhead hanging signs
Check the Trade show signage options here.
Manufacturing
One of the problems that most of the participants face is the delayed signage. Your job is to ensure that signage is going to be ready in time and in expected shape and look. Keep track of the messages with the manufacturer and any relevant information in one place. First of all, everything is organized and ready to use. Secondly, in case of troubles, you know whom to call.
Packaging
Packaging the signage is also important. You will never count how many small details, screws, etc you lose.
Additionally, Signage is not for one time usage, so taking good care of it means that it will serve you just a bit longer.
SCHEDULE A VENDOR PRESENTATION
Having eye-catchy graphics is not enough to keep your target group for a long time. Prepare product samples for media testing and review before and during show.
As a continuation to the good start you need to prepare appealing presentations, speech, or whatever you think of.
Create demos
Prepare PowerPoint presentations
Come up with some unique program
Choose the program according to your services and season it up with a nice quality humor. Everybody loves Good sense of humor J
RESERVE MEETINGs
Send meeting requests via email
Reserve networking tables if necessary
Set up interviews with local radio, reporters, entrepreneurs, etc.
Based on your research and target lead group, you know with whom you'd like to meet and chat. You will have few successful days at the events, as your schedule is already partially booked with appointments.
BE ACTIVE ON SOCIAL MEDIA
Write a press kit or release
Prepare pre-marketing trade show activities for social platforms
Make it more interactive
Usually, tradeshows cover its participants. Use this opportunity to stand out with your exclusive program and services.
Make sure your press kit is distributed at the press conferences. You can also give interviews to the reporters covering the show.
To engage your customers, you can announce a game with your own hashtag. Let your customer choose the handout they want to get: let it be logos, pencils, T-shirts, etc.
INVITE PEOPLE TO THE TRADE SHOW
Invite your customers
Research and reach out to attendees
Create show binder for all company attendees
Email your existing customers and invite them to come to the tradeshow. You can promise a freebie to them if they show up.
Reach out to other attendees via email or social platform. Book meeting with both your existing and potential customers, so that not to let them wait.
ORGANIZE A MEETING WITH YOUR TEAM
Schedule pre-show staff training meeting
Arrange for staff dinner
Place staff housing order
Before the start of the show, assemble a meeting. Make sure that your team members know your strategy. Briefly introduce to the booth staff proper etiquette, dress code, etc.
SOCIALIZING
Make contacts as soon as you are in the trade show area. If you are sharing the same hotel, are next to their booth or met in front of the snack bar, MAKE COTTECTIONS.
ONE LAST FINAL POST
Before the D-day, post a nice, engaging message where all the participants can see. This is so effective, that they will definitely pay you a visit. Don't forget to mention your booth number and the surprise.
CHARGE THE TECHNOLOGY AND YOURSELF
After hard time preparing for the trade show, you won't have a better time to sleep, as the night before. Make sure you have enough energy to survive the day with honors ????
D-Day
Dos and Don'ts
Keep the booth clean and eye-appealing
Make the booth comfortable to sit and communicate
Use lighting techniques to highlight your message and attract more passers-by
Handout bigger handbags then the others ( eventually everything will be inside the biggest bag, let it be yours)
Be hospitable
Make an appearance, gain exposure and meet prospective clients
Stress your trustworthiness
Have a logical plan to visit other booths
Keep the interaction upbeat with a fun memory
Create an experience
Gather contact information
Take notes of the companies that might make a good partner for a later time
Don't sit and chat with your staff members
Don't use chairs if you have a small booth, it makes things cluttered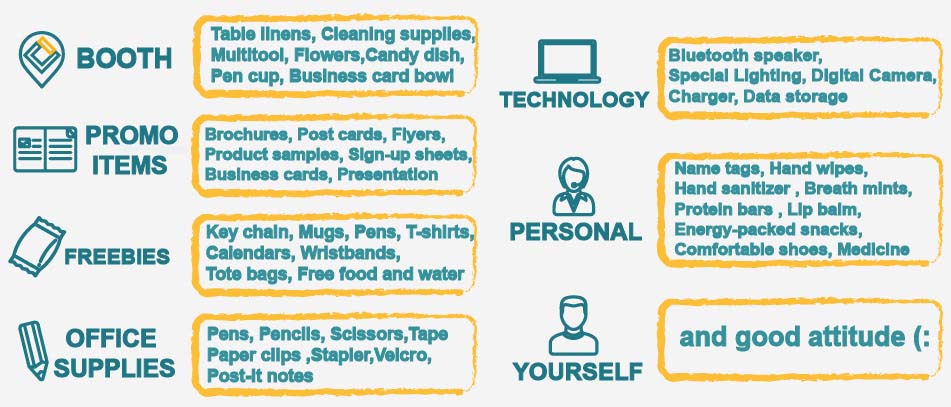 POST EVENT ACTIVITIES
Nurture the connections you built
Put together all the information you've collected
Follow up and connect on LinkedIn, Twitter, etc.
Send thank you emails and an interesting article
Post photos from the events to your social platforms and share with other attendees
Prepare a survey
Compare the initial budget to your actual spending and measure the results
Analyze and get ready for your next trade show!