How to Plan an Event – Business, Sports, Music, Etc: 30 Step Guide
Event planning can be challenging and stressful even for experienced professionals. Sometimes it seems like you can't ever shake that fear of missing an important detail.  Hosting events during a pandemic like COVID-19 requires major adjustments. You'll have to take extra precautions and limit the number of attendees when gathering in-person. We'll cover details in Step 6 below. This guide is designed to help!
Not only will you get steps applicable for any type of function planning, but you'll also receive a thorough guide dedicated to sports and music events in particular. As a bonus, you'll find the steps you need for a smooth and professional execution.
So stay tuned to get the most out of your event with the event planning to do list below!
Part 1: How To Plan an Event
Let's start back at the basics for our event planning tips – remembering the most important steps you need to take no matter what type of event you have in mind. 
The foremost thing you need to keep in mind when deciding how to plan an event is to have a strong vision. Always keep your goals clear and precise.
To help establish that vision, here are 5 overarching event planning steps that you can apply for all types of events like sports, music/festival/concerts, etc.
Step 1. Set up a concrete objective 
Show people (and yourself) exactly what you're doing. Answer the questions  'why organize that kind of an event?' and 'what should people expect from it?' to create confidence.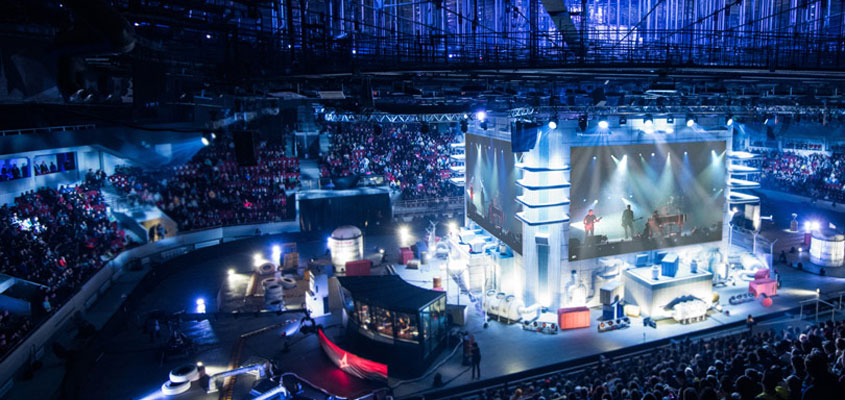 Step 2. Obtain an event permit 
You probably know this is necessary to start organizing your big day. But many people make the mistake of not applying early enough. Make sure you give yourself enough lead time! With event approval in your hands, you won't find yourself stressing with legal issues down the line.
Step 3. Establish your budget
There are different factors affecting your event marketing budget:
Your experience. 

The message you want to convey.

Any advertisement you put together! 
Calculate the total cost as accurately as you can to make the biggest impact with the money you're working with.   
Step 4. Find your venue
Regardless of event type, it's highly suggested to choose the best overall venue possible. Make sure it satisfies all the essential needs your participants might require. Here's what to bear in mind while choosing the event venue: 
Is it near the airport?

Is it near main hotels?

What kind of A/V does the venue supply?

What is the security policy?

What facilities does the venue offer?
Do your research on these important questions and make your decision on what fits best!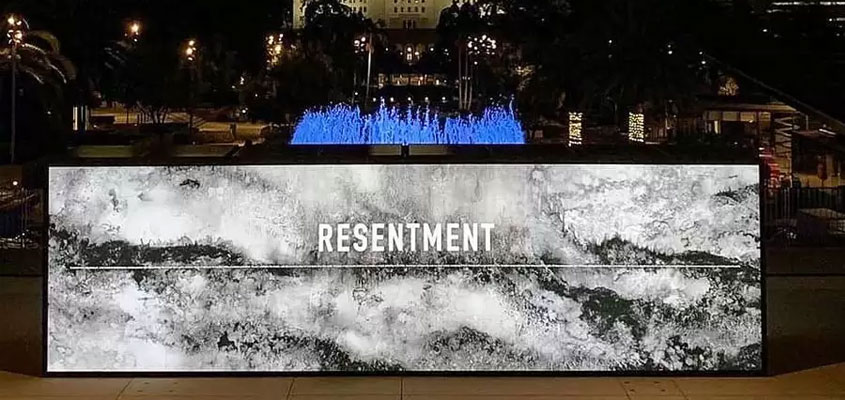 Step 5. Manage your time 
Another core point on how to plan events effectively is scheduling. Allot the right amount of time and don't skimp on the duration of prep steps.
The right time management will help you with the following event planning considerations:
Avoiding higher rental costs

Preventing low attendance

Standing out with your event
Step 6. Implement a pandemic preparedness plan for a safe event
Organize and inform all staff about all relevant safety protocols. Make sure you satisfy all the regulatory steps advised by health boards to prevent spread of pathogens. Let's go over the vital points.
Encourage a hygiene etiquette by installing and monitoring soap and water dispenser's throughout the event space.

Provide hand sanitizers and encourage staff and guests to rub their hands until dry.

Urge everyone to wear face masks and cover their mouths when sneezing or coughing.   

Provide enough space to enable the practice of social distancing measures. 

Display signs to discourage unnecessary physical contact and remind your attendees to maintain security precautions.
Public event preparation is definitely strenuous, but executing these event planning tips will make your big day(s) smoother and easier! 
Keep reading for the steps needed for sports event planning. You'll get some real tips on how to organize a sports event. 
10 Steps Needed for Successful Sports Event Planning
Organizing something like this will definitely be daunting without a strong idea or plan. Follow our guide to take as much stress out of it as possible.
Step 1. Determine exactly what you want it to be
It's crucial to specify the event format as early as possible! Whether you're trying to create a match, a tournament, or just a meetup, your next event planning steps will depend on this.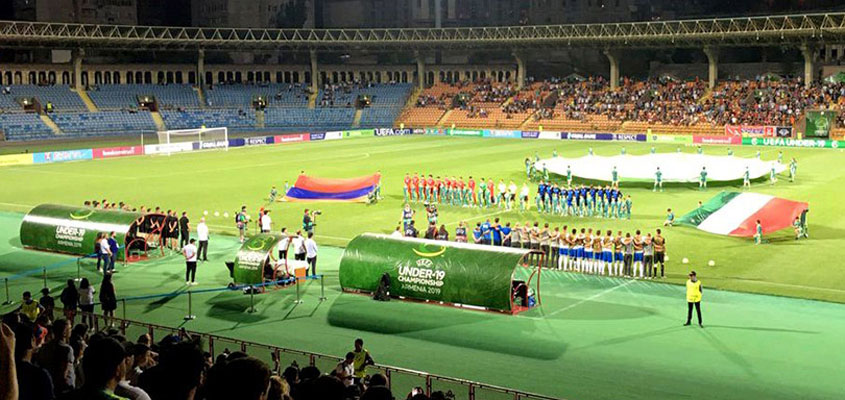 Step 2. Put together a great team to have your back
You should have a pretty good idea of the scope you're aiming for. This will be vital to establish how much assistance you'll need. 
Don't just put together a big staff, as that will actually make it harder to manage everything. Instead, have a small but responsible group of people at your side who will be able to execute their roles and provide valuable support.
Step 3. Reserve officials and referees ahead of time
Don't exclude them from your sports event planning checklist. Be certain there is no conflict of interest for them, nor any association with any participant to prevent a fair competition. Even sporting events that are "just for fun" require good and fair referees. Emotions can run high and the situation can quickly spiral out of control otherwise.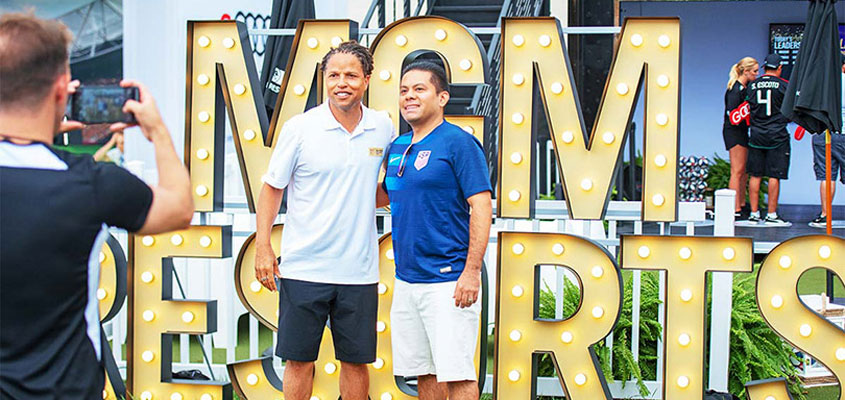 Step 4. Get participants involved 
Reach out to teams and provide them with all the details concerning their participation. Don't forget about terms and conditions of the tournament, scheduling info, and location.
Step 5. Stock up on supplies during your sports event planning process
Get everything you need as soon as you know quantity requirements. This can include certificates, whistles, medals, scorecards, etc. And don't forget about posters and special event signs as well.
Step 6. Don't forget about the signage!
Make a big impact with branded graphics and business signs. Get the crowd's attention with your ads and promote your sponsors' brand. Keep reading for the most effective sports signs.
Grand flags get big looks
Direct the attention of attendees to your sponsors and team names with these huge arena signs. Put a big message on them that can be read in a fraction of second. Great for anyone passing by, even if by vehicle.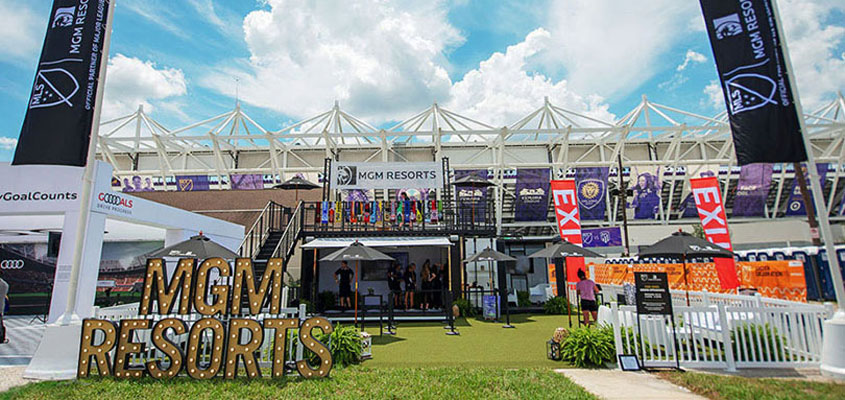 Shade tents are always a big hit
Get tailored canopy tents to provide shelter and shade. They are also great for both registration booths and sign-up tables. Tents are always desired as a place to gather, and can be printed with sponsor or informational messages.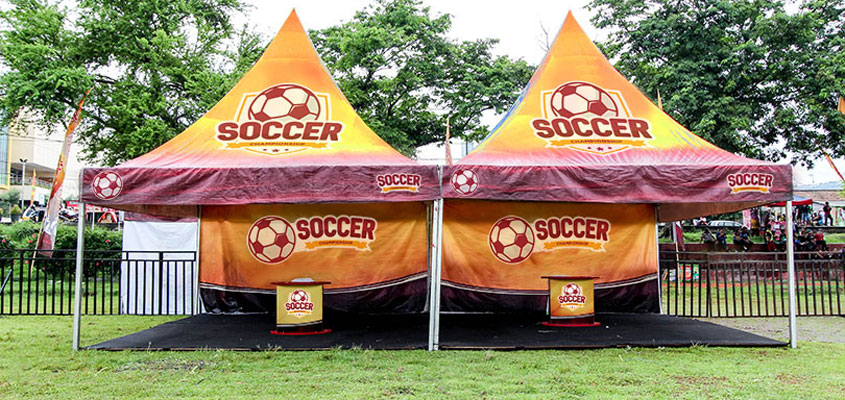 Mesh fence banners amplify your message 
Simple but engaging, these waterproof mesh banners are another popular item found at almost every event. It's especially effective to use them in sporting events as they can be easily spotted from far away. You can apply any custom design on them with large format printing services.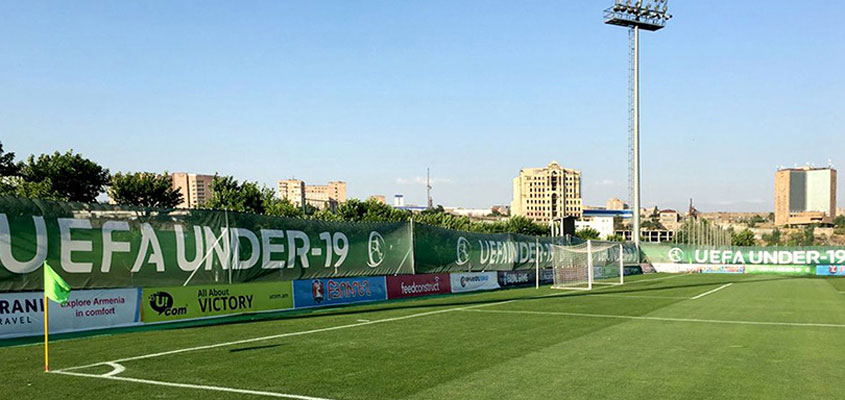 Parking signs point the way
These double-sided boards are commonly used to direct attendees and can be tailored to show or say anything you want with logos and messages.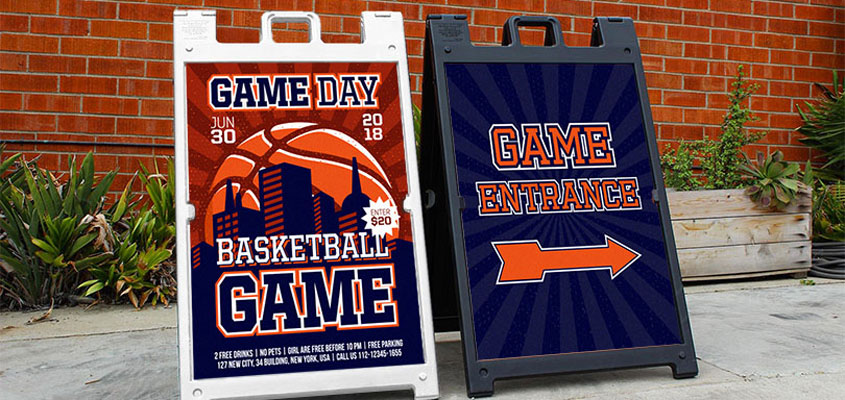 Sticky decals make your life easier
These extremely flexible wall stickers adhere to just about any surface. Easy to put up, custom decals are a great way to capture more attention.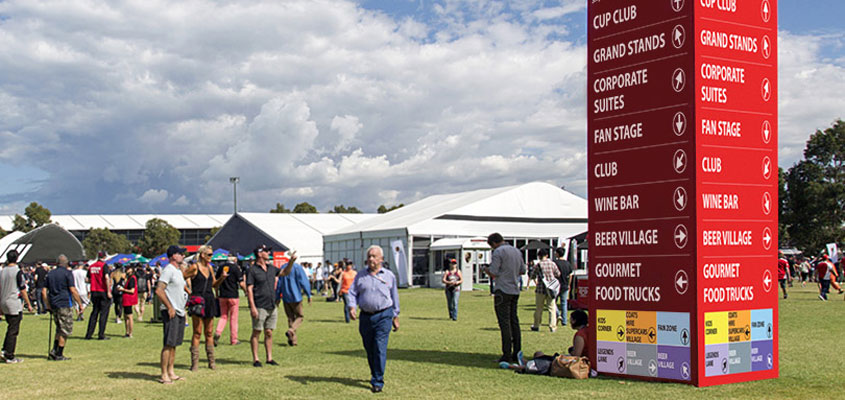 Pedestrian signs add a hop to your step
Use stairs, elevators, escalators, or any other foot traffic to raise awareness about your brand. This unique method is also a fantastic way to promote your sponsors.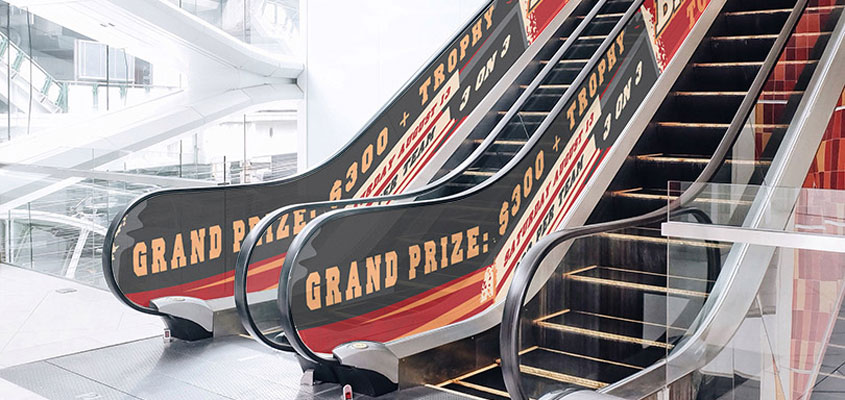 Transparent window vinyls make you look 
These see-through window graphics are a great option – especially for short-term events – since they are easily removable. They are often used for outdoor big events and are a popular choice for sports arenas and stadiums.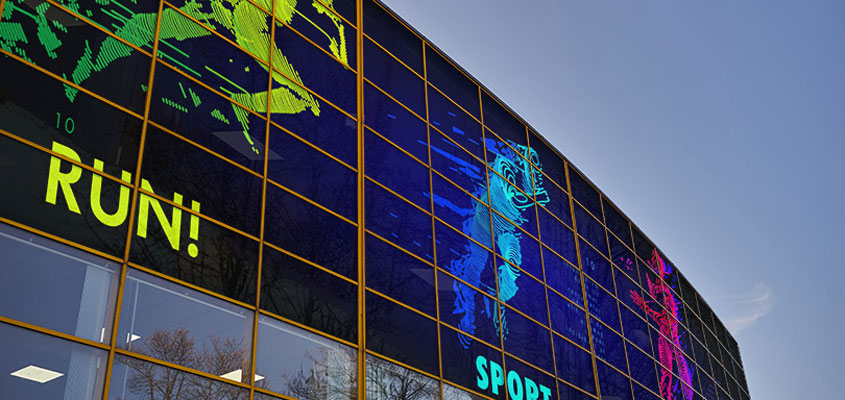 A Frames give you structure
Easy to set up, this kind of event signage is ideally used in places without support structures. Cost-effective, durable, and transportable, you'll be able to reuse them easily at any future events.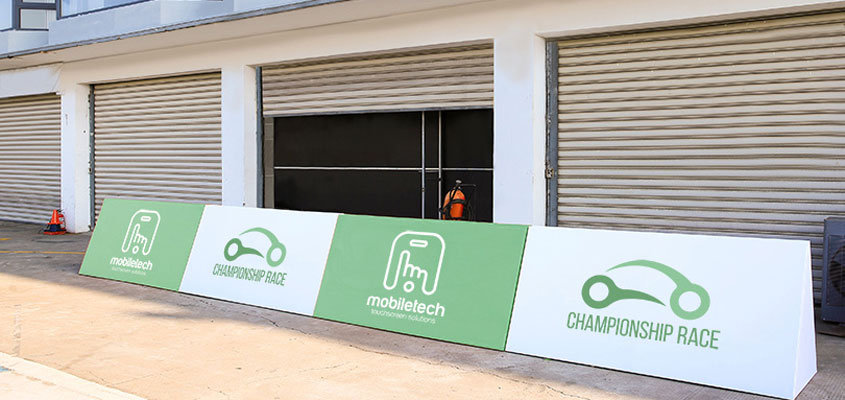 Large custom branded stands stand out
These grandstands are big with a lot of message space to catch attention and/or guide attendees to seating.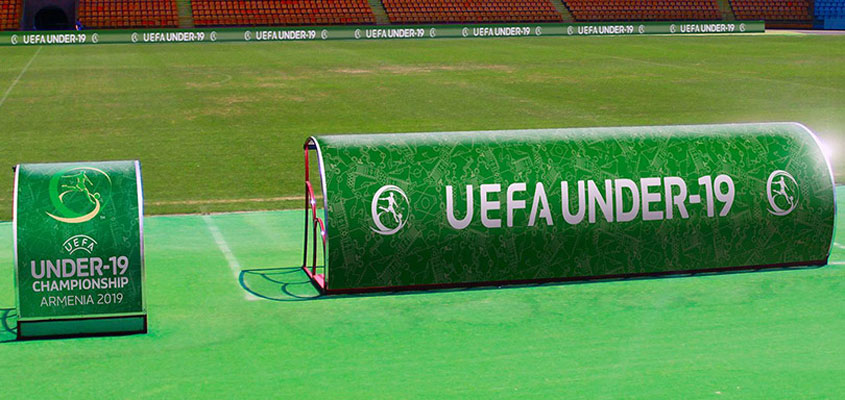 Vinyl wall graphics elevate your cool 
Vinyl wall graphics will make your walls look stunning. Use either durable or temporary graphics depending on your special event's characteristics.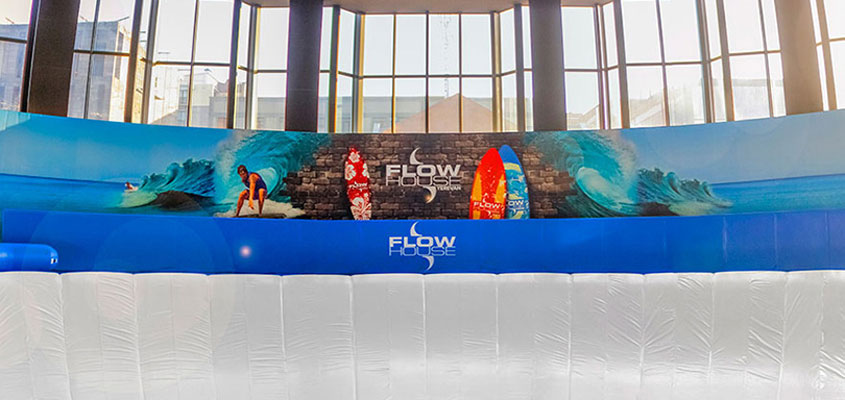 Large format digital banners rally the troops 
For those with healthier budgets, make digital arena signs a part of your branding strategy. Nothing competes with the branding power of digital banners among sports fans.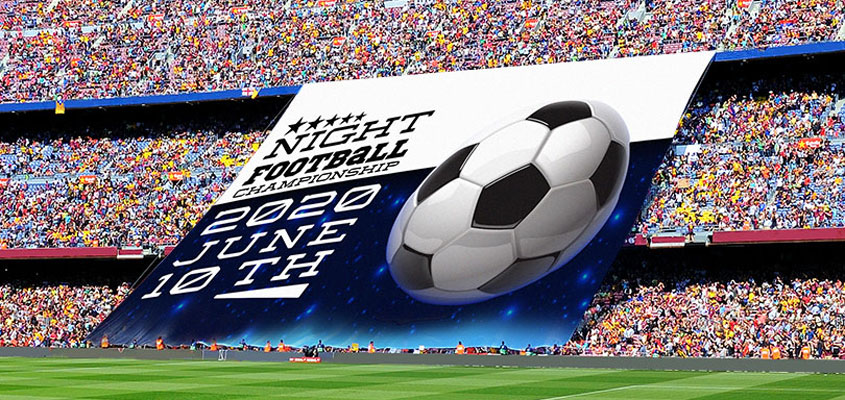 Promotional backdrops invite photo ops
It's possible to customize your event walls with a wide range of styles and sizes. You can go with either a temporary covering, or something more long-lasting for extended events.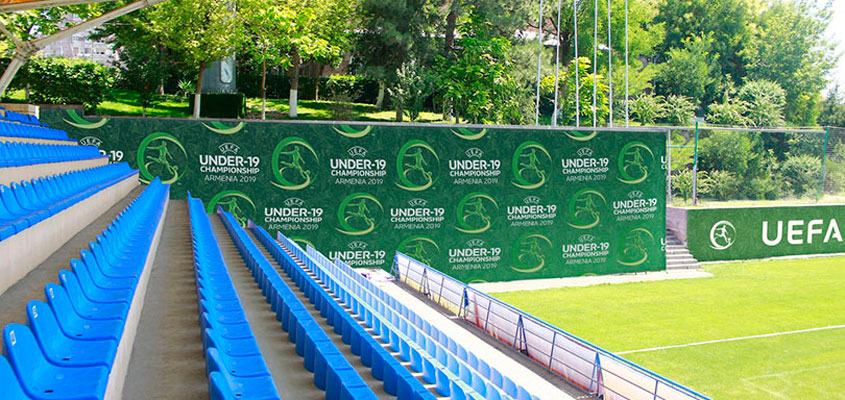 Want a free consultation on the best arena sign design ideas as soon as possible? Contact us! 
Step 7. Sell tickets and promote your event
Use online ticket-selling platforms to manage sales for your event with ease. 
Step 8. Take care of your workers' health and safety
Take all safety measures to provide the best for your staff and the public. Do thorough research to learn and understand your specific event requirements needed to maintain a safe environment for everyone involved.
Step 9. Consider insurance during your event planning
We always recommend getting public insurance to cover your needs in connection with any injury or damage that may happen. And of course, it's always worth reading the terms and conditions before purchasing a plan.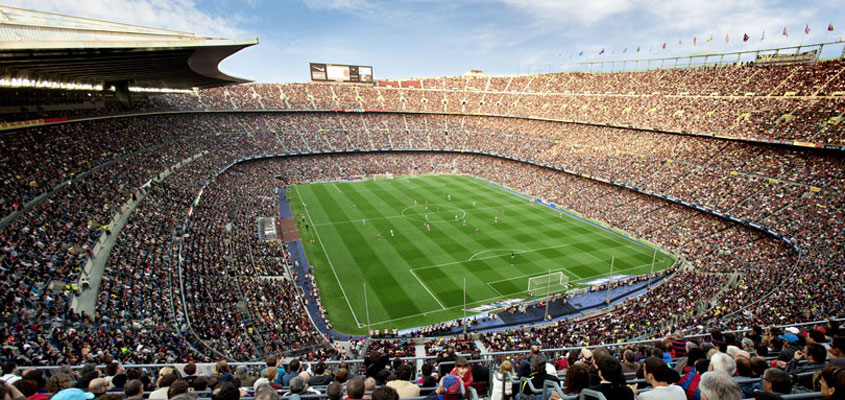 Step 10. Invite local press to share your success
Why not let everyone know about your event? Invite local press outlets to come experience and report on it to the community.
With this event planning guide in your capable hands, you're all set to organize a sports event. It's time to read on about how to plan a music event.
8 Steps to Successfully Plan a Music Event
Are you getting ready to put together a big musical event but don't know where to start? This is the right guide for you!
Make your music event successful and special. Create a memorable opportunity for your audience to listen to and discover their favorite bands – and for musicians to rock out with a flawless performance.
Step 1. Sign up the best musicians for your event
Boost your ticket sales by bringing the best artists on stage. This doesn't necessarily mean big name stars you can't afford. It can simply be popular local bands who fit the vibe you're going for. You'll need to spend some time researching who is available on your dates, which is why you need to get started early.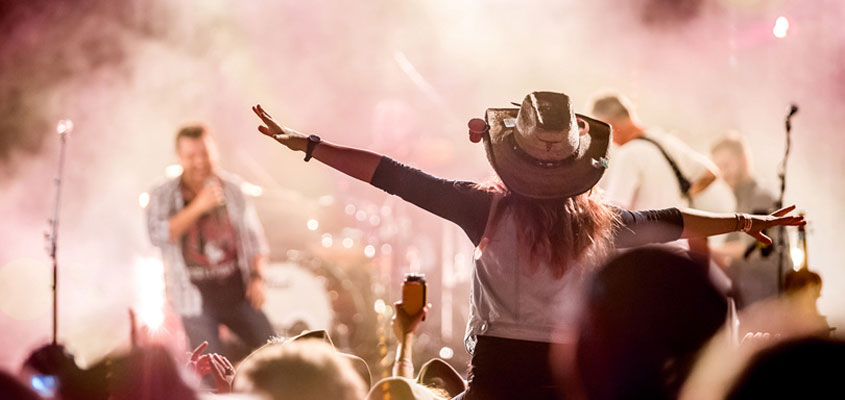 Step 2. Use creative signage to increase awareness
Take your event to the next level with music event signage. Word of mouth is the best advertising, so give people something to talk about. With creative graphics and 3D signs, you'll be able to grab attention and get others to promote for you. Effective signage is a massive factor when we're discussing how to plan a public event.
Continue reading to learn great ideas for festival\concert signage.
Hanging banners put the spotlight on your event 
This simple yet powerful solution for both internal and external signage is an effective marketing tool for the concert or festival you're holding.
Customizable in style and size, these versatile signs are a fantastic choice if you're wondering about how to make a music festival get noticed.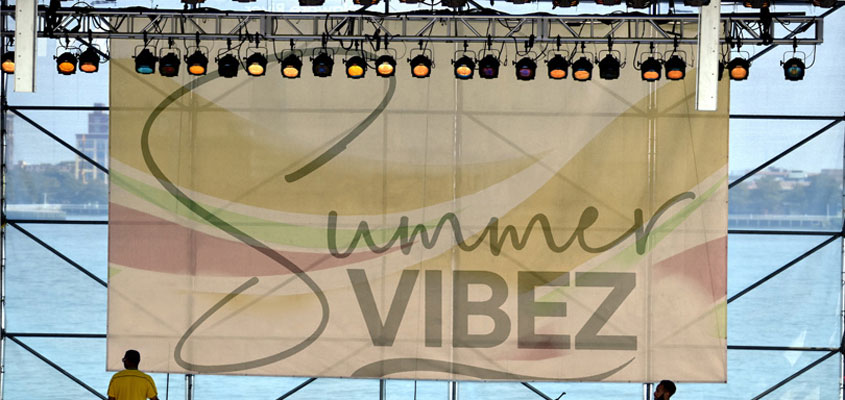 Floor graphics grab attention
Short on free space? Use floor graphics to direct your guests, or use them as lobby signs for branding purposes.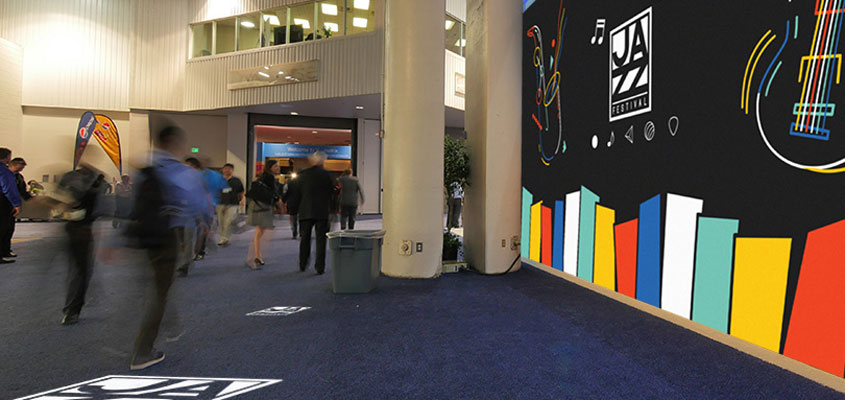 Hanging displays aim high
Use huge ceiling displays to capture attention and create a fun atmosphere in your venue. Use hanging light box signs for increased exposure. They are equally good for marketing and for decoration.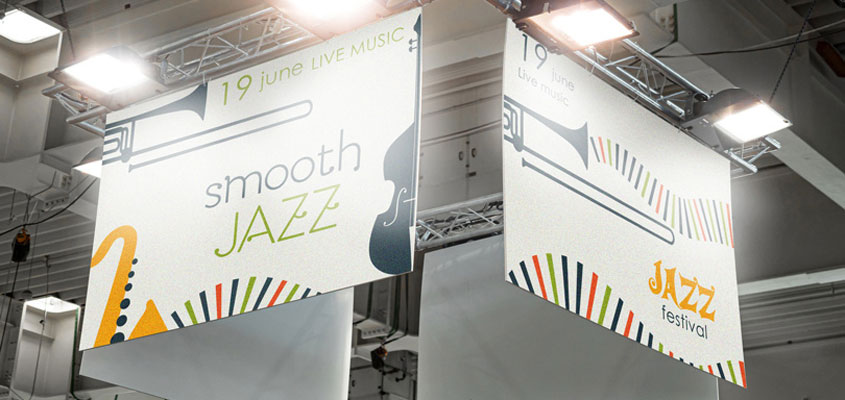 Digital signs make a giant impact
It may be a little more costly, but it's worth investing in digital signage for the high return from the wow factor. Set up this impressive style of signage outside your venue to establish a strong presence.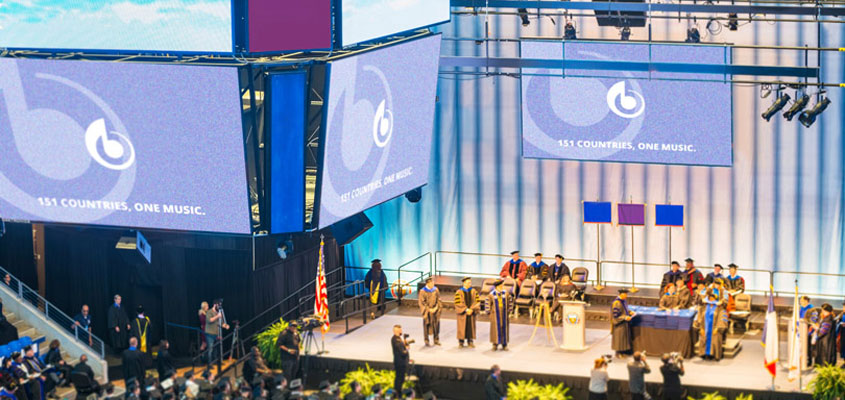 Vinyl wraps create a mobile billboard
Use this easy-to-fit option to take your marketing wherever you go. Simple to adhere to any surface, these car wraps are one of the best ways to advertise your upcoming show.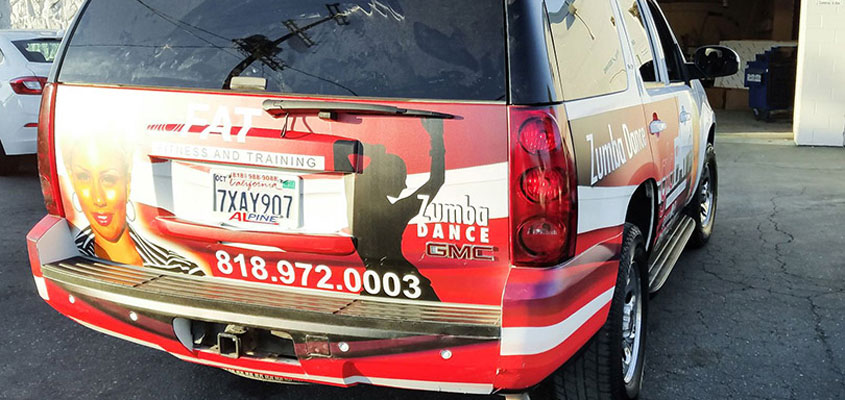 Graffiti walls boost your presence 
This one is a more unique and extraordinary way to generate a creative environment. A talented artist will blow people's minds with a custom art piece – people will line up to take photos in front of it. Don't forget to put some sponsor hashtags in it.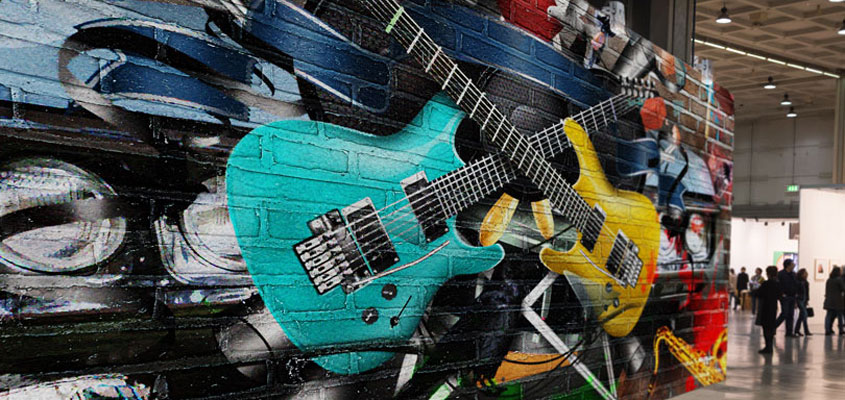 Need help in choosing the best music signage design? Contact us!
Step 3. Only use professional equipment to ensure quality standards
Sometimes the venue handles the sound and tech equipment installation, but keeping track of all the preparations yourself will definitely help assuage any worries you may have. Check that only high quality equipment is used and have the engineer do a sound check beforehand.
Step 4. Get some free promotion
Put the word out on local TV and radio. Online forums and local apps are necessary as well. Getting a good local buzz going and letting people know how much fun they'll  have is a big part of how to host a music event.
Step 5. Provide some big structures for shade
Outdoor music festivals are common during the summertime, so take measures for your guests not to get sunburns or heatstroke. Put up tents or tarps, or use natural sources like huge trees to provide shade or shelter for event-goers and your staff.
Also, keep your guests hydrated by adding water stations along with directional signs to guide them.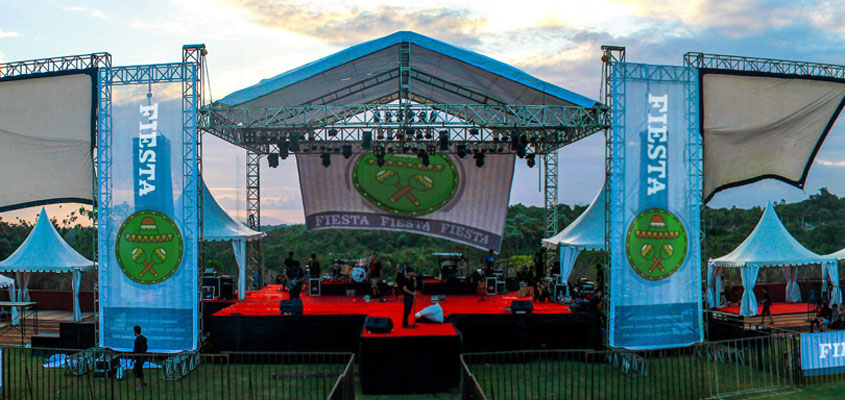 Step 6. Contract food and beverage providers
Another important point in an outdoor concert planning checklist is to find caterers or vendors. And if you can get some volunteers to help, even better.
Step 7. Monitor weather to successfully plan your festival 
What makes a good music festival? If it's outdoors, weather can't be controlled, and it can make or break your event if you aren't prepared. Monitor the weather. If it's looking like rain, at least you can plan around that a little and bring in extra tents or shelter if needed.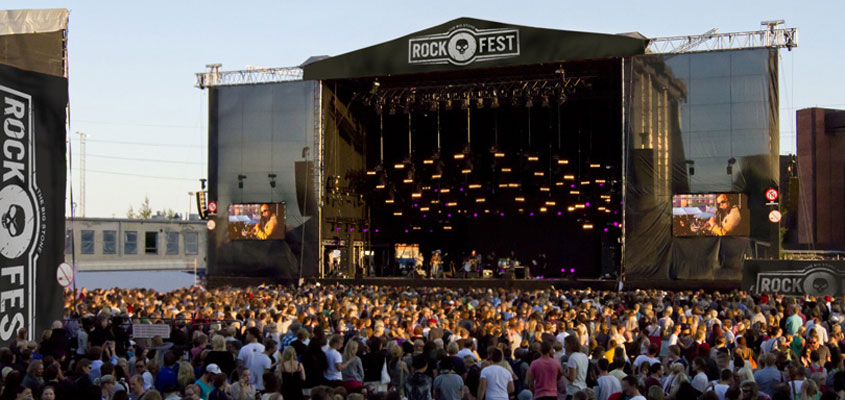 Step 8. Your outside concert planning isn't complete without portable toilets
Put in as many toilets as you can afford to avoid long lines and unhappy people. If there's one huge tip you shouldn't ignore about how to plan a music event, don't undervalue the importance of having enough toilets. That's one of the key ingredients of how to run a successful festival. 
Part 2: How to Execute the Event
The preparation phase is a long journey, but if you made it this far, it's time to party! Well, maybe not you. You've still got work to do. But at least try to enjoy yourself just a little bit during your big event. 
Here are some steps to ensure everything goes smoothly the day of.
Step 1. Go live to let the world know 
This is another way to promote your event and get people to know about it. Nowadays, social media is everything. Use this chance to get trending – and be ready to answer the comments that might pop-up from viewers.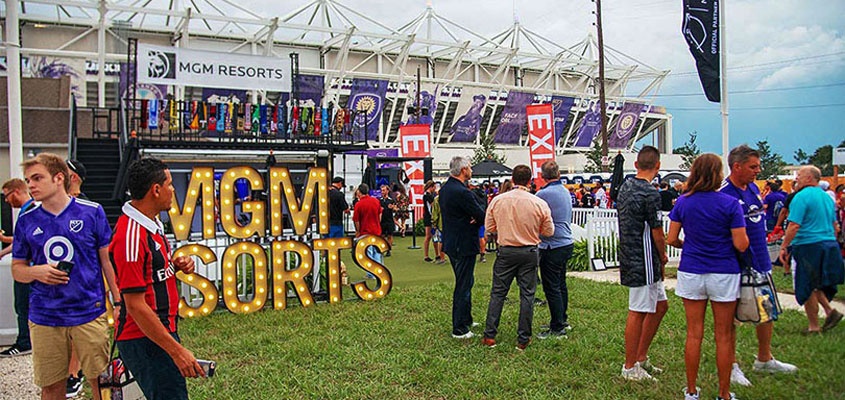 Step 2. Thrill your audience with free swag
Everyone loves free stuff. Custom flags, magnets, bandanas or totes with your brand name embossed on will go a long way for promotion.
Get your attendees' contacts for a mailing list and send them surveys afterwards. This will help you improve your service and make your next events even better.
Step 3. Keep things simple 
Before your big day, you should have a clear vision on how to plan a public event. This should include marketing for it using all available means inlcuding trade show displays. Keep everything simple, even on the day of the event. If there's an easy way to do something, do it. Don't overcomplicate any tasks, you're going to have your hands full as it is.
Respect people living nearby by ensuring the event sound is not too loud or continues on into late hours. Use signage to remind your attendees of this as well.
Step 4. Enjoy your event but always stay alert
Holding a public event can be great fun and open huge possibilities for you. But make no mistake, it's stressful and puts a lot of responsibility on your shoulders at the same time. Always stay alert and make sure you keep your visitors' safety in mind during the entire event.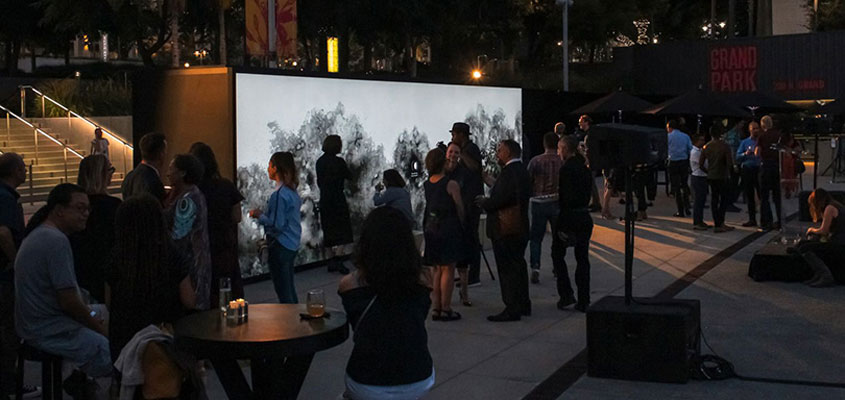 Step 5. Be prepared in case of emergency    
Have your staff fully trained for both natural and accidental emergency situations. They should be qualified and briefed with the ability to help people in difficult situations. For larger events, having medical help on hand is a must. 
This process will be a fun and amazing experience if you plan accordingly and surround yourself with good help.
Take what you need from this event planning guide! If you have further questions, or would like help creating amazing custom signs or graphics for your event, contact us. We can help with:
how to plan events effectively!

how to design your event signage to fit the type of event you're planning. 

how to not only impress attendees, but make a memorable impact to increase  your sales or conversion rates.
Our professionals are at your disposal 24/7 to turn your dreams into reality and provide amazing signage for your event!