Skip to content
Thinking about appearing in an exhibition or trade show but haven't made your mind up yet? Concerned about the preparation process? Not sure if you have a good enough idea on how to stick out from everyone else? We've got you covered! Get a move on and check out this article for helpful tips on how to have a successful trade show booth. Show off your brand to the fullest without missing a single detail. Launch your business with these trade show booth success tips to make the most out of your event! 
Tips for Trade Show Preparation
Congratulations on registering! Now it's time to step up to the challenge and show the world how to have a successful trade show booth. To make sure you've got all that you need, let's start at the beginning with these expo booth tips.
1. How to Plan Your Expo Booth
Take a good look at related shows, both your show from previous years and others that are in the same industry. Get a good idea of what everyone else is doing. Then you can begin customizing.
Figure out a winning strategy
Hold brainstorming meetings with your crew to plan your tactics and determine specific goals. Figure out the motto and mission statement of your campaign.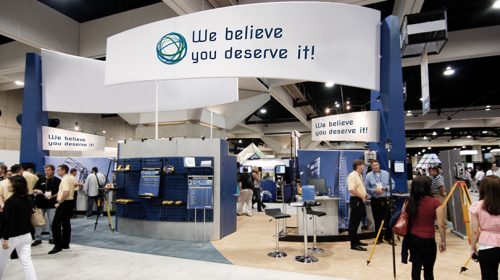 Calculate your budget/test ROI

It's worth investing in your fair. Don't be the company that shows up with an empty, basic booth. You've seen those at trade shows, and they never have anyone around them. Statistics point to at least $5,000 as a good budget. 

Measure ROI to make the biggest impact. Assess marketing tactics; exclude your biases and irregularities to avoid data distortion. It's easy to think "Oh, we all love this at the company, let's go with it." But you'll need to separate yourselves and look at things from an outside perspective.
You're not going to get all the work done on your own! Get teammates on board who are aligned with experiential projects and marketing to help with your various missions. Create a team that you know will have your back throughout the expo.
Hire merchandisers, a PR team, designers, and installation specialists. They all will be able to provide their own tips, even if you've done a few already.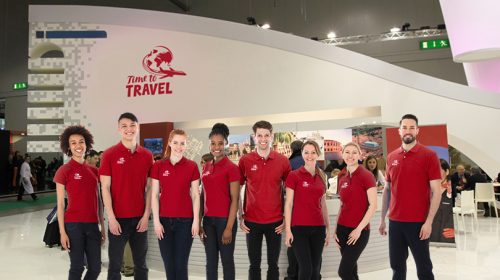 Look for a partner\sponsor. It will make things a lot easier if you can partner up with brands or businesses that are also interested in exposure.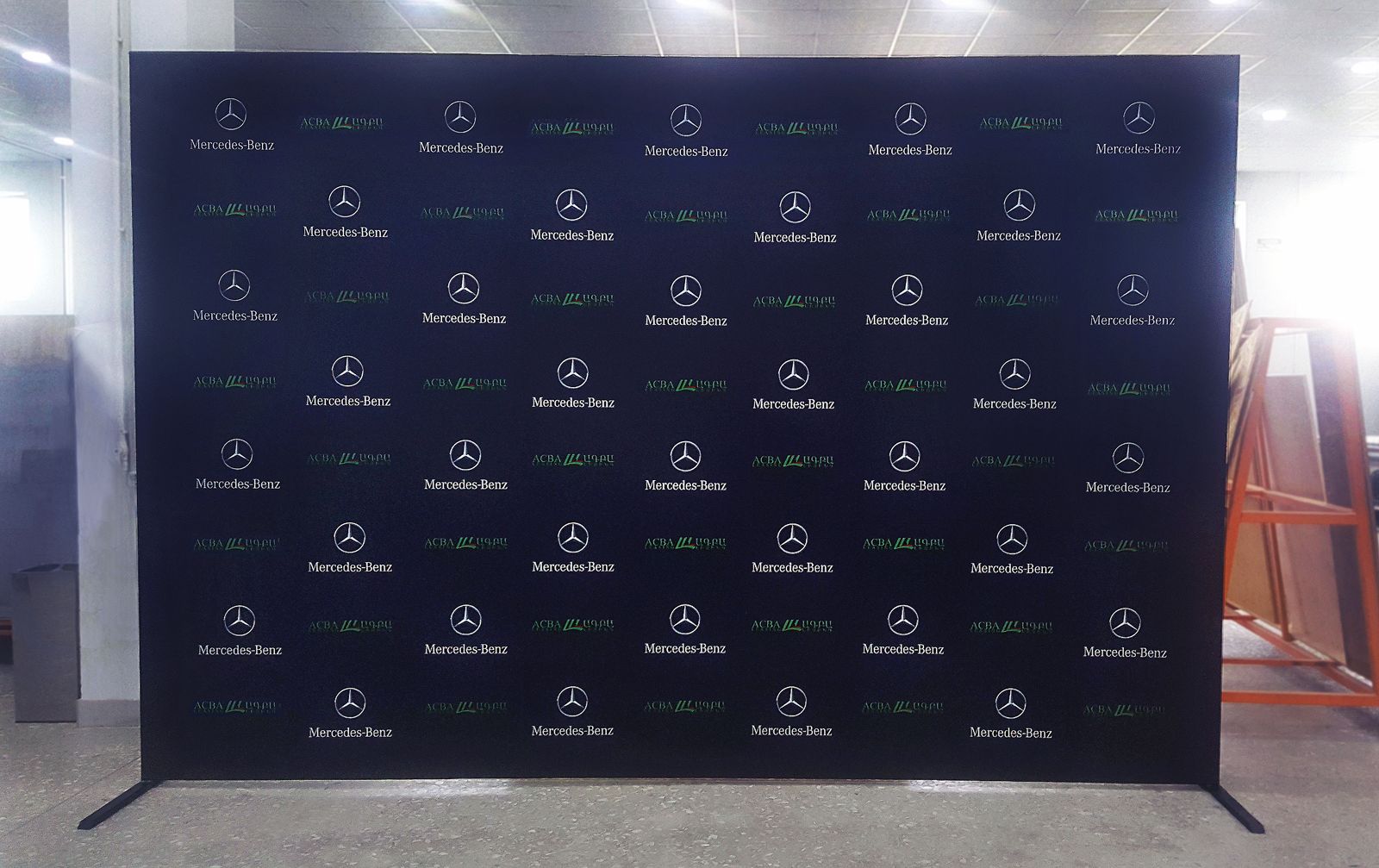 Don't overlook this expo booth tip. You don't want to get stuck in one of those dark corners that doesn't get much traffic. Here's what to keep in mind:
1.How the venue design fits your industry audience.
2.The facilities available.
3.The capacity of the event site.
4.Where the entries/exits are.
5.Where your booth location is in relation to the main events of the show.
Choosing a strategic location is a necessary step towards establishing your booth presence.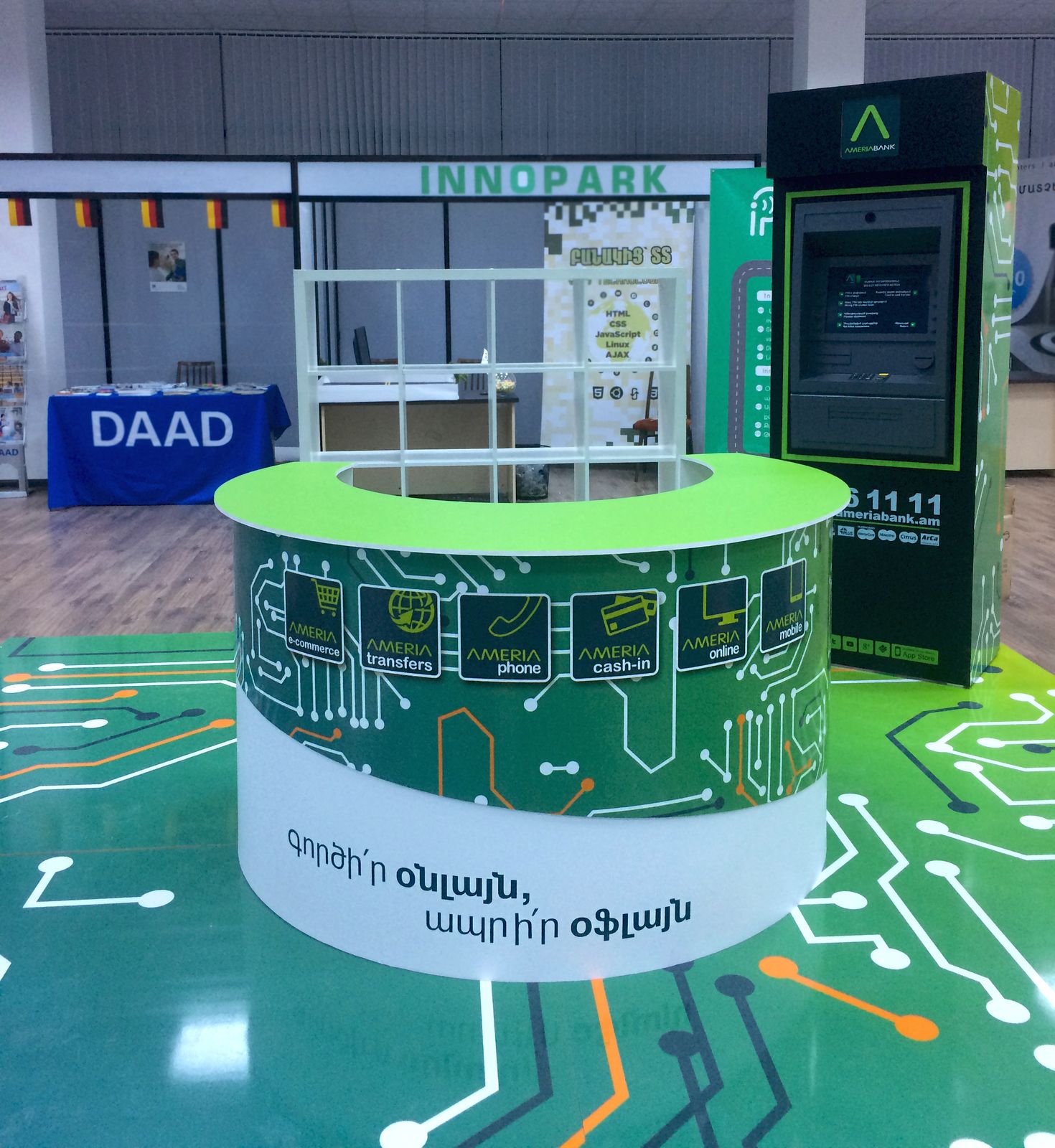 Schedule time to meet with booth visitors

If someone is serious about your business, give them a way to schedule a personal meeting. It saves you both time, helps you figure out who is serious, and gives them an opportunity to get your undivided attention in the middle of the chaos.
Attract your tech-focused audience with free Wi-Fi

This especially works for younger target audiences who like to stay connected. Wi-Fi is a luxury at trade shows, and provided coverage is often spotty. Set up your own with a big announcement that it's available at your booth. You'll get a big, consistent draw!
Hire a good DJ (someone who can read the crowd) to play background music for your guests. This always beats just playing random songs from a playlist.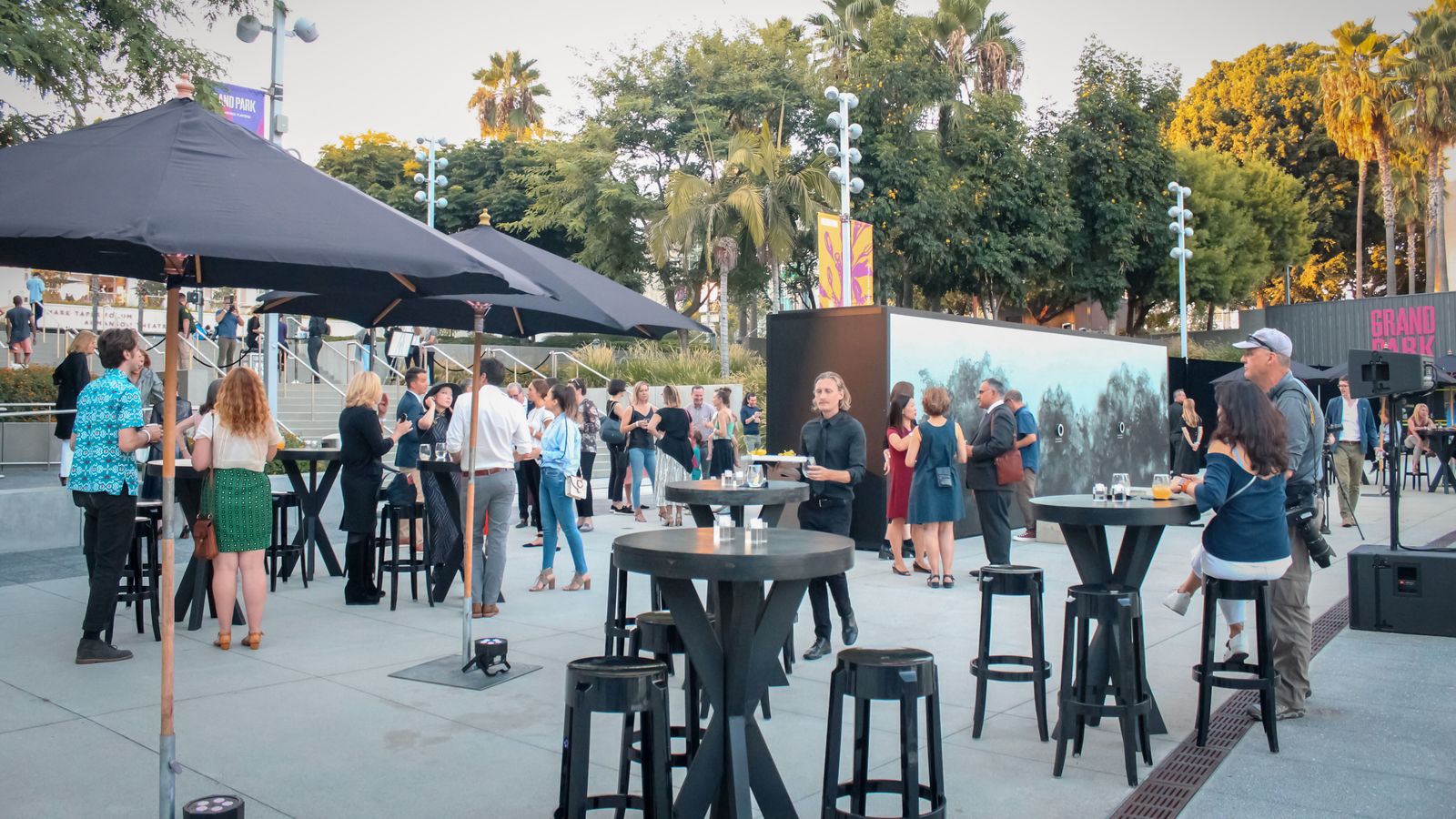 Think about hiring a good caterer. While not inexpensive, you will be guaranteed attention if you've got tasty snacks available.
Check out our trade show preparation checklist. 
2. How to Design Your Trade Show Booth?
When it comes to trade show booth design best practices, try the following 5 trade show tips for exhibitors. They combine design with strategy for a winning method to make a big positive impression.
Trade show booth design tips:
Tip 1. Make it interactive
Give guests things to do. Prize wheels, games, anything that allows them to interact with your booth and create an association to you in their minds. 
Tip 2. Shine bright
Don't undervalue the role of lighting. The lighting in the convention center is already going to be washed out and unflattering. Use uplights, soft lighting, or dramatic lighting to create a different atmosphere in your area.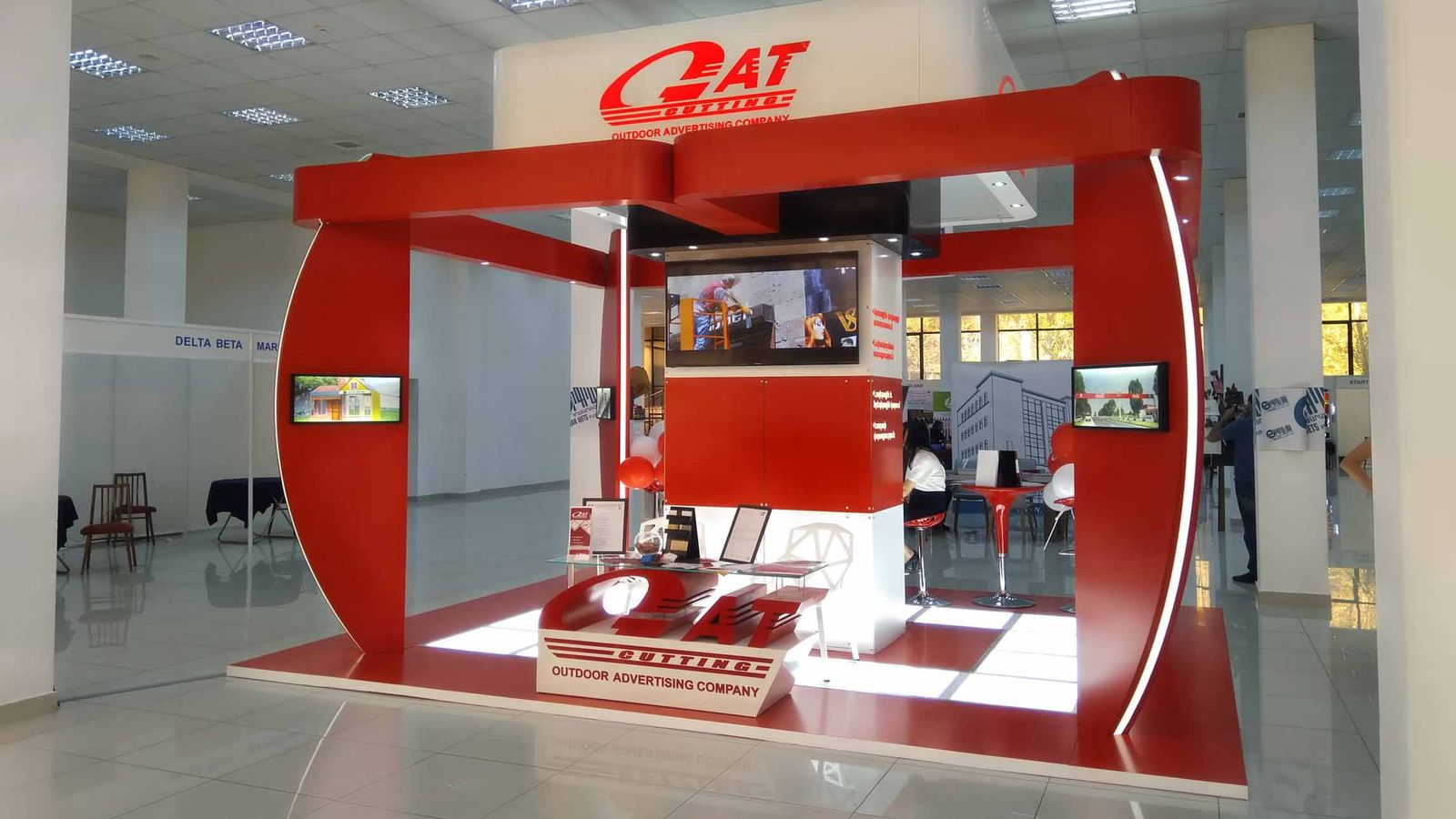 Tip 3. Concentrate on contrast
Keep your booth color contrast up with our trademark designs. Be readable and easy on the eyes. Avoid using colors that are blurred or faded.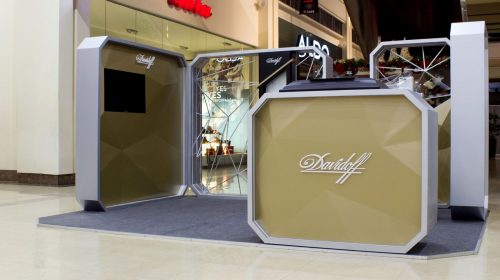 Tip 4. Appeal to your guests' 'Lizard Brain'
This trade show booth design tip focuses on speaking to people's 'lizard' or 'reptile' brain. In other words, appeal to people's basic instincts. 
Take a note from basic sales techniques. Attract attention, generate interest, get them to make decisions and to take action. Address their pain points and show how your business can solve their problems. 
Tip 5. Blow them away
It's always a win when you can positively surprise your potential clients. Catch them off guard, get their walls down (in a good way), and leave them open to hearing about what your business can do for them.
Wondering about how to make your trade show booth stand out, or how to design your booth display? Keep reading!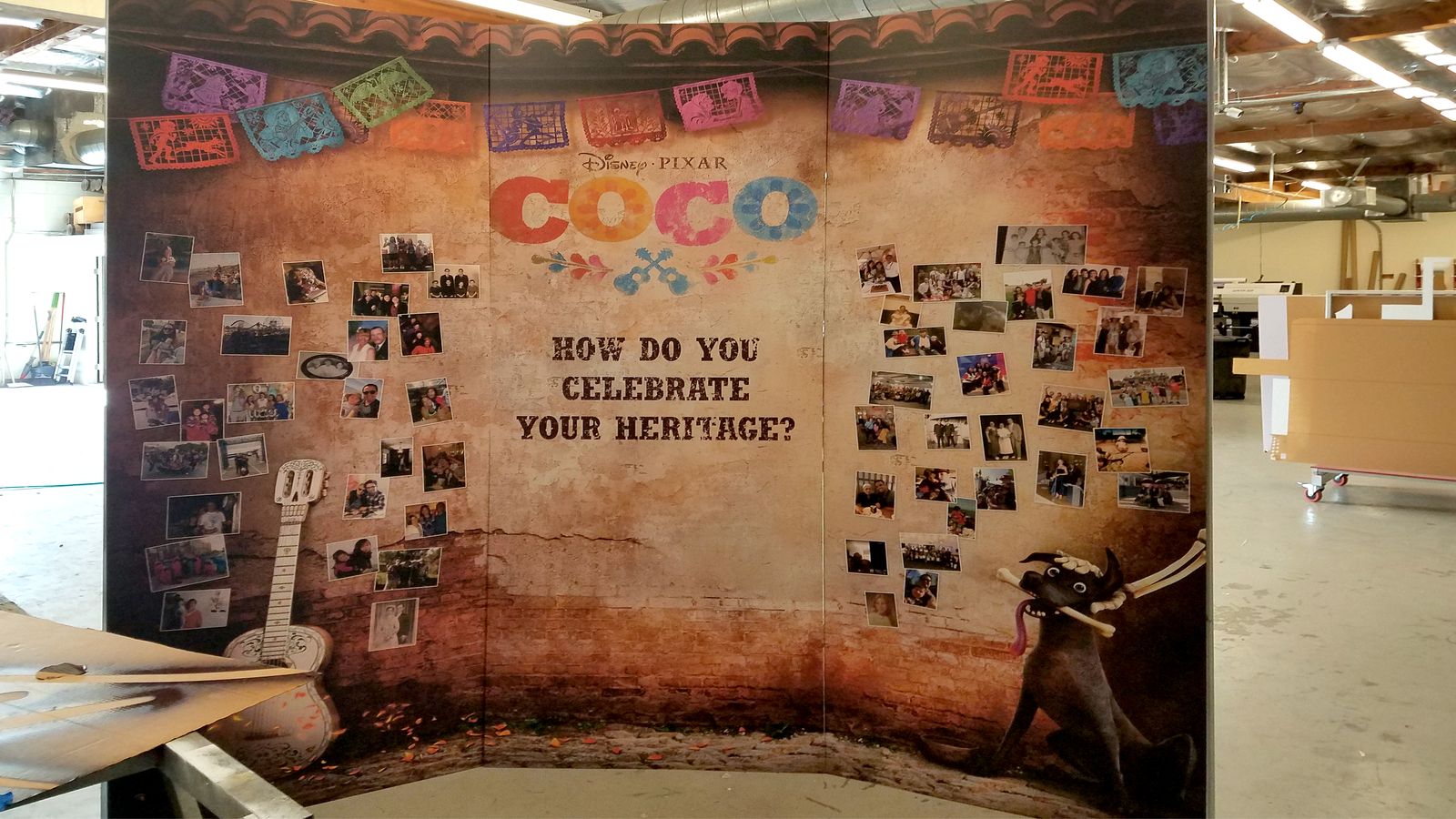 Trade show booth design elements
Having engaging signage is crucial. It's even more important when you've got a location off the main path or one that isn't particularly visible. Quality signage makes a powerful statement about who you are and what you represent. Here are the best event signage ideas that Front Signs offers to help your trade show or expo be an overwhelming success.
Element 1. Hanging signs are a showstopper
Stand out with this unique option. Use hanging signs to create a welcoming atmosphere and advertise your location to people coming from any direction.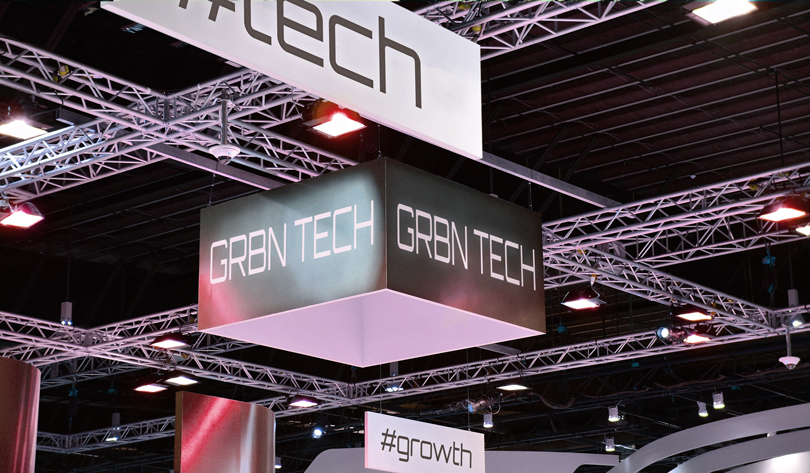 Element 2. Bandstand graphics are an elegant choice
Get right in people's eyelines with  bold graphics and marketing messages. Direct attention to your stall. Make an impact with customizable trade show graphics and make a splash in the sea of exhibitors.
Element 3. Pop-up displays are detailed and efficient
Here's a trade show display tip for those looking for convenience. These displays are easy to install while still giving you a professional presence. Consider this especially if you're working with a smaller team.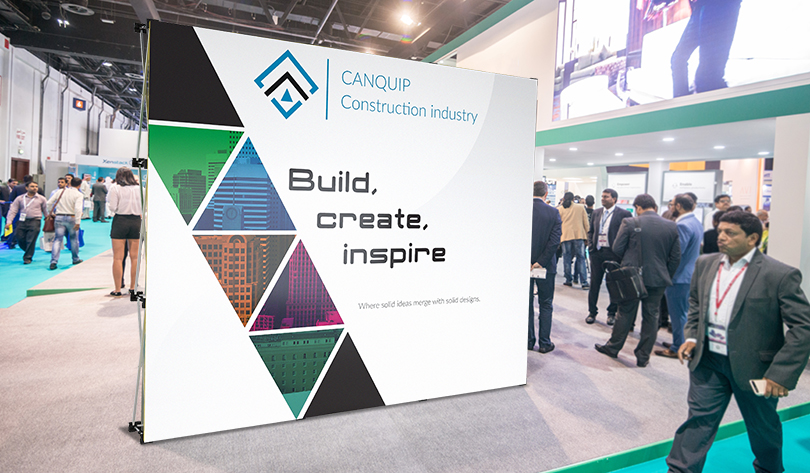 Element 4. Creative vinyl banners are a simple way to get visitors' attention
Easily catch customers' attention with this trade show banner design tip. Combine your logo/branding message with a custom design and print them out on vinyl banners to pique curiosity.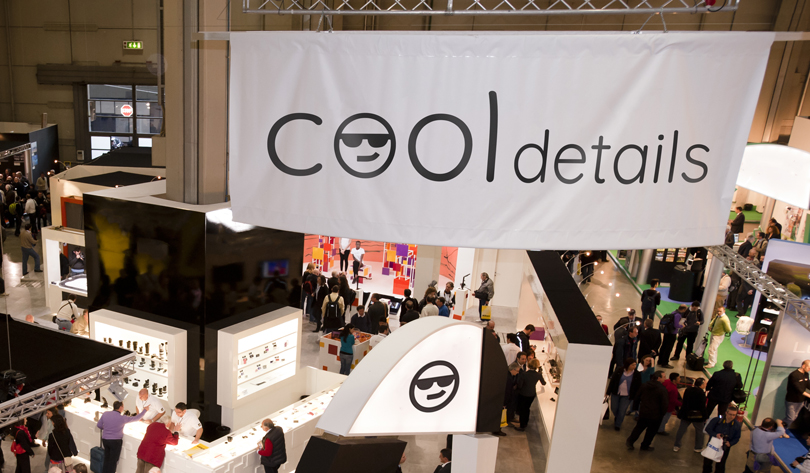 Element 5. Use tabletops to advertise your brand
Raise awareness with tabletop roller signs. These portable, attractive items set up in a matter of seconds. Use them anywhere!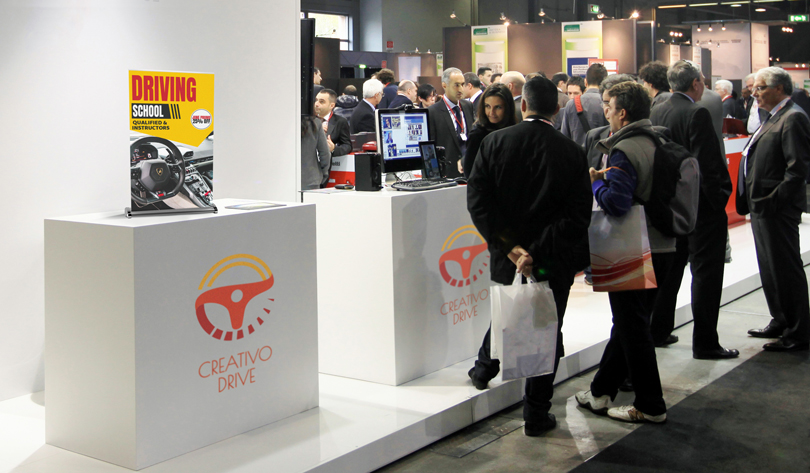 Element 6. Dynamic signage will wow your guests
Looking for something really special? Check out dynamic signs that can be customized to anything you like with immersive, exciting graphics.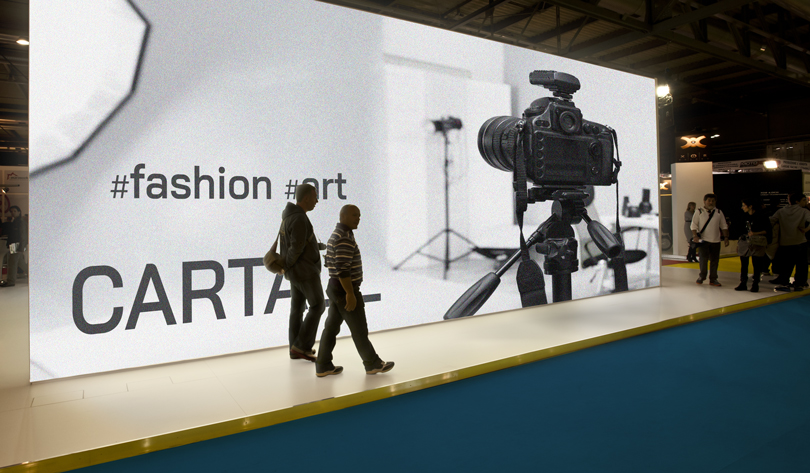 Element 7. Bulk posters that truly pop
Inexpensive but still completely engaging, bulk posters give you the ability to advertise in quantity. Get them designed however you like, and put them wherever you can. Always a great addition to any booth campaign.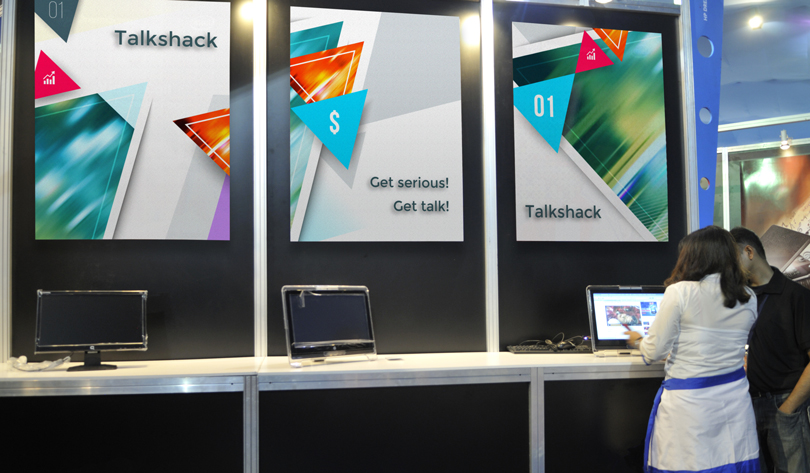 Element 8. Durable foam boards are highly effective
Spread the word with the help of lightweight foam boards. The boards are extremely easy to set-up and are highly effective due to being portable, printable with any design, and fairly durable.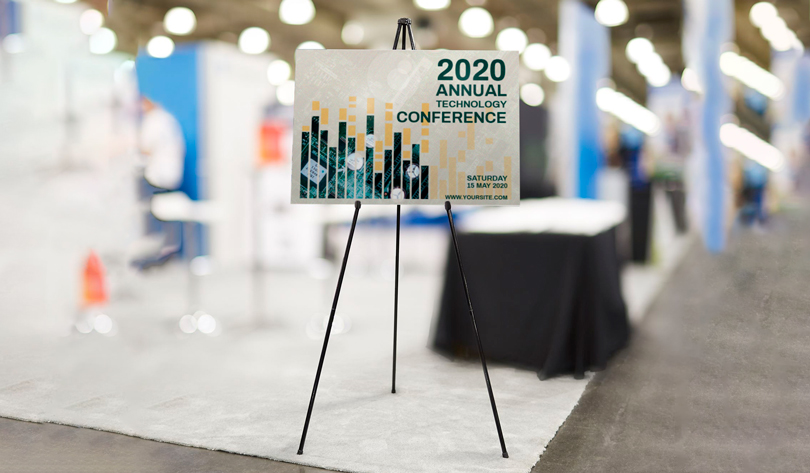 Element 9. Oversized flags create a prominent spotlight
Hang the flags high enough to make sure you get as much brand notice as possible. They're extremely adjustable and made to be attached to just about anything.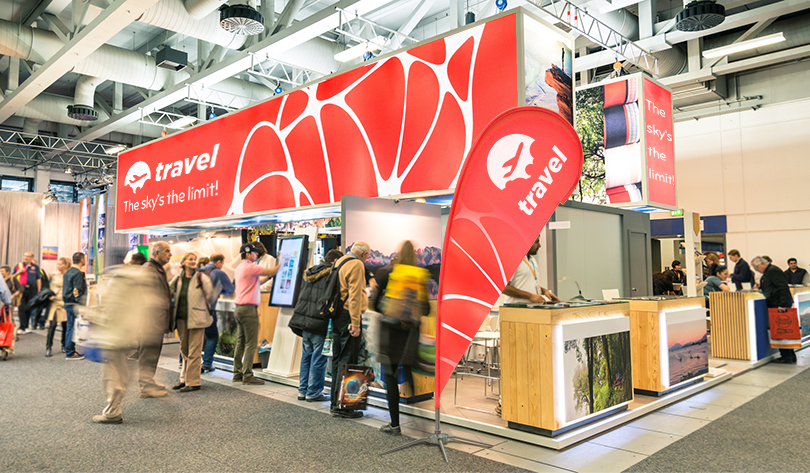 Element 10. Immersive wall decals make a big impact
Get tailored wall decals in any shape and size you'd like and reuse them for future business needs. This option is another one that is lesser-used but commands a lot of attention. Especially good for luxury brands.
Get a quote for similar design projects!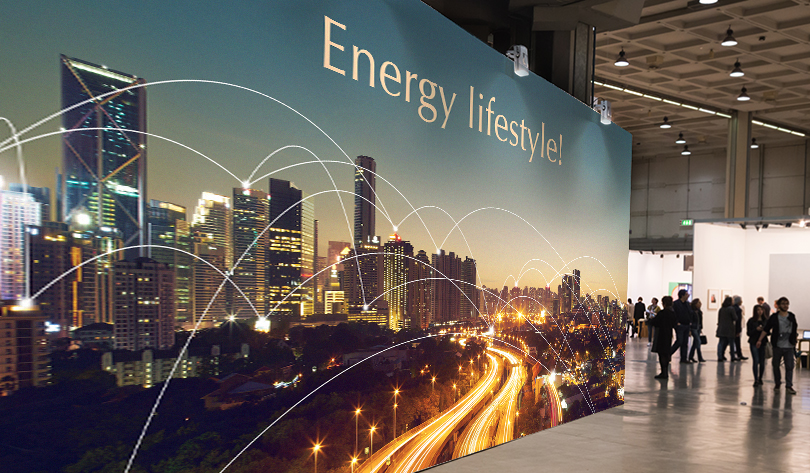 Trade show design installation tips
Once you've got your concept down, it's time to get it set up. Read on for installation trade show tips for new exhibitors.
Tip 1
Get a big edge with a prominent exhibition area that has easy access to loading areas and complete the installation process without breaking your back.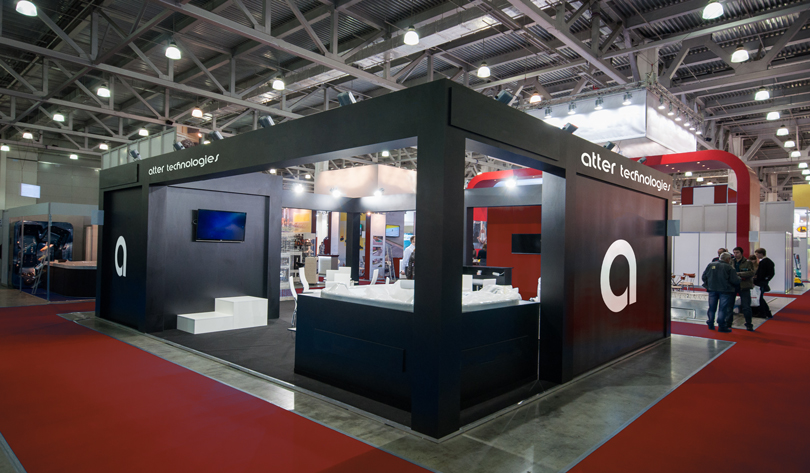 Tip 2
Complete the set-up process two or three days before doors open to the public. Don't let your booth installation and setup be last-minute. Otherwise, you'll miss important details for sure.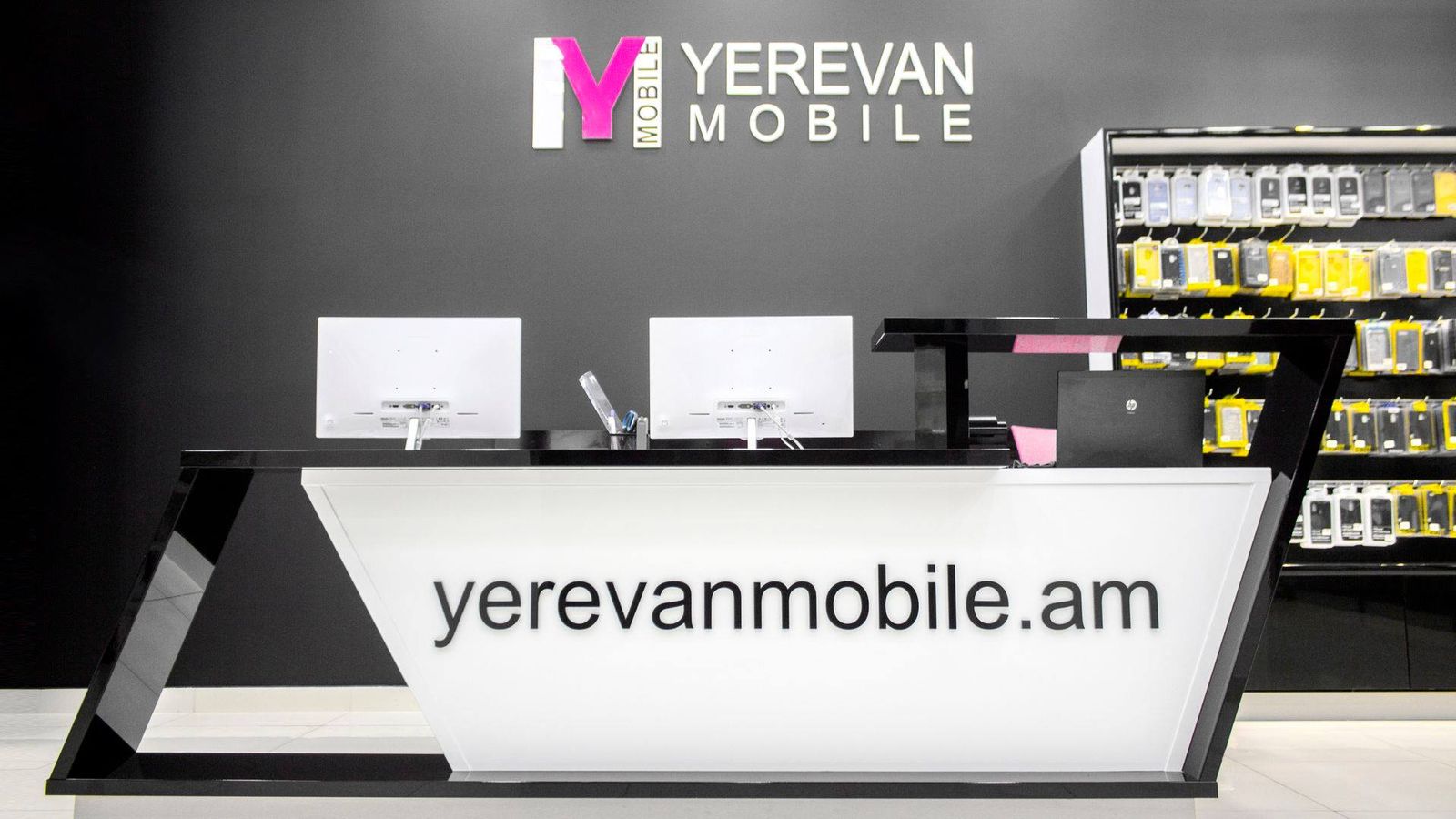 3.How to Prepare Ahead of Time
Just like anything else, preparation is key. Get started early and you won't find yourself stressing with too much to do and not enough time to do it.
Get your team together and have a pre-show meeting. Make sure everyone knows their role, knows the goals, and most of all, is ready to have a good time. Trade shows can be a lot of fun, especially when you've got a good team at your back.
Put your best customers to work for you
If you've got people who already love your brand, get them involved and do the work for you! Hook them up with some free tickets to the expo (or some free swag) and use them to your advantage to get potential new customers excited.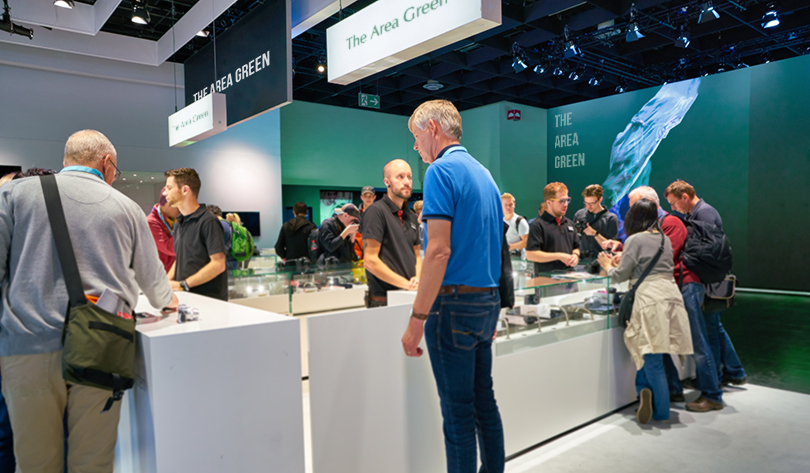 Chances are, nothing you're going to be doing hasn't already been done before. So find out who the best booths have been in previous years and learn from them. See what made them successful, and try to apply some of their tactics to your own strategy.
Tips for the Trade Show
You've planned, strategized, and worked for weeks or months. It's time to reap the rewards. You've earned it.
Get out there and connect
Now is not the time to sit in the back of the booth and watch as people pass by. Be friendly. Start interactions. Show interest in others and get the conversation going. Get people curious, and get them in your funnel!
Nowadays, social media is everything. Make sure you've got a hashtag, and something people want to post pics of with your brand in clear view. You can also create excitement by having some of your coworkers in plain clothes coming up to the booth and snapping pics on their phones to make it look busy. That's always a good kickstarter.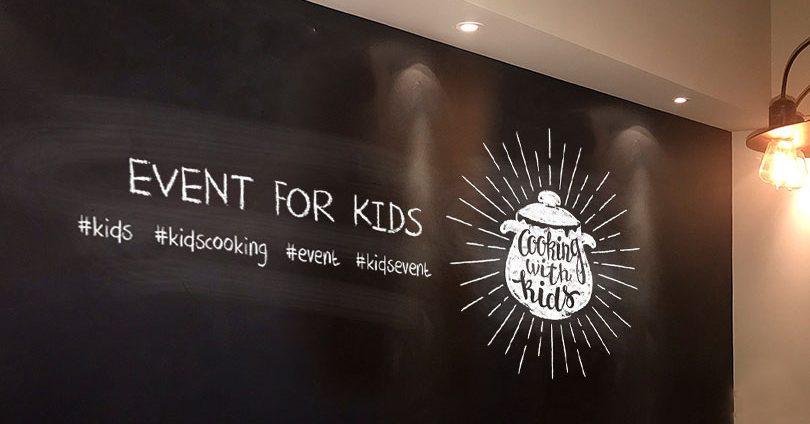 Make your attendees smile with fresh cookies or sweets. Have a coffee or tea station to make them feel welcome. Hospitality is one of the most essential trade show tips for new exhibitors to build new relationships.
Everybody knows how exhausting a business trade show can be. Engaging in business conversations and being pitched all day take a heavy toll on both exhibitors and attendees.
One of the best trade show booth etiquette tips is to be an oasis for anyone who comes by. Set up some comfortable chairs or sofas. Make your booth appealing and a place where people actually want to spend time.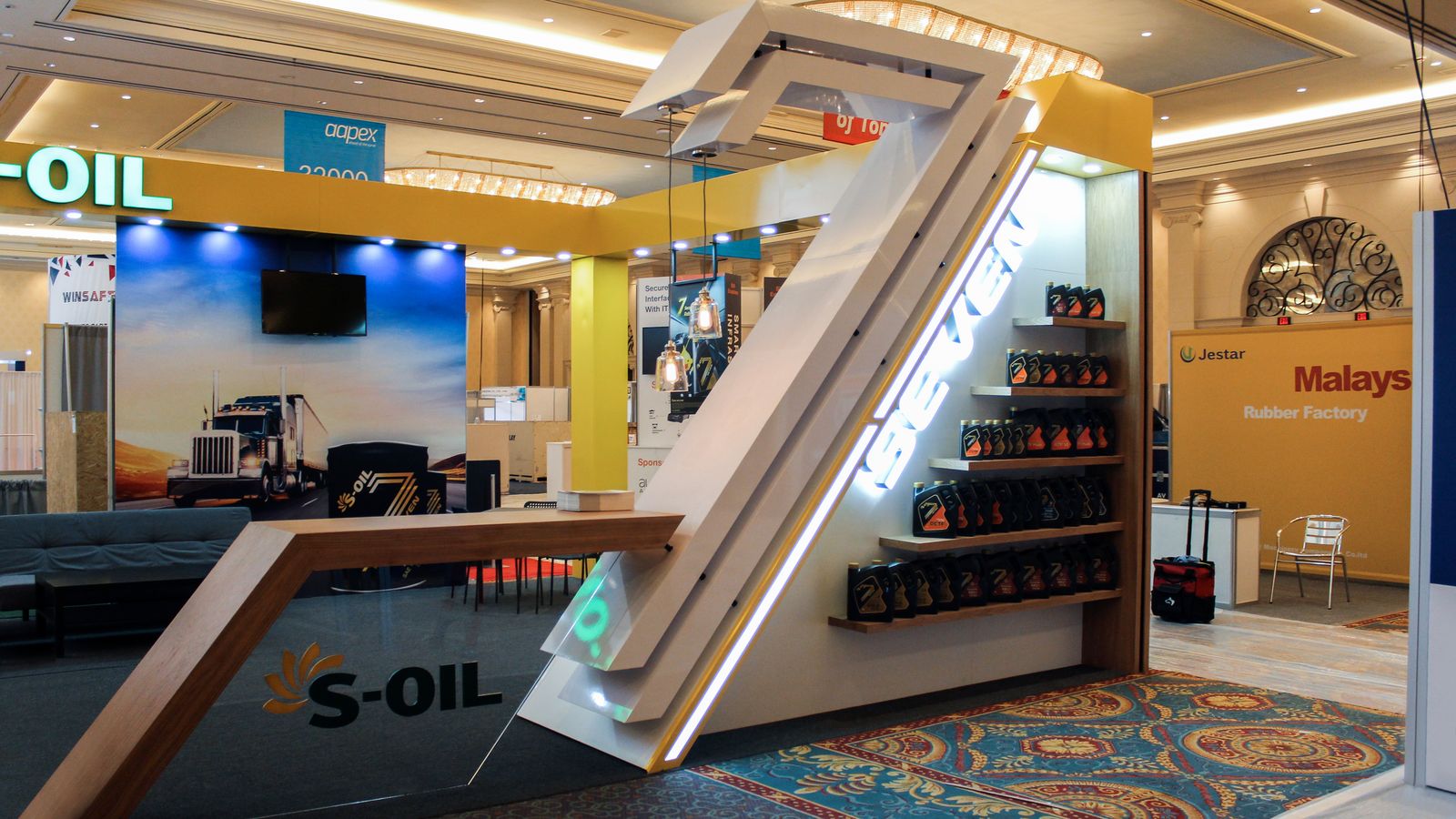 Start an internal contest
Get your staff invested by creating a contest with a nice prize. See who can sign up the most leads, who can get the most people over to the booth, and more. Make it fun!
Give new information to your customers. If you've got a brand following, they will be anticipating the latest news about your business. Get your staff up to date on the newest features and make sure they're prepared to share with visitors.
There are all sorts of games you can do to add a bit of fun to your presentation. Prize wheels are a surefire classic. We've also seen visitors get excited with ring toss and cornhole type games.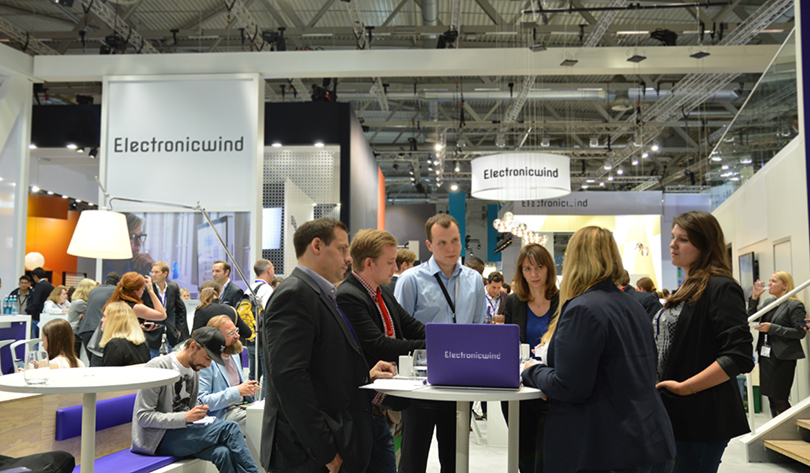 Give your guests little gifts
Order interesting promotional products as giveaway items. You can't go wrong with branded, useful items like bottle openers and pens.
Chances are, nothing you're going to be doing hasn't already been done before. So find out who the best booths have been in previous years and learn from them. See what made them successful, and try to apply some of their tactics to your own strategy.
This one is another that isn't inexpensive, but is surely memorable. Offer visitors transportation from the expo center to a main hub or hotels.
Tips for After the Exhibition
You did it! All your hard work has paid off!
It was a long journey, and you're almost finished. But there are still a few things remaining you need to do to make the most out of your trade show experience.
This is huge. All those leads you got should be added to your marketing funnel. Nobody should be left uncontacted. They gave you their info for a reason; don't waste the opportunity!
Get your team together and talk about what went right and what needs work. Go over as much data as you can. Analyze and investigate so you can find what works and amplify it for the next show!
See how your media channels are doing. Did you gain followers? Are people talking about you? Did they use your hashtags or tag your brand in pics?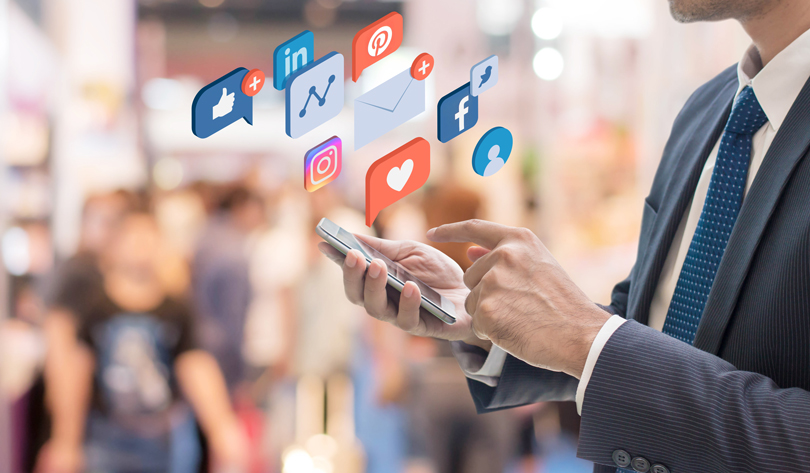 Looking for the best trade show booth design?
-Work with us to create an outstanding trade show booth concept and then sit back as we make the concept a reality!
-Collaborate with us on your signage and booth ideas and take advantage of our top-quality customer service, available 24/7.
-Contact us today! We'll help you create the ultimate expo presentation, helping you with our expert staff every step of the way.