The Trendiest Shimmer Walls for Branding and Design
Shimmer walls are superb design features made of thousands of iridescent mirrored disks. They display a multi-colored shimmer in all directions given a slight breeze.
Sequin signs are available in a variety of hues and styles. A notable example can be viewed on the western wall of the Raleigh Convention Center. It features the popular 'Shimmer Wall' display of an oak tree by Thomas Sayre. The public art piece is composed of 80,000 aluminum panels illuminated in the changing colors of sunset. This type of design can be used for decorating, branding and advertising. Such business signs imbue vibrancy into any place and are resistant to wind, be it rain or shine.
Shimmer Walls for Business Events and Trade Shows 
These design solutions catch the light and reflect brilliant sparkles. Shimmering backdrops are a great solution for events, trade shows and fancy celebrations. This type of corporate event signage will highlight your brand and logo with charm. Feel free to include illumination features with it for greater effect.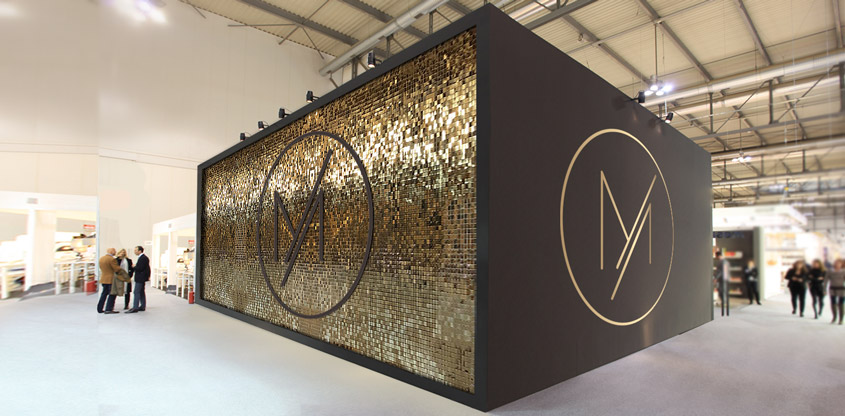 Exhibit design is becoming more widely regarded as a significant kind of public and private placemaking. Trade show displays are a key to enticing customers to your brand. Apply shimmer wall panels to your event booth and become the shining star of any venue. Sequin walls will cast an alluring visual for a glittering impression on your audience. 
Many companies use shimmer stands to draw customers to their trade show booth. Sequins on shimmer stands don't have a static appearance. They move in flowing patterns at the slightest breeze for an eye-catching effect. These shimmer wall stands will create a glowing advantage for your brand. 
Refer to the link if you'd like to discover more trade show booth success tips.
Branding shimmer backdrops
Your trade show won't be successful if it doesn't have outstanding branding. Shimmer wall backdrops can incorporate your company's name and logo to optimize your branding efforts. Shimmer wall backdrops come in a wide range of colors, shapes and styles to portray your brand with an unforgettable pizzazz. 
Don't hesitate to contact us for a free quote on custom shimmer panels for your event.
Shimmer Backdrops and Panels for Retail 
Sequins are great for use in various settings. Shimmer signs are an effective way to create spirited effects. These custom signs often used for advertising, decorations and branding. Let's see what kind of shimmer solutions create a great impact.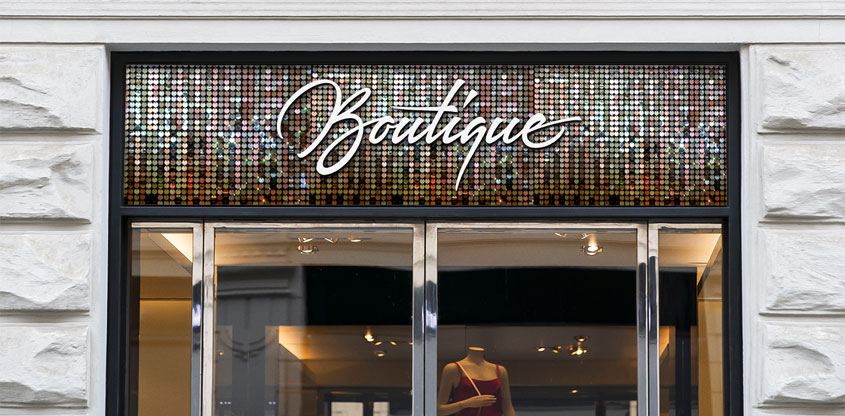 Shimmer storefront solutions
Customers nowadays prefer to buy experiences along with their products. A shimmer wall backdrop is an excellent means to encourage sales. It will make your marketing more pleasant and well received. The effects of storefront signs that align your services with the types of experience you offer are immense.
Your brand image comes to life as the sequins sway. People get captivated by the shimmer walls from afar and come to admire the striking view. Make sure to include your motto to showcase your company's values. You can also enhance customer experience with inspirational quotes and phrases.
Shimmer billboard solutions
Dynamic designs are becoming increasingly popular in outdoor advertising. A sequin billboard will attract an audience more effectively than static graphics. Billboards such as pylon signs are one of the first things that spring to mind when people think of outdoor advertising.
They're an electric medium that captures people's attention. Building signs are generally located in high-traffic areas to show off your brand from a distance. Let the sequins sparkle in the sunshine and highlight your advertising efforts.
This article covers more ideas about cool and creative sign designs. 
Outdoor shimmer wall solutions
Cut the panels into inventive shapes to create unique designs. Complement them with your brand colors to make your premise pop. Glittering walls entice people and make their store visit feel like an extravagant experience.
Sparkle wall art becomes a hot spot for customers that want to take photos for social media. Think outside the box. Entertain your visitors with tailor-made solutions and make yourself stand out from the crowd! Generate revenue starting from the exterior.
Contact us for a free quote on your custom shimmer wall projects!
Sequin Walls for Interior Designs
Once your shimmering outdoor design is complete, it's time to bedazzle your guests from inside. If you want to take your interior design from plain to playful, add sequin wall decorations to accompany your interior signs.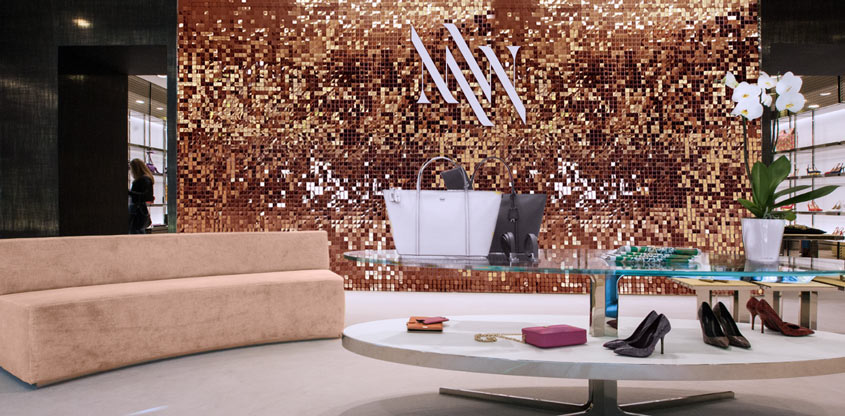 Colorful paillette walls can be a great addition to your interior. They're made of small radiant disks that cover a surface area in specific arrangements. They can be used to accent any aesthetic. You can add these shimmer disks to partial areas or an entire wall if you prefer. Narrow down the possibilities with colors that suit your space. These sparkling solutions will captivate your audience and create a fabulous atmosphere.
Visual enhancement is not the only factor for an effective environment. Interior design can harmonize a space with various elements. Every room needs a focal point to draw focus and direct it in a sequence. A wonderful work of art might easily fulfill this requirement. Imagine a great piece of shimmer wall art adorning your accent wall. Sequin wall backdrops on a central wall along with matching lobby signs will delight any guest right when they enter your venue.
Don't miss tailor-made sequin designs for your next celebration! Get your free quote now.
Interior placemaking shimmer walls
Sparkling walls shouldn't be an afterthought. Make them a key component of your interior design and turn any space into a special place. Use placemaking sequin walls to decorate and create a pleasant environment. You may even add illumination for extra visual appeal. Use it to mark the focal point of your room. Custom decals can also distinguish your sequin designs. 
Check out this article on creative placemaking signage for more inspiration. 
Sequin Wall Backdrops for Wedding and Party Photoshoots
Do you need a show stopping feature for your big day? Custom sequin wall backdrops will delight your visitors and make the space come alive with sparkle and shine. We can make beautifully customized shimmer wall backdrops for any occasion.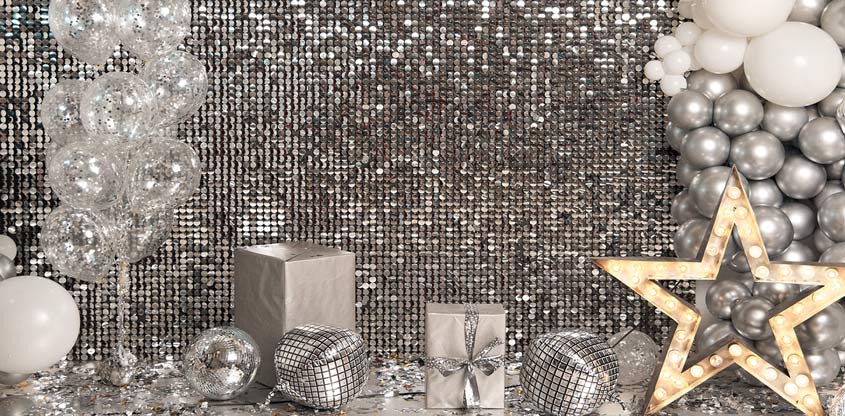 Sequin sign and wall panel combos
Bring a sense of brilliance to any event with bespoke shimmer wall backdrops. Sequin signs are simply a must for an ideal selfie! Enhance the striking look of your sequin wall backdrops by combining them with additional design features. 
Light up signs are a great way to bolster the appearance of a glitter backdrop for your photo wall. Use 3D signs for beautiful photos and a lifetime of memories with your loved ones. Make sure to keep a cohesive style with all the details for your sequin sign designs. 
Sequin wall backdrops and balloon combos
Hang balloon garlands over your shimmer wall backdrops for a charming photo space. Pick out colors and styles that match your brand. Add multi-colored balloons of various sizes to the mix and you'll have a striking set. 
Balloon arches with shimmer backdrops are becoming an indispensable party element these days. Adorn your shimmer backdrop with flowers for a real wow factor. Florals will add a touch of romance to your enchanting shimmer wall backdrop. Use artificial flowers to ensure they keep 'fresh' all day long.
Shimmer wall backdrops with decorative combos
You're free to select a shimmer wall backdrop design based on your requirements. Arrange a setting with plants that feels fresh and lively. Or use graphics that will transport you to paradise. There are limitless decor elements you can choose. Thanks to moving sequins on the shimmer wall backdrop, any theme will feel a lot more special. 
How many selfies can you snap in front of your decorative shimmer wall backdrop? Combine your unique shimmer sign with fun features for an innovative look. The options are infinite!
Put the sparkle into your space with these shimmering design ideas. To sum up, here are the key concepts we've covered in this article:
Main types and uses of sequin style products for events and trade shows

Eyecatchers for retail and business branding, advertising and marketing

Dazzling designs for interior branding and decoration

Sequin wall photography space design and decoration combos
We're a full service sign making company providing excellent craftsmanship with quick turnaround times. Let us help you create magical designs with custom shimmer backdrops. We've got your back whether you're a small business or a global retailer. Let's spice up your displays!