Custom Pylon Signs: Local LA installation service available
Pylon sign, also known as plaza sign, has a freestanding vertical structure with advertising space. The stand can be LED illuminated or non-illuminated and is used to provide maximum road front exposure and thus attain brand visibility 24/7. If your business is located in an industrial area or along the highway – it makes sense to go for Custom Pylon signs.
Front signs offers supreme quality custom-made Pylon and monument signs in Los Angeles, CA that best meets your custom expectations. Typically, these Pylon freestanding signs come in different styles, shapes and sizes and for various applications. Usually, shopping centers use these Freestanding signs to display the brand names doing business at their venue.
The Pylon signage, made to suit the business area – sometimes even referred to as small billboard or just Highway sign has a moderate height and, therefore – attracts and directs commuter traffic toward your venue.
Customizable stand-alone Pylon signs increase your company's brand presence and recognition. Vehicles traveling at high speed will have no chance but notice this board as it is an eye-catching sign and easy to spot from afar.
Plaza stands make huge difference for shop businesses or large corporations tucked away from crowds of people. Small to medium businesses strategically design and locate the sign to double up the potential of passing trade. Modern pylon signs – let it be a high-tegh digital or static traditional display –  create massive impact for facility, are the gateway for your existing and potential customers to drive toward your business.
LED illuminated pylon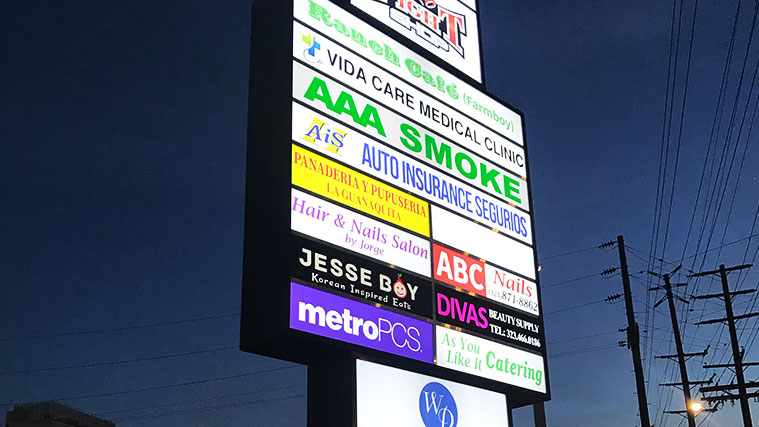 The LED illuminated freestanding signs are appealing to the eye 24/7. The signage can either be fully illuminated or only lighted through acrylic letters and logos. It is easy to notice at any time of the day, thus attract more attention from a distance and provide a longer viewing window to the drivers and passers-by.
Non-illuminated pylons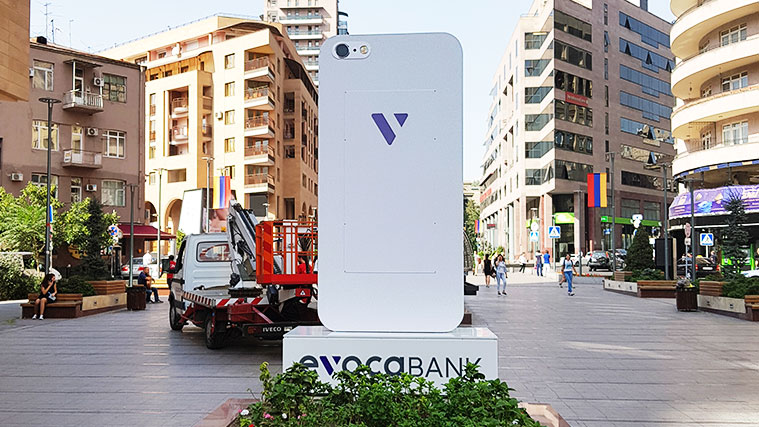 Non-illuminated pylons also have high demand in the market. These stands allow all businesses to showcase their company signage - ideally complementing the surrounding area. This style is more required by municipalities to add sense of distinction and permanence to the building or property.
Multi-tenant pylons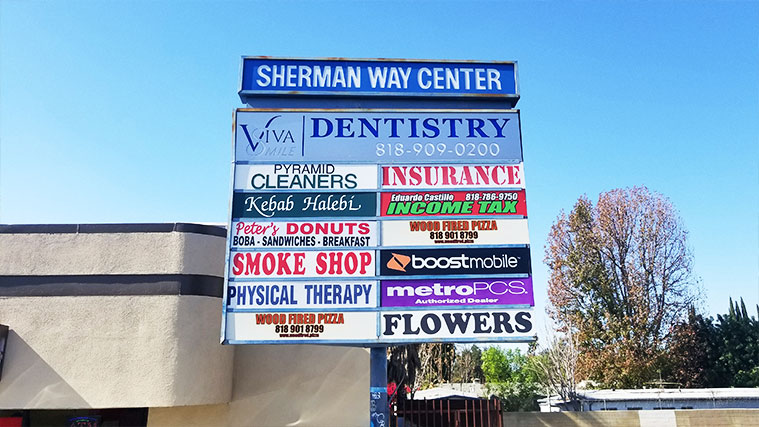 Multi-tenant pylons are often used for malls, shopping centers and business centers. These signs display the names of multiple companies on them. Office buildings and other developments which host multiple companies are generally seen at entrances or in parkways.
Outdoor Monument signs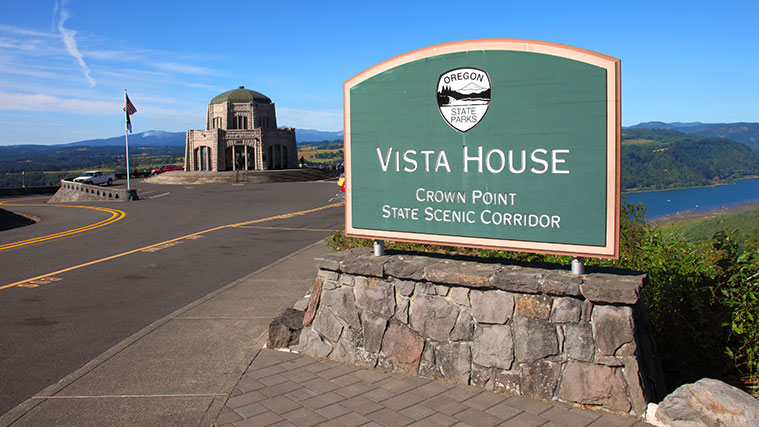 Monument signs give a classic and professional look to the business. If you require business presence - monument signs are vital for street visibility. Usually made to demonstrate only one or two business names, Monument signs are made of different materials and styles. Corporate headquarters, churches and schools aesthetically showcase their presence with custom monument signs.
Other types of Monument Signs

Changeable letters Monument sign

Churches and schools highly benefit from this type of Pylon sign. This changeable letter monument sign leaves space to notify the schedule changes, upcoming event, etc. The interchangeable letter custom pylon signs can also be illuminated. Thus, it's another great way to showcase your establishment name and logo day and night.
Aluminum Monument signs

Highly used by health institutions and private companies. Aluminum or Brushed Aluminum with Vinyl lettering take Monument Signage to totally new level. Can be illuminated and edge illuminated.
Brick Monument sign
Monument signs include specific elements such as brick. The brick side-street sign has professional and solid look. The base construction can be brick made, whereas the actual sign can be made of PVC, wood, Aluminum or any other material that will best depict your logo and message.
Natural stone monuments signs
Natural stone monuments signs are alternatives to the brick style Side-street displays. The company name can be engraved, flat-engraved, thus leave deeper impact on the passers-by. The Natural stone monument displays can be illuminated with cut thru Acrylic letters or channel letters.
Monument street-side and pylon freestanding signs differ from business to business.

Custom Pylon signs can be found in a number of locations, you can see them next to any busy highways and roads of Los Angeles. To suit your brand theme and style - custom pylon signs are designed to give modern metallic, classic or wooden rustic feel.  They are typically used on the property or lawn in front of a building to increase exposure for drivers and passers-by, and they create a focal point to identify your location, extend your brand , and welcome visitors

Here at Front Signs - LA-based plaza sign makers, we custom manufacture Pylon signs for shopping centers, office park directional or wayfinding, petrol or informational purposes.

Custom Pylon signs have widespread usage among banks, retailers, hospitals, hotels, etc. These custom plaza signs can be used as a cost-effective identifier for industrial complexes, car dealerships and gas stations.

If you are located along a road with lower speed limit, within more residential area, Monument is a better option. You can display your company name, information, logo and message to increase the visibility of your brand.
For instance, lightbox cabinets and channel letters work with Monument signs and depict your brand uniqueness.
Visible from afar

Custom made with limitless design options and possibilities

Reflects your company's identity and professionalism

Have a long lifespan

LED pylon signs provide 24/7 visibility

Weather resistant

Can be of various heights
Pylon signs are made up of three key components: the cabinet, cabinet faces and sign supporting system. The base support can be manufactured with Aluminum, concrete, Wood, etc. Whereas, for the cabinet face part of the sign, Acrylic, Lexan, PVC, Aluminum, adhesive Vinyl and other materials can be used.

Due to technical specifications, Pylon Plaza signage requires professional installation. The sign is either installed straight to the ground, or the pole is installed on the ground and the lightbox is attached to the pole.
No matter if you are local business looking for identification sign like monument, big corporate along the highway trying to state your presence  or need multi-tenant pylon to showcase the tenants within your property, Front Signs is here to assist in designing, installing process of your custom pylon sign. We serve Los Angeles and nearby areas!
Size and thickness: Customized
Shapes: Customized
Lifespan: 7+ years
Get Quote
Please submit your information and a Front Signs representative will contact you
Pylon Signs FAQs
How do you install huge Pylon Signs?
If the sign is too big, we will need the help of a crane truck to put the sign in its place. And our professional craftsmen
at Front Signs
will continue the process with special tools and equipment.
What is the best location to install Pylon Signs?
Usually, Pylon signs are installed next to busy highways, motorways and roads. The main aim of an outdoor advertisement is to make as many people notice the sign as possible. So it is recommended to install your sign on the side of the road to make it more visible. In this case, plaza signs are perfect as everyone passing in that area will notice the sign, even from afar.
What is the difference between Pylon and Monument Signs?
The main difference between pylon and monument signs is the height. Pylon signs are much taller than monument signs. These signs are best for shopping malls, and business centers as they can have the names of many businesses that rent their venue, while monument signs usually have the name of only one company.
Does a Pylon signage really help in increasing brand awareness?
The Pylon sign is the best type of advertisement to increase brand awareness. These freestanding plaza signs can be seen from across the road and will catch the attention of drivers and passersby. Pylon signs are the most effective types of outdoor signage. Imagine how many people can see your LED lighted Pylon plaza signage when it is located next to a busy road.
What Can You Use Pylon Signs For?
Pylon signs are perfect for outdoor advertising, as they provide high visibility. These signs can be found in front of shopping centers, business centers, next to highways, etc. Business centers use Standalone plaza signs to mention all the offices that are located there. Same is with shopping malls. You can have any information you want on Plaza signs.