9 Cool and Creative Sign Designs That Raise the Bar
Sophisticated signs are the guarantor of a professional atmosphere and inspiring ambiance. Why not make the most of your premise with creative sign designs?
Your efforts won't go to waste with cool designs for signs that send your message across the board.  
Let's take a look at 9 creative signs and designs that have brought immense value and inspiration to our customers! 
Huge Creative Sign Designs:  Concepts for Branding
Our expertise in signage design has created extraordinary branding for our clients. Here are some of the top projects completed by our team including trade show displays, office branding and more.
Best Signage Designs Completed for Commercial Institution Branding
Design Project 1.  Ameriabank – Turning Ordinary into Extra!
Our team transformed Ameriabank's regular interior into a mind-blowing work of art. The implementation of the bank's interior signage took several months of hard work and was worth every minute. Let's check it out.
Illuminated arch over a welcoming semi-vehicle and bike parking
 Imaginative, aren't they? Lobby signs are one of the first things people see. It's crucial that they stand out and reflect your brand identity. Front Signs highlighted the bank's unique personality with these innovative features.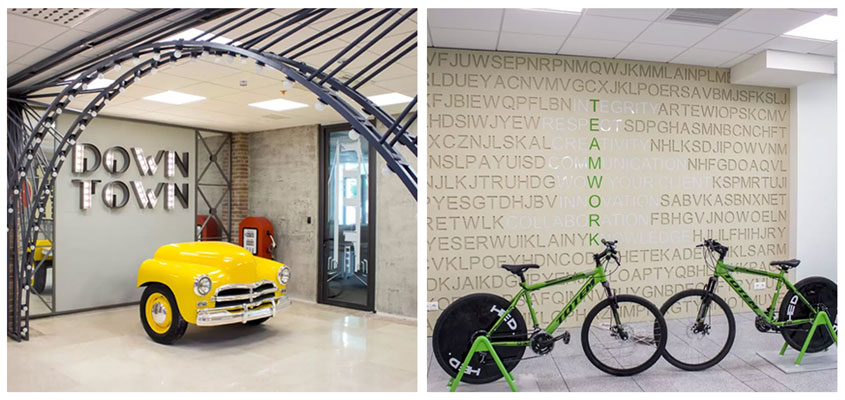 Wall decorations that breach the surface
No one likes blank walls, especially those of a dull bank. Why not direct customers' eyes to this suitcase-adorned accent wall? Or light up their minds with light up signs and channel letters framed with wooden slats? Hexagonal storage units or spaceship windows, anyone?
Our company designed, fabricated and installed these business signs. Their aim was to stretch the limits of the imagination. Envision it and the rest will be realized by our talented crew! 
Our focus was on cool designs for signs that would help Ameriabank set a new standard for the industry.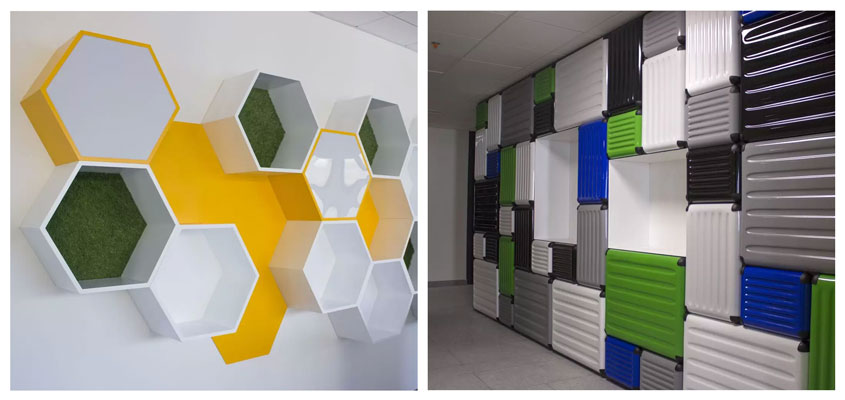 Guiding stickers that beautified the paths
Front Signs didn't cut any corners when bringing this grandiose project to life. The adhesives on the floors add an extra kick to every step. They harmonize the overall airport-themed design. Digital runways lead the way and streamline navigation to the 'command center.' 
No one would ever expect this design to belong to a banking establishment. It's so cool that customers will enjoy their experience with finance for a change.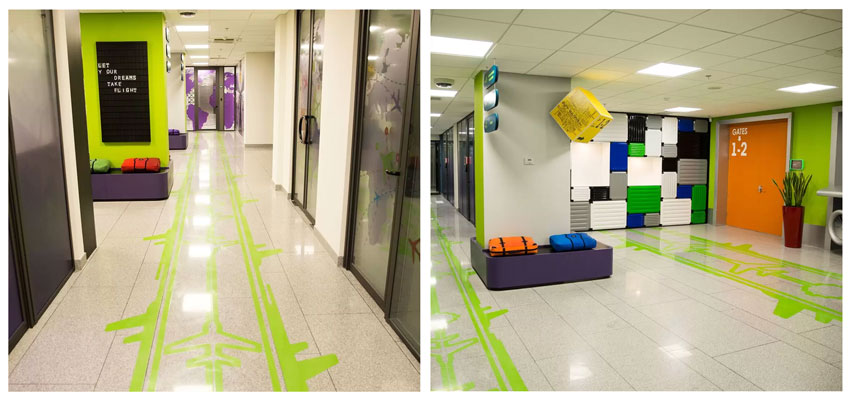 Creative wood signs and designs to incorporate natural elements
Our craftsmen have merged handsome natural elements with a serious business image. Our mission was to establish creative wooden signs and designs that would reduce stress and boost productivity. 
We did it by mixing organic materials and advanced fabrication techniques like engraving. The result was a range of custom signage products with an enhanced visual appeal. Durability and a sense of balance were also key.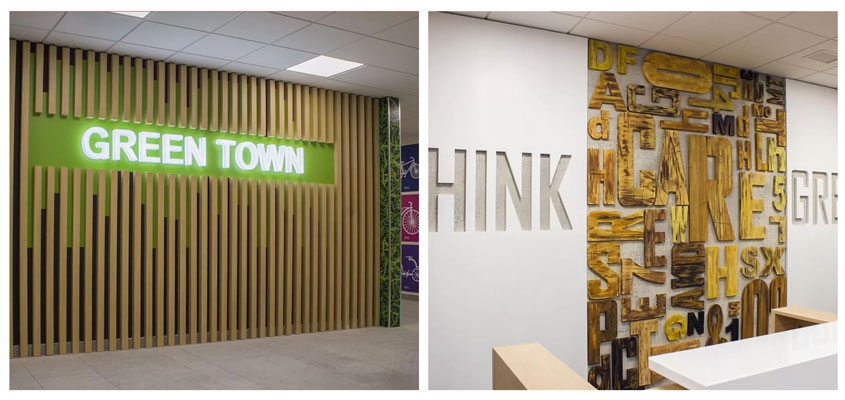 Related: 9 Outdoor Business Sign Ideas and Tips to Boost Your Brand
Design Project 2. Erewhon – Bringing into Light the Best Corners of the Building
This luxury supermarket in Los Angeles turned out to be our next triumphant project. Our designers merged promotional materials with aesthetic solutions to create functional beauty. Let's have a look. 
Thematic badges for a positive lasting impression
This project was centered around versatile decorations for the walls and windows. The sample of signage design shows the endless creativity of our professionals and the top quality of our large format printing services.
These compelling store signage design examples are adhesives that apply and remove within minutes. Don't miss the chance to bring your brand to thousands of customers. There's no excuse when it's so simple to accomplish. 
The name and message of the brand was displayed in a distinguished font. Purposeful yet minimal backgrounds made it pop. They captured the cultivated essence of Erewhon and elevated it to the next level.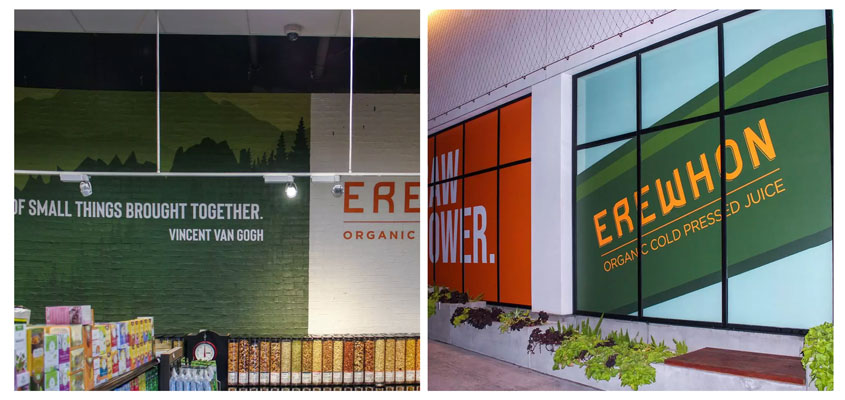 Exquisite adhesives to exude elegance with a branded window space
Large windows are a perfect place for promotions. When adorned with neatly designed window decals, they express brand aesthetics throughout a commercial space. Our team's artistic abilities were put to the test for this project. The results were as refined as the Erewhon brand itself.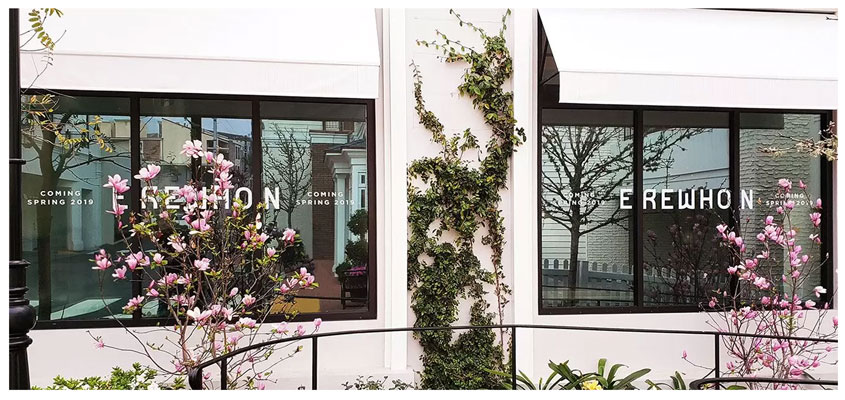 Related: 11 Guiding Tips on How to Design a Sign for Your Business Like a Pro
Best Signage Designs Fine-Tuned for Corporate Events
Design Project 3. Annenberg Space for Photography – Futuristic Solar Stands to Maximize Branding
This is a design project Front Signs has been widely praised for. Solar-powered light box signs kicked off the event reception in ravishing fashion. They set an exclusive and powerful atmosphere that spoke volumes for the Space.
The Annenberg collaboration was a tremendous achievement for Front Signs. It's our new standard for corporate events. Such forward-thinking event signs have the power to serve as strong marketing tools. This one really packed a punch.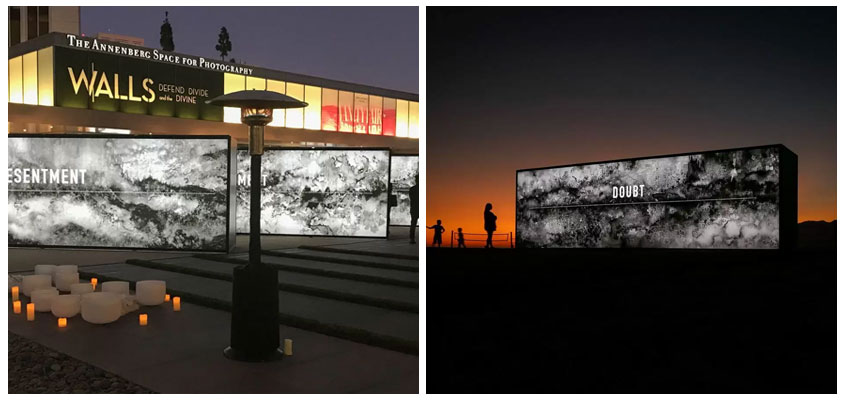 Design Project 4. MGM Resorts – Artistic Letters for a Visual Impact
MGM knew exactly who to turn to for showcasing their brand identity. Go on reading to find out the most creative sign designs we have achieved together.
A masterful combination of design skills and materials promoted a breakthrough style for MGM Resorts. Designer 3d letter signs marked the brand's love for high-fashion.
These prominent signage design samples caught the attention of all the guests at the event. Filled with little tennis balls, adorned with lights, framed with green walls – you name it. We do whatever it takes to achieve sophisticated results.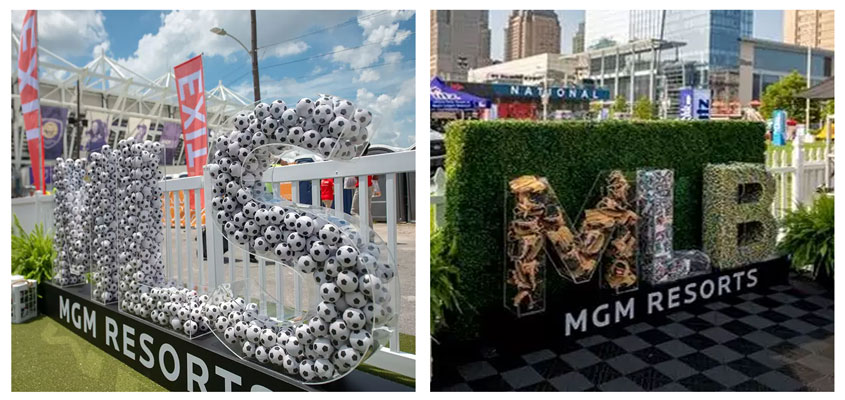 Want a similar project with creative design concepts? Contact us!
Cute Sign Designs: Decorative Solutions 
A well-designed space plays a huge role in leaving a great impression. How you decorate your premise will have an immense effect on your reputation.
Here's a list of grand yet cute sign designs crafted from start to finish by our specialists. 
Cool designs for signs outdoors, constructed to highlight the company's otherworldly presence
Want to stand apart from the rest? Create an appealing exterior. Distinct outdoor design solutions with building signs establish an unforgettable image for brands.
Design Project 5. Flying aluminum butterflies to merge nature with industry
Why not get creative and turn blank, dreary walls into something beautiful? That's what our design team did to put a unique twist on Plush Home by Nina Petronzio's furniture line's facade. 
Beautiful golden butterflies break out of the building. They hint at the elegant products that await customers behind the walls.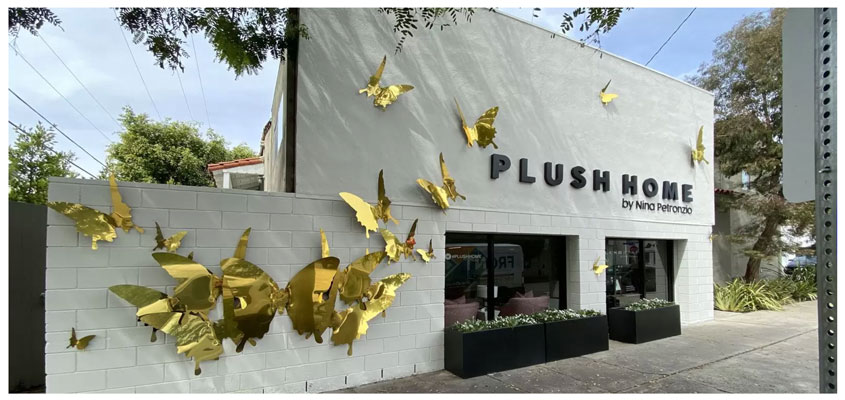 Design Project 6. Humanistic mural in black-and-white 
Most companies opt for creative signs and designs to express their brand identity. They also want these same concepts to make them look cool. This wall mural for Brooklyn Bagel and Coffee Company is a crowd favorite. It quickly became an identifying feature of the neighborhood.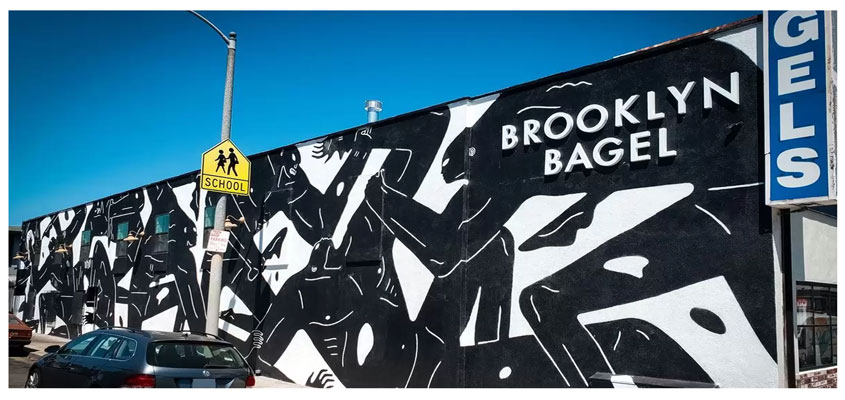 Cool designs for signs implemented for filling negative spaces
Indoor signs should be communicative and charming, promoting a trademark sense of style. Here are a few examples of how to optimize interior design using creative signage.
Related: Sign Design Ideas
Design Project 7. Decorative clockwork mechanisms to get your gears spinning
Looking at the precise movement of mechanical gears will inspire you to make the best of your time. This crafty interior sign is for GatSoft, an IT and graphic design company. They entrusted us with creating unique symbols and texts for their corporate headquarters. We both loved the results.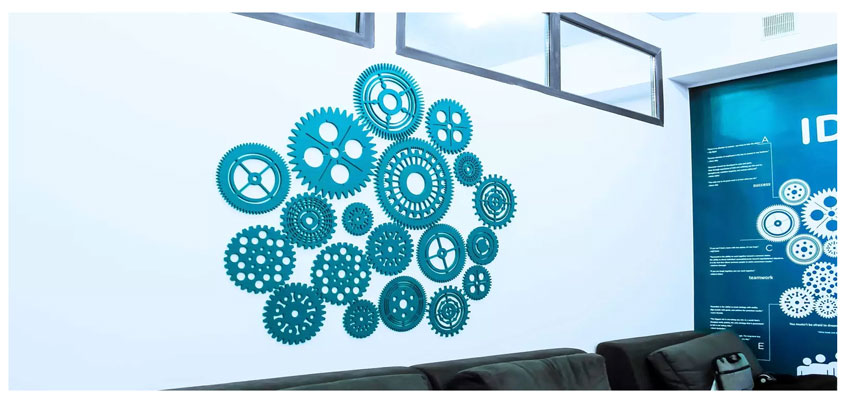 Design Project 8. "Shout out loud" wall art 
It's possible to create a masterpiece even for a simple beauty salon. This poetic design captures customer curiosity and entertains them while they wait.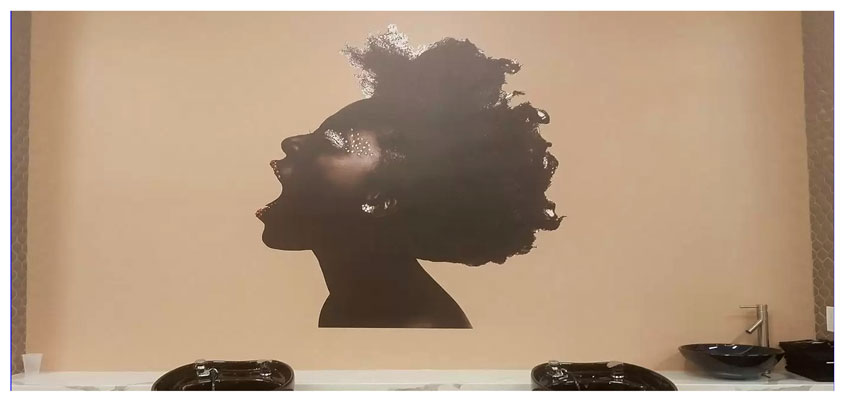 Design Project 9. Iconic Coca Cola bottles and logo for strong a brand image
Finally, our crew incorporated a variety of creative details for this Coca Cola branch office. Bottles, logos, establishment dates and so on educate visitors. They also tell the story of the brand with every mark.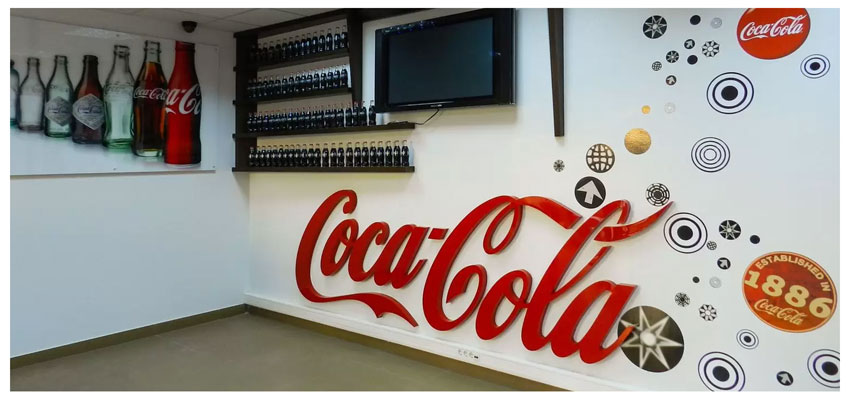 These are just a few of the exciting design projects from our portfolio. If you're looking for outstanding design solutions, you're in the right place. Our specialists are at your disposal. We're ready to collaborate and bring your most illustrious visions to life!