Push Thru Signs
Stencil cut illuminated box
Whole lit Acrylic letters
Neat and professional look
Solid look with diffused lighting
Push Thru Signs
:
Cabinet 3D letter signs, push thru illuminated sign, Stencil Cut Signs
Push thru letters are a special type of a sign consist of a routed to a letter shape face and another – smaller shape letter usually made of another – clear material: Acrylic.
The letters are mounted onto a cabinet with an interior illumination, as the push thru shape creates the glow. The emitted light create very high-tech, sophisticated and dramatic look indeed.
With the state-of-the-art CNC technology and colored Acrylic and printing capabilities, we can achieve thousands of styles of letters.
Furthermore, we offer different finishes for the push thru letters, figures and shapes namely: Solid Vinyl, Metal or plastic face, frosted or polished edges either for diffused or clean look.
Stand out and create smart branding with these push thru letter, which literally stand out in the space and complement your brand presence.
Push thru letter signs are popular interior application as are created with Acrylic letterings and Aluminum background. The letters are stencil cut and the translucent Acrylic borders above the cut face background. The newest CNC technology allows us to create letter shaped holes and matching letters to neatly fix into each other.
Acrylic push thru letters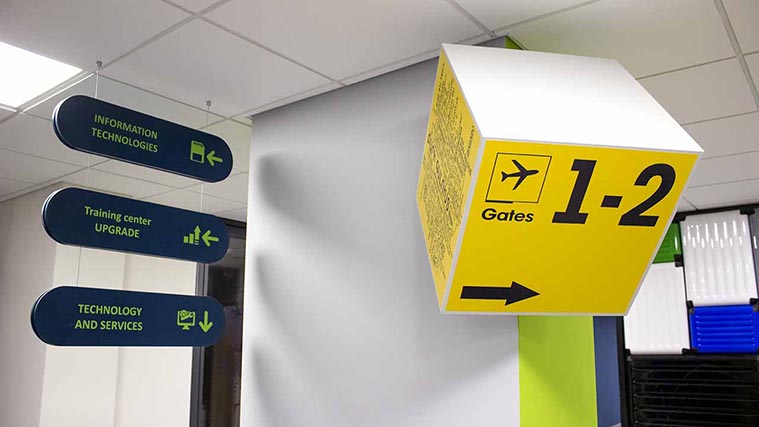 The build up letters - fixed on an Aluminum background are whole lit. The illumination wraps around each letter and creates an attractive front glow. This type of illuminated sign is especially good for logos with smaller details or letters.
Aluminum push thru letters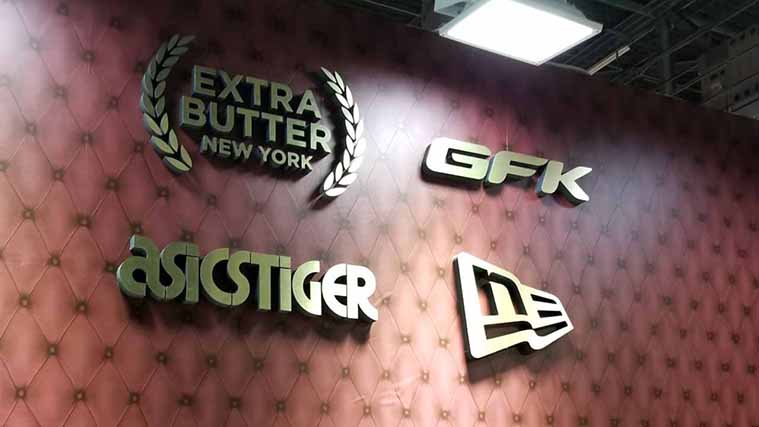 Stencil cuts on the Aluminum and the clean Acrylic letters are places with aluminum cover - creating side-lit glow and magnificent, very sophisticated look.
Vinyl lettered push thru signs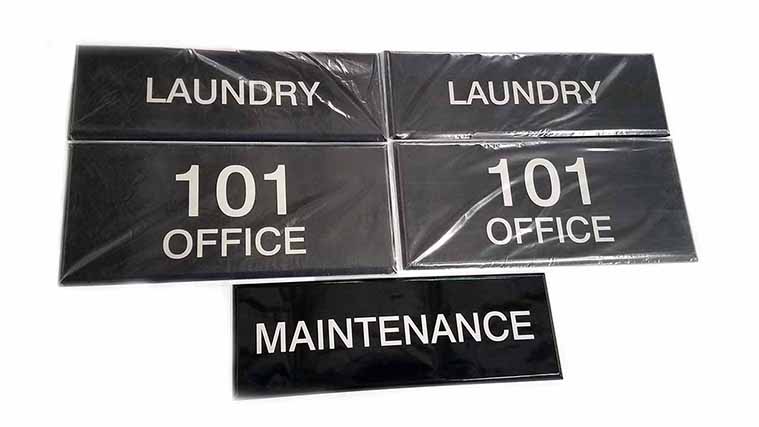 Meet the newest trend in the industry and discover this beautiful sign tailor-designed for your business with our team of professional designers.
Modern alternative to Aluminum push through signs - vinyl lettered push through signs have a side-lit effect and, if needed, colorful face.

Push thru letter signs are a phenomenal way to display your logo sign or company name. These illuminated letter cabinets grab attention anywhere they are used: let it be a shopping plaza, a retail store. Large corporate companies, enterprises or brand chains renovate their signs to this - relatively new type of a illuminated sign.
Push through signs are ideal to place in front of an office or even apartment buildings.
The Push thru tray signs can either display the name of a company - single business or identify all the brands doing business at your venue - mall, shopping center, etc.
Acrylic face deflects light creating an unique glow

Hidden fixings and lights for a neat finished look

Internally lit, ideal for indoors and outdoors
Cabinet thickness,size, shape: Customized
3D letter height, font, color: Customized
Illumination: full or whole lit (routed letters), edge-lit (tray letters)
Lifespan: 5+ outdoors, with proper care
As the fabrication and the light system is extraordinary, the installation might cause discoport or not satisfying final result if done by an amatuer, we usually provide team of specialized professional, who are the masters of their work. For more information, check our installation and replacement services or directly contact us.
The push thru letters are maintenance-free. But cleaning with a damp cloth from time to time will keep the vibrant look of your sign for a longer time.
Halo channel letters - quite similar to push thru letters, but with a small difference it creates bold but classic look. The letters have side or edge illumination, which creates a moderate backlit channel effect.
Reverse lit channel letters - Backlit Channel Letter signs have impressive visual look 24/7. The letters are individually lit 3D Aluminum letters from aback.
Channel letters - Channel front-lit letters are individually lit letters ideal both for exterior and interior business or corporate applications. The face, again, has clear cast Acrylic through which the LED lights shine.
Get Quote
Please submit your information and a Front Signs representative will contact you