Skip to content
How to Make a Lasting Impression with a Large Format Printing Banner?
"The thing that is ironic is that the new digital technologies, to my mind, are way and away the finest printing processes that have ever existed – they are better than anything that has existed in the past. I find myself very, very excited to use this new technology that is going to destroy photography to make the best versions of it I've ever seen." –Richard Benson (Photographer and Printer)
The secret weapon in the printer's arsenal in 2017 is the large format printing of banners. Being able to print large banners to advertise a brand, product, promotion, life celebration, etc. has injected some vigor into the printing business. InfoTrends, a marketing research leader, reported that digital wide format (large format printing) is a growth area in the printing industry. Print volumes are predicted to see a 6.5% CAGR (compound annual growth rate) from 2015 -2020.
Latest Printing Technology Provides a Wealth of Custom Banner Options
Businesses want their brands to be noticed, and a large custom banner can grab a potential customer's eye instantly. The sophisticated technology available today allows customers to dream big and see their imagination come to life in large, living color in the form of their conference banner, business banner or a banner for schools. These days you can have your banner in a range of sizes, materials, colors and text types.
You must, however, make sure that your printing vendor delivers large banners of superior print quality with an affordable price tag. Large format printing (also known as wide format printing) uses a variety of materials depending on the client's requirements: paper, vinyl, metal, glass, wood, foam board, PVC piping, fabric, canvas, to name a few.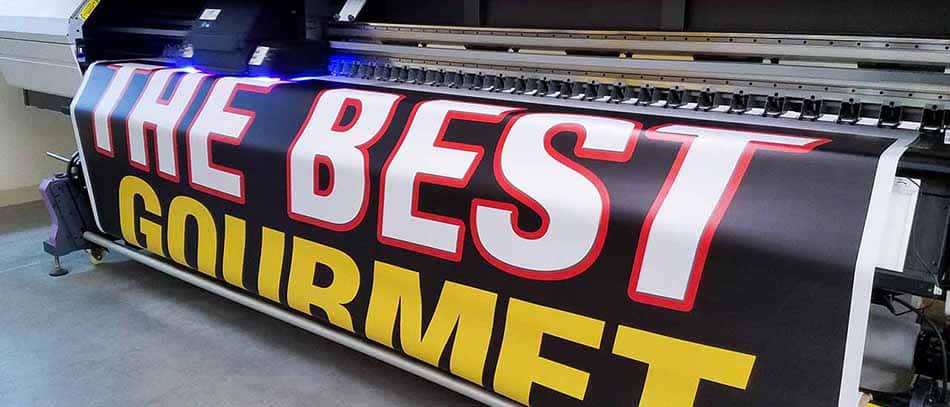 The Rise of Interactive Large Format Banners
Companies offering large format printing are also including interactive media elements into their graphics. At least 20% of large format signage clients have opted to use interactive graphics elements like QR codes. In the past, many printers feared the arrival of digital display signage and thought it would negatively impact printed signage. But there has been no cause for alarm with only 11% of respondents in the InfoTrends Survey having purchased digital displays. For many companies, they will use a large format banner alongside a digital display.
A Banner for Every Occasion
Many people are jumping on the large format printing banner wagon. We see these large custom banners used at special events like graduation ceremonies, anniversaries, welcome home and birthday parties. We see these banners dominate the space at trade shows, both indoors and outdoors. People use large format printing for vehicle wraps, wallpaper, merchandise backdrops, window graphics, POP displays, architectural designs, and blueprints. The printing size range is anywhere from 18 -100 inches in width. You can also get super wide or grand format printing for sizes above 100 inches.
Indoor or Outdoor Banners?
There are two main types of large format banners. The first type is for use indoors. Large interior printing takes the form of posters or tension ceilings and is often printed on paper (double laminated), fabric or PVC film. The second type is for outdoors and includes banners and flags. For outdoor use, large format flags and banners must be waterproof and durable due to the constant exposure to the elements. Ultraviolet or solvent printing is most used for these large banners.
Cast in the Best Light
When you print on banner fabric, you can expect the banner to last up to three years due to the coating method of either lamination or casting. When choosing the more expensive, yet stronger casting option, you have three options:
Frontlit: for stands, billboards, firewalls, and banners. Front lighting is required for the best effect.
Backlit: Used for banner fabric in light boxes that are lit from the inside.
Blackout: For two-sided printing for hanging flags and banners.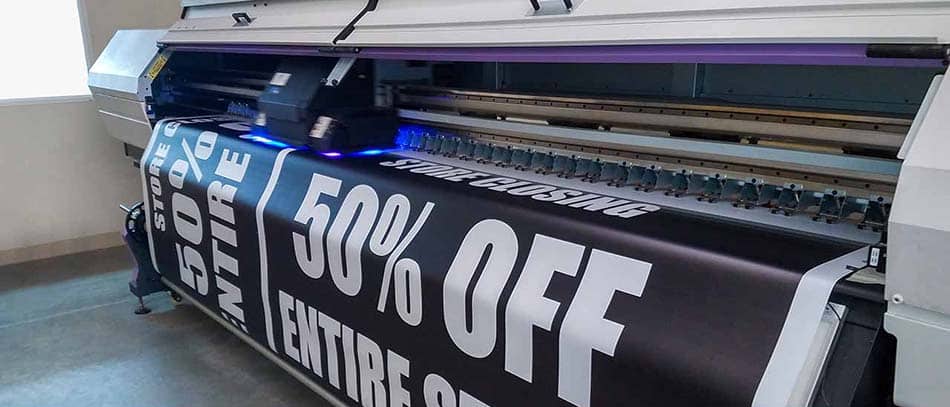 Banners for Business
You get different banners that are uniquely suited to a specific business. If you have a restaurant that is close to a freeway, you will benefit from an extremely large hanging outdoor banner that can be seen from quite a distance away.
The value of large format banners cannot be underestimated. In a Brandspark study, it was found that 34.5% of American consumers made quality assumptions about a business due to their bright and attractive signage on display (Better Homes and Gardens American Shopper Study).
A hanging banner is most often used by retailers, car dealerships, and restaurants. They are frequently displayed on the sidewall of a building, using grommets and wire to hang it up. Hanging banners can be used both indoors and outdoors. With an adjustable banner, you can control the width and height of it in an indoor location. They are stand up signs that can be displayed in a small retail store or eatery as they are easy to set up and take down. Outdoor custom flag banners flap outside in the wind, catching passerby's attention. These advertising flags draw increased foot traffic to the business. You can have banners attached to poles that are part of a building  or other stationary point either inside or outside. You can even print shade cover banners for use as a patio cover or awning that has your company logo emblazoned on it.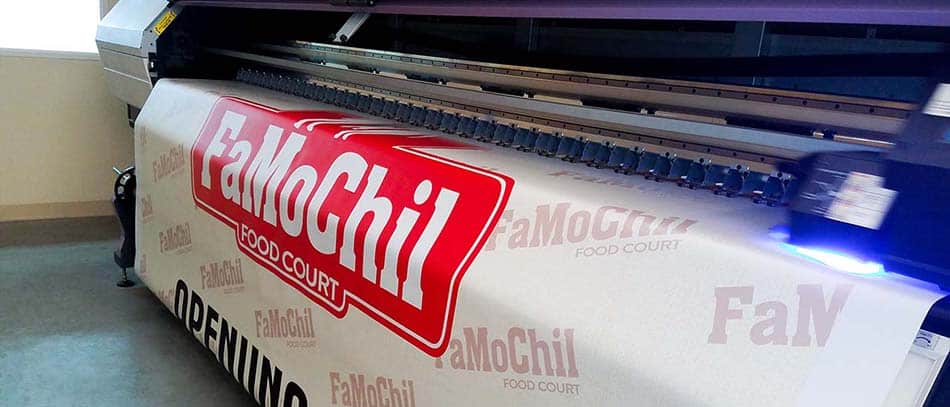 The Future of Large Format Printing
Large format banner printing is not an innovation but the technology driving it has evolved dramatically. The speed of delivery is astounding. The quality of the printing has vastly improved, and the demand for banners increases every year. By 2022, large format printing is set to reach $7.2 billion globally as printers can offer super fast turnaround times as well as short-run print jobs. Posters, banner, and signs are the leading large format applications chosen by consumers who are getting more knowledgeable about types of prints and finishes and have higher expectations of quality.
If you are looking for a reputable large format printing supplier in California, give Front Signs a call. We offer superior quality for all of our signage. We've been in the business for ten years, ­and our expert team is ready to create a custom banner for your specific event or advertising requirements.