6 Types of Large Format Printing You Need to Know About
Want to decide which types of large format printing to use? Let's go over 6 of the most popular types, focusing on key components and distinguishing their pros and cons. Consider this a guide to help you choose the most appropriate printing method that will enable you to stand out from the crowd.
Entrepreneurs conduct thorough research before they choose the best printing methods for their businesses. A major contributing factor for this is the rising demand and popularity of large format printing. We have selected the most utilized types of wide format printing that we implement in creating trade show displays as well as other solutions below.
Type 1. Solvent Inkjet Printing
Solvent inkjet printing is used to produce massive business signs. The inks used in this method are solvent-based. They are able to dissolve and bind well with all types of substrate materials. They even work on vinyl and other types of plastics.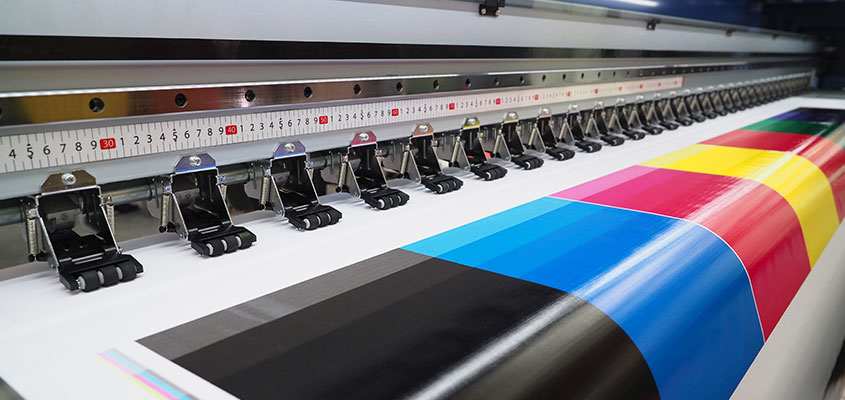 Pros: This printing technique allows you to create bold and durable graphics. The solvent evaporates after printing, yielding a permanent result. 
Cons: Though they grant a long-lasting effect, experts consider solvent printers risky due to the hazardous fumes they produce. Despite this, a great number of industries use this type of large format printing.  
Type 2. Aqueous Inkjet Printing
Water is the main component of the ink in aqueous inkjet printing, as its name indicates. Though flexible in usage, they'll turn out a permanent product only when paired along with lamination.
Pros: It's environmentally friendly and doesn't require additional ventilation. Produces supreme resolution, yielding high-definition image reproductions. 
Cons: Special coating like lamination is required for more permanent applications. In addition, the main substrate used for this method is paper fabric, which is more expensive. 
Type 3. UV-Based Printing
This is the most effective technique among the various forms of large format printing. The way it works is different. The drying system utilizes ultra-violet rays parallel to the printing process. Thanks to this, no drying time is required after the printing is complete. Being a leader in the industry, we utilize this method along with the latest technology for maximum quality assurance.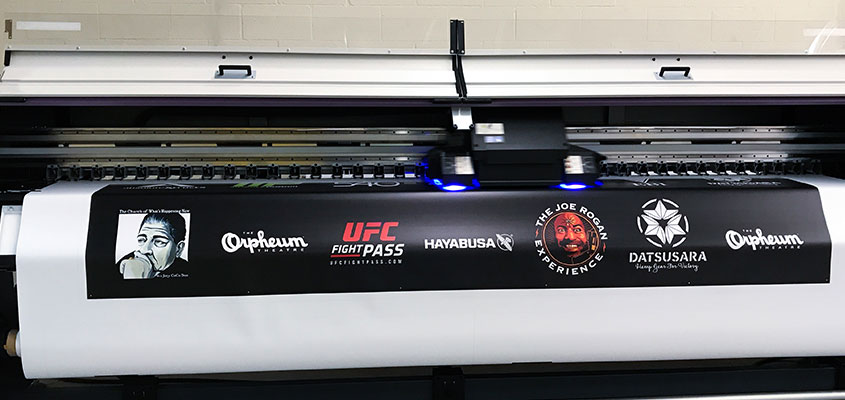 Pros: No coating is necessary for UV prints, making them more cost-effective.UV-curable ink dries immediately and is ideal for outdoor signs such as graphics for stadium branding, pylon signs or light up signs. It results in prints that are sun and fade-resistant, sustainable and incredibly vibrant. 
With UV printing, you can get custom banners without the need for lamination. Surprisingly, it's also more cost-effective than the  aqueous printing method. Moreover, it's one of the most utilized types of direct printing on any rigid material so you can get anything from name plate lobby signs to massive building signs. You can use this technique to print on and make wooden signs, vinyl decals, aluminum signs, acrylic signs, etc.
UV printing is odorless and ecologically friendly. It creates a pleasant atmosphere in the workspace as well as for the natural environment. Among various types of banner printing, this is the most widely used and recognizable. UV-based printing leaves a clean and clear signature.
Cons: Requires special equipment. Professional use is recommended due to difficulty cleaning up spills and hazards of direct skin contact. 
Need help with UV printing? Contact us! 
Type 4. Latex Printing
Latex and resin-based inks are the latest discoveries in the printing industry. Like aqueous printing, latex is also water-based. Heaters must be installed and used to make the ink bind to the substrates as well as to dry it after printing. 
Pros: Latex printing is not harmful to surroundings and the environment. It yields a vivid look for custom signage applications and is acceptable for use in any location.
Cons: Latex printing is energy-consuming due to the use of heaters before and after the printing process. It pairs only with highly durable substrates that can endure high temperatures. It's more expensive although there has been a noticeable decrease  in prices recently.
Type 5. Dye Sublimation Printing 
This is a great way to print on synthetic fabrics for quality purposes. The images that result from this form of direct printing are crisp and colorful.
Pros: Vivid coloring and sharp imagery are the strong suits of dye sublimation printing. Even after zooming into the image several times, you won't be disappointed with the quality. No drying time is required once the substrate exits the press. 
Cons: This form of banner printing works specifically with light-colored materials with a polymer coating. It requires special inks that are more expensive. It's slower than any other inkjet printing technique. 
Type 6. Plotter or Pen Printing
As the name suggests, this form of direct printing involves pens that draw on the print material. Digital printing companies also use plotters for their production. Pen printing, also referred to as plotter printing, provides high-quality line drawings.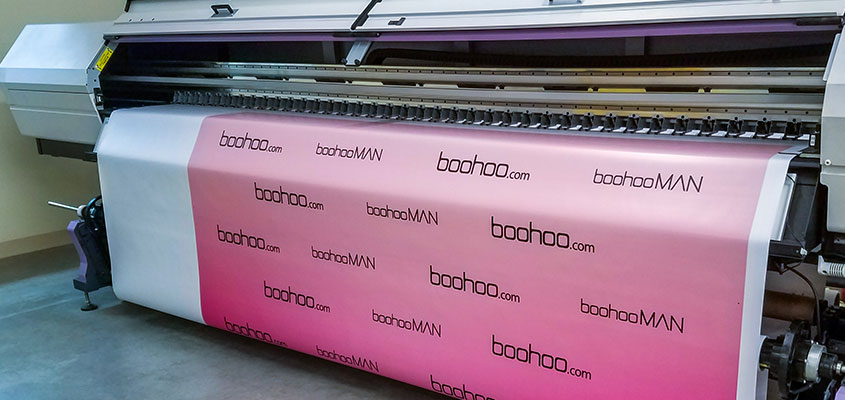 Pros: The method is more accurate than traditional printers when it comes to line drawing.
Cons: Plotter and pen printers take much longer than regular or advanced printing techniques. In the world of high-tech, quicker forms of banner printing like digital and UV have come to replace plotters.
If you haven't yet checked out our article on large format printing tips, we highly recommend it to further your knowledge on the topic.
We're confident that you now have a better understanding of the distinguishing features of these popular types of large format printing. Contact our support team at Front Signs to get high-quality prints for your needs!