Masterful Truck Branding Solutions Guaranteed to Impress
Choosing the best truck branding strategy is one of the most important choices you'll have to make as an on-the-go business operator. Here are some truck branding concepts to help you overtake your competition.
Food Truck Branding Concepts
Convert your massive vehicles into mobile billboards with large attractive illustrations. This will be an effective means for you to reach out to your audience. There's a large variety of mediums that'll help you make a big statement.
Food Truck Branding with Branded Elements
Food truck branding is done in countless ways. Let's explore some of those tactics.
1. Powerful name and logo displays
Choose a memorable name that'll get clients drooling as soon as they think of your food. Couple it with attractive design solutions to make the perfect mobile advertising platform.
By choosing designs to implement in the form of car wraps and business signs that carry your logo, you'll get more visibility and reach more people. Create a fantastic logo design to use as the centerpiece of your food truck branding ideas.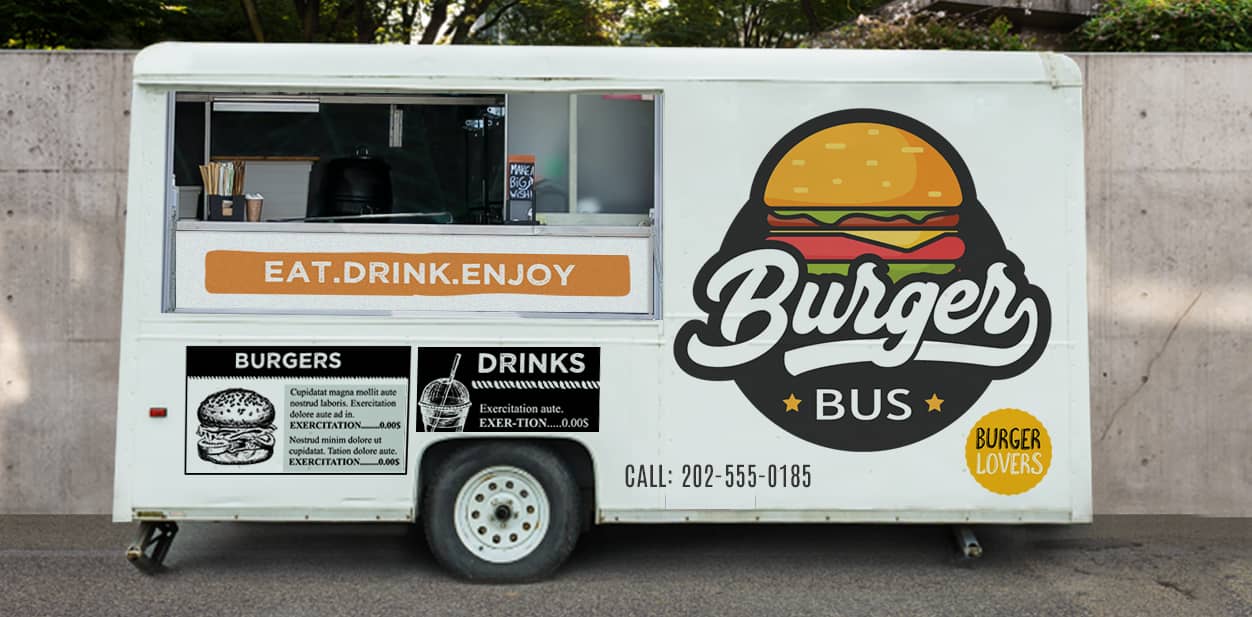 Front Signs offers excellent sign making solutions with large format printing and more. Contact us now and get a free quote and consultation.
2. Brand menu demonstration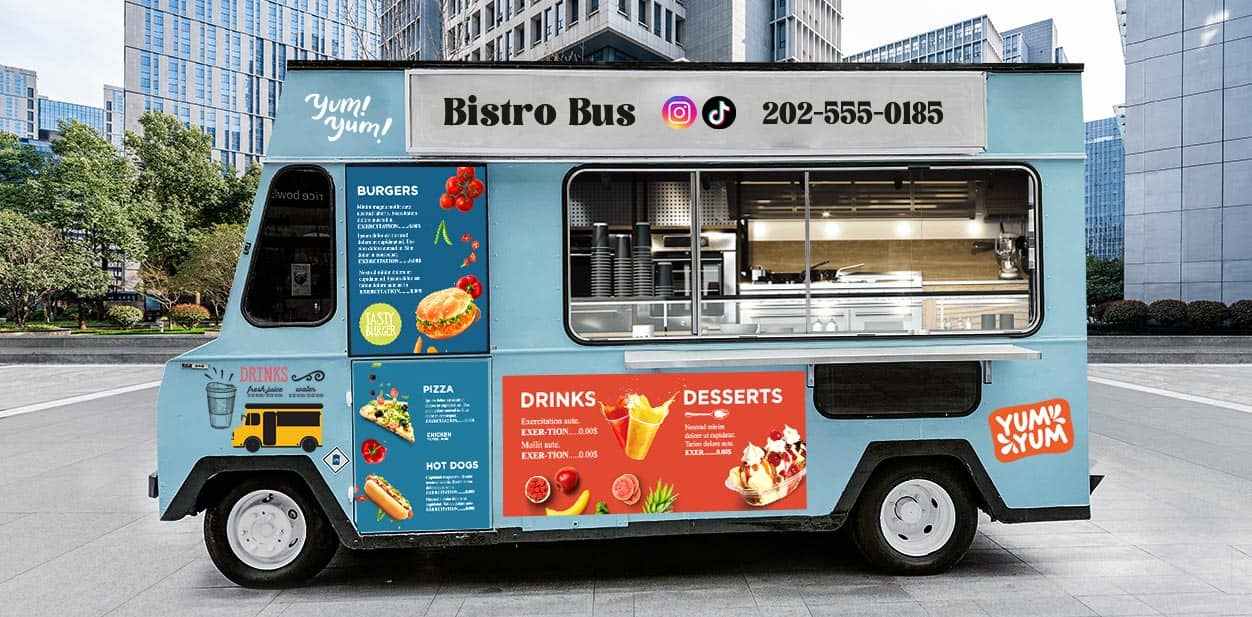 Your menu is an indispensable part of your food business. Incorporate it into your truck branding design. Use this tactic to showcase all the delicacies you offer in a unique way. You can add images of your dishes to whet your customers' appetite.
Create a tasteful implementation of your design through our sign company and let it stand out with distinctive colors. Create some contrast around your menu and make it pop with eye-catching fonts. Go ahead and install hand-written menu displays to add a human touch to your truck branding ideas.
Discover the basics of corporate branding strategy to define a persona for your company.
3. Vital contact information showcasing
What do customers need to know about your brand? Think from their perspective. They'll be looking for your logo, your phone number, where they can find you and the services you provide. You don't have to include every single service, just the most sought-after ones.
Create custom decals that complement your lorry branding tactics to encourage people to seek out your brand. These tactics can revolve around your brand's colors, typefaces and logo to match what you sell.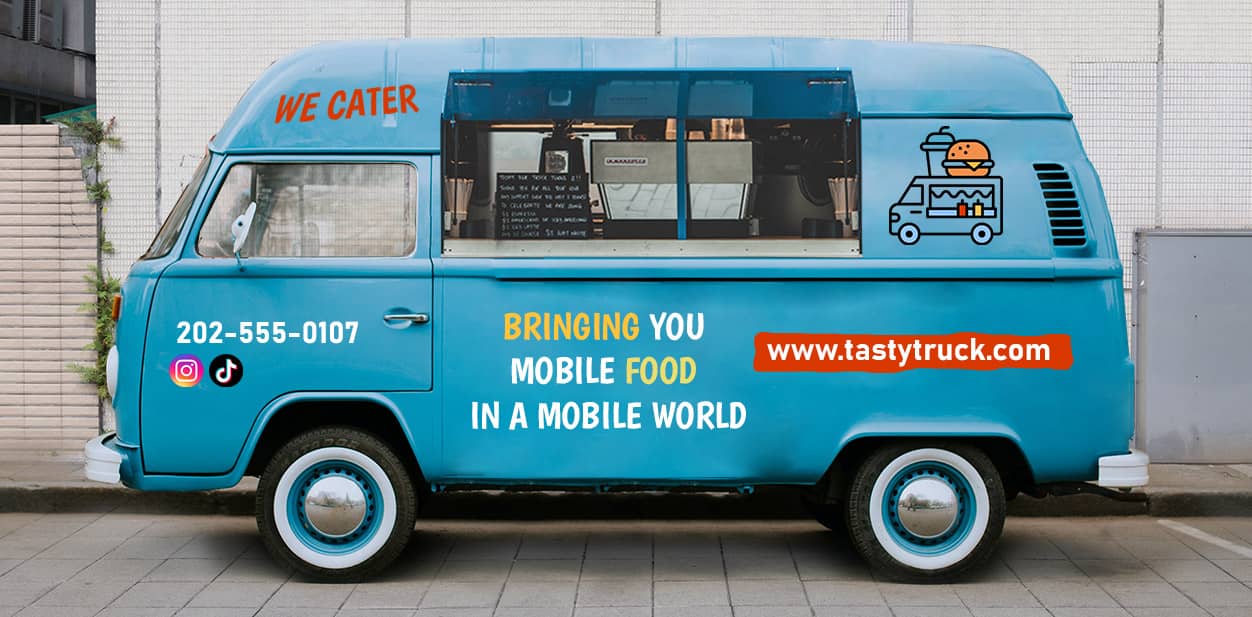 4. Core product and service graphics
Use your truck to market your brand effectively while moving. Showcase the main services and products you offer. Use custom signage and large-scale graphics to make sure you draw attention to this information and make your products visually appealing.
If you're reading this blog, you may be wondering whether hiring a design firm for effective branding on trucks is worth it. To learn more about how we may assist you, look at our signage portfolio. We also offer everything from signage repair to sign replacement services when it's time to refresh or substitute your design items.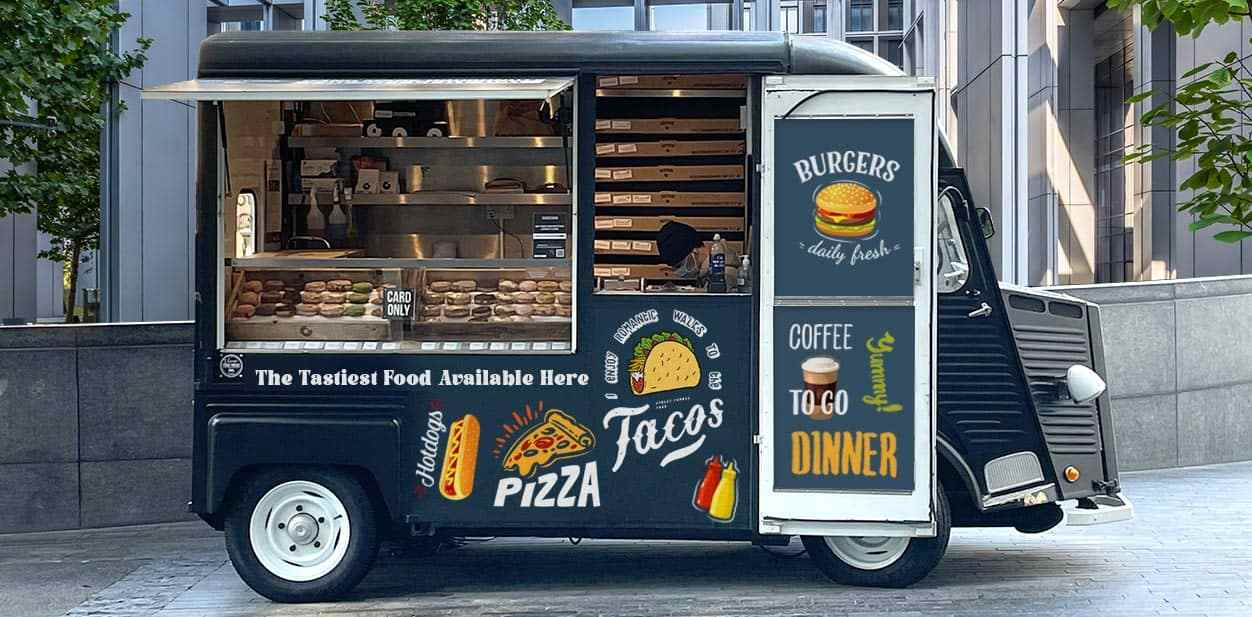 5. Mission statement and tagline depictions
Incorporate a powerful mission statement into your food trailer branding efforts to show your customers the values your business upholds.
Make it consistent with your slogan to work wonders. It can be in the form of vinyl lettering spelling out a strong catchphrase or quotation that engages customers.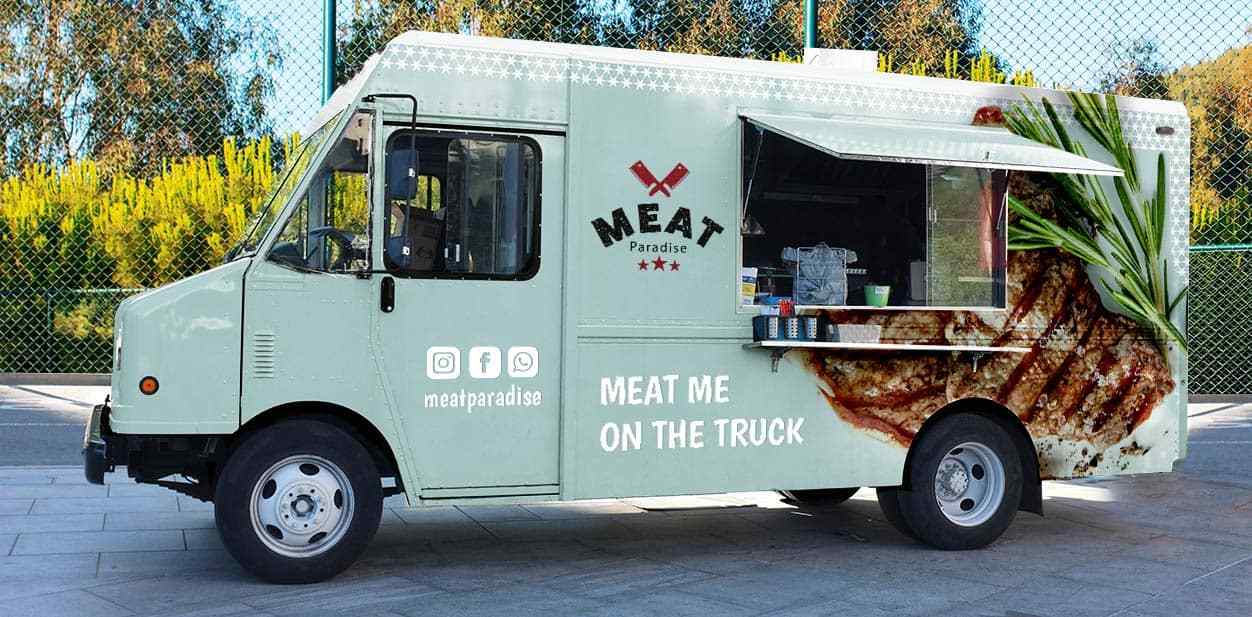 Refer to our company to find the perfect signage to brand any type of truck. Contact us now and get a free quote and consultation.
Food Truck Branding with Design Elements
Using design components that correspond to your brand is the first step in branding a food truck. We'll highlight these tips in the following section.
6. Unique art displays
One of the first truck branding ideas that come to mind is creating art to cloak a truck. If done tastefully, that becomes the first thing people notice thanks to the vibrant colors and the beautiful graphics.
If you also own a restaurant with the same name, then installing restaurant signs near your truck will reinforce your branding efforts. The design on a food truck captures attention whether you cover your truck in bold or simple designs.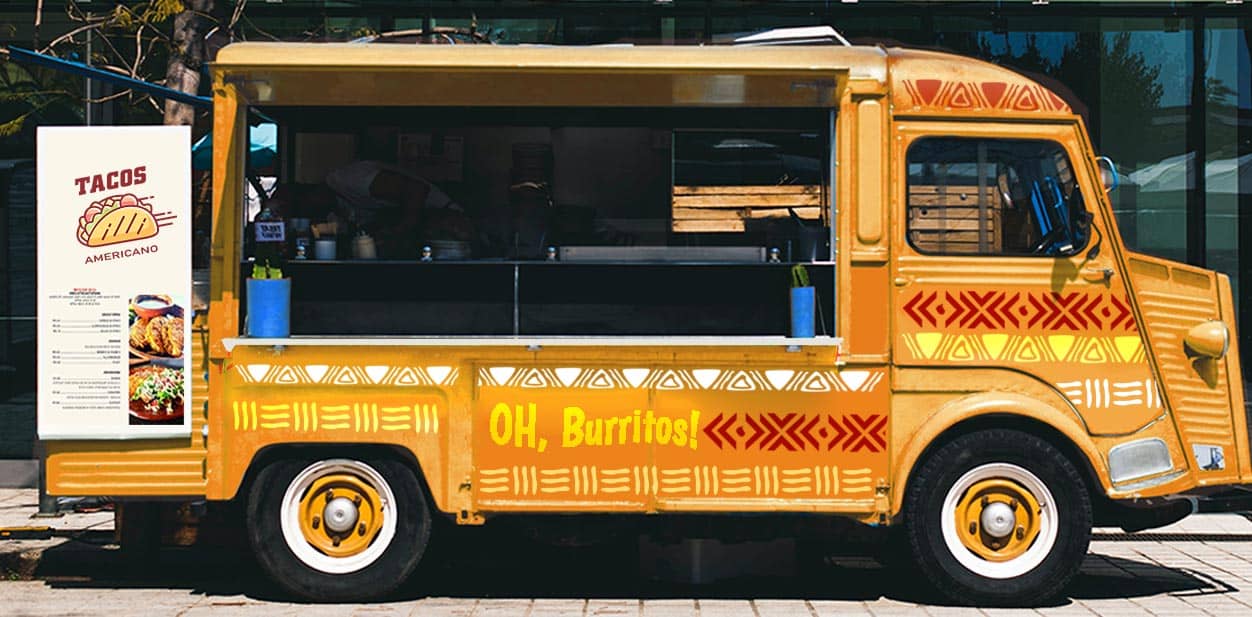 Find out successful car branding solutions to make your promotional campaign appealing.
7. Lighted solutions on your brand
Introducing lights to your creative truck branding theme will make your food truck stand out even at night. Use whatever lighting suits your concept best. Illumination options for your mobile business range from LED illumination to undercarriage lights.
Adding marquee signs can make your truck more welcoming. The famous architect, Le Corbusier once wrote, "Light creates ambiance and feel of a place, as well as the expression of a structure."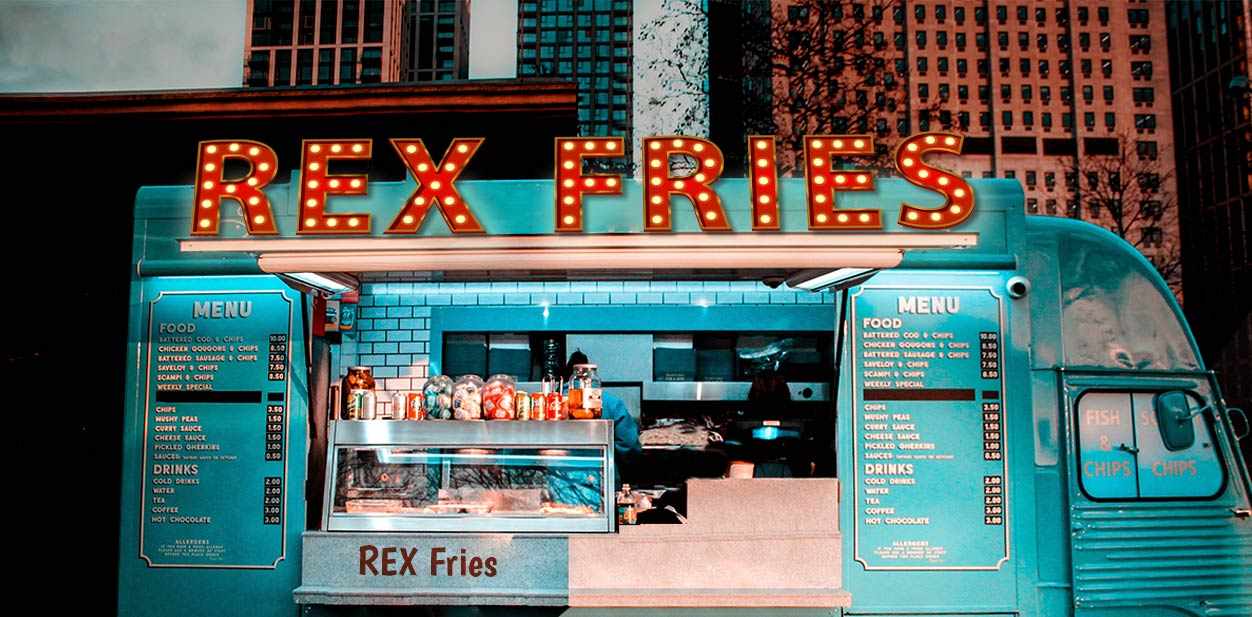 All types of vehicles can be branded. Discover bus branding ideas to send your message to a wide audience.
8. Custom exterior elements
Use creative truck branding design features for more exposure. For instance, add outdoor plants, tables and chairs for sitting or a wooden platform to the walkway leading to your food truck. This is particularly effective if your food truck frequently parks in the same location.
Use other outdoor signs to reel in hungry crowds. Ideal for branding and promotions, these solutions will broadcast your message through attractive illustrations.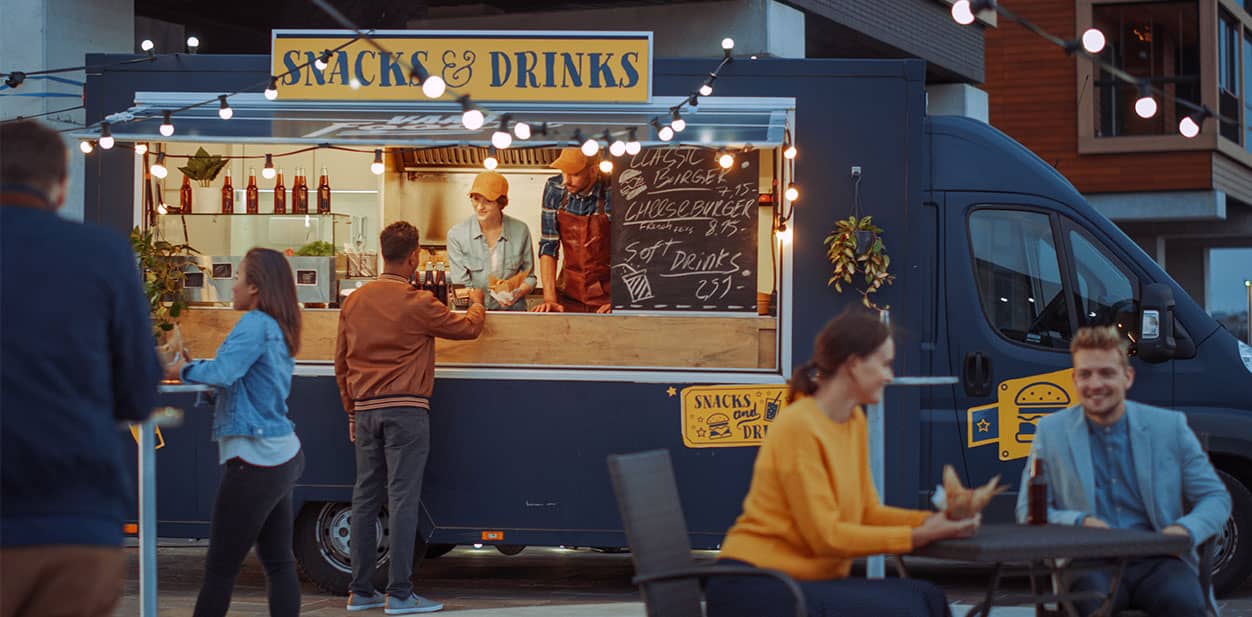 9. Fancy and clear font displays
Fonts represent your company's character. The font type you choose will be used for branding on trucks, packaging, maybe even a website and it's preferable for your font to be in compliance with your brand requirements.
Make sure that the typeface is clear and bold on your food truck. Like store signs, the design depends on the mood you want to convey.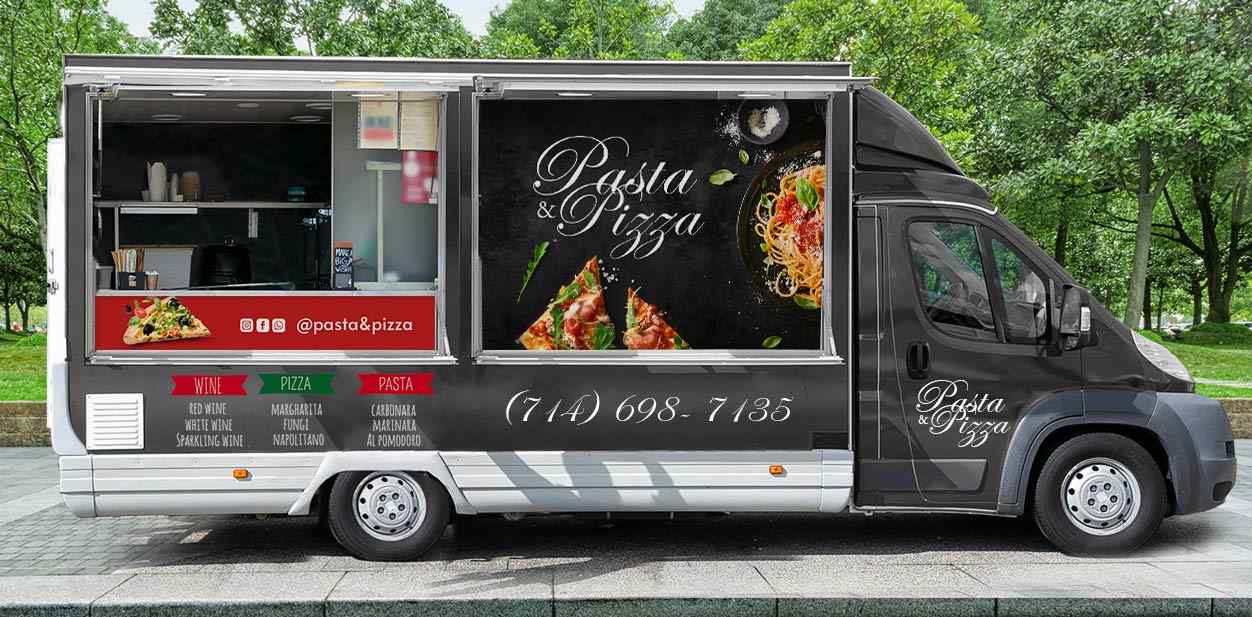 10. Colorful Displays
Colors can help you make your food truck memorable. Use complementary hues as well because they produce the sharpest contrast and stand out the most.
A study shows that the visual impression is important for 93% of consumers and colors rank highest.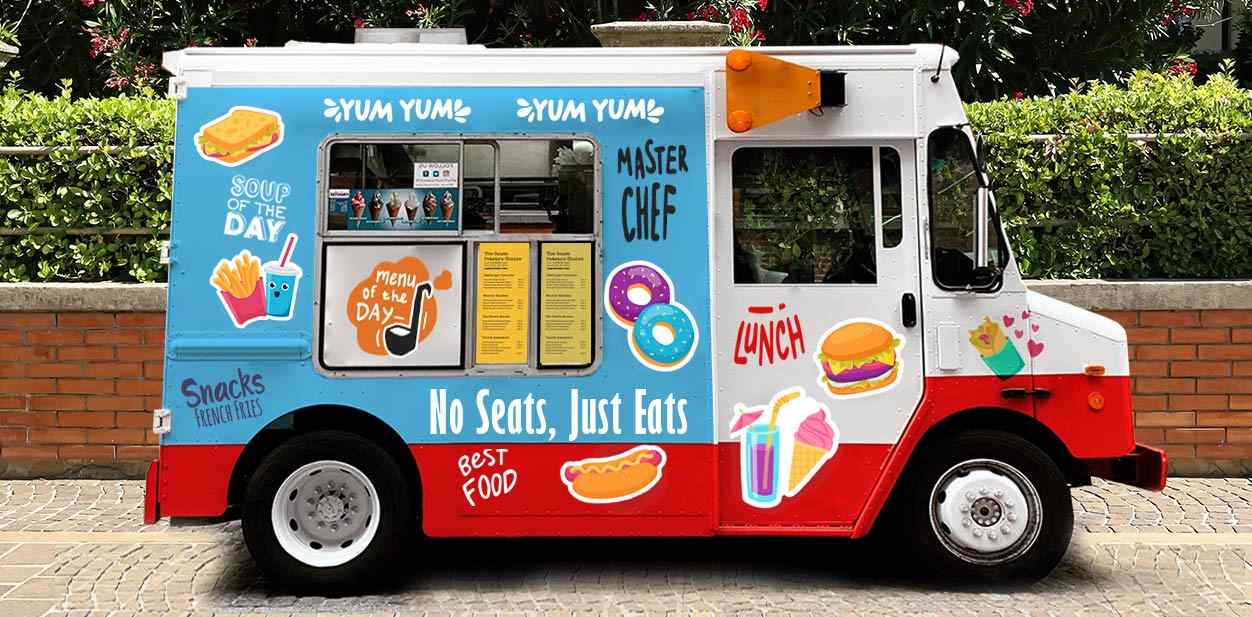 If you're still wondering what style and color to choose for your truck branding design, contact our specialists for advice. We also offer a sign installation service to take a load off you.
Pickup Truck Branding Concepts 
You can choose full or partial pickup truck branding based on your goals and budget. Both are fine, so it's crucial to take your needs into account before choosing.
Total Truck Branding
Total truck branding coats the entire surface of the vehicle, giving your business maximum visibility no matter the contents of your advertisement. If you're hosting an event, for example, event signage for pickup trucks will speak louder than words.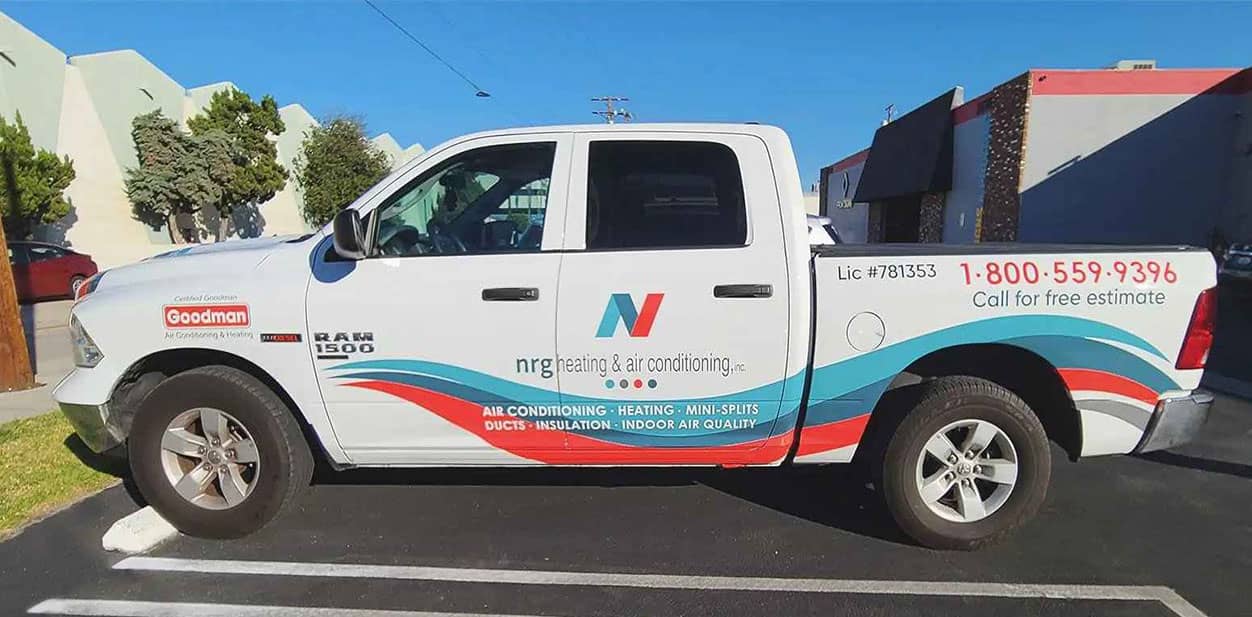 Total truck branding covers every inch of your vehicle to provide a 360 degree advertising surface. When you decide to remove your pickup truck branding elements from the vehicle, you won't have residue spots left behind. Total truck branding prevents that from happening.
If you want to see the final look of your project before the production phase, we offer signage design and 3D rendering services.
Partial Truck Branding 
Partial pickup truck branding covers certain parts of the exterior of your truck. Here are the two main justifications for selecting partial branding.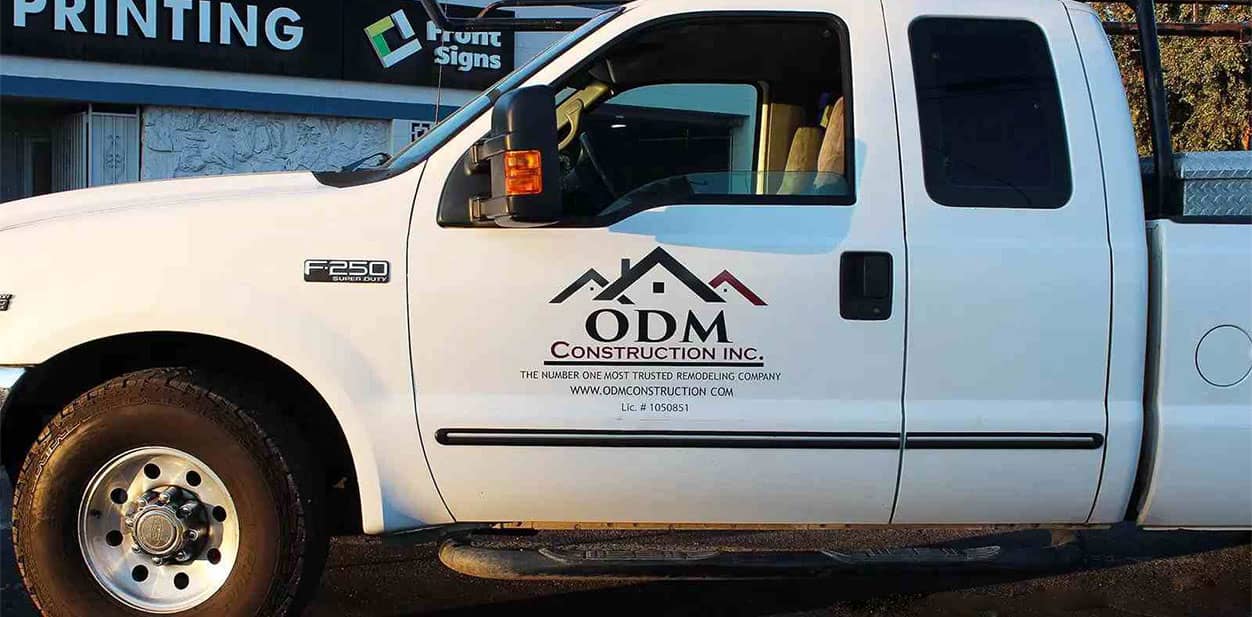 Select partial pickup truck branding for a more affordable solution. This is a cheaper variant that still provides a high level of visibility. With partial pickup truck branding, you highlight certain parts of your pickup truck, making them pop out for people to notice.
There are endless opportunities for designing your pickup truck with different styles and finishes. Your pickup truck will be easily noticed with custom patterns and images.
Still wondering how to organize your truck branding? Contact us now and get a free quote and consultation!