Successful Car Branding Solutions to Promote Your Business
Do you want to make use of car branding strategies to boost your promotional campaign's appeal? In this article, you'll find effective strategies for branding your cars to level up your overall brand image.
Branding on vehicle classes can be optimized by applying a myriad of design solutions. You can enhance your brand image with innovative branding techniques for your vehicles and promote your events with stunning promotional items.
Main Types of Car Branding
You can brand cars based on your preferred designs and get complete or partial coverage with car wraps. There are different materials you can use to implement multiple branding solutions for your cars. Leverage different methods by sticking letters or graphics onto your car's surface to achieve your short or long-term business goals. Apart from sticky graphics, you can also check other types of business signs that can successfully serve your branding goals.
Types of Car Branding Based on Application
Choose between full or partial coverage styles to brand your car with tasteful large format printing options. You can realize these coverage styles with custom solutions. These sticky variants will definitely upscale your cars' aesthetics.
1. Vinyl Car Branding With Full Surface Coverage
Full surface detailing ensures that you cover all the parts on your car. If you want to detail the hood, fenders, bumpers, doors and windows of your car, our renowned sign company has got you covered with high-quality vinyl items. You will admire the professionalism of our sign installation service. Our crew will guarantee a perfect installation and transform your vehicle with magnificent branding items. So hurry and get a free quote for your project.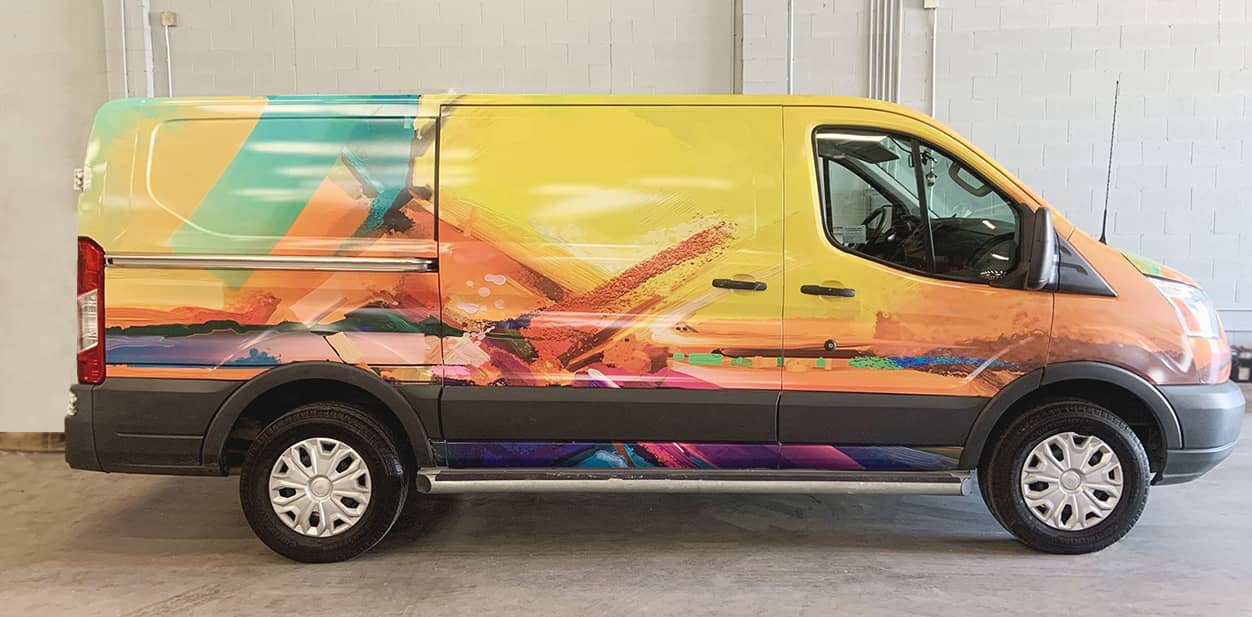 2. Vinyl Car Branding With Partial Coverage

Partial coverage focuses on adding illustrations to only a few parts of your car. You can realize your most creative vehicle branding ideas by getting sticky graphics adhered to the surface.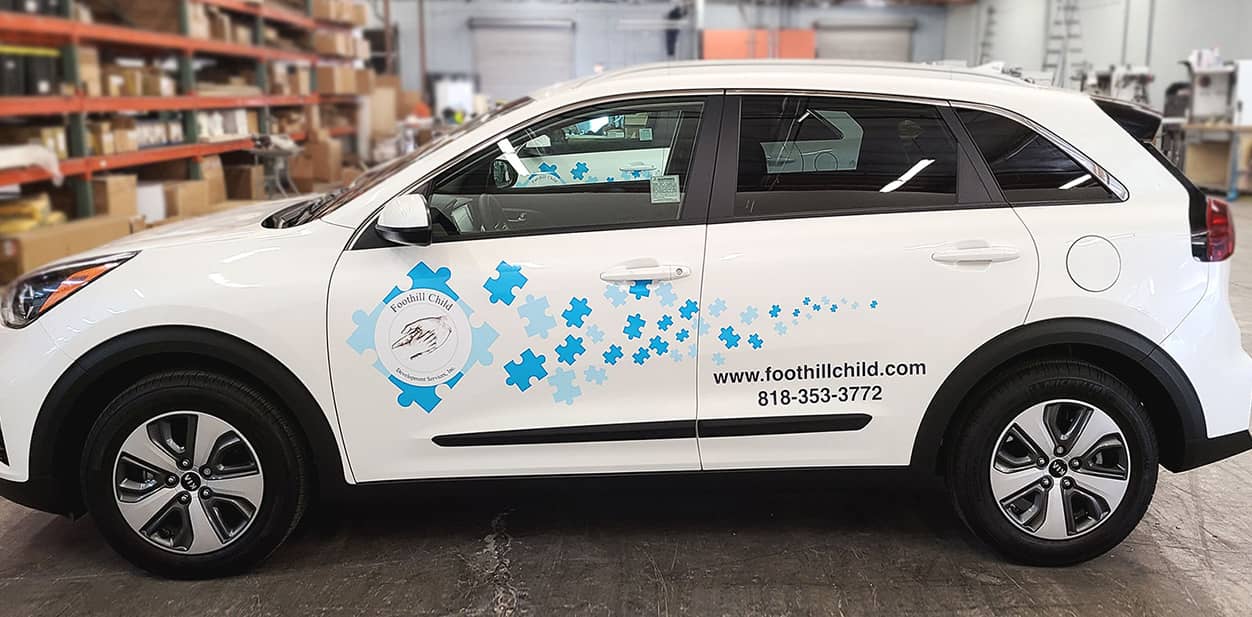 Types of Car Branding Based on Material
The materials used during the sign manufacturing process vary depending on your objective. If you want to enhance your vehicle branding design by applying items for long or short-term use, you can choose either sticky or magnetic options.
1 . Sticky Car Branding Materials
Sticky branding products are brilliant for long-term use. Apply them to your car with ease and cruise around while showing them off. You can even get them replaced with fresh car branding ideas when you feel like it.
We advise you to check your state's local regulations to make sure that you won't run into a problem because of your illustrations. Sticky solutions are also suitable for branding your car windows. Get a quote for your signage project now.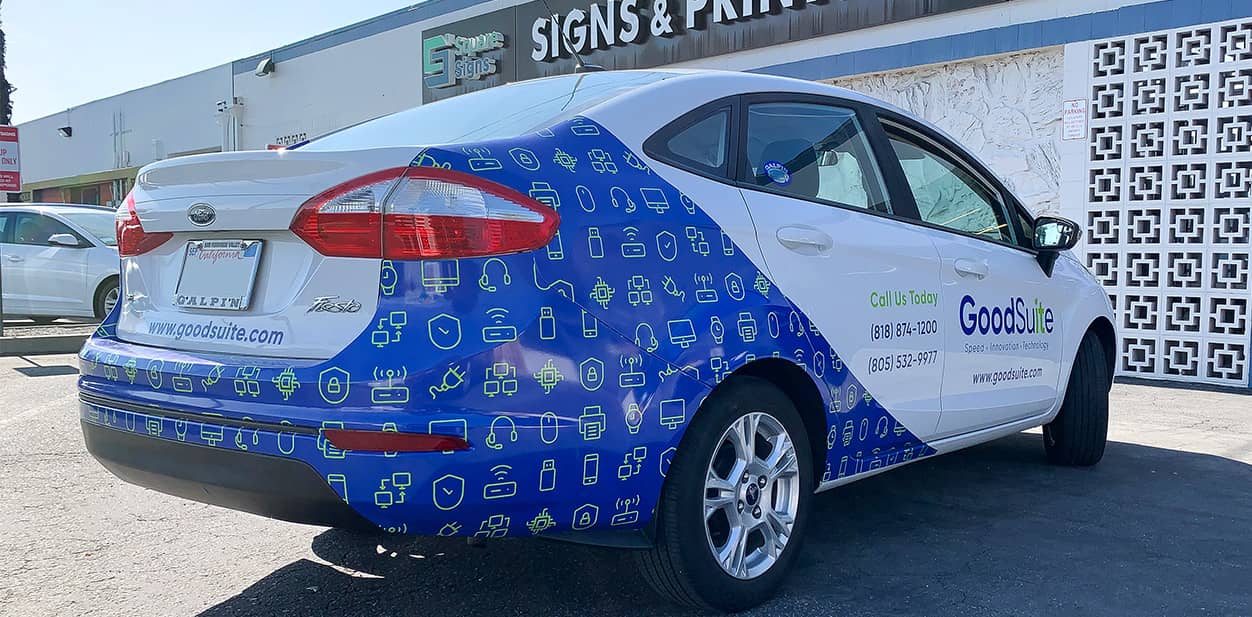 2. Magnetic Car Branding Materials
These variants are sticky enough for temporary use on metallic surfaces. You can apply them yourself for your seasonal promotions or awareness campaigns. The good thing about these options is that they leave no residue once removed. 
Another alternative is restyling your car branding design for short-term events with static clings which attach themselves to other objects through static electricity. The magnetic car branding tools, as well as the aforementioned clingy solutions are intended for smaller projects. Despite their limited-time usage, these products stand out due to their easy application.
Types of Vehicle Branding Based on Classes
Your car branding ideas may also vary depending on vehicle classes. You can get nice-looking custom decals in various shapes and sizes printed onto your cars, buses, vans, trucks and so on.
1. For Standard Cars
You can have the best car branding design you can imagine with custom signage solutions. Whether you own the cars or you've leased them for a business purpose, it's possible to upscale its aesthetics with exquisite graphics. In case they're rentals, research the acceptable level of reasonable wear and tear with your rental company. Also, make sure your rental agreement allows the use of sticky graphics on the cars.
Feel free to express your brand's tone with an awe-inspiring vehicle branding design. You can make use of various types of car branding techniques for your standard cars. You can count on full or partial coverage solutions, as well as various materials for usage over different durations.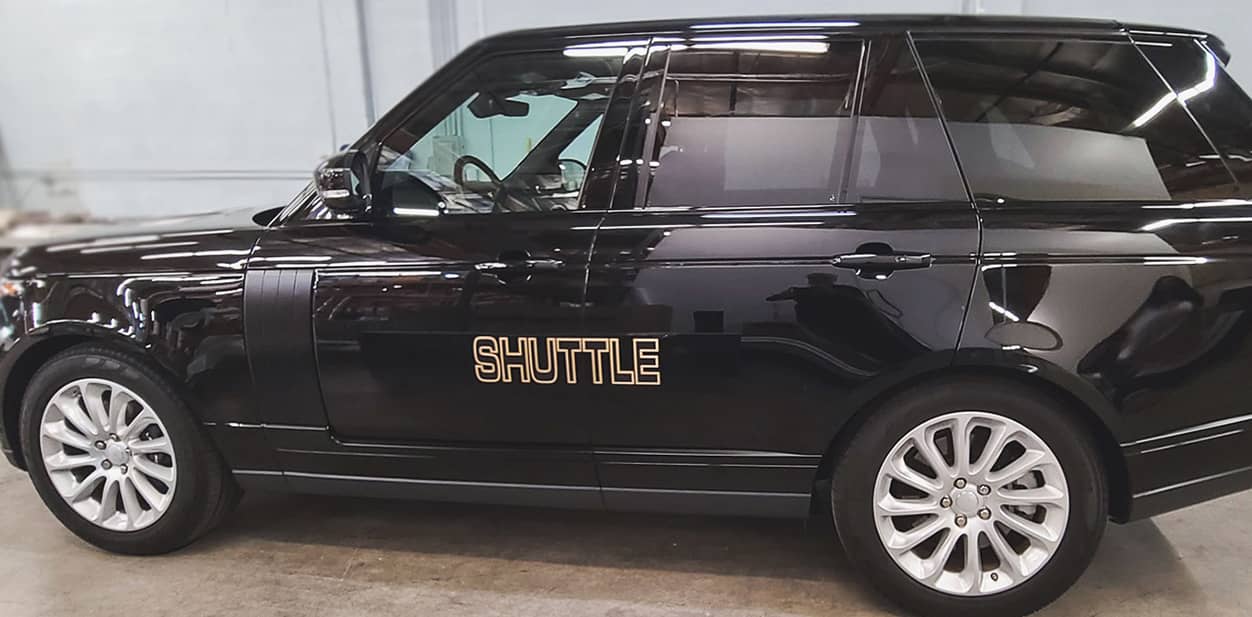 2. For Buses
Whether you run a travel agency or a summer school; if you're looking for impressive bus branding media, you've come to the right place. Branding a vehicle that belongs to a travel agency, a summer school or any other educational institution is quite common. You can create mind-blowing types of car branding decorations that provide some or even entire coverage. Furthermore, our rendering allows you to see the overall design before it heads off to production. This makes the process run even more smoothly.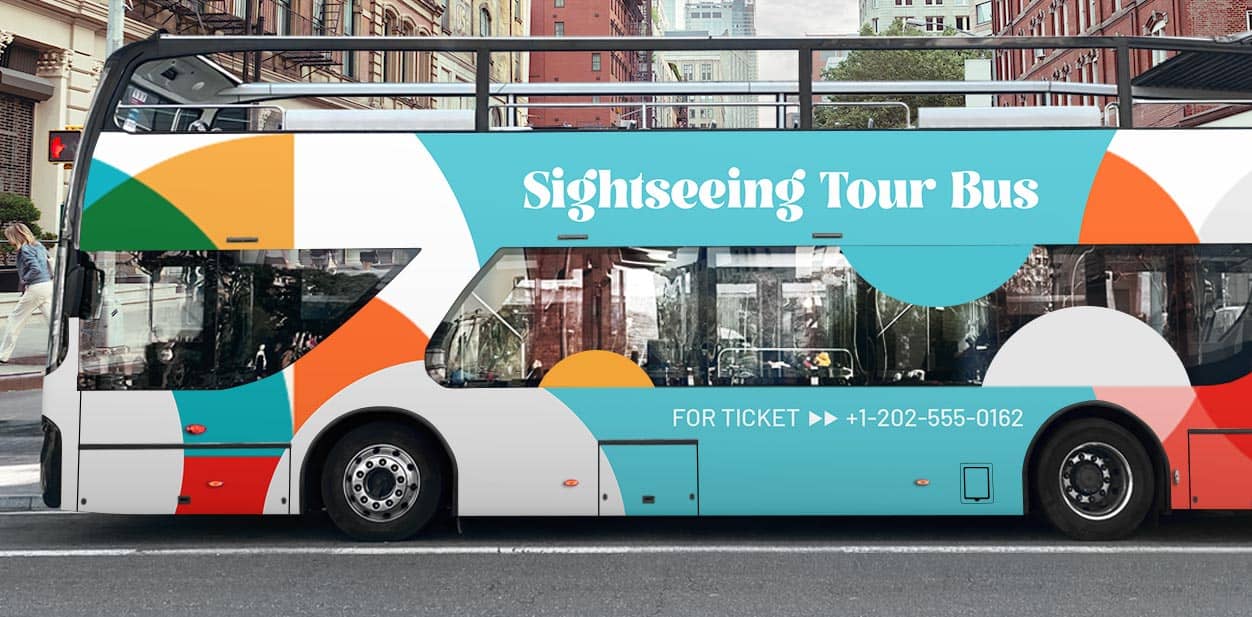 So, if you want to take full control of the process, explore our design team's signage design abilities. They will create designs that'll appeal to you, your customers, your prospects and passersby in general. This will help you preview the final looks of your branding design before you place an order. Get a free quote for your project now.
3. For Vans
Are you looking to brand your company's vans? Do you want to implement attractive branding solutions for your retail or wholesale business? You can do it with various types of vehicle branding solutions. You can apply media providing total or limited surface coverage. Also, feel free to apply those techniques with different adhesive materials.
Implement branding strategies on different classes of vehicles as part of your corporate branding strategy. This will help you highlight your individuality and set you apart from the competition using different branding techniques.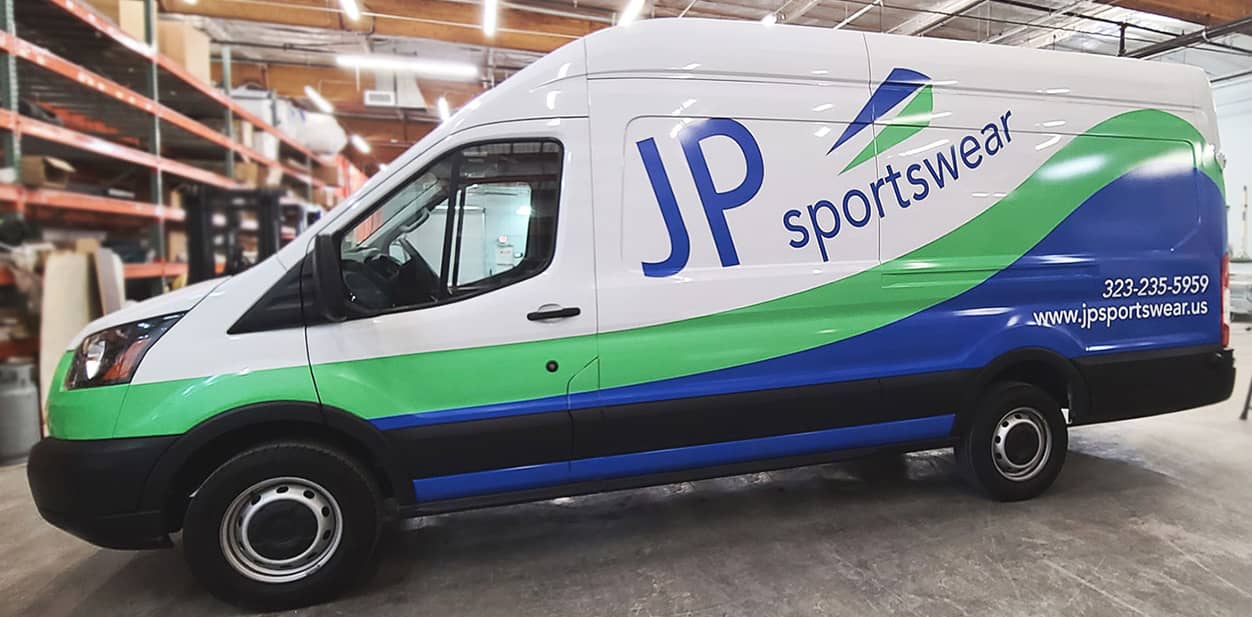 4. For Trucks
Are you looking for car branding ideas to restyle your trucks, trailers, pickups or even coffee trucks? You can explore truck branding options that will put you on the path to achieve your business goals. Pickup branding will successfully complement promotional campaigns for your food chain, for example. In the long run, you'll end up with active sales, thanks to the removable items intended for branding a car.
By the way, if your business is operating in the food industry, you may also be interested in restaurant signs. These varieties of branding displays are sure to represent your delicacies along with your brand name in all their glory.
If you're looking for other ways to run promotion campaigns like placing illustrations outside your headquarters or in your office's lobby, our team is prepared to provide you with the necessary sign permitting consultation.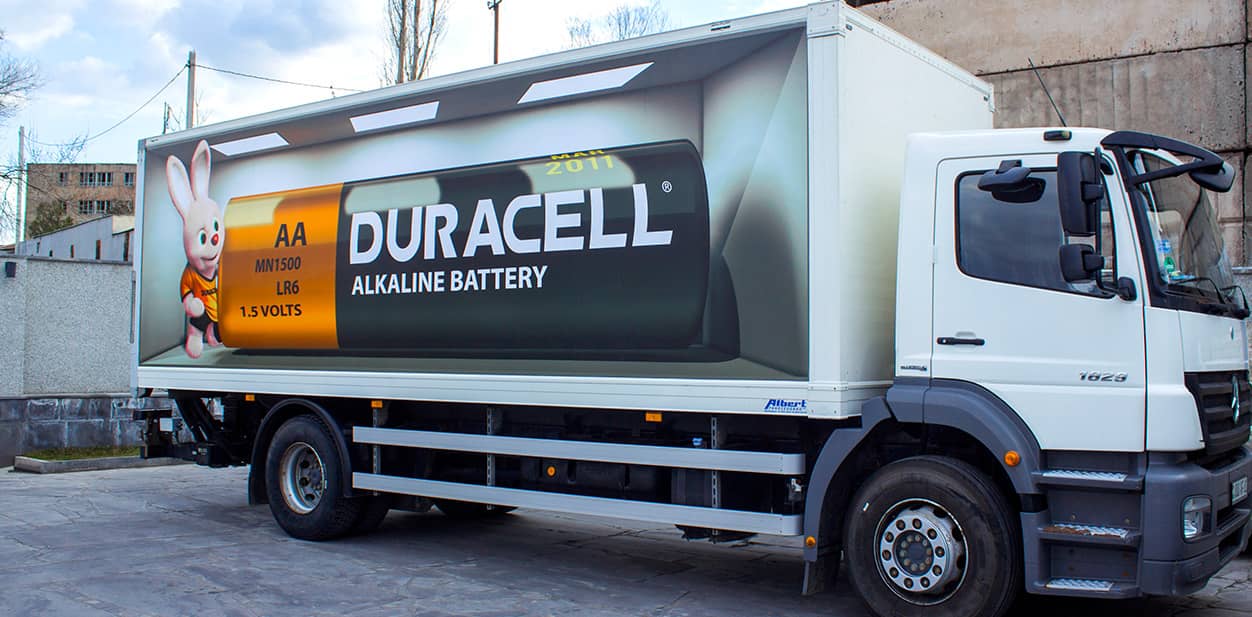 5. For Race Cars
This is for the race organizers. If you're someone who's in charge of organizing racing events or a participant, you should know that race car branding is quite common. Be it the roof, doors, fenders, hood, bumpers or windows, you or your sponsors can brand any part of your race cars to enhance the thrill for the upcoming race.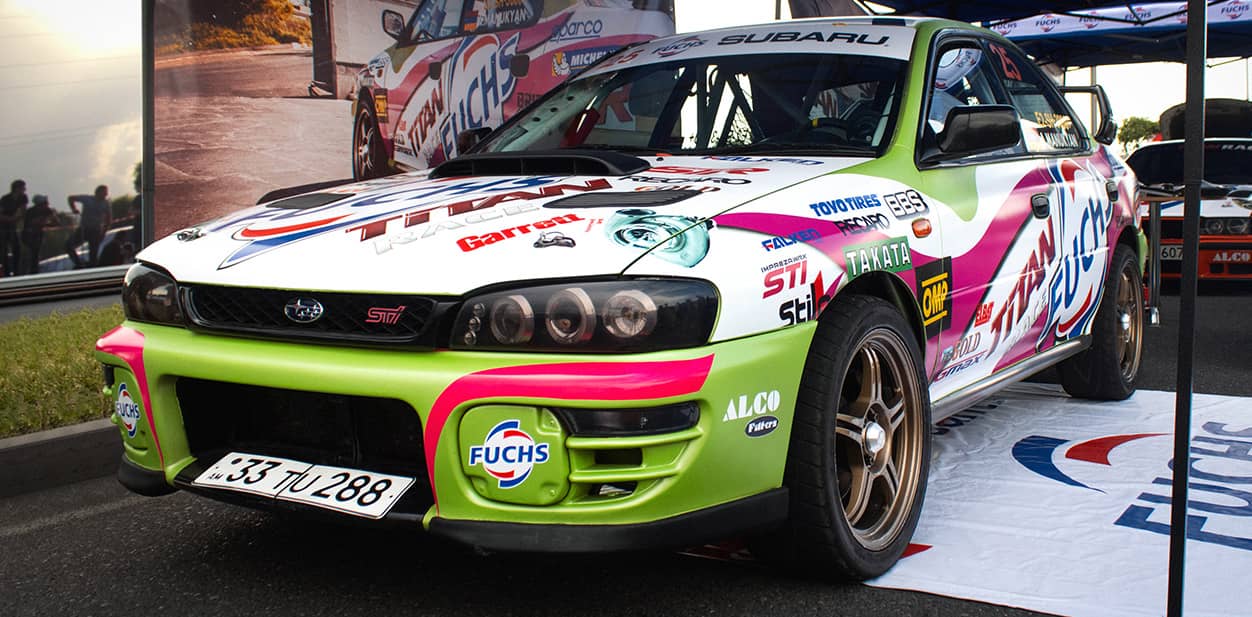 Popular Vehicle Branding Uses
You can apply types of car branding to different vehicles such as construction equipment, tow trucks, a limousine fleet and so much more. Let's check out the most popular uses of vehicles for brand or campaign promotion below.
Branding on Cars for Business Promotion
Branding a car to support commercial goals is a well-established practice. Companies operating in any business should consider different types of car branding techniques for their campaigns. Those techniques are irreplaceable if you want to advertise your brand on the go. On top of that, the hassle-free sign replacement service makes running promotions on vehicles a great choice for businesses.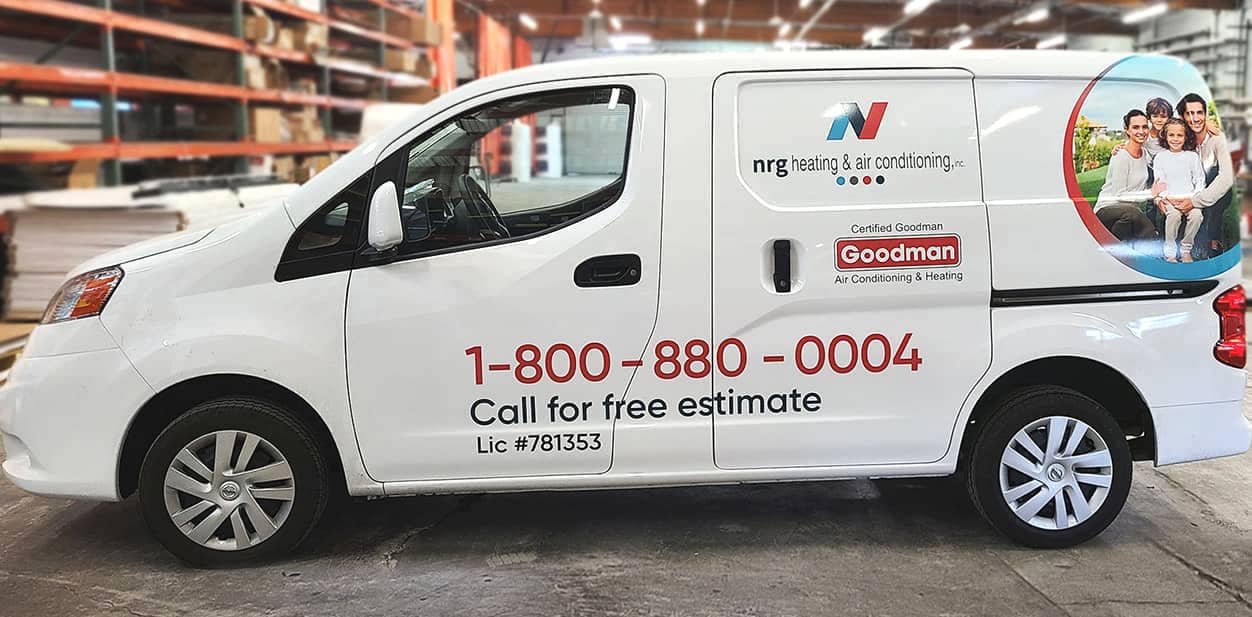 Branding on Cars for Event Promotion
Of course, there are numerous effective ways to promote an event. Along with other strategic tips, make the information about your event widespread by advertising it in motion. You may wish to display an address, email, phone numbers and any other important info on vehicles. Make sure to also highlight the main theme of any event.
1. For Corporate Events
In addition to in-house events, companies may also actively organize or get involved in off-site ones. These off-site events create a brilliant chance for companies to implement branding with striking event signage. They can also use adhesive solutions for car branding to supplement their out-of-home advertising strategies.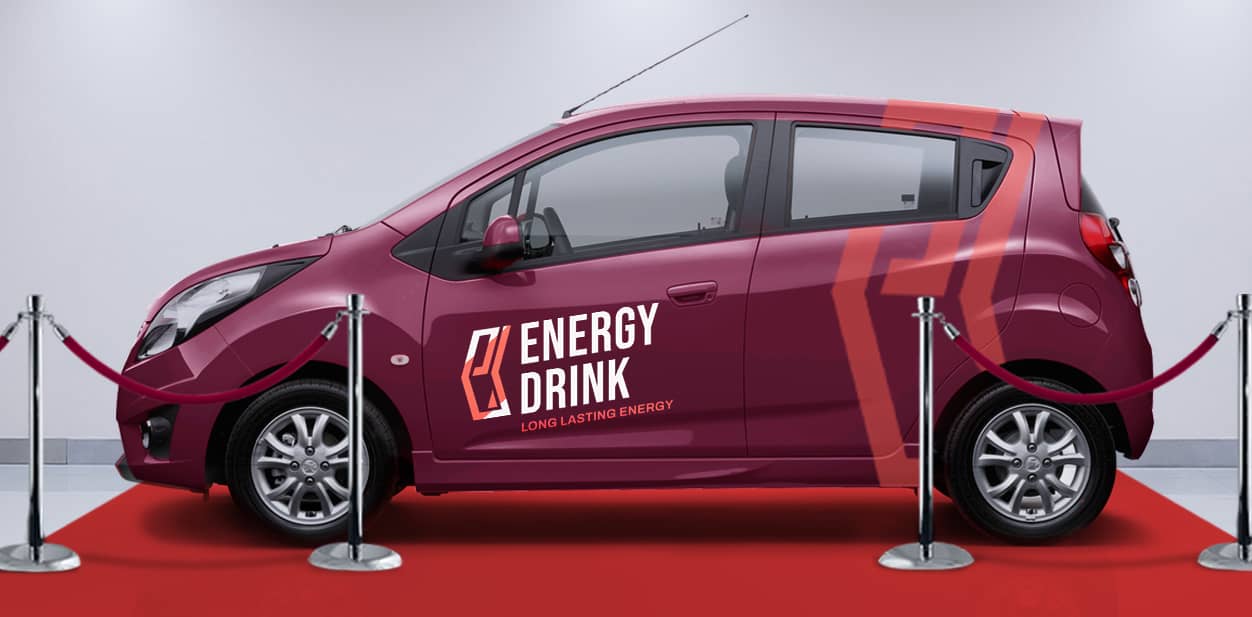 2. For Mission-Oriented Events
Luckily, there are a lot of people around us with a mission-focused mindset. They may be activists constantly speaking up for justice, advocating for the environment or for human rights. Are you one of those people who are concerned about the greater good? If that's the case, you may need effective branding items to promote your mission-oriented events. In one example, you can highlight your slogan on cars with the vinyl lettering solution.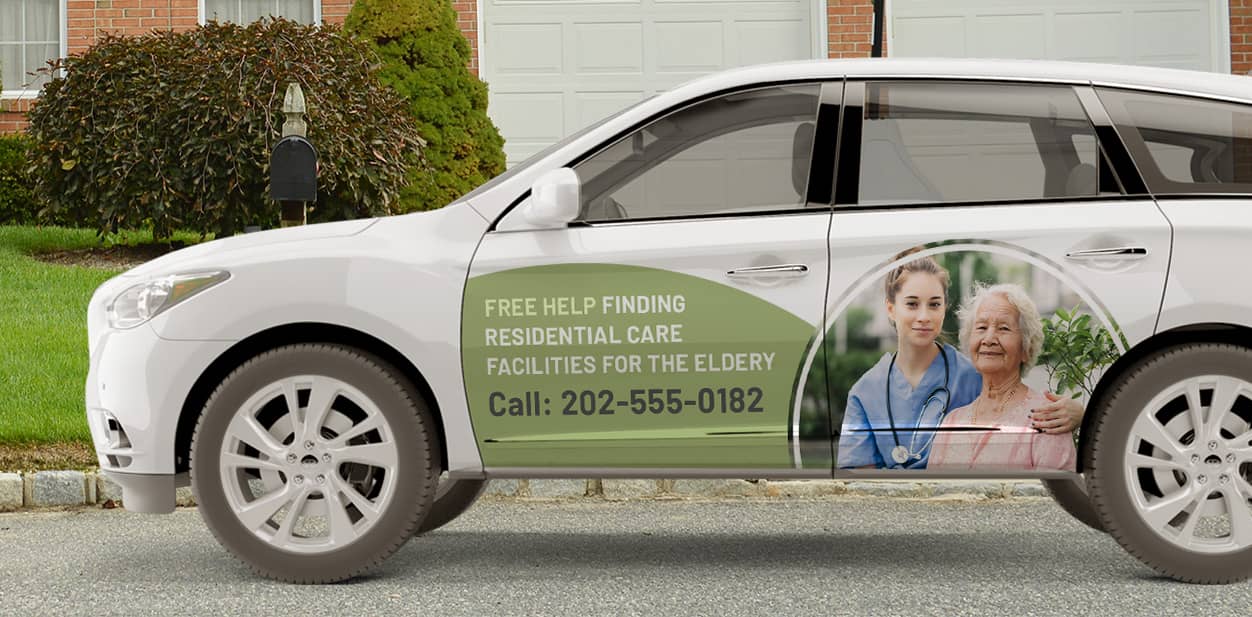 Branding on Cars for the Educational Sector
Different branding techniques have been taking the educational sector by storm. You can come across educational outdoor signs or other solutions in busy streets and parks. If you're in charge of organizing the branding for an educational institution, consider running promotion campaigns on cars in tandem with other useful strategies.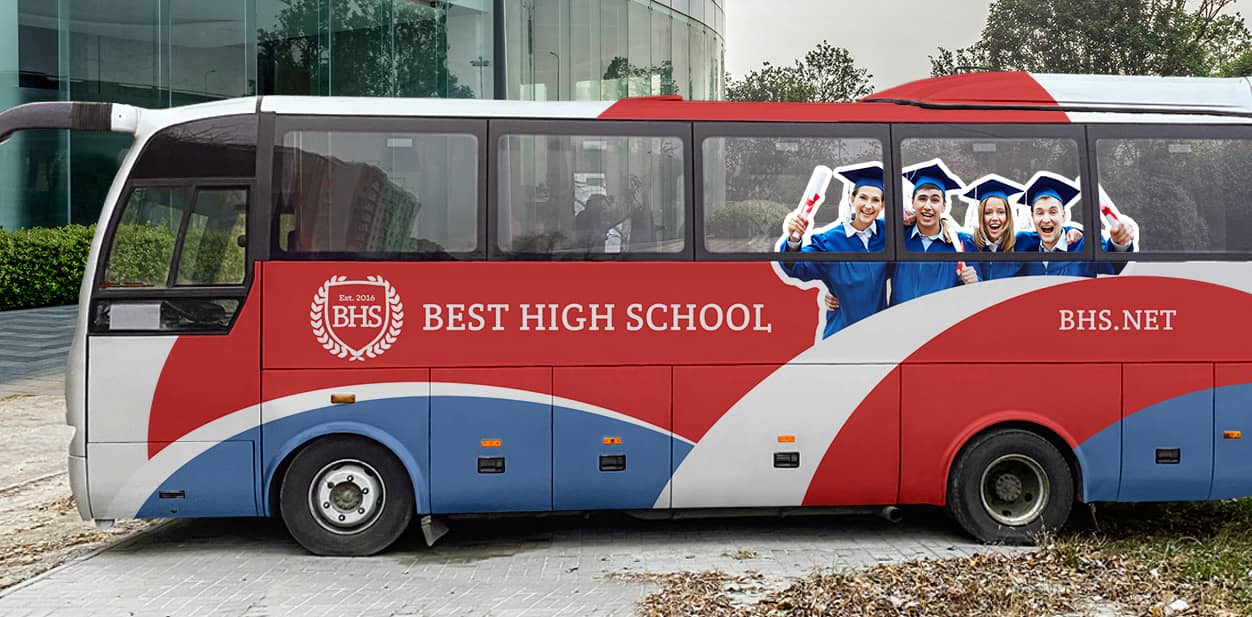 Branding on cars for the Medical Sector
Branding a car is commonplace in the medical sector. Be it a campaign to raise awareness or advertising for a medical service, spread the word on the go with eye-catching graphics. Include important information to help patients find your clinic. In addition, word your slogan in a way that will speak volumes about your institution and its mission.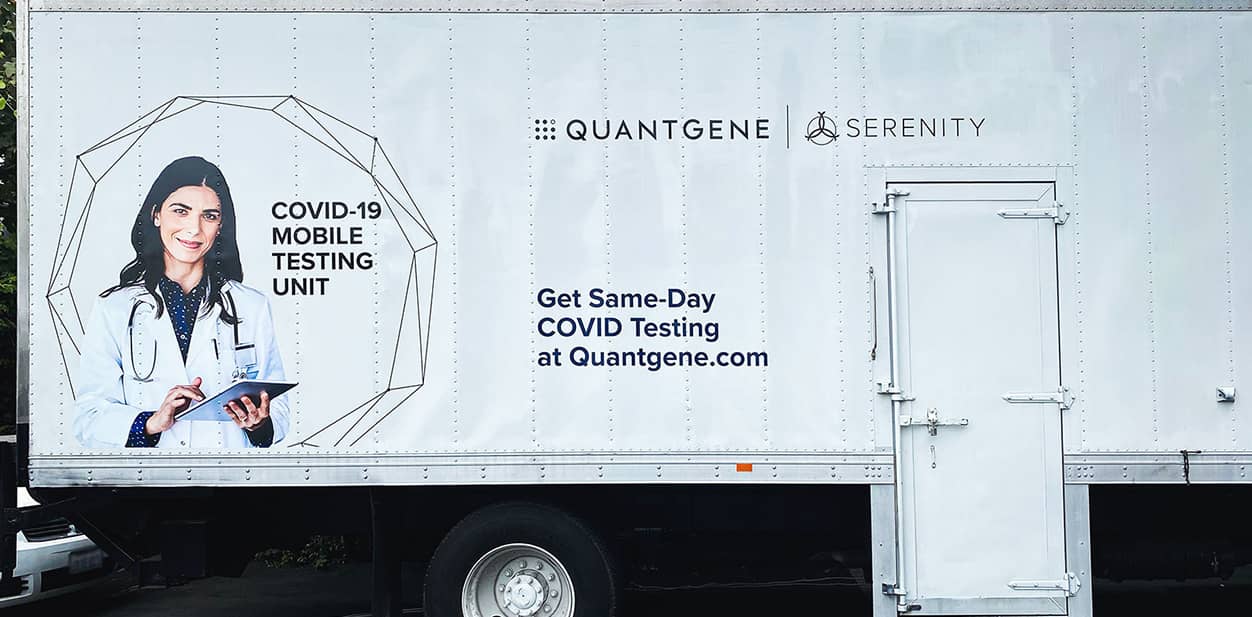 Wrapping It Up
Your choice of strategies for branding cars largely depends on your objective. You can bring your creative ideas to life with graphics fully or partially covering the vehicle's surface. Also, feel free to use removable magnetic products for your short-term promotional campaign. You can even adhere different window decals in case their usage complies with the local regulations of your state. Apply your preferred sticky product to different vehicles to level up your branding efforts, as well as event and awareness campaigns in different sectors. Rest assured that the branding strategies you apply will take your event promotion campaigns to new heights.