Dazzling Accent Wall Designs with Wood to Transform Corporate Spaces
When it comes to corporate design, a beautifully decorated wall can be a powerful tool. And when it comes to materials, accent wall designs with wood are a versatile choice that can elevate your corporate identity. A wood design accent wall is a sustainable solution for designing a pleasant corporate space. This element is perfect for a modern or natural look.
Accent wall designs with wood can enhance the atmosphere of a room to add sophistication, rustic charm or warmth. Unsure of how to add a wooden accent to your space? Our sign making company has you covered.
We can manufacture different types and styles of accent wall designs which will surely meet your unique taste and needs. Read on to uncover the key types of custom business signs which will help you enhance your design.
Popular Wood Design Accent Wall Styles
Accent wall designs with wood have become popular in recent years due to their versatility and natural feel. Faced with the prospect of stylizing an accent wall with wood design, the alternatives and possibilities are endless. From modern and sleek to warm and rustic, there are many styles you can choose. We'll also go over some popular solutions from 3D letter signs to lobby signs. They'll complement your choice of style.
Modern Wood Accent Wall Designs
A modern wood accent wall features clean lines, minimal detailing and a monochromatic palette. Yet, bold walls are still among the top ideas for a modern space inspiration. Incorporating this design into your office decor can bring a sense of coziness to a room. Modern wood accent wall ideas will be a chic addition to your modern interior. They'll work wonders in any style including minimalistic or elaborate.
1. Geometric Wood Accent Wall Ideas
Another popular approach to modern wood accent walls is the use of a geometric wood accent wall. This pattern can be achieved through the use of varying shades and patterns. Geometric wood accent wall ideas can employ a set of wood tones. They create a contrasting pattern using different decor elements including custom signage. A geometric wood accent wall can also serve as a backdrop for other design elements such as interior business building signs and logo signs.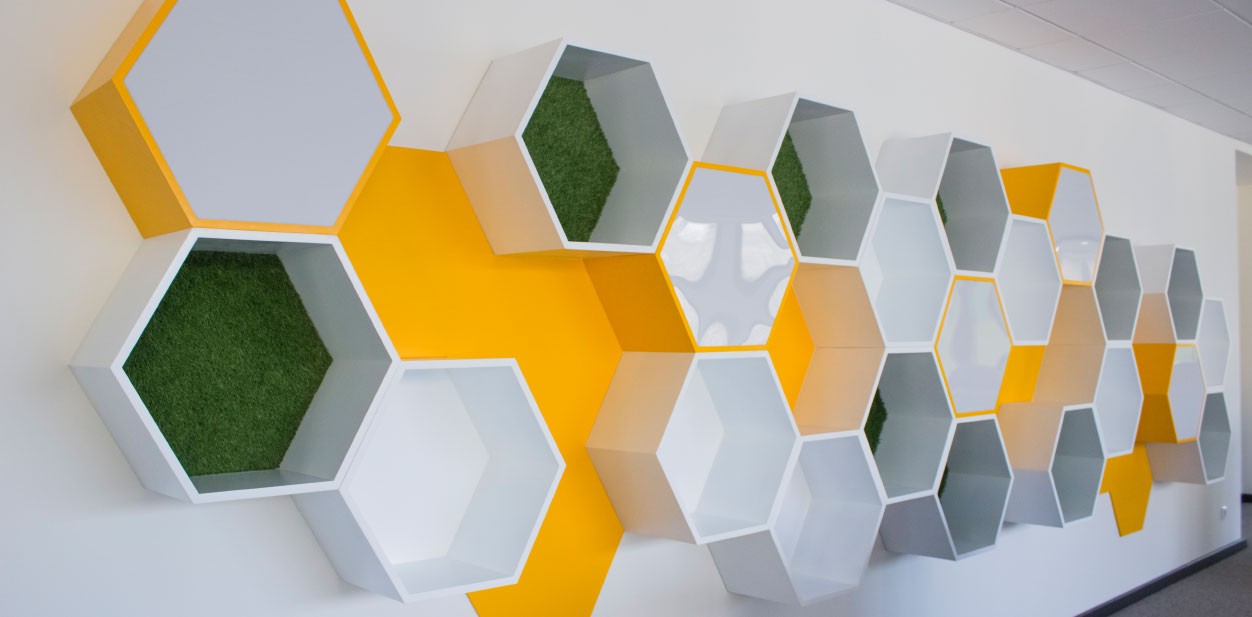 2. Dimensional Design Concepts
Some modern wood accent wall ideas include dimensional designs which can add visual depth to a room. These modern wood accent walls use the material so as to create a three-dimensional effect. Modern wood accent wall ideas can serve a functional objective, too. For example, stacked planks can act as an acoustic panel to help absorb sound. An overlapping slat design has a way of creating an interesting focal point for a room.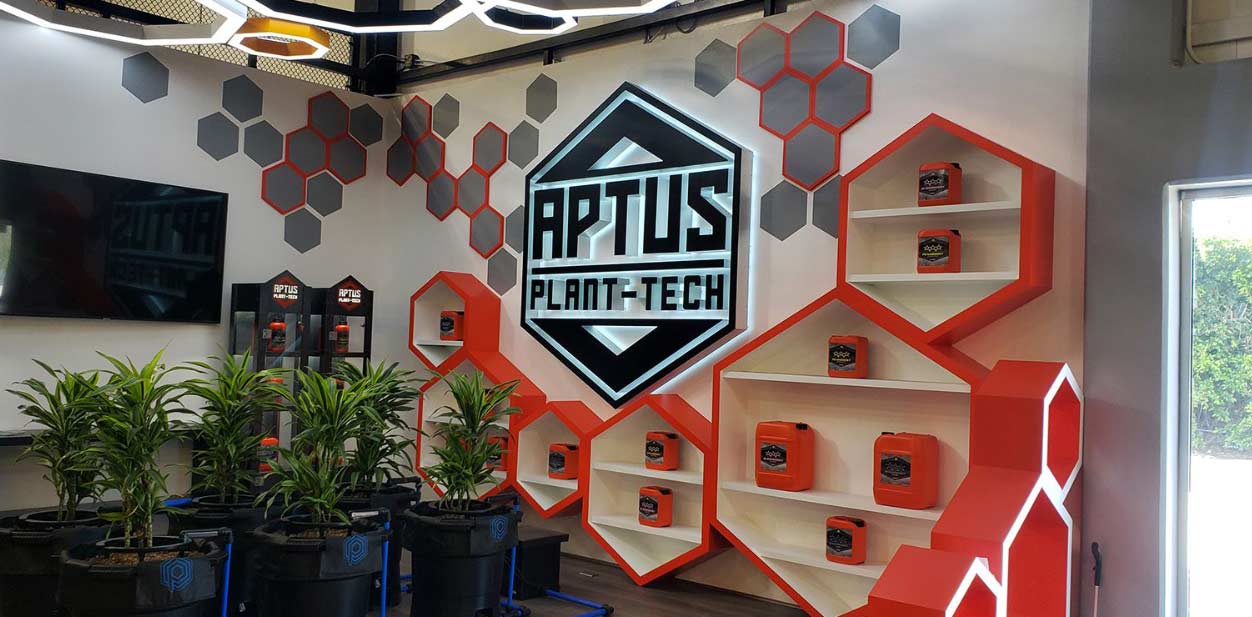 Unveil the beauty of office accent wall ideas while browsing through this article.
3. Architectural Accent Wall with Wood Design
Modern wood accent walls have long been a staple in architectural design; for good reason. They're versatile, durable and can give a space warmth and personality. From clean lines and sharp angles to bold architectural signage, there are endless possibilities for a wood design accent wall. Make use of architectural accent wall designs with wood which can serve as a means to create a centerpiece or infuse elegance.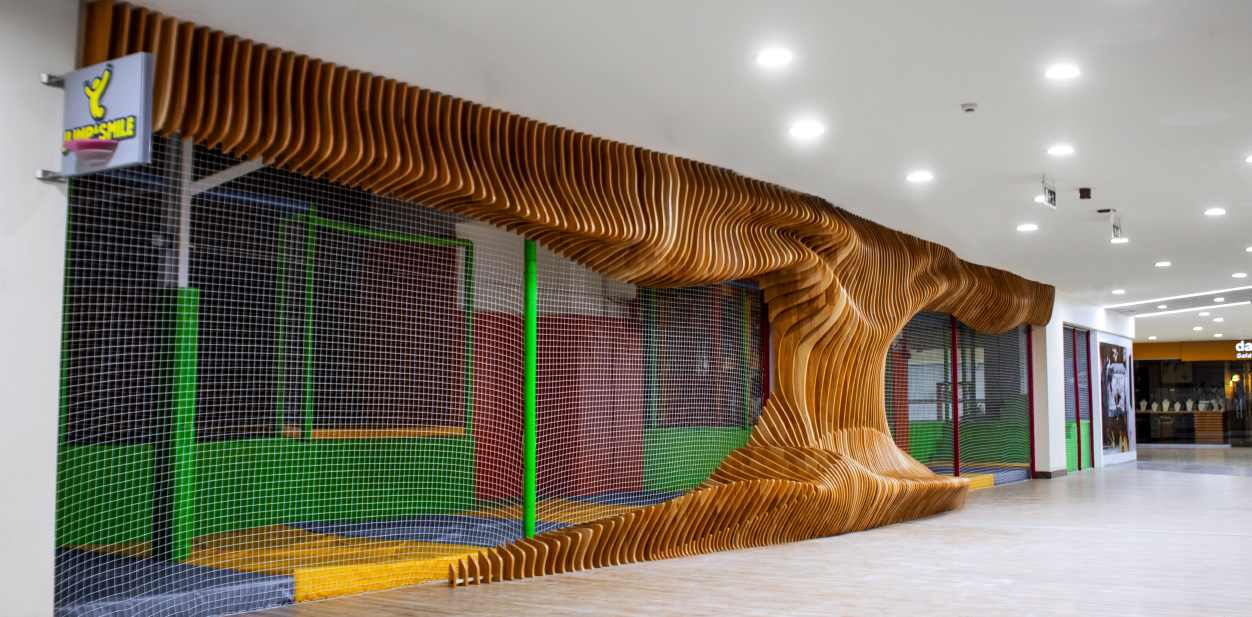 4. Eco-Friendly Accent Wall with Wood Design
Research shows that wooden materials improve indoor air quality, acoustics and moisture levels. What better way to pull the outdoors closer into your premises than with rolls of artificial grass. Use them to adorn your walls and accent wall designs with wood. They bring a touch of nature into your space and add an attractive element that speaks about the sustainable attitude of your business. The warm tones of the wood complement the cool green grass, creating a balanced and harmonious blend in the space. Take it a step further and add light up signs made of LED lights to showcase the nature-friendly aspect of the modern wood accent walls.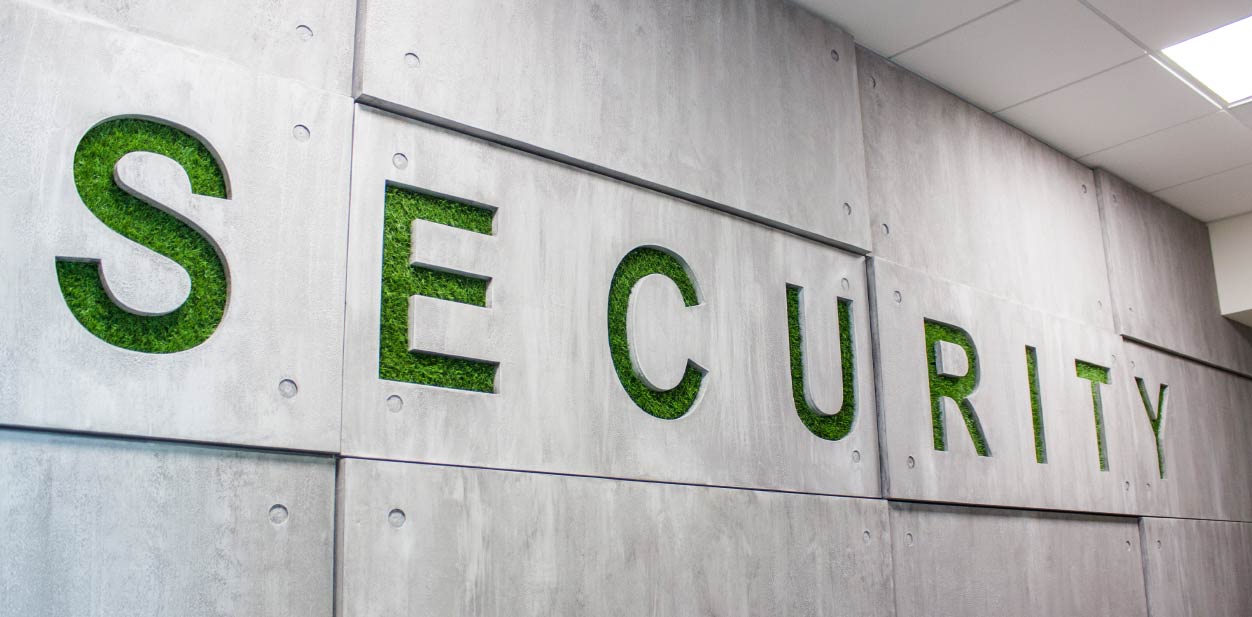 Revolutionize your space with stunning signage solutions to elevate your decor. Contact us now and get a free quote and consultation. We offer comprehensive sign services to complete your design.
Luxury Feature Wall with Wood Design
A luxury wood design accent wall is a timeless addition to any venue. It involves creating an area that exudes richness and sophistication. Luxury wood accent wall design ideas are a reflection of your personal style. It may include elegant furnishings, intricate details and more. One of the key elements of luxury wood accent wall designs is the use of premium patterns.
5. Curved shapes
Curved shapes in wood accent wall designs are a captivating feature in interior design. The use of curved shapes introduces a smooth and organic feel that is both spectacular and calming. This design trend is becoming increasingly popular in high-end interior design. Designers use curved wooden shapes to create statement pieces and add a splash of elegance to any room you choose. Coupled with their aesthetic appeal, wooden curved shapes are also highly versatile. They can replicate a variety of styles like vintage, traditional and contemporary.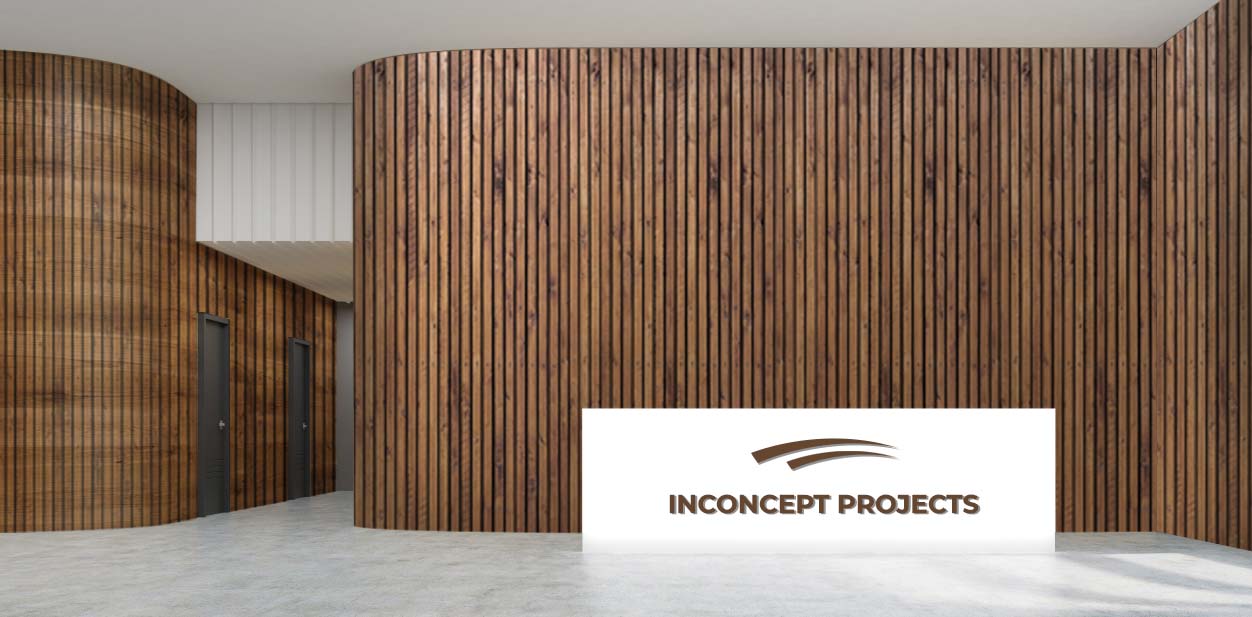 6. Vertical Slats
Vertical slats offer a modern, elegant aesthetic. These pieces can be applied in different ways. They can be painted or left in their natural color to match the interior design scheme. When used as a wood design accent wall, they can add depth to a room. Vertical slats can also be used to create a visual divide between different areas within a space. Combine the slats with 3D wooden letters or with features such as light box signs to produce a dramatic effect.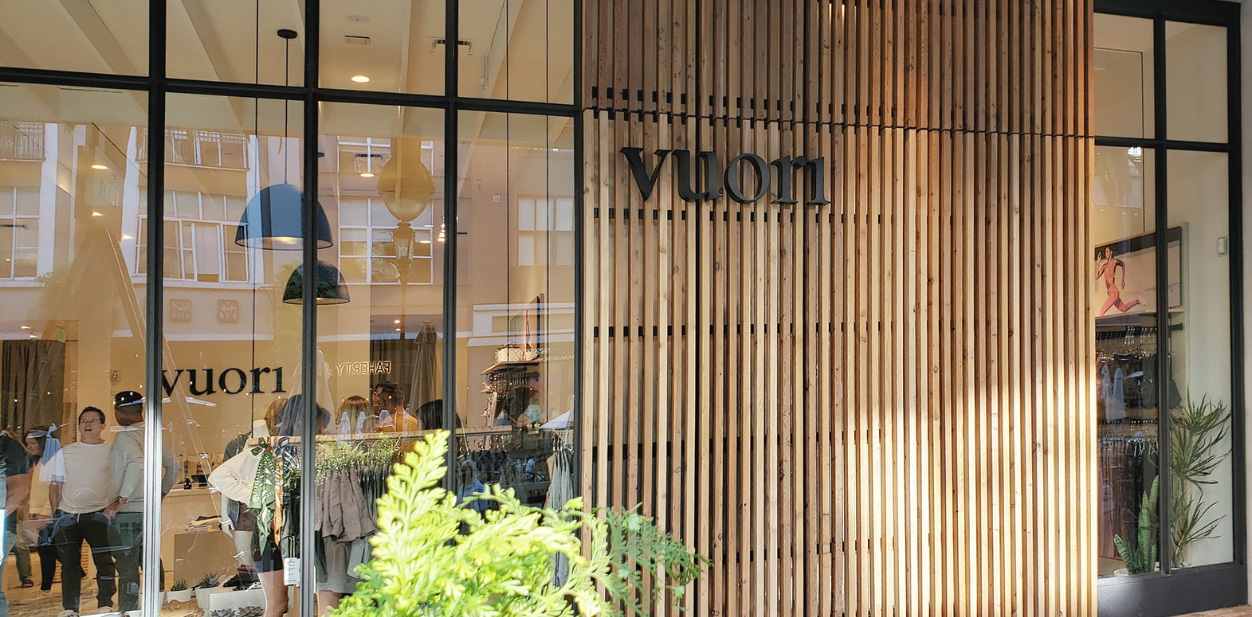 Explore the versatile world of feature wall displays for business venues.
7. Textured Designs
A wood design accent wall with textured patterns creates a memorable feature. It can be used to add a level of privacy or to create a dedicated area for a specific purpose, such as a partition or meeting space. A textured design can be incorporated into any interior style. It's a durable and long-lasting solution for any commercial space. Textured patterns establish a welcoming environment for their employees and clients.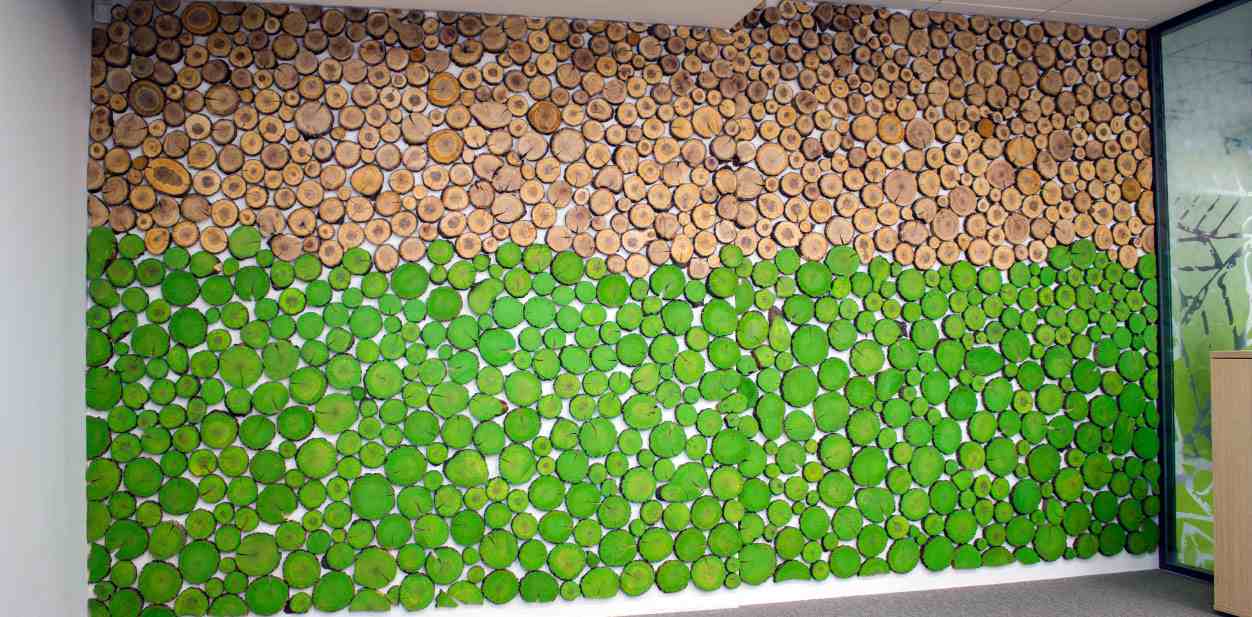 Our experienced team will handle all aspects of the project from production to sign installation. Contact us now and get a free quote for your unique project.
Dynamic Accent Wall Designs with Wood
There are no limits for dynamic designs. It doesn't matter if you use bold graphics or opulent lighting, you can create a striking showpiece that will leave a lasting impression. Besides, using natural materials and earthy tones are among the top design trends for 2023 and you shouldn't neglect them. 
8. Lighting Designs
Illumination is a crucial part of wood accent wall design ideas. Even design industry professionals agree that It sets the mood, highlights key features and enhances the overall aesthetics in a given area. It makes a room feel cozy, inviting and spacious. Use channel letters in different areas of a room to achieve desired effects. Good lighting design also involves taking factors such as the direction and intensity of light, the color temperature and the use of natural light into consideration.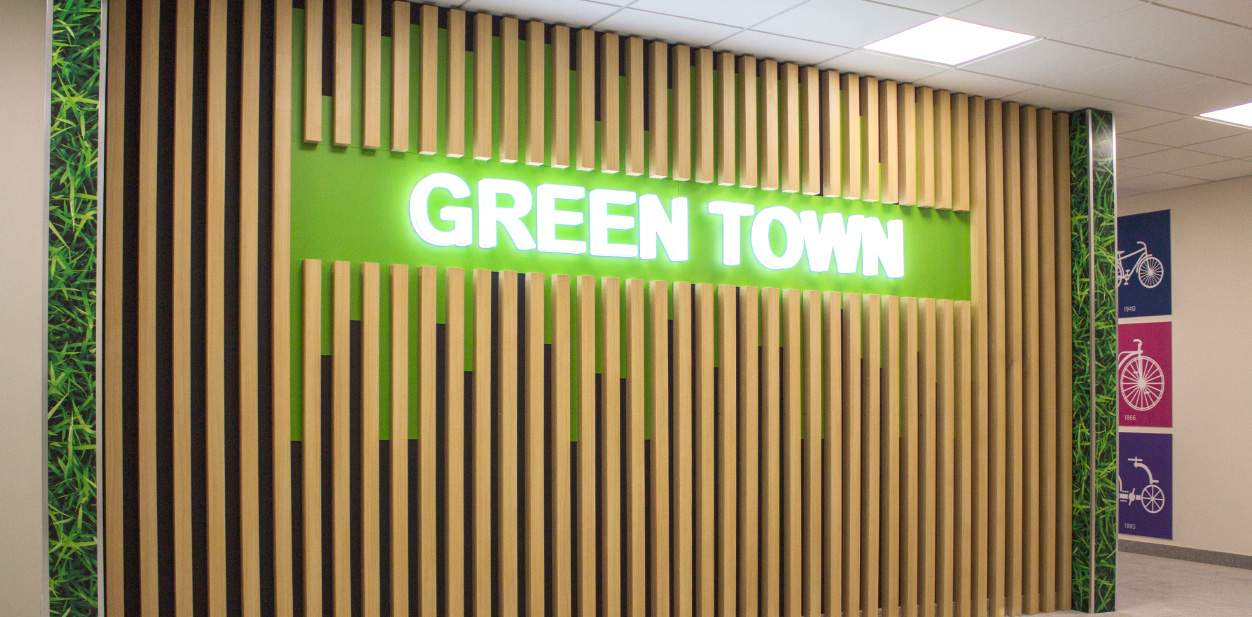 9. Bold Graphics
Bold graphics can add a statement element to interior design and can help set a captivating feel. They can serve as a centerpoint while also tying a room's design elements together. Bold graphics may be incorporated into the scheme with interior signs in large format printing through the use of graphic artwork. They can add a pop of color, texture or a pattern to an otherwise neutral space.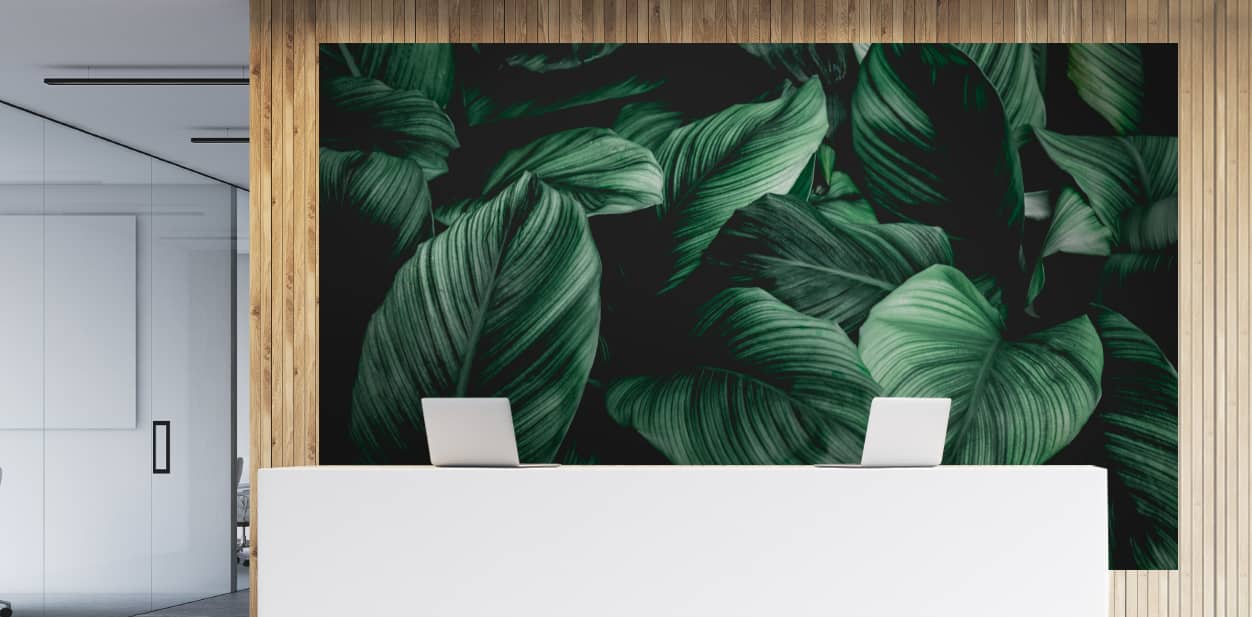 10.  Light and Dark Tones
Utilizing light and dark tones can be balanced to elicit a harmonious look in an accent wall with wood design. They generate attractiveness and contrast to highlight specific design elements. Light tones, such as white, cream and pastel colors, can contribute to making a room feel airy, spacious and bright. Dark tones, such as black, navy blue and dark green can create a sense of intimacy and sophistication in a room. When used in moderation, dark tones can help anchor a room and create a grounding effect.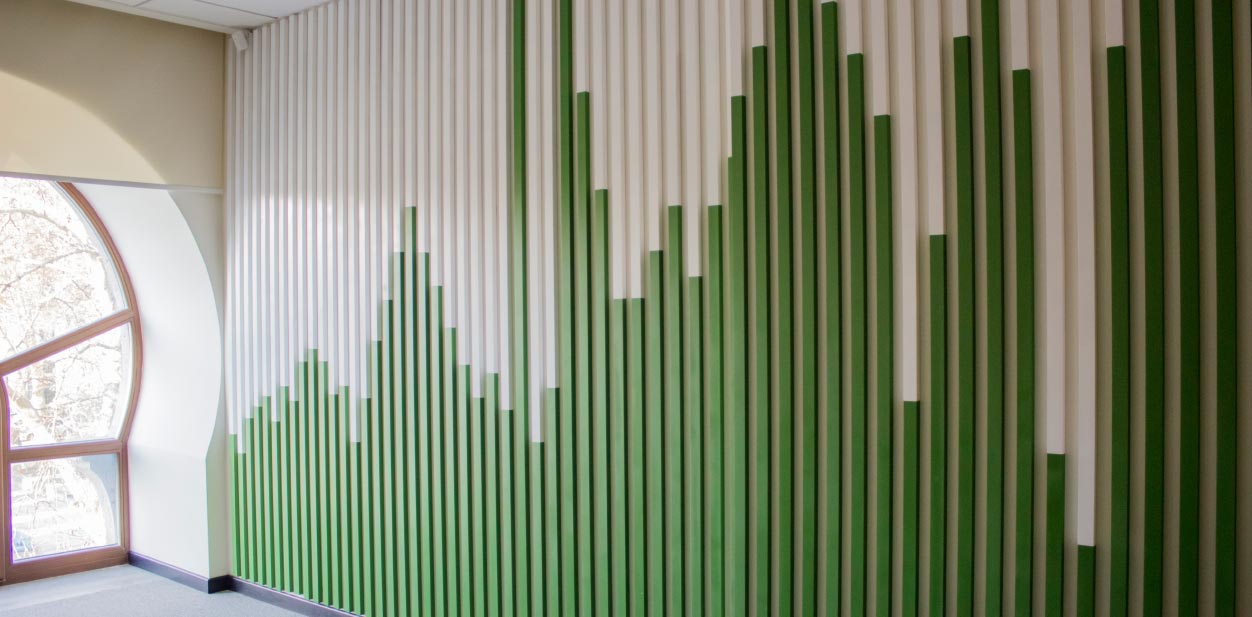 Custom Wood Design Accent Wall Ideas with Other Materials
A wood design accent wall can be mixed with other materials to forge a unique and customized look. Other materials such as metal or acrylic complement and enhance the beauty of wood. The blend of different materials can add consistency, contrast and sophistication to a space. When combining wood with other materials, it's important to balance the textures and colors to create a harmonious look.
Accent Wall Designs with Wood and Metal
The natural beauty of wood and the sleek, modern look of metal make a perfect combination. To create this accent wall with wood design, you can use wooden paneling or wooden boards and combine them with metal accents such as framed mirrors, metal light fixtures or metal picture frames. The contrast between the natural warmth of the wood and the coolness of the metal creates a unique and eye-catching look. They can be used to create various designs such as wayfinding signage.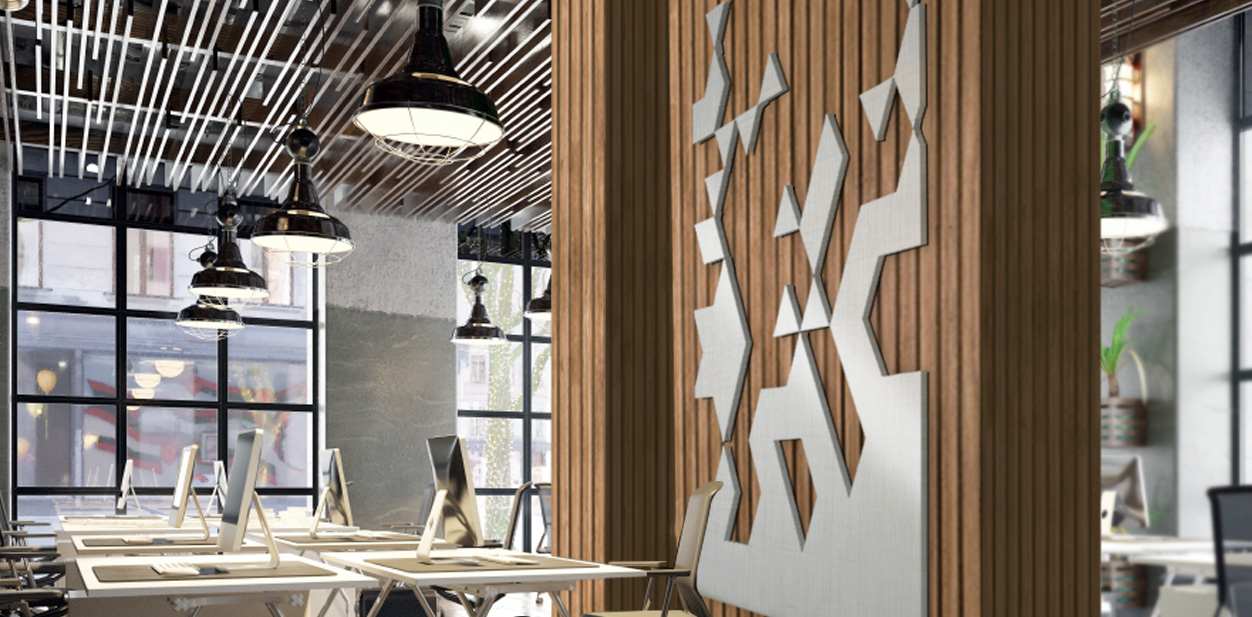 Accent Wall Designs with Wood and Acrylic
Wood and acrylic can create a modern and visually stunning look in any room. The combination of warm wood textures and the clean lines of acrylic can add a unique touch of sophistication and style to a space. The transparent quality of acrylic can enhance the beauty of the wood, creating a harmonious blend of natural and modern elements. This combination is ideal for a lot of occasions, such as event signs or office signs.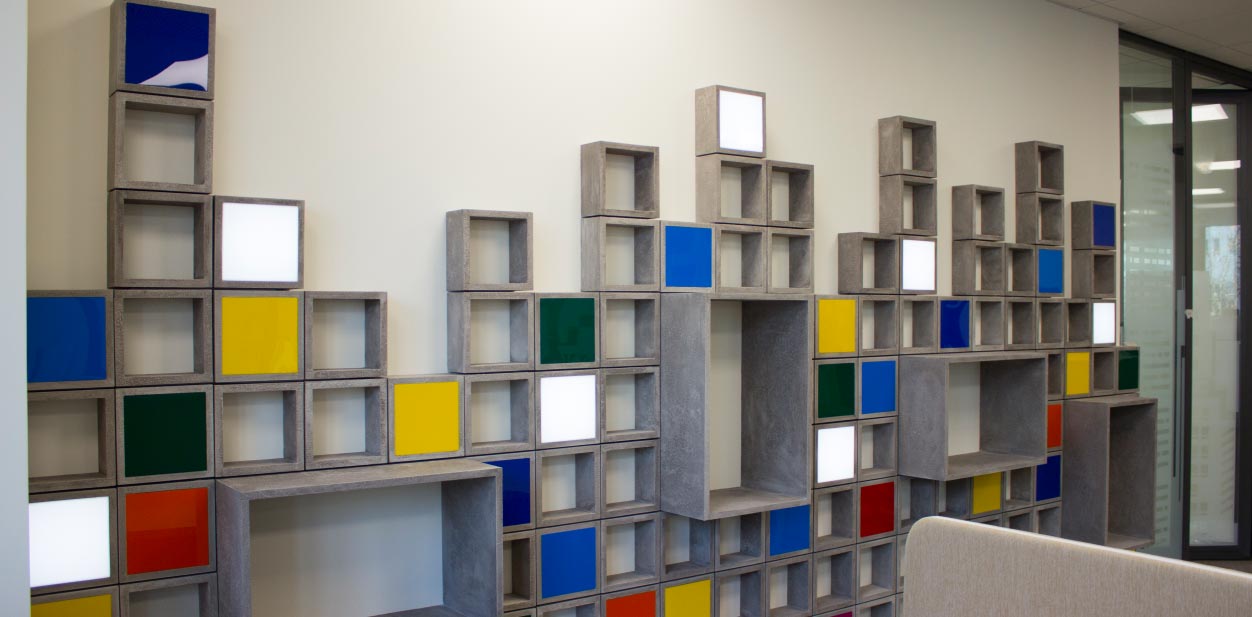 Accent Wall with Wood Design with Foam-Based Materials
You can use boards of various sizes, materials and finishes arranged in a pattern or randomly for a more natural look. The boards can be painted to match the color scheme of the room or left in their natural state for a more rustic feel. When it comes to a design with boards, it's important to consider the overall style of the room. Don't forget to choose a wood finish and board style that complement each other.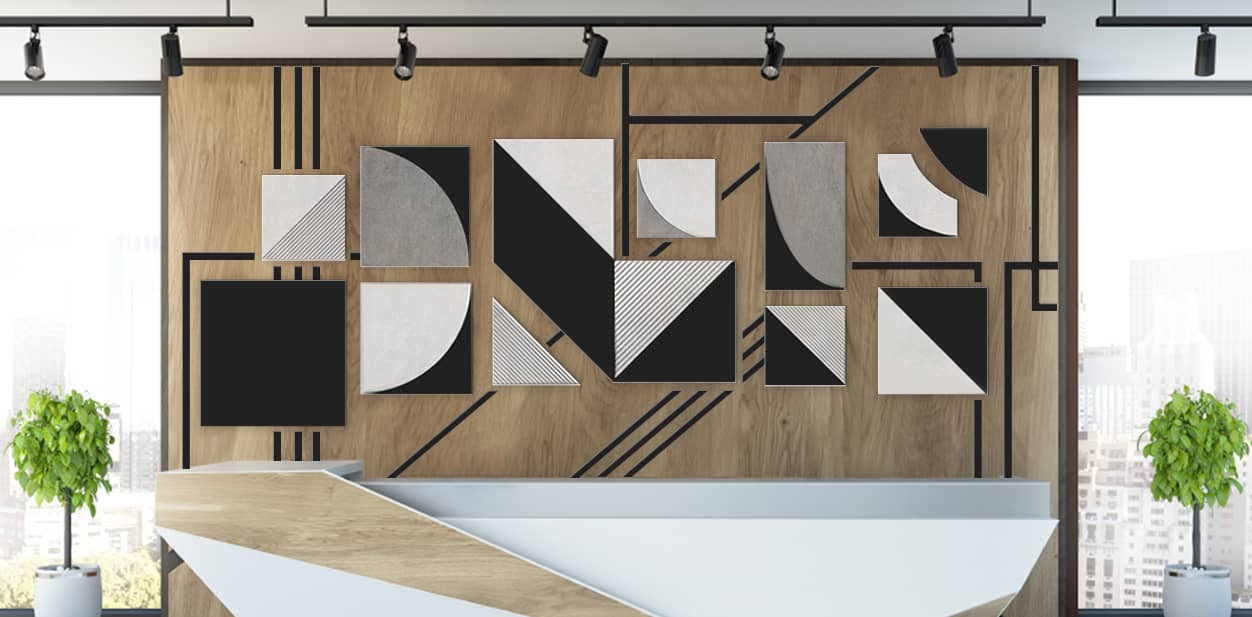 Reach out to us for our expert signage design and sign manufacturing services. Get a free quote and consultation today!