Stunning Accent Wall Designs for a Memorable Brand Image
A wall which features a striking design is usually the first thing you notice upon entering a room. Nice accent wall designs go a long way to ensure that your corporate premises leaves a positive impression on clients, visitors and employees alike. There are a lot of ways to customize these walls and make the most of the bland walls in your office. The methods and styles are changing continuously, so you might want to check what the current trends are.
We'll guide you on how to design an accent wall and introduce you to some popular concepts. You can also find a few accent wall design ideas to make your room more stylish. If you're having doubts about what options would be suitable for you, refer to a prominent sign making company that can advise you to make the best choice.
The main concepts of feature wall displays can be tailored to match your exact requirements.
You'll also discover the main types of custom business signs that will make the overall design look stunning in your quarters.
Popular Feature Wall Design Concepts
Are you having trouble deciding what to do with the huge blank wall you have in your office? Irrespective of what your budget and style preferences are, the blank wall in your office can be transformed into a breathtaking centerpiece. Wondering how? You can find a whole range of solutions from walls covered in large format printing to lobby signs.
1. Geometric Accent Wall Designs
Geometric accent wall designs are attractive solutions that can make a room's atmosphere calm and appealing. Geometric accent wall designs can employ a variety of vibrant colors while being symmetric or asymmetric in style.
They have been increasingly fashionable in workplaces recently. Geometric accent wall designs create a strong statement thanks to their distinctiveness. They're a suitable choice for offices because geometric accent wall designs are available in different sizes and patterns.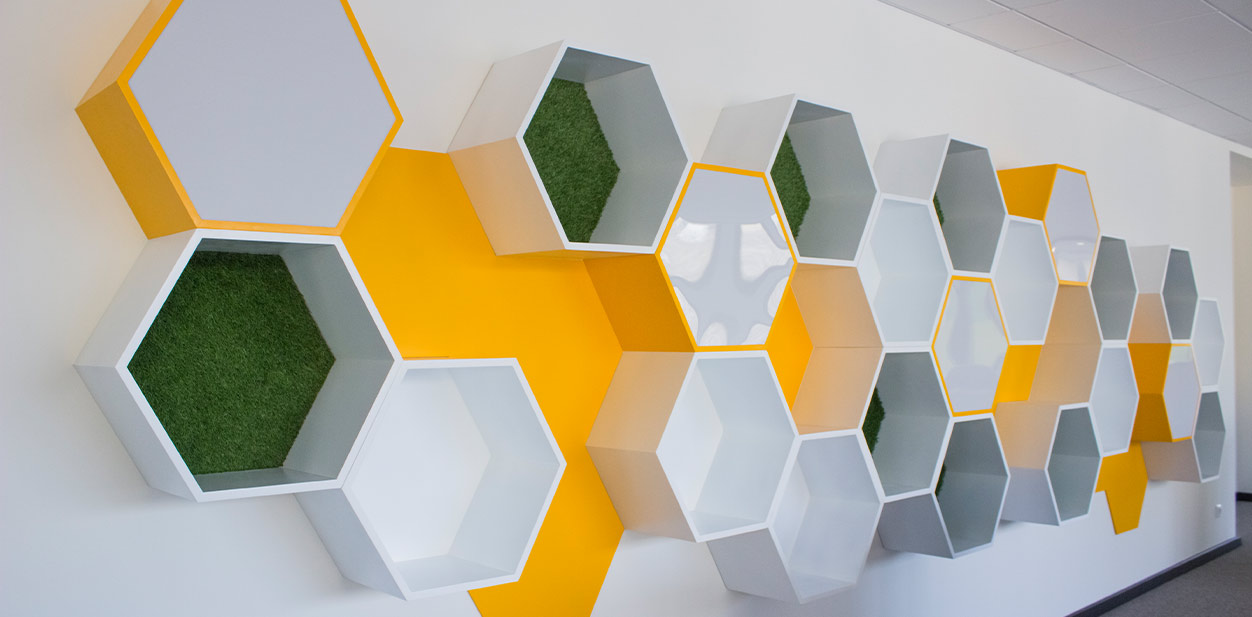 2. Dimensional Accent Wall Designs
Feature wall designs don't need to be colorful to be attractive. They can use dimensions to achieve the same goal. Regardless of the type of decoration included in your dimensional accent wall designs, they'll bring beauty and personality to a room.
3D accent wall designs may be featured as standalone dimensional items or they can include other decor elements such as 3D letter signs. If done right, you can rest assured that 3D accent wall designs don't overshadow other elements in the room.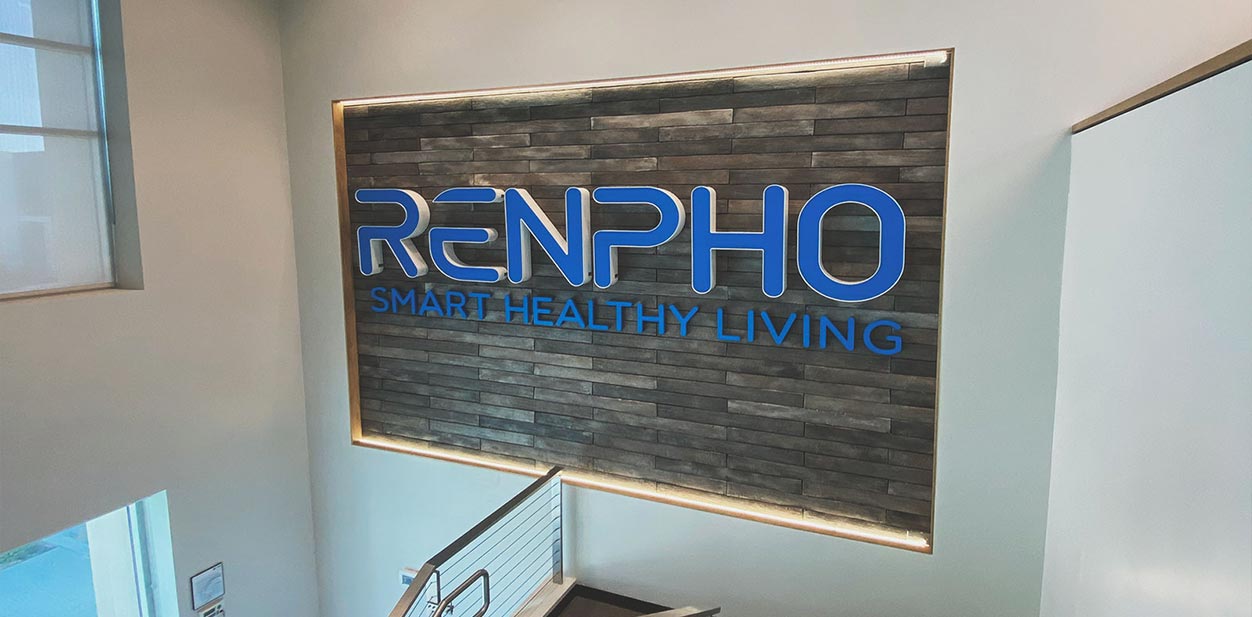 3. Wallpaper Feature Wall Design
A single wallpaper can set the whole mood in an area. This is a popular concept that has made a powerful comeback this year with statement walls. They can be used along with custom decals to enhance the look of any space. This is how to design an accent wall that works for branding and promotional purposes.
The good side of this option is that it comes in a variety of designs and hues you can pick. You can make a statement with floral, abstract or geometric wall covers.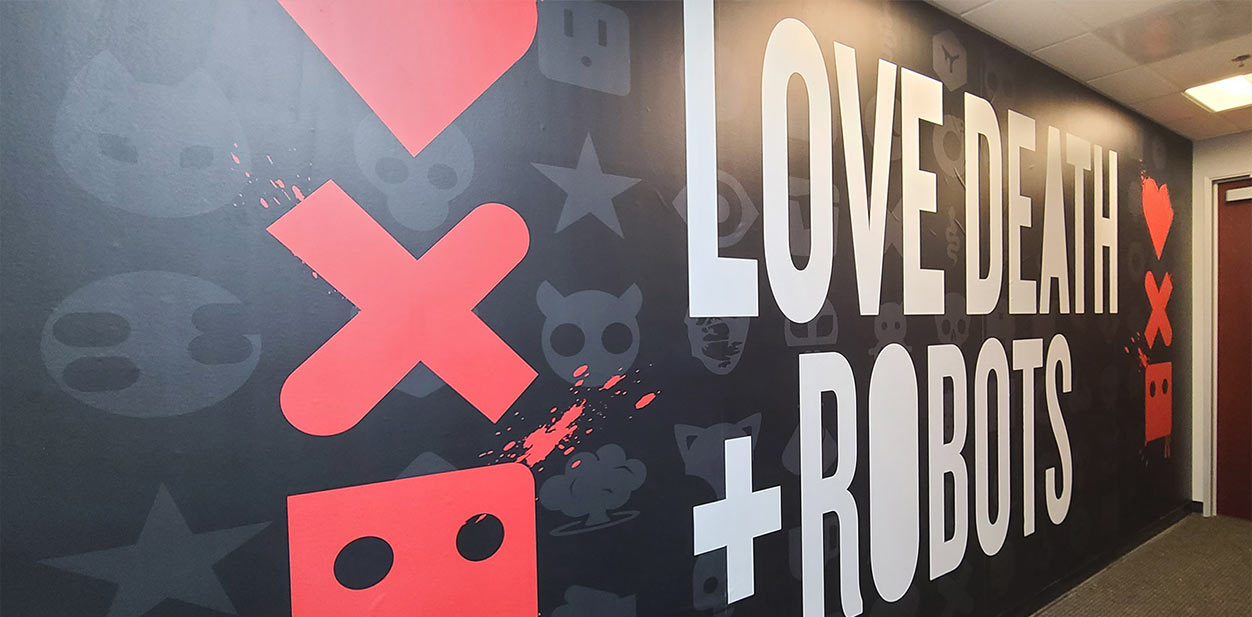 If you want to design accent walls corresponding to your needs, contact us now and get a free quote and consultation!
4. Mirror Feature Wall Design
Try mirrored feature wall designs to set up a splendid atmosphere in your office. They're a great method for smaller spaces as they illuminate and give the room a wider feel.
Mirrors are available in a multitude of shapes and sizes. You may design accent wall solutions by choosing a full mirror wall or a series of smaller mirrors. Either of these elements will enhance the looks of your office.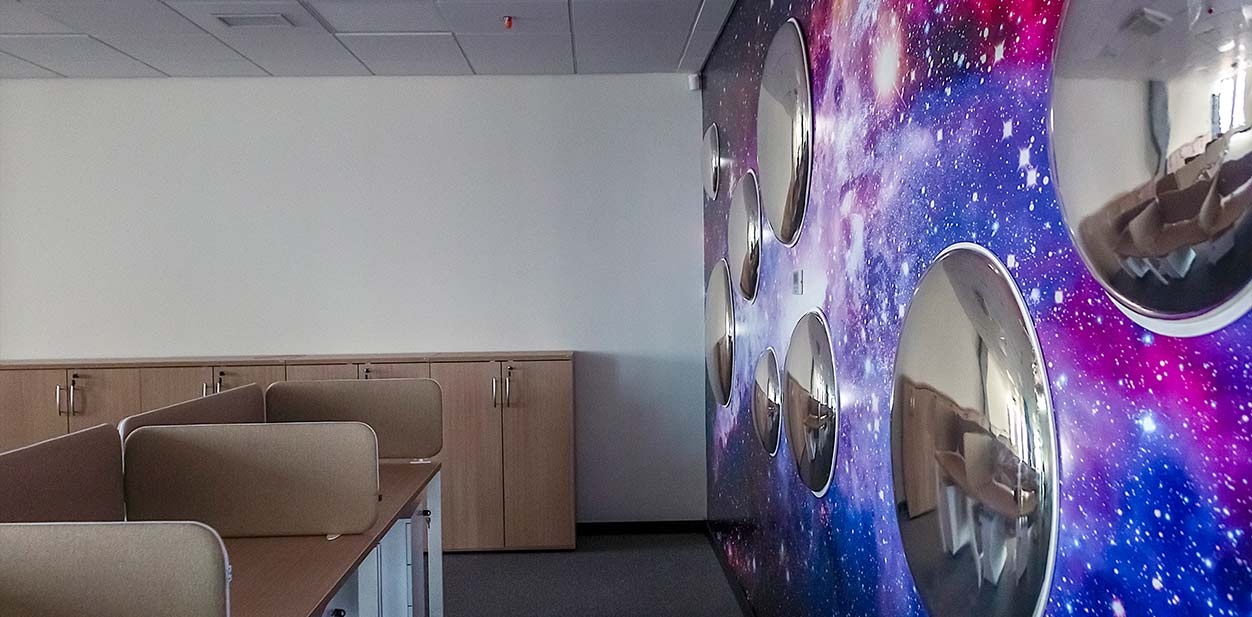 5. Glass Feature Wall Design
Sliding glass doors, large windows and glass walls are just three ideas to use glass design in your office architecture. Glass is a sleek, beautiful addition to any space including office lobbies, conference halls and even office kitchens.
Glass surfaces make rooms seem more spacious. They provide a modern feel and let in natural light. Apply different interior signs with glass feature wall design. Wayfinding signage, for example, will streamline navigation and raise customer comfort and satisfaction.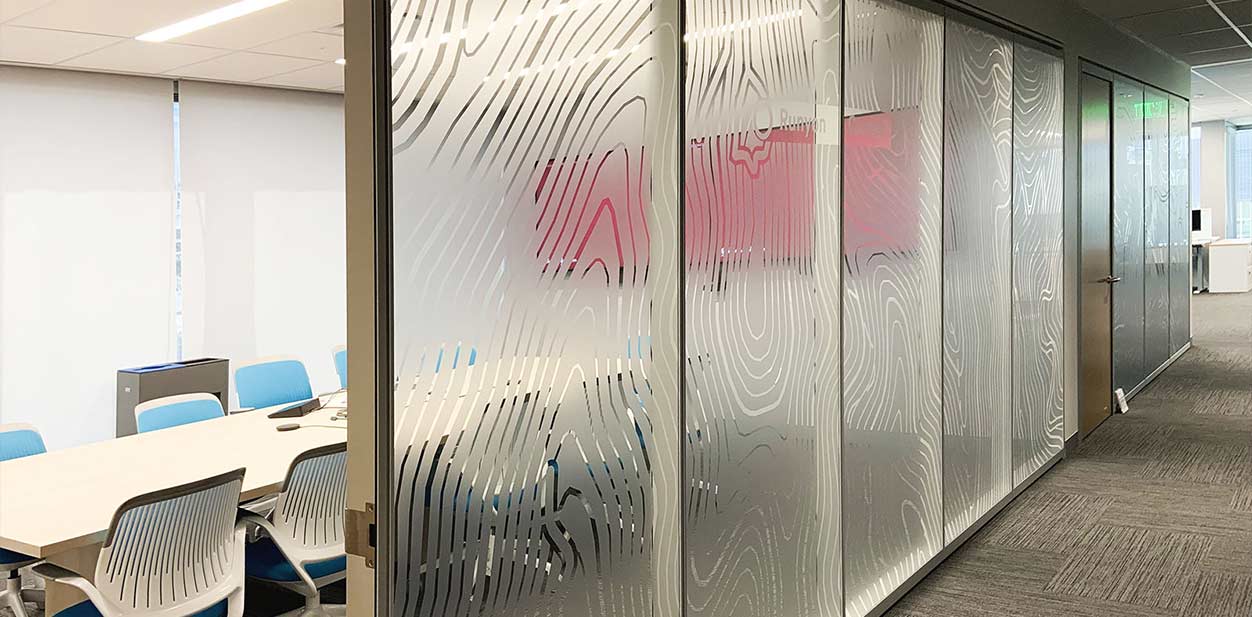 6. Green Accent Wall Design
Natural landscapes demonstrate your company's ethos. Green is considered a calming color for people both at home and in the office. So biophilic feature wall designs make your workplace look and feel refreshing. Biophilic designs are rising in popularity as they contribute to communal wellbeing.
Use office signs on biophilic walls by contrasting green with any other color. White, gold and earthy tones are all great choices to use in tandem with green designs.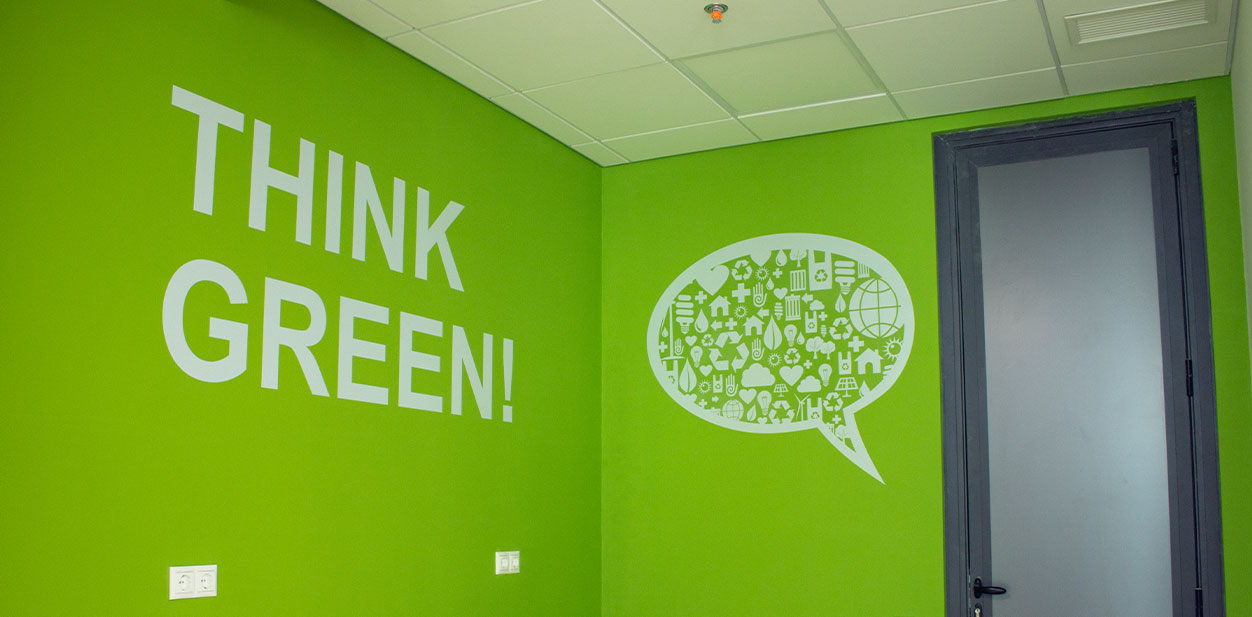 7. Eco-Friendly Design
There is an increasing global demand for eco-friendly products. Office designs are no exception. More businesses are switching to sustainable design elements. One of them is modern accent wall design with wood. The wide range of options varies from cut-out planks of wood to grandiose structures.
You can experiment with wood patterns by adding architectural signage. It's a perfect choice to grant your office depth and make it unique. Arrange the wood in interesting orientations by displaying the pieces vertically or horizontally.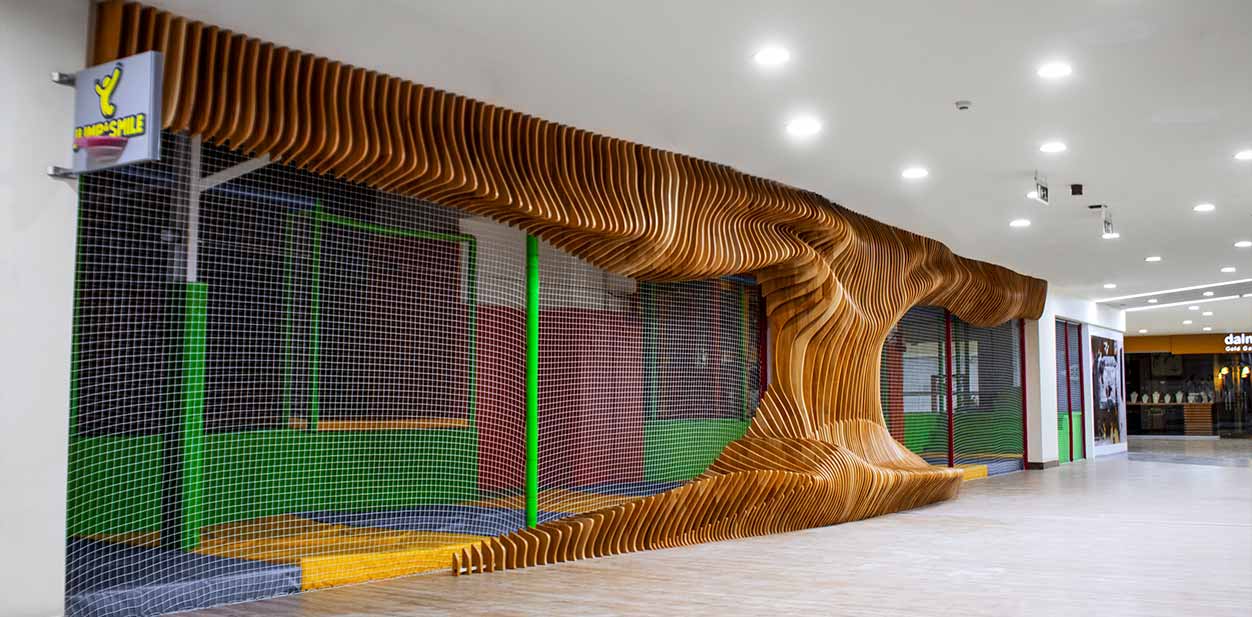 Check out further accent wall designs with wood in the article.
8. Minimalistic Design Style
Less is more. This statement rings true as there's something about minimalistic designs that piques people's interest. This modern accent wall design instantly transforms any room into a calming, graceful space. It contrasts the monotony of the wall with colorful patterns.
Custom signage on feature wall designs will compliment the overall appearance of the room. This is one of the feature wall design ideas which is extremely easy to achieve since it doesn't require complex architectural solutions. If you're searching for a simple method to modernize your business venue, keep this design concept in mind and the results will amaze you.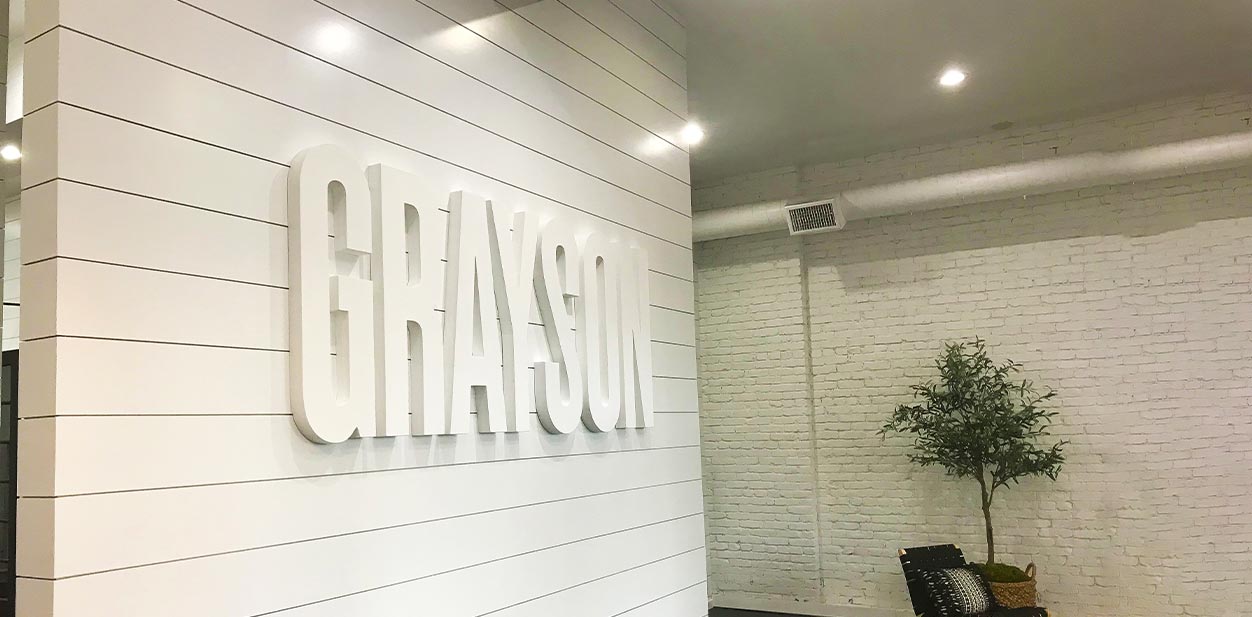 If you want to have the best signage for your business venue, contact us now and get a free quote and consultation. We offer comprehensive sign services to complete your design.
Stylish Accent Wall Design Ideas for a Dramatic Look
Accent wall designs rank high among the original ways of sprucing up your workspace with unique interior design elements. The process may be as simple as repainting a wall in a different color. Today, there are so many possibilities that it might be enjoyable to think outside the box. Illuminated elements such as channel letters are also part of stylish accent wall design ideas.
Accent Wall Design Ideas with Branding Elements
Architectural lighting design is an indispensable part of every building. Take your branding to the next level by using effective accent wall design ideas. You have a plethora of options to design accent walls in the office. You should also consider incorporating company branding into the design theme you decide to use.
1. Logo Designs
Include logo signs in your feature wall designs to combine functionality and aesthetics. Feature your company name along with your logo emblem to complete your branding efforts.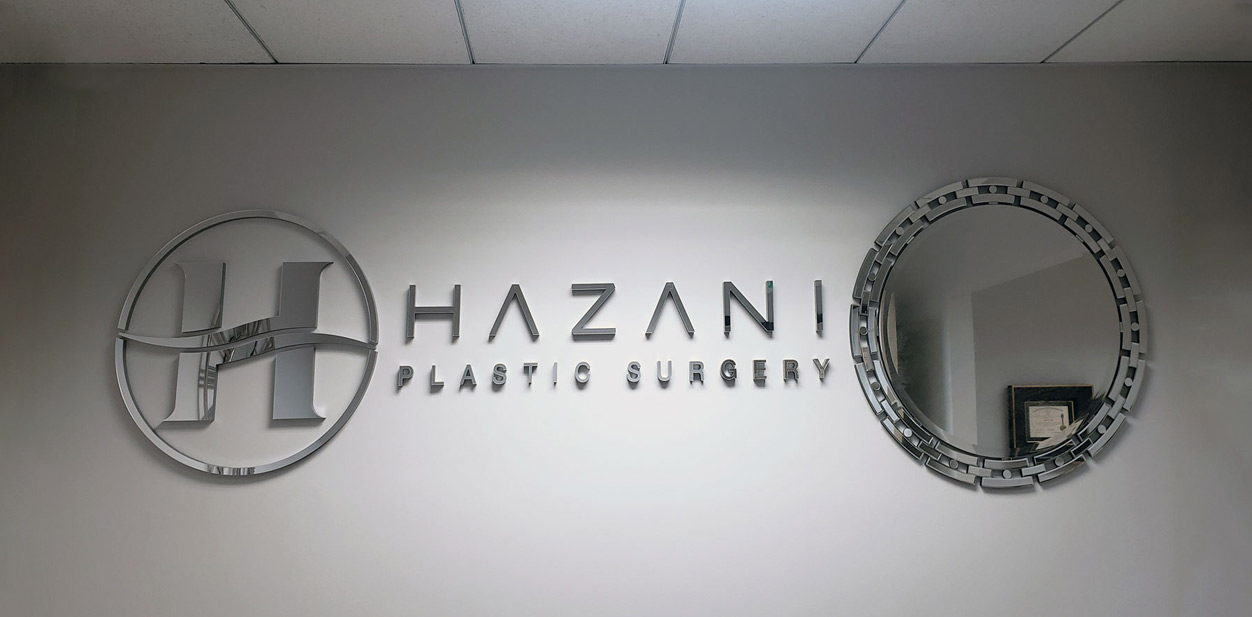 2. Brand Fonts and Colors
Use your brand colors and fonts in your plans. Brand typeface evokes close associations in consumers' memories and affects buying decisions. Font and color associations also influence the memorability of benefits of advertised items.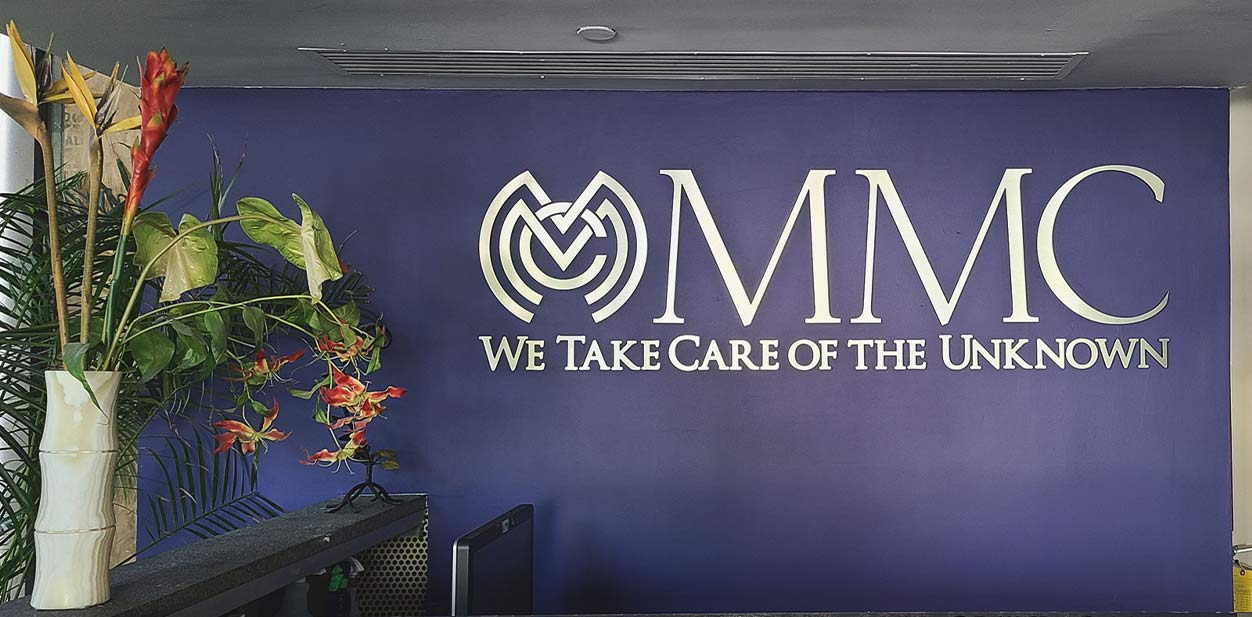 Feature Wall Design Ideas with Decorative Elements
Decorative elements are vital to create inspiring, efficient workspaces. You can reap the additional benefits by implementing feature wall design ideas. This is a broad concept including various options for any design you envision. Keep this in mind and remember that the comfort of your employees should never be neglected.
3. Colorful Decor
Colorful decor is one of the best feature wall design ideas to draw attention to a specific area. Use rectangular shapes that fit into each other and create interesting visual effects with colors.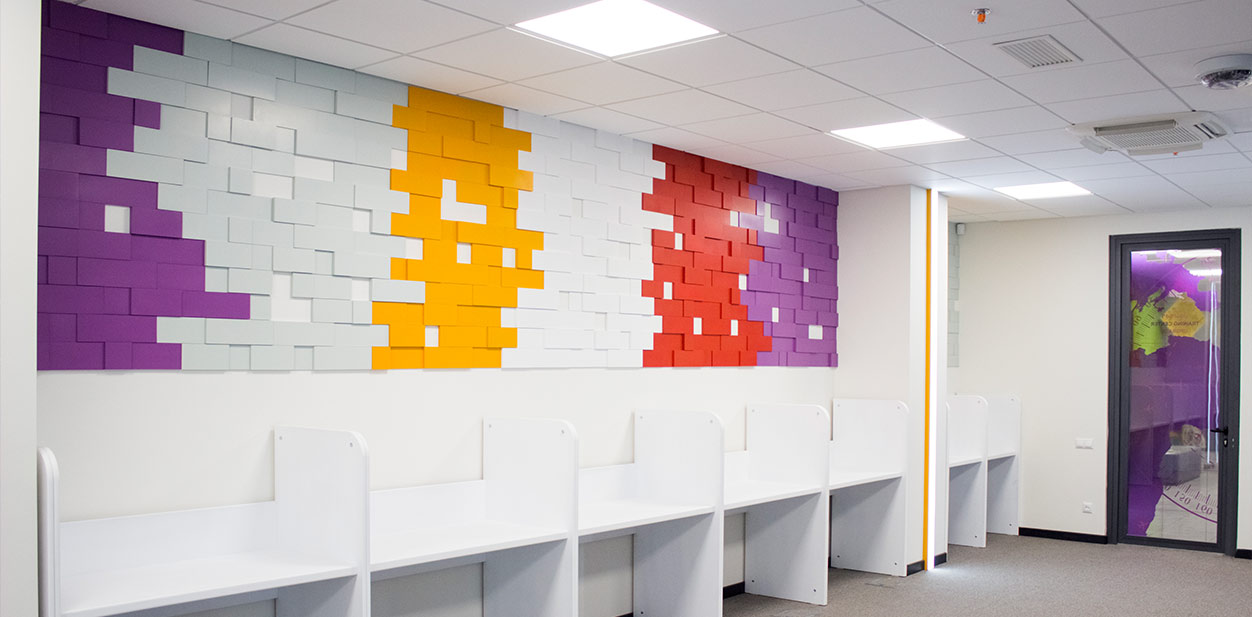 4. Molding Texture
Creative molding textures dramatize a designated area. This abstract design is a modern concept interpreted on a large scale. By blending colors and textures you can create epic decor that becomes the centerpiece of any room.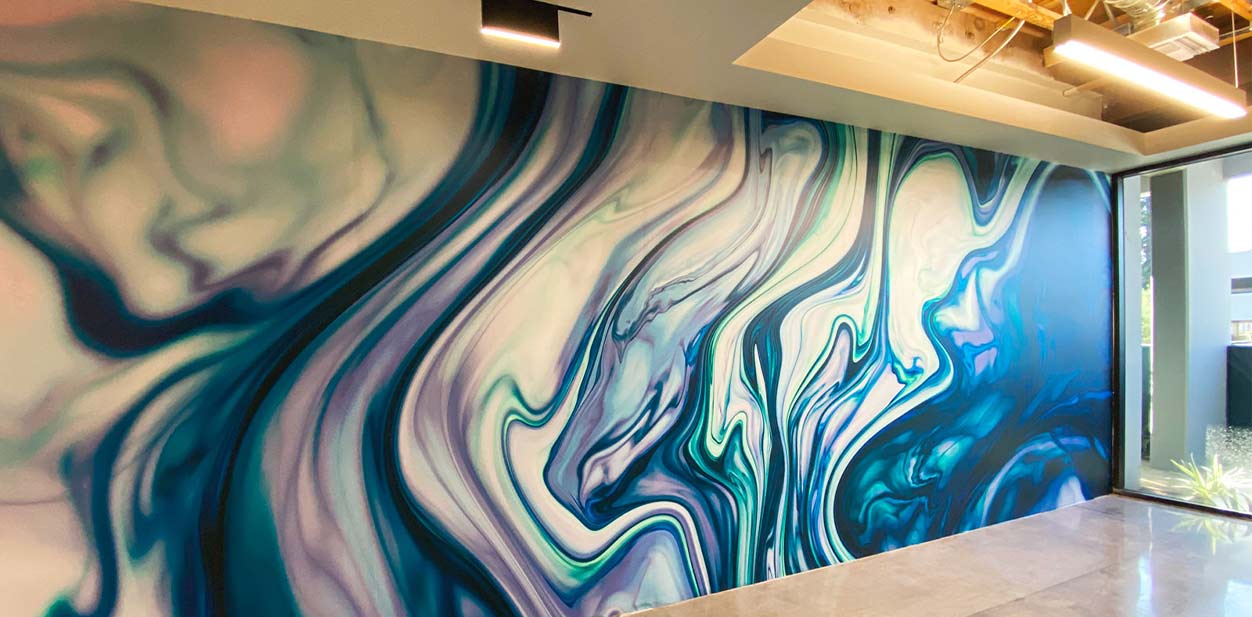 Modern Feature Wall Design Solutions with Illumination
Go big and transform your office room with cool decor solutions. The lighting features in your workspace have a direct effect on the energy levels and productivity of your employees.
Send us any signage concepts, get a free quote and our skilled staff will take care of every detail, from sign manufacturing to sign installation.
5. Front Illumination
Think about installing light up signs that can audaciously set the mood and tone of your setting. Using light box signs on feature wall designs can instantly improve vast blank areas.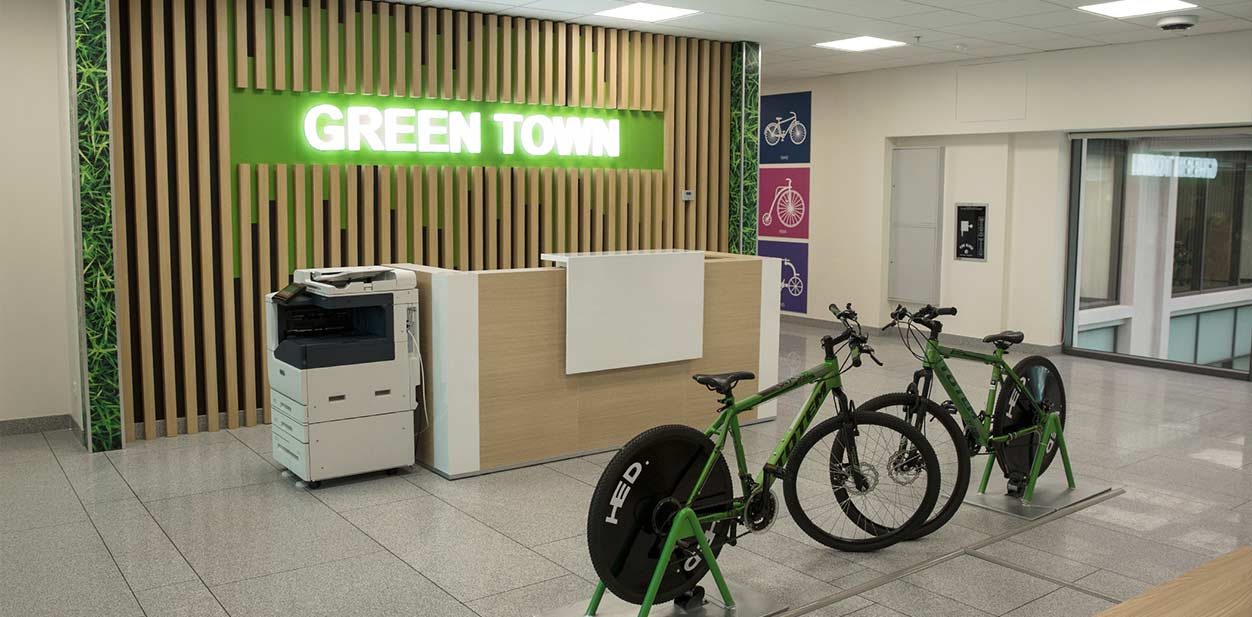 6. Reverse Illumination
Use reverse channel letters to achieve a glowing effect. Design accent wall solutions with this type of lighting which will illuminate the writing from behind creating a halo effect. It's great for branding and calls for attention from afar.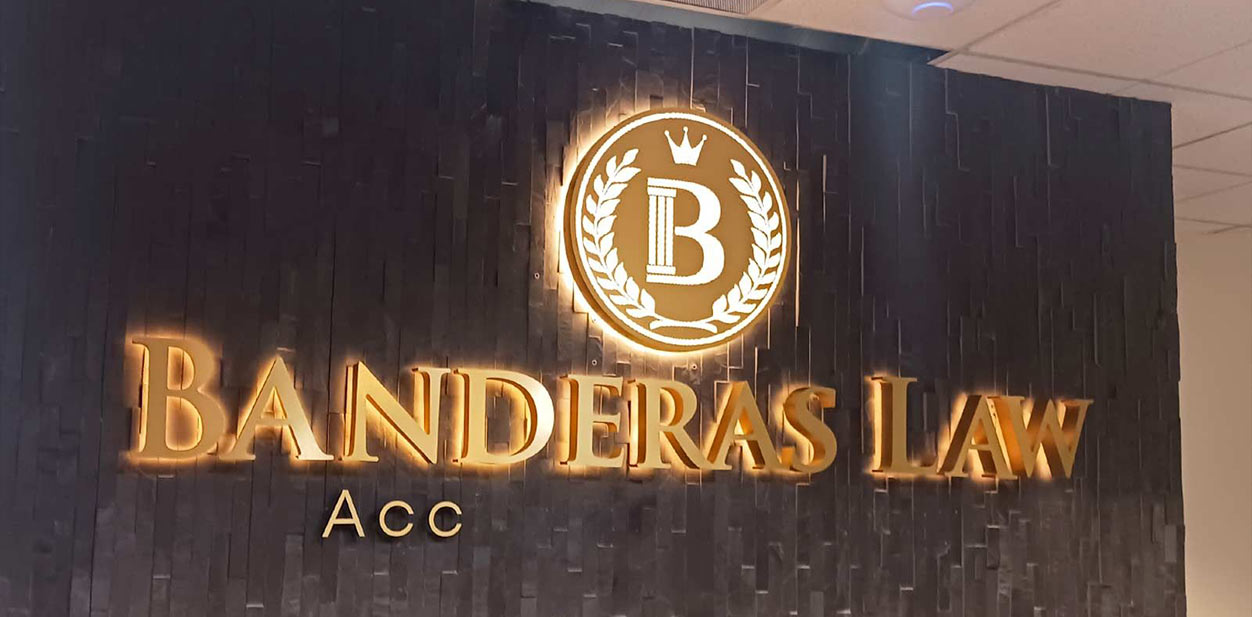 Read the article on office accent wall ideas to choose the design that best meets your needs.
Accent Wall Design Solutions with Art Pieces
Give artistic modern accent wall design a try to achieve a splendid result in your office. No matter if you use simple or complex accent wall design ideas, artistic solutions will turn your working area into a luxurious place.
7. Chip-Scheme Decor
Use chip-scheme solutions if you want to know how to design a feature wall that's totally unique. Feature them in conference halls, lobbies or reception areas. They'll make a statement everywhere and become a pillar of your feature wall designs.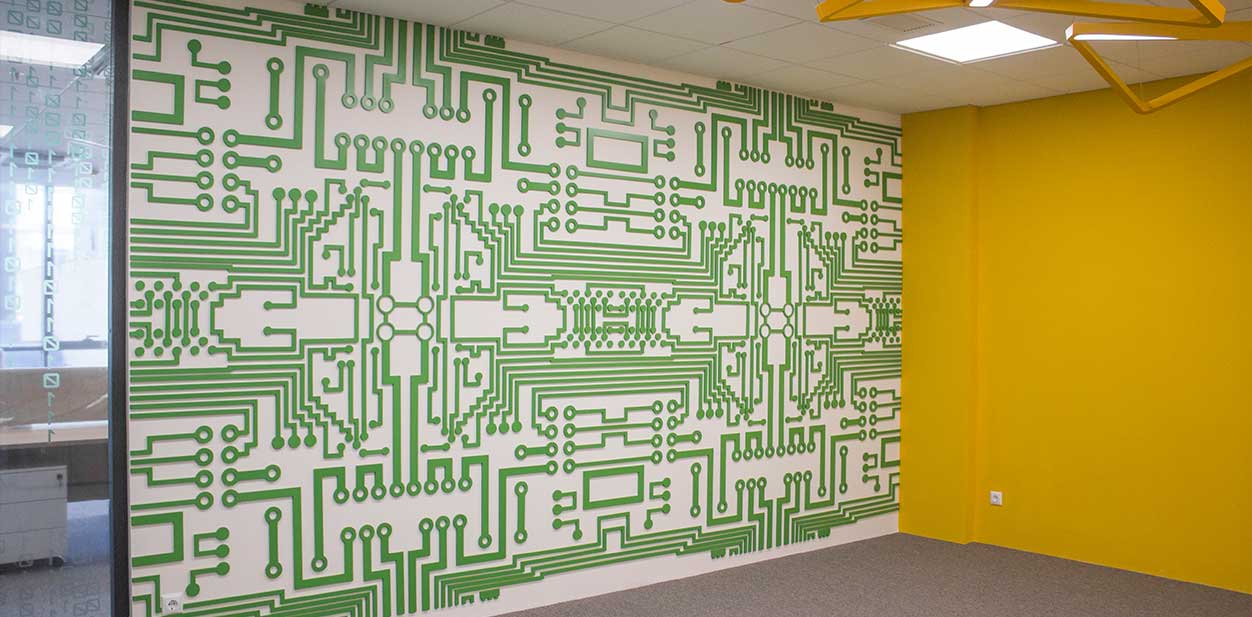 8. Pixel Art Images
Pixel images introduce visuals into your space that will be impossible to go unnoticed. The pixelated designs add an interesting depth to your wall, creating bespoke imagery. Use them in conjunction with event signs to make the whole design a real showstopper.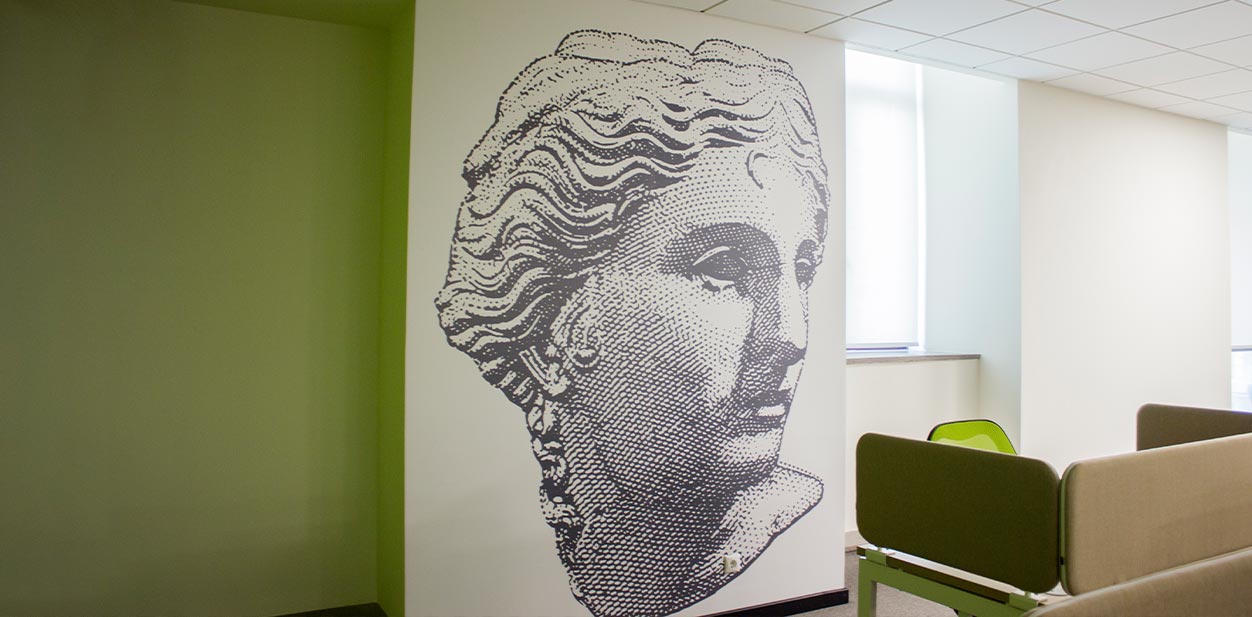 These ideas will hopefully guide you on how to design an accent wall.
If you need to design accent wall decor and visualize the final look before production, you can reach out to us for our signage design service. Contact us now and get a free quote and consultation.