Outstanding Feature Wall Displays for Corporate Settings
Unique decor elements can help you create a captivating business environment. Busy designs can make your space feel chaotic. But a corporate feature wall will direct attention where you want it to go. Plus, it's a great way to express your brand's individuality.
Turn your blank walls into exquisite works of art. There are endless creative elements available for selection. However, designs that suit your business needs will narrow down the focus. Keeping your customers in mind is another good strategy for selecting optimal solutions.
Let's go over some great examples of commercial feature walls and how to apply them in different industries. At the end, find out the main reasons for using an accent feature wall.
Contact our sign making company to discuss any kind of project from custom business signs to architectural solutions.
Custom Feature Wall Types
There are thousands of elements that can complement your brand image. Knowing what's suitable is easy but getting started can be a challenge. Large format printing on a full cover adhesive for your accent feature wall can be a good beginning. Just remember to not rely on one design item. A project-based visual strategy is the best way to meet the demanding standards of today's business world.
3D Feature Walls
3D feature walls have a captivating aesthetic. Use 3D feature walls to make a statement whether you own a salon, hotel or other business. You can use a combination of designs to get 3D feature walls. Give a successful start to your customer journey by applying dimensional lobby signs in your reception area.
Logo signs on 3D feature walls can make a great focal point. Display your brand name with the help of 3D letter signs to enhance your branding. Use inviting quotes on your 3D feature walls to encourage customers. Feature walls can also promote marketing campaigns and showcase your company's values.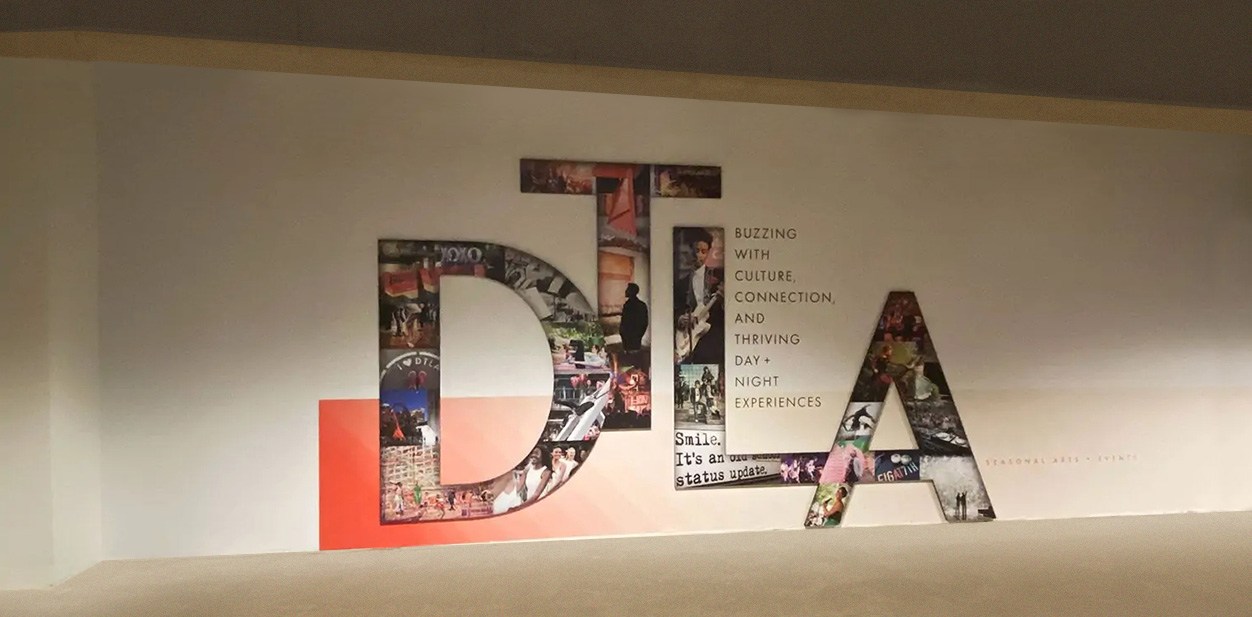 Get in touch with us to discuss elegant sign making solutions and get a free quote and consultation.
LED Feature Wall 
Transform your corporate space with a large LED feature wall. An LED feature wall adds a  touch of style and enhances your brand personality. Let your feature wall with LED lights pop with light box signs. These items can be made in various shapes and colors to complement your LED feature wall.
A backlit feature wall can become the focal point of your location. Lights are one of the most important features of a workplace. Thus, a backlit feature wall can be the main attraction while serving a practical purpose. A backlit feature wall will brighten your space with a warm and glorious glow.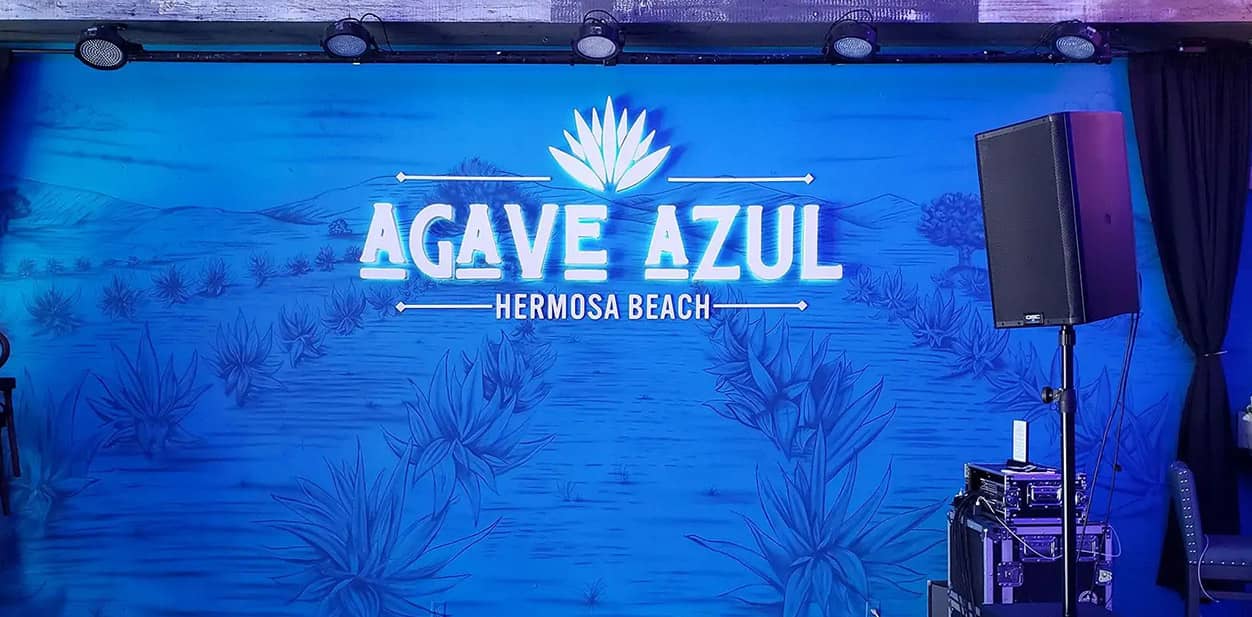 Find office accent wall concepts to create a pleasant working environment and boost productivity. 
Architectural Feature Walls
Architectural feature walls can be made of materials such as aluminum, wood or acrylic. This helps the walls match their surroundings and create a rich atmosphere. Just like an LED feature wall, architectural feature walls can bring a unique beauty to an ordinary surface. Architectural feature walls can bring anything from a big change to a subtle upgrade to your overall design. 
Select architectural signage to compliment your architectural feature walls. You can also use channel letters along with LED strip light features on them. Be aware that there should be a cohesive style between the architectural feature walls and your business decor.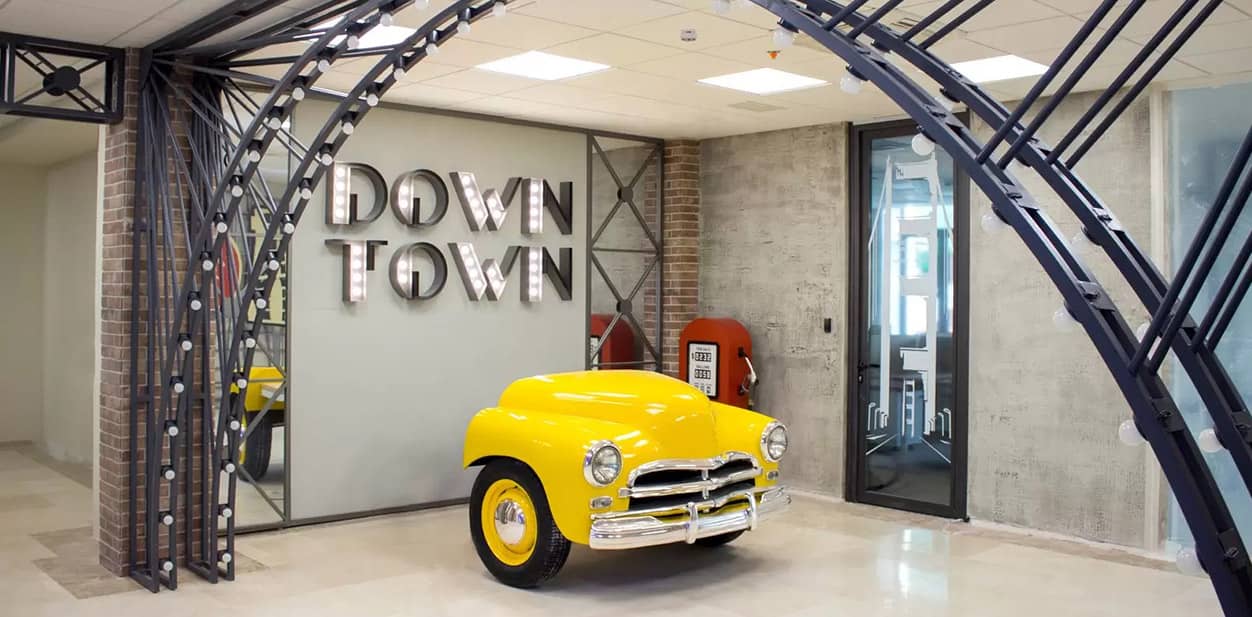 Art Feature Wall
An art feature wall will be the statement piece of your set design. An art feature wall is ideal for highly visible walls. This includes those at reception areas and waiting lounges. Creating an art feature wall is a wonderful way to personalize your space and evoke positive feelings.
Quick design solutions such decorating your wall with custom decals will generate excitement. Feature wall art prints paired with custom signage will make your business outshine the competition. Trends such as artistic accents and office green walls improve the appearance of your facility as well as boost worker productivity.
Read more about accent wall designs concepts to spruce up any interior.
Glass Feature Walls
Nothing brings that 'wow' factor to your commercial property like glass feature walls. You can use glass feature walls to help with brand identification and decoration. An attractive opaque design on glass can also provide privacy just like a wall. Include adhesives with various material finishes to achieve your desired look.
Glass feature walls also provide a visual connection between confined and open spaces. If there is a building facing your windows, you can use natural scenes to soften the tone and so on. Glass feature walls can make a room stand out while letting it blend in with the outdoor environment.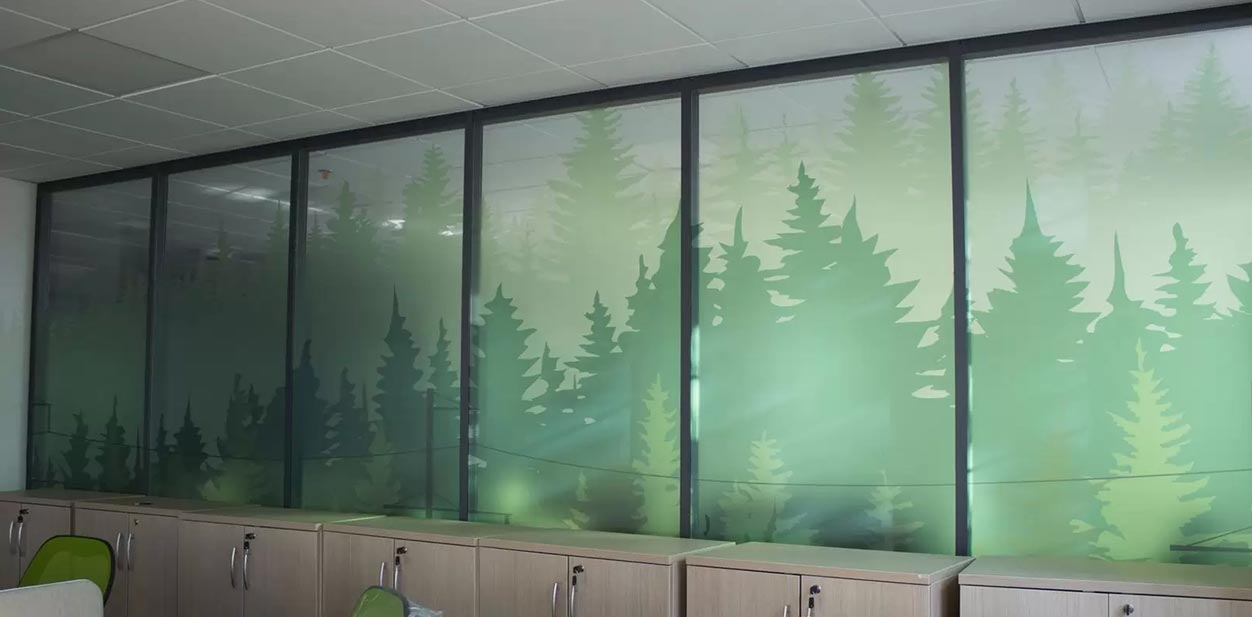 A custom feature wall can be made of many materials, one of the popular options being accent wall designs with wood.
Aluminum Feature Wall
An aluminum feature wall can be tailored to your brand image or project vision. An aluminum feature wall can upgrade any setting with stunning illustrations. It can also withstand virtually any weather condition. It can be used for both decorative and branding purposes. The rustic look of an aluminum accent wall will be perfect for any contemporary interior. 
You may use a metallic surface to break up the monotony of a minimal space. You can also use it to highlight warm decorative elements that adorn it. If you happen to host an event at your venue, consider event signs to go over your aluminum feature wall. Decorate commercial feature walls with illuminated interior signs. They'll add to the overall beauty of your space.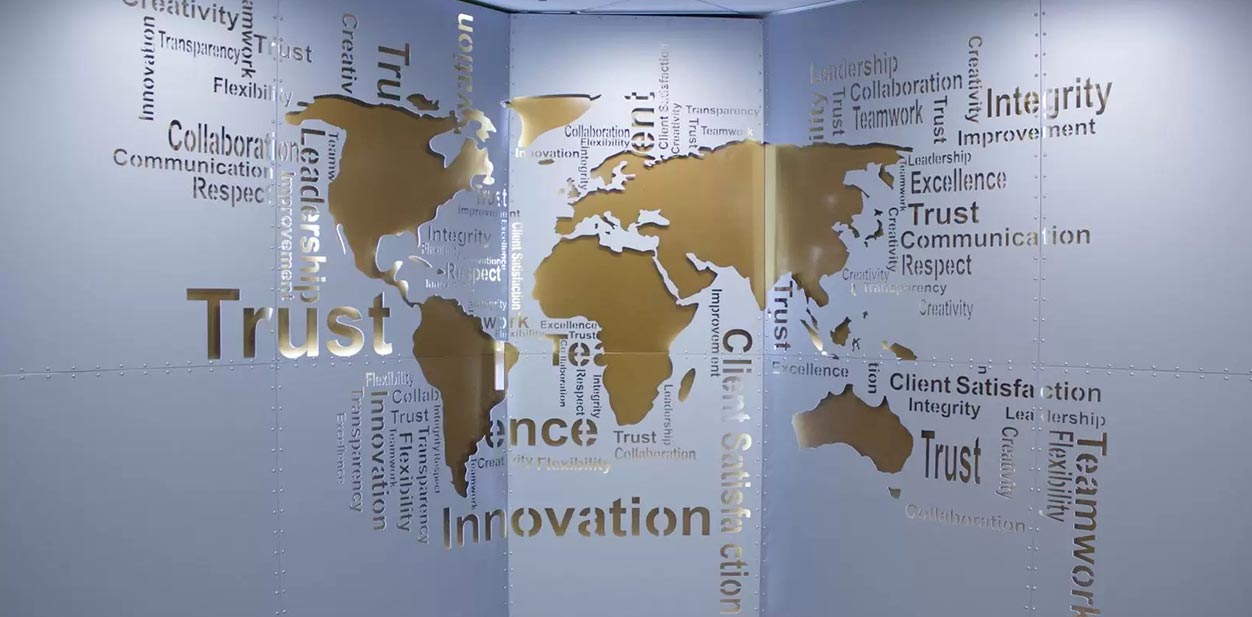 Contact us today to get a free quote and consultation on signage design that will complete your accent walls. 
Different Applications of Feature Walls
Commercial feature walls are a next-level addition to business spaces in any industry. Let's see how they're used in more detail.
For Corporate Settings
The solution to sprucing up the boring surfaces of big corporate buildings is clear. Commercial feature walls can be both functional and aesthetic. Remember to install wayfinding signage with creatively styled symbols to streamline navigation. Light up signs are another effective medium to add to the design. A corporate feature wall will boost branding and create a pleasant work atmosphere.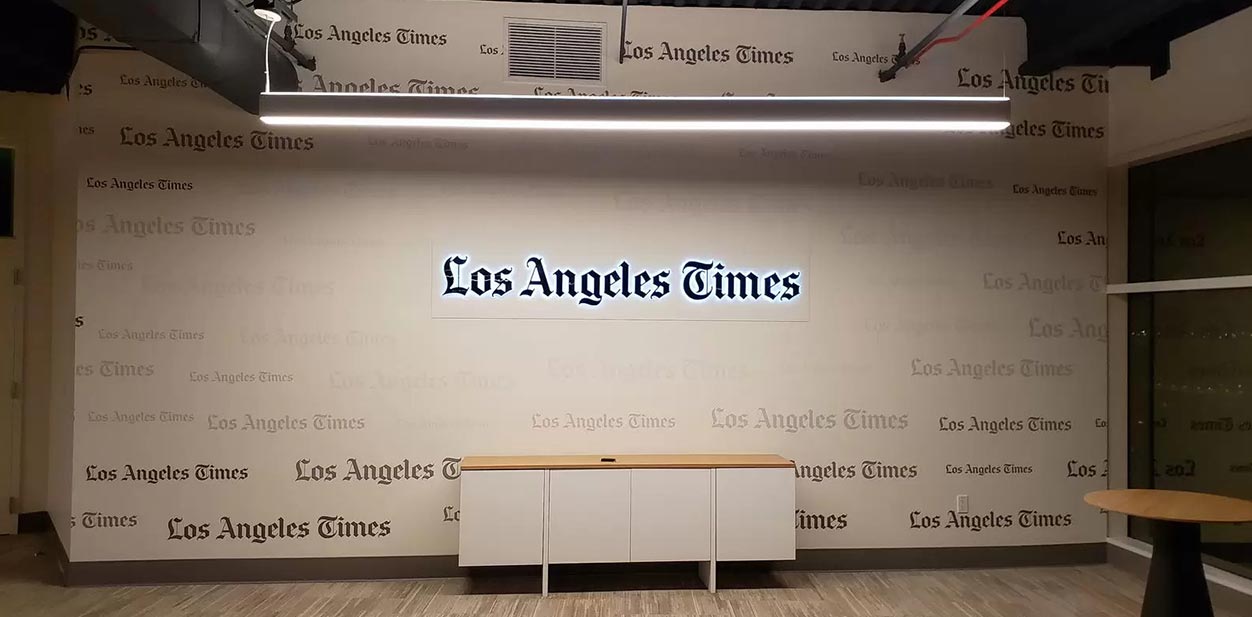 Find out more office accent wall ideas to improve employee morale and customer experience simultaneously.  
For the Hospitality Industry
Restaurant feature walls are a must-have component for today's instagram friendly patrons. Whether it's for a small bar or an outstanding eatery, restaurant feature walls create a popular backdrop for customers to enjoy. Display your theme on restaurant feature walls or a cafe feature wall using big fonts, visuals, plants and illuminated pieces. 
A study shows that mindful hotel design affects customer well-being. Consider a hotel lobby feature wall to warmly welcome guests right at the entrance. A smartly-chosen hotel lobby feature wall should be made in your signature style while integrating your logo and hotel name. Make it grand to make their stay an unforgettable one.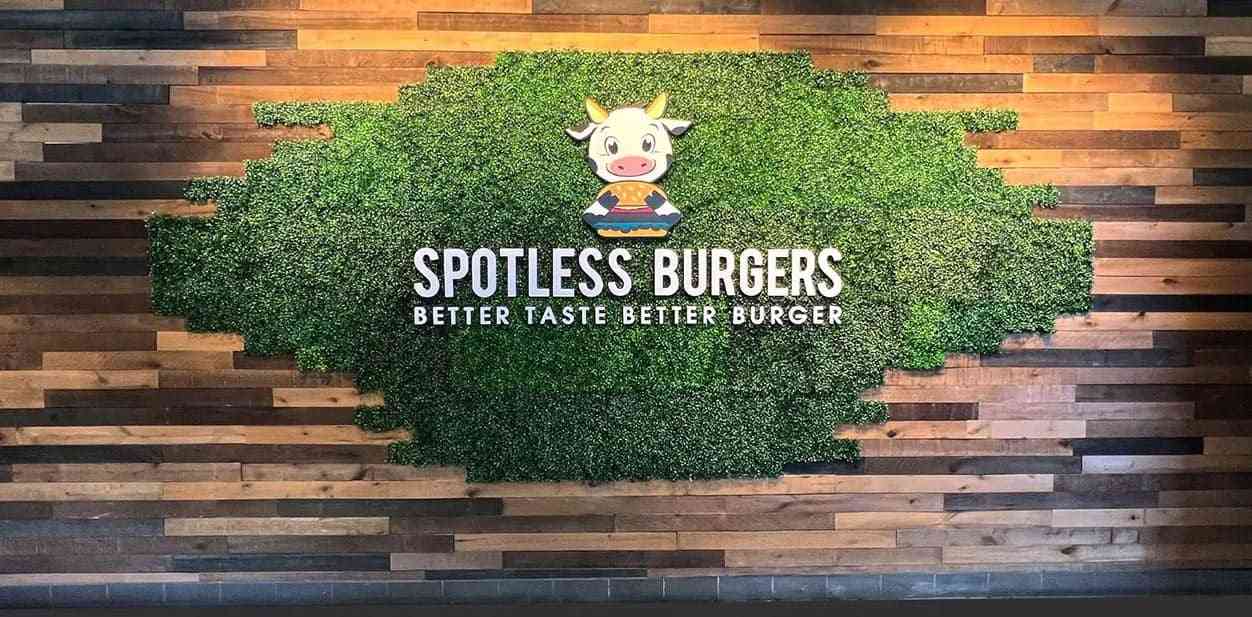 For the Fitness Industry
Let your gym design pop with thematic images displayed on a gym feature wall. The larger your gym feature wall, the bigger its impact. Display motivational quotes for fitness enthusiasts. Pleasant facility design is important for customer retention as it's the first thing members will notice when they enter.
A feature wall decal is a quick and versatile medium for leveling up the design of any fitness center. Cover dull surfaces with work-out and motivation themed quotes and images. Use them to inspire, inform and create a sense of identity for your gym.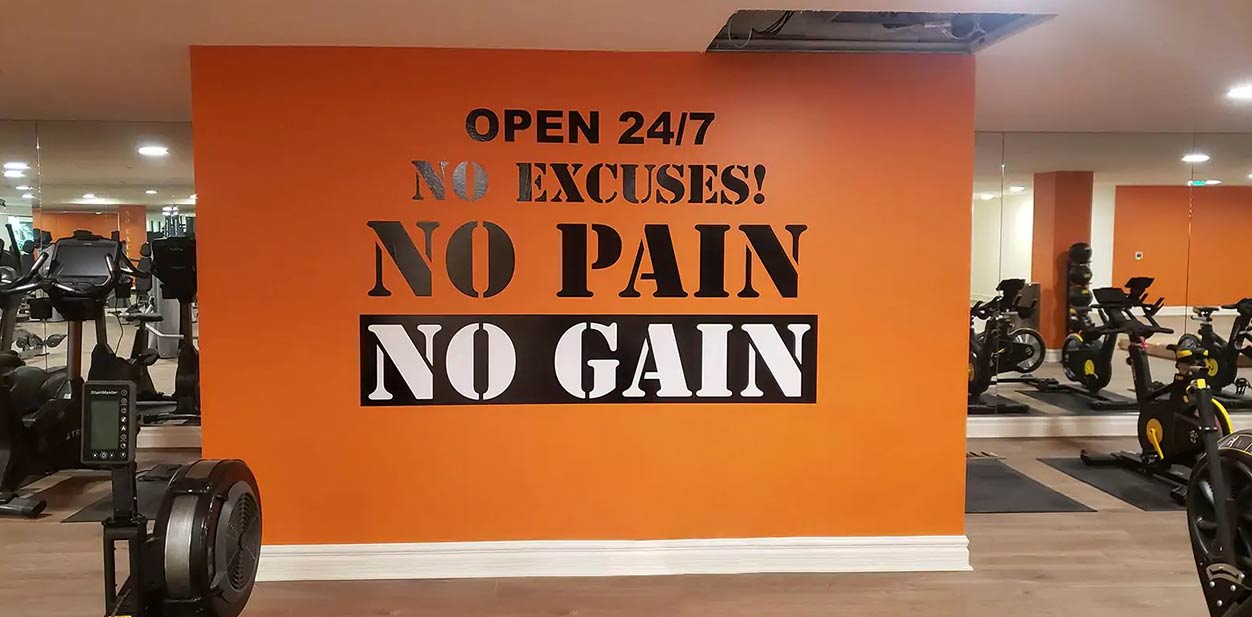 For the Retail Industry
A retail feature wall will demand the attention of anyone who enters your store. It can show off your company's personality, promote seasonal campaigns or liven up a blank area with decorative features. 
A retail feature wall may be in the style of a feature wall mural. Besides striking graphics, make sure that it includes your store's mission statement. It may also contain product images and promotional messages. You're free to mix textures, colors and patterns that match your design.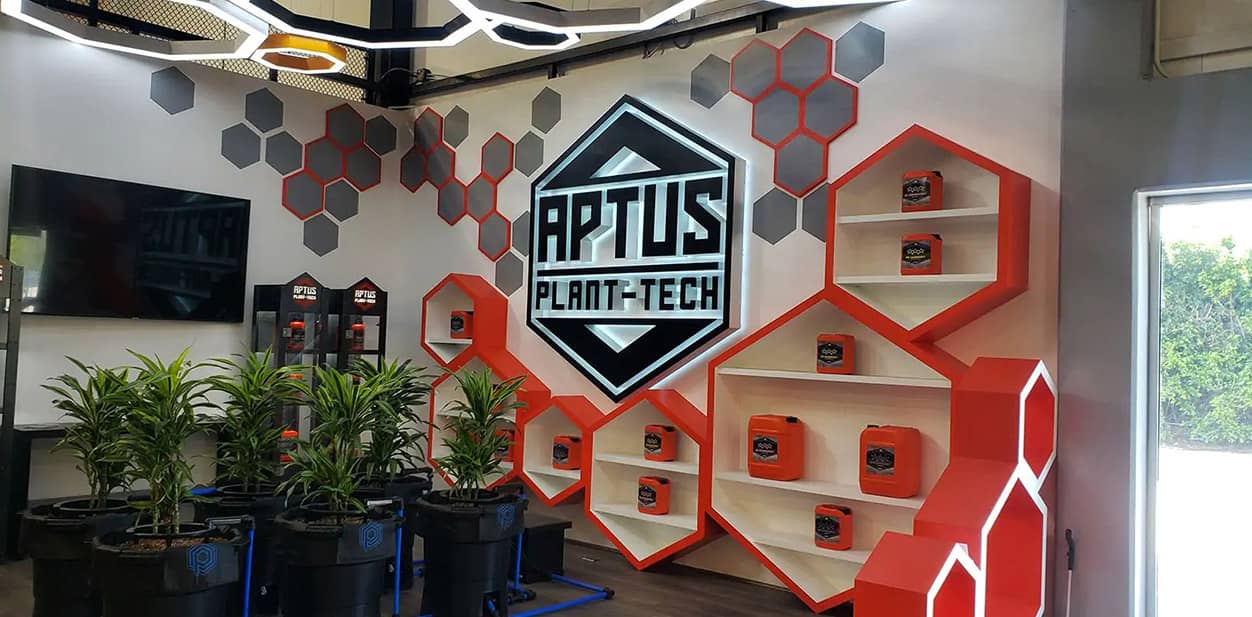 Different Purposes for Feature Walls
A custom feature wall serves various objectives for any given industry. Read about the various reasons to use a custom feature wall below. 
Branding
A custom feature wall is a robust way to show off your brand image. Use it for branding purposes regardless of the type of business you're in. Get your business into full gear with branded elements that lift the environment, motivate staff and make an impression on customers. Add office signs to showcase your company logo, mission statement or key messages while creating a fresh new interior design.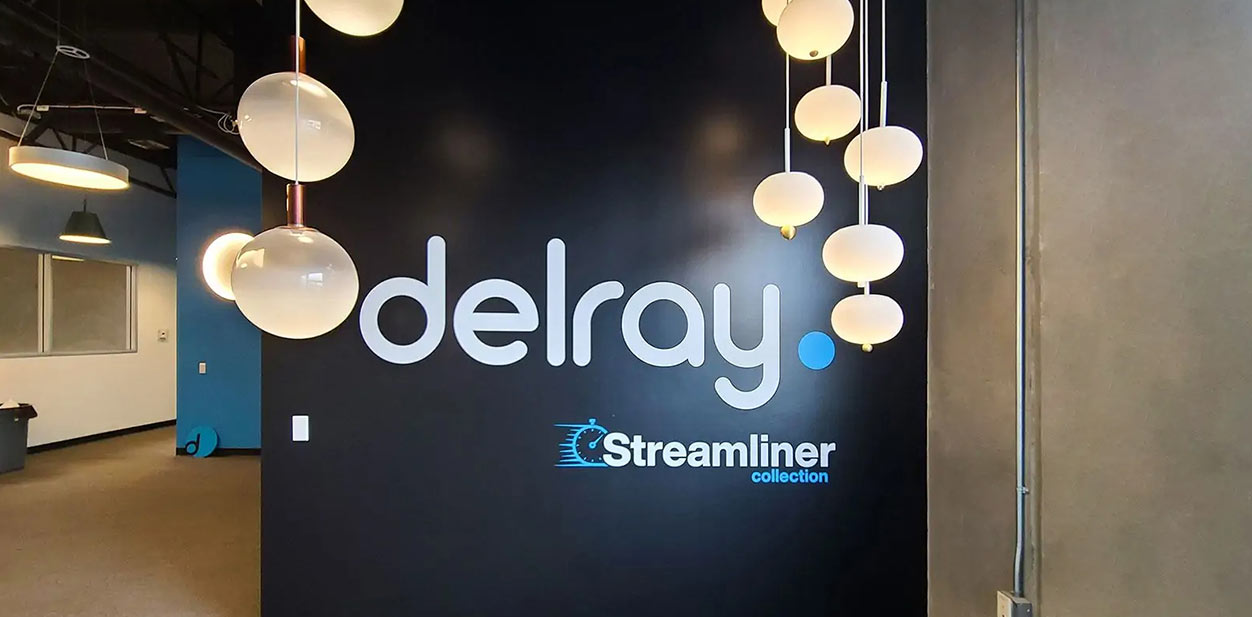 Decorative
Decorative elements in various colors, shapes, sizes and materials will highlight any space. They act as an eye-catching focal point, adding visual interest and guiding the attention of visitors. They're engaging, lively and reflective of the character of your business. Decorative solutions give the space a distinct aesthetic as well as an extra charm.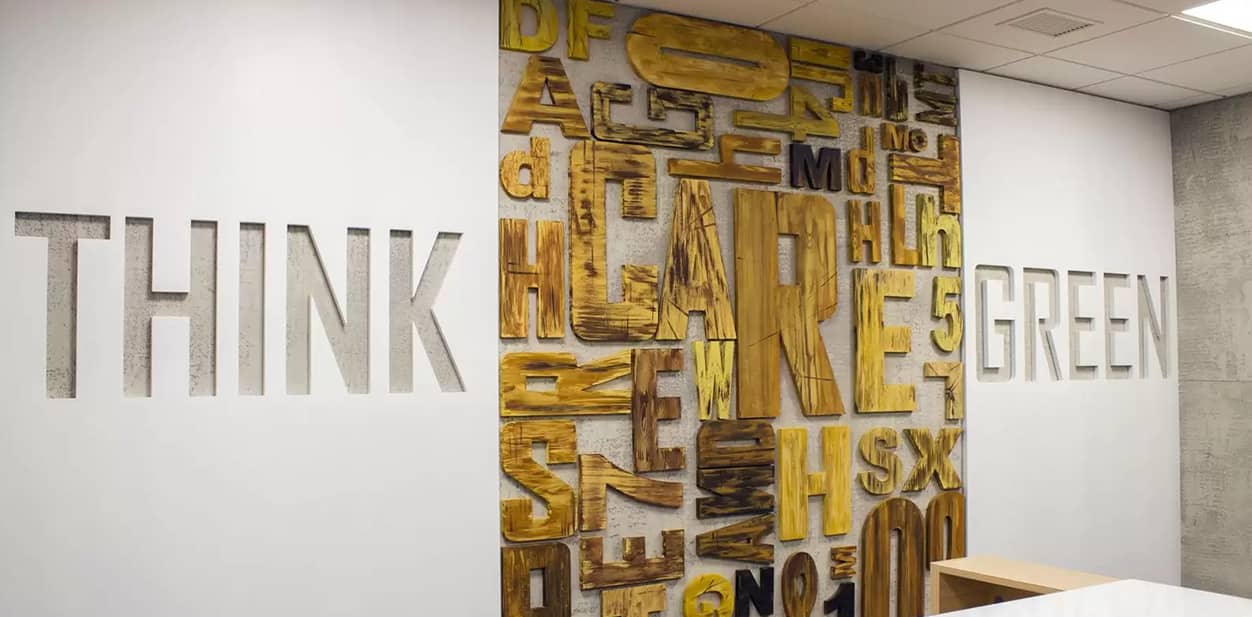 Informative 
An informative wall is an ideal way to show off your history and values in a dynamic way. A custom feature wall may also include the services your business provides along with instructions on how to benefit from them. You can even dedicate a small part of your custom feature wall to your company's achievements, impact and future vision.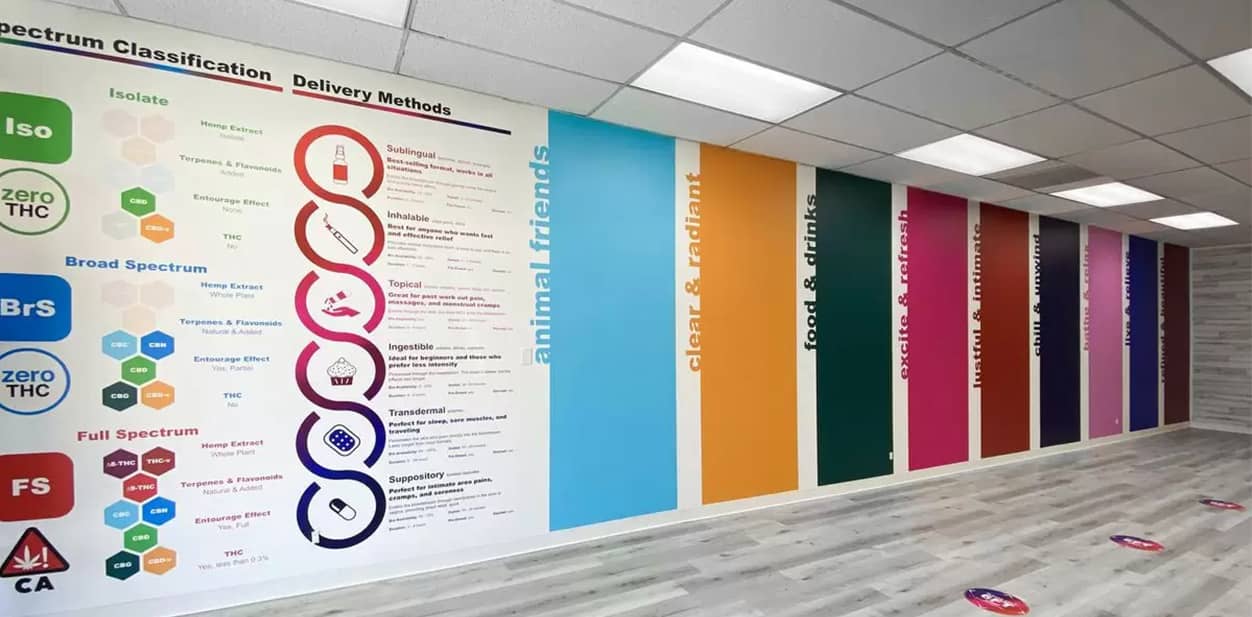 Final Words
The possibilities are almost limitless for designing your accent wall features with style. There are many materials, elements and designs for upgrading a select surface in your location. A custom feature wall is a great asset whether you need it to be decorative or you want to give your room additional functionality. It adds a lively feature to spaces in the corporate, hospitality, retail, fitness, spa and hair salon industries and beyond. 
Create a unique concept for your main walls to improve the look of your interior or exterior design. We provide comprehensive sign services including sign installation for a variety of projects.