Environmental Graphic Design: Enhance Your Surroundings
Customer experience is the key to success and it's inseparable from the environment. Nowadays, almost all businesses have an online presence. Yet, the impact of physical space is irreplaceable. Creating bonds between people and places is where environmental graphic design comes in.
Environmental Graphic Design Definition
Let's dig into the meaning of environmental design graphics. This will help us understand environmental graphic design concepts more in depth later. Here is a quick Q&A to explain environmental graphic design before we proceed.
Q. What is environmental graphic design?
A. Environmental graphic design is about creating environments that resonate with human needs. When this goal is achieved, it forges a connection between people and places. Common examples are branded environment design with decorative motifs and wayfinding systems. They use custom signage such as channel letters, supergraphics, murals and public installations to create a space that's beautiful as well as functional.
Q. What is experiential graphic design?
A. Experiential graphic design is the same as environmental graphic design. The Society for Environmental Graphic Design even changed its name to Society for Experiential Graphic Design recently but retains the same mission. The change was made to avoid the misconception that it has anything to do with the green movement.
Q. What does EGD stand for?
A. EGD is the abbreviation for environmental graphic design. 
#1. Corporate Environmental Branding
Branded environment design is not only about displaying your logo here and there. It uses a range of business signs, decorations and color schemes to create a branded environment design. They speak about your mission and values without the need for a grand speech. The method is also a wonderful way to enhance customer experience. 
Do you have an environmental branding project in mind? Get a free quote now!
Experiential Interior Design for Branding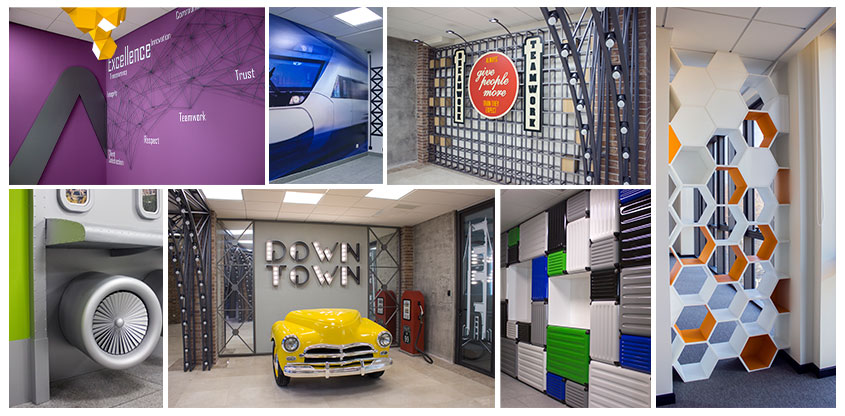 Experiential interior design puts human needs at the pinnacle of importance. Mediums in corporate environmental branding form a space characteristic of your enterprise. These may include interior signs, grand graphics and creative structures. At the same time, they create an interaction between customers and the space. Here are points to consider for your interior corporate environmental branding project.
Thematic elements:

First, choose a theme for your experiential interior design project. It can be nature, an airport, a style of architecture or whatever else you find appropriate. Choose anything that will make the space resonate with your audience. 

Supergraphics:

The main advantage of environmental graphic wall murals is the freedom to showcase any image on a grand scale. Don't waste the opportunity on a simple logo illustration. Use images that will evoke a positive feeling for customers and enrich their experience.  

Brand humanization:

Does your organization promote green practices or support charity programs? These are aspects that humanize your work. Your

office signs

and experiential interior design should reflect these values and campaigns. 

Core value displays:

Experiential interior design is as much for your customers as it is for your staff. In fact, if employees don't enjoy the experience at their workplace, they won't give their all to the job. Integrate decorative value displays into your space design. It's a good start to boosting your team's satisfaction.
Environmental branding guidelines don't limit you to specific signage mediums or decors. In fact, they give you the freedom to express yourself with a range of possibilities. Your branded environment design concepts are meant to represent your identity. You can also include your name and logo in experiential interior design.
Read our article on creative office design ideas that will motivate your staff.
Experiential Exterior Design for Branding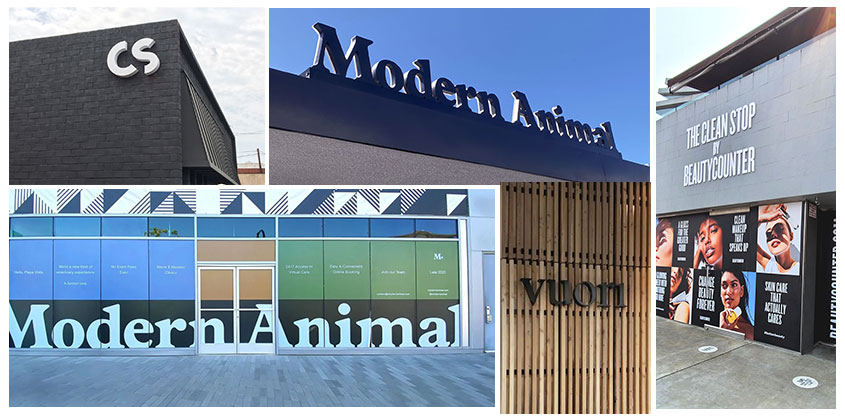 Corporate environmental branding goes beyond interior design. In fact, capturing the attention of prospects starts outdoors. Your outdoor environmental design concepts should speak to the neighborhood and attract customers. All the design elements of your branding strategy should define your company vision. Note these ideas for corporate environmental branding to establish a solid identity.
Keep in mind that environmental branding guidelines are for comprehensive projects, not just specific decor.
Get a free quote now for your corporate environmental branding signs.
#2. Environmental Wayfinding Solutions 
You'll be pressed to find a full EGD description that doesn't include directional displays. Wayfinding systems contribute to the sense of safety and comfort in built environments. They're critical in complex buildings that can be overwhelming to maneuver. Wayfinding signs are used both indoors and outdoors. Here are some examples of facilities that need a directional system. 
Environmental Wayfinding for Healthcare Centers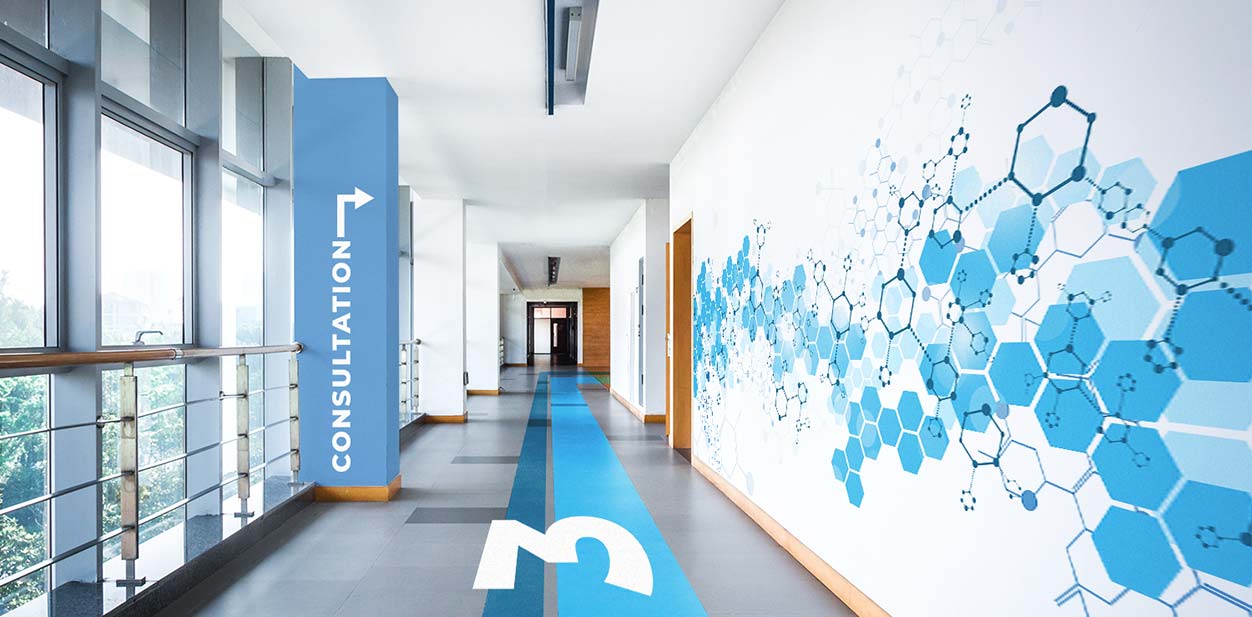 Healthcare centers are where safety is the top priority. Here, you should focus on a combination of lobby signs. They can display the information needed for finding the right office or department. Complete it with a wayfinding system to guide people through each part of the building.
Wayfinding can become a real challenge in healthcare facilities. People who are already under stress are more likely to get lost in an unfamiliar setting. To avoid confusion, apply clear markers for different areas and nameplates for each door. Clearly designated zones provide a hassle free experience.  
Get a free quote for your healthcare center wayfinding project now.
Environmental Wayfinding for Educational Campuses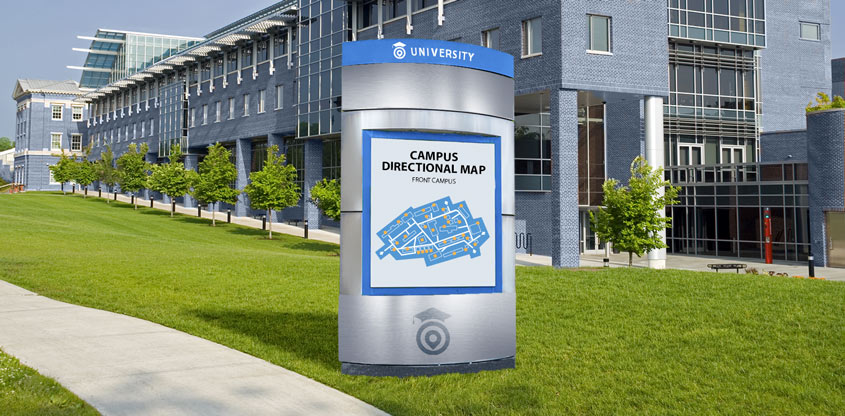 Freshmen and visitors need guidance to get around a campus with ease. Environmental design concepts can help you foster the right conditions for smooth navigation. Place a campus directory in the front yard of your facility. It can include as many details as you find appropriate. The various buildings should also have marked plaques for viewing from afar. You may even get illuminated options for nighttime visibility. 
You can use creative solutions like guides with custom decals for adding on to experiential interior design. Don't forget about numbering the rooms and adding nameplates to office desks and doors. Place student experience at the heart of environmental graphic design. You'll reap the rewards of their inspiration. 
Take a look at these college signs to provide a better student experience. 
Environmental Wayfinding for Retail Stores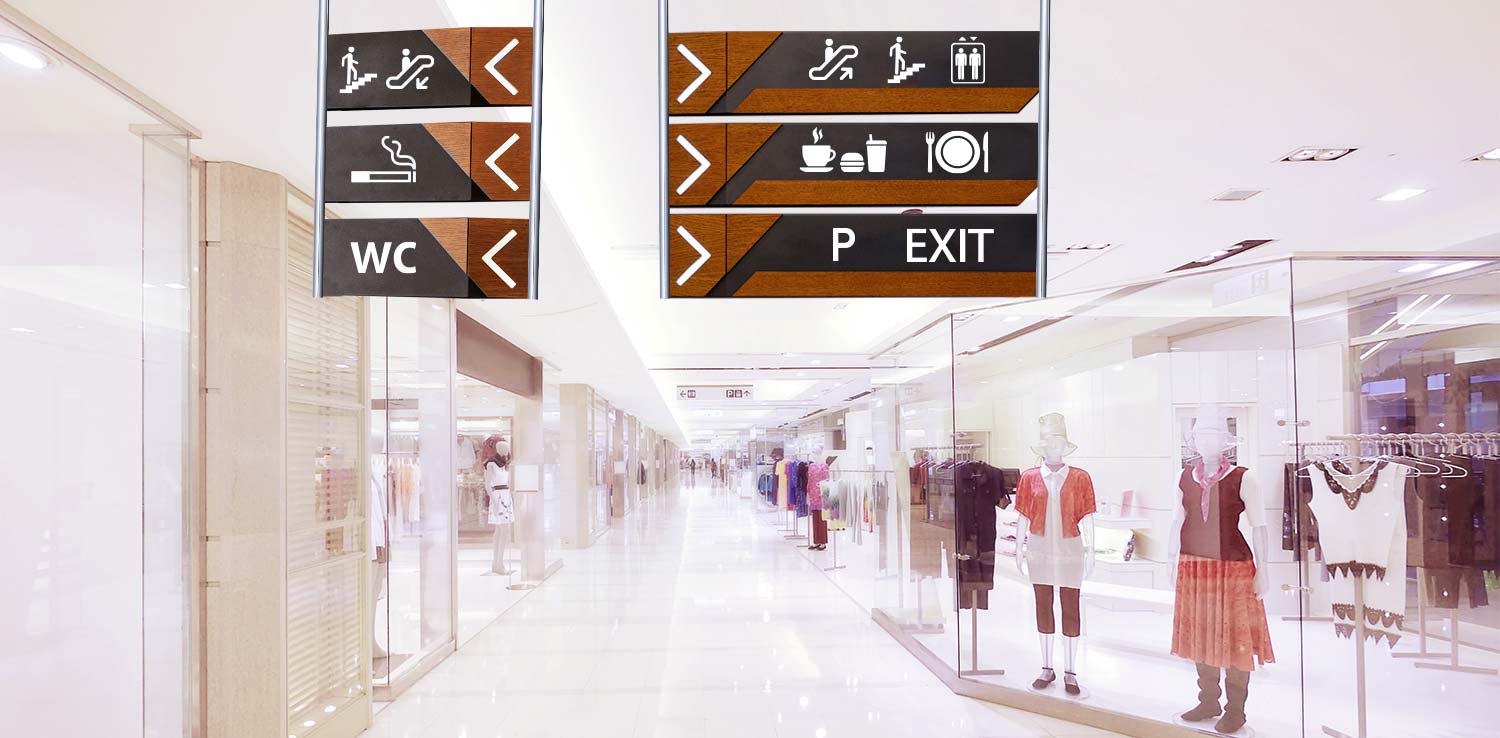 Things are unique in the retail industry. Here, besides branded environment design, wayfinding is also used as a marketing tool. Crowds of newcomers are expected daily so you can't afford to have a confusing or lackluster system for navigation. First and foremost, you should have a property map to direct people through your facility. Also make sure to use parking signage for a smooth experience.  
Remember that experiential interior design for navigation should be a part of your marketing efforts. Make it easier for people to find different departments with store signs. Do your audience research and strategize the flow of store areas you want to guide them through. If done correctly, you'll be able to boost sales with your directional system. For example, checking out through the snack section will lead to sweet impulse buys, don't you think?
Read our article on outdoor business sign ideas that can bolster your image.
Environmental Wayfinding for Parks and Public Attractions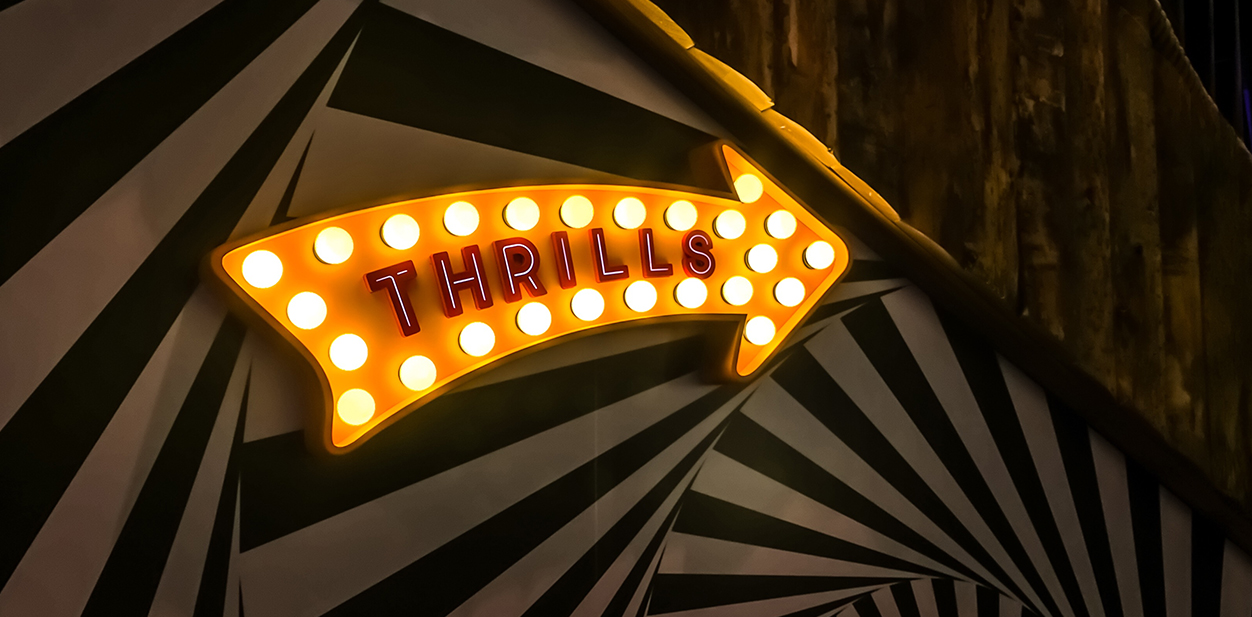 Navigation in parks and public attractions should focus on symbols. This is because you can expect more tourists who don't speak your language in these areas. Of course, using an international language is also an option but you can't rely on it alone. Environmental graphic design boards that use symbols are also easier for kids to understand.
Another aspect to consider is night visibility. Use light up signs to meet this challenge. Park guidelines aren't typically a part of wayfinding but you can also include them for a better experience. 
Environmental Wayfinding for Transportation Facilities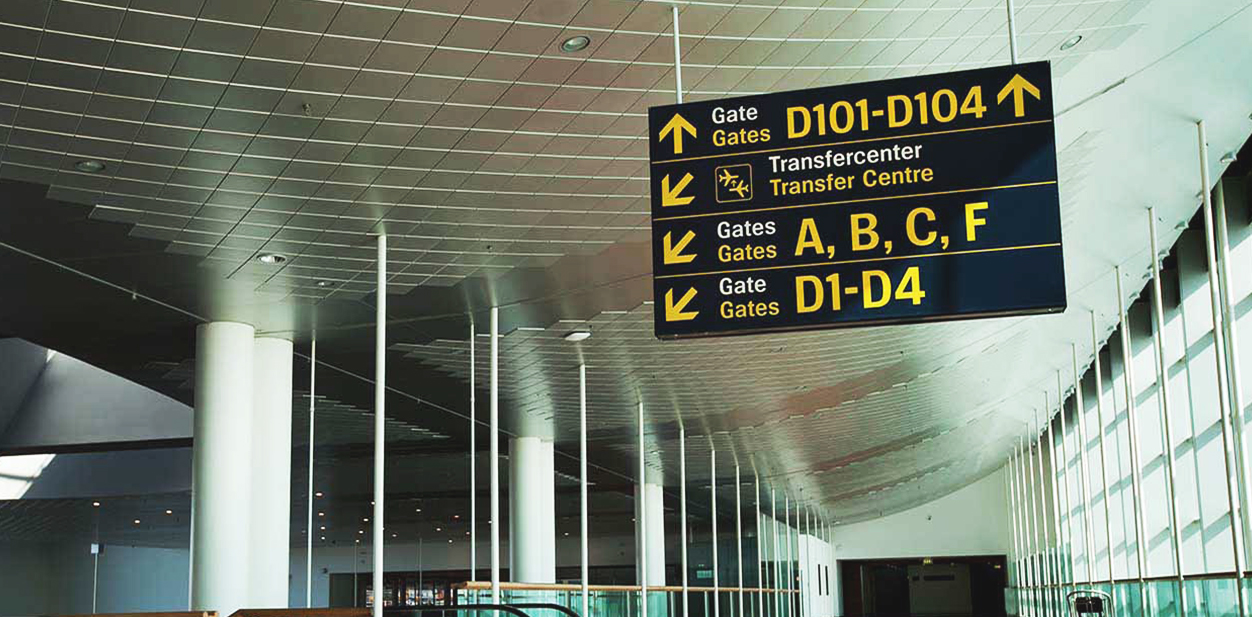 Transportation facilities should create an atmosphere that reduces travel-related stress. A clear wayfinding system is a traveler's best friend. Digital signage is ideal for displaying information that changes regularly. 3D signs are perfect for guiding people throughout the facility. They're creative solutions that delight onlookers and help them get from point A to point B.
Here, visual communication is more important than verbal. Your environmental graphic design solutions for wayfinding should rely on symbols and shapes. This makes the system simple to navigate for people from different cultural backgrounds. 
Environmental Wayfinding for Urban Areas 
Wayfinding in city hubs requires complex solutions. These should go hand in hand with the architecture and city plan. A successful system includes street, parking and building signs. They often have decorative elements to make them appealing. 
Mapping is of utmost importance in cities as well. Large format printing allows for displaying large graphics with information and directions to navigate places with ease. Travel is on the rise again and cities worldwide are expected to provide an up-to-date experience for tourists. 
Environmental graphic design for wayfinding creates a sense of belonging for people in new places. They feel like they're a part of the city when they can easily find whatever they need. This creates a positive association between individuals and places.
Our team is ready to assist you with your wayfinding signage. Get a free quote now!
#3. Public Installations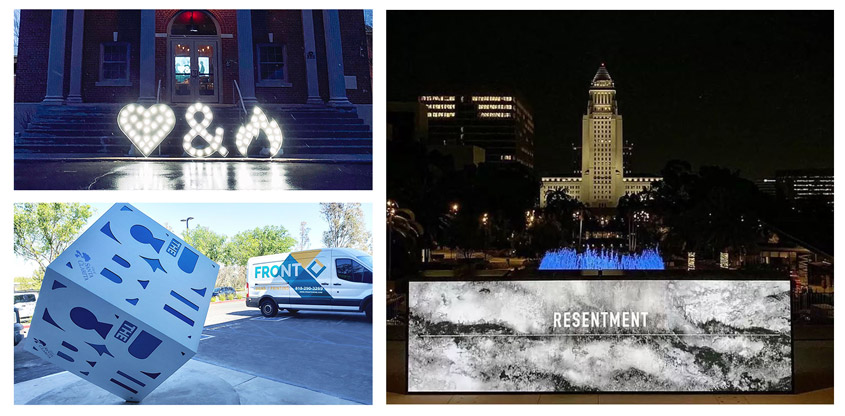 Public installations are meant to create a pleasant experience for people. They can take on the form of monument signs, sculptures, graphics, artwork and architecture. They communicate history, culture, specific topics and much more.
Regardless of the visual message they convey, they also enhance the location's overall aesthetic. Their message goes beyond words and gets expressed through every part of the design. For instance, using solar energy for illumination carries a deeper meaning and promotes a green lifestyle.
We offer signage design services to create unique public installations.
#4. Exhibition Design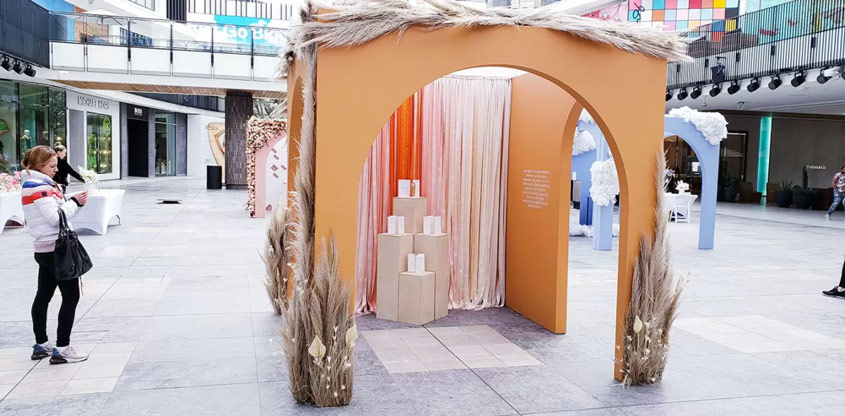 Human curiosity lies at the roots of exhibition arrangements. It can range from single corporate event signage to full-fledged architectural environments. This type of experiential graphic design is great for museums, concert halls, stadium branding, trade shows and beyond.
Take a look at these event sign designs for 2021 that are sure to please spectators.
Exhibition displays often combine multiple mediums to rouse curiosity towards a specific object. They ensure that the audience takes center stage at your exhibition. Be sure to balance the role people play with a well-thought-out style. Lastly, consider that audiovisual effects can further elevate user experience. 
Exhibition motifs are meant to educate, entertain and inspire people. Your company or products could well be the object of your exhibition. Trade show displays are a good example that anyone can recognize.  
Need assistance with your exhibition project? Get a free quote and consultation now!
#5. Place Identification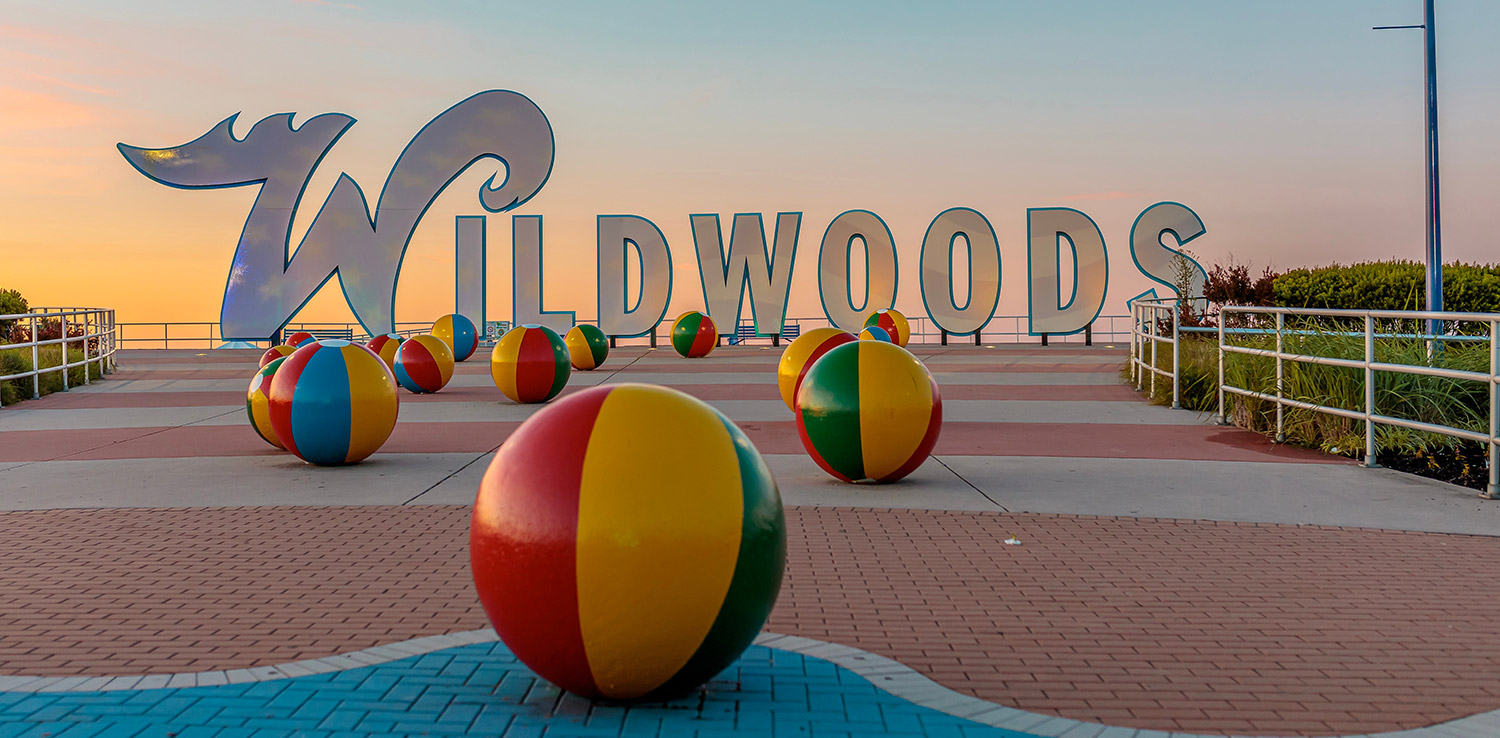 Wildwood, NJ / US 6-15-19 Sunrise at Wildwood, NJ.
Place identity is what distinguishes one place from all the others. So, what is environmental graphic design in terms of place identification? It may be defined as a means of influencing perception. It shapes the individual experience of a person in a specific environment. 
Place identification is achieved with the mediums used in environmental graphic design. It includes architectural signage, large graphics, creative structures and other thematic elements. These are used to influence interactions that are typical to a specific environment. Take a look at this example of place identification from Wildwood, NJ.
Front Signs is a signage company that offers comprehensive solutions for environmental graphic design. We encourage you to leverage this ultra-modern method to elevate customer experience and make you the talk of town. Contact us now to get a free quote and consultation for your vision.