Modern Conference Room Design Ideas for Stimulating Meetings
As open space office layouts rise in popularity, conference room designs can get overlooked. It's crucial, though, to get their features just right. They help to create an optimal environment for meetings and collaborative work. 
There's a whole lot to consider when designing meeting rooms. From furniture to decor, you'll need to make the conference room a worthwhile place for everyone. To achieve a well-balanced formula, we've prepared a quick guide for a modern conference room design. 
Conference Room Design Ideas for Various Settings
Every company's conference area has a unique aesthetic achieved in part thanks to conference signage. Meeting room design ideas can vary based on the size of your team, your style of business and many other factors. Let's check out different types of meeting space designs below. 
We all react differently in different situations. Still, there are three factors in meeting room design that have a common effect on people's emotions. 
Small-sized furniture improves communication and the team's level of engagement.

Spacious arrangements let members wander around and create a sense of freedom.

Adding natural elements will produce a conducive environment for relief and good health.
Now, let's get on with more details for your conference room design.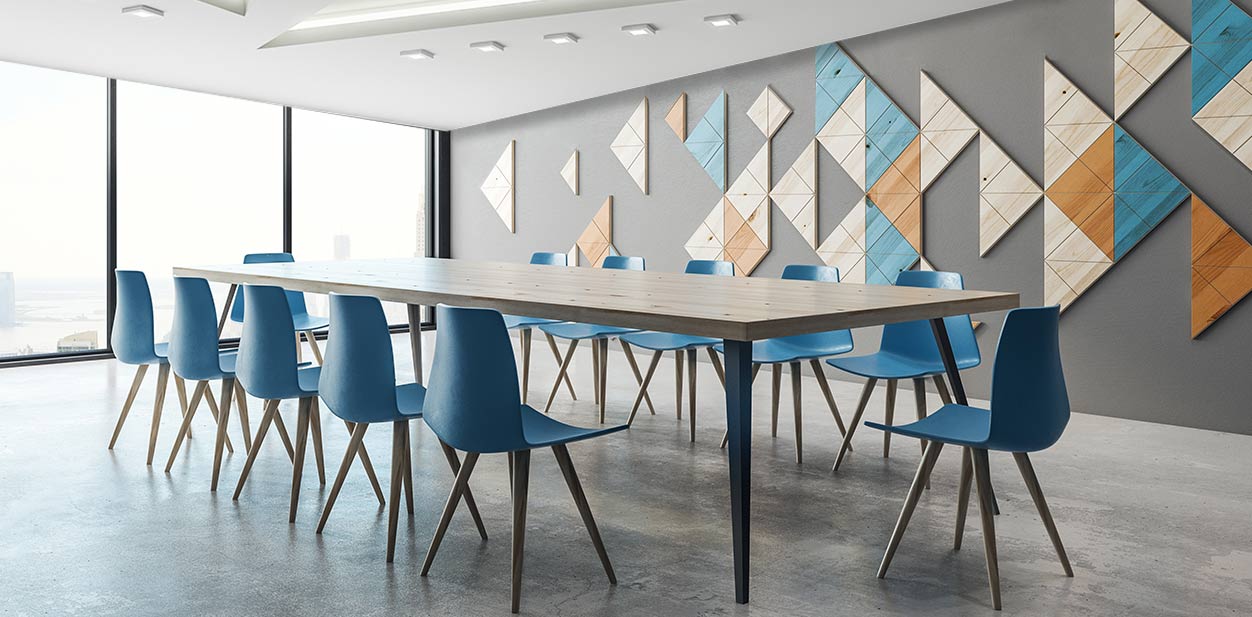 Modern Conference Board Room Design
Board rooms serve as spaces for administrative meetings, department forums, client consultations and even corporate events. Event signs are perfect for this big conference room design. Select sleek, matching and modern conference room design features to foster focus with a coherent style.
Consider adding color or a piece of conference room wall art. Bland white walls that can be tiring on the eyes. Choose soft LED over harsh fluorescent lighting. While customizing your boardroom, remember that comfort and aesthetics should go hand in hand.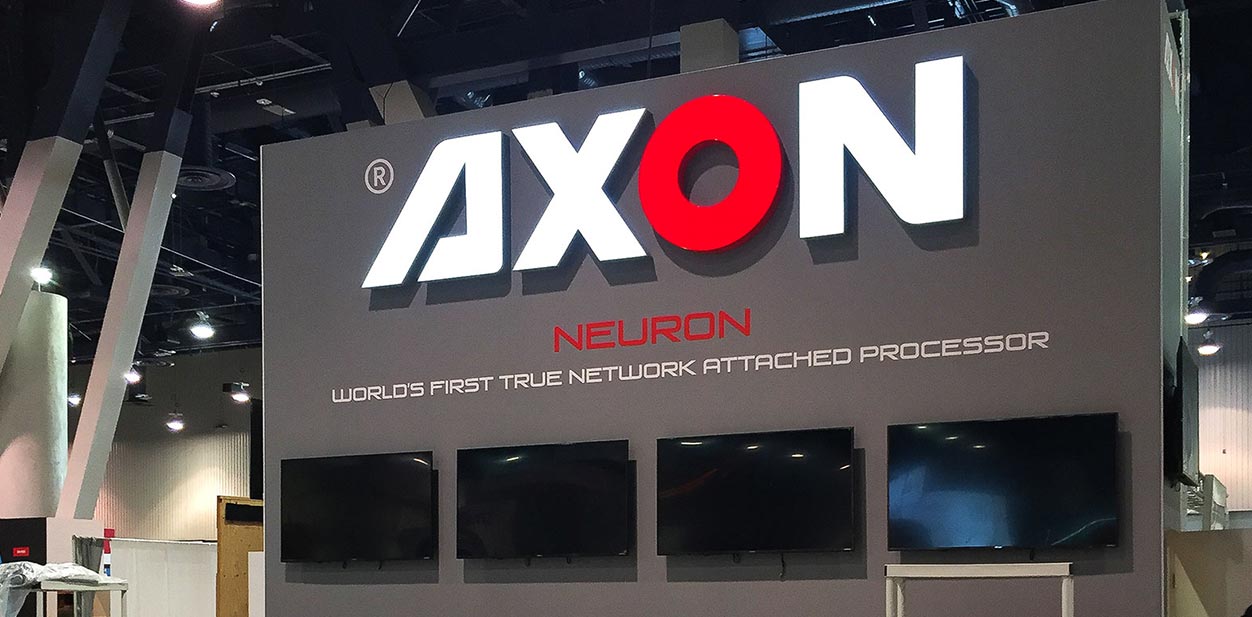 Get your quote for modern designs and conference room solutions by Front Signs. 
Modern Meeting Room Design for Conference Calls
A designated room for conference calls is excellent for remote communication. Typically 4′ x 4′ in size, these private areas are soundproof and fitted with compact furniture. More sizable versions leave just enough space for individuals to get up and move around the room.
Use design ideas for conference rooms to create a visual hierarchy in areas that lack inspiration. 3D signs serve best for this purpose by creating depth. These custom signs commonly display brand names and logos or other decor elements.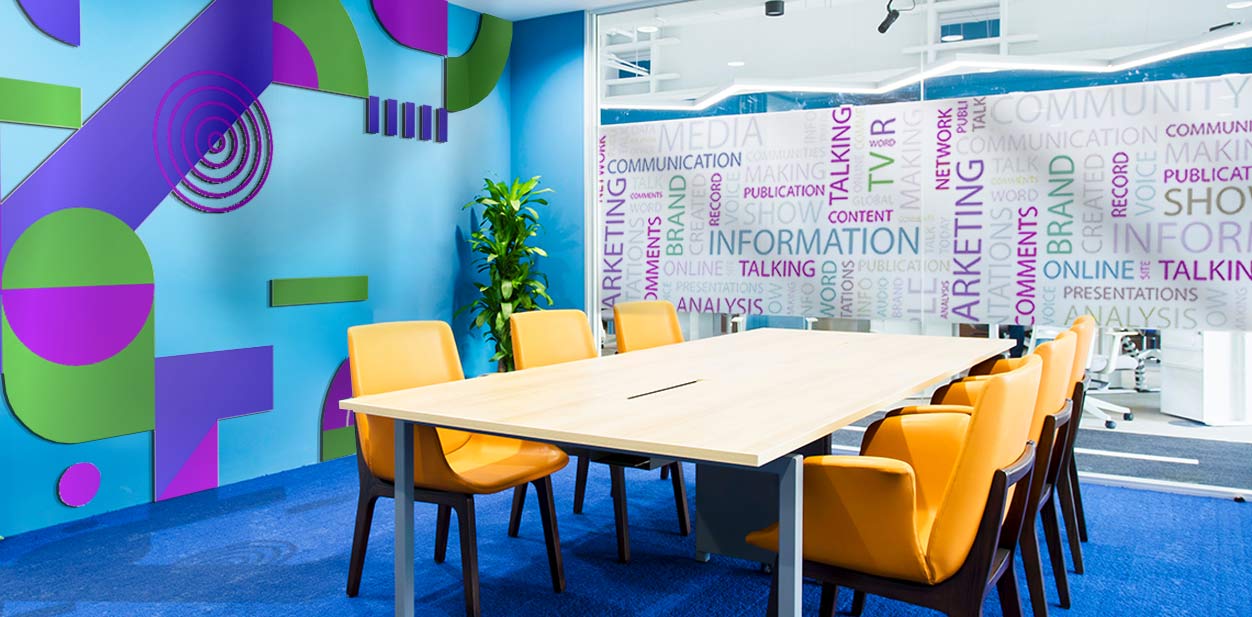 Brainstorming Meeting Space Design
Brainstorming rooms are where people let their imagination go wild. Start with conference hall design ideas to spark your team's creative process. Once inside, light up signs are perfect for generating profitable ideas. Display them next to motivational quotes to create an inspiring atmosphere.
When it comes to layouts, choose one that provides maximum engagement. Conference room design, just like trade show displays, should encourage interaction.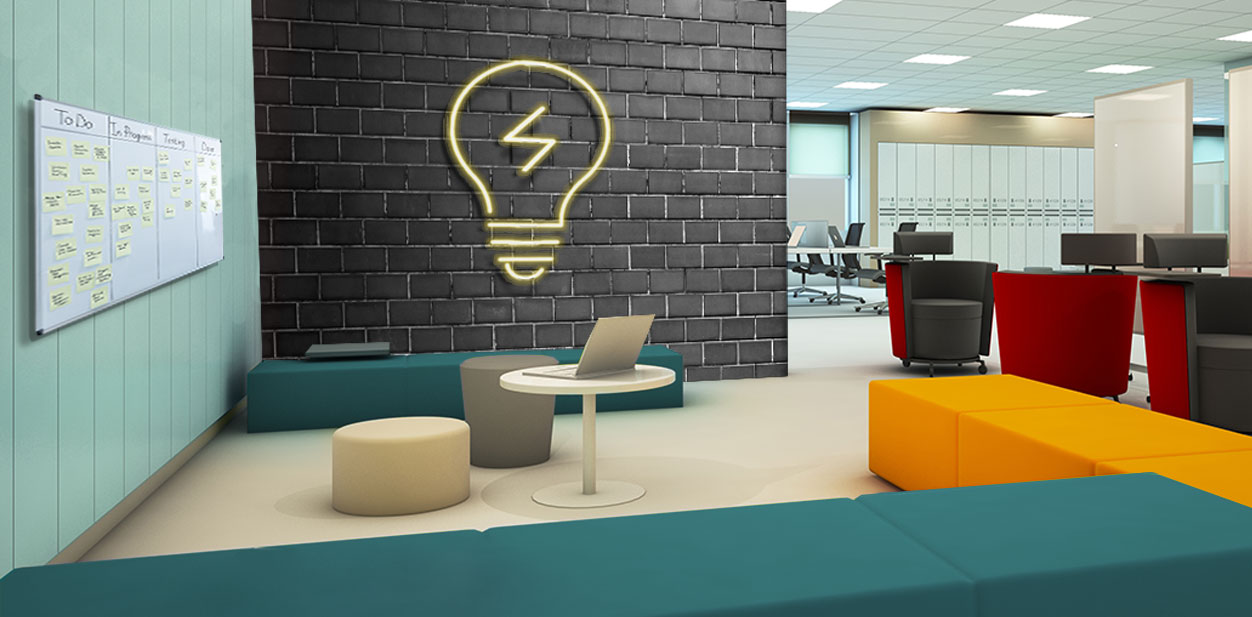 Training Conference Room Design 
Training rooms are used to instruct new and current staff on how to do their jobs with expertise. Consider an oval-shaped table in the center of the space to optimize this setup. It allows trainers to walk around when needed while maintaining communication with every member of the group.  
Classic channel letters with lighting features and elegant shapes on the main wall will look striking and professional. Regardless of the style, you'll definitely need a branded display, large conference table, ergonomic chairs, a good source of light and a projector screen for presenting training materials.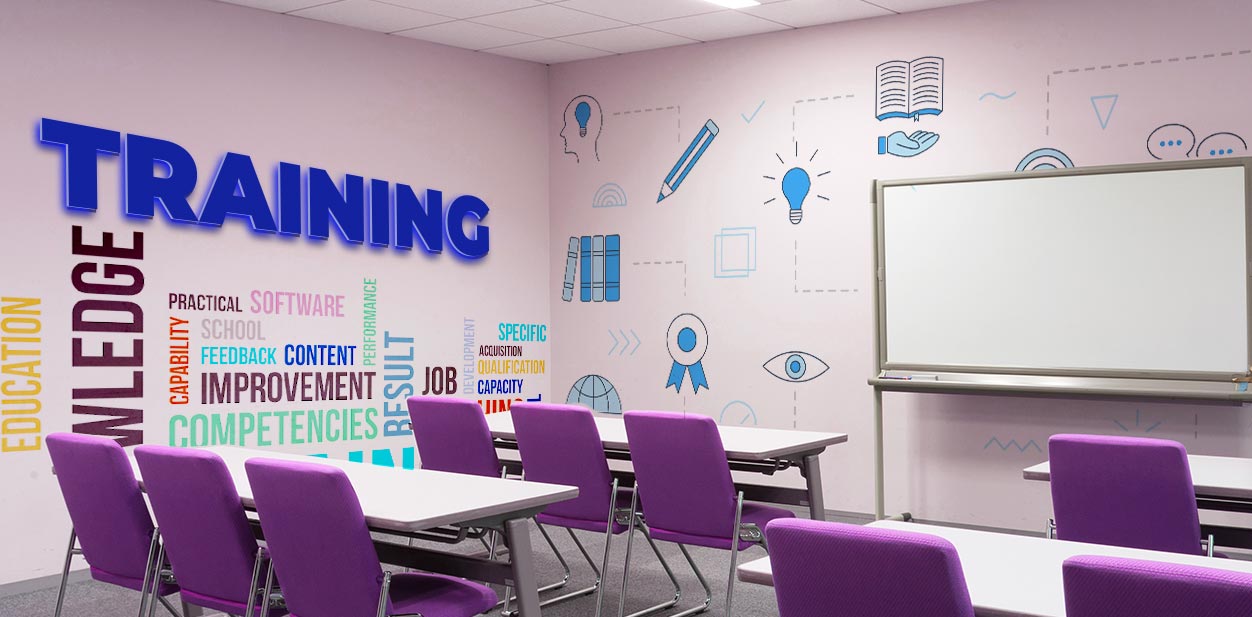 Explore Corporate Office Design Ideas to enhance your team's productivity. 
Leisure or Gaming Space Design
Gaming space is a necessary luxury in modern conference room designs. Allow your crew members to have a good time and enjoy bonding with one another. The design should keep a consistent theme with your brand. Comfortable seating will be much appreciated and cool decals will work wonders!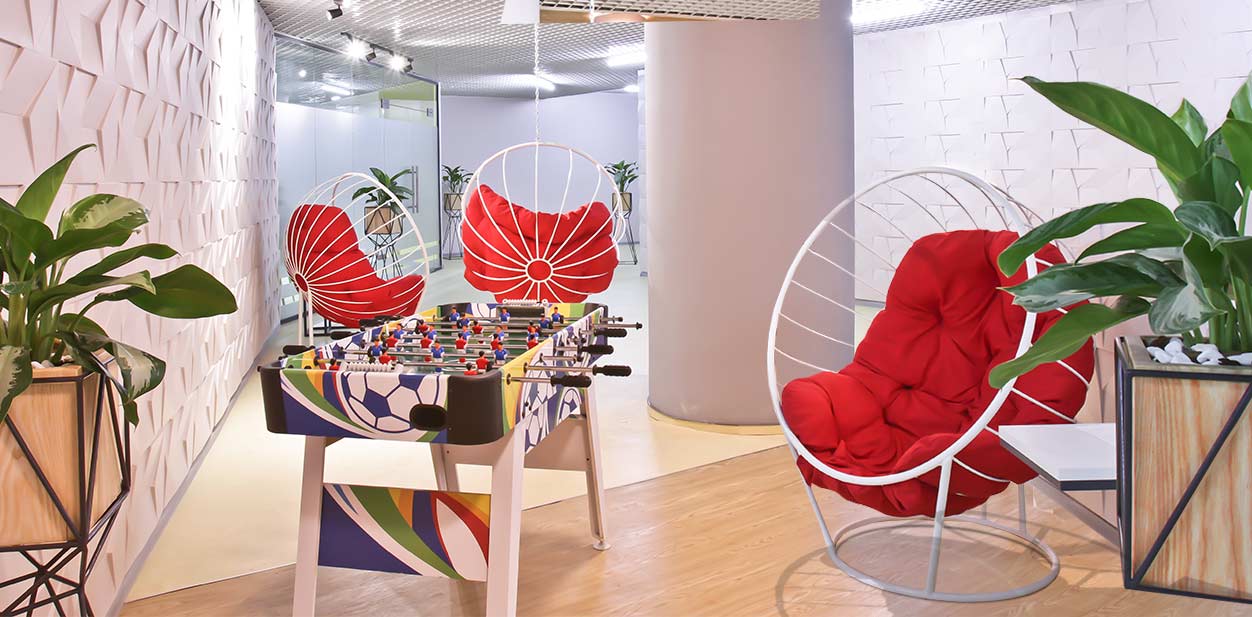 For more modern meeting room design solutions, contact our specialists to get your quote.
Conference Room Wall Art Ideas for First-Class Impressions
Gone are the days of bare walls and high-backed chairs in conference spaces. Large format printing on conference room wall art creates a livelier atmosphere to encourage collaboration. The goal is to establish a quality environment to enhance comraderie among meeting participants. Our wall decals as conference room wall art will serve this purpose with excellence.
So, what does modern conference room design look like? It's not as overbearing as it used to be – it's more alluring. Let's discover what makes current conference room designs distinctive! 
Branding Conference Room Wall Design 
Branding in modern meeting room design is crucial to boost employee morale and the overall work ethos. Incorporating creative wayfinding signage into your space creates a more inviting workplace. Conference room wall design should correspond to the layout you have for each area. You can go with a design that's U-shaped, classroom style or otherwise. 
Apply business signs such as logos, directional symbols and wall art for conference rooms to make your message pop. Keep a coherent style around the office with complementary themes and color hues. Strategic lighting can be a part of your conference room modern interior design as well. For instance, consider dim lighting for presentations and brighter illumination for group discussions.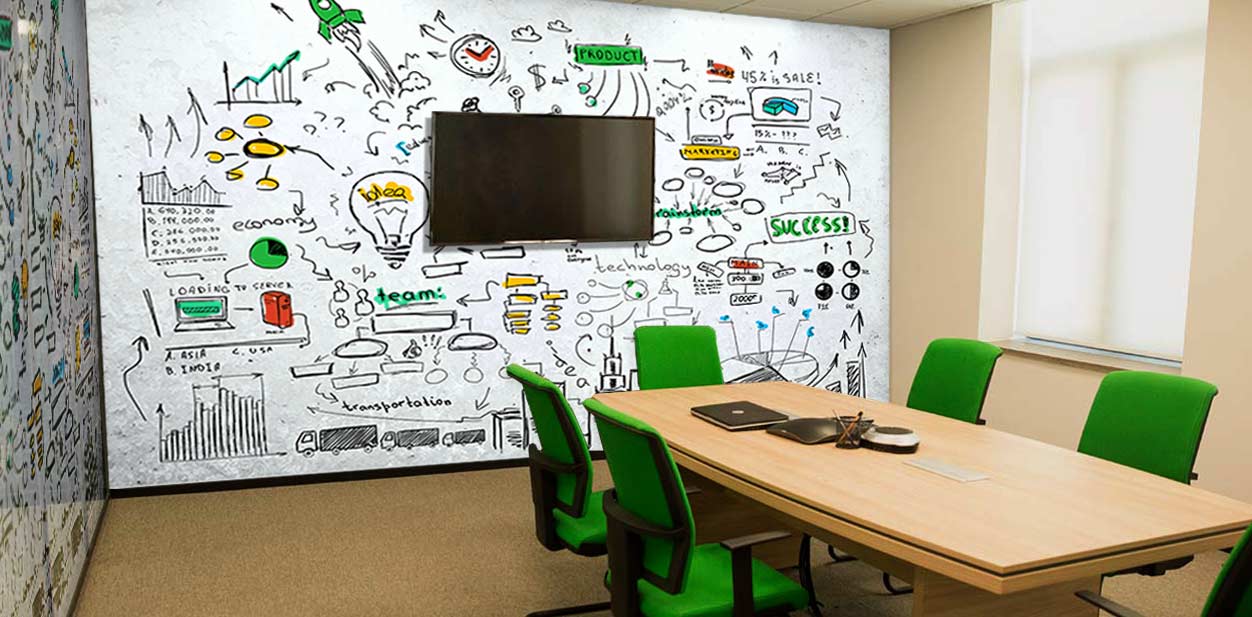 If you want to enhance the surroundings of your conference room, don't miss our blog on Environmental Graphic Design.
Suitable Wall Art for Conference Rooms
It's time to customize your conference room design. Conference room wall art looks spectacular regardless of its style and color schemes. The optimal meeting room design should incorporate qualities that complement your overall space. Are your logo signs bold and eye-catching? Your meeting room wall design elements should be either in a similar style or lean towards a more minimal effect to balance things out.
We're a leading signage company that provides all kinds of design solutions. Our portfolio includes conference room wall graphics, light box sign displays and other office signs. Whatever your style, we'll bring it to life with craftsmanship and class.
Oversized Conference Room Wall Graphics
The effects of oversized conference room wall art are immense. They're visually appealing and set a stimulating atmosphere for your employees. Boardroom wall art also serves as a great background for video conferences and calls. 
Make your conference participants feel energized with vibrant conference room wall designs. Get even more strategic by using them alongside window decals. We offer a deluxe range of products to suit your production and sign installation needs.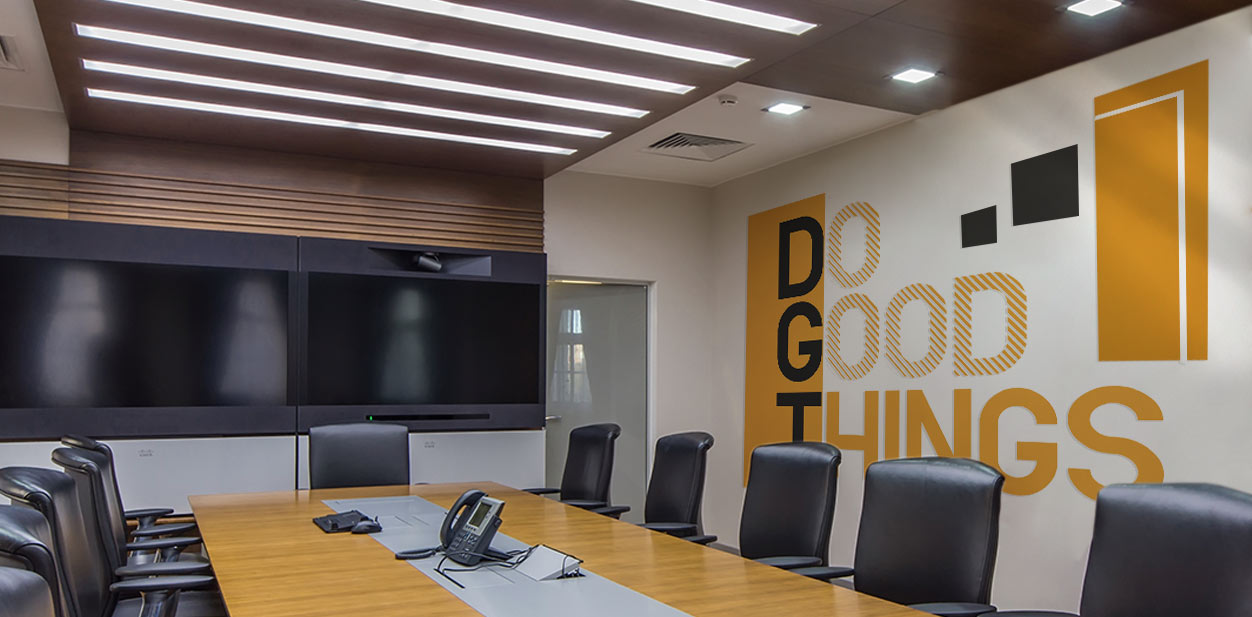 These placemaking signage ideas will help build optimal spaces for your conference participants. 
Bonus Ideas for a Top-Notch Conference Room Layout
You likely have a basic idea of how to create modern conference room designs by now. If the ideas above weren't enough, you can get extra conference room design tips in the following section. Don't hesitate to reach out if you need a free consultation on design and sign manufacturing services. We can make all kinds of visual communication tools.
Come up with unique titles for meeting areas
Maintaining your company image in the meeting space is important in conference room design. It will help your attendees understand where they are and what vision to keep their focus on. Choose colors, elements, quotes and displays that will enhance company morale.  
Are you interested in custom solutions for displaying your conference room design ideas? Contact our specialists to get a quote.
Pay attention to safety precautions
Now that you've completed the aesthetic design, it's time to think about safety.  It's a vital aspect for every modern meeting room design. Creating a healthy environment boosts employee loyalty, productivity and satisfaction.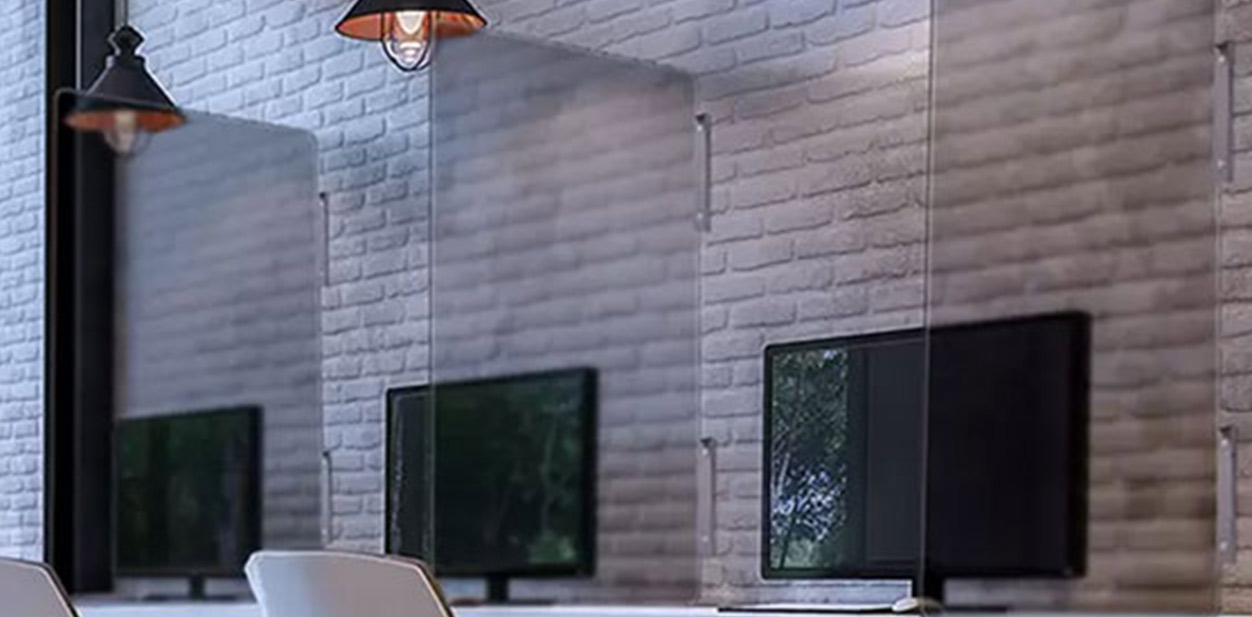 Consider conference room acoustics for clear communication
Sound affects every mode of communication in conference rooms. Acoustic design is a critical aspect to consider. Acoustic goals are usually met by keeping the background noise level below 38 dBA, keeping the 1 kHz reverberation duration under 0.5 seconds and controlling reverberation times in other bands.
Make an investment in movable furniture.
Meeting room design should be accessible with mobility devices such as wheelchairs. Successful communication is also enhanced by physical movement. The ability to move around can make all the difference in the world. So can rearranging seating patterns during discussions.
Make provisions for comfort
Make your guests feel as relaxed as possible. Put a fridge in the room so they can get up and drink water or get snacks whenever they want. Invest in tables with mini-cabinets so that your attendees may keep their personal items safe during the conference. Remember to also provide one or two trash cans for rubbish.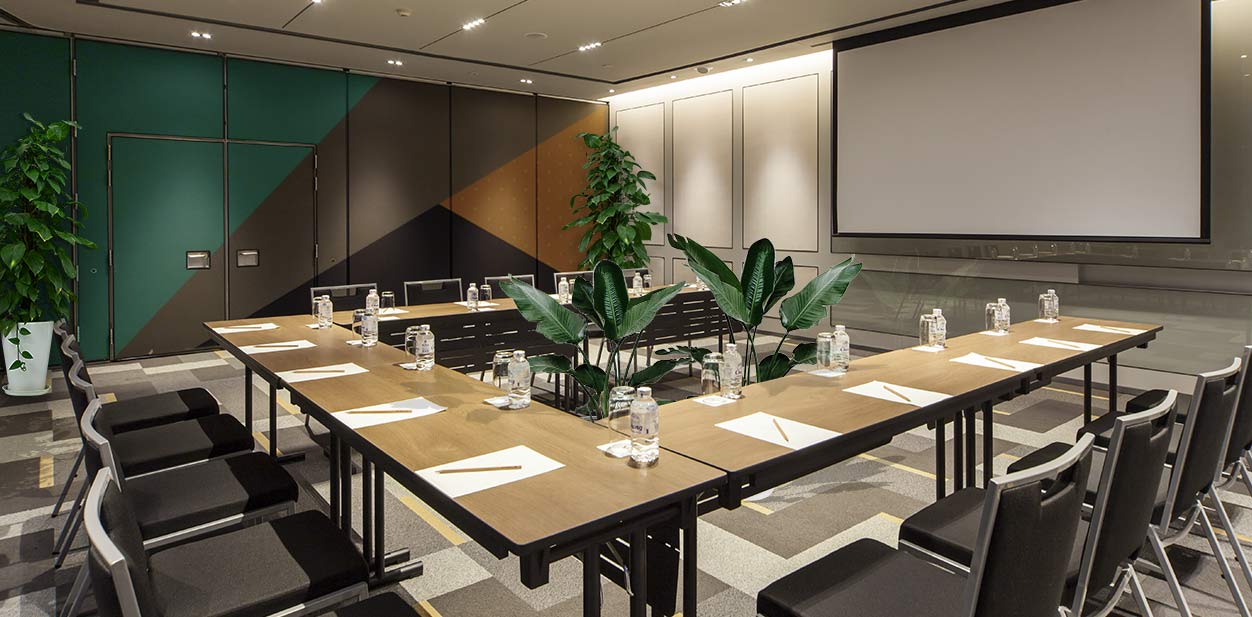 Choose the right conference room design style 
It can be challenging to choose a proper layout that's optimal for your team's goals. Start by defining the format of your meetings and the average quantity of participants. It'll be easier to implement the right setup if you base it on the key qualities of your company and it's vision. 
Create a calendar to ensure proper use of the room
Your meeting space should be accessible when needed and off-limits when it's occupied. Make sure your meeting plans are in alignment with everyone's work schedule by placing a team calendar in a visible area.
Once you settle on the right design elements for your conference room signage, you may want to see how it all looks before production starts. We provide high-quality 3D sign rendering services so you can see exactly what your space will look like before you make a final decision. 
When you work in an office, meetings are something you should look forward to, not avoid. The way a meeting goes and how it is perceived has a lot to do with the setting. Creating a pleasant modern conference room design is a great way to ensure success.