46 Compelling Corporate Office Design Ideas to Inspire Productivity
It's not a secret anymore that an inviting and fun office design boosts worker productivity. Have you ever asked yourself, "How do I make my office look professional and cool at the same time?"
Contemporary enterprises go beyond the traditional grey and white color tones and generic office cubicles. By integrating engaging office signs and other corporate office design ideas, you will enhance the mood and performance of your employees. 

Office Interior Design Ideas
Nowadays, leading companies do not cut corners on appealing design blueprints. They inspire people with vivid colors, uplifting decor, and infect them with a happy disposition. First things first. Let's start with the office entry design.
Office entry design ideas
The first impression is crucial, especially for those seeking to do business with your company. It's worth putting stress on your lobby signs while designing the interior.  Evoke a sense of optimism in your visitors as soon as they step into your building since this will determine the rest of their experience. 
First things first. Let's take a peek at the most creative office entry design ideas.
Idea 1. Use big inviting signs to create a welcoming atmosphere
What kind of feelings do you want to instill in your guests when you have them at your doorstep? Comfort? Trust? Motivation? Fun? 3D signs have always been on-trend. You can get them in the style of square boxes in your office reception area. Welcome your guests in with different languages. This is an office reception area design idea that's sure to win them over.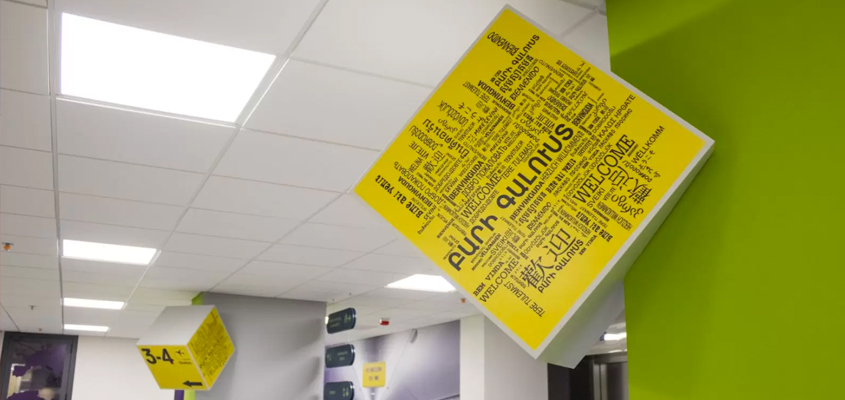 Idea 2. Mix different design elements to get a  custom look
Funny furniture elements like a toy car seat are a cute option. They will speak to your brand and highlight your identity. Mix and match your favorite features from shows, themes or whatever else may strike your fancy.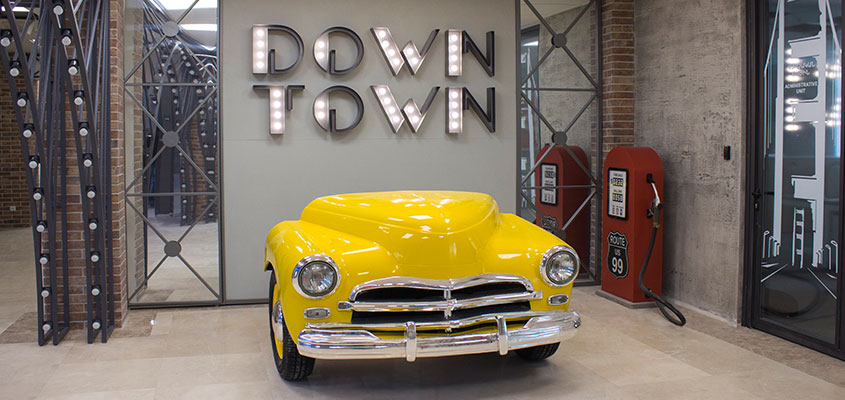 Idea 3. Set up entertainment areas to have fun with your guests
Entertain your guests while they're waiting in the office lobby. Create gaming zones, children's playgrounds, swing chairs or maybe even big slides? Brainstorm wild concepts for passing the time in an enjoyable manner and we'll bring them to life for you.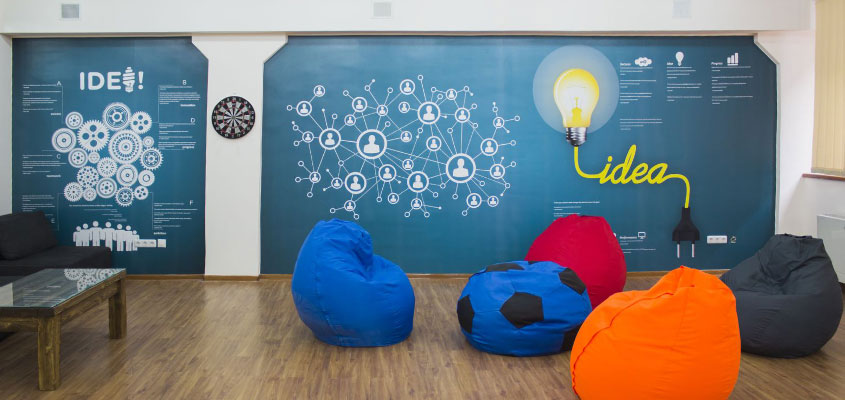 Idea 4. Build a bicycle parking area to add volume to your name
Make use of your free lobby space for an added green-punch. Construct a bicycle parking area to build trust among your visitors. Alleviate their worry about where to park their bicycles and simultaneously add an eco-friendly touch.
If you succeed in making the first good impression, you'll gain people's confidence and be able to offer them your services. If implemented the right way, these office entry design ideas will highlight your uniqueness and reliability.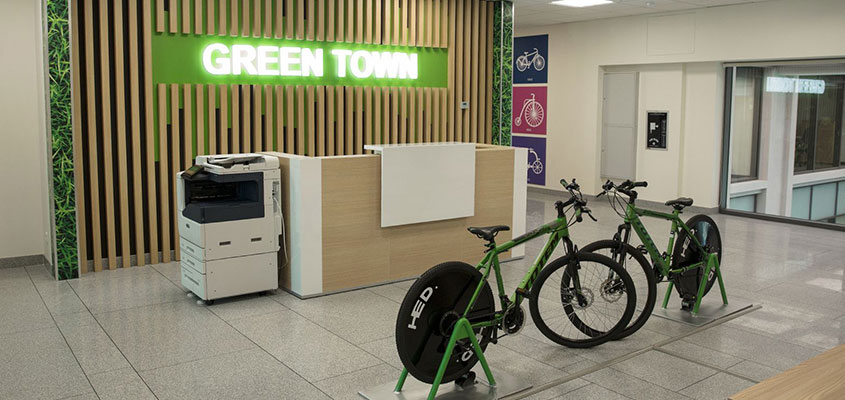 Office lobby design is next. Below you will find out  corporate office interior design ideas that will creatively direct your guests towards your main working space.
Idea 5. Bring enchanting environmental signage in to please the eye
The custom signage elements speak volumes in any business sector. Particularly when they're utilized for adding captivating elements into your office signage. 
Select from a wide range of office design examples from different materials like wooden signs, and uphold a bold presence.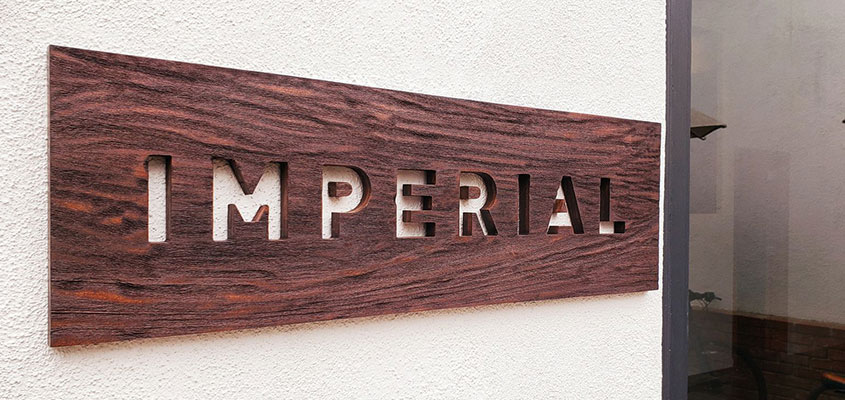 Idea 6. Apply subtle brightness to illuminate corridor paths
You can hardly find anyone fond of strolling through dark corridors. That's where the importance of illuminating your long office passageways become a priority. 
The office corridor is an unassuming place to make a great impact.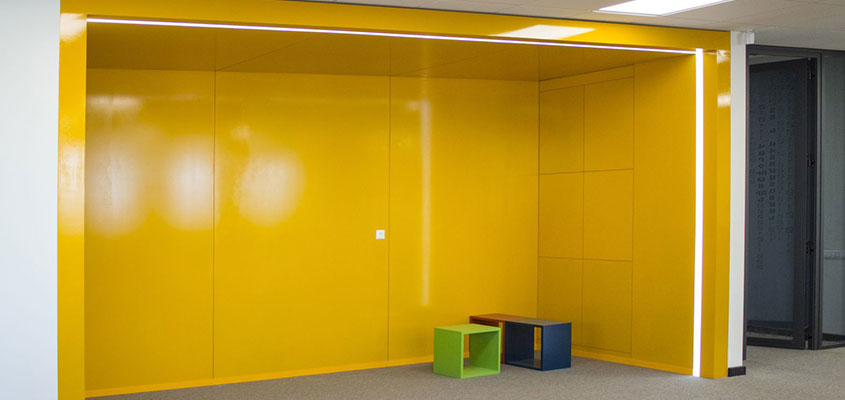 Get help with the best office design!
Office space design ideas
An inspiring working area is what you need if you are looking for ways to encourage your employees. Check these ingenious corporate office space design ideas and take advantage of them to make a great impact!
Office space design ideas with creative features
Turn your office work space into a place where your employees can't wait to come and work in. The upcoming executive office interior design ideas are guaranteed to help you turn this vision into reality.
Idea 7. Include architectural fabric elements to spark innovation in your working area
Use these creative fabric constructions to generate a pleasant ambiance with several layers of illumination. They're like building something from nothing; something uniquely captivating at that.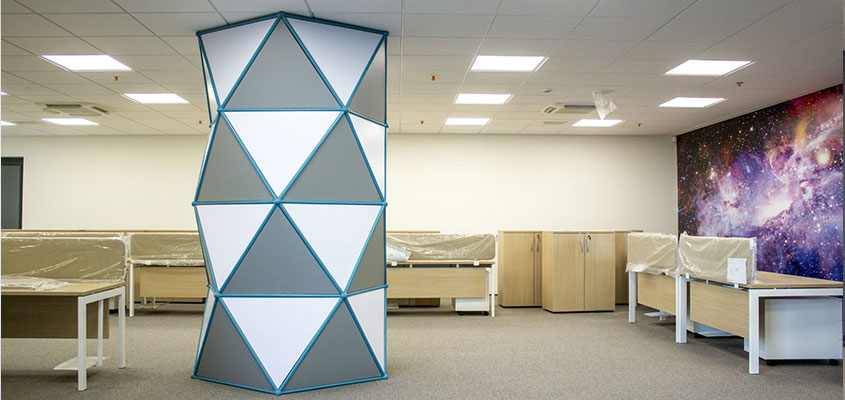 Idea 8. Designate specific spaces while considering how to design an office space layout
Build custom zones in your corporate office room to reflect your business's core values. For example, if you are a tourist information office, create a custom airplane space for your visitors to feel the flight pleasure.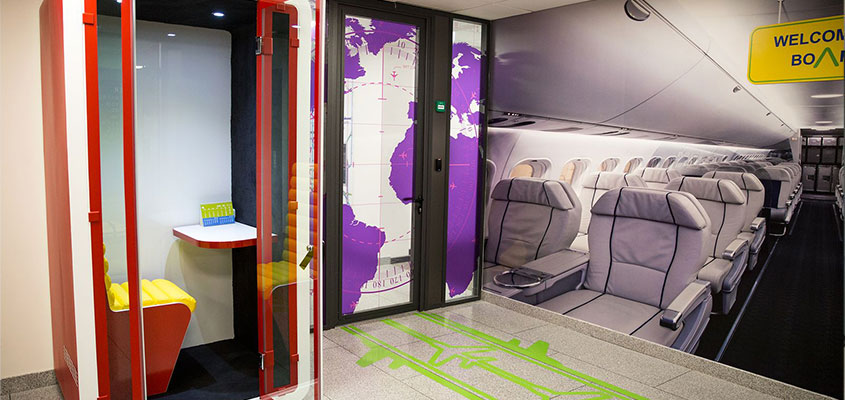 Idea 9. Use cubic wall separators to break the boring cubicle stereotypes. 
Sometimes employees rediscover the value of silence in shared offices and seek for corners to concentrate. 
In this case, square cubic design constructions work well. They don't distort the open space feel yet create a cozy place to get focused.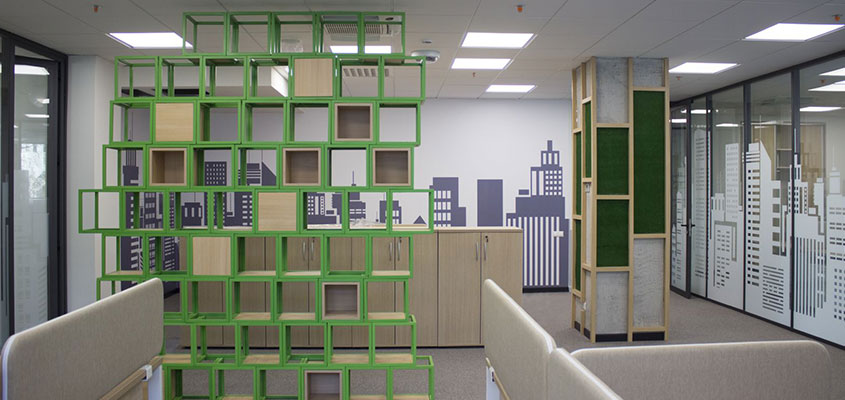 Office space design ideas with door decorations
Turn your old-school office doors into mind-blowing design details by personalizing our office workspace design ideas.
Idea 10. Add vinyl lettering to bring in a cool ambiance.
Adhere these letting materials to your glass office doors to deliver a bright welcoming message to your visitors.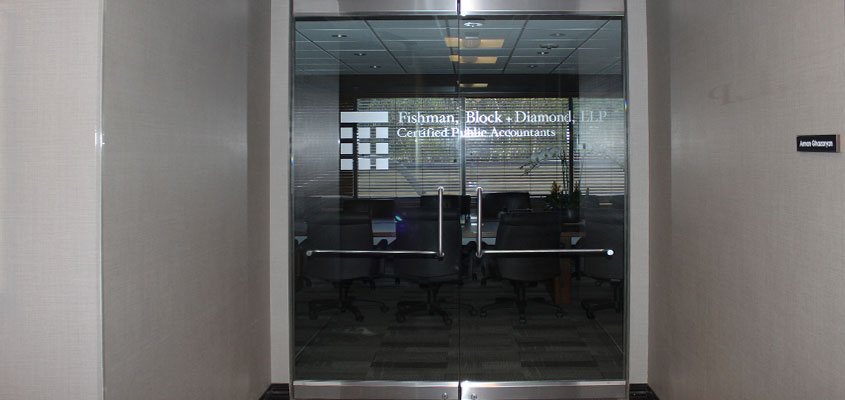 Idea 11. Construct decorative doors to look classy.
Design a real wooden door  in your office interior space and make it more elegant by engraving your company name or message on it.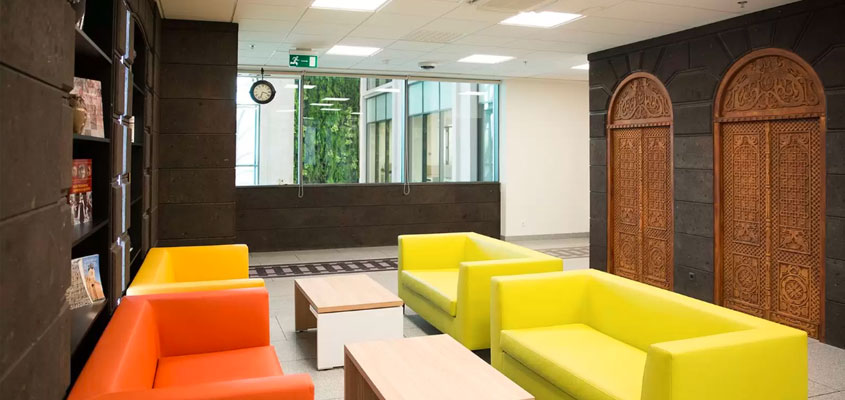 Office space design ideas with desk solutions
Integrate superb desk design ideas into your office workspace and make them playful for full effect. Use your office space in its maximum capacity. Coming up are some beautiful office desk design ideas to consider. Let's get started!
Idea 12. Create a desk design in the shape of letters to look modern
This seems crazy! Perhaps it is… but imagine how fun it is to sit on these desks made into different alphabet letters. Genius and whimsical!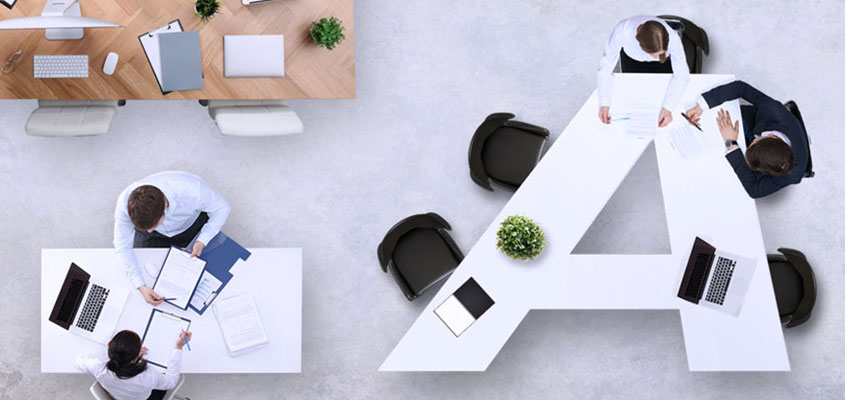 Idea 13. Build a segmented office desk to provide both isolation and interaction
Apply this kind of office desk design and improve the communication of your employees. Don't forget to add the isolation barriers. Provide a personal area that's still part of a unified structure.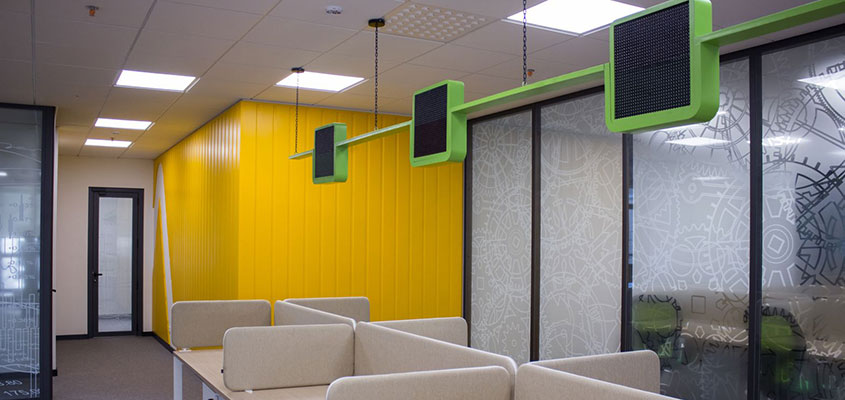 Not only the desks but also the overall space design is a prominent part of business office interior design ideas. Don't miss a thing. Let's look at more options!
Office space design ideas with hanging structures
Hanging items will complement other commercial office interior design ideas.
Let's discover some of them!
Idea 14. Choose triangle illuminated signs to modernize your office look
Enlighten your office with big creative hanging 'torches'. Their imposing triangular shape grants an original aspect to the whole office interior.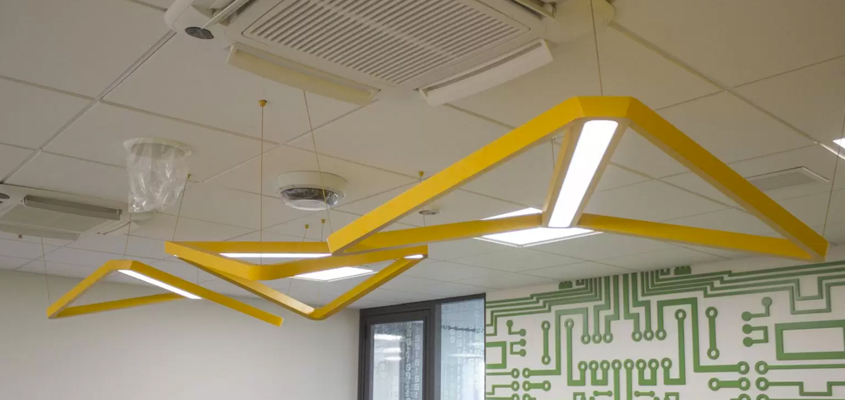 Idea 15. Hang ceiling signs to point out the office department divisions
These durable signs are a great option to decorate your office ceiling in a functional manner. Simple yet engaging, they will guide your visitors without any delays.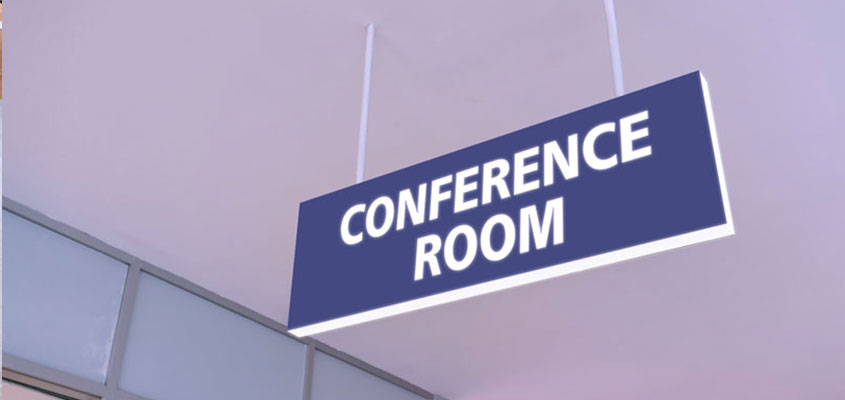 Idea 16. Apply colorful hanging elements to express your company's motto
Consider this option when you think about how to design your office in an inspiring style. Communicate with your guests with these exuberant motivational quotes from your office ceilings.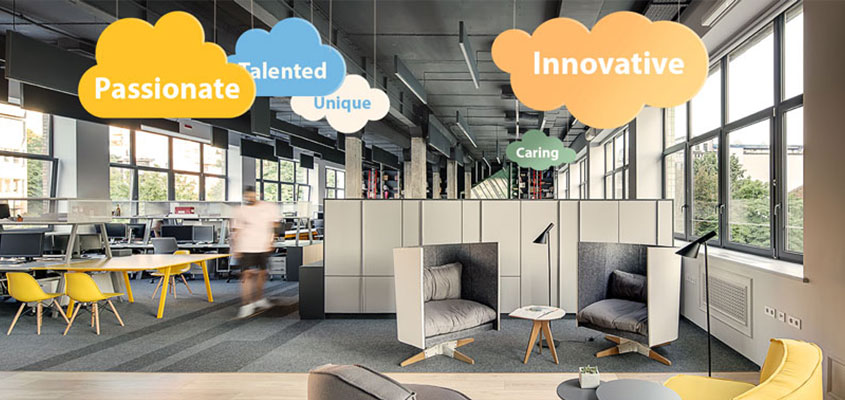 Office space design ideas with lighting effects
Your office is a reflection of your brand. Bear this in mind while generating your office design ideas. Illuminate your corporate office space with lighting elements. Read on to learn what's next.
Idea 17. Install multi-layered lighting to brighten up the work space
Incorporate aesthetically pleasing lighting sculptures. Provide a luminous environment throughout your office with varying focal points.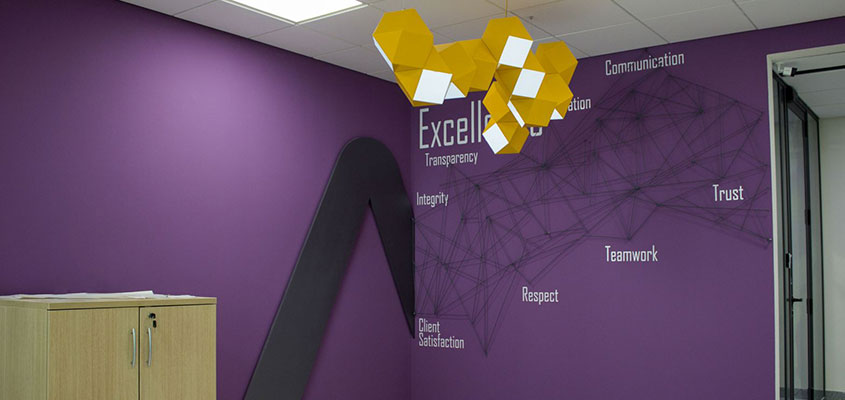 Idea 18. Use brightly lit letter signs to create an inviting atmosphere 
It's always a good idea to apply light up signs with letters, logos or graphics or light box signs to decorate your office space. Choose an area where the sign will blend with the environment. Make it look as natural as possible!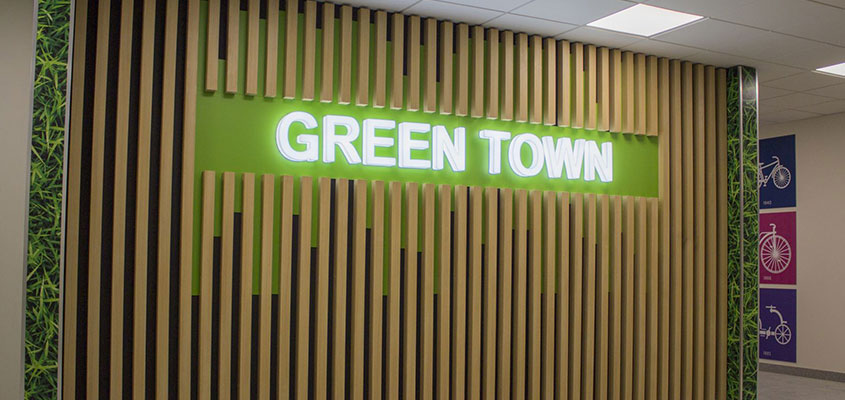 Idea 19. Mould arch shaped lamps to provoke a sense of joy
Human imagination has no limits. Look at this enchanting lighting design option. It's decorating blank walls and creating an arch effect. It's engaging, impressive, and only the beginning of what we can do.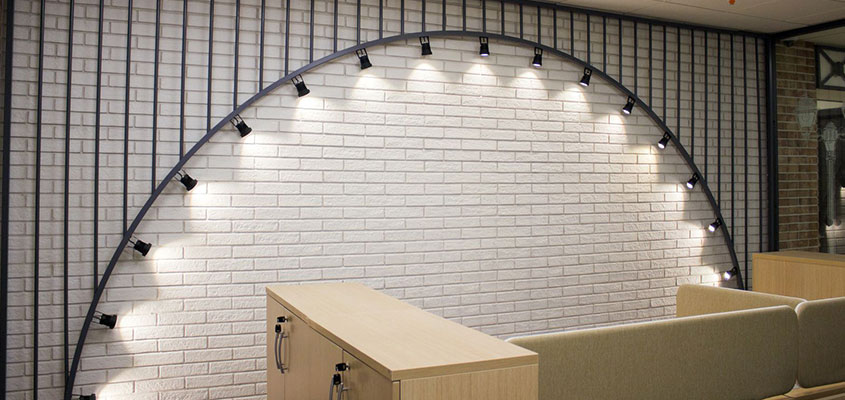 Kick off the best of your office space design with us. Contact us!
Now that you know how to design your workspace, it is time to move on to the walls. We have gathered some exciting office wall design ideas for you!
Office wall design ideas with decals
Your office walls are seen from any angle of the space. Instead of leaving them bare, decorate them with ingenuity by applying custom wall decals. With large format printing you can get any custom design for your office walls.
Idea 20. Blend sporting elements to complete your corporate office wall design ideas
Attach basketball wall-mount hoops on your office wall to shoot some hoops or decorate them with whimsical surfboard signs. Let your staff break away from the mundane job routine. Light up their imagination, work off stagnant energy and enjoy the mutually beneficial results.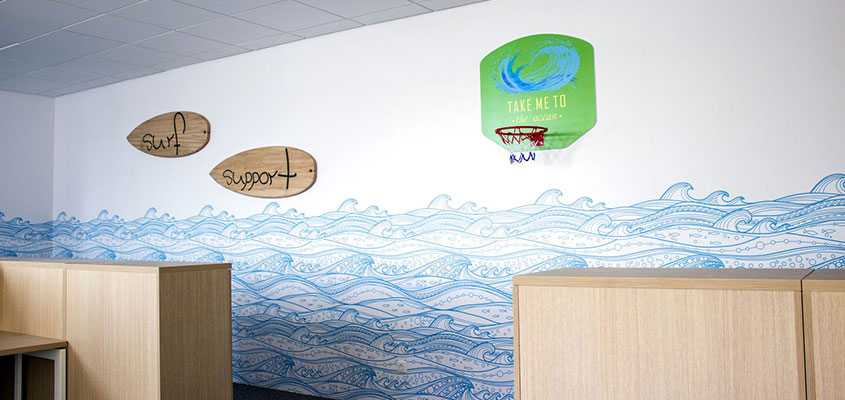 Idea 21. Attach plain or embellished inscriptive quotes to talk fancy
Can you express ideas briefly but meaningfully? Then you are a genius. Illustrate some core to-the-point messages to your team!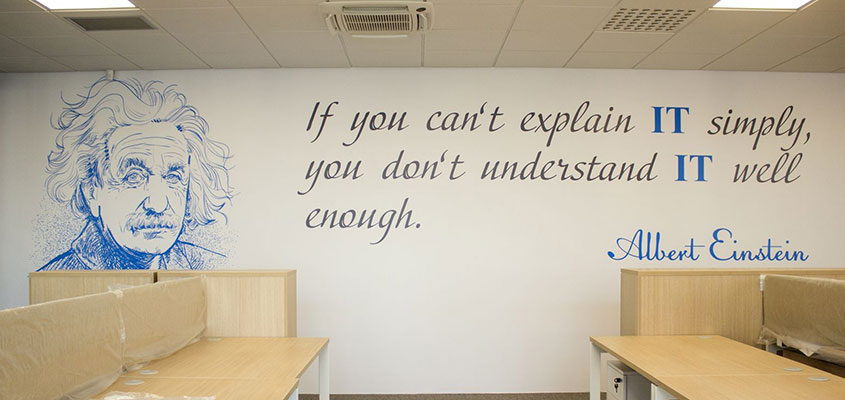 Office wall design ideas with name boards
Identical signboards for the team are vital in big companies. Make your clients and visitors navigate to the right personnel with ease. Find some of the best office name board design ideas below.
Idea 22. Merge intricately-lettered wall decorations to ignite creativity
Endow a sense of harmony with beautiful lettering. Choose elegant calligraphy fonts to grab your company or brand's name on the front wall of your office. Make an unforgettable impression!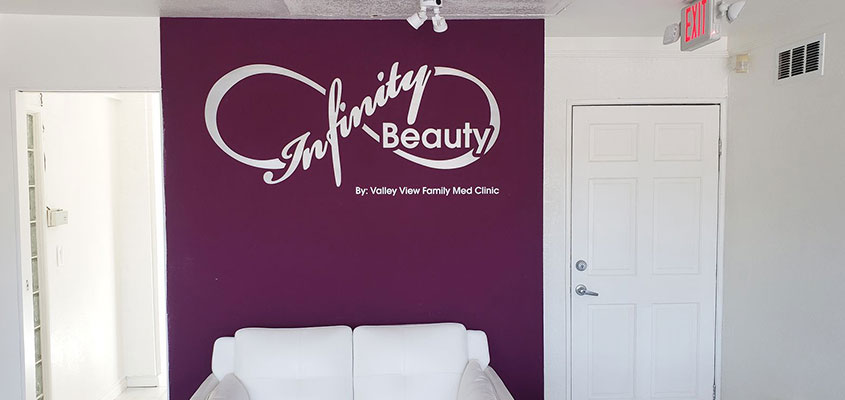 Idea 23. Go for simple, clear but bold letters 
If you are out of business office design ideas or just prefer a cleaner look, consider this straightforward option. Make your presence bold with big cool letters such as channel letters.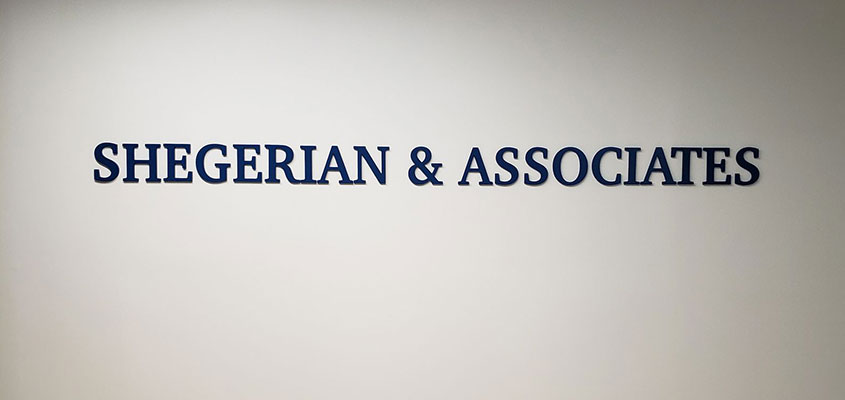 Idea 24. Make use of tinted transparent name board lettering
Make it visionary with an acrylic board design. Use the colors of your brand to depict your unique slogan and logo on transparent acrylic signs.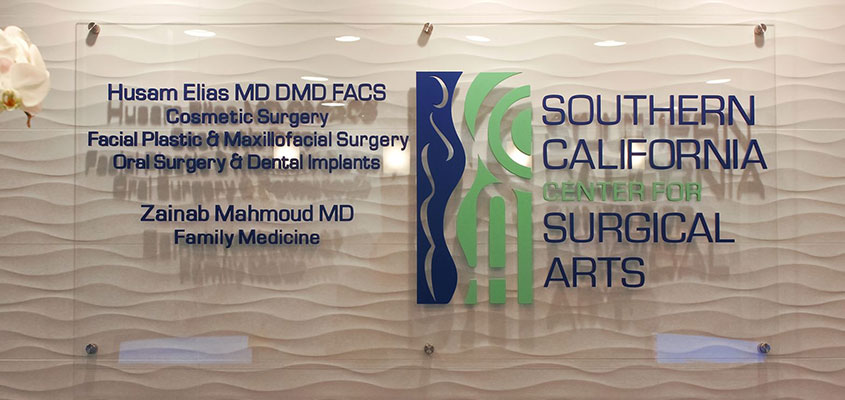 Idea 25. Utilize 3D words to give off a lively vibe  
Design your name boards in 3D texts to add a depth of character to your brand. They're a stylish, modern and multi-dimensional approach to name design.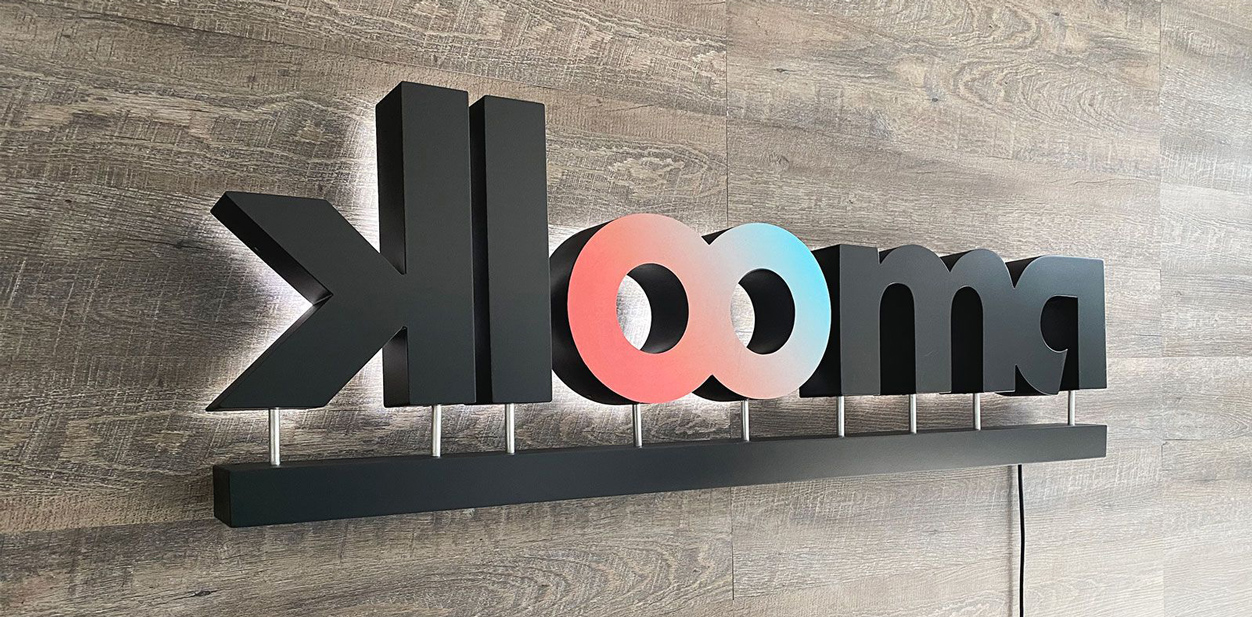 Idea 26. Implement minimalistic name boards for a cleaner style
Put only the first name of the employee on these eye-catching name boards. Go minimal with tasteful lettering. Raise your team members' sense of self-worth by means of personalized name boards.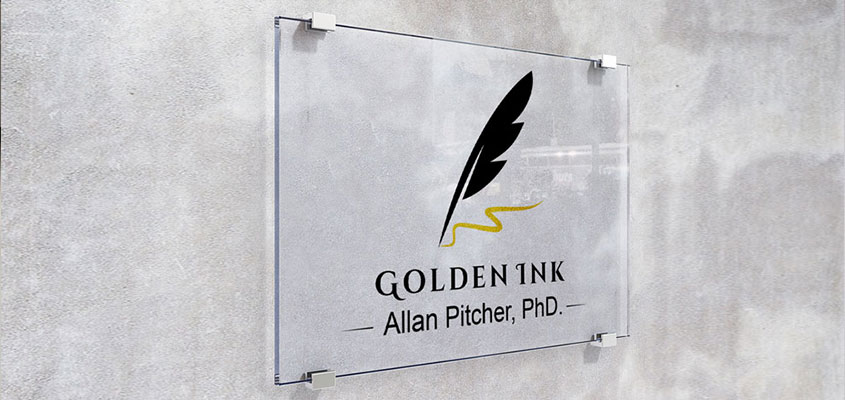 Office wall design ideas with wayfinding elements
Navigating a new space can be a hassle if it's not properly marked. This is where the directive elements come into play. Take a look at the following office wayfinding design examples. 
Idea 27. Utilize square office boards to transmit directional details
Simple information about the locations of departments is what your customers need. You can avoid looking prosaic by adding personal flavor to your designs using your brand's colors and themes.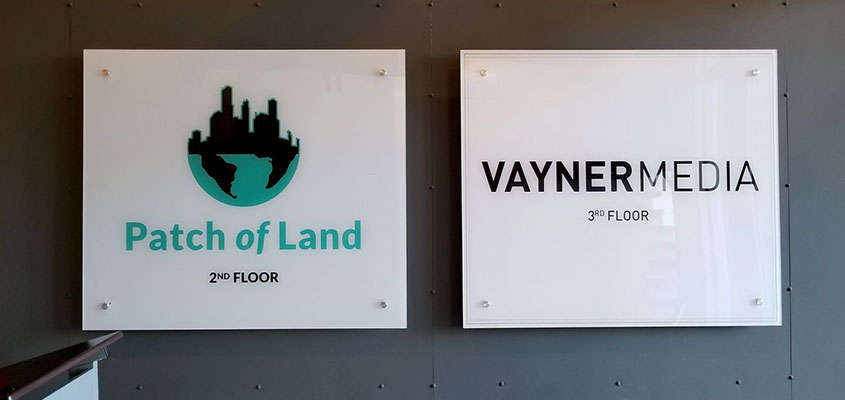 Idea 28. Mix unique forms and features for visual appeal
You can employ the help of two or more types of wayfinding signs at the same time. They may seem excessive but they will help newcomers find their way without missing a beat and having to ask around.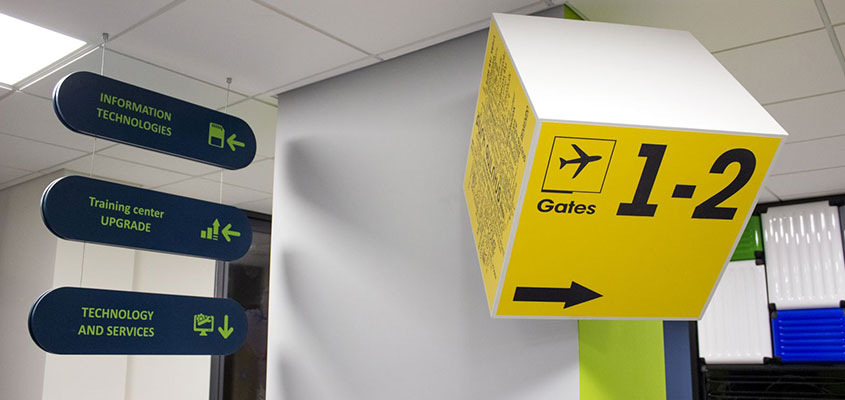 Idea 29. Brighten the mood with rainbow-style signs for walls and floors
Apply colorful directional pathways for your office space using decals. Guide your customers along every passage and turn to reach their destination playfully and greet you with a better mood.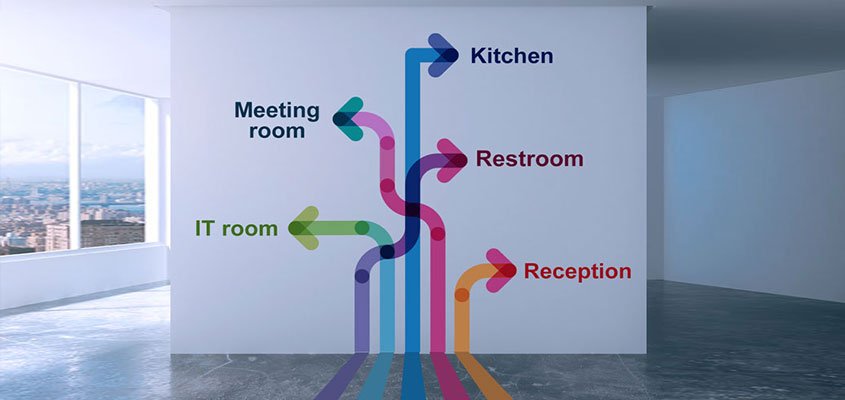 Office wall design ideas with construction elements
Turn your empty office wall into a jaw-dropping masterpiece. Unique wall structures have always been in fashion. Keep up with the trend with the following ideas. Let's see what we have here…
Idea 30. Layer multicolored wooden-aluminum boxes for an urban aesthetic
This creative wall design is convenient for all types of companies. The contemporary approach will be appreciated for its distinguished visual as well as utilitarian storage value.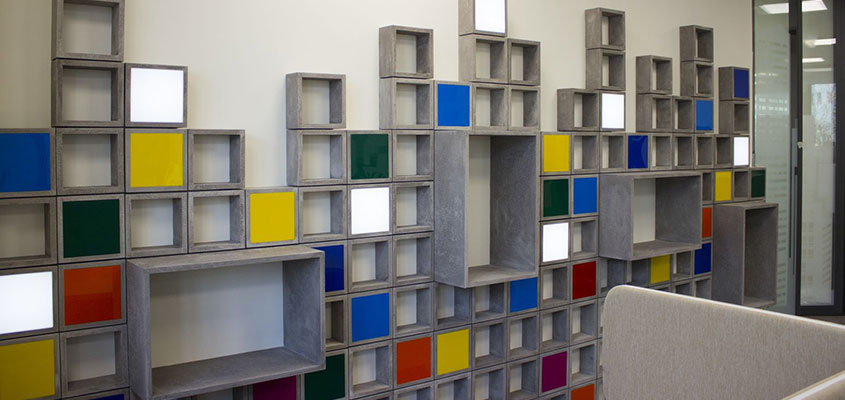 Idea 31. Piece together puzzle shapes to bring the big picture into view
Map out your office interior with painted pieces, bricks, blocks, shapes and signs. They're playful, catchy and attractive. Create a desired work or hang-out corner for your company.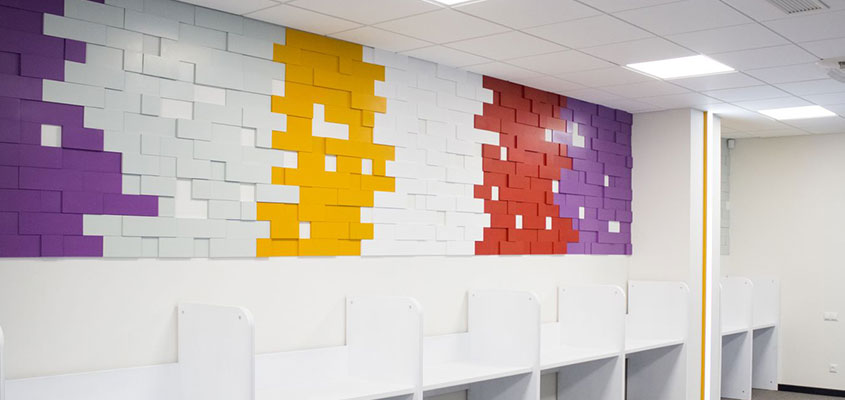 Idea 32. Engage your guests with visual tricks
Speak to your visitors with images. Let them know about your services by having to follow patterns or simply by glancing at text blurbs.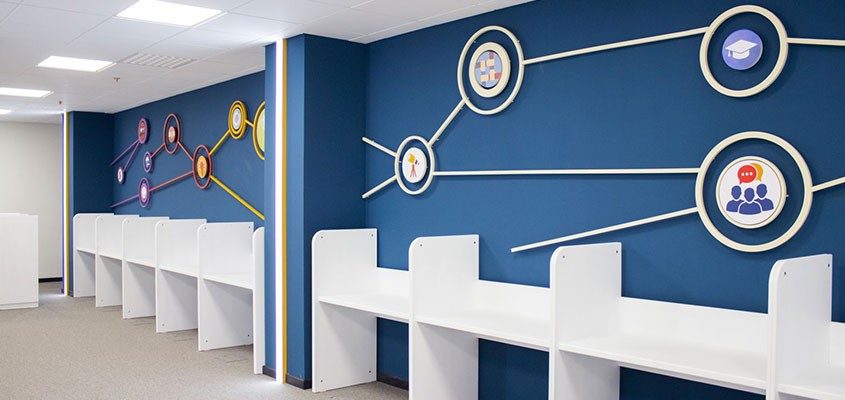 Idea 33. Nature elements to look frisky
Imagine working 8 hours without even having time to think about anything but the tasks at hand. The least you can do is let your employees feel a little bit of comfort by integrating wood and green color wall structures to ease their minds with natural elements.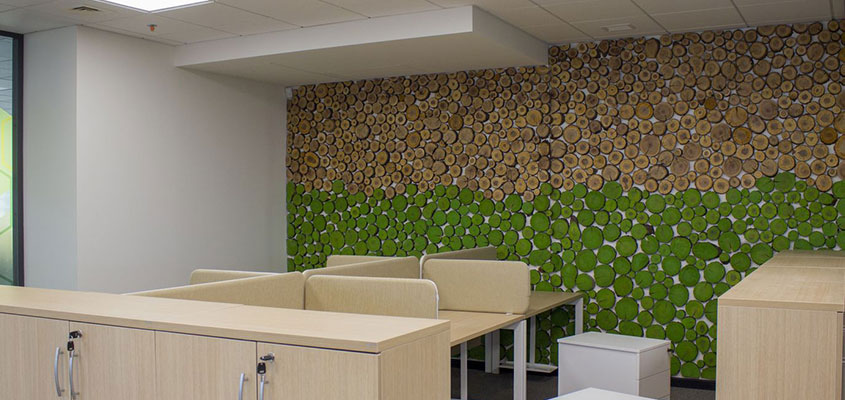 Idea 34. Reveal the core elements with a big green chip
All data has a 'chip' meaning. Find the right way to express your quotes, what you are offering and how you are doing. This chip-format wall is one of the examples, especially if your business deals with IT!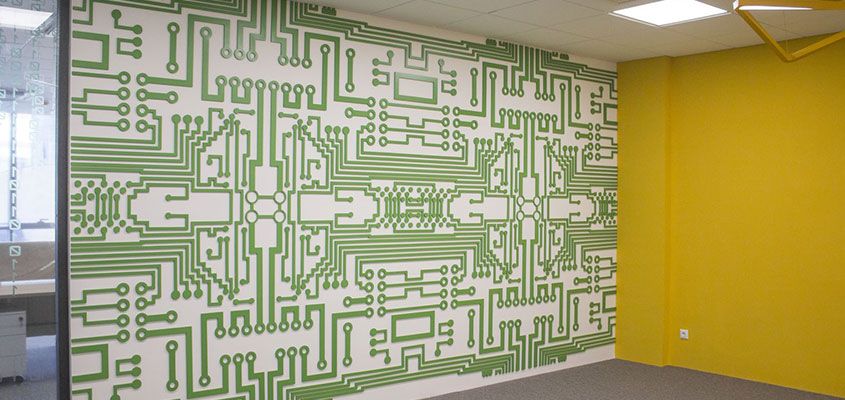 Idea 35. Always be on schedule with a big round 'agenda clock'
Keep track of your daily agenda with an oversized clock. Brainstorm as many cool ideas as possible to make work a fun experience. Place playful notices to remind employees  to hydrate or do some stretching. Anything that promotes  team-building will increase output.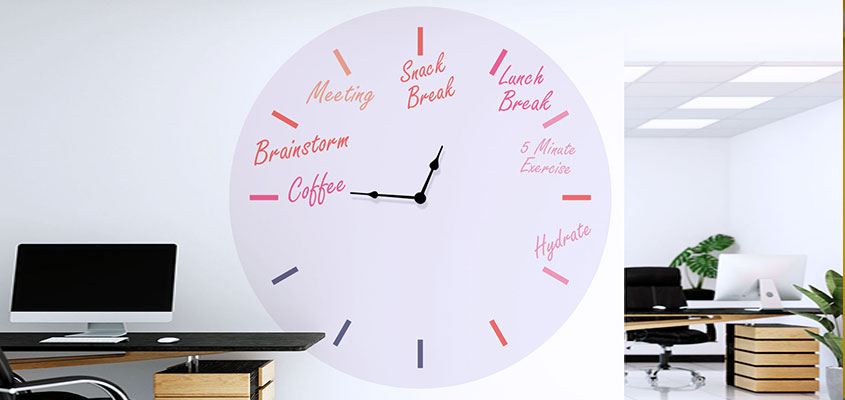 Do you want to have your office wall designed with the utmost professionalism? Contact us!
We are done with office wall designs but there are more areas to consider. Just think about all the plain windows in your office begging for clever design solutions! 
Office window design ideas
Your office windows connect the interior and exterior worlds, giving them double the exposure. Learn how to design office space by decorating your often neglected windows.
Idea 36. Break out out of the norm with city-life-style  stickers
Window stickers of cityscapes will add class to your interior design as well as create an urban feel. Consider the option of window decals if your scope of activity is connected to the city life!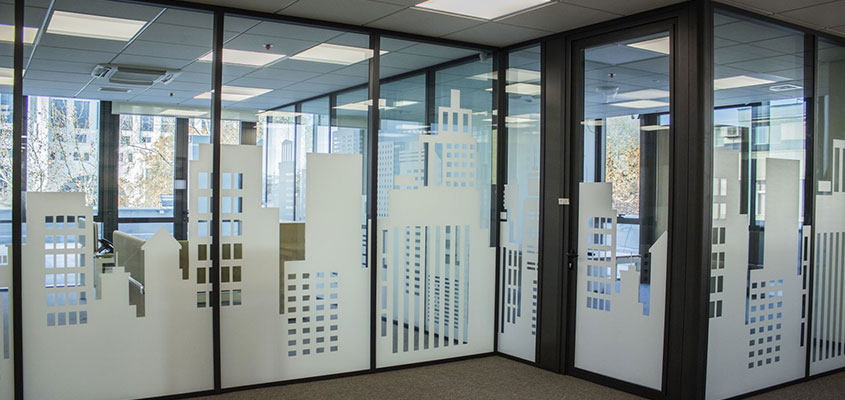 Idea 37. Opaque window decorations to prevent being seen from inside
Create an open-space-style office layout but with the added comfort of privacy with these semi-transparent stickers. They are easy to adhere and don't leave any residue in case you ever  want to remove them.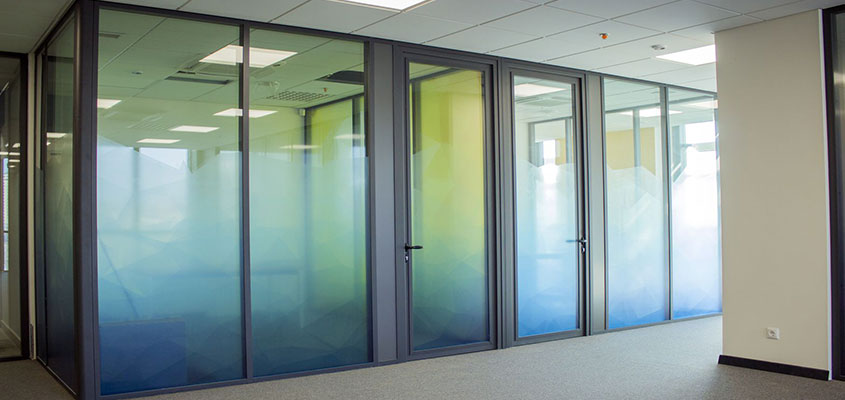 Idea 38. Adorn your office windows with self-adhesive images
Time for summer but no time to go to the beach? Bring the beach to you with self-adhesive wave decals!  Though it may not be a perfect substitute, it will surely calm the mind with each glance.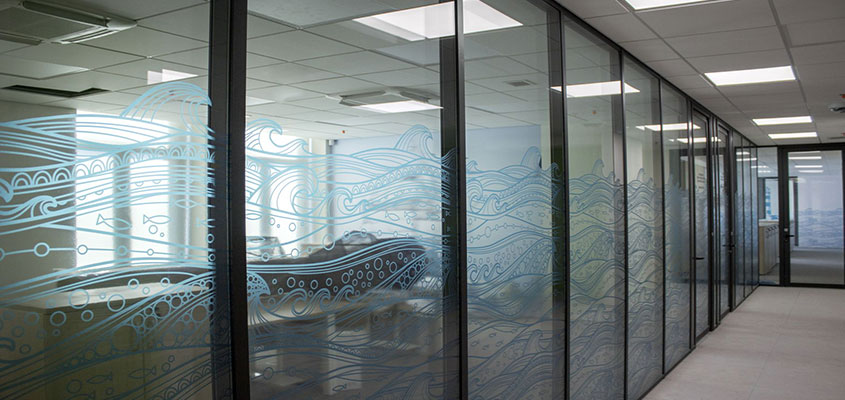 Idea 39. Speak about your company's success with custom ornaments
Why not celebrate  how many customers you got this year or other honorable achievements like your high rankings? ?  Window lettering can look sleek and tell stories of success, especially for the banking industry. Go ahead and decorate the empty glass windows with your top revenue scores and service qualifications.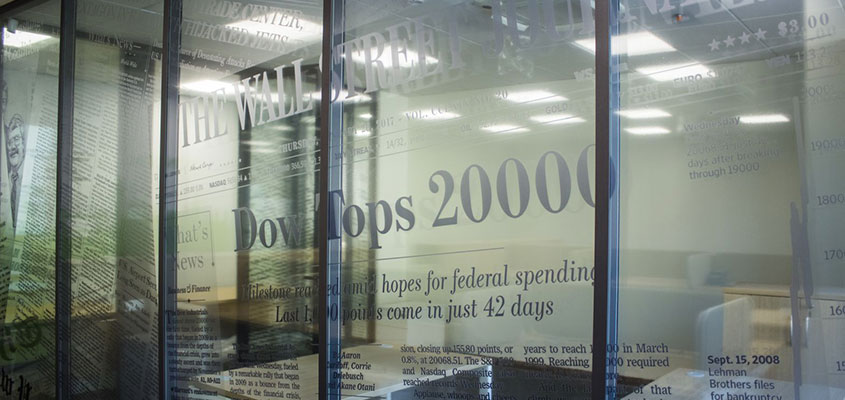 Also refer to 27 Bank Marketing and Design Ideas for Effective Branding for further insights.
Idea 40. Express your passion for IT with 0-1 numerical designs
Any IT company can use this kind of window labelling. They will look creative and clue people in on what your business is all about. Bear in mind that the enclosure itself is a great office design factor.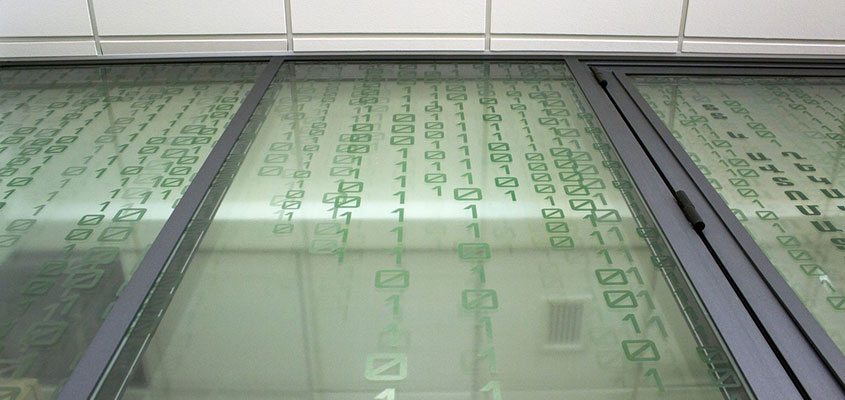 Office floor design ideas
Floor decorations are essential while designing your office interior. They can  be fun, engaging, directional, informative, or all at once? 
So let's see what design inspiration you can get in this section!
Idea 41. Embellish your office interior with road patterns on the floors
Don't be afraid to establish this atmosphere in your office. It's engaging and practical. Besides, they'll ensure that your customers won't have to bother anyone about how to find the right place.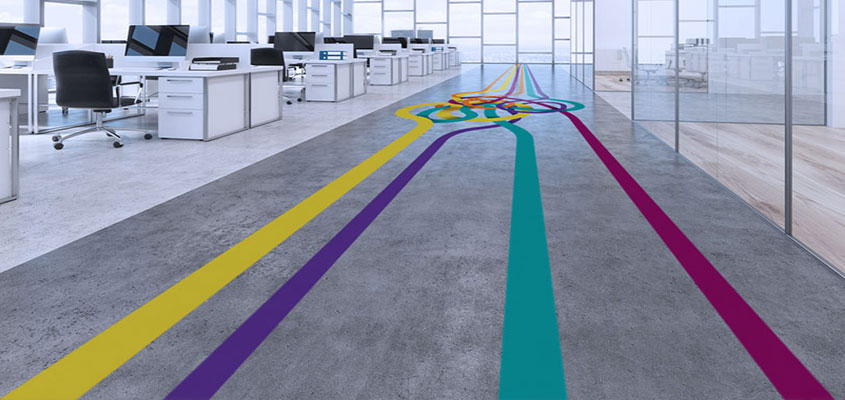 Idea 42. Lift up your success with an airport runway
Stick an airstrip on your office floors. This winning decorative design of floor decals will be telling of the triumph people will experience with you. The sky is truly your limit, after all.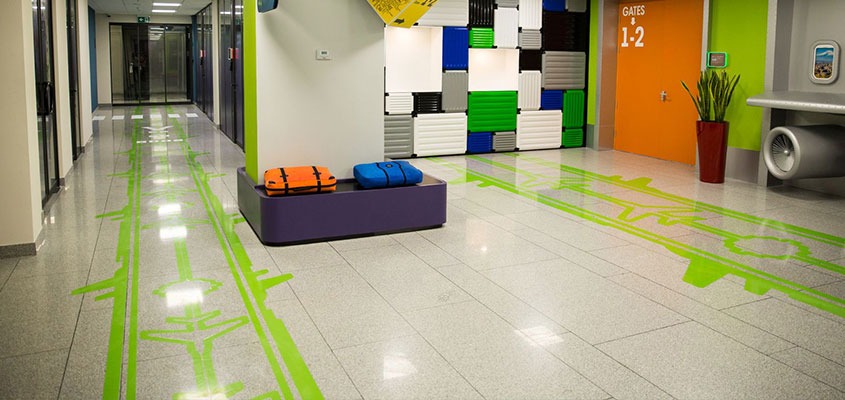 Idea 43. Match your floor decor with microchip-designed office floors
Here is another affordable stylistic tool. Make your office floors congruent with the overall design theme. Data strips and microchips will seamlessly integrate into the whole office pattern. 
You should have a wealth of ideas on how to design office interiors at this point. Now it's time to check some impressive office exterior design ideas.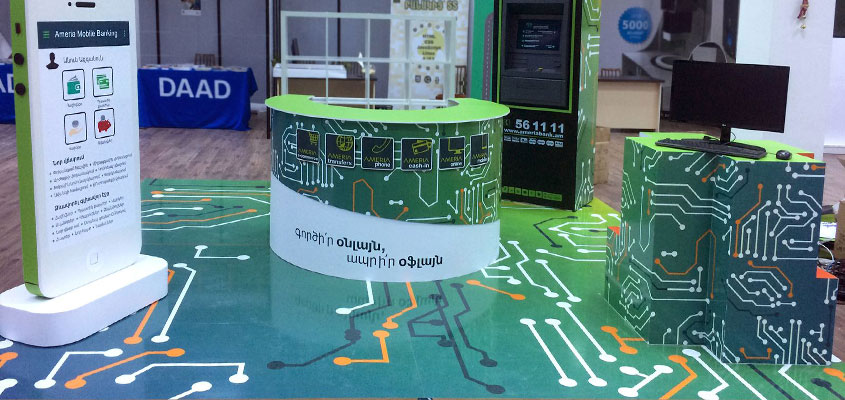 Office Exterior Design Ideas
In this section, we will give you ideas on how to design your office exterior. Make a stand with prominent exterior branding. Mark your territory with the following office exterior design ideas.
Idea 44. Express your corporate identity with notable design solutions
Thinking about how to design an office exterior? Display your company name with big aluminum signs to make the first big impression whether it be for a current client, a prospect, or a curious passerby.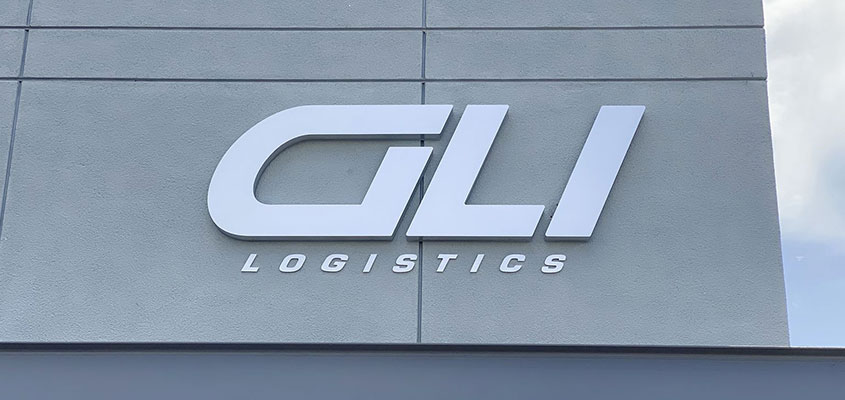 Idea 45. Put your office name and address on luminous rectangular ad-cases
We can likely agree that every office should have welcoming signs but how do you design this feature into your office exterior to make a long-lasting impression? The answer is simple. Use a 3D format with lighting effects to boost visibility, pizazz and engagement.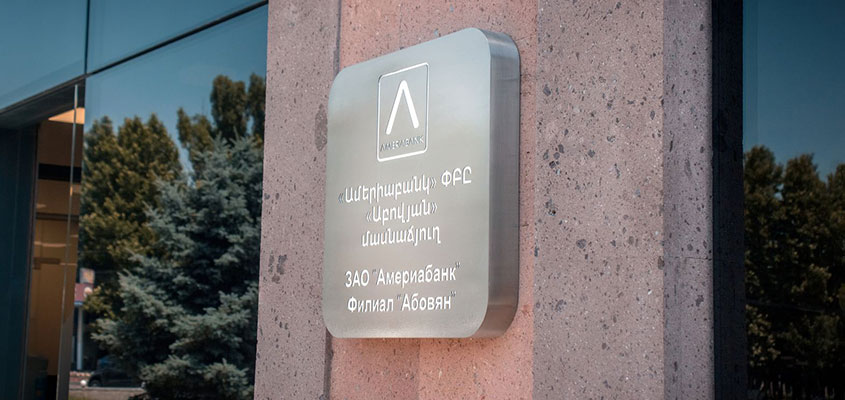 Idea 46. Provide external navigation into your office with big exterior adhesive posters
Apply eye-catching exterior decals and make a big impact on your customers. Exhibit basic information about your availability, contact details, or special notices. Let people know about your  operating hours, address, or social media sites. Be bold with your presence.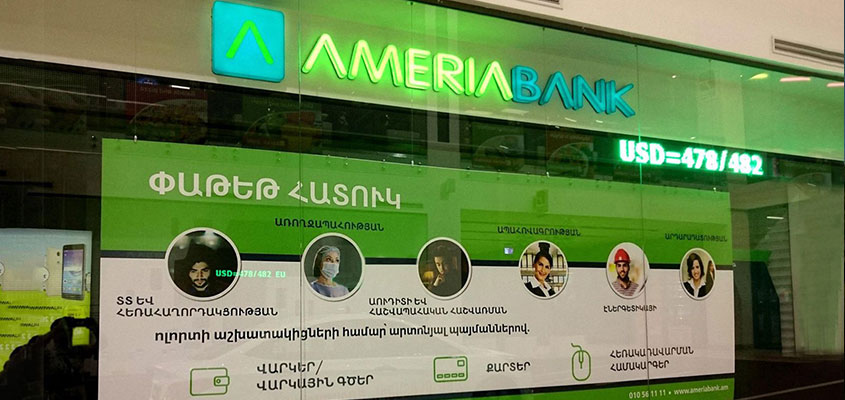 Lastly, remember to create a private hub with your office design elements. Let your employees escape for a mental break. Nothing is more fulfilling than seeing your team members with an improved morale. Establishing a positive company culture will make your staff work more effectively.  
We look forward to helping more businesses build their dream office spaces.
Contact us at Front Signs to select a simple yet engaging office design idea to reflect your brand identity. Help your staff stay in the best mood possible during work and make every customer experience a success!