Office Signage: Guide to Increase Employee Productivity
Creating a cool atmosphere for workers, sitting all the time in front of  PC, is only beneficial for your business. Choose office decorating tools to promote good mood and work enthusiasm.
First things first- the general office interior says much about your company's brand and style. It creates space, where the employee enjoys the work process. What does that mean?
He or she doesn't wake up with negative thoughts, is in a hurry to come and doesn't want to leave soon. Moreover, the working process goes smooth, without a hint of a stress for you and your worker.
Many innovative companies adopt the open design for their workers to sit in long rows of desks without walls separating them. Yes, it might create a noisier environment, but it allows more creative and dynamic collaboration, which leads to a better teamwork.
There are endless office signage options to choose from. The more challenging it can sound to you, more enthusiastic are we to make the impossible POSSIBLE.
Here are Some Creative Ways to Optimize Workplace and Employee Productivity and remember to
– ABC. A-Always B-Be C-Creative –
A for Awesome Acrylic and Aluminum signs
The nearest thing to a person is his or her name. With Acrylic or Aluminum nameplates, you will create a happier environment for your employee. This welcoming and collaborative environment can have a positive effect on the employees. Thus increase their performance and efficiency. With a simple trick, you have HAPPY Employees and PRODUCTIVE Employees.
Table nameplates are also a popular choice. Made of silver or golden Aluminum for a professional and solid look, your employee will just shine, take care of the office furniture including his or her nameplate.
Think of Department name plates and the comfort that it provides to your workers. Department name plaques create open access and easy transportation along the stairs of your office.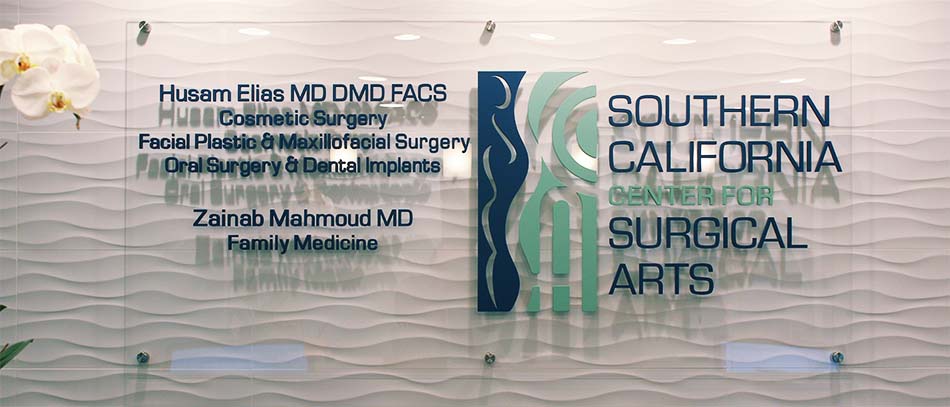 But Wait!
Almost forgot about acrylic pen stands.
Release your workers from a messy desk, table organizers are just great for pen and other. Start with these creative office signs and create a significant change towards the better and expected results.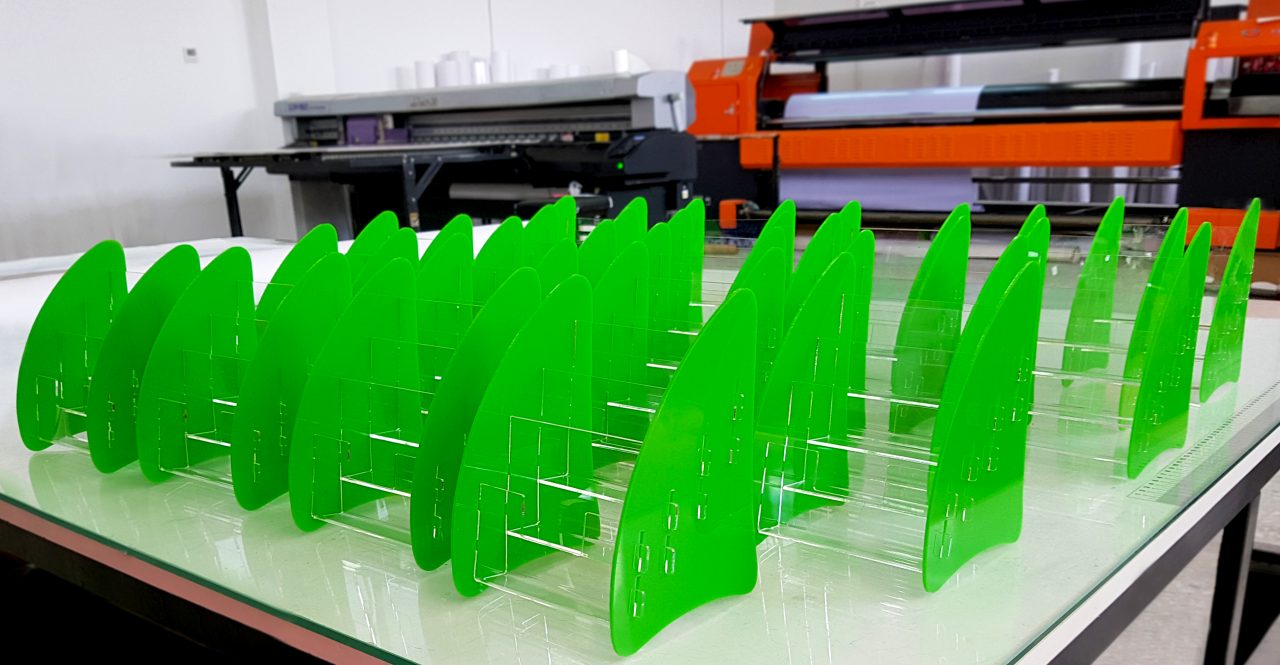 B for Branding Backlit Letters
Backlit sign is just one sign, right? One sign, unlimited options.
The 3D signs look just great without illumination, which is handy for daylight. Its illuminated option creates totally different feel during the evening. Decorating your office with these channel letters and/or displaying dimensional logo light box sign can only mean killing two birds with one stone…
The advantage of these reverse channel letters is, that they have an impressive look. Whether you go with non-illuminated or light up signs for business, create more dynamic space for your staff members and welcome them with these dimensional displays.
Always has a psychological effect on the employee; energizing yet professional. Creates a solid work atmosphere.
Also, using CFL bulbs (a better choice than Incandescent bulbs) is a better choice. For those who are so engaged with their work and don't notice how on the earth it got dark…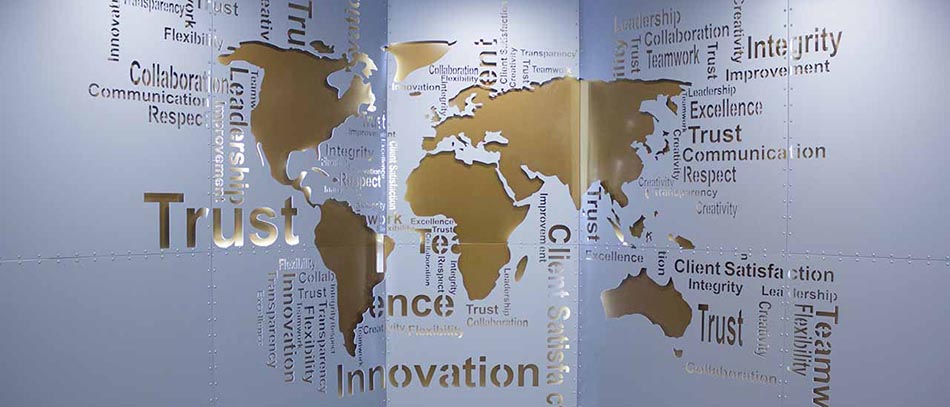 C for Cute Custom Decals
It is very important to find the sweet spot to balance the workspace interior design. You can optimize with these versatile vinyl lettering options. Custom vinyl decals are of different types: wall decals, floor decals and window decals.
These trends are still contested.  Companies utilize these creative tool whilst employees get more mobile and productive. This strategy prevents the destruction of office property. These office lobby signs create a lively office away from the stale environment.
Wall graphics with motivational and inspirational quotes give a finishing touch to the office. It reflects Company's vision and working culture. As your workers walk the halls of the office, wall signs remind them how their work is, how much appreciated and important. These custom signs create an aesthetically and professional atmosphere. Modern large format printing allows to depict any design with interesting business quotes.
Using cooler wall decal colors like green, blue or purple create more relaxed and inviting atmosphere. Whereas, warm colors like red, orange and yellow are associated with being more creative and warm.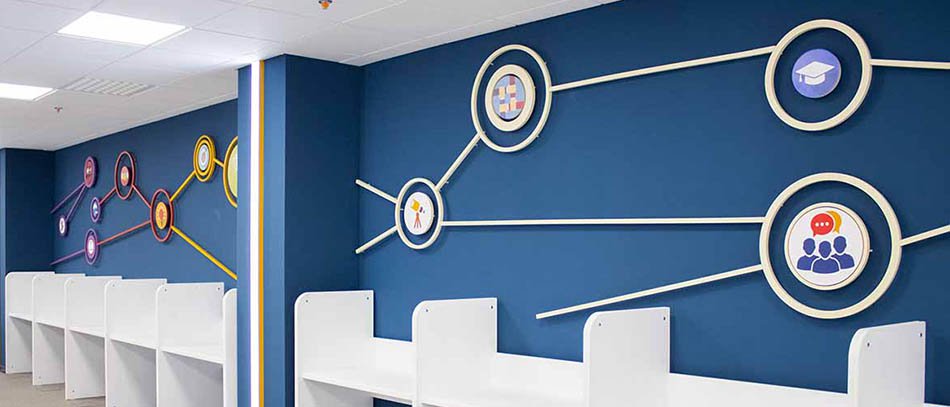 Floor graphics blend fun and function. It is not always to decorate the office with big and shiny objects. Little creativity will take the old space to a new level with floor decals. Floor vinyl decals will replace the stuffy carpet and color the blank tiles. Give new breathe to the office with a humorous message, or company motto or use to direct the foot traffic.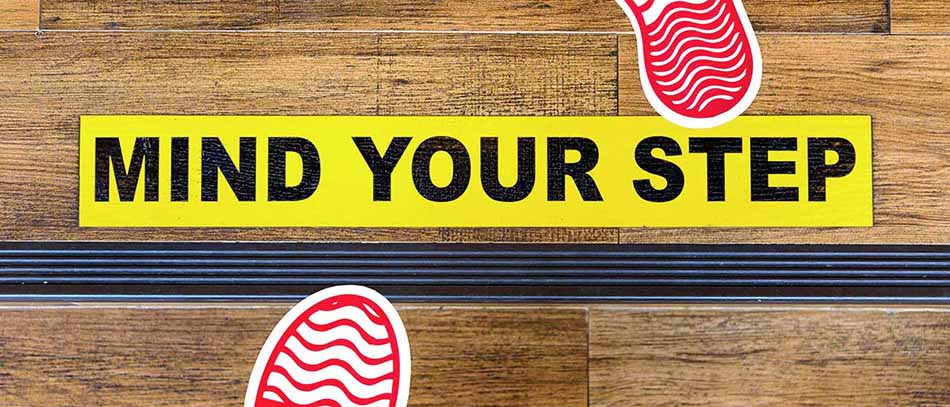 Window decals and graphics make the most of your space and help to use the office space with best and optimized ways. Create a healthy environment where employees just thrive with these adhesives.
Window graphics create a comfortable and no-stress and frustration atmosphere.
If there are options to choose for the new office, choose bigger and wider windows to maximize sunlight transmission. Or use Compact Fluorescent (CFL) bulbs that replace sunlight and are naturally energizing.
Quote examples:
"Creativity Is Intelligence Having Fun."- Albert Einstein
"If you can dream it, you can do it" – W. Disney 
"If you want to go fast, go alone. If you want to go far, go together." —African proverb
Work SMARTER not HARDER.
We all can work, but together we WIN.
Less stress, more success.
Focus on the solution, not the problem.
Be the reason somebody smiles today.
Intelligence is the ability to adapt to change. —Stephen Hawking 
Innovation distinguishes from a leader and a follower. —Steve Jobs
Talent wins games, but teamwork and intelligence win championships. —Michael Jordan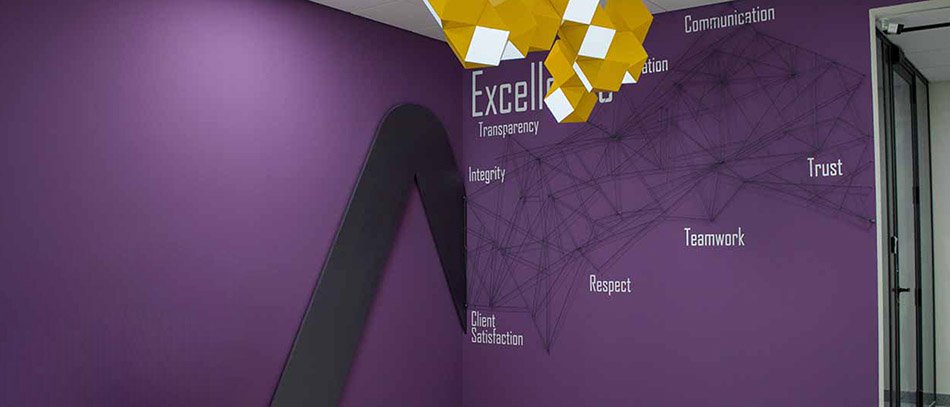 Details that make small changes that worth to pay attention to:
Wayfinding signs will increase the proud feeling of any worker. Here's why.
If you are using directional signs, it means that each and every one of your workers is happy to see the office sign, which is getting closer and closer. Or using the directional sign for office interior signage is also beneficial for you and your team. Directional signs make a small difference and easy accessibility. Parking signs can also be handy as the worker will feel himself or herself taken care of.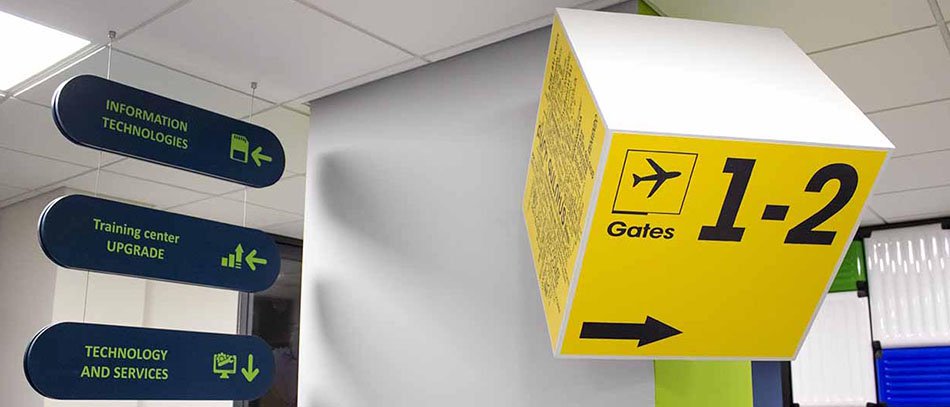 Door signage is also important. Let it be wooden, beautifully engraved or vinyl wrapped or lettered on the glass door.
It's a very creative way to decorate the department doors and the nameplates. If you have glass doors, you can add some colors to the second bottom part of the doors to depict a stylish graphics.
The advantages of glass doors is an again better light transmission. Can be totally transparent also, yes, meaning no door at all.
Use these small but totally customized office magnets to stick them around on a whiteboard or a fridge. Magnets are a small gift for your workers. All of us are always happy to place pictures with magnets. Hence, Magnets from work with a company logo on it, will serve them long and remind of nice memories of your workplace.
Mug stickers are just as creative as your employees. Custom decals can also be applied onto the mugs and say for example: "World's Best Boss".
Another way to decorate the dull wall is to use custom PVC signs that make up a whole wall graphic.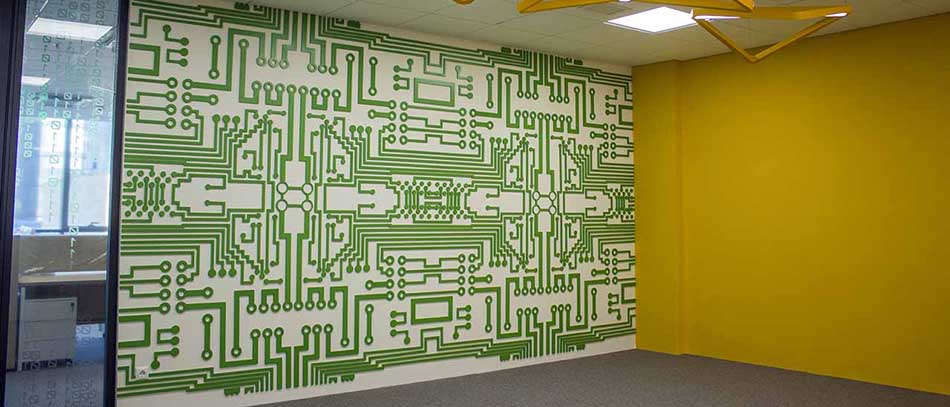 By the way, have you heard about Courtesy signs?
Reach office nirvana with a courtesy sign. Encourage your workers towards professionalism, creativity and collaboration.
As the current trend goes for open space office layouts, maybe Courtesy signs with nice graphics and slight humor will be needed.
Hereby, some COURTESY SIGN QUOTES: 
Please quiet… important work in progress.
Keep this area clear.
Wait here for service. Please live the kitchen cleaner than you found it.
Office rules…
Parking lot rules… etc.
Corporate signage culture improves team productivity, makes the workspace an inviting place where people enjoy spending most of their time.
It's very important to personalize their work desk, create a comfortable atmosphere. Employees greatly appreciate flexibility and value company's innovation openness.
Office interior design state that employees are in the first place for you and create a sense of comradery and responsibility to work better and harder.
Don't forget that the key to your success is your
Together (Trained)
Everyone (Educated)
Achieve (Attracted)
More  (Motivated)
Did you ever think of how to optimize the workspace efficiency?
Creating a brand signage for office is firstly important for your staff members. For them to work harder, to be motivated and be motivated towards coworkers, customers and etc.