27 Bank Marketing and Design Ideas for Effective Branding
You can't impress your customers with old marketing techniques anymore. Turn the tedious banking process into a joyful experience and make your brand stand out in the competition.
Step into the banking game with our innovative bank marketing ideas. Make sure to also check our unique bank design ideas including the elaborate AmeriaBank design project done with an impressive variety of bank signs and imaginative details.
Intrigued? Keep reading!
Creative Bank Marketing Ideas
Most people consider banking a stressful necessity; something they'd rather escape from if they could. Give  your marketing campaign an innovative touch and engage more consumers with new banking ideas.
So without further ado, check out the following creative marketing ideas for banks.
1. Creative banking ideas for a new branch to understand the needs of the local community 
A clever human resource approach in your local branch will create a better interaction with your customers. These useful hints will help you gain their confidence and give you success in offering your services.
Wondering how to generate interest? Let's see!  
Be interactive: Keep it interactive with your customers. Highlight your success stories on the screens installed in your branches.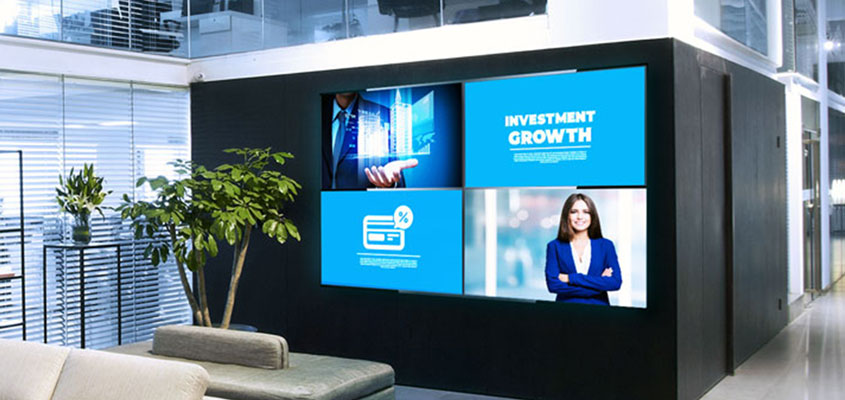 Give something for nothing: Look generous by providing sweet freebies to your guests and create a pleasant atmosphere. The selection is wide, from lollipops to small biscuits on hand. This will go a long way in creating promising prospects between you and your customers.
2. Staff branding ideas to effectively communicate your company's culture and atmosphere
Never underestimate the role of your employees. They are the tellers of your brand's authority.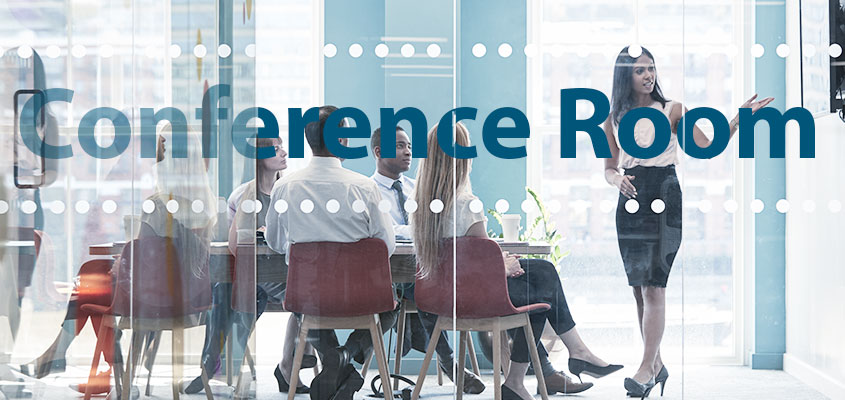 Highlight their success-stories in your social media channels and clients' emails. Reveal their talent and drive people to your doorsteps. 

Hold competitions and feature the 'Best Employee of the Month,' focusing on their achievements. Motivate your staff and get the reward of reliability!
3. Banking ideas to get new customers 
Boost your marketing strategy with high-level customer service. These hints on how we keep up with quality customer care will help you get started.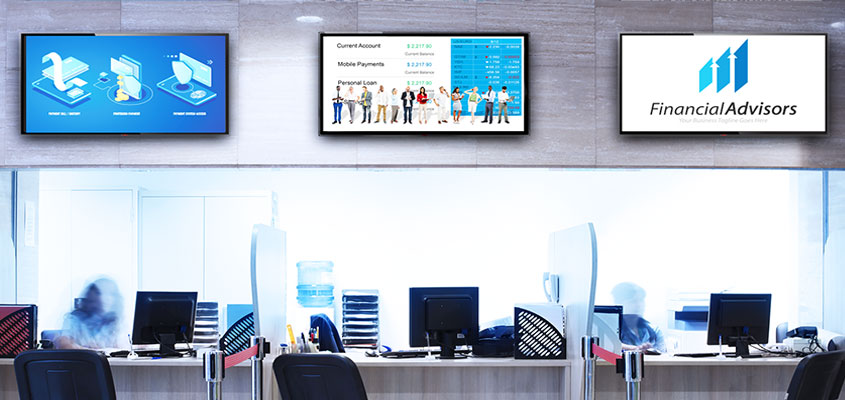 Catch your customers' happy moments and create small videos about the exceptional service they received. 

Review your customer journeys and create a 360 view with screens throughout the branch. Map out their success stories and showcase all the highpoints across the channels. 
4. Unique ATM  ideas to grow revenue
Creative ATMs are one of the most effective bank branding ideas. So don't miss the chance! Keep reading to see how to attract attention!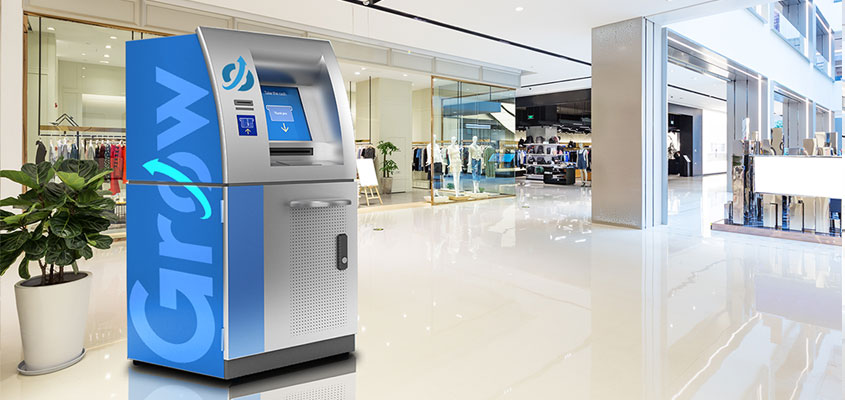 Travelling ATMs

are a hilarious way to 'chase' customers while shopping. ATMs on wheels are both fun and effective since visitors won't need to cover long distances to use your ATM services.  
Cupcake serving ATMs

don't complete your basic bank transactions but they do satisfy your sweet tooth. Select cupcake type by touch screen interface and pay by credit or debit card. Tasty? Once your customers have their dose of sugar, their banking tasks will seem like child's play. They'll certainly be back for more. 
Happiness spreading ATMs

are meant to share the love with others. These ATMs give money away to spread kindness. Just take the necessary amount and make someone happier. The ATMs even suggest ways to spend money. They're awesome!
Promo code giving ATMs

provide users with promos for choosing a particular service. One example are the taxi services that give promo codes for the first few rides for downloading their app. You can do all this by using ATM services!
Get your custom ATM signage designed!
5. Bank promotion ideas with social media to spread your word 
Social media is a powerful way to communicate with your customers. It's a way to tell your story and answer their concerns. Continue reading for social media promotion ideas.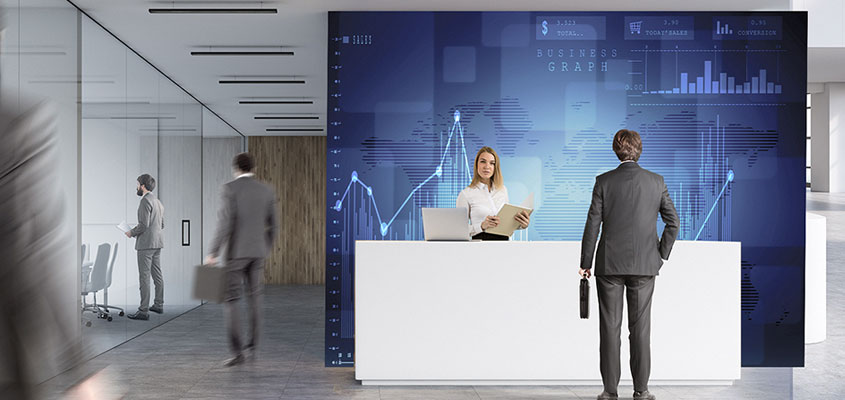 Spotlight third-party success stories. People always want to see what others are saying about them and make important decisions based on this feedback. 

Spread the word to your existing customers and highlight the unique journey they experienced while using your services. 
We know you want to make a big impact on your consumers. Marketing alone is not enough – the bank design is essential for that as well. Coming up, you will get bank design ideas to rival one of the most prominent bank design projects ever conducted. Stay tuned! 
Unique Bank Design Ideas 
Evoking a feeling of warmth inside bank walls is a priority demand nowadays. A unique design is an essential element throughout this process. Make the first big impression with the following creative marketing ideas for banks. Get new customers with mind-blowing interior design. 
Take a look at the bank design ideas below to make your mark! 
1. Bank Interior Design Ideas
Looking to turn your bank design concepts into reality? Interior design requires a professional approach. The right combo of colors, textures, lighting and interior signs will make you the winner in the game.
The following bank interior design plans can be part of your branch decor. Go on reading!
1. Lighting informational signage to tell the customers where to go.
The easier it is for visitors to find what they're searching for, the more likely they are to count on your services. Attach these light up signs to your bank walls as a creative solution for wayfinding signage.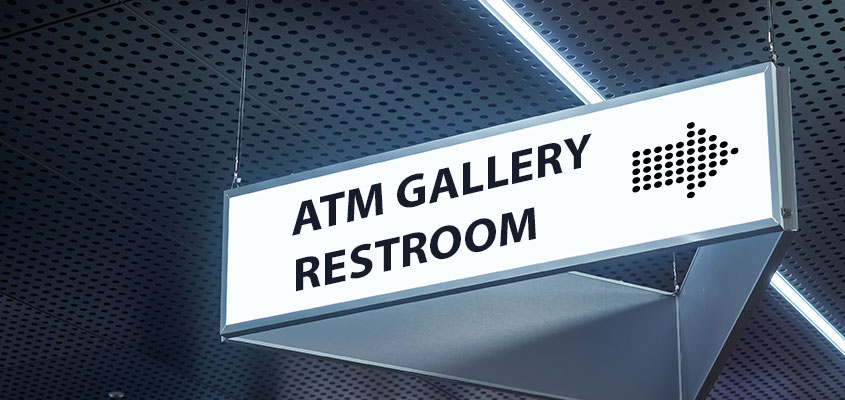 2. Wooden bank signage to add an element of nature
Elegant wooden signs or custom lobby signs inside your bank can elicit a feeling of peace. They evoke nature, enhance attractiveness and generate empathy.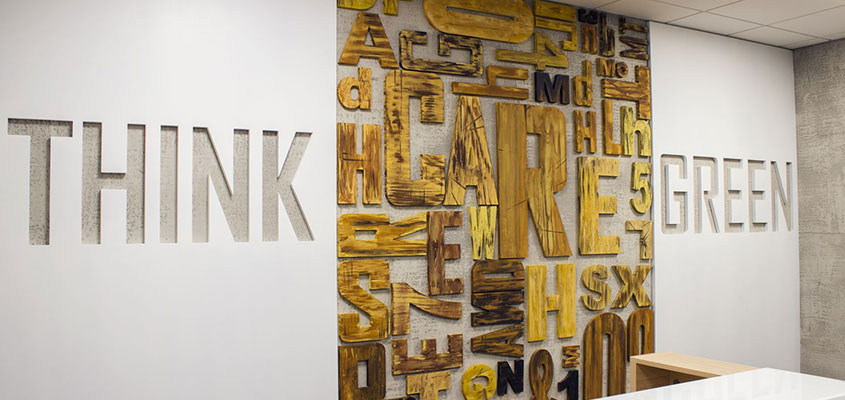 3. Persuasive signage to advertise a specific product
These business signs affect people's behavior through persuasive language and imagery. Use them to communicate specific points about featured items and special details of your brand.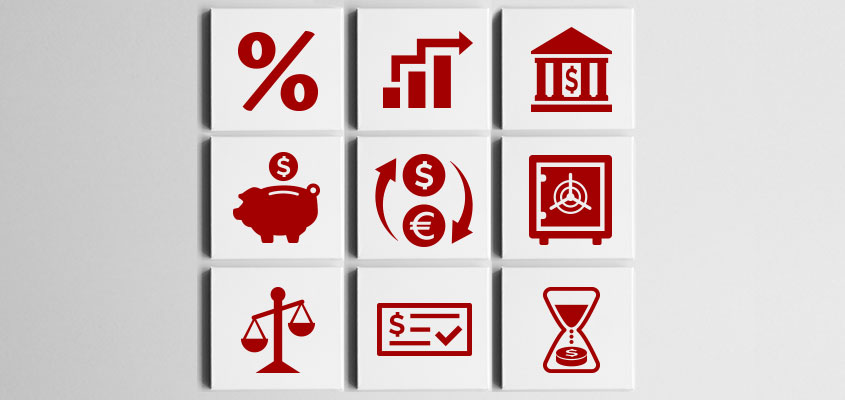 4. Promotional mats to put on bank doorsteps
It turns out that mats, designed for cleanliness needs, can serve as a bank advertising idea. So make sure you have them in your list of bank office signage ideas.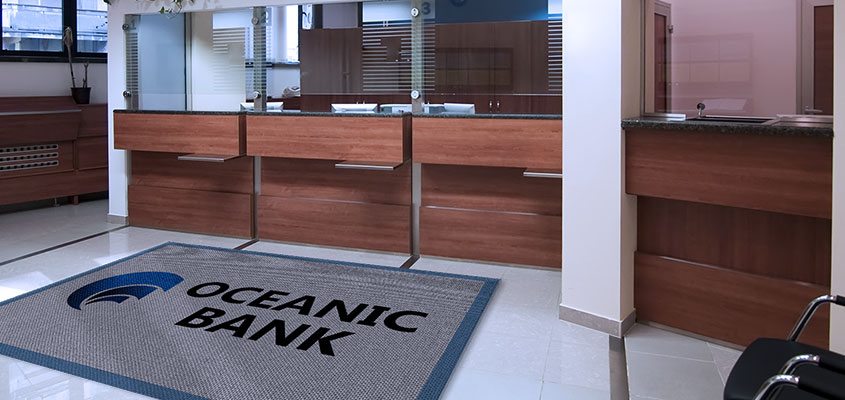 5. Freestanding multifunctional boards to provide a bright space 
These pylon signs are a great way to catch attention with height alone. Put any advertising message on it or simply emboss directives to help orient customers.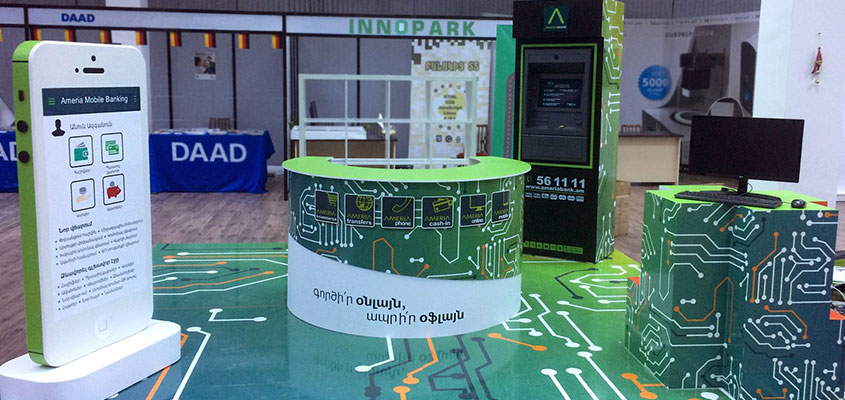 6. ATM signage to show important notifications
Raise your customers' awareness of policy updates and special notices. Install ATMs inside your bank and put all kinds of useful information on them.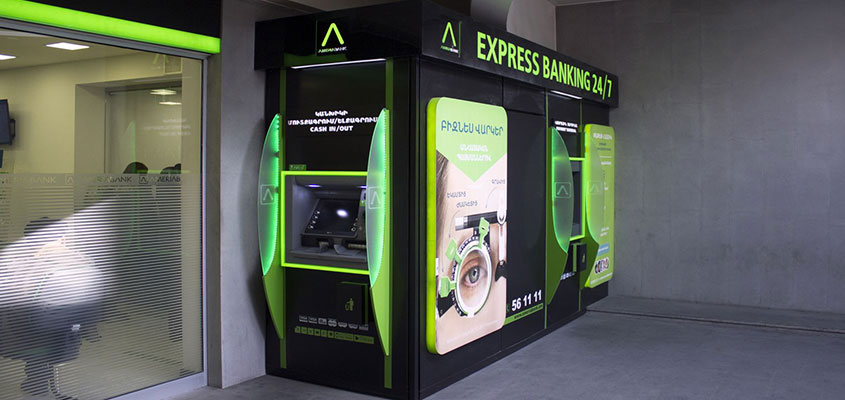 7. Wall sticky patches to voice concrete info
Removable and re-peelable, these wall decals offer a simple way to entertain and enhance customer experience. They can have any design with the help of large format printing, adhere to any flat surface and don't leave residue after being removed.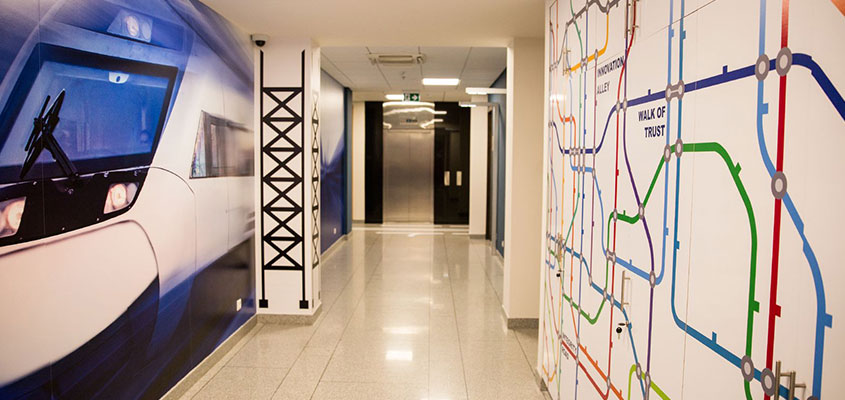 8. Contemporary style interior design to showcase space rather than things
Develop a groundbreaking atmosphere inside of your bank to please your customers. Use the latest technologies in your hall and complete the contemporary style of interior design.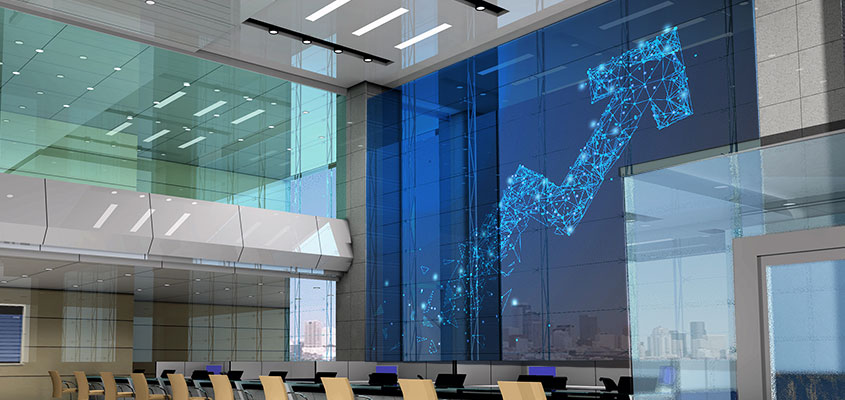 9. Teller desk interior design to demonstrate your employee's wider smile
Another original interior bank design idea is a teller desk.  This type of design offers comfy space to both customers and workers. This option helps use the bank interior and when combined with good color and texture, the success is in your hands – or in this case, seats!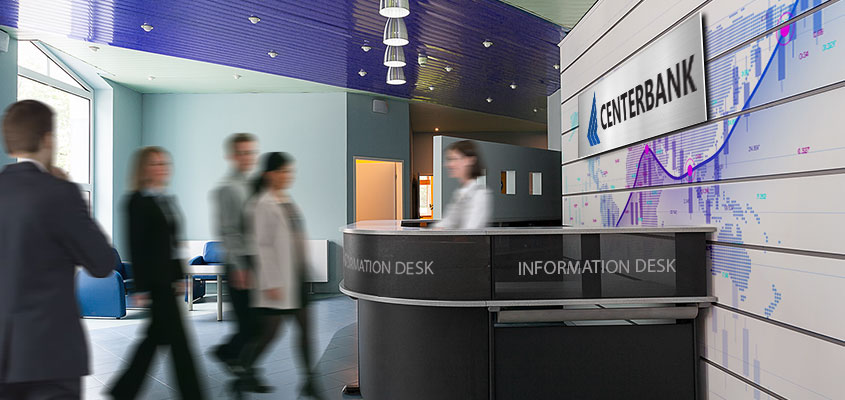 Related: 46 Compelling Office Design Ideas to Inspire Motivation
10. Interactive bank interior design to contribute to strong connections with your visitors 
Don't be afraid to establish multi-functional areas inside your bank. Provide basic bank services along with multi-purpose rooms, lecture halls, rooms for children, and more.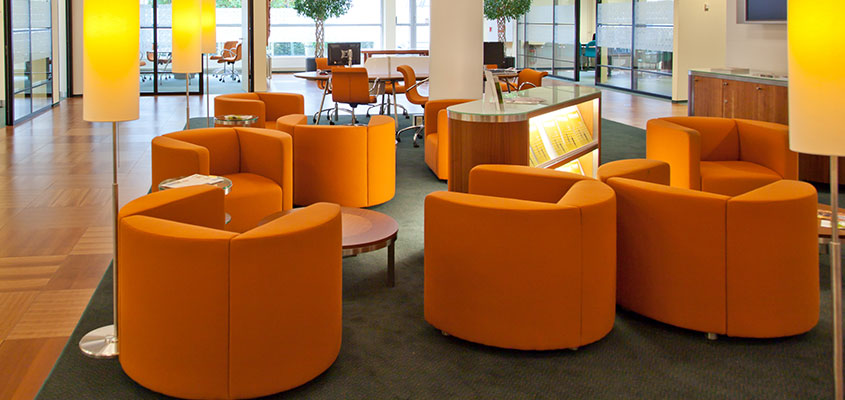 11. Open space bank interior design to produce an inviting and relaxed environment
Remove any wooden boards or flat metal materials inside your bank interior. Open spaces look warmer and brighter with the right color combo. This also clears way to better convey useful digital messages on the walls for your customers.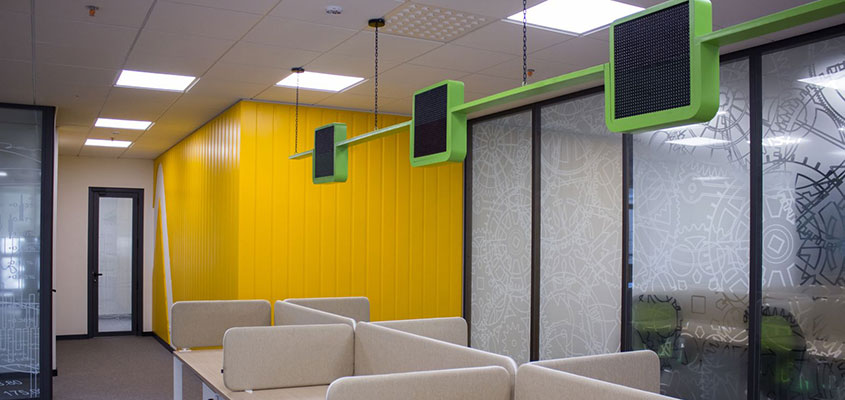 12. Custom-field interior design to make a big impact and look attractive
Banks of certain spheres have the privilege of  impressing their guests with a themed interior design. Customize your design by selecting from a wide range of bank interior design ideas offered on our site.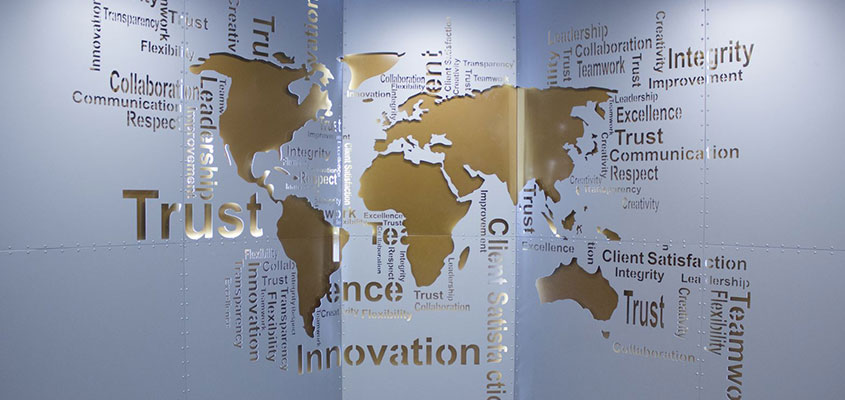 Get help with your bank interior design!
2. Bank Exterior Design Ideas
The bank exterior design process is vital for success. Let's begin with outdoor bank signage. These logo signs are excellent features to model your bank's brand identity and make your mark on your customers.
It should draw the customers in and excite them by showing what to expect inside. Let's take a look at exterior bank signage ideas you can get inspired by.
1. Channel letters to cheer up your enterprise in large-scale areas
Use these custom-made letters on top of the bank building. Durable aluminum channel letters withstand any weather conditions, giving a quality appearance.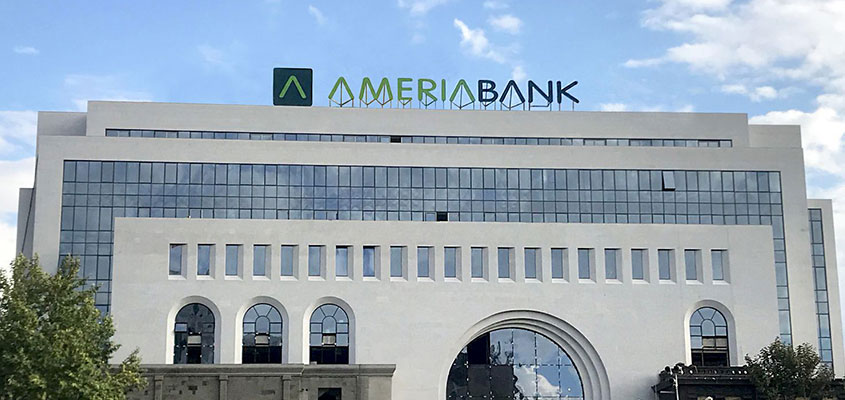 2. 3D letters and signs to expand your advertising reach
A creative way to make your bank name stand out is with 3D signs and letters. Multi-dimensional custom signs create an opportunity to get recognition from longer distances.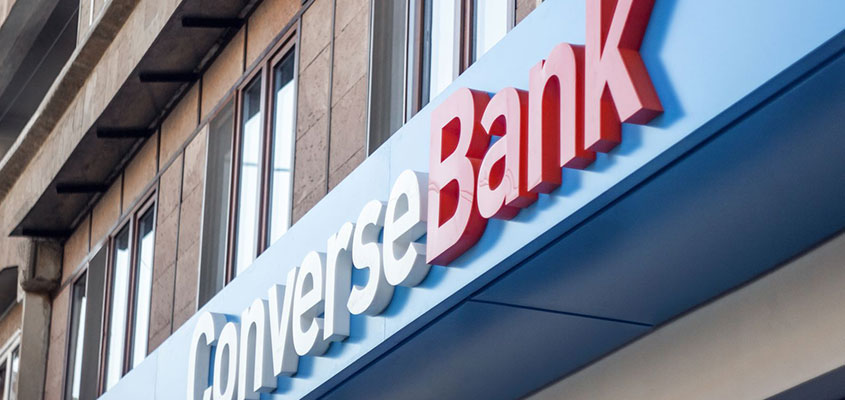 3. Luminous signs to illuminate  a bank logo design idea 
Glow-in-the-dark light box signs are one of the most creative and effective bank design ideas.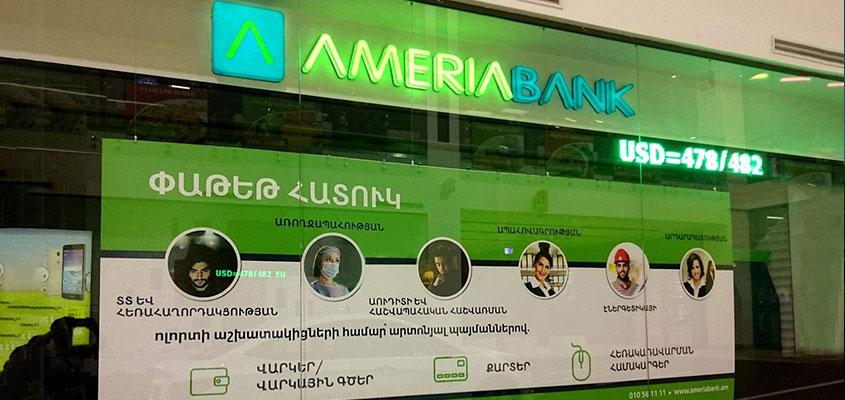 4. Window decals to make your bank shine 
Promote your brand with these stickers that don't bubble when installing on wet material.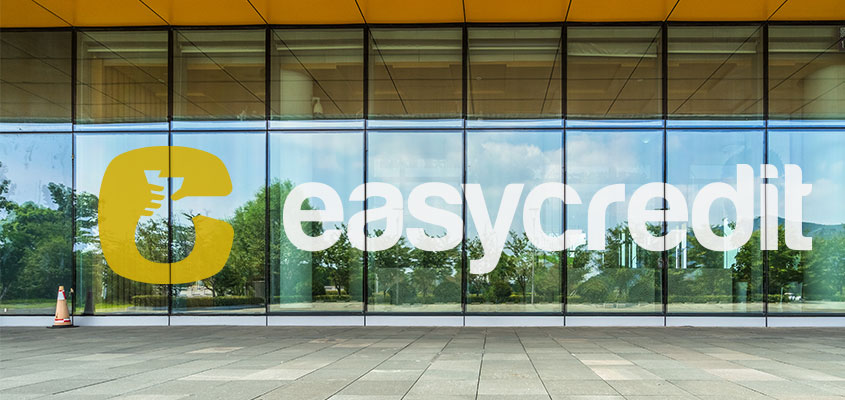 5. Bank directives to speak to your visitors 
These multi-functional and flexible building signs are a great option for outdoor installation. Use them to broadcast your hours of operation, ATM addresses and other special announcements.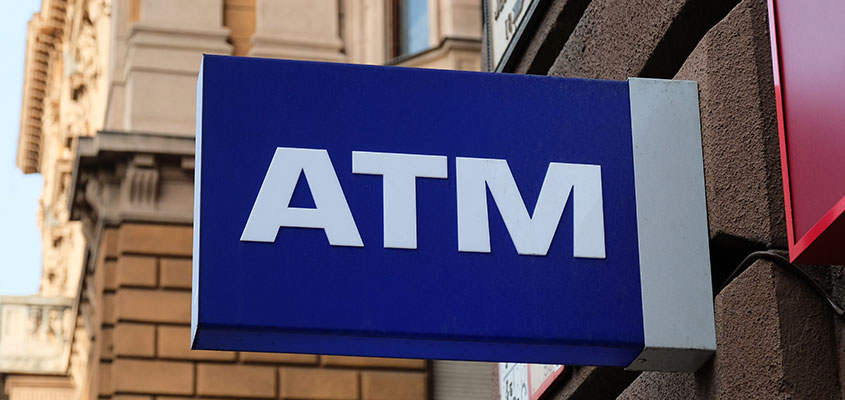 6. Colorful exterior design to limelight your originality
Nothing is more eye-catching than a color contrast. Playful colors have a great impact on people's psychology, driving their attention towards your brand. Colorful layers are what you need if you appreciate extraordinary  and captivating attributes.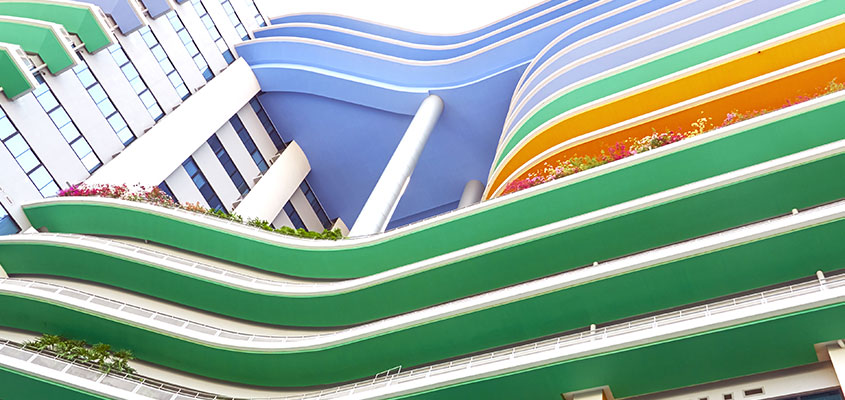 7. Digital visuals to build consistent pillars in communicating with customers
There are different determining factors for working with a particular bank. For example, the way marketers reach out to customers is an important factor for building sustainable relationships. Use digital visuals on your exterior facade to grab people's attention.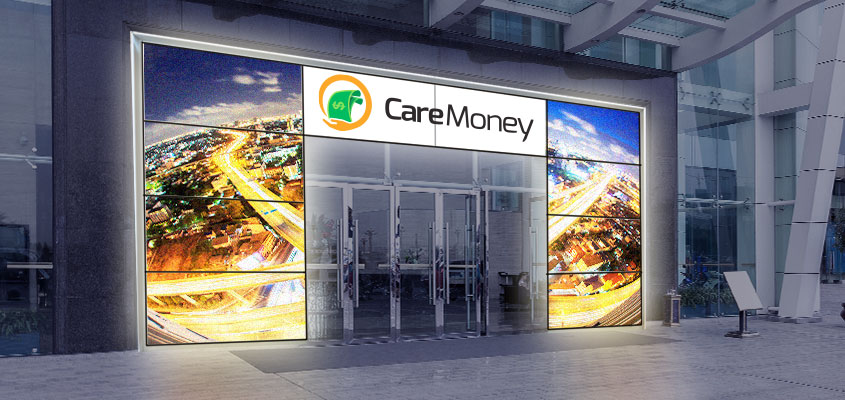 8. Long-stretching light bars to be noticeable from long distances
Installing long bars with lighting effects will emphasize the creative style of your bank. This effect will be catchy in crowded areas even from far away.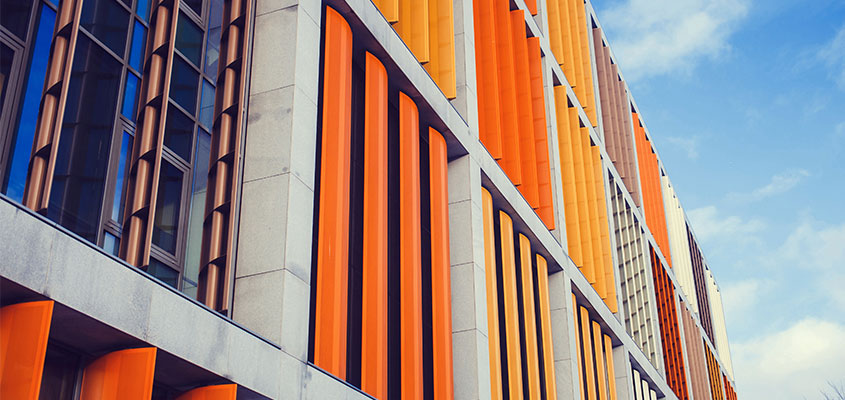 Image by Maksim Ladouski via Shutterstock
9. Plant and herbs in pots to add  natural accents
One of the most creative marketing ideas for finance companies is adding plant pots in your bank's exterior design. Some fresh organic herbs on your bank window sills will create an eco-friendly atmosphere.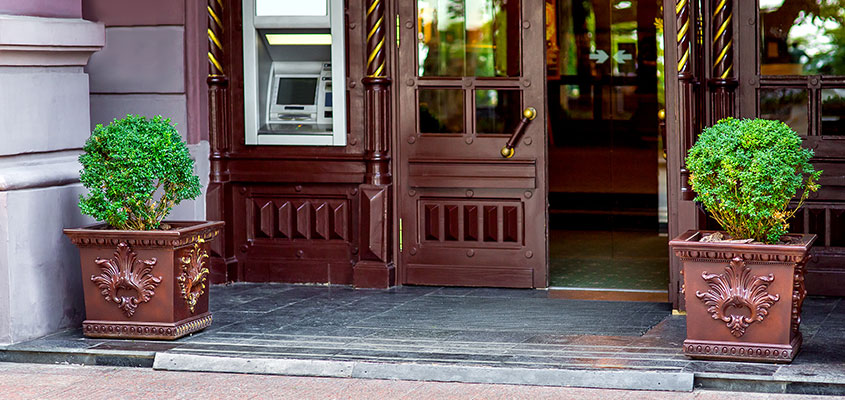 10. Big sticky letters to advertise your bank services
These bank design ideas warrant high brand recognition. Apply window decals to display your brand name on glass front doors.  This will both promote and make your bank name stand out to any passersby.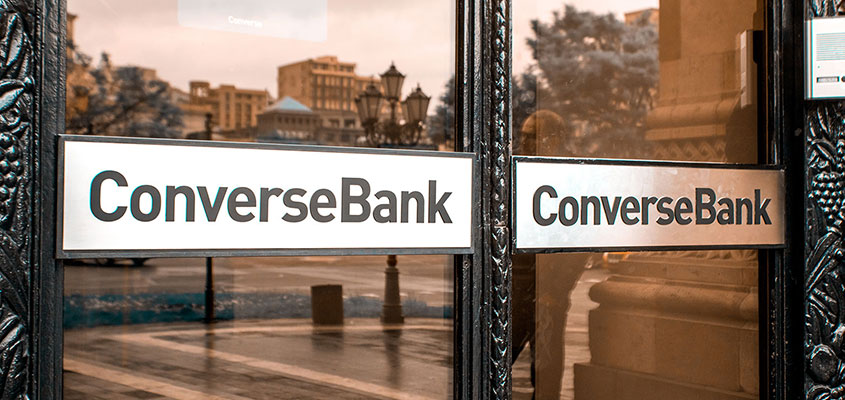 Hopefully, this article helped you upgrade your bank design considerations. 
Contact us for bank exterior design assistance!
Choose from a great variety of bank design options we offer.
Don't miss the chance. Turn to us and get the best custom bank design ever!