Creative Office Reception Designs to Upgrade Your Brand
A great lobby presents your business and makes the first positive impression on guests. This is a collection of popular office lobby design ideas and styles. Use these creative reception designs to turn your one-time visitors into long-time clients. Let's get started!
A great lobby presents your business and makes the first positive impression on guests. This is a collection of popular office lobby design ideas and styles. Use these creative reception designs to turn your one-time visitors into long-time clients. Let's get started! 
Office Reception Design Concepts to Stun Your Guests 
Lobbies can make or break your image and lobby signs play a crucial part in this. Below, we've compiled a list of creative office reception designs that will bring your office to a whole new level.
Let us provide large format printing services for your contemporary office lobby design. Contact us to get a free quote.
Biophilic Office Lobby Design
Nature-inspired creative office reception designs are as popular as it gets. Use green business signs made of wood or aluminum and light them up with LED bulbs to improve visuals. Mood boosting office lobby design ideas benefit guests and employees alike. Flora and fauna along with other natural components are used in this style to support wellbeing and reduce stress. Organic materials and earthy color schemes are also beloved aspects of green office lobby design ideas.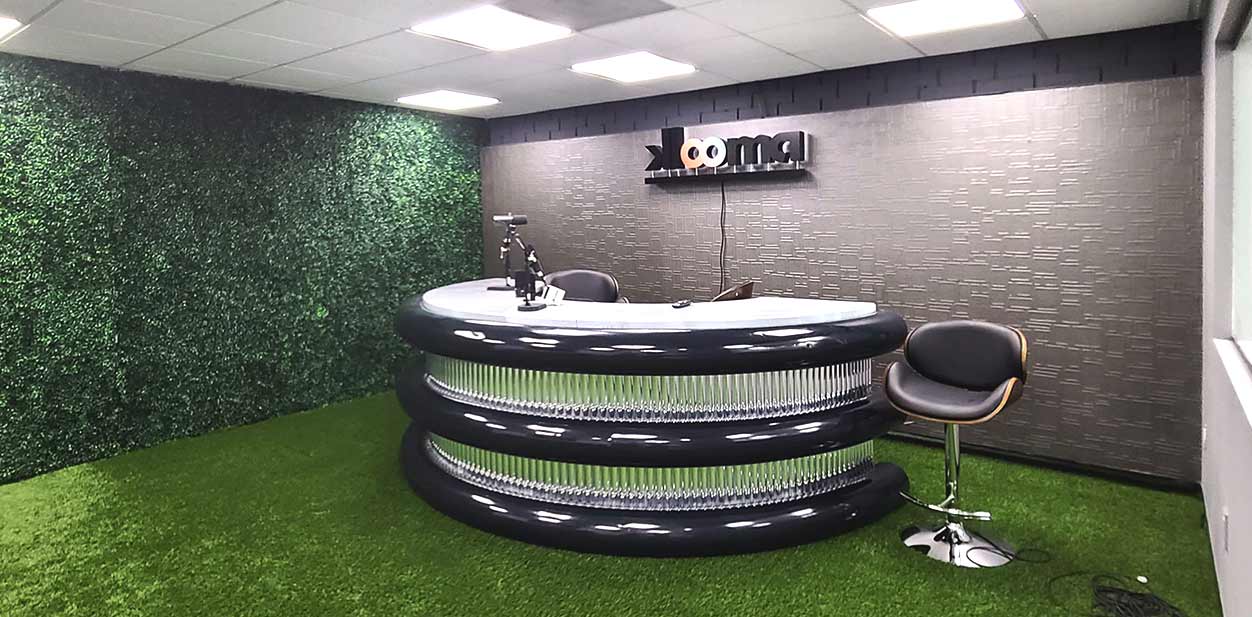 Our signage company will help you create a fresh atmosphere at work. Get a free quote now and let your team enjoy a pleasant workspace! 
Boho Office Lobby Design
Get a hip influence for your office lobby design inspiration from the Boho movement. The style mixes carefree vibes with cool colors, textures and patterns to create personal and practical spaces. This might include blending retro motifs and antique furniture with eye-popping designs like 3D signs. Let the exterior of your lobby attract clients with visually appealing pylon signs. Celebrate your brand's unique and uplifting identity with Bohemian office reception ideas.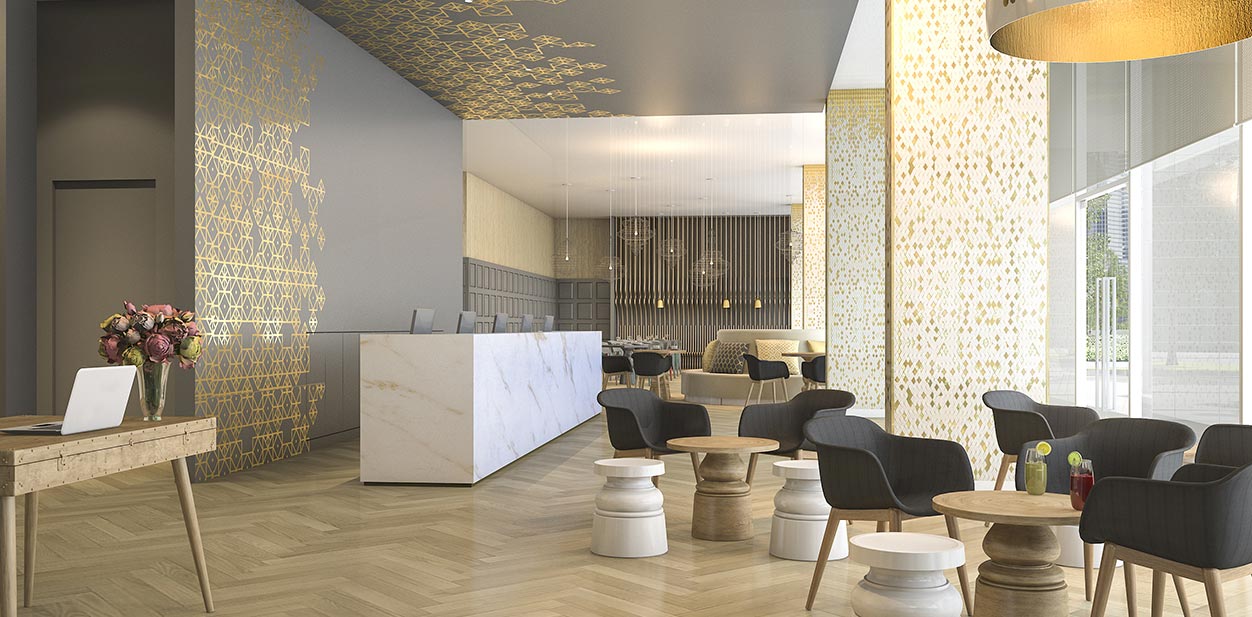 To read about more lobby design ideas, check out this article.
Pop Art Themed Office Lobby Design
Pop art is a rebellion against the exclusivity of fine arts. This creative office reception design integrates decor emphasizing freedom and creativity. Choose high-quality office signs that don't conform to mundane shapes. Creative office reception design with a pop art style is all about the avant-garde. Don't miss out on supplementing iconic building signs for the exterior of your premises to reach a cohesive aesthetic.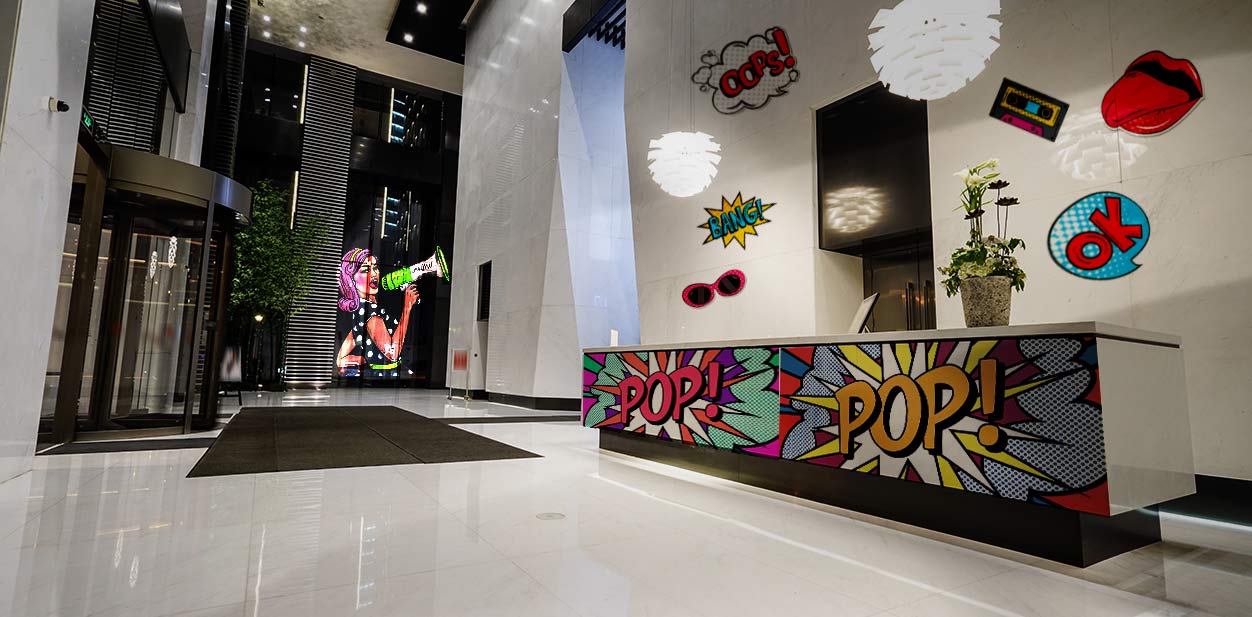 Contact our team to bring your office reception ideas to life with custom structures. We also offer sign installation services. Get your free quote now!
Office Lobby Design Ideas to Elevate Your Space
Here's a list of office lobby design ideas that will speak volumes for your lobby. From office reception design ideas to reception wall design, you'll learn how to achieve a refined and appealing look. 
Office Reception Area Design Ideas
Office lobby design inspiration comes in many forms. What are the most effective ways to make it happen? Read on for cool office reception ideas that will make all the difference!
A smiling receptionist is the first person to attend to your visitors' needs. Complete the ambiance with subtle interior signs. You can use office reception desk design ideas like charming quotes or team pictures to warm up the mood. You can get office reception inspiration with dynamic features like light fixtures and floral walls. You may also play your favorite music at a low volume and let it drift into your guests' ears. These ideas will style up the space and set a pleasant mood for people as they walk in.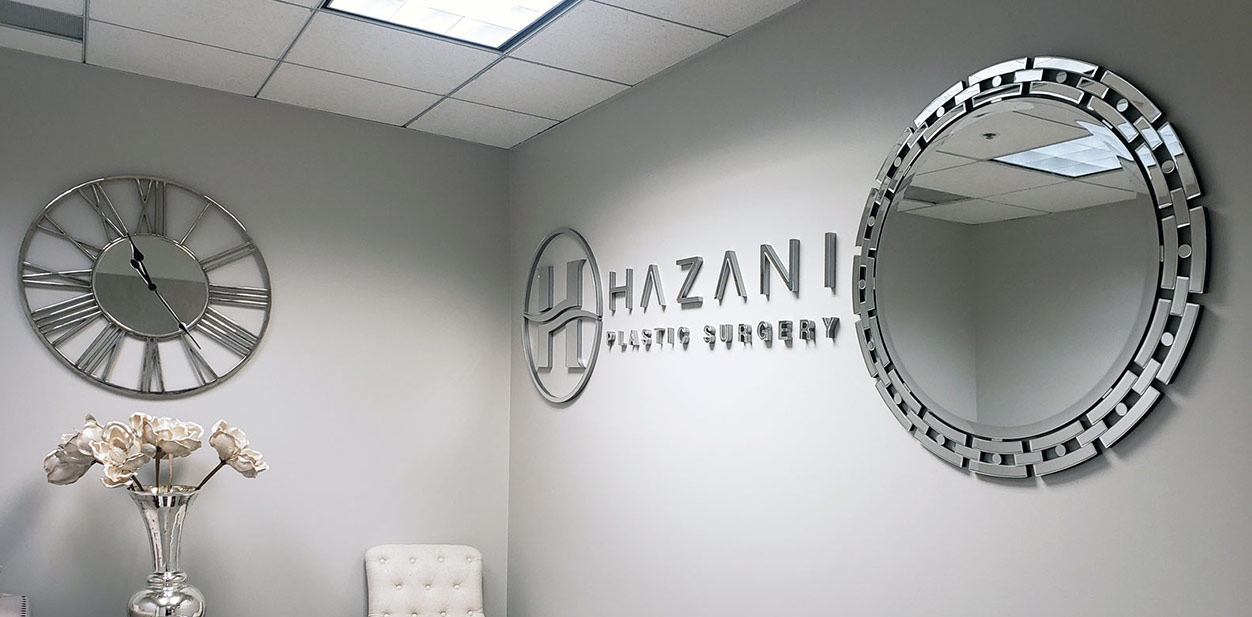 Discover more office design ideas to inspire productivity. 
Your creative office reception design should be uniquely yours and no-one else's. Display your logo signs and make them larger than life. It should be bold and immediately recognizable. Make your logo or brand name the centerpiece of your office lobby design ideas. Custom signage with stand-out elements will ensure that no visitor forgets your great lobby.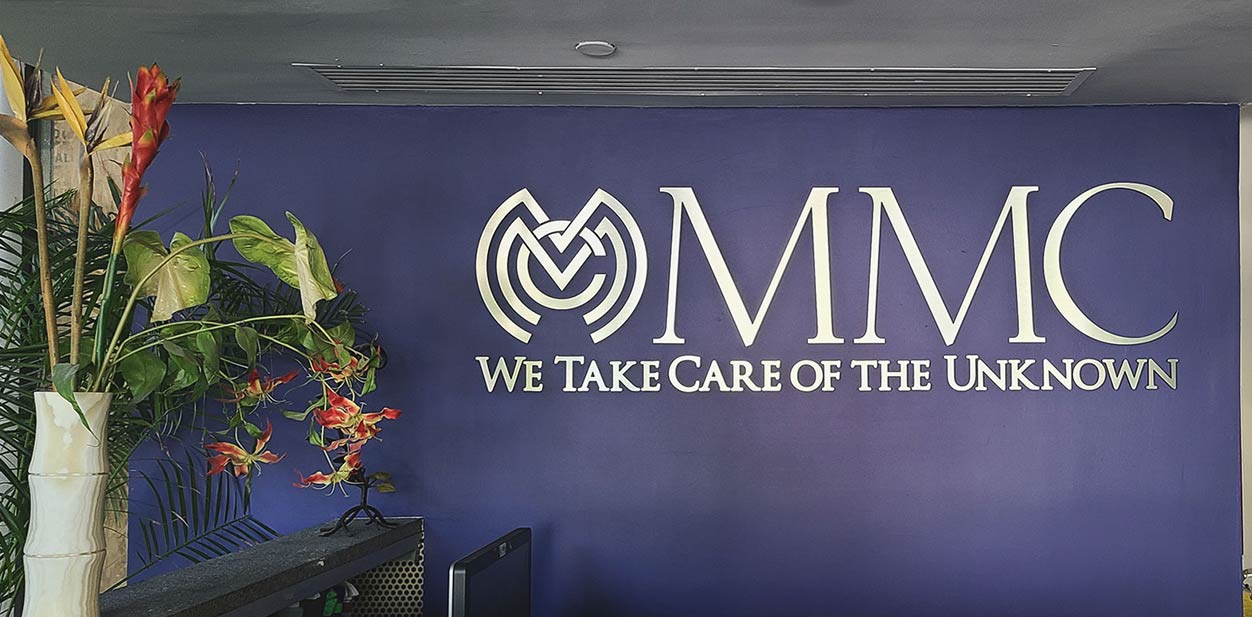 Office reception area design ideas that feel natural and homey are always a plus. LED light up signs will simulate the ambiance and make your space feel more welcoming. The best office lobby designs use light box signs to draw attention to key areas.  Stylizing your logo or company name this way offers visual depth and strikes a balance with your creative office reception design. Opt for moderate brightness to establish a sense of ease.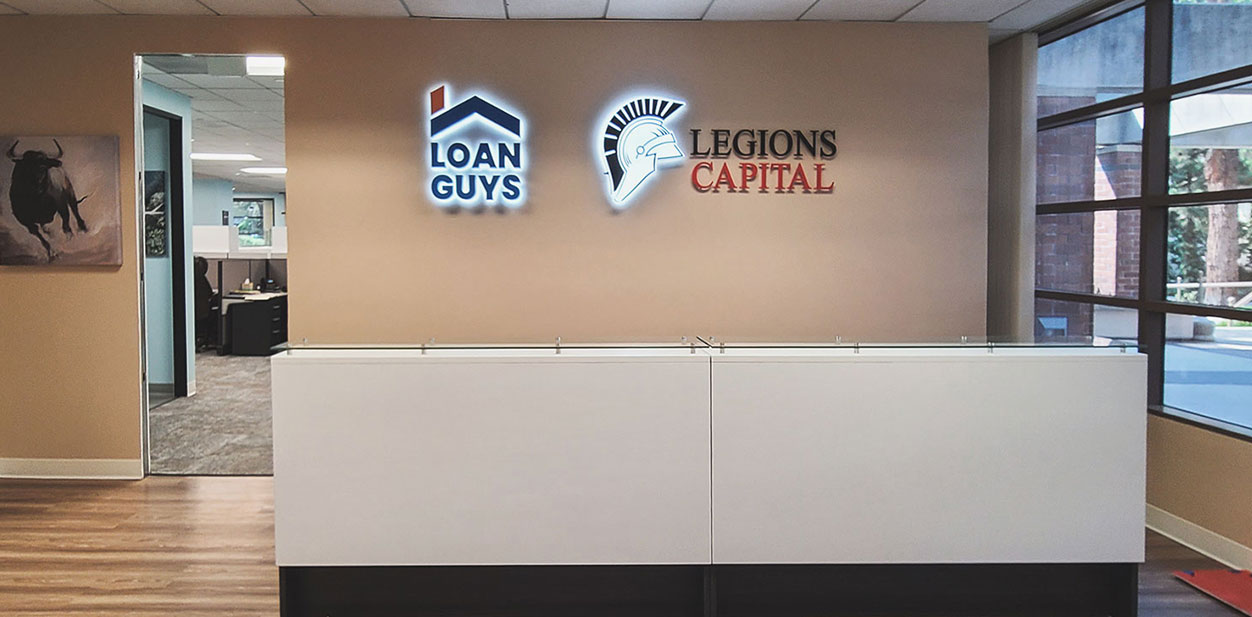 Achieve the best office lobby design with show-stopping solutions crafted by our talented crew. Contact us to get a free quote.
Office Reception Wall Design Ideas  
An accent wall is a lobby must-have. It can complement your office reception desk design ideas or stand alone as a spectacular lobby backdrop. Here are the top office reception wall design ideas for luxury branding. 
Wow with architectural elements
Your lobby wall will take on an interesting look with office reception ideas that take advantage of shape and structure. First, install beautiful channel letters to add elegance and brightness to the space. Then spruce them up with an ornate frame, arch or even colonnades. Make sure to keep all the office reception area design ideas in the same theme. 
Office lobby design ideas can create luxury with a few simple elements. For instance, office reception wall design ideas that use fine wood automatically usher in a sense of sophistication. Don't forget to include stylish conference signage to match the polished aesthetic of your brand.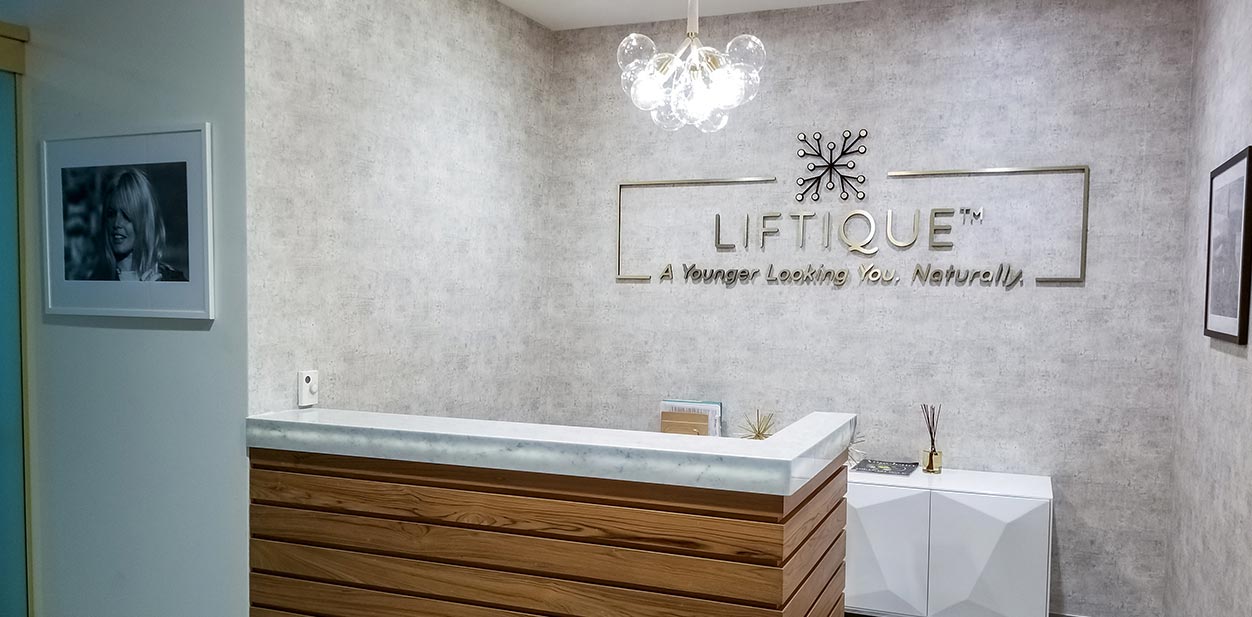 Here's a great range of modern conference room design ideas. Don't miss them! 
Contemporary office lobby design pieces should look attractive but also share the values of your business. These creative office reception designs and ideas will make your space more functional while providing an aesthetic appeal to your lobby. 
If you're looking for design and sign manufacturing services for your office reception ideas, don't hesitate to contact us and get your free quote.