13 Green Marketing Examples and Great Environmental Initiatives
Now more than ever, going green is the right thing. When it comes to the sustainable use of precious resources, we must look towards the business sector for solutions. Today, pioneering green marketing examples is a necessity.  To get inspired, we have a list of environmentally sustainable companies that are leading the way.
Green Marketing Examples  from Front Sign's Portfolio 
Ninety percent of CEO's stress the importance of eco policies. Environmentally sustainable companies shape strategies that take their surrounding area into consideration. Front Signs has been operating under a new ethos to address environmental problems in the commercial industry.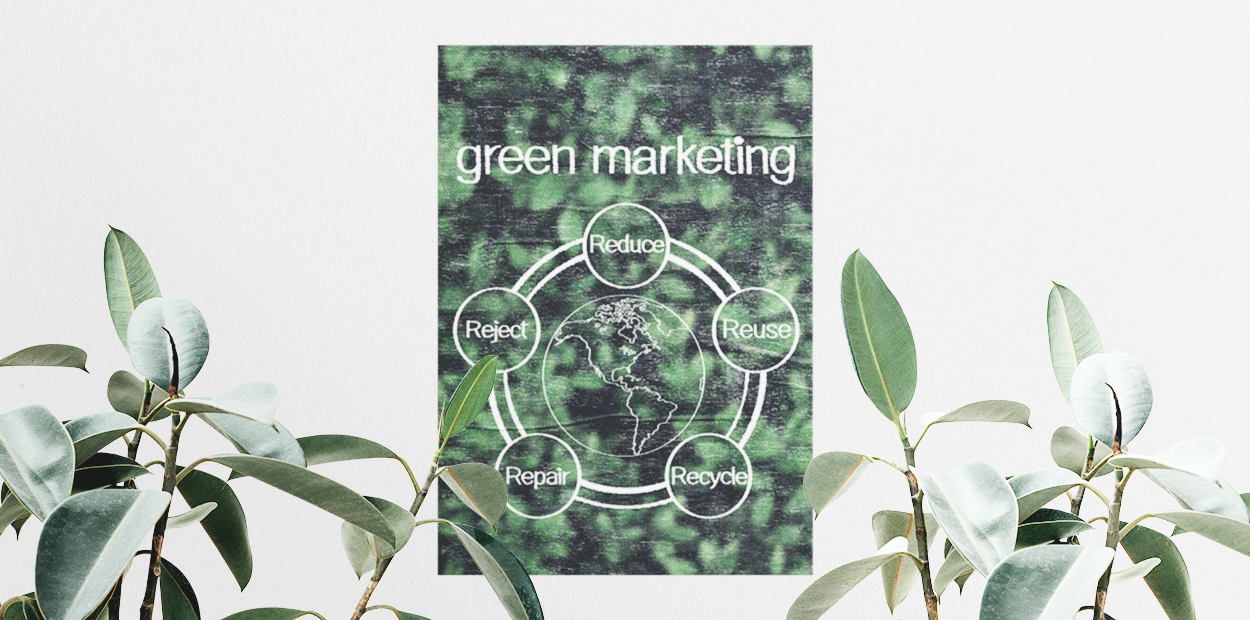 1."Think Green" Campaign for a Bank Design Project
Bank designs are no stranger to creative design themes nowadays. When aligned with eco-friendly concepts, they make headway for the entire industry. Using business signs that are also environmentally friendly, for one, is an investment into a new initiative that pioneers progress for other corporate sectors. 
Interior signs offer another great opportunity for positive change since they contribute to the overall mood of a space. Our team created the "Think Green" wooden design concept for a bank wall. It represents eco-centered values throughout the working space and grants a feeling of environmental appreciation. The wooden decorations offer an ease of mind and bring a sense of peace.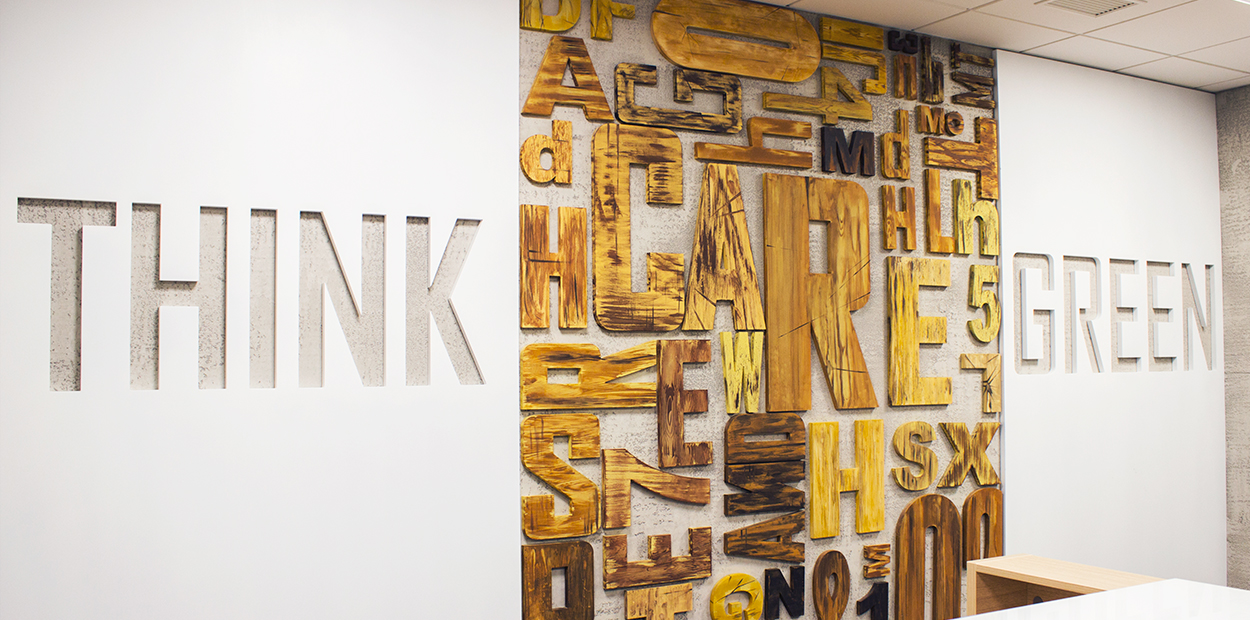 Lobby signs are the first thing people see when they enter your establishment. Putting creative environmental ads at the entrance provides awareness of your eco-friendly values using visual excitement. 
That's what we did for this bank project with a compelling green and wood combination. Light up signs spelling out "Green Town" pop out of the wooden rail frame when customers step into the building.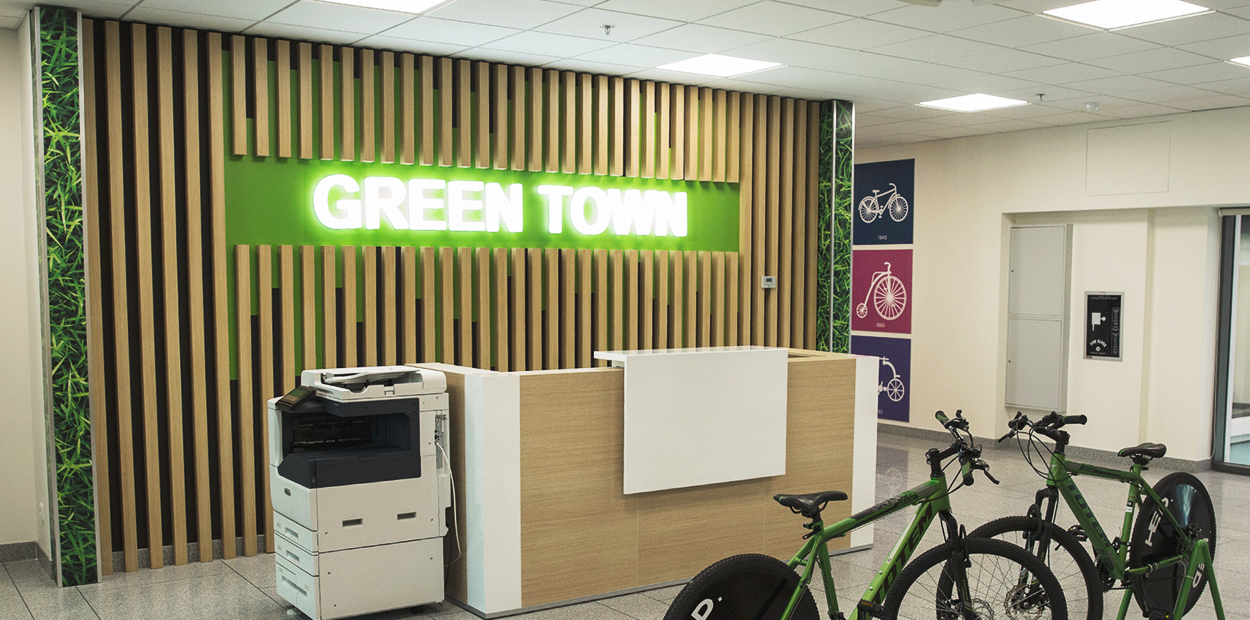 Wall stickers with typical advertisements are everywhere. But every once in a while, companies try to take it to the next level. 
'Think Green" decals in bright green are a perfect green business practice example. They require minimal materials, are easy to apply and can be replaced without creating excess waste. This eco-minded advertising tool reduces the negative impact on the environment with its message, simplicity and functionality.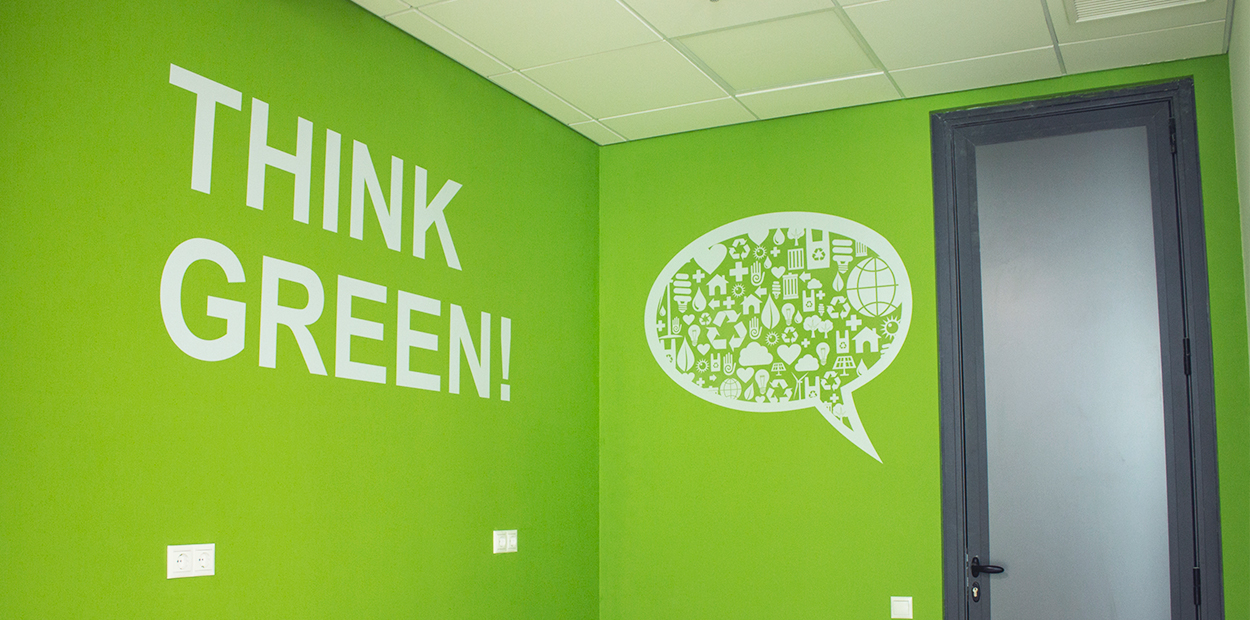 Going green in your office is the best trend to get onboard with in this day and age. Still, making the switch at a bank may seem intimidating unless you find the perfect custom signage solution.
This wooden decoration is the bells and whistles of the bank's environmental journey. Two-colored wood is good enough to send a green message without words. It enhances visual appeal with a sustainable material and showcases an ingenious use for scrap wood, making your brand stand out for people who appreciate resourcefulness.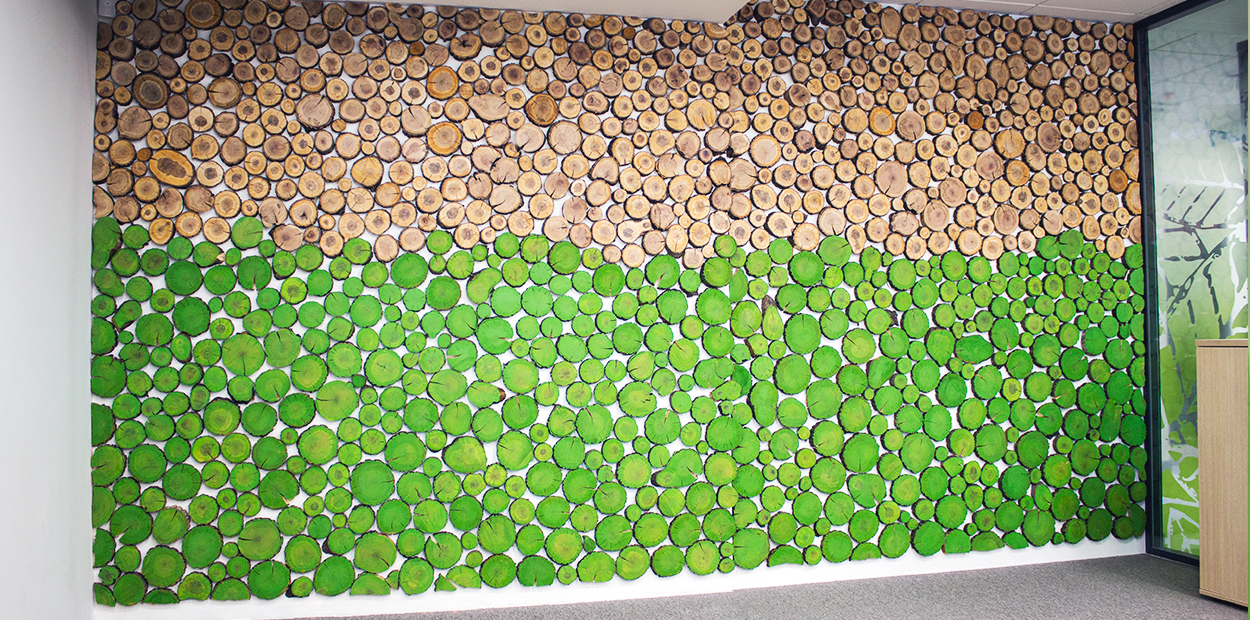 Read our article on inspiring business branding examples that raise the bar.
2. Solar-Powered Presentations for a Philanthropic Foundation
Green energy solutions like solar panels are an important part of environmental marketing campaigns. They not only express the progressive culture of a brand but also exemplify sound alternatives that benefit the natural world. 
The Annenberg Space for Photography became one of the greatest green marketing examples for a philanthropic brand during their latest exhibit. For the show, our experts created solar powered light box signs to illuminate photographic images in their courtyard. Massive repurposed shipping containers were transformed into the gallery itself. 
We depicted their philanthropic mission by integrating a sustainable energy solution into their artistic vision. The forward-thinking corporate event signage project introduced the organization as one of the most environmentally sustainable companies around.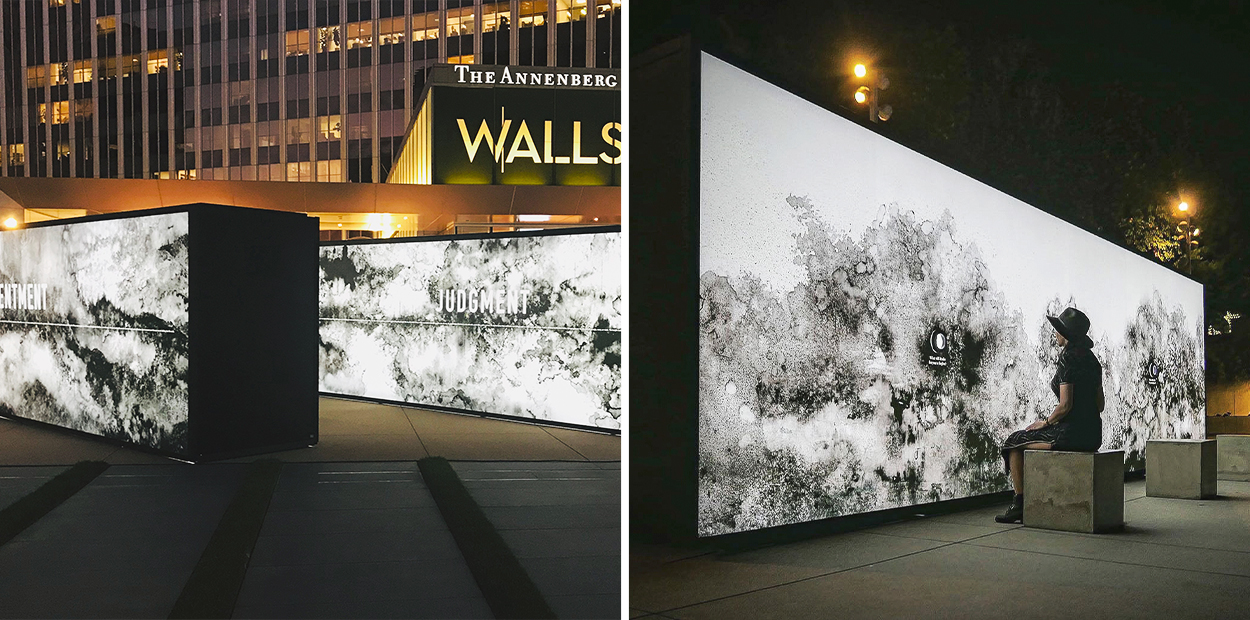 Don't hesitate to contact us to get your custom eco-friendly signage. 
3. Environmentally-Friendly Traditions from a Health-Minded Store
Green business practice examples inspire others. One of the most notable sustainable brand campaigns is achieved through the use of eco store signs. The project we did was for one of the most environmentally sustainable companies in Santa Monica.
We modified office signs to display the healthy lifestyle promoted by Erewhon Market. They encourage organic food and the value of nature. We also used non-toxic vinyl graphics with large format printing to depict their logo signs all throughout the market. They express the company's eco-conscious mission and put an environmental approach into practice.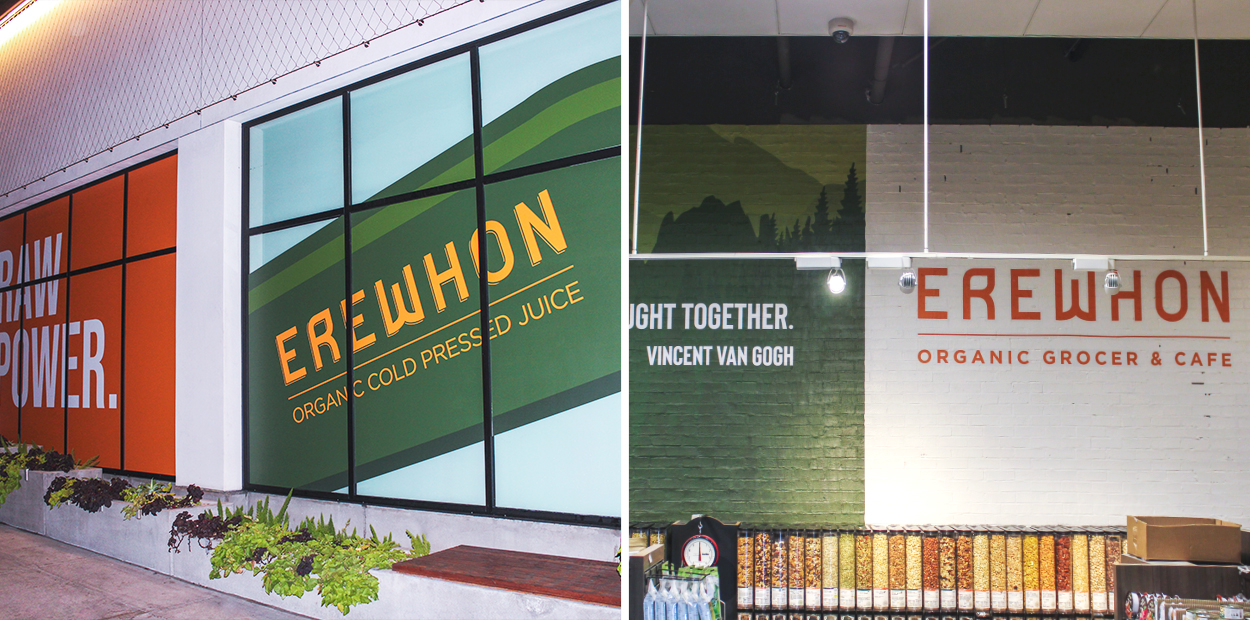 For more information on how to be an eco-friendly business, read this article. 
4. Energy-Efficient Visions from a Shopping Mall Design Project
Well-crafted signs build up company style and reputation. To become a green marketing example with an eco-friendly image is more difficult than simply requesting an attractive sign. We rose up to the challenge and created compelling visuals with a green twist for this shopping mall project.
The sign is combined with natural hues and elements of wood and green. 3D letter signs with energy-efficient LED lights are used to showcase the name of the company. They liven up the eco-conscious construction of the background and the overall environment.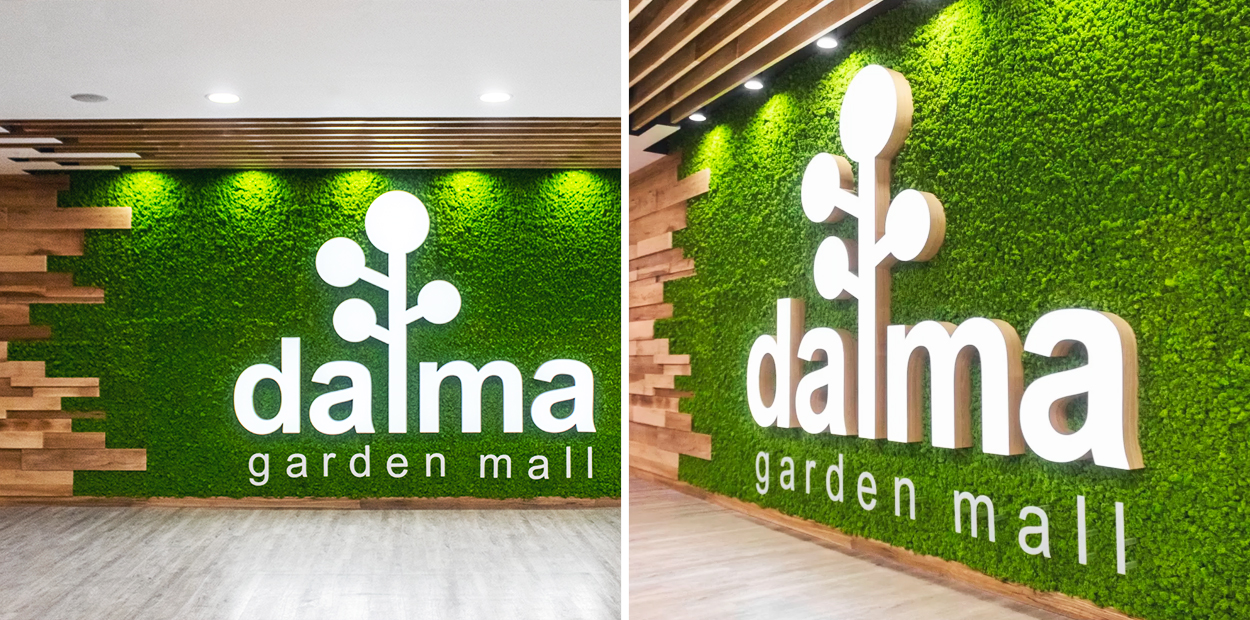 If you want to go green with our eco-friendly signage options, contact us.
5. Green Marketing Example for a Popular Production Company
Aluminum is a favorite medium for environmentally sustainable companies. It's a natural element that lasts for decades and can be endlessly recycled, taking it to the top of the eco-friendly materials list. 
Our experts crafted sustainable building signs for a film production center using aluminum with a brilliant accent. Mirror acrylic is used over the main frame of the sign to reflect the surrounding environment, enhancing the green-appeal of the outdoor signage.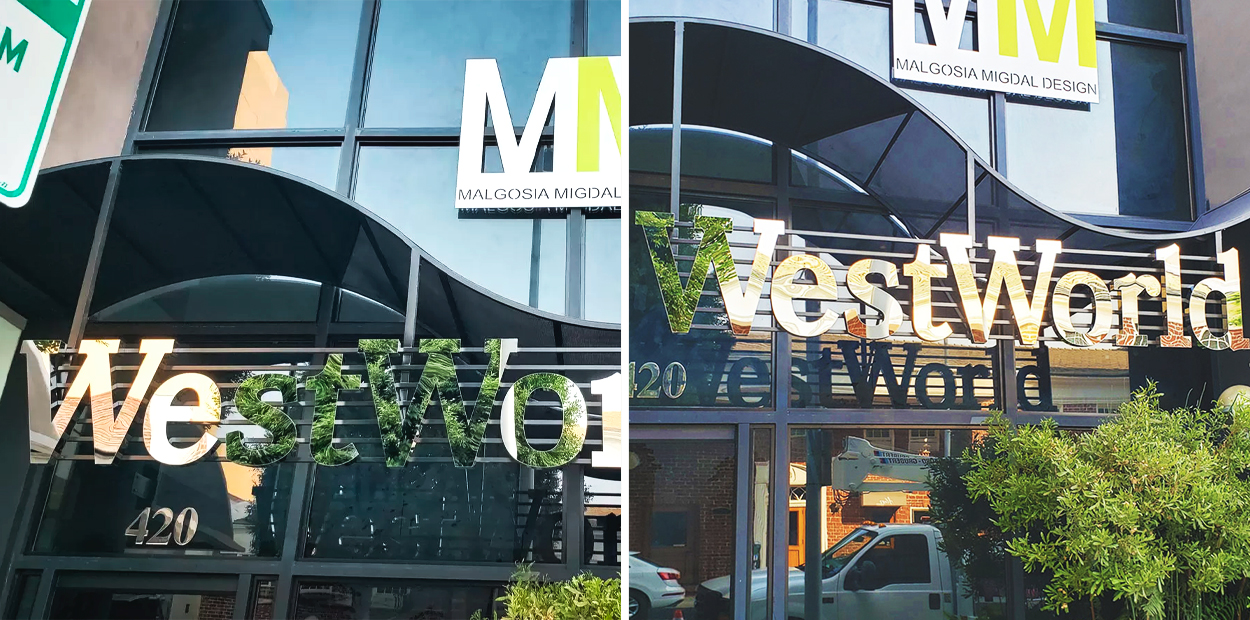 Inspiring Environmentally Sustainable Companies to Learn From
Big enterprises are putting more emphasis on green marketing examples as time goes on. They adopt conscious policies to meet current demand, making a pledge to reduce harm to the environment. They improve their reputation by taking steps towards a greener future. 
Below, find a list of prominent companies that make a considerable impact with their green business practices. 
Biggest Eco Friendly Companies Showing Love for the Planet
Environmentally sustainable companies have started to review their marketing strategies to adapt for climate change. Many have begun acknowledging the need for promoting services based on environmental benefits.
Below, discover green business practice examples that are raising awareness about environmental issues.
6. Starbucks With it's Green Business Practice Examples 
Starbucks is a pioneer of green marketing examples. The company buys only organic coffee and encourages healthy agricultural practices. 
Starbucks is committed to shaping a greener strategy for the long term. It plans to reduce gas emissions to landfills by 50% during the next 10 years. It also unveiled a program aimed at replenishing 50% of the water used for their coffee production by 2030. 
The eco approach is seen in its green-friendly production strategy as well. The company uses low bitrate water valves as a part of its sustainable brand campaigns.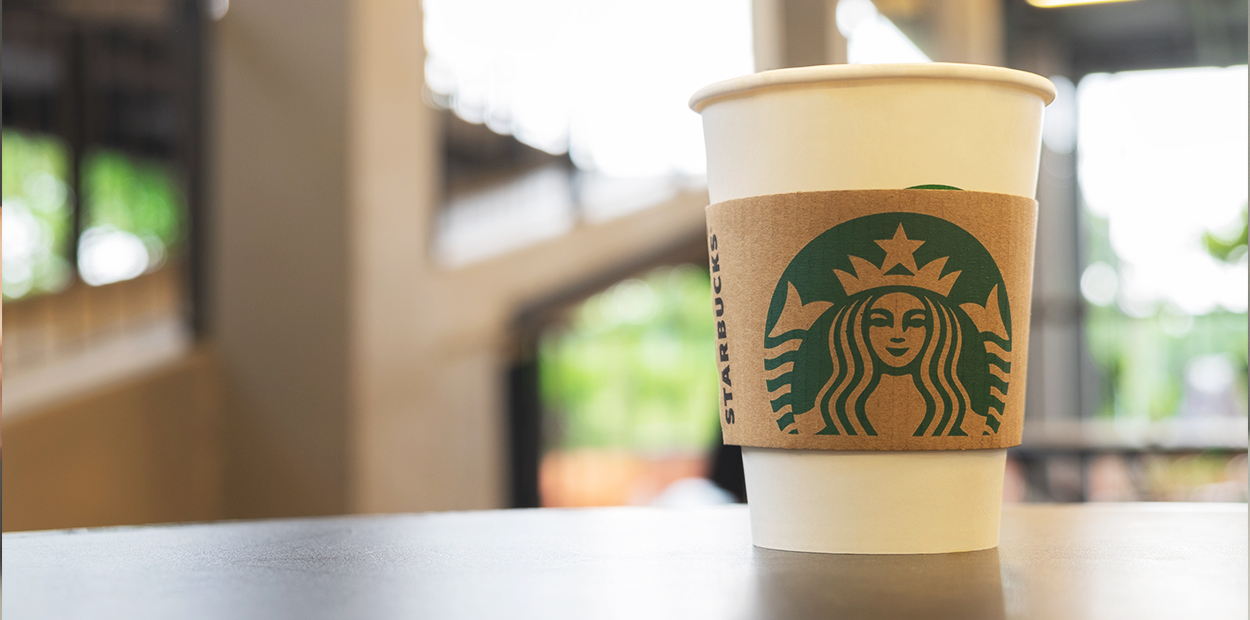 For more inspo, read the following article about sustainable promotional products.
7. World Wildlife Fund (WWF) among green marketing brands
WWF is among the leading examples of businesses going green. It's focused on the reduction of CO2 emissions and promotes effective recycling policies. Part of the company's successful sustainability campaigns is an advanced rainwater collection system. 
Another one of the green business practice examples incorporated into WWF's sustainable policy is a reduction of employee flights.  Using alternatives such as trains and ships for travel is a bright environmental marketing example incentivized by the company.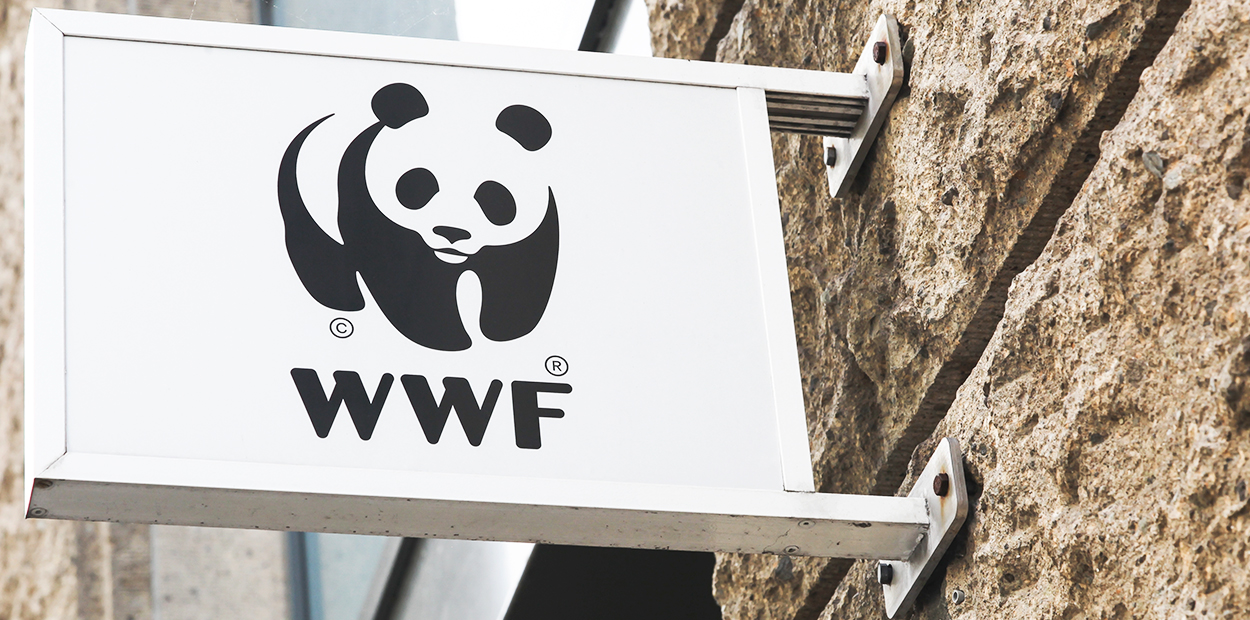 8. Unilever for Environmentally Sustainable Companies
Unilever is an example of businesses going green with an eco friendly strategy. It promotes using recycled materials that don't harm the surrounding area. As a result of this policy, three-quarters of the company's non-hazardous waste goes to recycling centers instead of landfills.
The company made eco friendly marketing campaigns a part of its corporate identity. It encourages environmental awareness by providing green alternatives. They state that 70% of their carbon footprint depends on consumer choices. This includes factors like which products are in demand as well whether they get used and disposed of in a proper manner like recycling.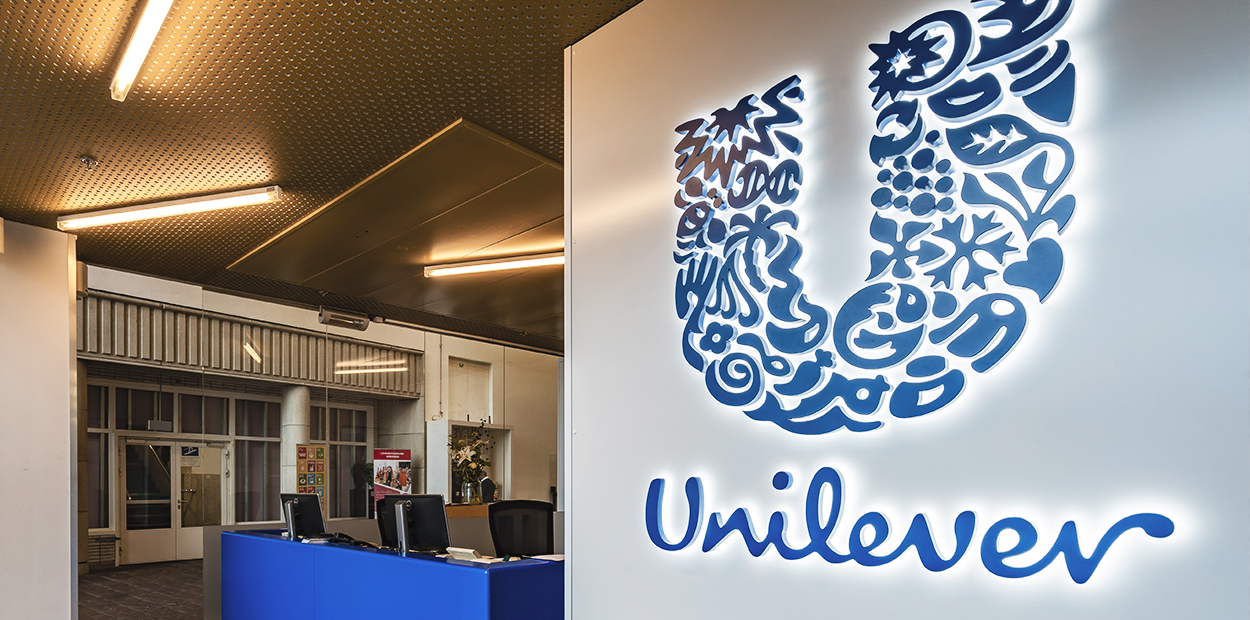 9. IKEA Among the Biggest Eco-Friendly Companies
Worldwide, IKEA is known as one of the best examples of businesses going green. The company owns 416 wind turbines with the objective of becoming fully energy independent. 
This environmentally sustainable company has also installed more than 700,000 solar panels throughout the world. Also, IKEA has launched a 'sustainable living at home products' series and tripled its revenue thanks to consumer demand for greener goods. 
Its best green marketing campaigns focus on a sustainable lifestyle over a few isolated products or practices. This means incorporating conscious means of renewable energy, sustainable water,  waste sorting and so on into everyday life and business practices.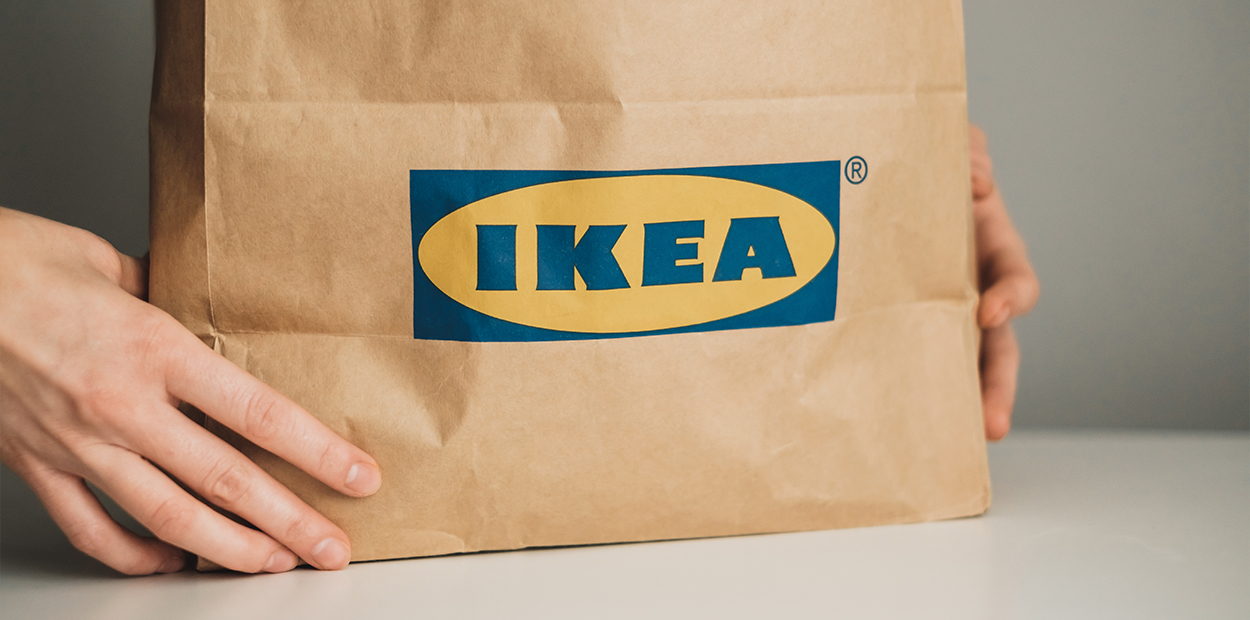 Green Business Practice Examples That Had a Global Impact
Many companies launch eco friendly advertising campaigns to contribute to environmental sustainability. Let's go over a list of green marketing companies that are kinder to the planet.
10. Too Good To Go's Sustainable Brand Campaign App
Restaurants throw away ten million tons of food annually. Too Good To Go launched a special environmental marketing campaign to solve this problem. People could download a special app to reverse rampant food waste and contribute to the global movement. The free app allows people to buy unsold food. The list includes food from top eateries that throw away meals and produce at the end of service. 
With this green business practices example, people can purchase supreme quality food at an extremely reduced rate. Available for iPhones and Android, Too Good To Go curtailed the unnecessary loss of 2.5 million meals. This green marketing example also reduces 2.5kg of CO2 emissions with each meal saved.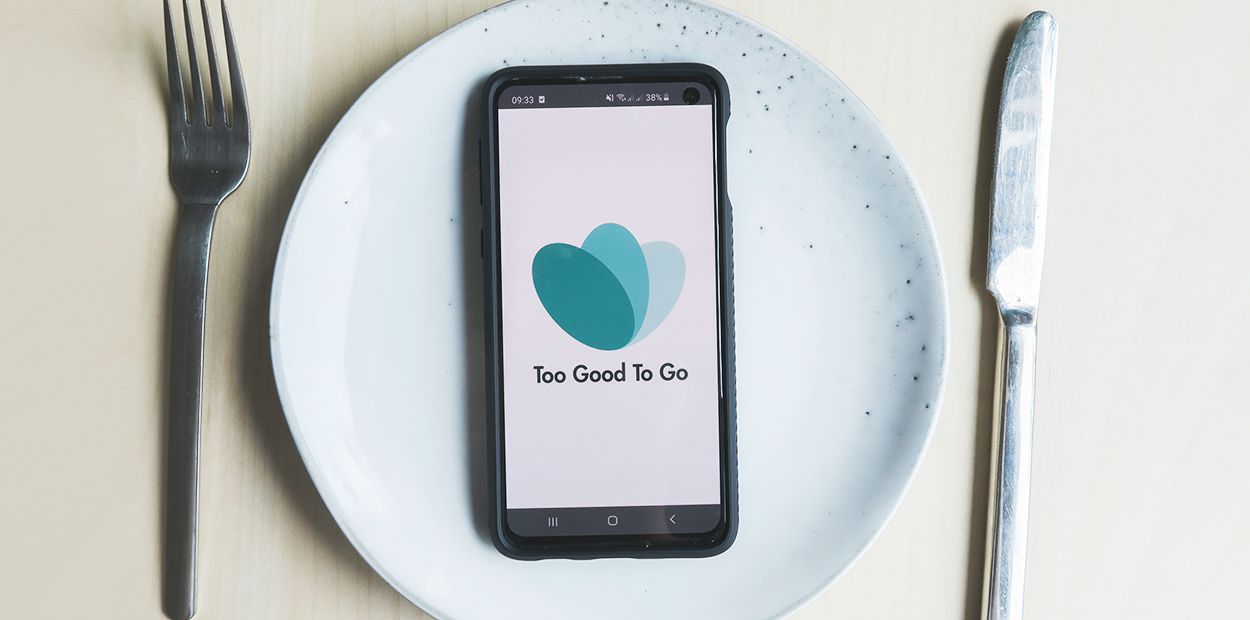 11. Patagonia's Common Threads Recycling Successful Sustainability Campaign
Patagonia is an excellent model of environmentally sustainable companies among clothing brands. It's been actively involved in sustainable brand campaigns for over fifteen years. 
One of its most successful sustainability campaigns is the  Common Threads Recycling Program. Its goal was to extend the life of products consumers had already purchased. 
This green business practices example consisted of two phases. In the first phase, Patagonia asked their customers not to throw away damaged clothes but to repair them instead. It even launched video tutorials on how to do the repairing themselves. For those unable to fix items on their own, Patagonia offered a special fee for repairs on the customers' behalf.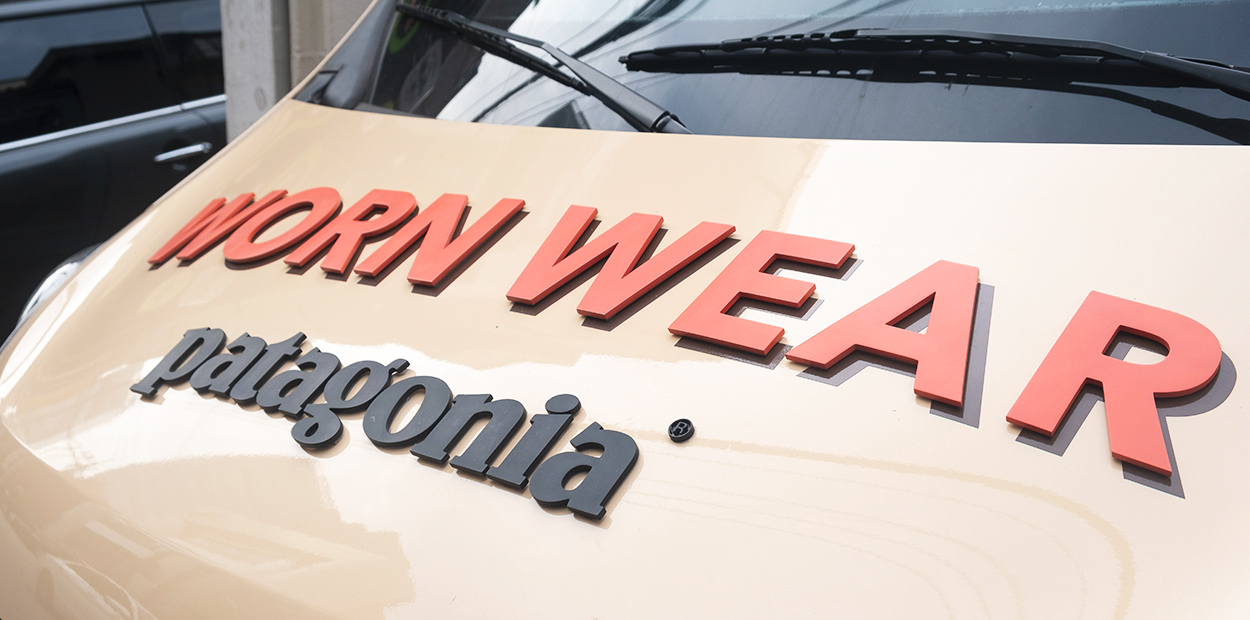 The second fold of the program was the creation of hand-me-down stores. It included garments that were worn out, not worn at all, returned and so on. 
Developing this plan, Patagonia created an online marketplace on its website. They encouraged people to send in their unwanted clothes, even if they were beyond repair. The company even offered to pay for the shipping. These garments would then be repaired and resold or broken down and repurposed.
12. Nike's 'Move to Zero' Eco Friendly Advertising Campaign
Nike is one of the most ambitious green marketing brands that help protect sports for future generations. With its 'Move to Zero' campaign, Nike set a goal to reduce waste and their carbon footprint.  
Nike incorporated its planet-rescue mission in all areas of their business operation.  A holistic approach to nature is Nike's answer to what is an example of green marketing. A big part of their green business practices example was switching over to 100% renewable energy for production.
Nike also introduced apparel that was made from 50% recycled materials. Moreover, they have a line of shoes that are made of 20% recycled fabric.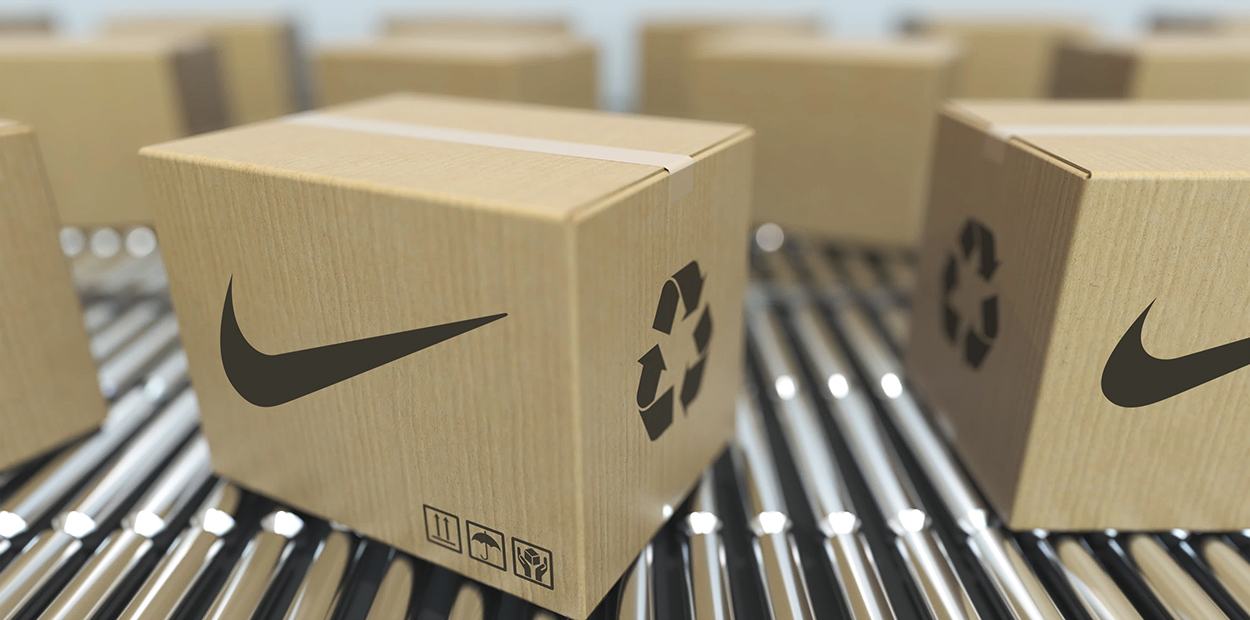 13. H&M's "Conscious Collection" Campaign
H&M is one of the sustainable marketing examples that have really stepped up their green practice over the last few years. As one of the biggest eco friendly companies in the fashion industry, H&M focuses on its "Conscious Collection." Fifty percent of the clothes in the line are made of sustainable materials.
During environmentally friendly marketing campaigns, H&M showed a video about clothing made of sustainably sourced materials that would otherwise be considered waste. Their creative environmental ads urged consumers to become a part of the solution to the problem of environmental pollution.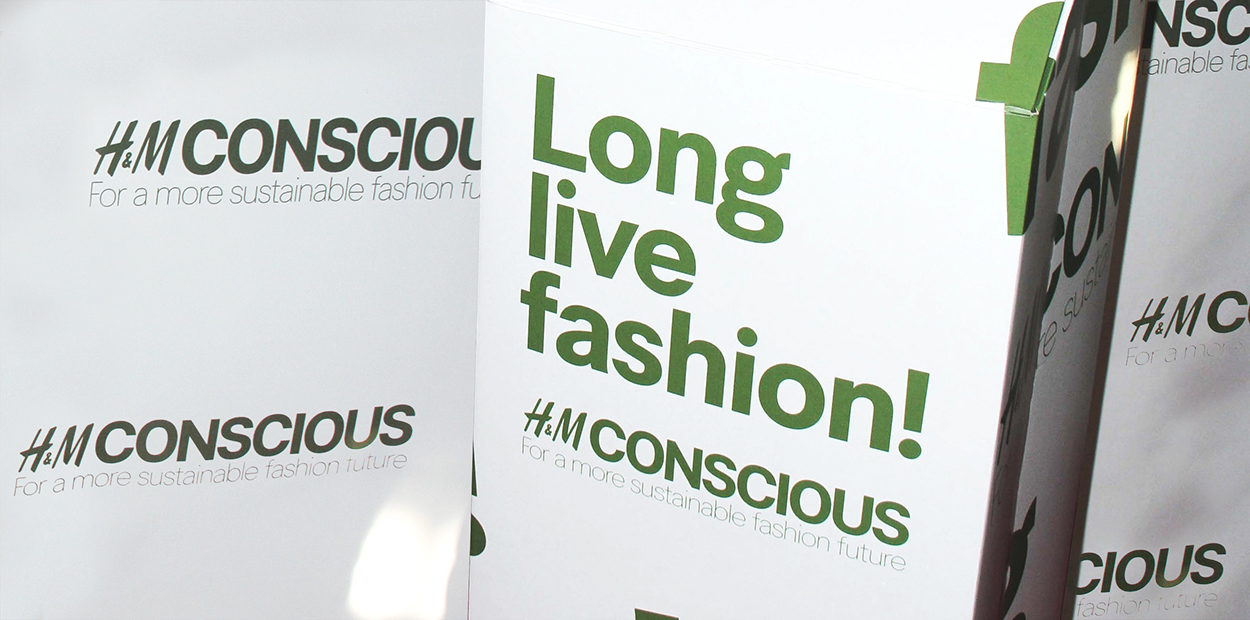 The Most Impactful Green Marketing Quote Examples to Inspire Action
Enjoy the following quotes that highlight the importance of eco friendly marketing campaigns.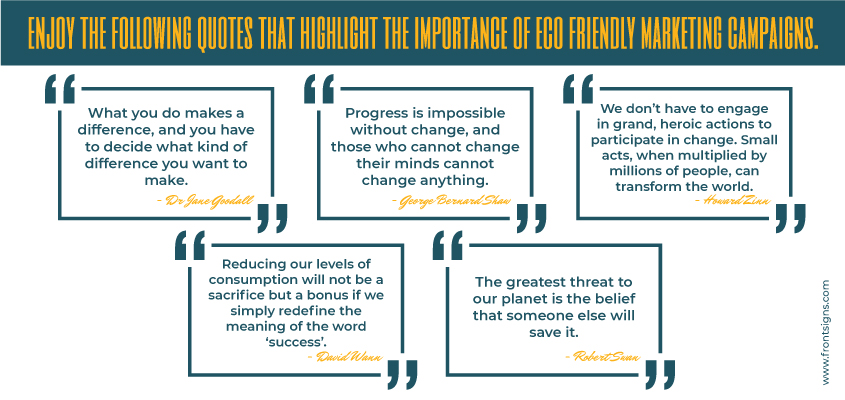 Reducing your company's harmful impacts on nature is a great initiative for the world as it is for boosting sales. These green business practice examples will create a more sustainable future for all to enjoy. Take the opportunity to advocate for this principle at business events with green trade show displays to get more people and business to pay attention to the issue.
Our eco-friendly signs will boost your brand while promoting a more sustainable environment. Don't miss your chance to switch to eco friendly advertising campaigns.