13 Inspiring Business Branding Examples for Strong Brand Positioning
Branding determines whether you differ from your competitors. When done right, it will exude your company's values and superior qualities to create positive associations. The best business branding examples empower start-ups to succeed in even the most challenging markets. 
Successful branding can be accomplished through various means. Business signs, logo signs, colors and styles are all important elements of the branding strategy. Less quantifiable methods for boosting the brand image include networking means such as launch parties, expos, social media campaigns, email marketing and so on.
The first section of this article is about the best corporate branding examples produced by Front Signs sign company. Then, you'll have the chance to test your knowledge about popular brands through a fun quiz. In the end, we'll speak about companies with great branding strategies, including their core values and branding routines. Let's start.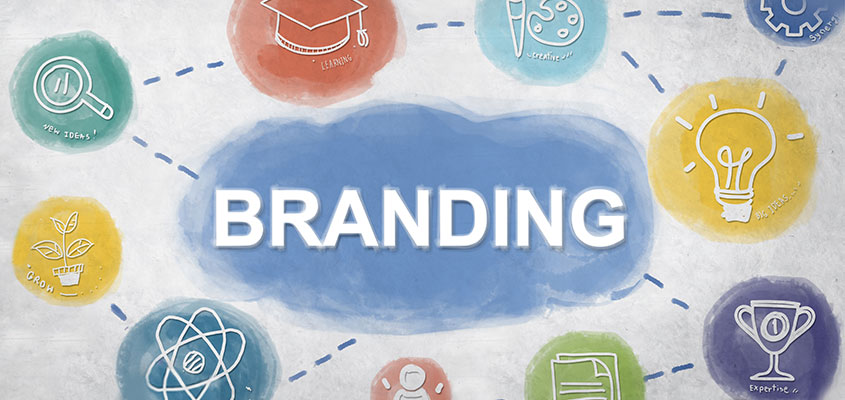 Best Corporate Branding Examples Implemented by Our Experts
Companies with great branding are winning the competition. Those who understand the importance of their brand image turn to professionals to boost their authority.
Below, check a series of business branding examples implemented by our team.
Memorable Business Branding Examples for Events 
It's no secret that corporate events are a chance to show off your business strengths. When designed right, your event site becomes a hotspot for visitors. Once event signs hook their attention, they will bring long-term success to your company.
Companies with great branding collaborated with our professional team to make sure they were the showstopper at the following events. They commissioned sophisticated branding projects and trade show displays for exclusive corporate events and our team delivered.
1. Annenberg Project
The Annenberg Space for Photography showcases one of the best corporate branding examples with its focus on art and information. Annenberg's mission is to curate a cultural expression in an intimate setting. It shapes its branding around philanthropy with a focus on pressing human and environmental conditions.
Branding for the photography space was achieved through a state-of-the-art projection gallery. Our concept for them is a breathtaking collection of light box signs. What makes them unique are the solar panels on the roofs that illuminate the exterior of the boxes. They highlight both digital and traditional exhibition methods from within and without. The combination of these exhibition models enables their branding to be appreciated in a whole new light.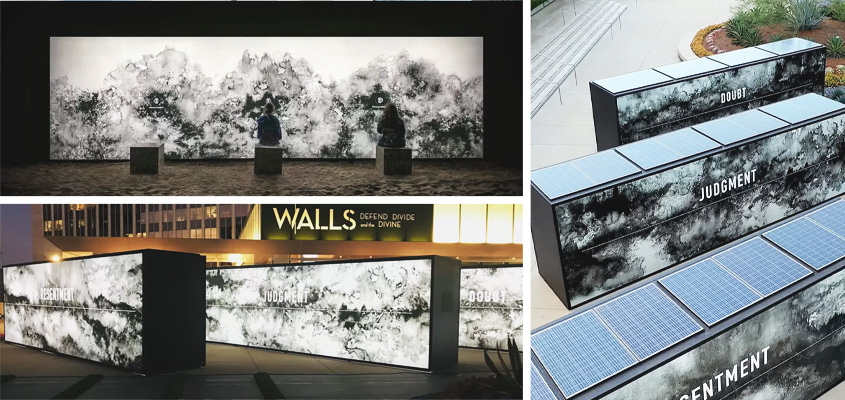 The Annenberg Foundation is a company with great branding thanks to its focus on social and environmental justice through a humane lens. All the solar boxes installed on the site convey a powerful message of sustainability. They give reason to contemplate and achieve breakthroughs in your personal philosophy.
2. MGM Branding
MGM company's vision concentrates on inclusion and social experience. Their branding trajectory specializes in things that can entertain even the most demanding clients. It considers entertainment not as an option but rather a must-have luxury.
Channel letters are the pride of our MGM's event stadium branding project. They're versatile, elegant and speak volumes no matter where they're positioned. But these letters are not the only feature boasting of MGM's cultured taste.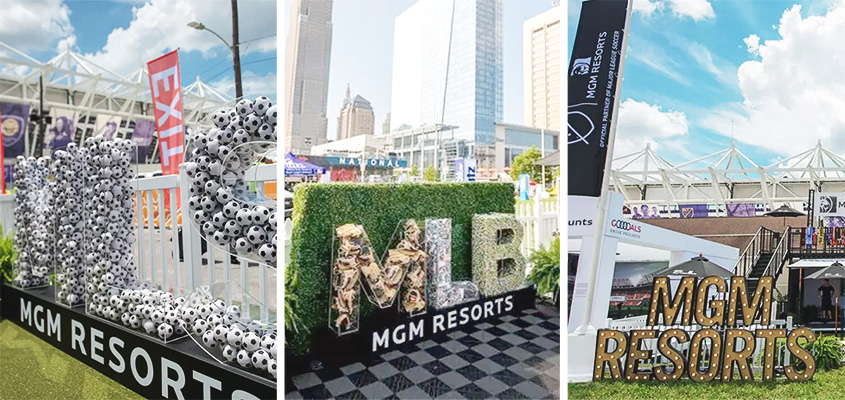 The whole branding concept is centered around art, culture and local nuance. Our designs cater to local values and trends which were refined through careful research and understanding of the brand, the event as well as where it would take place.
Creative Business Branding Examples for Commercial Buildings 
There is no limit to corporate design solutions. Whatever your business is about, there are corresponding ways to express its values. Let's go over a few solid business branding examples for commercial enterprises crafted by our team.
3. Ameria Bank Corporate Identity and Designs
AmeriaBank is among the top of the list of companies with great branding, featuring jaw-dropping branding and design solutions. It's one of the best corporate branding examples for how to reintroduce your company to shine in a crowd.
Let's say that transforming a mundane bank building into an ultra-modish business site with custom building signs, compelling interior signs and creative lobby signs, wasn't a piece of cake. It took our best efforts to create well-thought-out decor elements that would allure customers from every walk of life.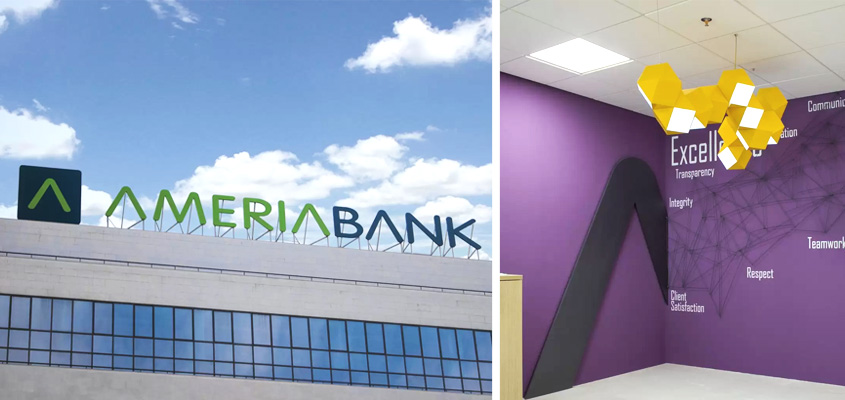 AmeriaBank, with help from our craftsmen, was able to make it happen using fresh new corporate colors and bedazzling design themes. The overall design concept is intended to make the bank reminiscent of an airport. Together, we created artistic and multifunctional features like a control panel that doubles as a reception desk.
Creative business or bank signs, in general, are indicators of a company's attention to detail and its desire to gratify customers. Compelling visual elements can establish a pleasant atmosphere in otherwise not-so-sought-after spaces.
Read our recap blog about the grandiose projects our team produced in 2020.
4. Los Angeles Times Branding and Innovation
Los Angeles Times is the leader in news for LA as well as one of the most respectable media sources in the country. Their branding is iconic and set a new tone for the industry. To keep up with the Times, our team landed on four vital redesign features that capture the current era of journalism:
Visual browsing
Digital availability
Interactive features
Authority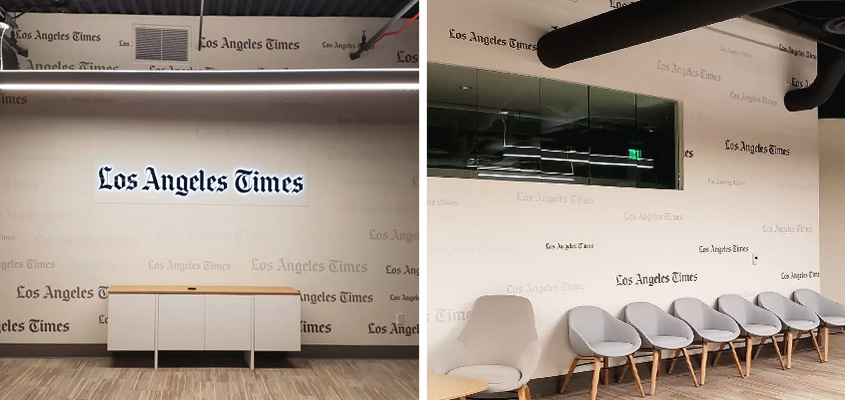 Light up signs for business create a strong company branding example. Our experts used illuminated elements to highlight the brand's prominent name. This created a beacon of stability amidst the fast-paced and tech-driven sphere of information that's in constant flux.
We represented this sentiment using a vinyl background banner behind the reputable LA Times 3D logo signs. Our top-notch large format printing technology provided us with superior quality. The banner resembles a newspage with words fading in and out of sight, while the iconic brand name remains unwavering in its authority.
If you're considering enhancing your corporate brand identity, we're here to help you with custom signage solutions! Contact us.
5. Series of Refined Styles and Values for Erewhon Market
Erewhon is one of the best companies with great branding strategies when it comes to cause-marketing. It's not only a chain of conscious grocery stores. It's a group of people united to accomplish the noble task of bringing pure and healthy food to their communities.
Erewhon as a name was popularized by an 1872 novel written by Samuel Butler. In this piece of literature, it represents a utopia where people take charge of their own well-being. Thus, the store promotes a healthy lifestyle by making quality food available to all. It's built for those who love to learn, nourish and care about their bodies. Their mission is to help people and the planet with nutrient-rich foods.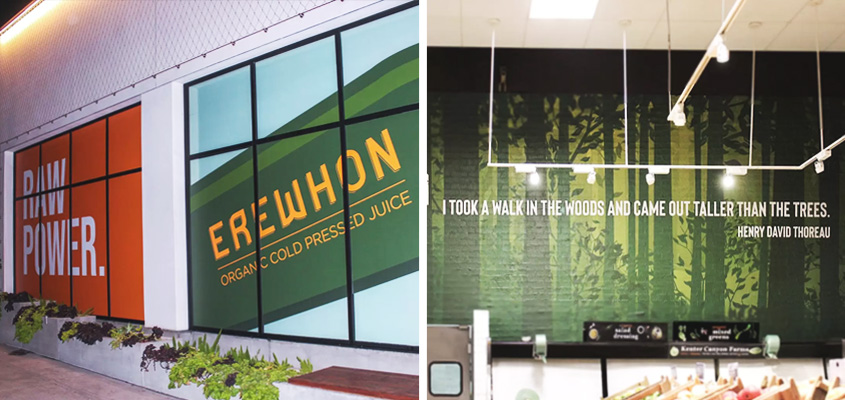 All the branding designs for Erewhon are inspired by these core principles. The appealing custom signage solutions entice people to improve their own lives. Eco green and lively orange colors are harmonious with the brand's mission and values.
Check out more eco-friendly advertising examples. Don't miss them!
Questionnaire on Famous Brands
This questionnaire will help you understand your level of awareness regarding popular brands. The right answers can be checked at the end of the article. Let's start!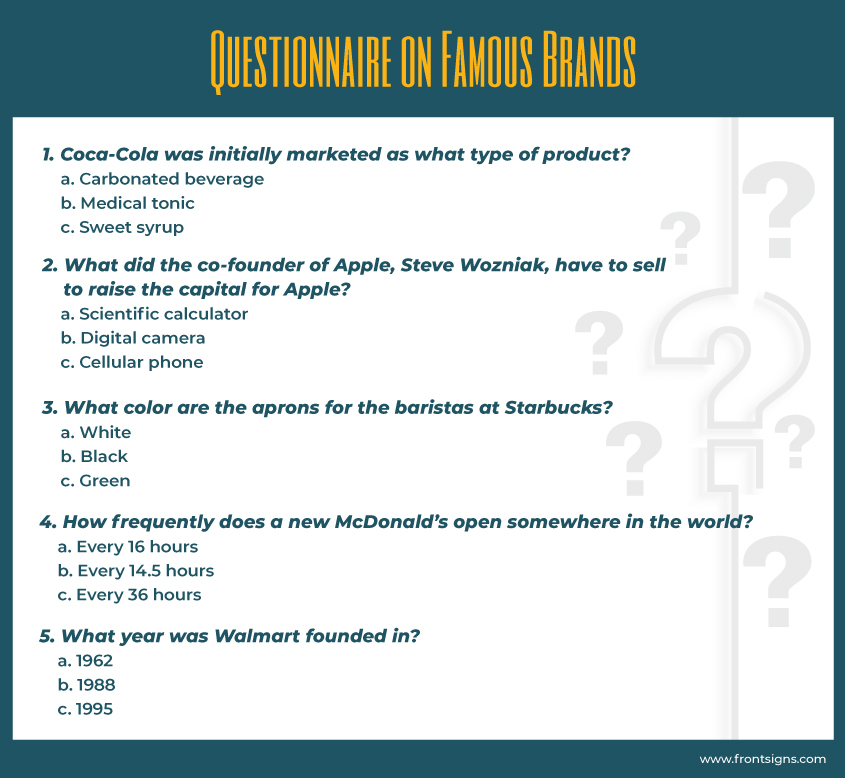 Companies With Great Branding Strategies and a Powerful Global Identity
Many companies offer the same services. But companies with great branding strategies don't replicate another's identity. They create a unique image for consumers to connect to without confusing them.
Now, let's explore 8 of the best corporate branding examples that excel at originality.
Best Corporate Branding Examples by IT Brands
In this section, we have classified companies with great branding strategies according to their industry niche. Below, find two stand-out business branding examples from the IT-sphere.
6. Apple's Branding Concepts 
Apple breathes innovation.  It's all about creating intuitive computing, premium products and singular designs. Apple draws parallels between the values of its customers and the quality of its products. If you're using any Apple products, you're considered an ingenious individual by the company.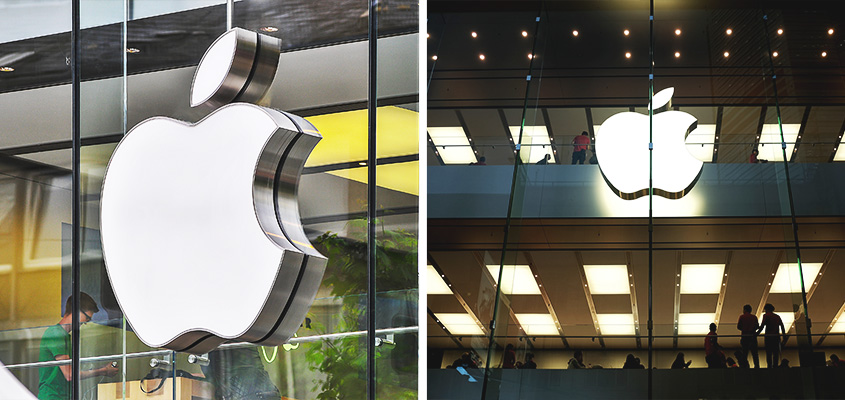 Apple has adopted the strategy of adopting to people's personal needs. They focus on how you feel when experiencing Apple's products. It's not about commerce. It's about lifestyle, passion, dreams, hopes and inspirations.
This corporate branding example concentrates on granting a sense of power to those who use their products. And all this is reflected through its branding. The mono-color and simple forms indicate the removal of complexity and unmatched elegance.
Apple uses people-driven designs to indicate its heartfelt and humanistic approach to users. From this value base, Apple is considered to have one of the best corporate branding reputations.
7. Microsoft's Worldwide Inspirations
Microsoft is one of the best corporate branding examples on a global scale. People may like or dislike this brand, but underestimating its role is impossible.
Microsoft was founded in 1975. They base their marketing on a multitude of adaptable values. The dynamic approach to changing realities allows Microsoft to stand the test of time. It catches the right hook when needed and shapes a strong brand image to meet contemporary trends.
The power of Microsoft is consistency through all channels of communication. The versatility of content repeated across multiple platforms influences people in a purposeful manner.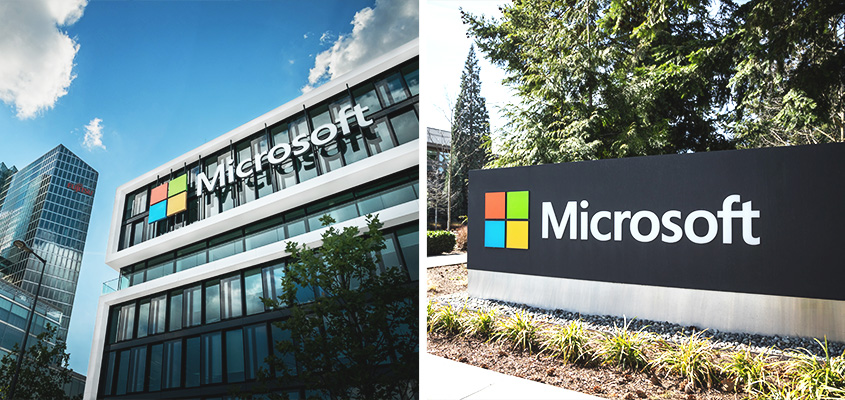 Among companies with great branding strategies, Microsoft provides an exemplary portfolio. All of its products are exceptional offerings for developers, designers and everyday tech users alike. Its famous four color logo gives access to the world of its technology: blue for Windows, red for Office, yellow for Bing, and green for Xbox.
Read about creative signage designs that raise the bar.
Company Branding Examples by Food Industry Brands 
Branding extravagance in food manufacturing is lower compared to other industries. However, as times change, researchers are revealing growth in applying new technologies to food branding. Let's go over the list of companies with great branding strategies in food marketing.
8. Coca-Cola's Excellent Branding Manifest
The list of companies with great branding wouldn't be complete without Coca-Cola. A veteran in branding, Coca-Cola always updates its methods while maintaining a consistent goal: keeping their products on a throne.
Coca-Cola's marketing history is one of the best corporate branding examples in existence. In the 1980s, Coca-Cola made its breakthrough into the consumer industry. Initially, it offered standardized products intended for the global market. But this caused a negative reaction due to a perceived Americanization of the commercial market.
In 2000, Coca-Cola changed its marketing strategy, creating a locally-driven marketing campaign. Its new motto became 'think local, act local.' It was poised to enhance the domestic marketing approach and become an icon for best corporate branding in the country.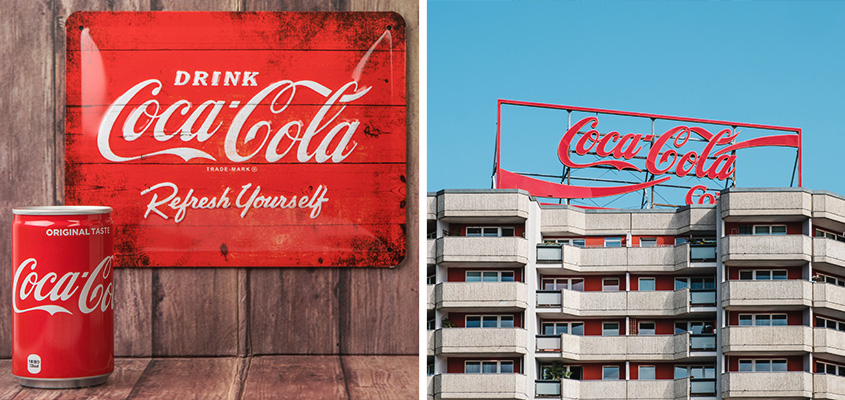 The company aims to share an experience of joy and satisfaction with its target audience. All this is depicted in its logo through stimulating red colors and their classic cursive lettering which embodies authority.
Red is daring and unique, yet sometimes referred to as a color of warning and caution. Red became the most beloved part of the brand despite fears of coming off as too aggressive. The brand is considered an out-of-the-box thinker in lieu of one that uses 'prohibited' colors.
Coca-Cola sells soda. But its visual identity is so strong that it has penetrated into almost all spheres of the commercial industry. You'll see movies, T-shirts, wall murals, hats, and even unrelated ad campaigns featuring it with its iconic label design. The packaging is simple but riveting.
We'll be excited to help you state a bold brand promise with special signs! Contact us.
9. Starbucks Effective Branding Example
Starbucks is known for its exquisite coffee chic and aroma. This is a business branding example with classy designs and a patron-friendly atmosphere.
The central element of Starbucks' corporate branding example is its attention to customer satisfaction. A great example is Starbucks' simple hack to add round tables or write the names of guests on their cups. These initiatives breed inclusivity so even lonely visitors never feel alone at Starbucks.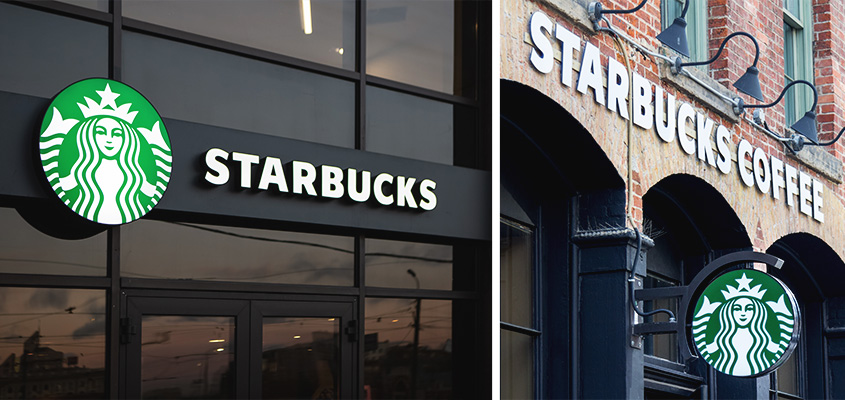 Through social involvement, the brand became the go-to coffee spot in the nation. Starbucks is also the first coffee company to have incorporated the CRM system. They capitalized and implemented customer reward technology via mobile applications. Little gestures such as these speak volumes and create a loyal customer base.
10. McDonald's WorldWide Branding Strategy
McDonald's is a company branding example with the key element of brand identity working in its favor. Wherever you're in the world, you'll experience the same McDonald's style, service and food – and of course, the iconic golden arches.
Customers love consistency. This brand grants an equal value to its customers regardless of the location. McDonald's has one of the best corporate branding campaigns famous for its cultural awareness. Although it's always recognizable, it provides customized service and special offers unique to the area in which it operates.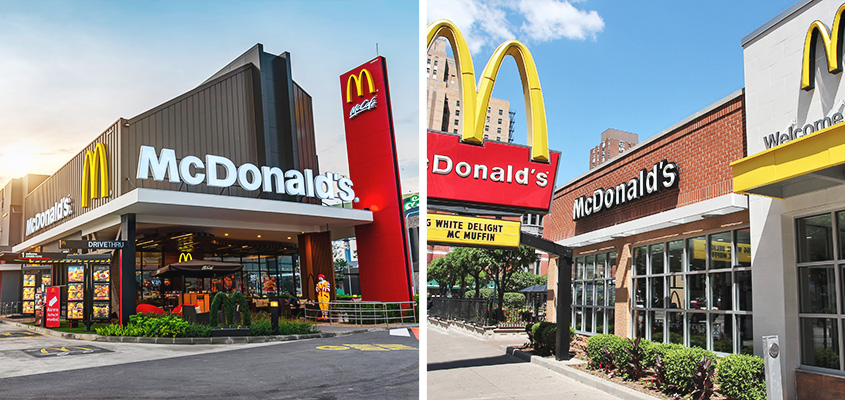 The history of McDonald's branding is very interesting. It's clear that the symbol for McDonald's is the letter 'M'. It not only indicates the first letter of the company but also an association with… guess what? A pair of nourishing breasts!
The golden arches on the red background are constructed based on Freudian symbolism by brand psychologist Louis Cheskin. The 'hidden persuader' manipulates our unconscious desires. It also impacts children's minds to recognize the brand logo more easily. Whatever the case, it's unmistakable world-wide.
11. Walmart's State-of-the-Art Brand Strategy
Walmart isn't the hottest brand. But customers know exactly what to expect from it. The greatness of this brand is in 'everyday low prices,' as it's slogan asserts.
The best corporate branding feature of Walmart is its 'national brand' approach. This company offers many well-known brand products all over the nation at unbeatable discounts. This is the superpower and superior value Walmart is known for.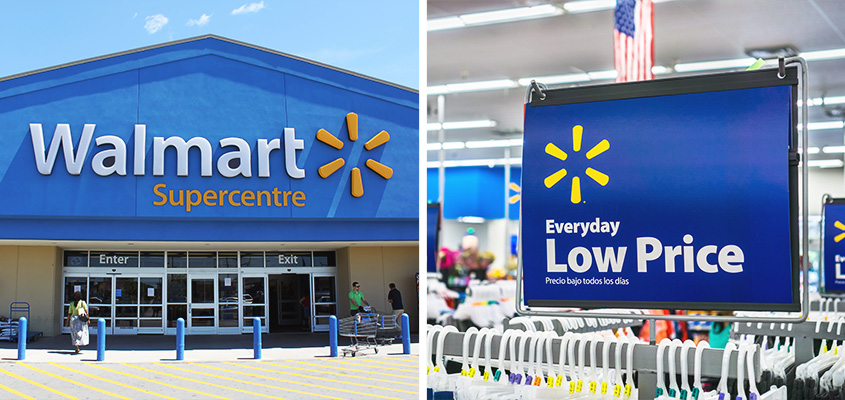 The visual elements are also clear and simple. White logo letters and 6 yellow sparks symbolize bright ideas that make the company successful. The Walmart visuals are warm and sunny, always wishing customers a good shopping day.
Get ahead of your competitors by reading our next blog on business branding ideas to distinguish your business.
Outstanding Corporate Branding Examples by Clothes and Furniture Brands
Branding a clothing line or furniture is a demanding process. It requires a careful approach to all the trend evolutions, staying ahead of them, as well as setting them. Let's have a look at companies with great branding strategies in clothing and furniture.
12. ZARA's Trendy Approach to Branding
Zara is one of those companies with great branding strategies that have become key to the fashion industry. One of its winning aspects is their ability to offer high-end fashion trends at a mid-price market range.
Zara is available to a wider scope of consumers from different cultures. Elegant designs at affordable price points is not the only value Zara offers. It also emphasizes the importance of quality and sustainability.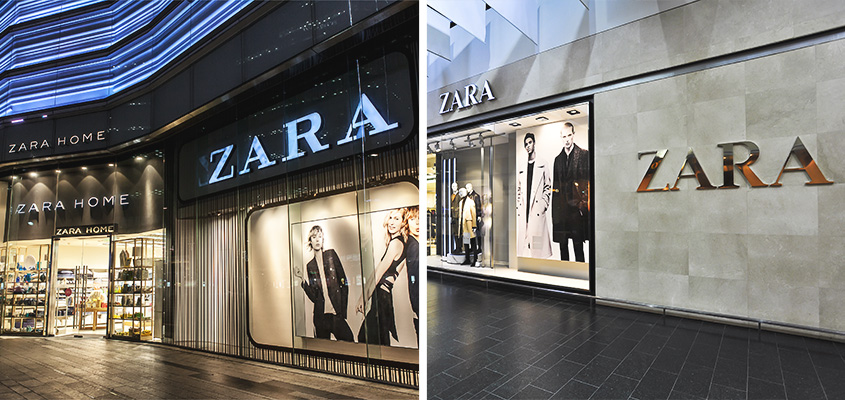 Clever yet minimalist signage solutions incorporated into their brand design are also great assets for extending the brand's authority. This is because customers are more likely to buy from brands with simple designs.
13. Ikea's Effective Branding Principles
Have you heard about this company? I'm sure you have! Ikea examines people's needs and provides all of them packed into one DIY box! Low prices, premium quality and high functionality are the distinguishing features for the Ikea brand.

The below store signs and the pylon sign are great solutions the company uses for branding as well.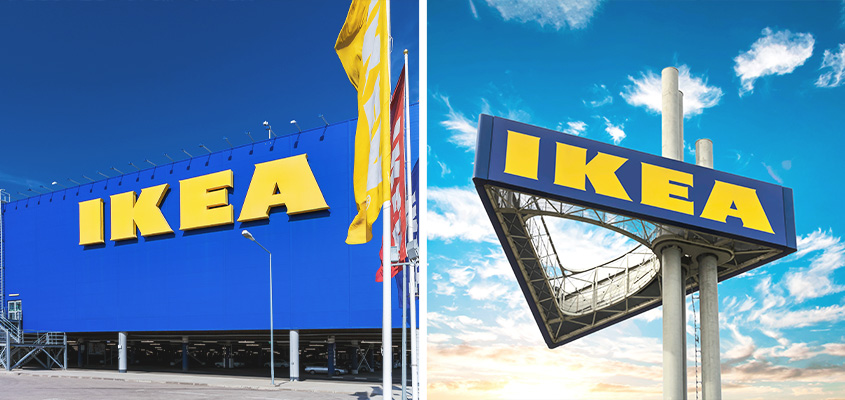 It's among the most popular business branding examples in the world. It's globally recognized status is thanks to delivery. It's an expert at identifying customer needs and meeting them in a way others can't.
Related: Corporate Branding Strategy
Finally, let's check out the answers for the Questionnaire on Famous Brands.
Building a renowned company branding example is challenging. Spreading your name globally but sending your messages locally demands ingenuity as well as perseverance.
To overcome the odds, knowing and surpassing trends will be your friend. Examine the methods of these business branding examples that earn them esteem and you'll find your guide towards higher ground.
We know how to add real value to your business branding! If you're interested in creative design elements, contact us.