6 Key Factors That Affect Light Box Sign Prices
There are numerous factors that influence light box sign prices. All these points, from the trivial to the more pronounced, are important for making a proper purchase. In this article, we're going to fully cover the features that influence light box sign prices. Also, don't miss our summary checklist at the end!

Average Light Box Sign Prices in the Current Market
How much does a light box sign cost on average in the market today? The cost ranges between $1,500 – $3,000 but it's not strictly defined. Depending on all of the below-mentioned features, it may be considerably higher or lower than the average price.
Primary Factors Affecting Light Box Sign Prices
Light box signs shed light on your business and call attention to it by day and night. These outdoor signs and displays are a powerful tool for gaining prominence and success. But how much does a light box sign cost? Let's discover vital components that affect light box sign prices you can use anywhere from your trade show displays to your store walls.
#
1. Size plays a role 
Size is one of the biggest factors that makes a difference in light box sign prices. It goes without saying that the bigger the project, the more resources and materials it takes to construct it. It also takes more labor and time to get sizable design solutions. Consequently, the larger your order, the more expensive it becomes.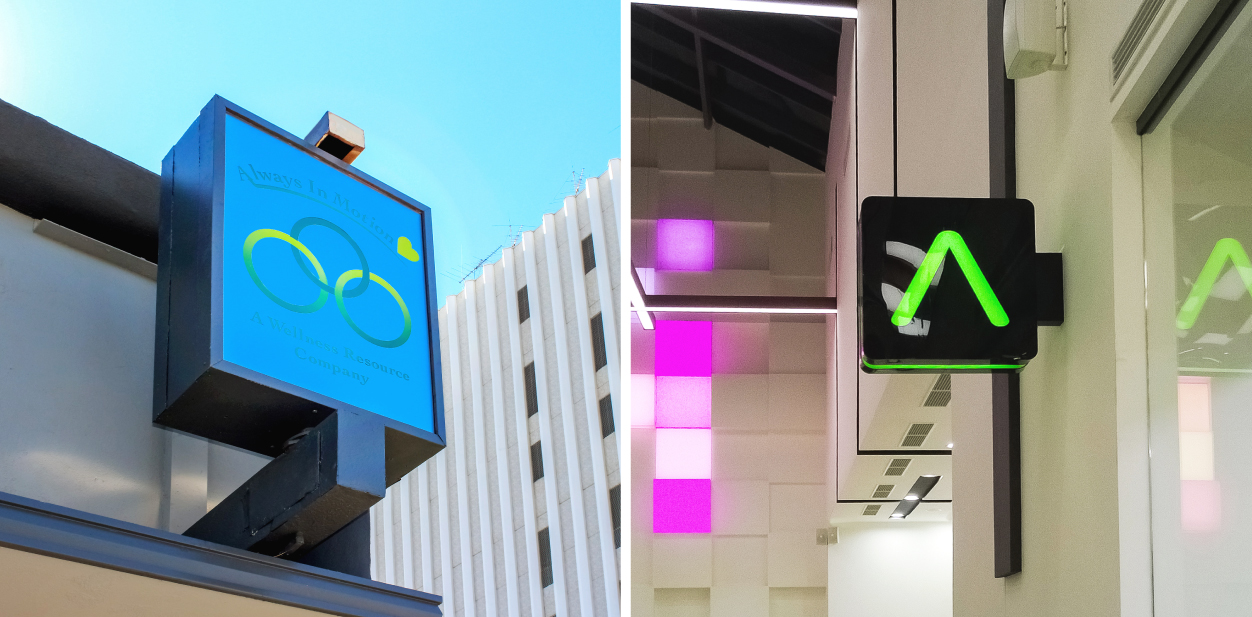 #2. Shape matters 
Round and square-shaped options are easier to make and are therefore cheaper. The cost of light box signs gets higher when there is a need for custom shapes with extra curves and corners. These may include logo signs as a part of office signs or lobby signs with branding elements that match the company's brand image with details and precision.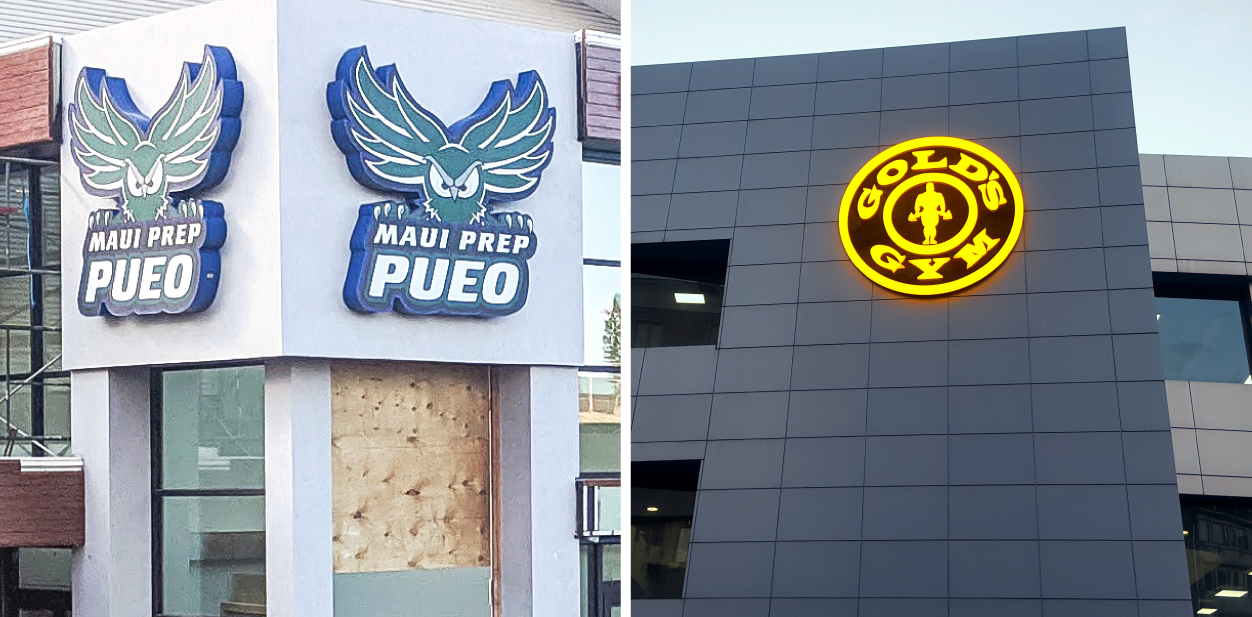 #3. Materials are a deciding factor
How much does a light box sign cost when you want premium materials? The choice of materials is a crucial attribute of light box sign prices. Most experts use aluminum as a standard base material to create fire-safety compliant displays. The price indicators are therefore the various face materials. 
Lexan and acrylic are the most popular options used for achieving high-end results. The former is meant for larger options while acrylic is better suited for small to medium projects. Acrylic is more clear but lexan is more durable and able to withstand extreme weather conditions. Options with lexan faces cost more.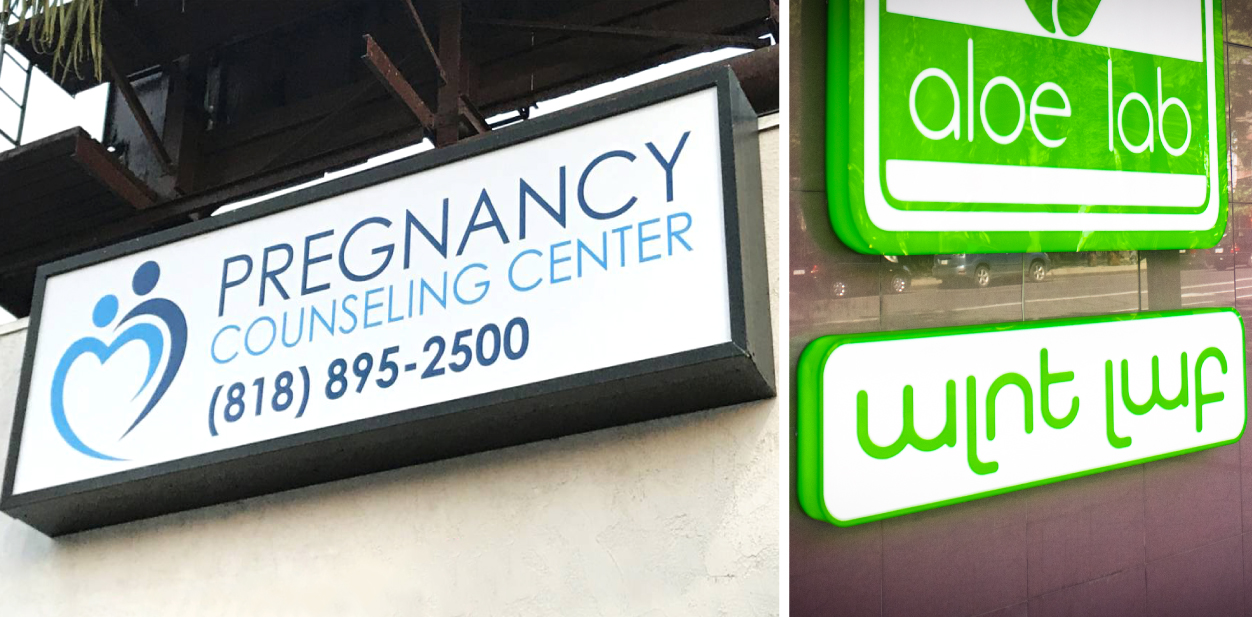 Want a cost-effective design solution? Contact us! 
#4. Complexity is a vital attribute
Certain features will impact how much a light box sign costs. Extra details like lighting, for example, will make a notable difference. Below, find a list of key characteristics expressed in the price of a led light box  based on complexity. 
One vs two sides
Light box sign prices are dependent on the number of display sides you need. The light up signs with double-sided options will cost 60-100% more than single-sided ones. These illuminated 3D signs may be pricier but they'll double your exposure and are definitely worth the investment.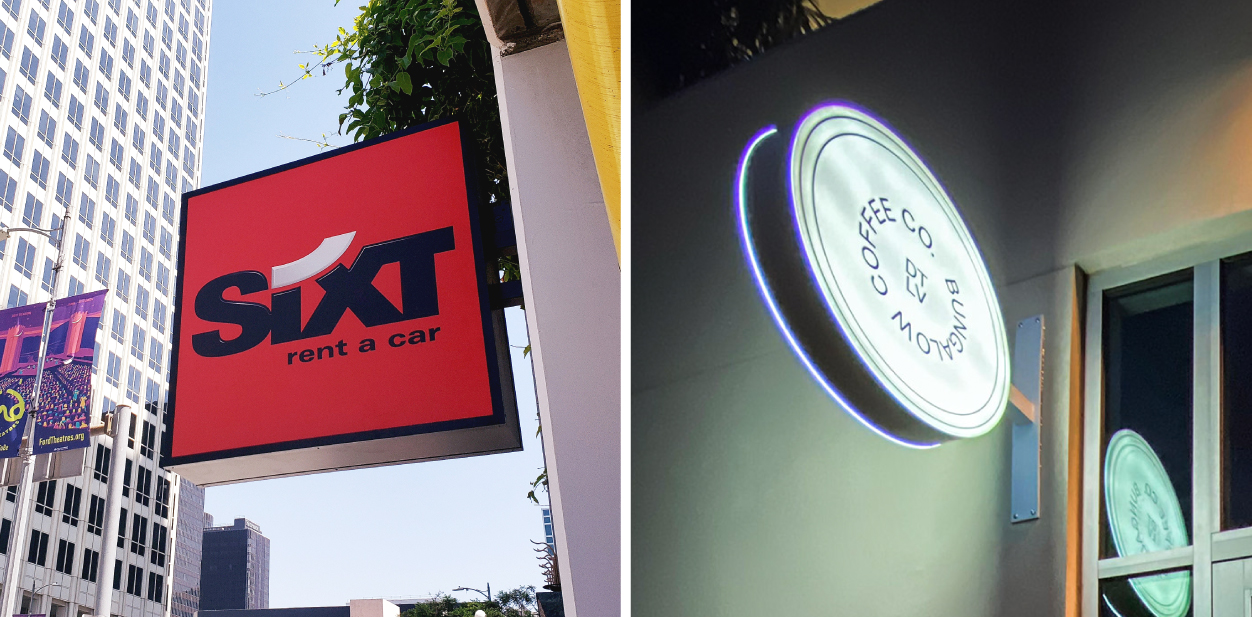 To learn more about the benefits of this sign, follow this article. 
Illumination options 
You may notice a change in your light box sign prices based on specific illumination features like bulbs and configurations . Let's go over popular options! 
External vs internal illumination
External illumination is easier to achieve than internal lighting. Simple flood lamps can be used for a high level of uniform visibility. Overhead throughlights will also provide desired illumination. Overhead spotlights are another elegant choice for lighting up building signs. These methods are cheaper due to the simplicity of installation and components used.
Internally illuminated methods provide full or partial lighting from the front, back and sides of a display. This technique is accomplished by inserting lighting modules into the interior of a panel. These modules can vary from LED strips to fluorescent bulbs and everything in between. 
It's more complicated to provide internal illumination. Additional wiring, electrical components and other supplies are needed for such configurations. All these extra efforts of labor, time and innovation make the product more expensive.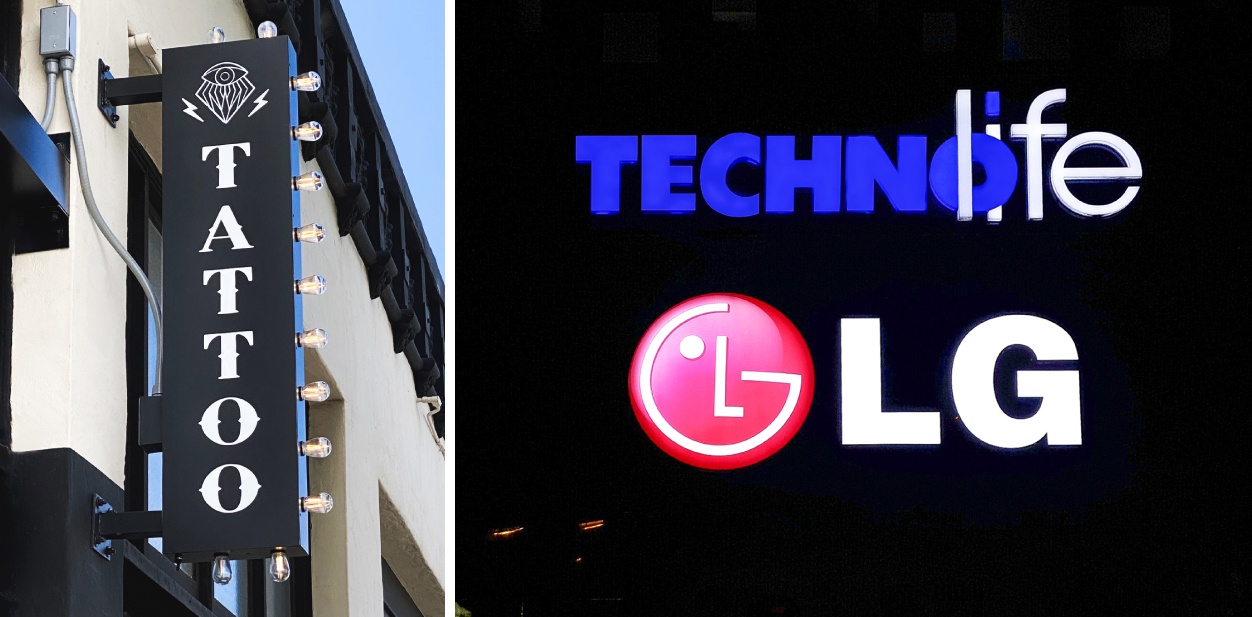 How much does a light box sign cost based on these illumination options? It may seem like common sense that you'll save more money with partial illumination but that's often not the case. 
To get the effect of partial illumination, sign makers need to cut-out pieces in the shapes that are to be lit and attach them to the base. Of course, the results are charming! But the process requires more time and effort and thus, more funds. 
Fully illuminated variants are usually cheaper but you should never underestimate their effect based on price. This powerful signage design element provides constant visibility to any board. It makes them visually striking thanks to enhanced lighting from all angles.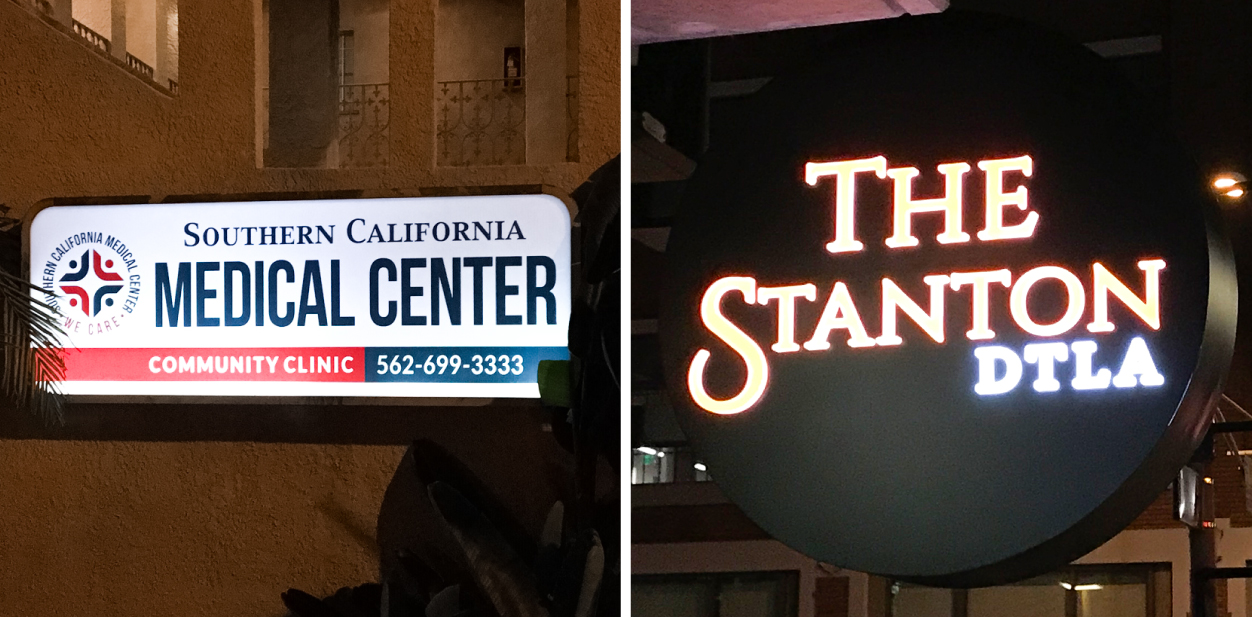 There's been an increase in the use of LED lighting for business signs over recent years. A light emitting diode, commonly referred to as LED, is an energy-efficient light module. This means it's also more eco-friendly than incandescent or fluorescent lighting options. To top, it offers better quality and a longer lifespan compared to other light bulbs. 
The initial price of LED lights can be relatively higher than average. However, they're more cost-effective for the long-term since the light bulbs last longer, have lower heat dissipation and consume less energy.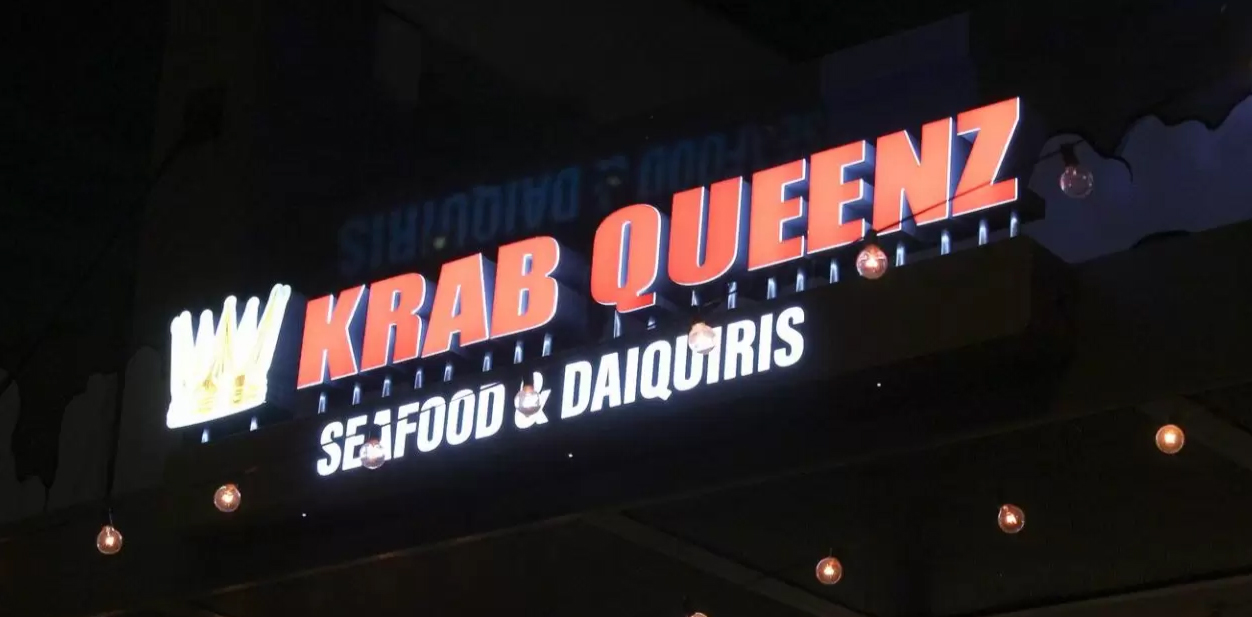 Red-green-blue LEDs are more expensive. They grant the ability to customize color combinations in millions of different hues. How much does a light box sign cost with RGB lights then? The range is 15-20% higher compared to LEDs that don't have RGB lights. 
To get your affordable and custom solutions, contact us!
How Much Does a Light Box Sign Cost? Secondary Factors to Consider
There are additional factors affecting light box sign price. In this section, we've narrowed down the extra points that are not as obvious to consider.
#5.  With or without artwork
Artworks are creative elements used for enhancing and personalizing the platform's appearance. They may be used when this product is used as event signs or decorations. Light box sign prices will be higher depending on the quality of visual details. Tasteful designs require meticulous work, advanced software and high-quality printers or paints to achieve excellent results. 
Standard graphic prints are not a price differentiator while custom artworks are. How much a light box sign costs with the addition of artwork depends on the art. Most of the time, the difference is not very high but that can vary based on the artwork's complexity.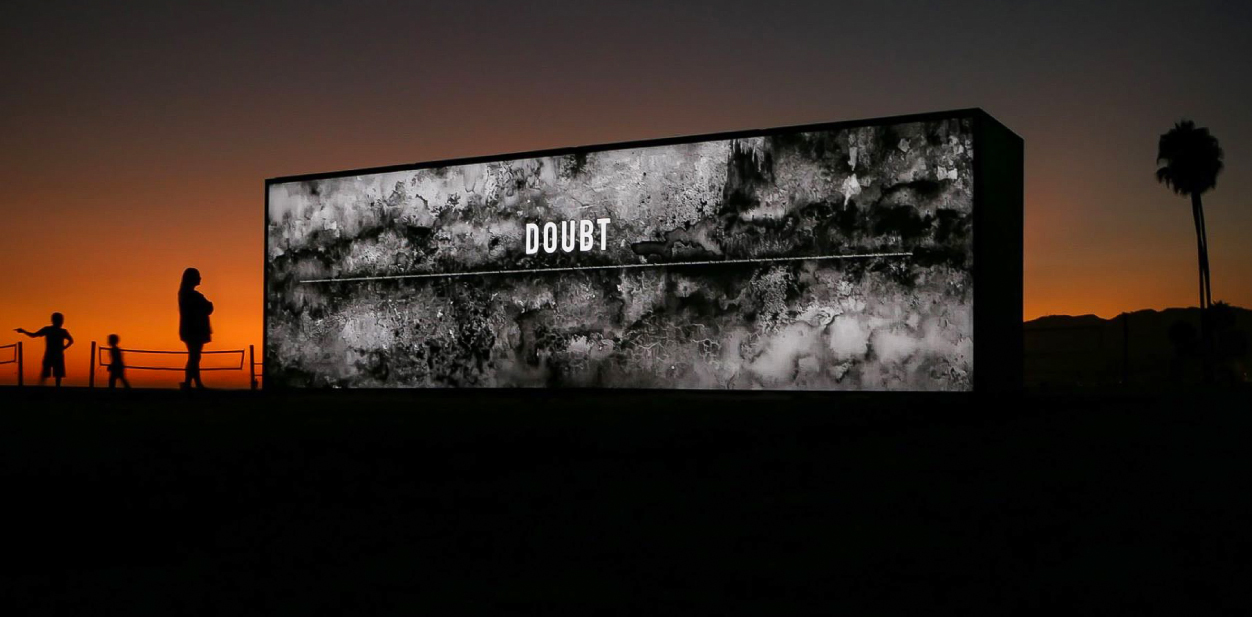 #6. The quality of color
If you look closely, you'll see that there are quality differences in the colorful cabinets along with black-and-white options. So how much does a light box sign cost according to color quality? Again, the answer depends on the level of refinement you're aiming for. 
The more outstanding displays require more advanced coloring tools and offer wider possibilities. For large format printing we use high-quality digital printers with UV-cured inks and the Matthew Paint System with over 80,000 color combinations to create custom boxes. You can be sure that photorealistic illustrations can cost you more than plain black lettering on a white backdrop. Check the below example of a pylon sign to get inspired for your project. For specifics, contact our team for a free consultation.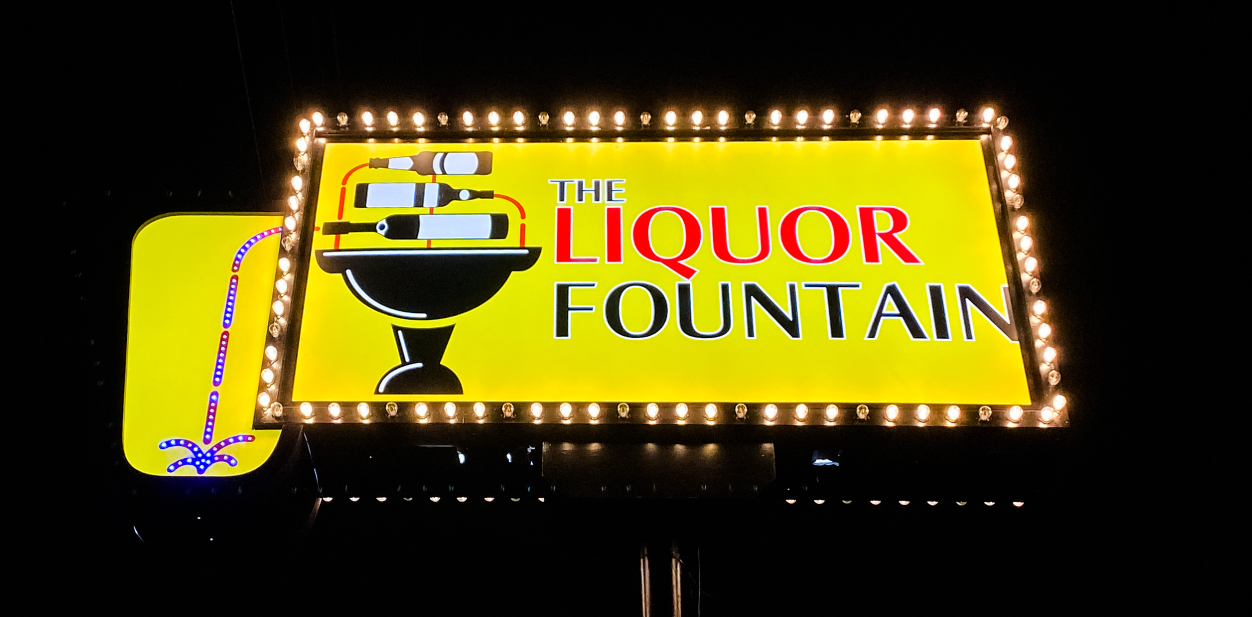 If you're interested in the factors defining channel letter sign cost, read through this article. 
Summary of Factors Affecting Light Box Sign Prices
So how much does a light box sign cost in regards to all of these factors? In the checklist below, we list the factors that impact the price and those that don't. The list also includes location as an element. This takes into account its geography, climate and interior vs exterior applications. Changes in this case are based on material so they don't reflect an additional difference in price.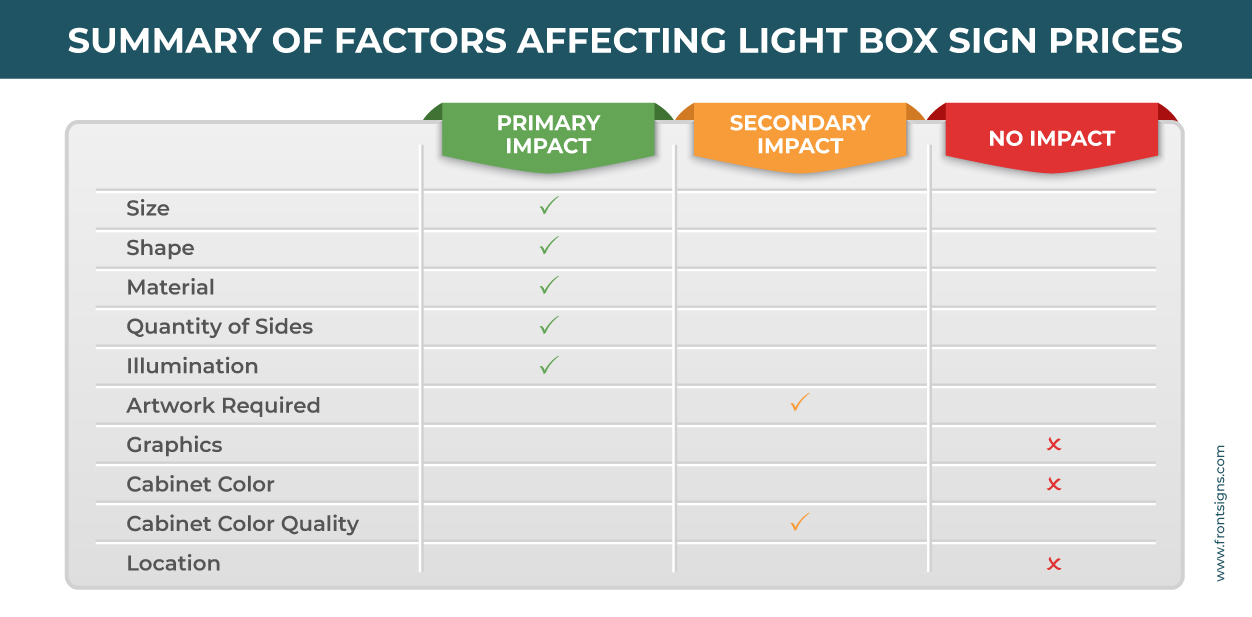 ✓ Green check – primary factors
✓ Yellow check – secondary factors 
X Red X – factors that don't impact price
All in all, we can state that the most important factors are size, shape, material, number of sides and illumination options. Factors that normally have a slight impact include artworks and color quality. Elements that don't influence the cost include standard graphic prints, color vs b&w options and the location of installation.
If you want to get excellent service and quality at the best rate, turn to Front Signs sign company. Our experts will bring even your most sophisticated visions to life with state-of-the-art craftsmanship. You will benefit from working with us in the following ways.
Comprehensive service

Excellent craftsmanship

Fully customizable designs
Don't underestimate the impact of luminous cabinet displays. These custom signs are a worthwhile investment that will offer extraordinary rewards in no time. Still have doubts about which advertising solutions you want for your business? Contact our specialists for a free quote and consultation.