How Much Does a Business Sign Cost? Overview and Comparison Chart
Your business sign cost is dependent upon several price factors and knowing what they are is a smart way to manage your budget. Illumination, shape, size, wiring options and other custom features will have the most noticeable impact on price.
How much does it cost to get a sign made? This is a question that pops up in the minds of every entrepreneur looking to brand their business premises. But it's challenging since every company is different. 
Let's go over the average signage cost for business establishments and calculate them based on these key characteristics. To get a more in-depth look at each, just follow the resource links provided within the content.
Average Business Sign Costs On The Current Market
Business signs cost $3,000 to $5,000 on average. This is true for standard projects but less likely for custom creations.  There are cheaper options if you're on a limited budget.  But if you opt for a greater impact, go bigger. 
Tailor-made options such as custom trade show displays have a lot of variables that will play into cost, giving them a wide price range. Go on reading to check the cost based on different applications. Don't miss the cost comparison chart at the end.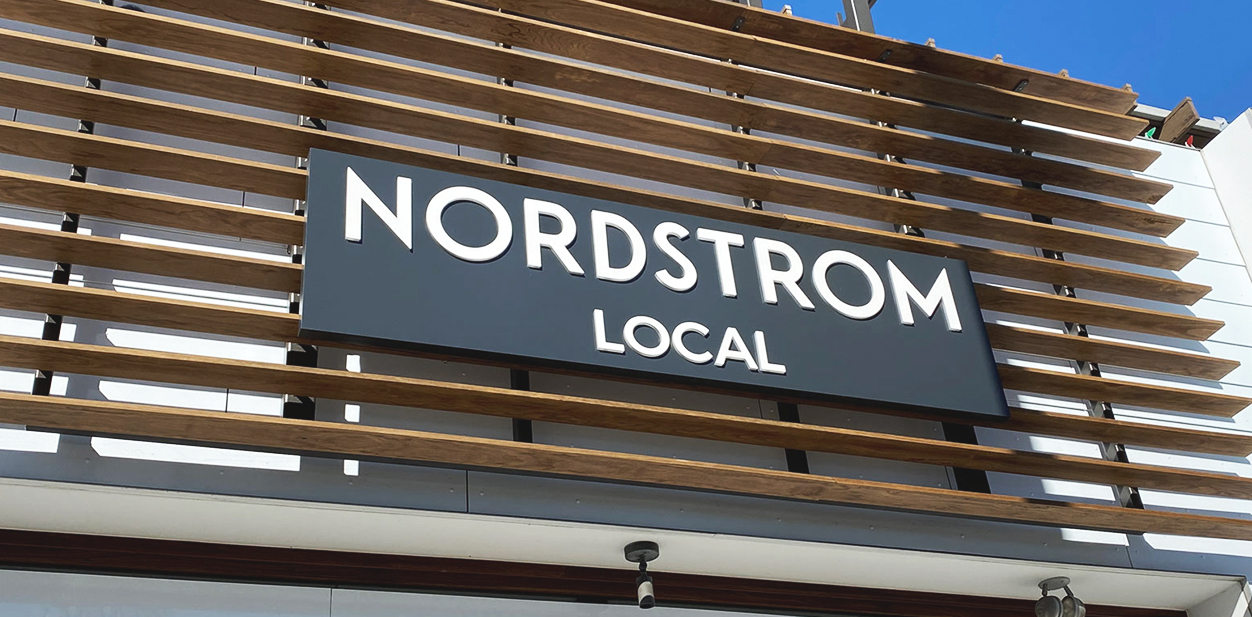 Note: The average cost of logo signs ranges between $300 and $1,300. The cost variations depend on the complexity of the design. For example, a simple round or square-shaped logo is cheaper than those with atypical angles. 
#1. Business Sign Cost for Storefront Solutions
How much does a business sign cost for a storefront? The minimal cost of storefront signs starts at $300 for standard designs. It applies to simple branding options where no complex features are needed. This includes window wraps, directional signs and other basic tools. The cost can reach well beyond $5,000+ based on custom specifications.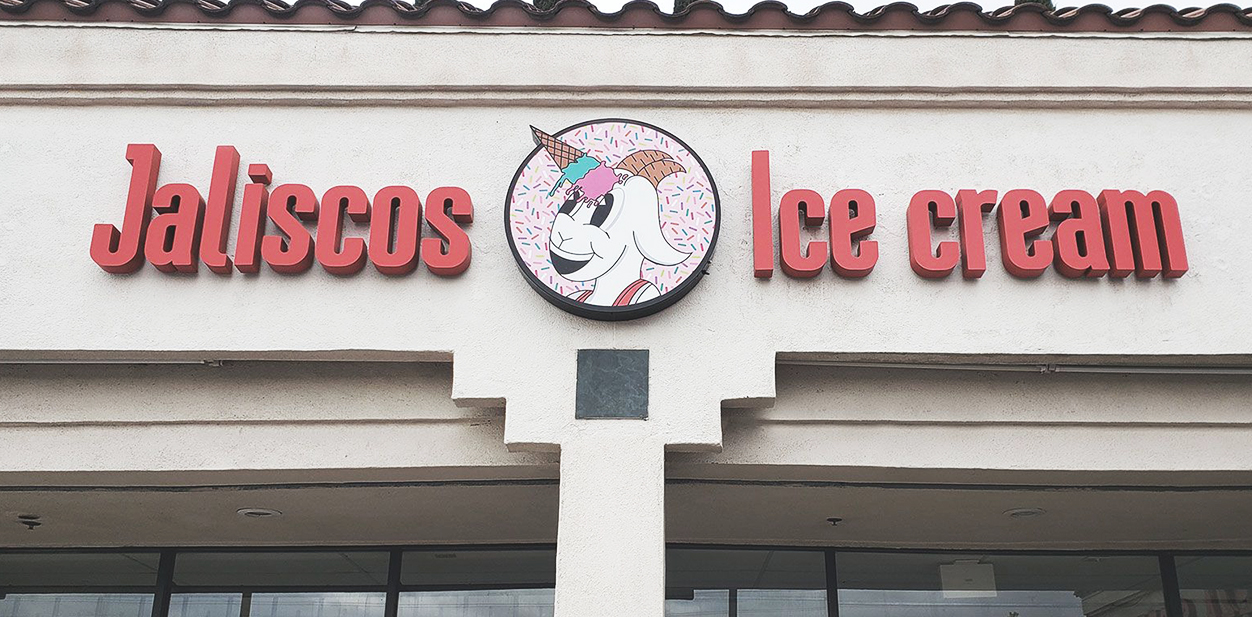 Concepts for full branding solutions that include interior signs and outdoor signage installations will take the price to the higher limits. That's because outdoor solutions act as silent marketers and help to distinguish your business. Interior designs, like lobby signs with unique displays, lead to impulse purchases.
The price will also be reflected in the materials used for completing the project. Wood is one of the most eco-friendly options but it may boost the price as compared to PVC, for instance. Other price defining elements like shape and installation method should also be considered. 
Read about storefront sign cost to learn more details regarding custom features.
#2. Commercial Signage Costs for Illuminated Solutions
The price difference often comes from whether the illumination is external or internal. The external illumination is considered to be cheaper. It has the advantage of providing many design options in terms of shapes and materials. 
LED floodlights can be used to illuminate the display from below. It's especially effective with ground-mounted constructions. The overhead spotlights deliver a continuous 'wash' of light over a sign and enhance the ambient lighting for your business. 
Now let's take a look at price details regarding the most common type of internally illuminated corporate solution: light box signs. These visual communication tools cost higher than non-illuminated varieties of 3D signs. The cost rises due to electrical wiring and diodes located inside the displays. These light up signs require extra labor in both design and installation, not to mention material costs.
So how much does a business sign cost with illuminated features? The average cost of business signs with lighting varies between $1,500 to $3,000 but again, this is not strictly defined. Size and shape play a role in the price as they change the lighting design accordingly. Body and face materials are other attributes that reflect in the prices because they further impact lighting configurations.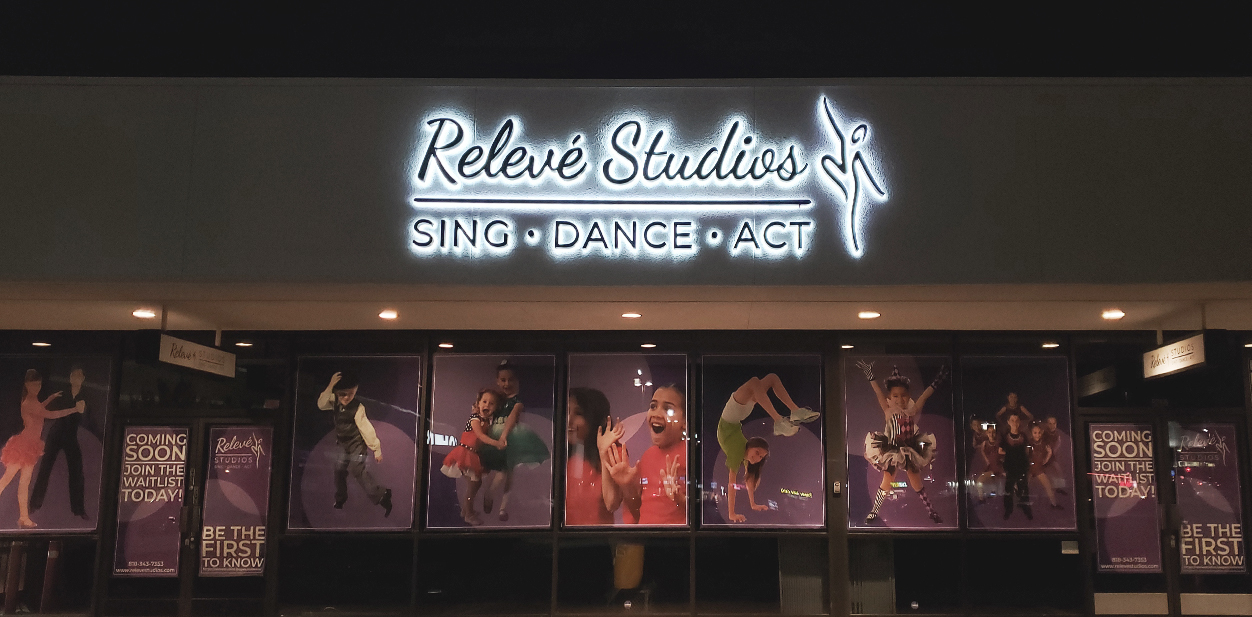 Overall complexity of the design also makes a significant difference in price. This applies to the number of sides for the display, illumination style, custom features and material quality. Creative artworks and premium paints for the cabinet color are among secondary factors impacting the cost. 
Find out more about light box sign cost by reading this article.
#3. Price for Other Commercial Solutions 
How much does it cost to get large building signs made for a business? Channel letters and monument signs are the most popular advertising solutions for large-scale corporate building. So how much does a sign cost for prominent commercial firms? 
In today's market, the average cost for elegant channel models ranges between $3,000 to $4,000. Signage cost for business use changes based on mounting, size and illumination options. Other qualities affecting business sign cost include LED type and fabrication materials.
Follow this resource link to learn about channel letter signs cost in more detail.
How much does it cost to get a sign made for larger designs? Monument displays and pylon signs are often grand structures and depending on size, their cost can range between $5,000 to $15,000+ on average. The cost of business signs in this category gets higher in the case of ornate and sculptural structures. Large format printing may also impact the price. And of course, material combinations for bigger architectural signs or high rise signs require more investment than small and simple constructions.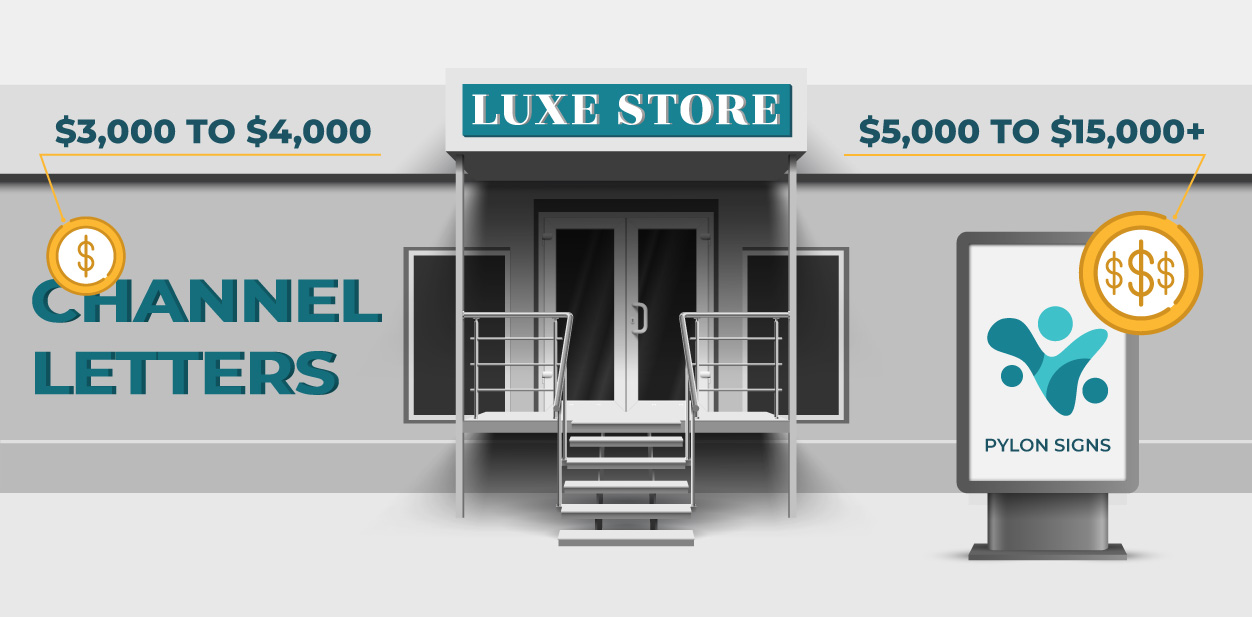 Our experts will listen to your requirements and offer the best custom solutions for your needs. Contact us.
Comparison Chart: Signage Cost For Business
How much does a sign cost after all? Here we have a business sign cost comparison chart based on location, illumination and material choices. Business sign costs vary depending on whether it's installed inside or outside your premises. The specific installation areas, such as walls or windows, also impact the price.  
How much does a business sign cost based on illumination? We show the price difference in the comparison chart of illuminated and non-illuminated solutions. 
Material choice also plays a great role. Below, find a price comparison of common materials used for manufacturing such displays. 
It's worth mentioning that the chart displays the average prices for standard models based on 18"x18" materials. It's indicative but not applicable for custom signage solutions.
BONUS: Your establishment's location will also impact your signage cost for business. Depending on your local sign code, the number of signs and their sizes commercial signage costs will be determined.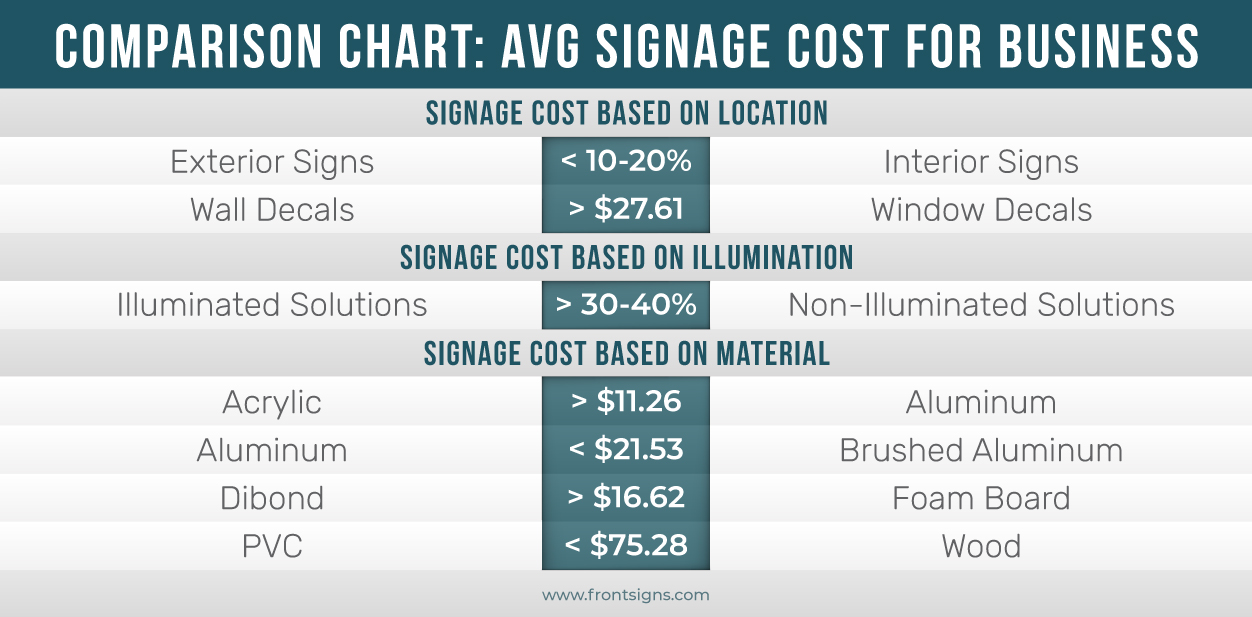 So how much does a business sign cost with custom design features? Contact us to discuss your specific requirements or fill in the project form to get a free quote.