In-Depth University Branding Guide for a Strong Brand Image
Kick-start your university branding campaigns to engage more students. At first sight, branding in the education sector may seem challenging. The creative campus branding ideas in this guide will make it easier.
Core University Branding Guidelines
When defining an effective university branding strategy, consider your target audience. Just count the advantages of your university that may appeal to future students. Build your university branding strategy around nice-to-have local amenities and top-notch education.  
Visual Elements of Your Higher Education Branding Identity
When defining university branding guidelines, visual attributes constitute the key components. This becomes the image that forms your brand identity. 
Printed Visuals 
Printed visuals are ingenious university branding guidelines for visualizing your core values. They can be directly printed on a wide range of materials and depict any text or graphics you can imagine.
Show off your university with marvelous building signs that adorn the facade. Spruce up the interior by posting elegant lobby signs at the entrance. You can also include directional, informational or advertising pylon signs for the establishment.
Wish to instantly elevate the visibility and recognition of your campus? Large format printing offers the opportunity to advertise with huge displays. You can get graphics on soft or rigid displays to illustrate your brand.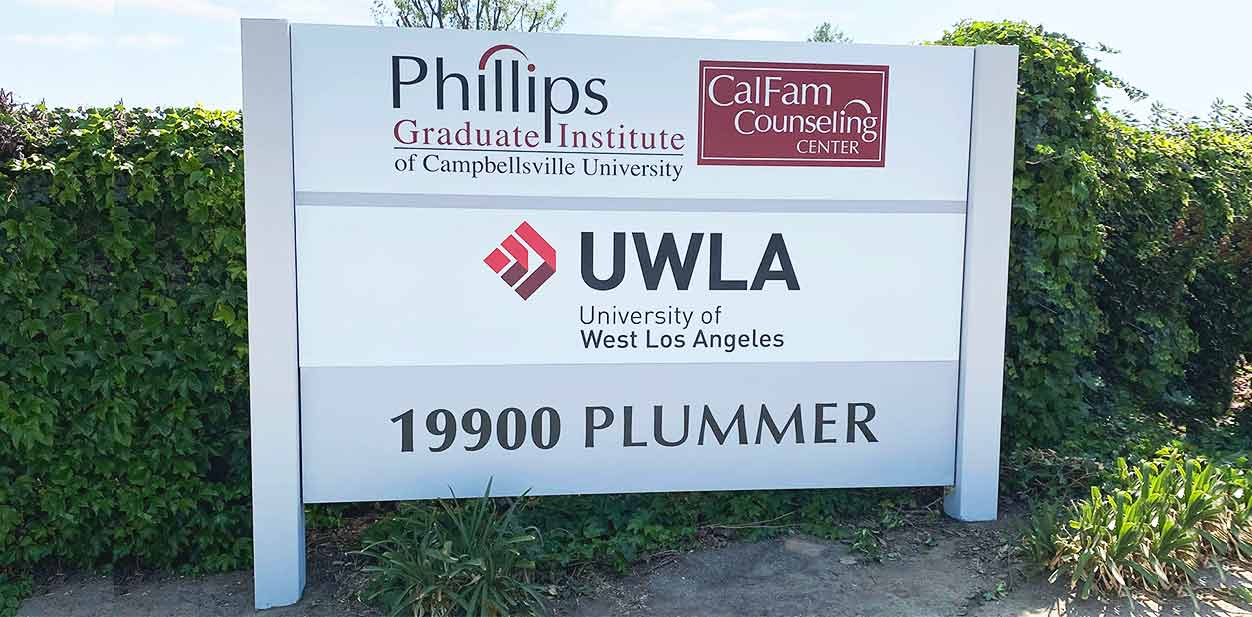 Photography
Student portraits are a brilliant addition to your higher education branding campaigns. Photos of students from campus events will excite positive emotions online and in person. You can get them directly printed on unique materials such as adhesives, metal and plexiglass.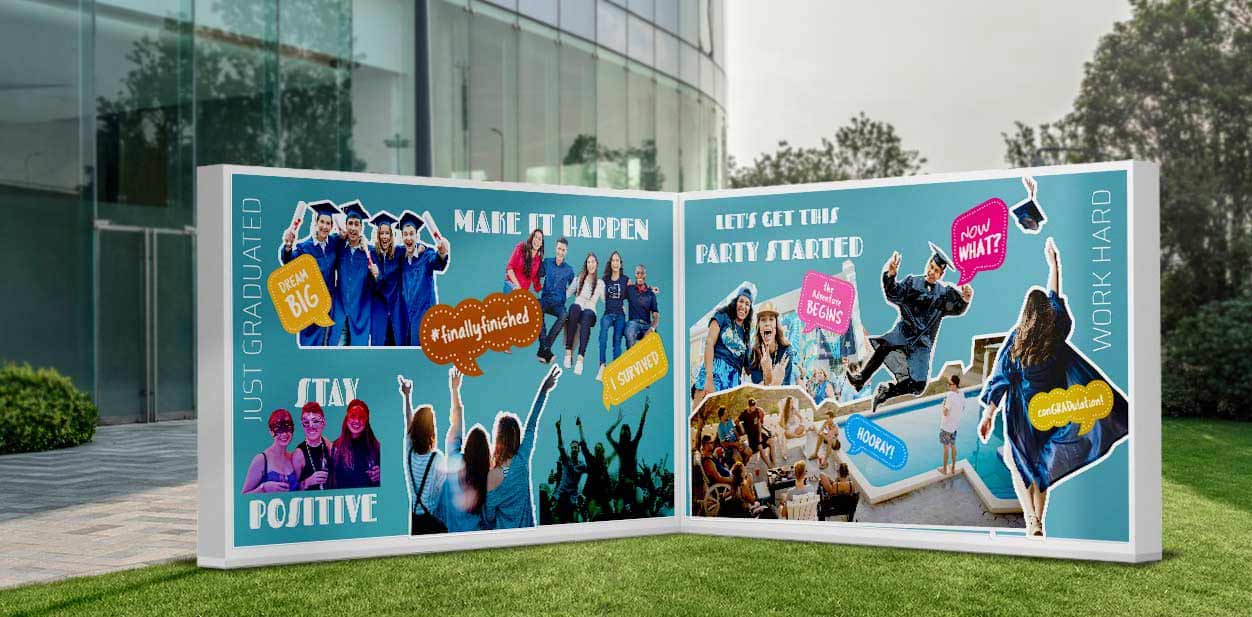 University Logo
Logos communicate the desired message through a logotype, pictograph or combination. Whether you have a 3D signage rendering of your logo or need to create one, the Front Signs team is ready to guide you. 
Considering color psychology, present the overall image of your logo to our designers. Rest assured that your vision will be turned into a striking solution. 
Typography in a logo conveys the tone of voice of your message. When choosing a relevant font, consider your niche. Mindful font usage for university branding will distinguish your higher education branding campaigns.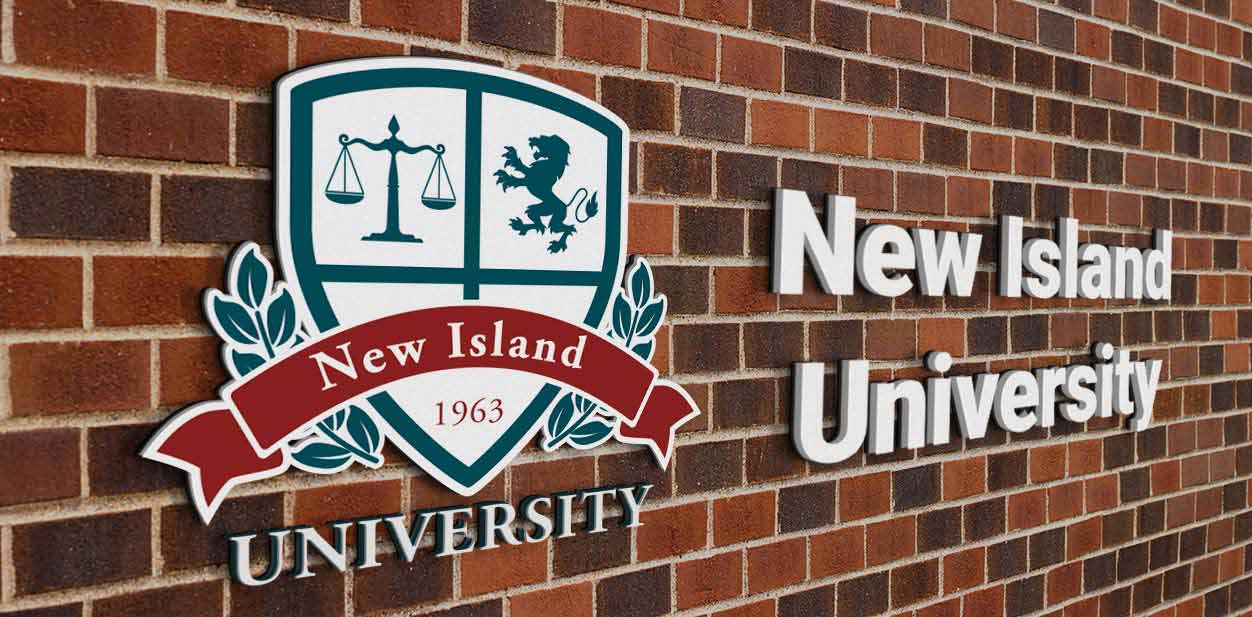 University Website Design
The visual identity of your university would be incomplete without a branded website. First, create an effective UX strategy to deliver a great user experience for the visitors. Then apply school insignia, colors and distinctive features for recognition.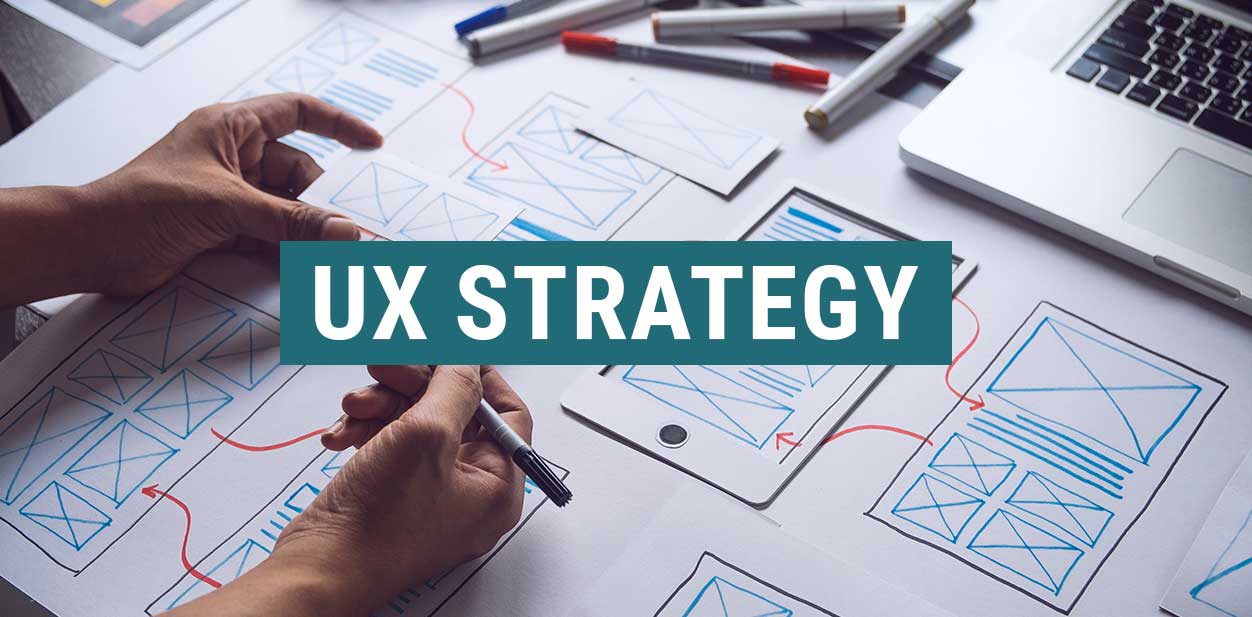 Brochures & Business Cards
Want to present your curriculum or amenities? A brochure will express info with catchy headlines, signature phrases and attractive imagery. It can be a brilliant yet inexpensive addition to your branding initiatives. 
Implement the branding of higher education institutions with neat business cards. They'll create a compelling impression during any professional exchange.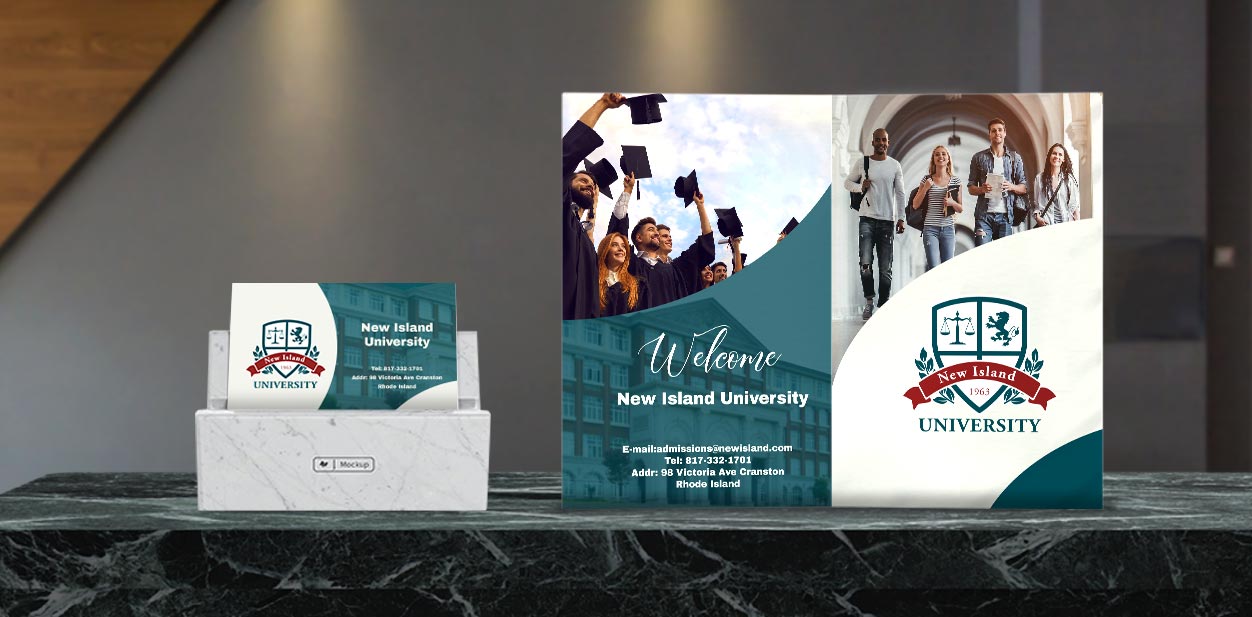 Branded Gifts & Merchandise
University events go hand in hand with branded gift cups, blouses, pens, bags and the like. To impress participants, incorporate them into your campaigns. These university branding examples further visualize your brand image. Despite the product, university branding guidelines should be conveyed with a consistent look, tone and feel.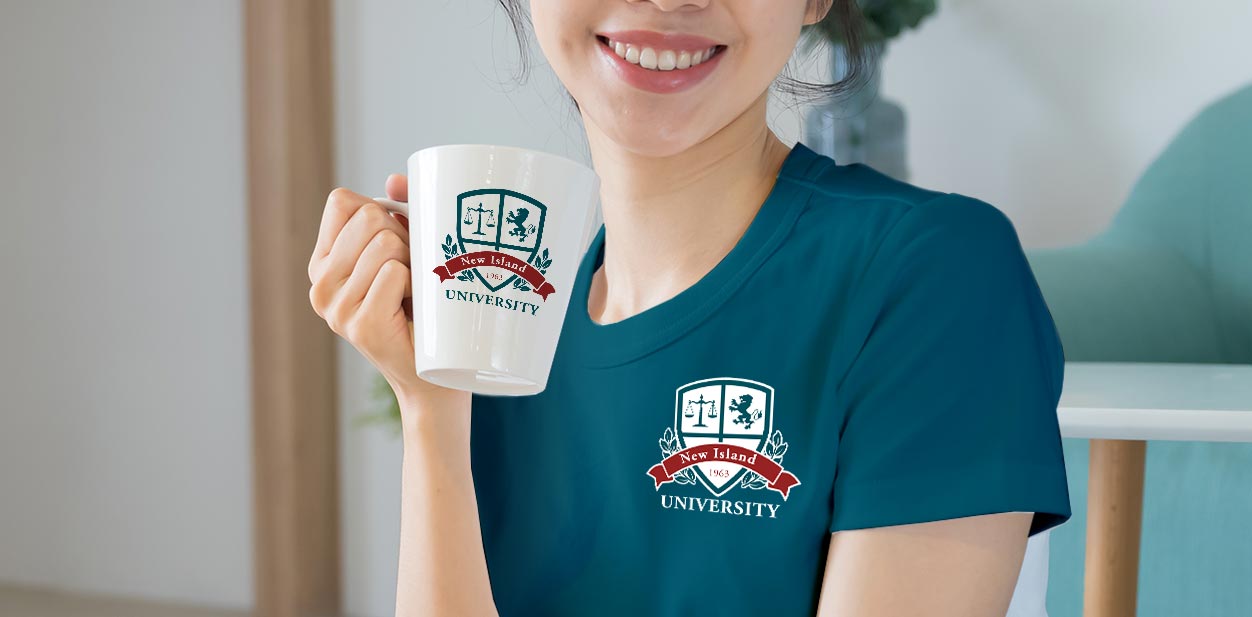 Non-Visual Elements in Higher Education Branding
Non-visual attributes formulate the ideological attitudes towards your institution. Students consider the history, location, subjects and core values behind your institution. 
You could use a slogan, motto or a tagline as part of your university branding campaigns. The slogan or motto is a short phrase expressing the vision of the institution. A tagline is tailored to create associations specific to that institution.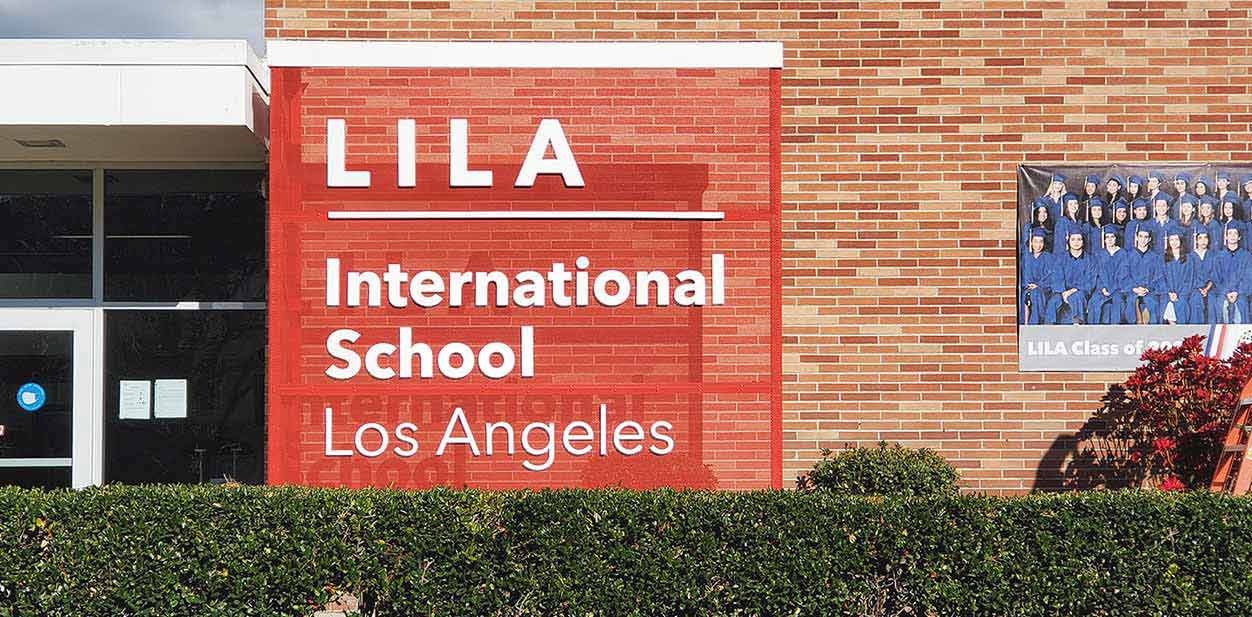 Campus Branding Strategies
Traditional advertising media can bolster your campus branding strategies. Though often used interchangeably, advertising and branding are slightly different. Advertising is a medium to spread the word about your products or services. Branding, on the other hand, is focused on distinguishing them and keeping customers engaged.
Traditional Advertising 
Digital marketing has taken the wheel to provide highly-targeted ads. However, the role of traditional advertising to reach a broader audience is critical. Physical displays should be integrated into your campus branding initiatives. This will engage passersby and your audience on campus. 

Commercial displays are an effective higher education branding strategy to boost the return on your investment. Such tools will decorate your campus while making a lasting impression. 
Adorn your branding space with magnificent business branding examples. Of course, make use of your campus space on special occasions. Use state-of-the-art event signs for notable indoor and outdoor events. You can check out the university branding examples on our website for inspiration. Get a quote by submitting the details of your signage project.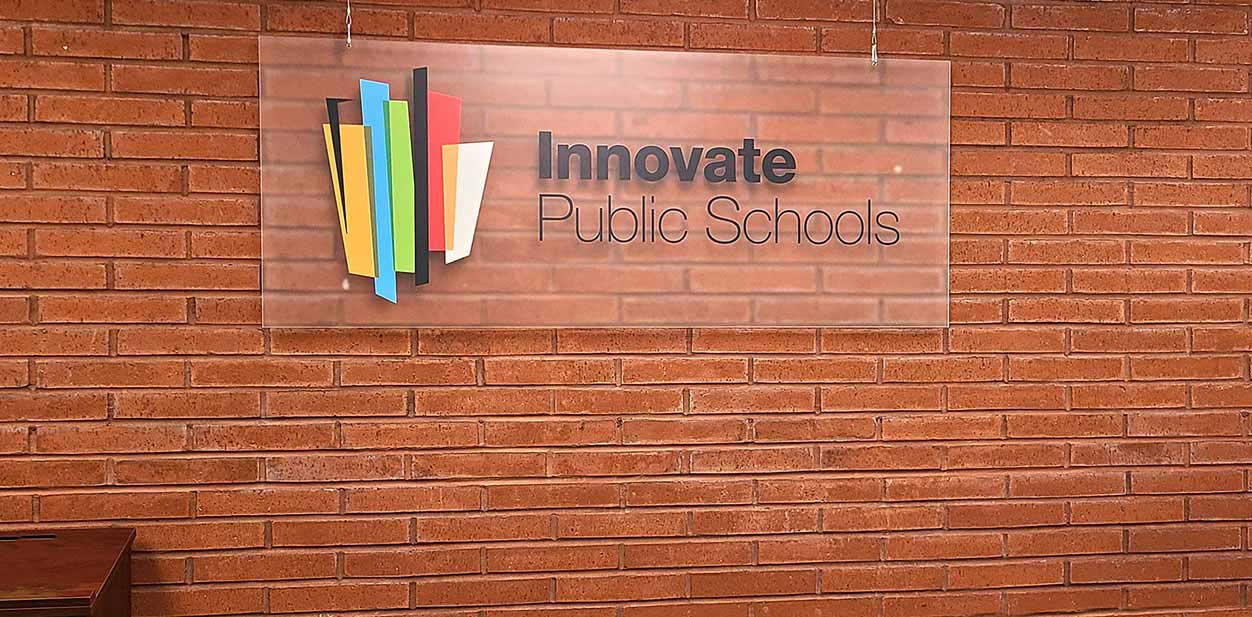 Advertising on TV, Radio and Magazines
Advertising on TV and radio is among the best university branding strategies to raise public awareness. They should be incorporated into your university branding guidelines to reach a wider audience. 
Magazine advertising is another effective university branding strategy. Attractive texts and visuals in magazines will optimize your higher education branding strategy. Popular outlets can push your university to the forefront of attention. 
Social Media Branding
University branding guidelines would be incomplete without including robust social media engagement strategies. For starters, create a Facebook business page along with an Instagram and Twitter account. Then check out the LinkedIn content marketing plan for professional connections.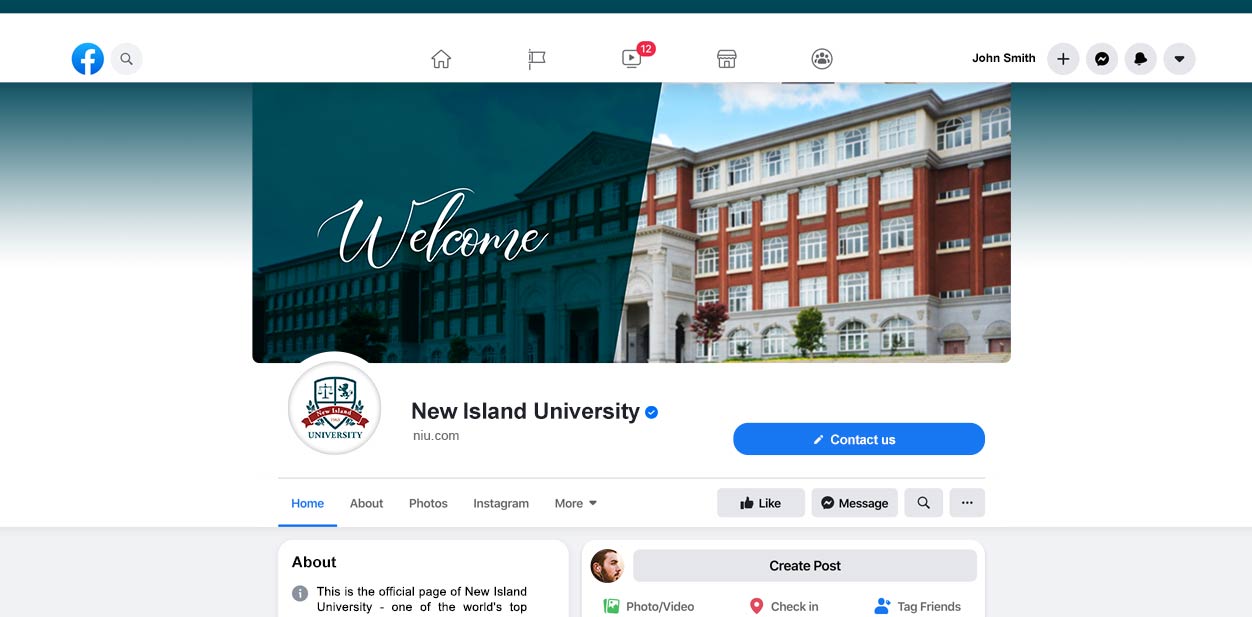 Campus Branding Tips
A branded physical space creates the environment to excite curiosity in passersby. Fine-tune it to take advantage of your corporate branding strategy. The modern campus signage designs below will be helpful to your university branding guidelines. 
Double-sided brand message visibility 
Light box signs have the form of a box. They're perfect for ensuring brand message visibility from the front and back sides. These illuminated cabinets will brighten up the space and ensure day as well as nighttime visibility. We also offer double-sided options for hanging and free-standing displays.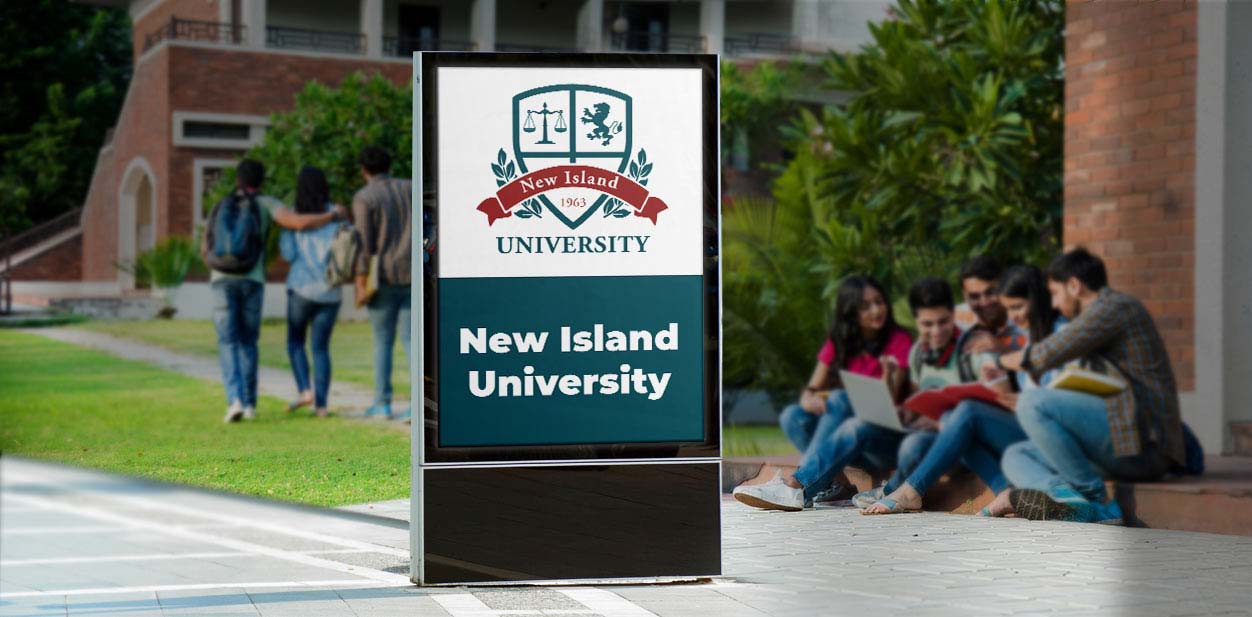 Ensure the correct placement of your branding solution, be it indoors or outdoors. When used outdoors, make sure the item is not covered by trees, towers and the like. When indoors, choose a central area with good visibility. You might also wish to take a look at the following sample college signs installed by our team. Our professional crew will make sure your visual tools are positioned in the perfect place.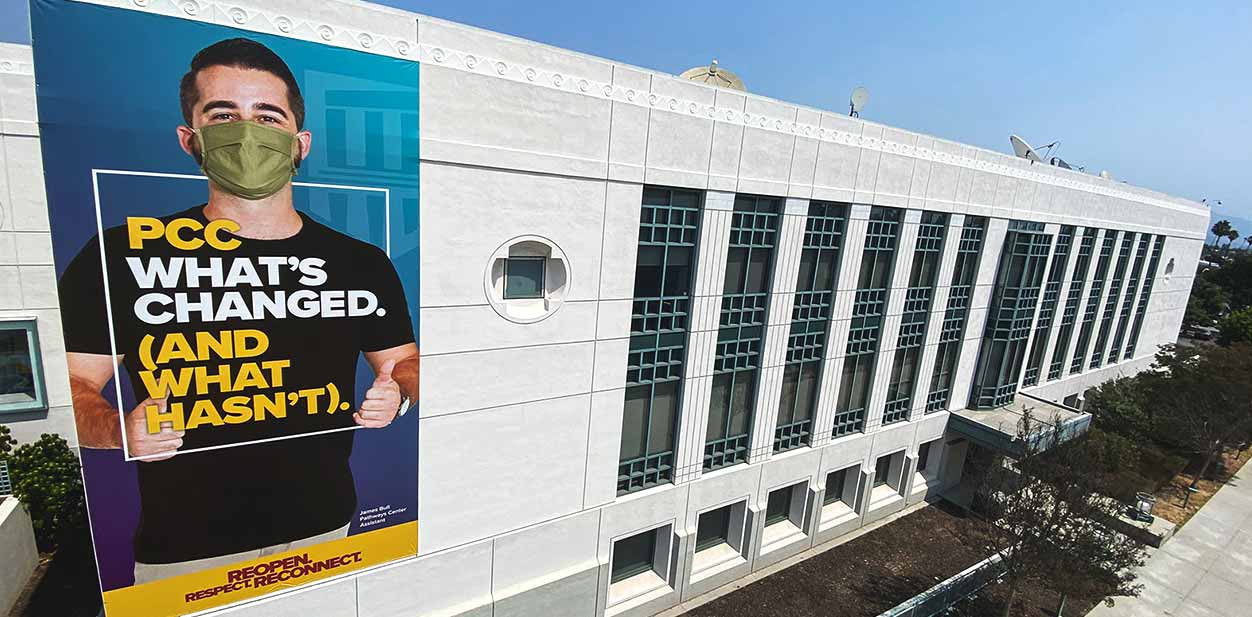 Ensuring all-around visibility 
Ensure your brand message is visible all around. Try displays in the shape of a cube, leveraging it as a type of architectural signage. Such designs are tailored to match their surroundings. They can be made in any shape, size, design and material. Architectural elements are a popular choice for establishing a prominent brand image.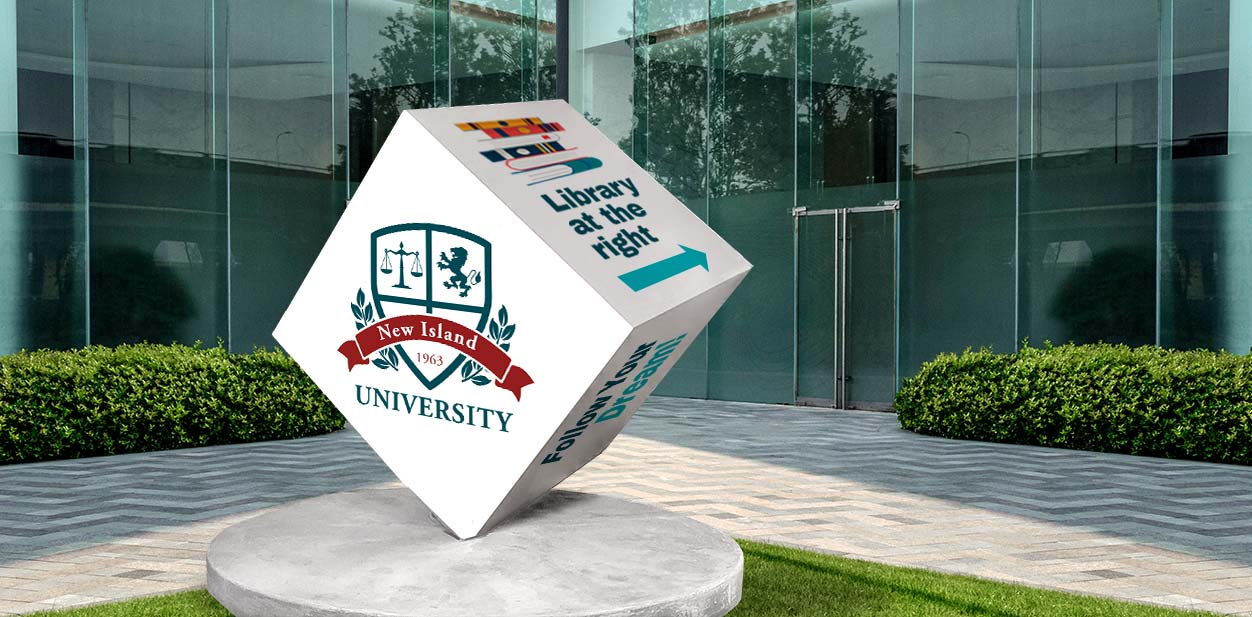 Brand message night visibility 
Your brand's nighttime visibility is as important as visibility during the day. That's why we've created a range of illuminated solutions for you to choose from based on your preferences. Ensure 24/7 visibility with light up signs of all types, including exquisite channel letters.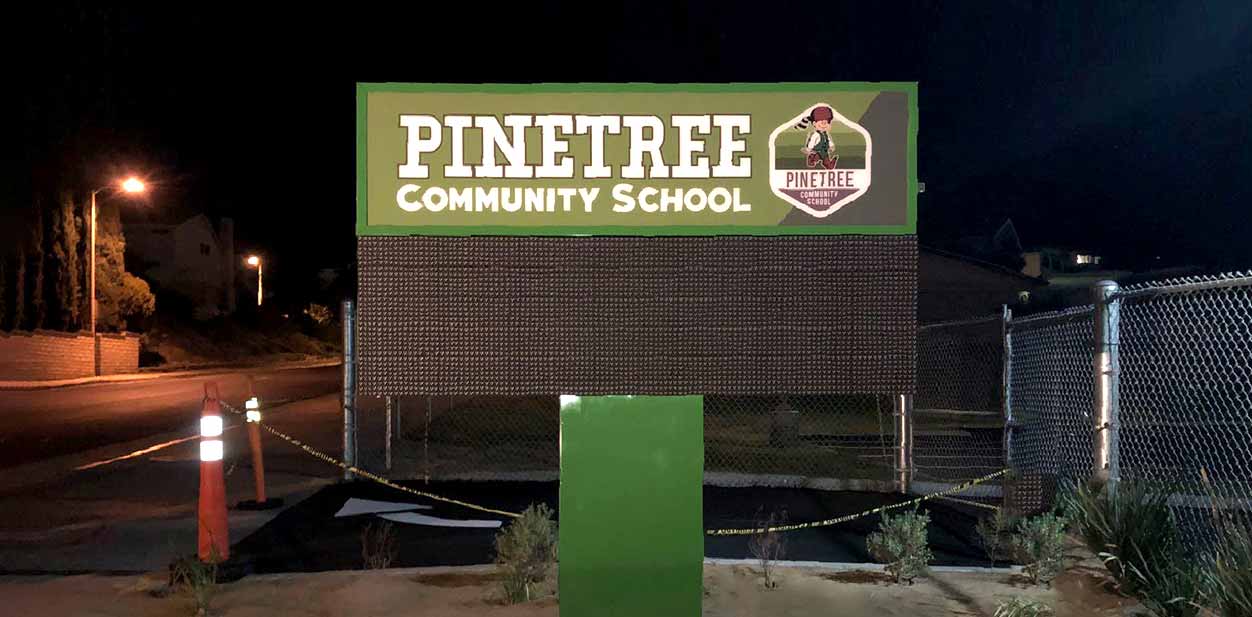 Creative University Branding Ideas
Ready to go for some fresh campus branding ideas to spark your imagination? As William Arthur Ward once said, "If you can imagine it, you can achieve it." In addition to the existing tools we offer, you can also order custom designs that match your ideal brand vision. We'll tailor every element of your project from size and shape to materials and details. 
Useful University Branding Ideas for the Interior 
The campus interior should ensure a warm atmosphere to keep your students motivated. Let's dive in to explore some creative campus branding ideas. 
University Wall Branding 
A welcoming message on the entrance wall will create a positive atmosphere. Achieve this through striking lobby branding solutions like window and wall decals.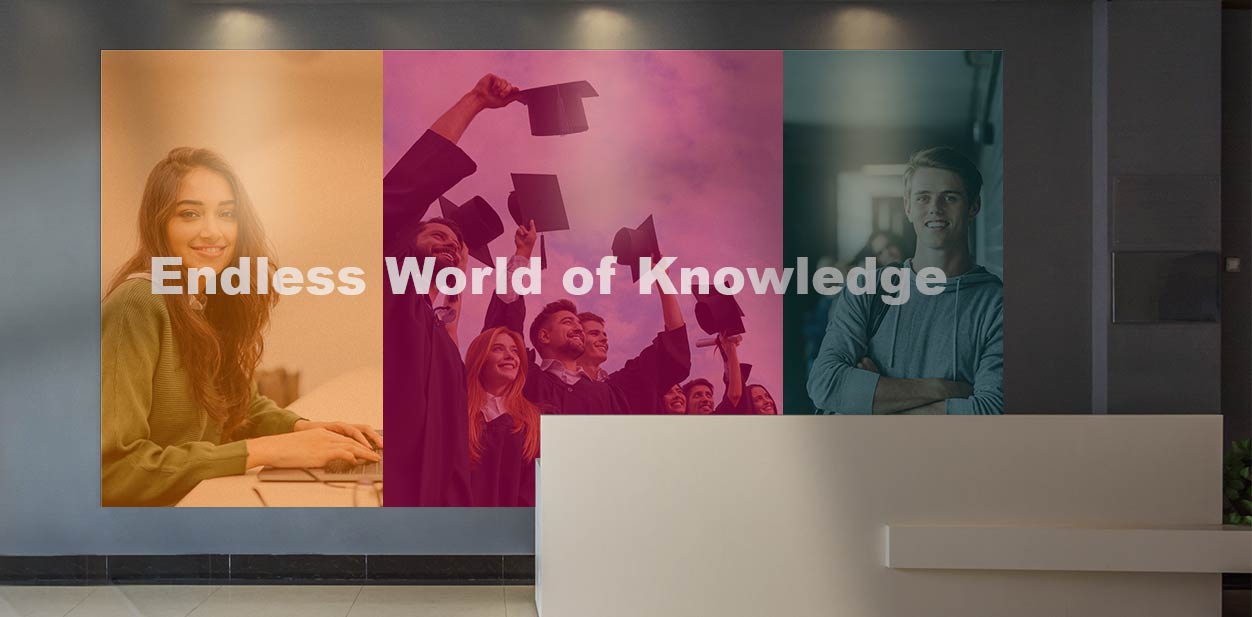 University Hallway Branding 
Motivational hallway branding ideas are widely applied in universities. Student photography, achievements and ''thank you'' notes are popular ideas. Designs related to fields of study have both a motivational and decorative effect.  
The list would be incomplete without directional tools. They point the way to ensure an easy orientation within your premises. Floor decals are also one of the creative university branding ideas that can motivate or direct passersby.
Thinking of decorating your university hallway with eye-catching window decals? Consider the lettering and elements that will best suit your university branding ideas.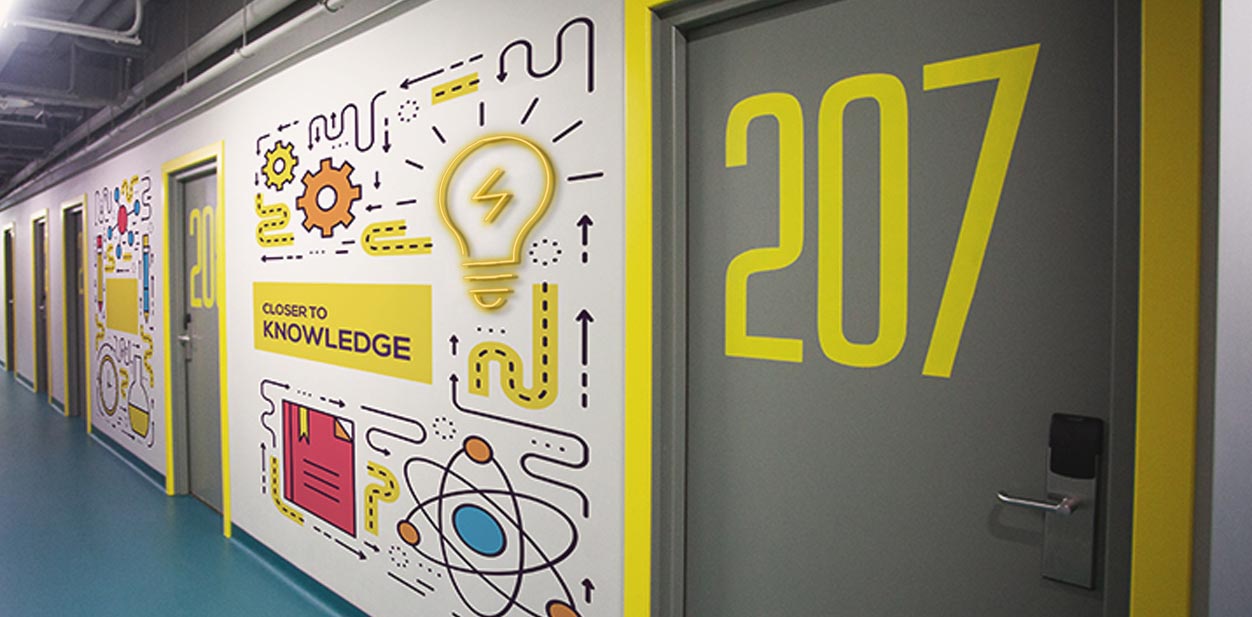 University Staircase Branding 
Spruce up the surrounding walls of any staircase. Highlight founder names, motivational quotes, alumni portraits, event announcements and so on. You can even decorate the risers with stickers of fun phrases and other playful graphics. Stairs offer ample space for informing. They're an often neglected surface area that can also be used for decoration.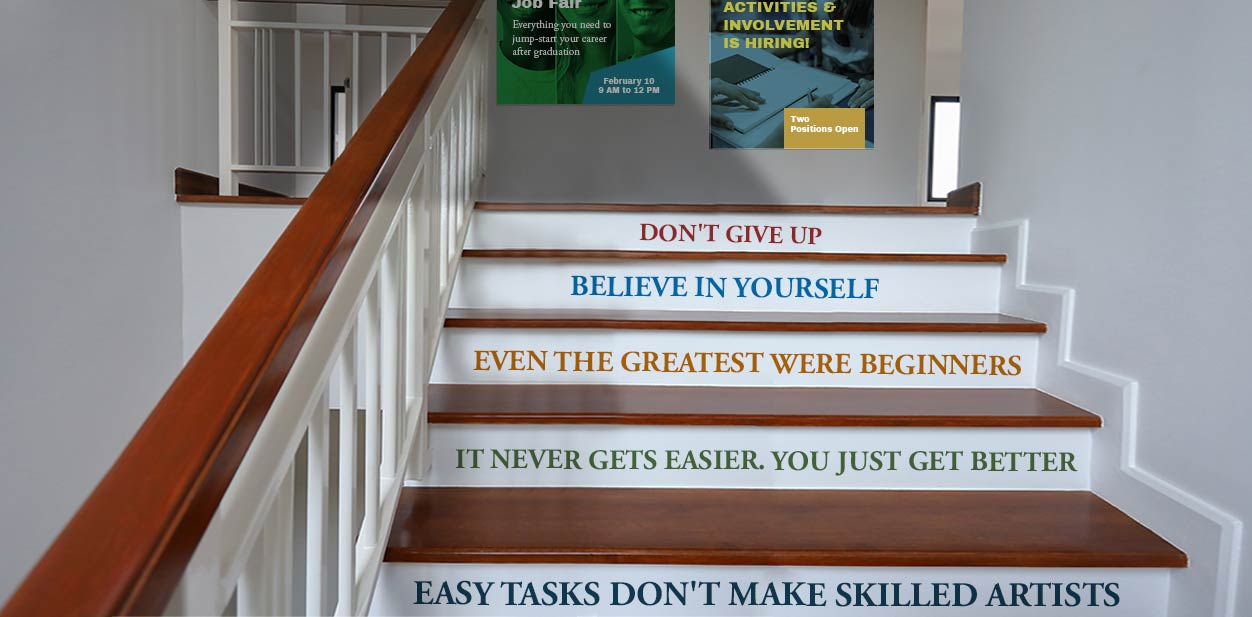 Elevator Branding 
Elevator branding is another one of the most useful university branding ideas. It's an idle space where engaging content is usually lacking. People will pay extra attention to your message when they're waiting. Grab the opportunity to adorn elevator walls with creative solutions like custom decals. Fill the empty surface to offer value.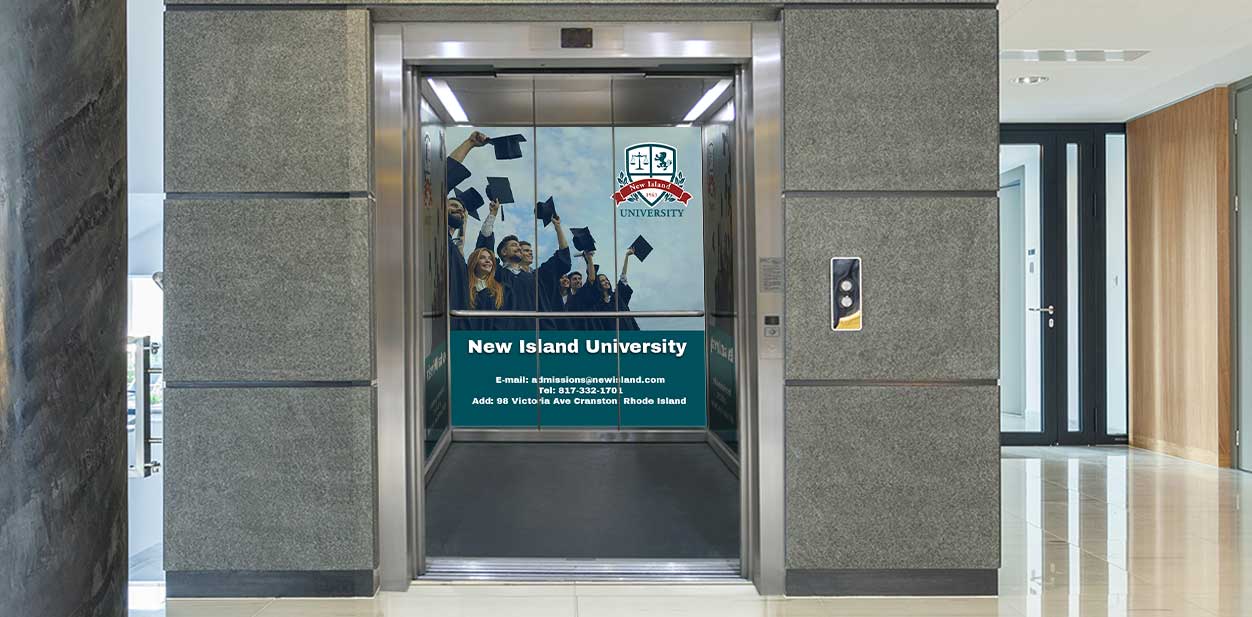 Conference Room Branding 
Conference room branding items create a professional atmosphere with elegant lettering and graphics. Conference signage can be crafted with various materials and used for different purposes. Make the most of this professional setting with everything from quotes to retractable media.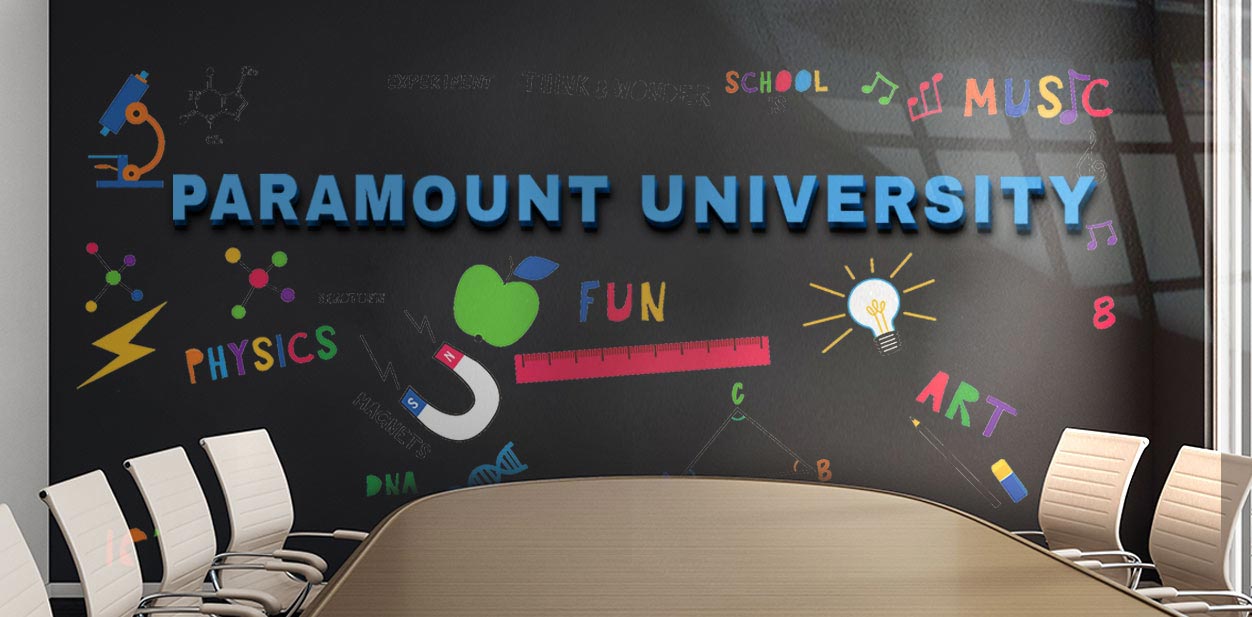 Best University Branding Ideas for the Exterior 
Your campus lawn territory and building facade should exude a positive impression of your institution. Follow the tips coming up and your campus environment will stand out with grace.
Campus Front Lawn Branding Ideas
The front area of your university building needs proper branding. The right setting will greet your students amiably and invite them in. To ensure the desired aesthetic, use pylon or monument signs. The latter is an ingenious option that replicates the style of your campus.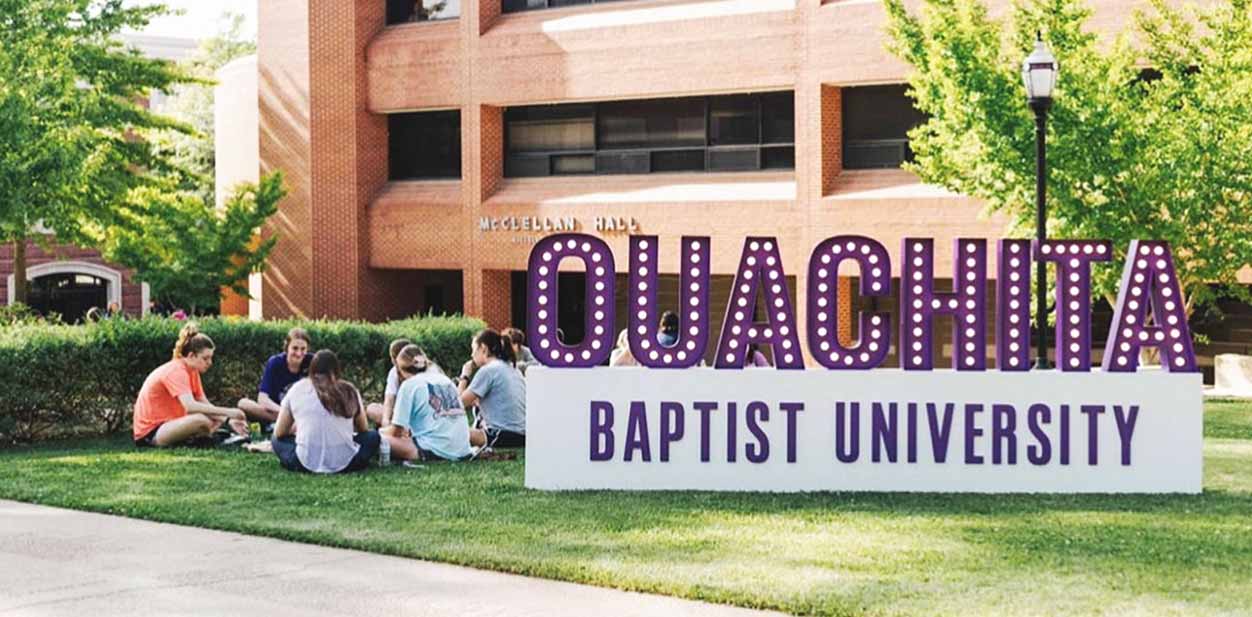 Building Facade Branding Solutions
Building facade branding can be achieved through many eye-catching solutions. It's among the key university branding ideas to consider. Ensure outstanding facade branding with high-rise signs and 3D signs and letters. Both styles will magnify your influence on passersby.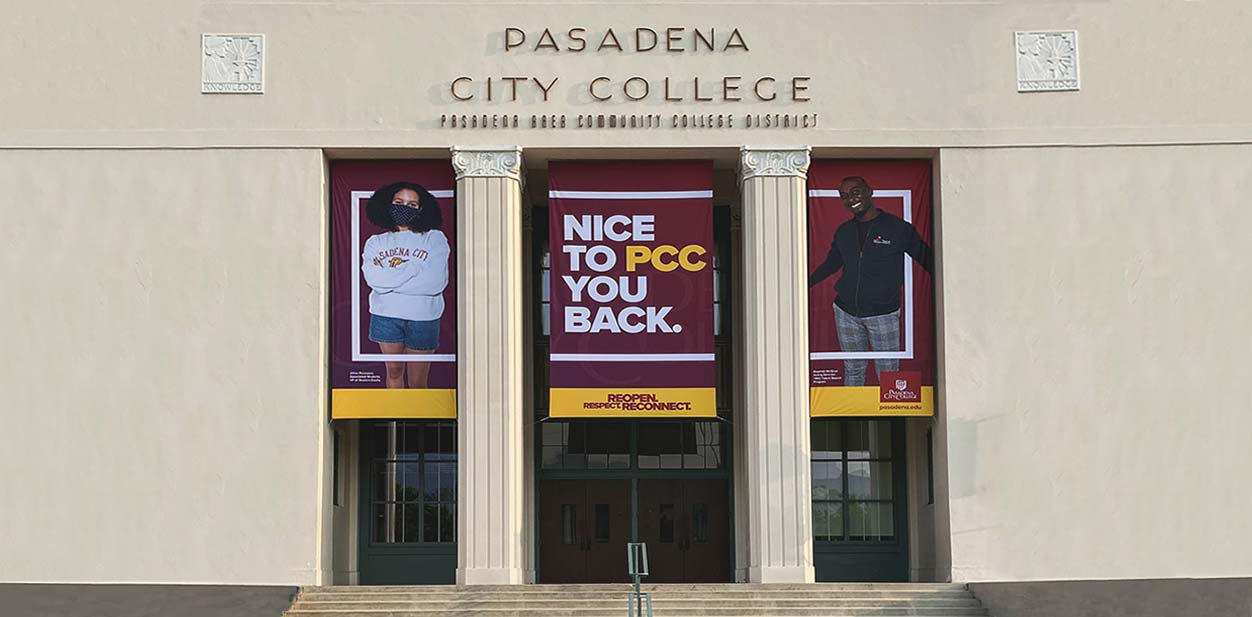 Directional Branding Ideas Outside the Campus Venue 
University branding examples are not limited to the campus premises. They can go beyond the territory to engage a broader audience. 
University branding on streets 
University branding on streets can be accomplished through outdoor signs.  They have versatile styles and usage options. You could place them on nearby streets to attract attention and raise public awareness.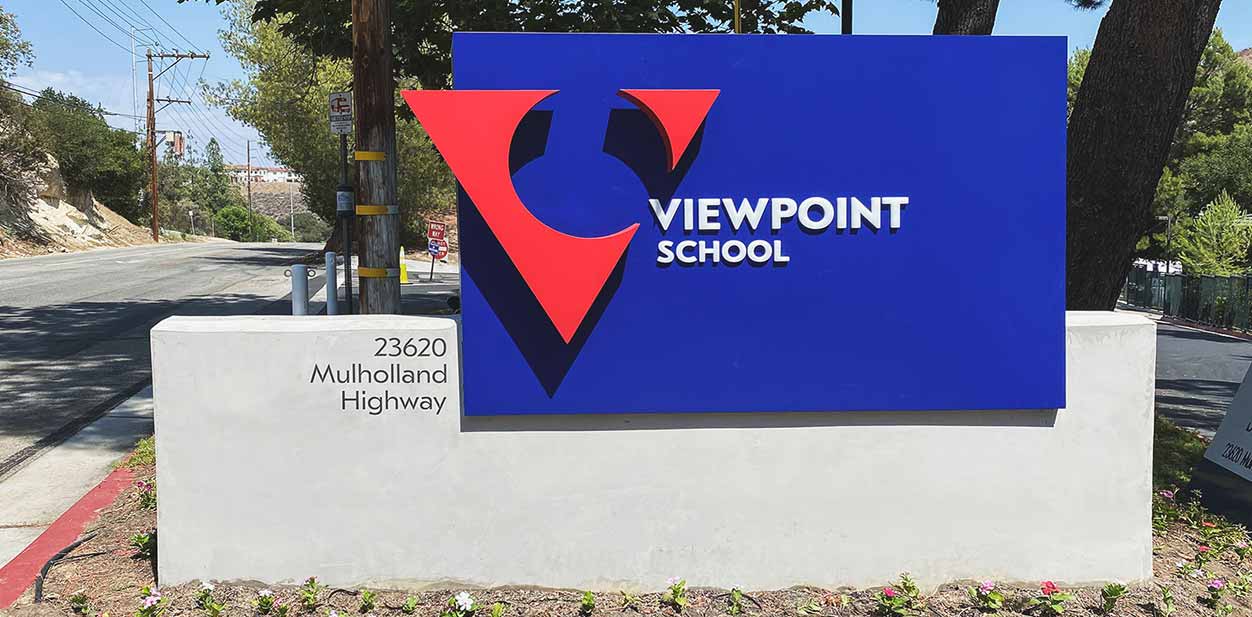 Campus wayfinding solutions
Attract and guide students with branded wayfinding signage around campus. Reach out anytime to get a quote with the details of your project. We'll help you realize your directional signage ideas with style.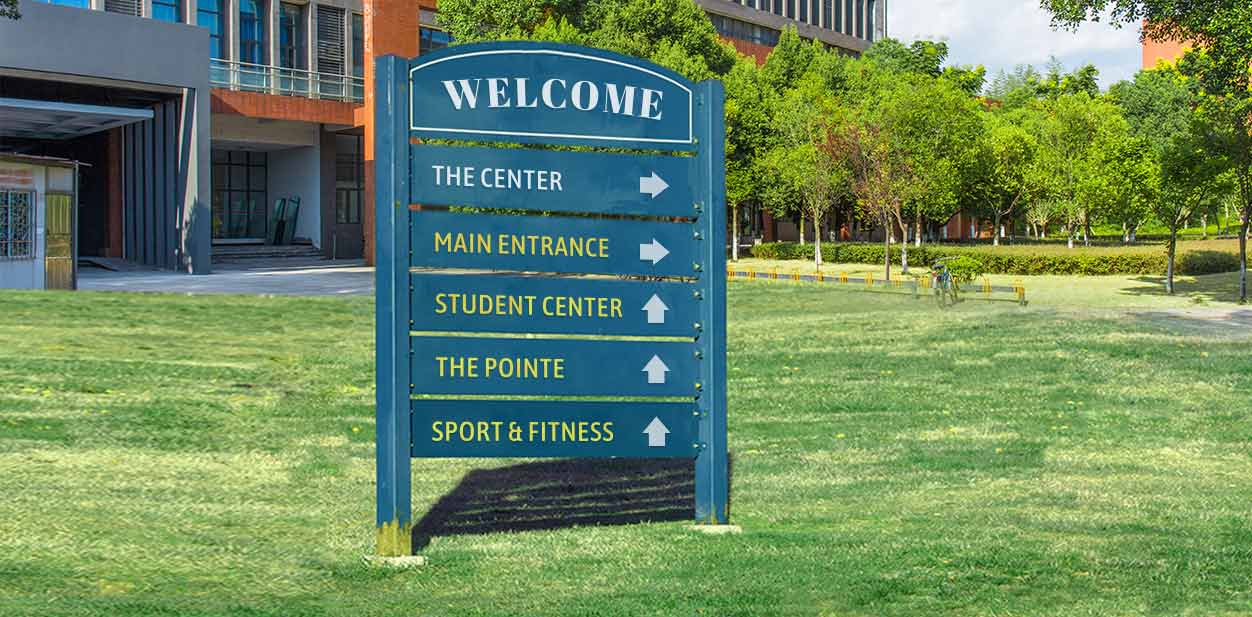 Directional advertising for nearby bridges
If there's a bridge on the way to your campus premises, branded directional advertising is a win-win solution. You can use it to spread the word about your institution as well as guide people to its location.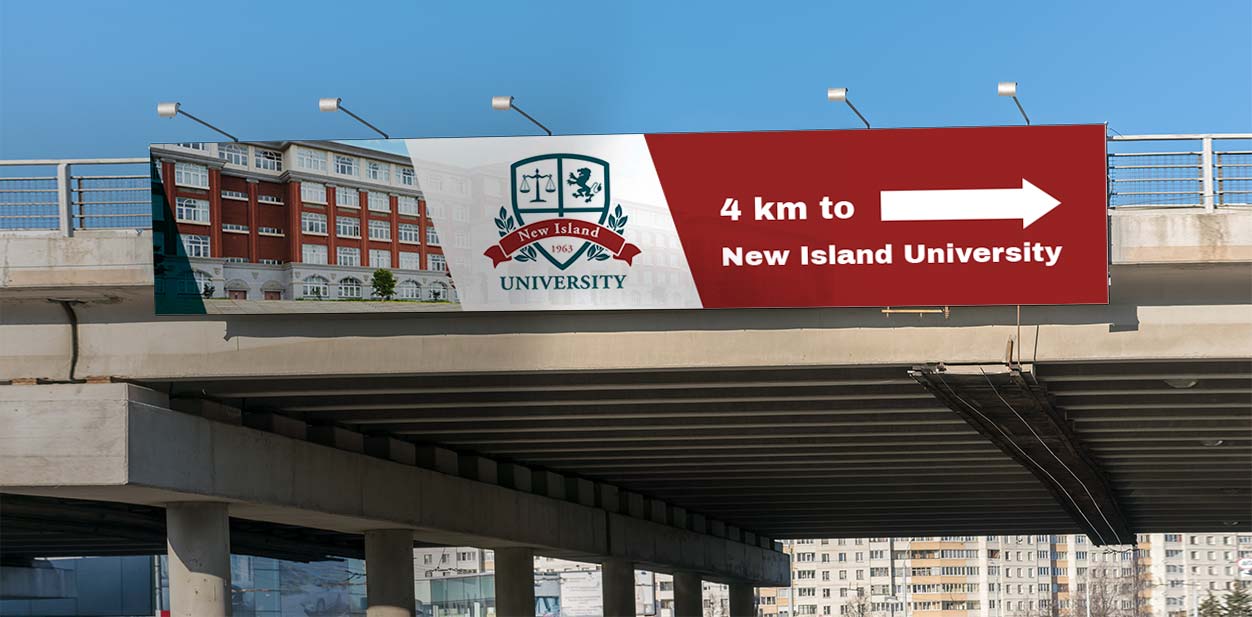 University branding solutions for an archway
Archways are an opportunity to adorn with refinement. You can use directional, branding and advertising solutions. Placing slogans or insignia at the front or back end of an archway can even be decorative. Spark emotions like curiosity, excitement or determination to follow the guidance.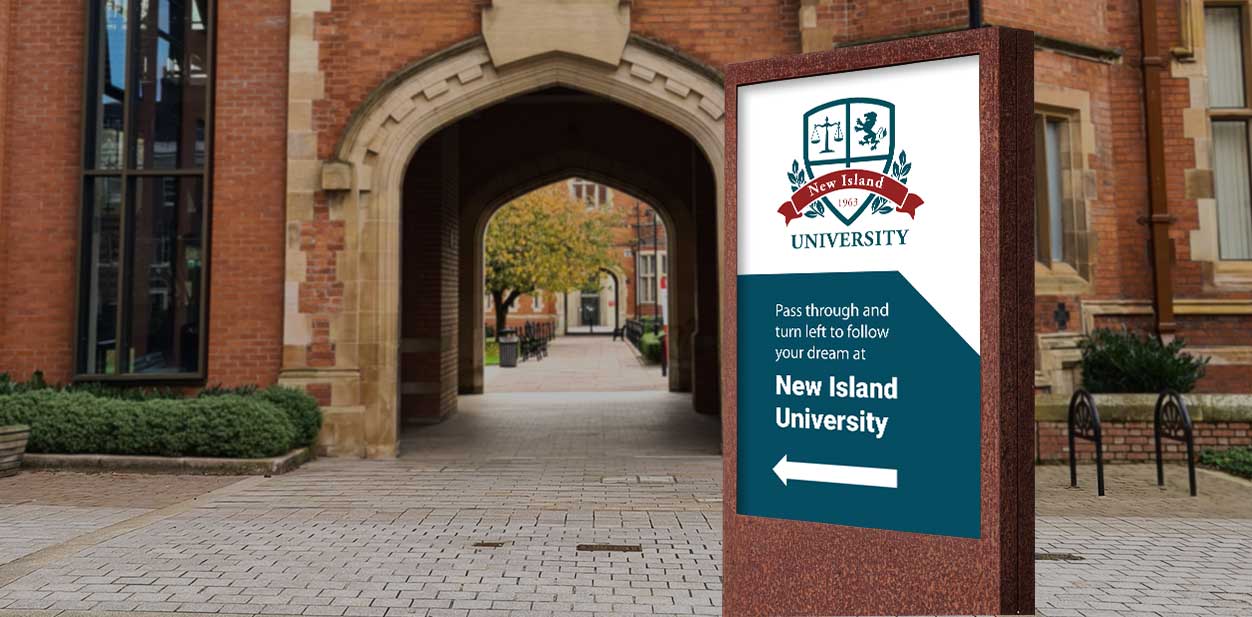 After selecting the technical specifications of your product, it's time to think about the sign installation process. Our customer-oriented approach will ensure that the whole experience runs smoothly from start to finish. We'll guide you every step of the way from fabrication to installation and beyond. With our reliable experts, your ambitious branding ideas will be set up with speed and sophistication.