Restaurant Branding Guide for a Remarkable Brand Image
Restaurant branding is a pillar that shapes the dining experience. It revolves around choosing a specific mix of elements that transform your business into something more. The most important part in branding a restaurant involves establishing an image that defines your establishment's heart and soul.
Restaurant Branding Strategy Concepts
Consider this a guide to many useful concepts on how to brand a restaurant. We'll cover the essentials of creating and enhancing your brand image. From building signs to restaurant logo branding, discover how different branding elements influence your restaurant's reputation. Read below to figure these issues out.
Restaurant Branding Image and Identity
Your restaurant goes beyond the food you offer. Shaping a trustworthy image for your company is a cornerstone of branding a restaurant. Provide an easy experience with wayfinding pylon signs or establish contact through attractive lobby signs. Enhancing dining experience is vital in increasing sales.
Define your values and put them on display using large format printing. Show yourself to the world by making what you have on offer extremely clear. What matters most to achieve outstanding restaurant branding? Read on!
Before you go public with your brand, you must first plan it to perfection. Having a mission statement constitutes the first step to making your core beliefs known. It'll also help with your restaurant branding strategy.
By this point, your customers will start bonding with your business. Begin by presenting your company with human qualities. What do you say and how do you appear? Are you lighthearted or serious? Are you excited or calm? These characteristics come together to form your brand character.
This phase may depend on where your establishment is located. If your restaurant, for example, is near a busy commercial area, you'll be serving people who don't have a lot of time to spare.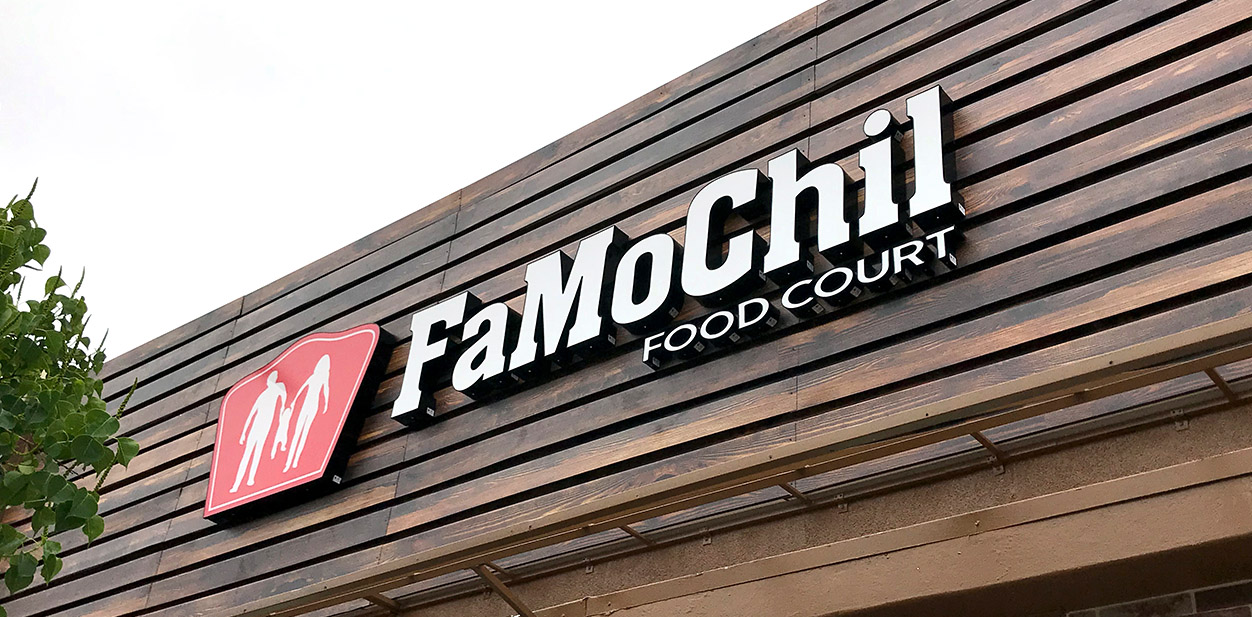 If you're a corporation in essence, you'll probably want to use a more classic, assertive typeface. If your brand is supposed to be loud, you should match it with bold colors. Business signs are another aspect to match with your restaurant branding project.
Find basics for a corporate branding strategy on our blog.
Typography includes the fonts you choose and the way you employ them in your design. It communicates your identity as a company as well as your services. Ensure that the themes you select are consistent with your restaurant branding strategy.
Understanding color psychology will help you find ways to affect people's purchasing decisions. Pick a brand color and cover everything with it – your logo design, your exterior and interior design and even your menu.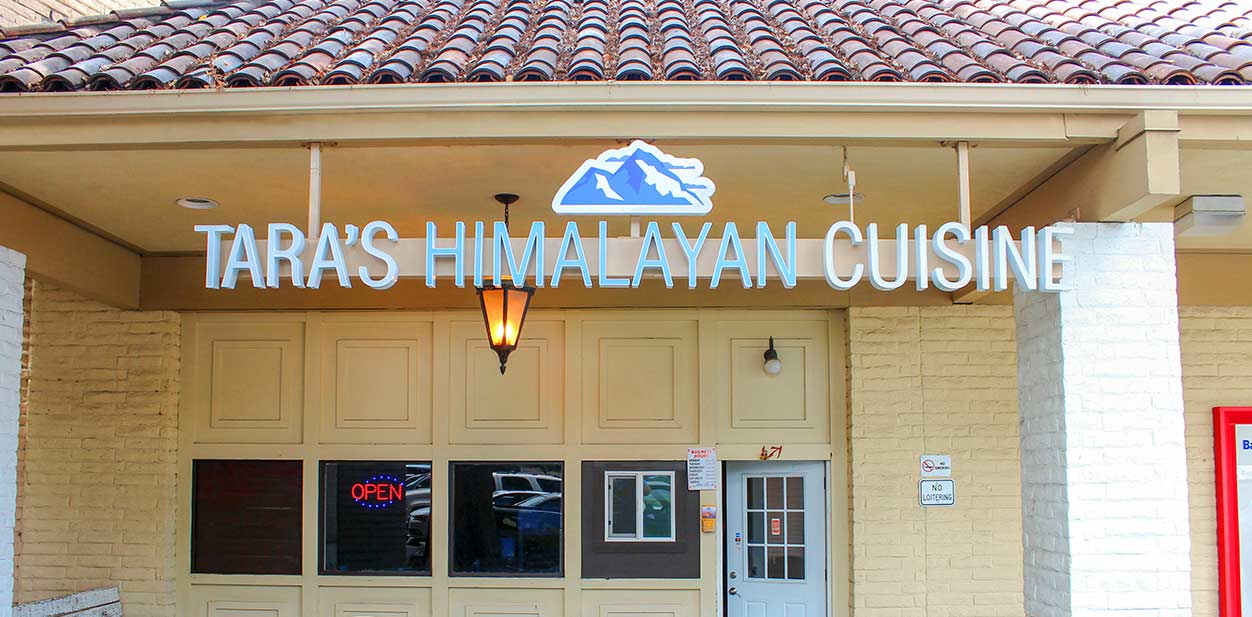 Get top-notch branding with custom signage offered by Front Signs! Get a free quote and consultation!
Restaurant Branding Design Elements
Start designing your main branding elements after you adopt a clear mission and set a business tone. Come up with different methods to make a restaurant branding design.
Plan everything accordingly, from your facade and your menu to your social media. Let's check these elements!
Restaurant Logo Branding
An instantly recognizable image can help passersby remember where you are when they search for you next time. It is, without any doubt, your wonderful food which keeps diners coming back. They might not know what's on your menu or how tasty your food is, but if they see appealing restaurant logo branding, they'll visit to find out. 
Choose a retro serif on a monotone background to show off timeless tastes. A combination of black and gold on your restaurant logo branding will be a classy detail seen on menus and business cards. White acrylic signage can also provide your branding with unparalled elegance. You have infinite ways to transform your restaurant branding ideas into compelling works of art, so choose with care.
Other design elements of great restaurant logo branding include 3D signs spelling out your company name. To make your logo visible around the clock, add some lighting options. Light box signs work best to create nighttime visibility and call your visitors in during the late hours.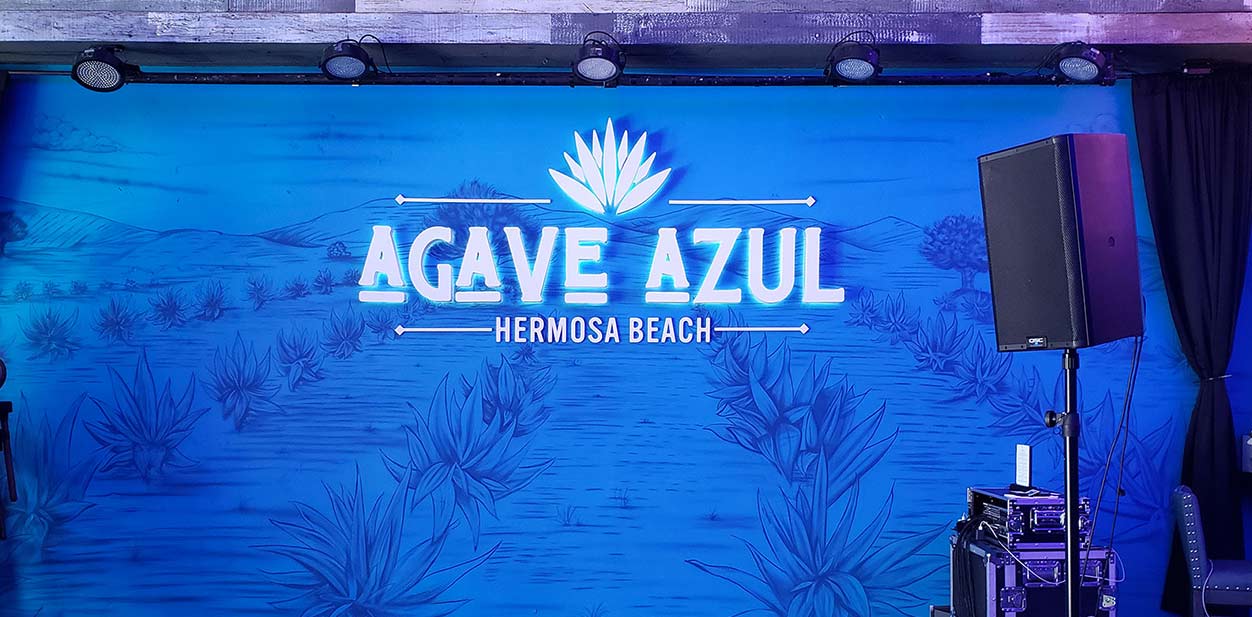 Restaurant Wall Branding
If pedestrians are your primary customers, you'll need to find a way to entice them to walk in. What better way to accomplish this than with one-of-a-kind restaurant wall branding? Everything you have planned for your restaurant branding strategy should be clearly expressed on outer and inner walls.
Level up your restaurant wall branding with gallery-quality art in your brand's hues on your facade. Use light up signs for your restaurant name. Depicting scenes of your history is another idea for your restaurant branding checklist. A popular idea is branding the ceilings along with the walls by maintaining a consistent theme.
Tasteful restaurant branding examples create designs that suit specific audiences. A diner for vegans might decorate its walls and ceilings with green restaurant branding ideas. A steakhouse may incorporate graphics of meat in its design.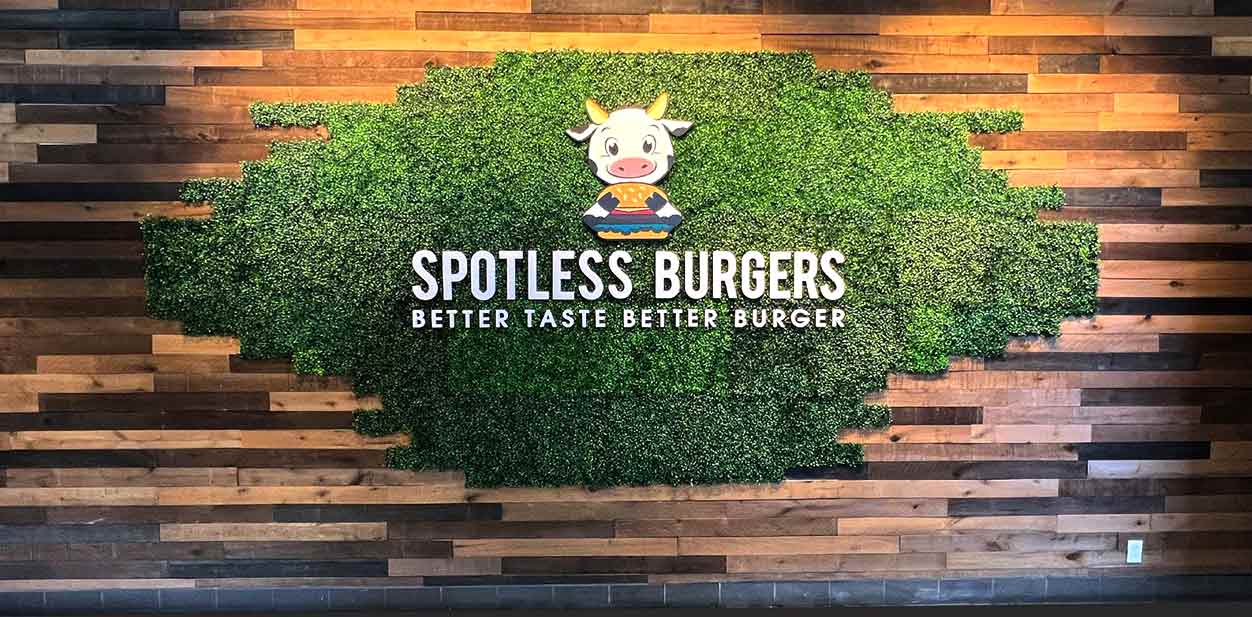 Read about business branding examples to effectively position your restaurant among competitors. 
Overall Restaurant Venue Branding 
Research finds that 91% of restaurant-goers claim the restaurant's atmosphere has a decisive role in whether they return to the same place. Both interior and exterior space branding can influence the restaurant's reputation.
Exterior branding
There's no single solution to exterior restaurant branding ideas. With the latest change in trends, you may end up having a lot of questions about what's right for you. 
Restaurant branding items:

Clear design items are a reminder of where your place is. Use

channel letters

to make it more visible

and attract more customers. They're bold, illuminated and appealing.
Open-air dining:

According to a study, a simple terrace outside the restaurant may

increase revenue by thirty percent

. Al fresco dining is connected to taste, so many people associate having a meal outdoors with freshness.

Outdoor menus:

Pique the interest of those passing by your premises by setting up

sandwich boards

. They're a favorite for restaurateurs to change messages on the daily. They may involve promotions for different meals, events or other changes.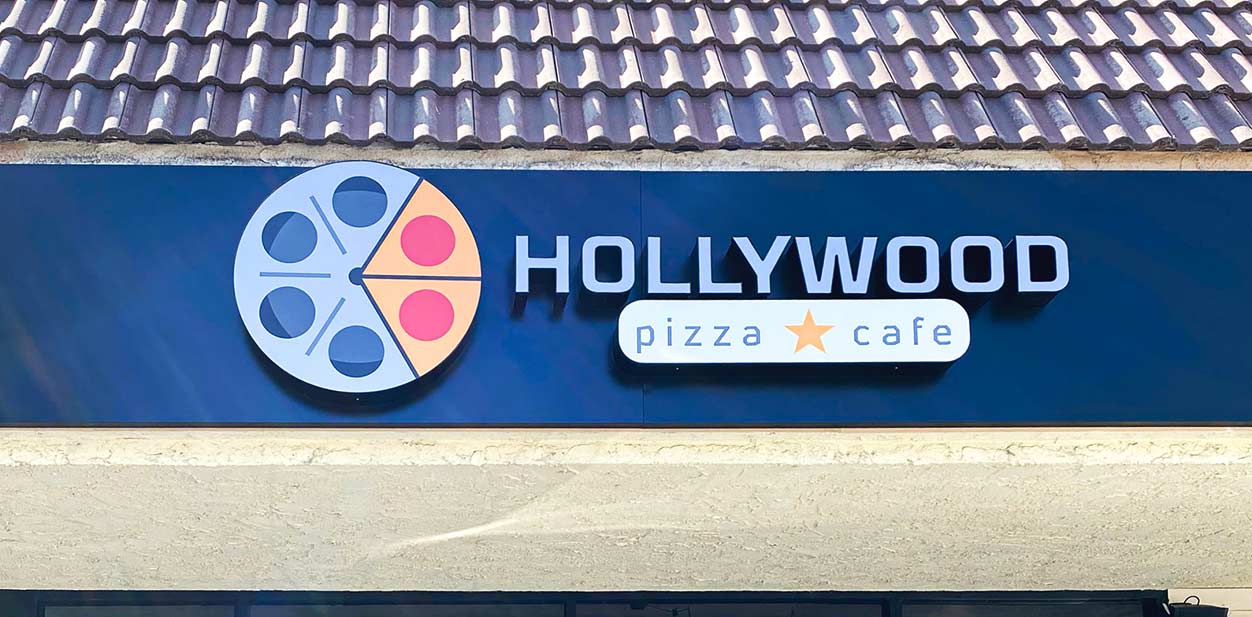 Interior branding
Interior branding is the final step in figuring out how to brand a restaurant. It should complement the exterior branding and bring it inside. Make sign manufacturing decisions based on your color shades, visual identity and brand image.
Quality graphics:

Environmental design incorporates the same storyline, typeface, hues and images to display the brand message everywhere. Interior

wall decals

often include custom art that points to creative restaurant branding. They also include wayfinding elements to show customers their way around the premises. 
Neat food presentation:

Customers can't help taking pictures of their food and tagging your restaurant before digging into their plates. Make your dishes Instagram-worthy and let them do the talking for you.
Good-looking staff attire:

Cool restaurant branding encompasses the concept of having your staff represent your restaurant. The selection of costumes should align with the overall brand message.

Branded Printed Materials
Establish a brand image on printed materials such as menus, interior photos and promotional items. These restaurant branding design assets can act as a silent salesperson and enhance branding both inside and out.

Hang some photos in the dining area to set the atmosphere. Take shots of any celebration held in your establishment and hang them too.
Set a professional-looking menu if you want to create a flowing restaurant branding design. Give your guests a preview with the beautiful colors, images and typeface.
Custom promotional assets
If fame is what you seek, highlight your brand name with tailor-made promotional items. They may include pens, caps and T-shirts with your company name or logo printed on them. The most effective items are promotional banners with images of your savory dishes. Include your working hours and location for customers to be aware of when you're open.

Online Branding Design
Customers will most likely interact with you online before even visiting. They'll get a preview of the ambiance and your cuisine so don't downplay the importance of a commanding online presence.
Keep your restaurant branding ideas consistent while incorporating the essentials. Introduce your staff too so that people know who's serving them. Make your menu available online to allow potential customers to know what type of cuisine you specialize in and how much you'll charge them.
This is where great restaurant branding examples shine. Set an inviting tone via social media and always be responsive to individual comments. Don't neglect your brand colors while planning your restaurant branding ideas. Be active and easy to deal with: this is what people are seeking.
Representative food photos
Photos taken by a professional photographer or on a high-tech device can be top promoters of the best restaurant branding. Leave people craving the food you make by uploading mouthwatering dish photos.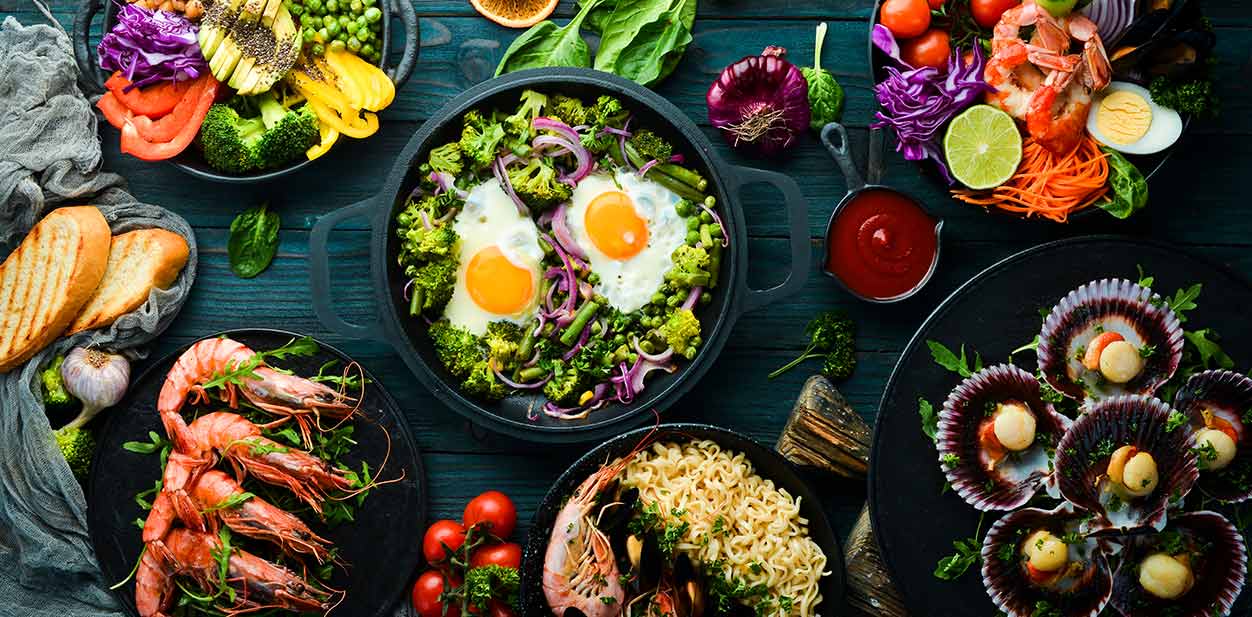 Yearning to have striking signage to create a modern restaurant branding? Contact our specialists and get a free quote and consultation! We'll also provide sign installation services for accurate placement!
Restaurant Branding Ideas for Different Venues
Keep on reading if you're hungry for successful restaurant branding ideas or want to know how to rebrand a restaurant. We'll give you various restaurant branding ideas for different public establishments.
Bar Branding Ideas
All bars must carefully plan their bar branding to create an exclusive experience. If your customers remember your cocktail-style logo, then you're on the right path. Here are awesome bar branding concepts to achieve the result you desire.
Bottle-shaped design concepts
Want the whole world to know you offer tastebud-tingling drinks? Use restaurant signs associated with beverages for your bar branding. From tequila bottles to cocktail glasses, everything can be featured in your bar branding design.
Use vinyl lettering to elevate your bar branding. Decorate your blank walls and share fun quotes with your customers. You can have the phrase "Save water, drink wine" displayed.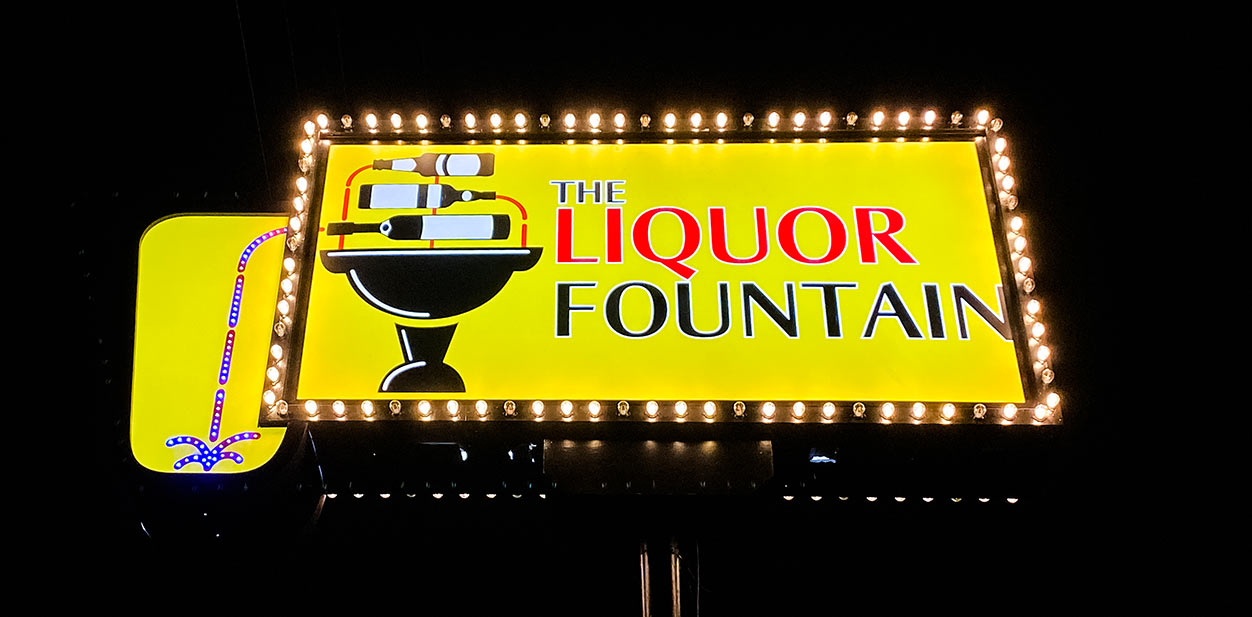 Use as many of these restaurant design ideas as possible to lift your employees' spirit and elevate your brand image.
Cafe Branding Ideas
There are millions of cafes all over the planet, meaning proper cafe branding is crucial to give your establishment the opportunity to thrive. Unique branding is what makes you different from all the rest.
The top restaurant branding examples that offer coffee and breakfast almost always use their motto in their cafe branding. The best tip for awesome cafe branding is selling coffee packaged in eco-friendly paper cups. Use custom signs for cafe decor illuminated with neon lights.
The more wayfinding displays there are, the easier on the eyes your cafe branding becomes. Use large-scale wayfinding signage so that restaurant-goers find you as fast as possible. Pick wood for your cafe branding to show that you're contributing to the planet as a green brand.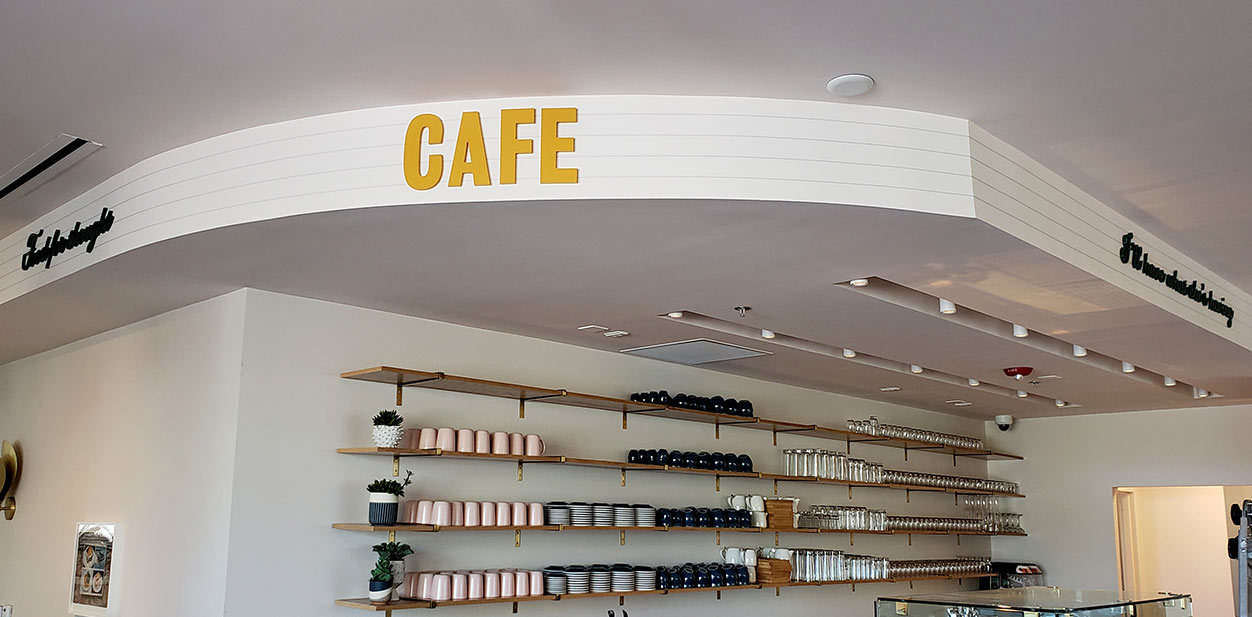 Pub Branding Ideas
Nothing says "special" like personalized pub branding created by professional craftsmen. Are you looking for inspiration? Find it below!
Tailor-made graffiti wall
This restaurant branding idea works best for those who love knowing how the brewing process is done. Have a graffiti wall with images showing each phase of production. Shed light on what materials you employ to achieve that exquisite taste and the complicated processes in making the best beverage ever! Branding is about creating happy memories in a nice environment. This is among the most effective pub branding concepts to implement.
Without proper space for fun, the pub branding experience is incomplete. A nice gaming zone with a foosball table and bean bags works well. Using custom decals to advertise an upcoming themed night is the right method to target a particular clientele!
In conclusion, developing an effective restaurant branding strategy should be a top priority for you. If properly implemented, your business will be a thriving part of the hospitality industry.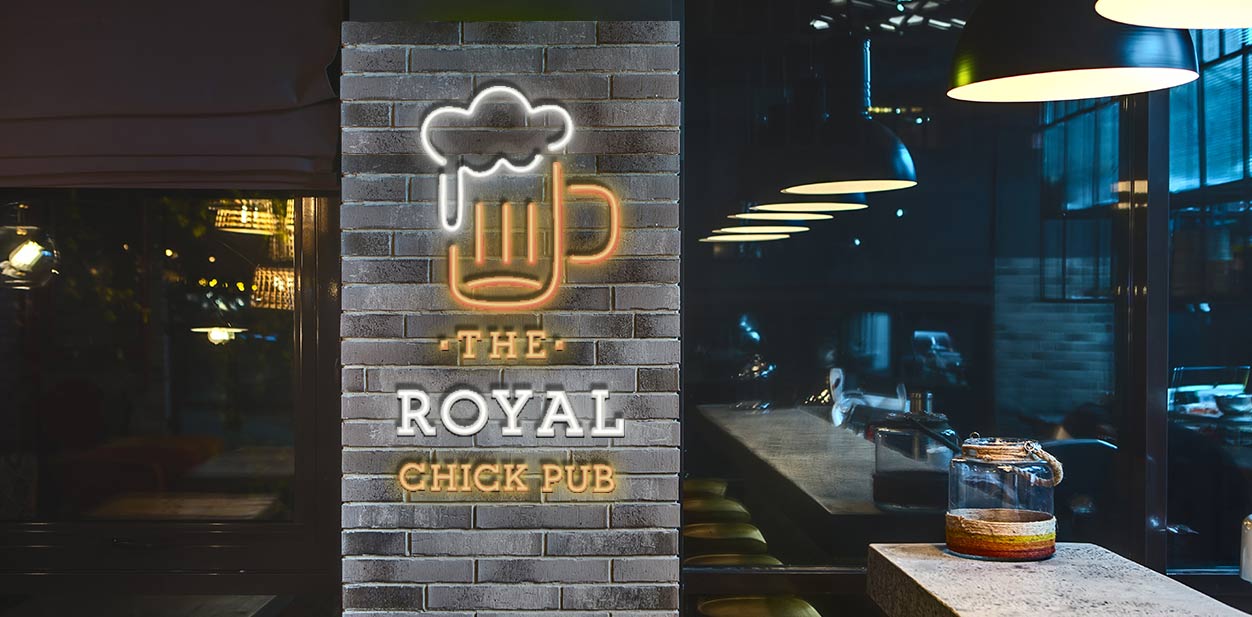 Get restaurant branding inspiration created by professional designers. Find ideas and start planning your perfect branding strategy today!