27 Restaurant Design Ideas to Be a Real Showstopper in 2021
Fresh and trending restaurant design ideas should not be an afterthought in the aftermath of Covid-19. People are experiencing a huge paradigm shift in their social lives right now. Once the pandemic passes, they'll be hungry for normal dining culture again.
We have prepared a checklist of top 27 unique restaurant design ideas for the occasion. Let's learn about the latest elements like interior decorations, commercial restaurant signs, exterior designs and interior favorites.
Restaurant Interior Design Ideas
Interior design is essential to any thriving restaurant business. Here are some ideas to keep up with current trends.
Custom and Thematic Entry Design Ideas
The first thing people see after entering your restaurant will determine how they perceive it. This first impression will either make them rave or leave without even a second glance. This is why jaw-dropping and unique restaurant design ideas are not to be taken lightly.
Try to make it as welcoming as possible.
Idea 1. Welcome Your Guests With Imposing Signs Made Especially for Your Restaurant
Custom design ideas of restaurant signs help you communicate your brand message. They are tailored to your needs so you can bring your ideas to life. Display any info you want, be it your restaurant name, slogan, logo or a quote that describes it.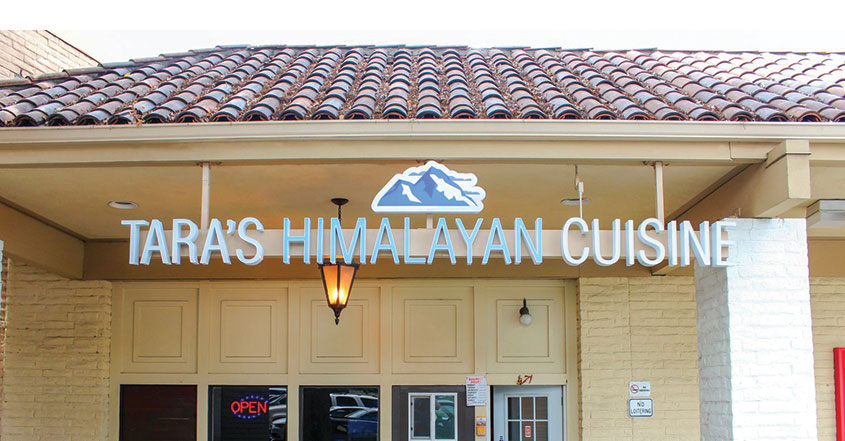 Idea 2. Highlight the Entry Area and Divide the Space With Custom and Exclusive Structures
Among  the latest solutions are special structures. They will capture people's attention right as they enter your restaurant. Choose a structure that goes with your overall design theme. It may be anything from a giant bicycle sculpture to a colorful construction.
Plenty of restaurants nowadays are famous for and recognized by these artistic pieces. They're a surefire way to make your restaurant Insta-famous.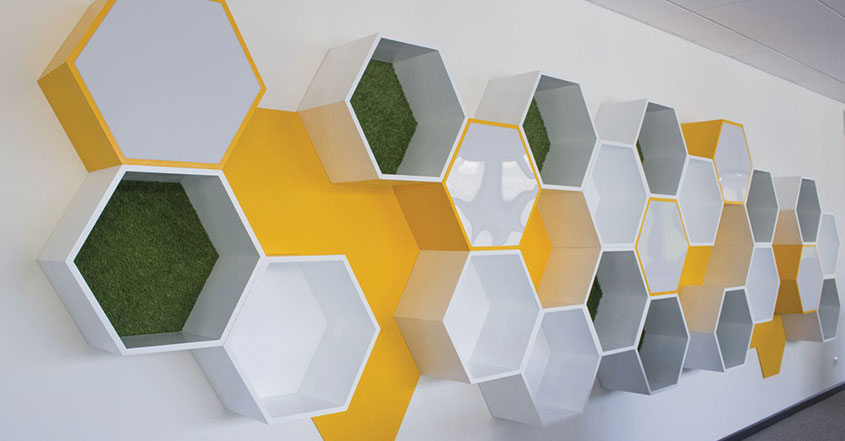 Idea 3. Combine Live and Wooden Design Elements
Use different combinations of interior signs and design elements. This will help you impress your guests right at the entry. A popular choice is displaying your restaurant name with light up letters. Combine it with green foliage and wooden signs for the surroundings and voila. This will make your restaurant look fresh, natural, and simultaneously classy.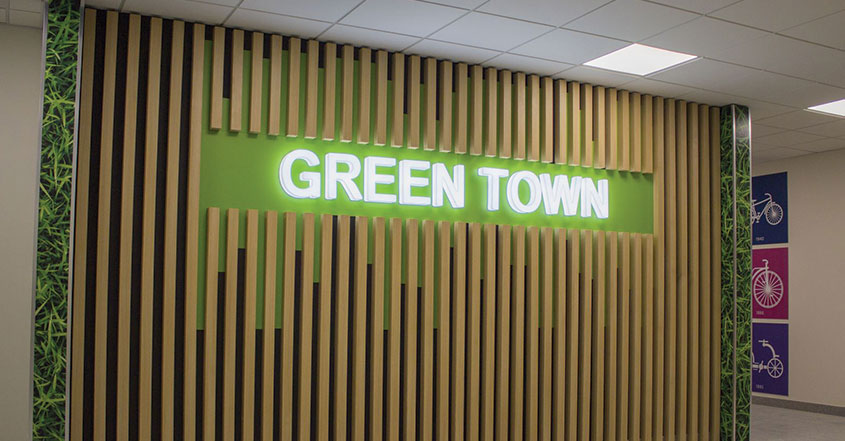 Idea 4. Combine Monochromatic Tones With Aluminum Logos
Simplicity also looks elegant in the entryway of a restaurant. Combine monochromatic pink hues with an aluminum logo, for instance. Such lobby signs will create a serene and inviting atmosphere for your guests.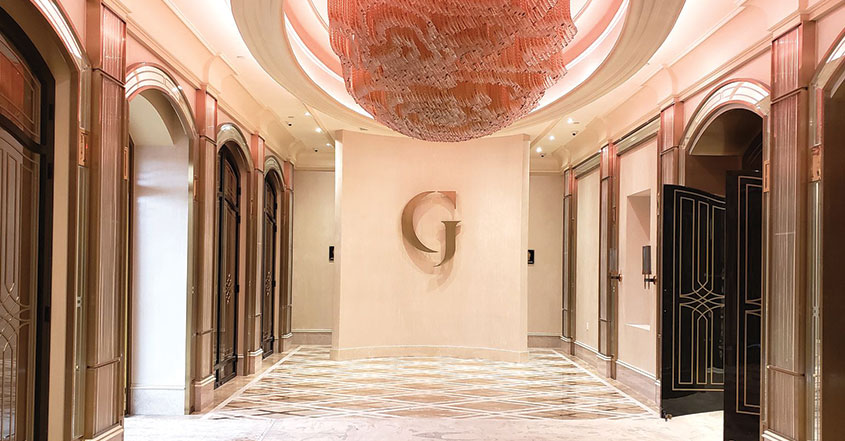 Want your logo signs to match your entry design in the shortest period of time possible? Contact us!
Restaurant Space Design Ideas
Entry is crucial but so is the rest of your space. Think of different areas of your restaurant as a chance to express your vision.
The current situation in the world may cause changes in trends. Everyone in the industry expects an adjustment in occupant capacity, for instance. Design trends may also be affected. With the following design ideas of modern restaurant signs under your belt, you won't have to worry. 
Restaurant Bar Design Ideas
In every dining culture, the liquor bar is a highly active and functional area. Consider employing trendy restaurant bar design ideas to take advantage of it.
Idea 5. Light It Up
Get the dimmer lighting effects for your back wall. Instead of using the overhead system, accentuate your bar with lighting design elements. Neon lights are among the classic trends of the industry and definitely a must-have in your bar area. They ensure the retro vibe and chill atmosphere every bar needs.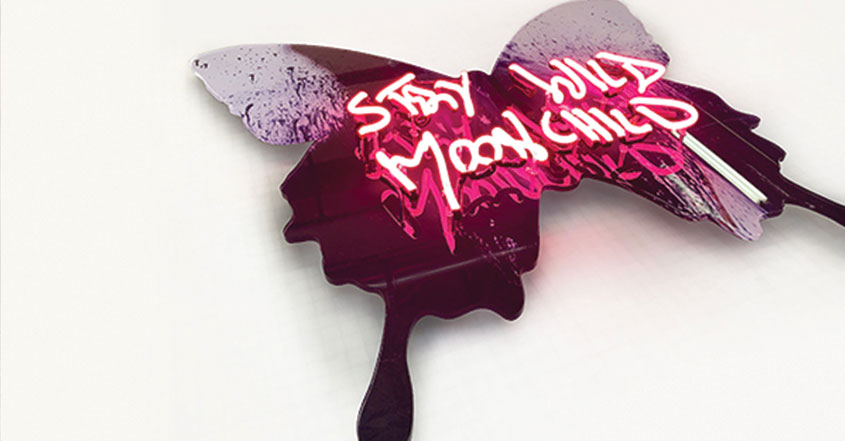 Contact us to order your custom restaurant bar design!
Don't be afraid to use several lighting elements in one area. Install light up signs and light box signs that display your restaurant name and beyond. Pendant lights are also in fashion right now. They are perfect for lighting the counter or individual tables in the dining area. Establishments with high ceilings as especially suitable for this type of lighting. You can also designate the "bar" in cool lettering under or behind your counter. Just make sure that all the features complement one another.
Idea 6. Consider Having a Seating Area at Your Bar
The seating area at the bar counter is not just a common place – it's an indispensable element of drinking culture. Just the sight of a cool bar stool makes people crave a quick drink before dinner. It's also the classic spot in movies where people meet new friends over a drink, and why not, boost cocktail sales.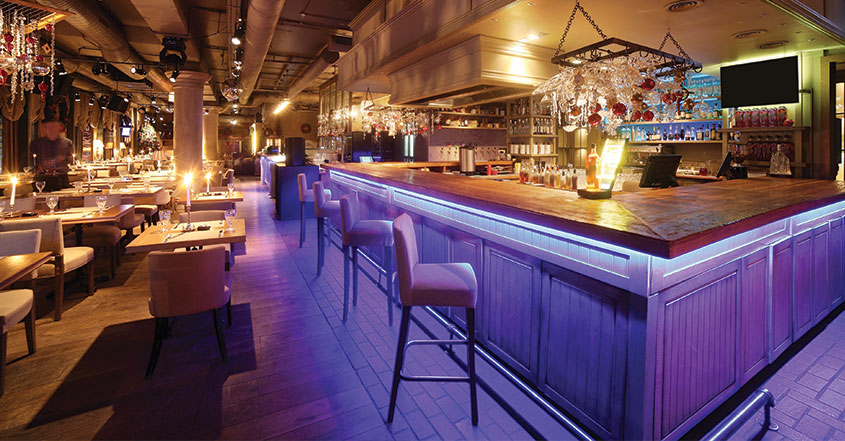 Idea 7. Design a Bar Wall With Neon Lights or Wall Art
Not all visitors enjoy the show and noise around the bar area. To accommodate them, you can arrange your seating area by the nearest wall. But don't leave this wall empty; come up with cool restaurant wall art ideas. A popular choice is having 'brick' wallpapers to keep the vintage vibe alive.
Another catchy idea is writing a quote or your restaurant name on a central wall with neon lights.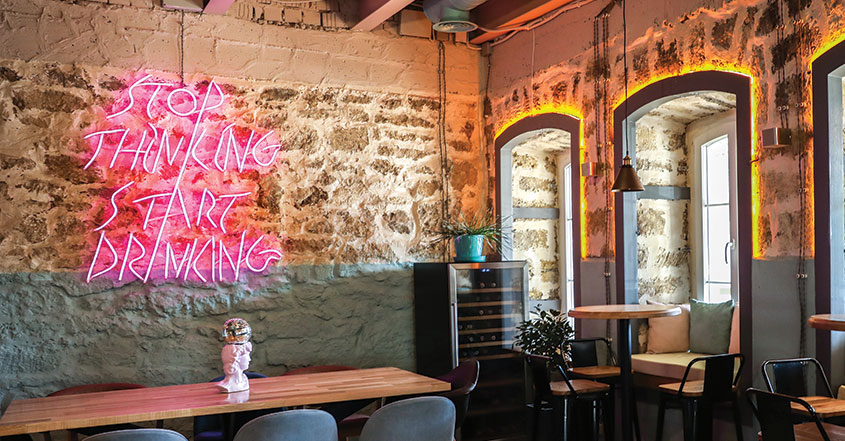 Idea 8. Display Your Drinks
For the back of your bar counter, consider traditional drink displays with a modern twist. Among new trends are floating shelves and wine glass racks. You can also rock a combination of the two. Adding LED lighting to the edges or base also illuminates them in a striking way. This will make bottles and wine glasses look like decor.
Don't have a wall behind your bar counter for your drinks? You can always hang them from the ceiling with special aluminum signs. Make sure that all features match up with your restaurant bar design concept. Don't be afraid to get creative.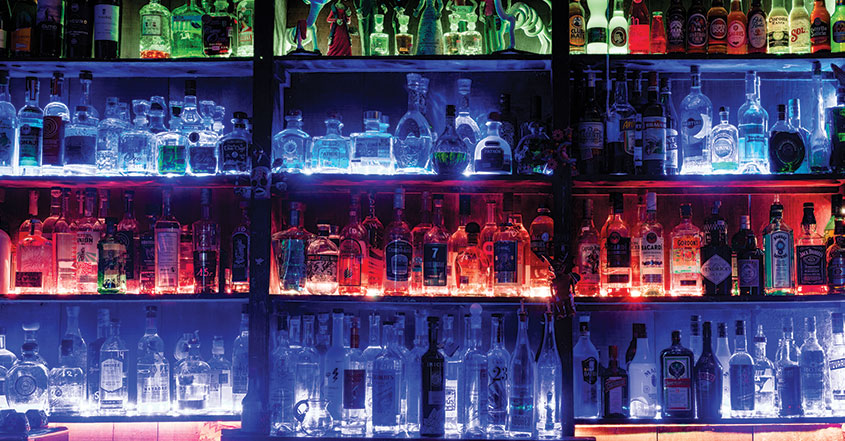 Dining area design is the most crucial element for any type of restaurant, cafe or diner. This is the area where people spend most of their time. For this reason, the design should focus on ambiance and the convenience of food service. Its purpose is to set the mood and enhance the dining experience.
First, double check the maximum seating capacity allowance. Next, find your restaurant branding design inspiration and finally, start remodeling. 
Idea 9.  Stick to Your Themes for Restaurant Interior
Sometimes you may like multiple design elements and find it difficult to choose. Different concepts under one roof can be overwhelming. It's important to stick to the central themes for restaurant interior. Make sure you tie everything together. Always keep restaurant sign design ideas close to your original vision.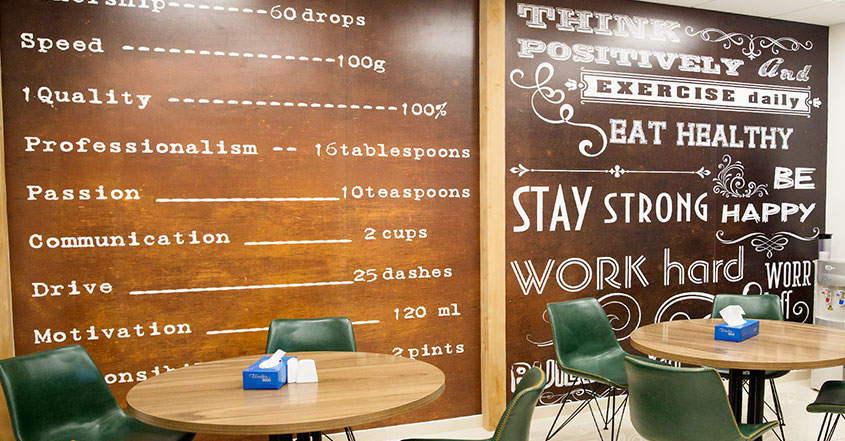 Idea 10. Choose Furniture Based On Your Restaurant's Culinary Region
Focus on the privacy of your guests. Whether you choose cozy and quiet tables for two or make the arrangements fit for a crowd, you should maintain the right distances in between. Select colors and materials that go well with the space.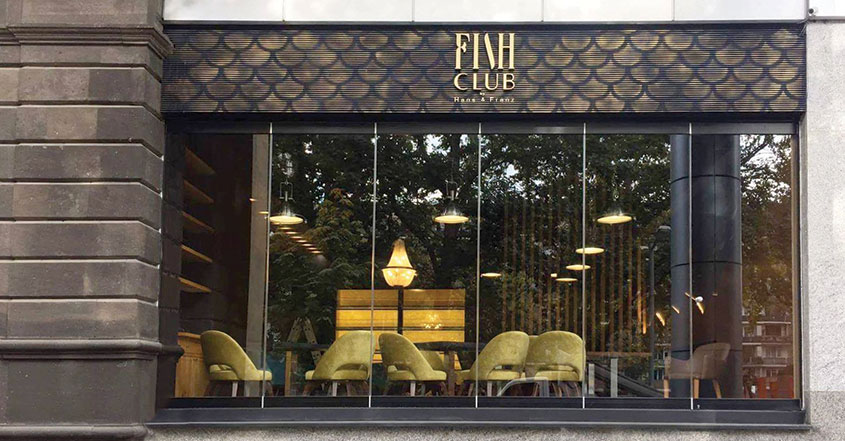 Idea 11. Make the Place Look More Eco-friendly
Indoor plants are the must-haves of the season. You should definitely have some green elements in your dining area. If plants don't go with your interior design, add sculptural pieces. Green or recycled elements are sure to win people over.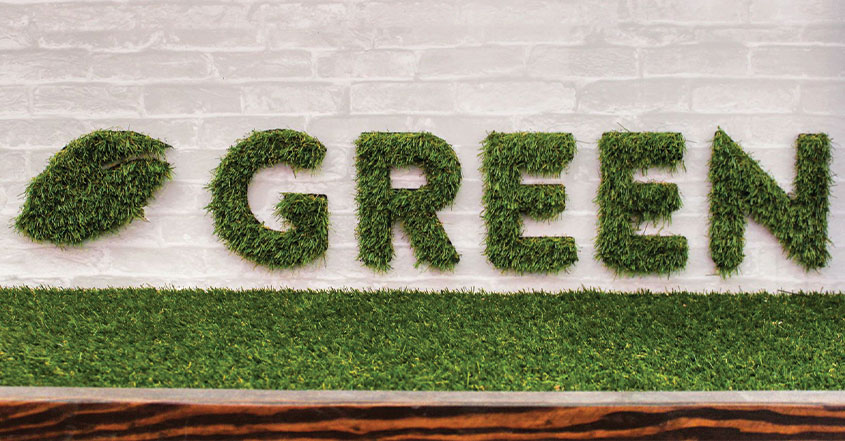 Idea 12. Use Your Ceiling for Hanging Sculptures
Hanging decorative elements from your ceiling for extra pizazz. Wooden elements are appropriate in the case of dimly lit rooms. Golden ones will illuminate in brighter spaces. Pendant lights are a popular way of utilizing restaurant ceilings for an enhanced aesthetic.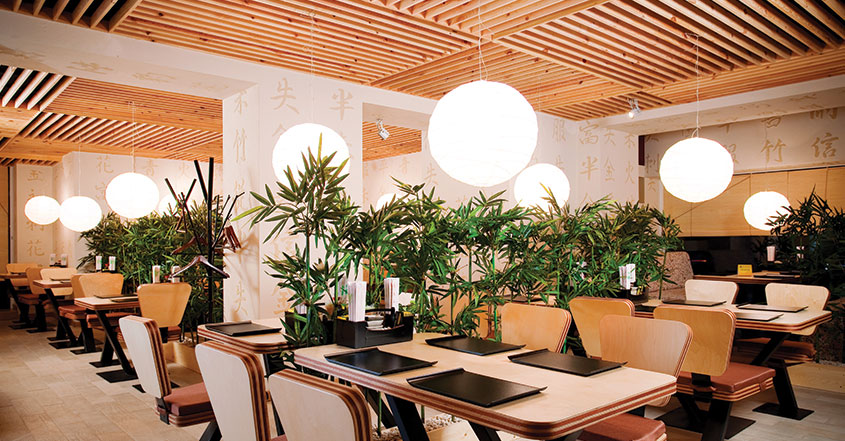 Idea 13. Display Desserts to Attract Visitors With a Sweet-Tooth 
Setting a healthy standard for your visitor experience doesn't mean you can't display your food. Showcase your best desserts in a charming basket. Draw in new visitors and use sneeze guards to protect them from germs. 
They can serve as secure space dividers for your restaurant space as well.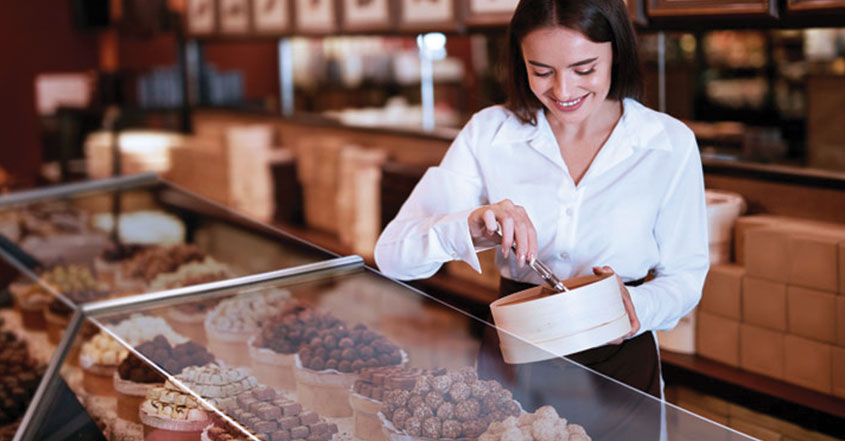 Idea 14. Write a Quote On the Walls With Printed Wall Design Elements
Restaurant wall art ideas are always special and capture the diners' attention. Besides representing local artist's work, you can emblazon a quote on the wall. Let it reflect the essence of your restaurant and designate the gallery space. Use large format printing for wall decals, letters, or just some old-school neon signage.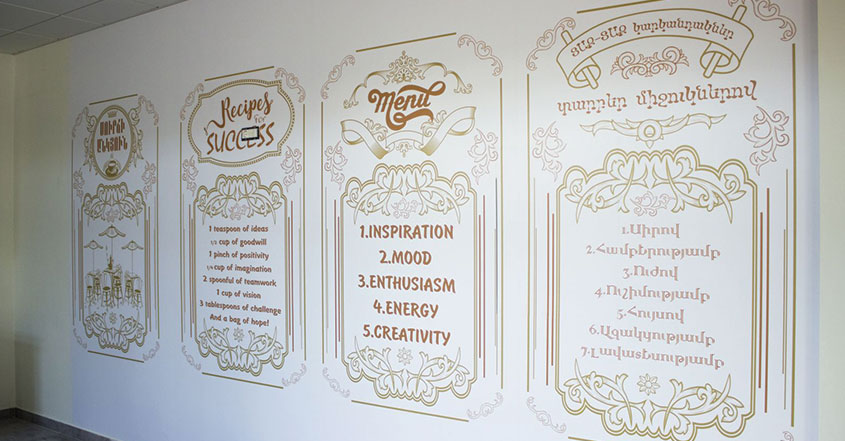 Idea 15. Use Brick Wallpapers
Wall decors are flexible, so you can opt for any thematic canvas prints or acrylic signs that go with your desired concept. Brick prints are again a classic choice here but to level up to the contemporary vibe, make them all black. You can use brick wallpaper along with restaurant wall design ideas like illuminated decor. Together, these will stand in stark to luminous contrast.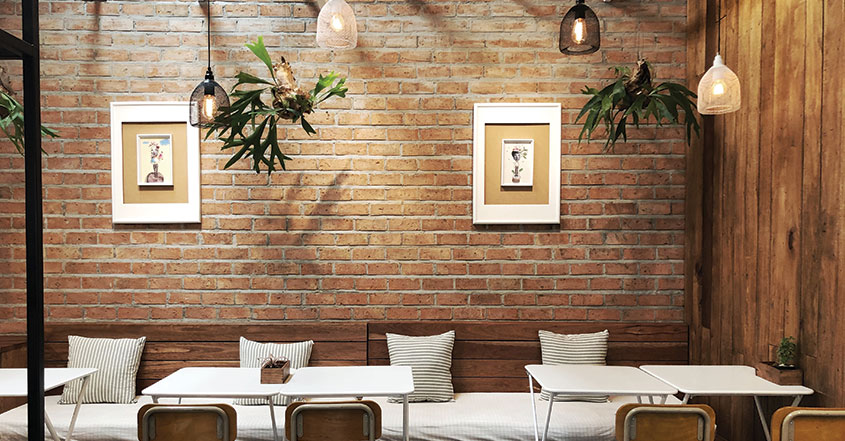 Idea 16. Choose Murals for Epic Wall Art Design
Nothing will make your restaurant look more upscale than conceptual wall art. You can use murals with themes like Japanese Ukiyo-e that will match your style and cuisine.
If you don't have space for your art inside your restaurant, you can always display it outside the building.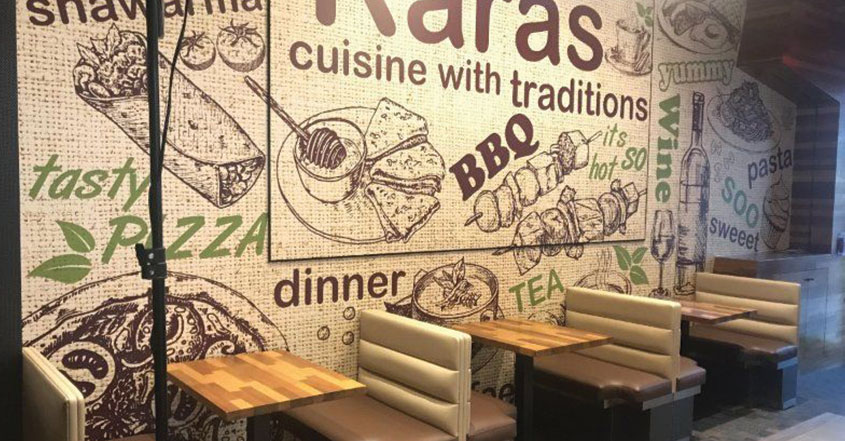 Restaurant Kitchen Interior Design Ideas
Open-plan restaurants usually display their kitchen alongside the dining area. Functional restaurant kitchen interior design ideas can make the place even more popular. They build trust between visitors and restaurants, adding intrigue to the dining experience. Everyone enjoys watching how meals are being cooked. It's an ingenious way to entertain people as they hungrily await the arrival of their food.
To bring it in even closer, you can introduce restaurant seating design ideas around the kitchen area.
Idea 17. Try to Keep It Simple and Clean
Having too many design elements in the kitchen may steal the spotlight from the chef. Besides, cooking facilities already occupy a lot of space. It's better to employ minimalist design elements. A unique counter, industrial hanging lights, sculptural wine rack and some cool cookware displays will be enough.
You can also incorporate restaurant seating design ideas around the kitchen area.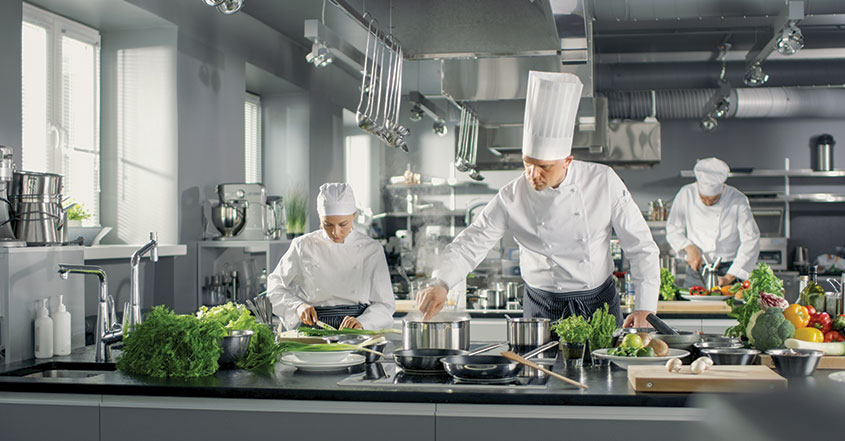 Idea 18. Add Power Colors to Your Kitchen
White monochromatic restaurant interior design ideas in the kitchen have always been a popular theme. Yet, darker colors are making their way into 2020-2021 design trends. Use navy blue, emerald green, or other power colors. Choose the ones that go best with your overall restaurant design concept. They will add a touch of elegance and modernize your kitchen.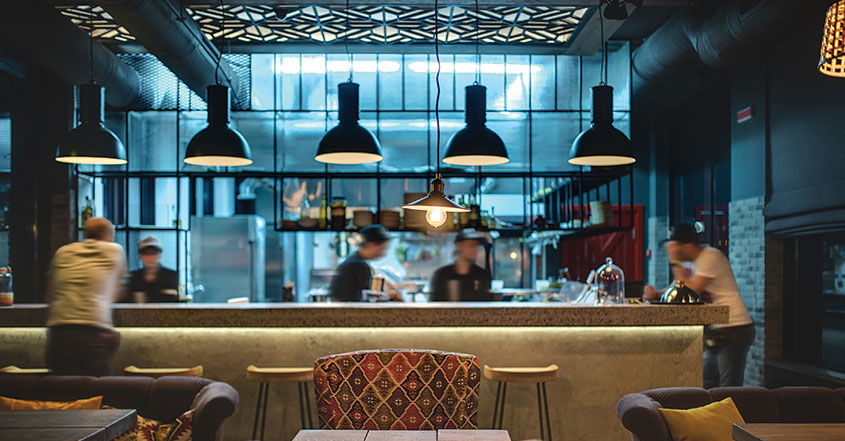 Idea 19. Use Illuminated Decor to Separate Your Kitchen Area


The kitchen in the middle of your restaurant needs credit where it's due. It's practical and strategic to distinguish it in a tasteful manner from the rest of the restaurant. Do it with the help of lighting design elements like an illuminated box hung above the counter.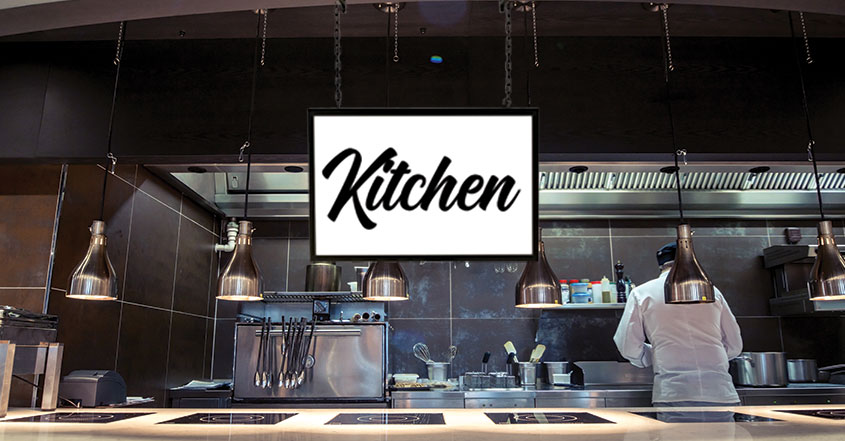 Restaurant Restroom Design Ideas 
All visitors have a picture or two in the restroom of a restaurant; it's notorious for good lighting. Interesting restaurant restroom design ideas can make your venue famous. Surprisingly, this is where you can get really creative.
Idea 20. Have an Instagram-Friendly Bathroom
Creative restaurant toilet design ideas can make you famous on social media platforms like Instagram.  With the help of some bold wallpaper, you can have all the fame you ever wanted. A wall covered with loud patterns is a haven for selfie-lovers. Don't be afraid of using eye-catching colors and prints that will pop out in photos.
You can pair the wallpaper designs and floor decals with funny or inspiring texts or anything else you see fit.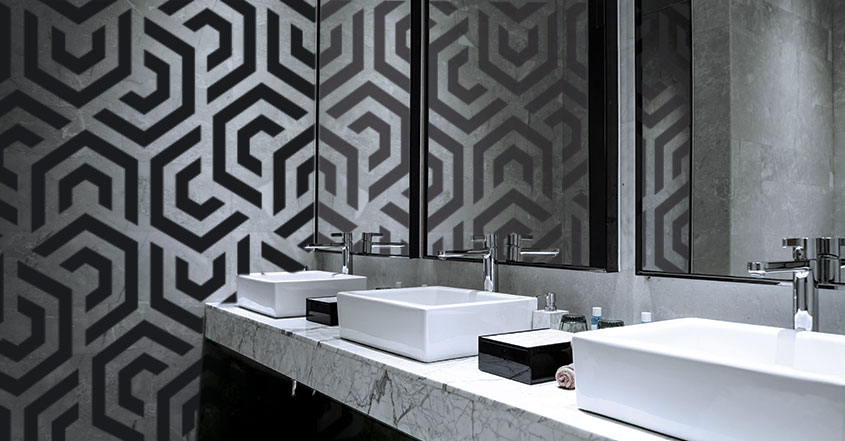 Idea 21. Add Vintage Lights and Mirrors
Neon lights and vintage mirrors are the classic choice for the best restaurant interior design. They're not pricey yet look totally chic and trendy.  
Restaurant interior design styles depend on the type of establishment and cuisine being offered. We have tried to present ideas that are applicable to both casual and fine dining places. Read on to get even more inspired with exterior design concepts.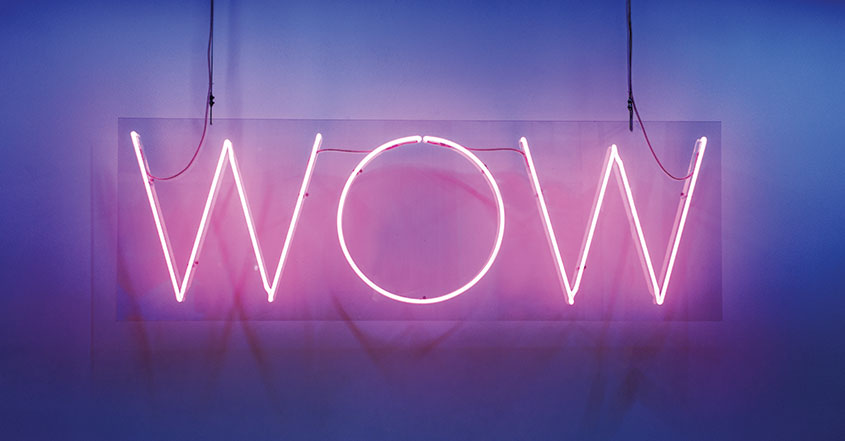 Restaurant Exterior Design Ideas 
Interior and exterior style are both equally important in the restaurant business. With that said, however, getting your restaurant noticed in the first place is key. Without outstanding restaurant exterior design ideas, you won't get diners in through the doors.
Some components of modern restaurant exterior design concepts are as follows: open spaces, simple yet imposing architecture, proper use of the building's facade and unique outdoor features.
Outdoor Design Ideas and Elements to Attract New Prospects
Increase your visual impact and boost your branding with outdoor signs.
Idea 22. Showcase Your Name on the Building
There are several business signage options to display your restaurant's name on the building. Among the most effective building signs are 3D signs for business. They'll ensure visibility and make your restaurant easy-to-spot across the street. These signs can turn hungry passersby into lifelong regulars.
Restaurants with big windows have a built-in branding tool. They are an amazing design element and source of sunlight. They also provide an additional opportunity for exterior design solutions.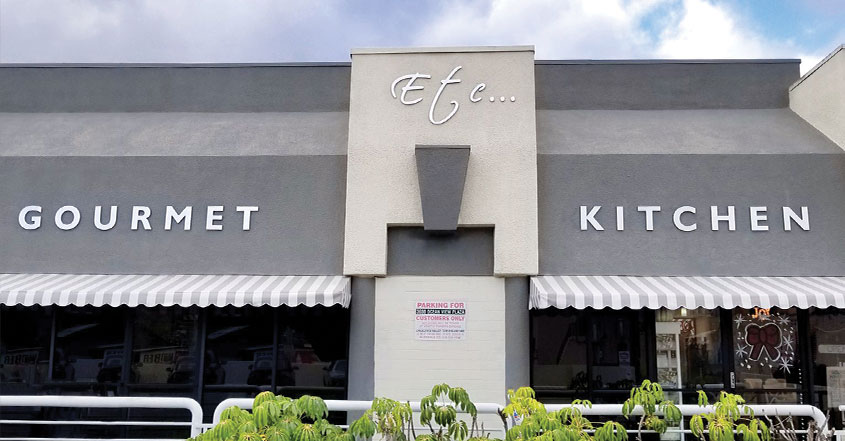 Idea 23. Display Relevant Information on Windows
Window decals are an original way to display your restaurant's name in a distinct font. Consider including relevant information on them as well. You can include opening hours, popular menu items or a quote that represents your core values. You can also display neon light elements on them. A directional guide to increase visibility at night is a pro tip.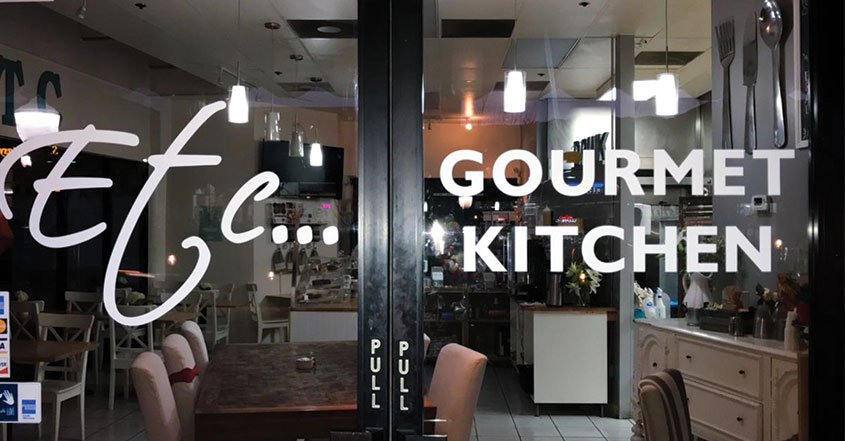 Idea 24. Demonstrate Cultured Taste With Timeless Design Elements
Marquee signs are a tried-and-true method to advertise your brand and capture the imagination. These custom signs never lose their popularity thanks to their classic look. They will highlight your restaurant's elegant taste and satisfy environmental requirements as they're eco-friendly and safe for both indoor as well as outdoor use. 
This pylon sign is one of the most effective restaurant marquee signs ideas to add ingenuity to your restaurant's exterior. It gives you the freedom to display static or interchangeable messages to let visitors know what they can expect from your eatery. Be bold in your restaurant design by showcasing a brilliant marquee sign.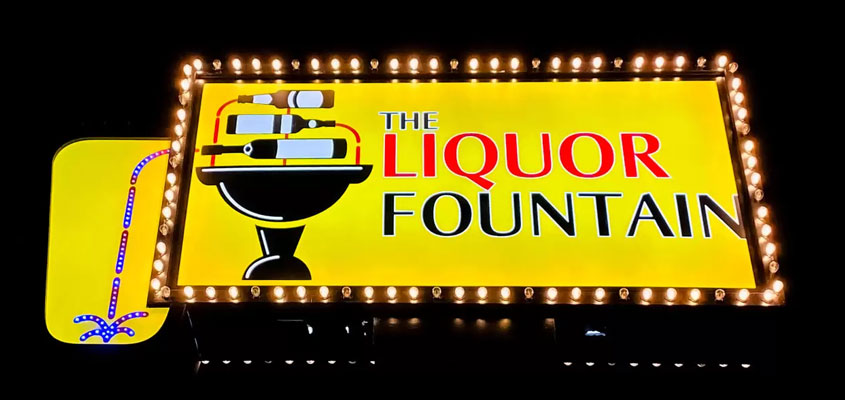 Outdoor Seating Area Design Ideas 
Restaurant seating design ideas for the outdoors may save your business during the pandemic. Some countries only allow dining at open-air restaurants now. Give patio design some extra thought at this time.
Idea 25. Have a Tent Outside Your Restaurant
A private area with a tent and wooden seats is a classic choice for restaurants. Add a little touch of live greenery and consider your design complete.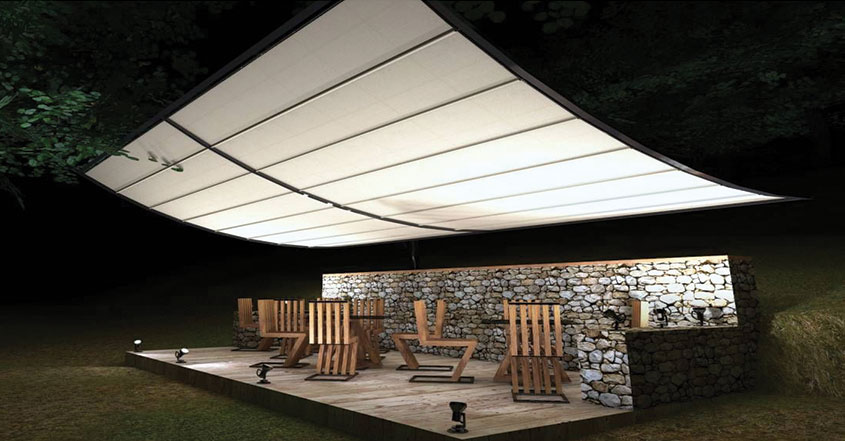 Idea 26. Treat All Your Visitors Like Celebrities
Having a backdrop near your seating area is an old but good trick. This is always a clever way to present and spread brand awareness. People can't help but take pictures in front of it. This increases the chance that your restaurant's name will be seen or even go viral across the internet. Select a simple stand or elaborate structure – whatever floats your style.
If you don't have the proper space for a backdrop then use restaurant wall design ideas as your backup plan.
They will help you attract pedestrians and prevent sign blindness.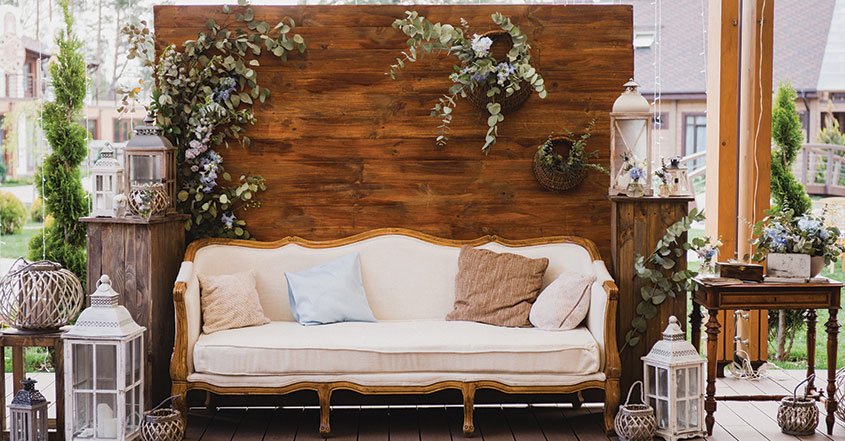 Idea 27. Use Restaurant Board Design Ideas to Display Your Special Offers Outdoors
Utilize food or menu a-frame signs. Restaurant board design ideas offer effective ways to present a menu or daily specials to your customers.  You can even use extra design elements like string lights tied to them as dividers. This will create a micro environment and maintain appropriate distancing in outdoor seating areas.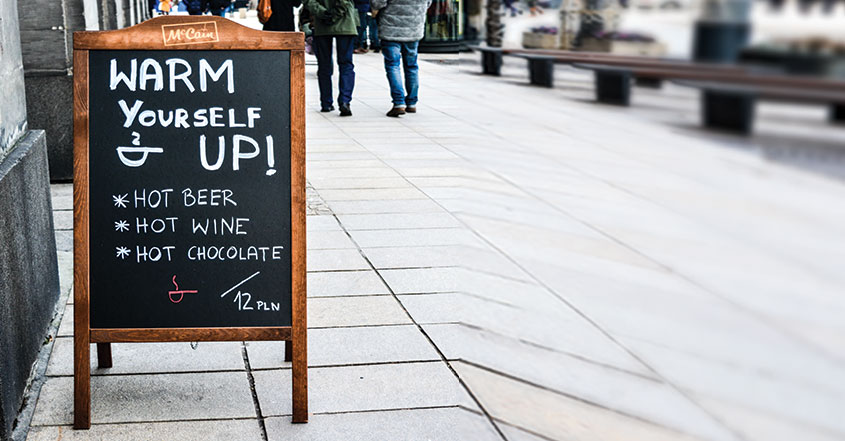 Find additional restaurant branding design inspiration before you make the big decision. Browse modern restaurant photos, follow current trends and read more blog posts on the topic. This way, your search for unique and fresh concepts is bound to have a bountiful return.
Need more restaurant design inspiration? Just check out our signage projects and let us collaborate on cutting-edge concepts together!