Stickers
Ideal for messaging and branding
Vivid colors and bright images
Fade resistant inks
Easy removable
Stickers
:
Vinyl Stickers, Window, Wall, Floor, Car Stickers
Promote your business or decorate your surroundings with custom-made stickers.
Custom vinyl stickers can be used anywhere as they can withstand different weather conditions.
Install these stickers within minutes and remove them without being afraid of damaging the surface.
Print stickers with your brand logo or get vinyl letterings with the name of your brand and give it to your customers. Create brand awareness with this type of passive advertisement.
Use Pre spaced letterings on your car both as decoration and as brand promotion. Decorate anything you want with creative stickers, be it a mirror, wall, window, etc.
Stickers can have various uses. You can get stickers with your brand logo and give them away in the streets, to promote your business. Or if you have a QR code for your business you can print it on square stickers and attach it to any surface you desire.
Stickers can have a decorative purpose as well. For instance, you can get stickers to decorate your laptop, phone, refrigerator or get bumper stickers for your car.
Easily attached
Easily removable
Durable
Affordable
Can come in any shapes and colors
Waterproof
Sun resistant
You can get anything printed on vinyl in any color in the spectrum. For sticker printing we use high-quality UV inks.
The printer dries the ink during the process of printing with ultraviolet rays.
This makes the ink fade and sun resistant. Therefore, the stickers will maintain their bright colors for a long period of time.
There is not any specific installation required for the stickers. All you need to do is to pull the protective layer and stick it to wherever you want. With kiss cut stickers you need to peel the sticker off the sheet and stick it to a surface.
But before the installation make sure that the surface is clean. After attaching the sticker, start flattening it with your hand to release all the bubbles under it.
Shapes: customized
Sizes: customized
Thickness: Standard
Lifespan: 2+ years, if kept properly
Materials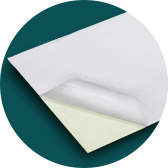 Opaque Vinyl
Get Quote
Please submit your information and a Front Signs representative will contact you
Stickers FAQs
How can I decorate the stairs?
The underestimated part of home or office, stairs can have a family quote Vinyl Sticker or be designed with engraved pieces of wood. Imagination has no limits, so do the solutions and the small details that can help you personalize your stairs as well.