Skip to content
These boards often cause misunderstanding because of their apparent similarity. Though being somehow similar in appearance, there are still things that make them different. Let's see what the DIFFERENCES are and WHERE TO USE EACH.
For the rest of the article keep this sacred sequence in mind:
PVC → Gatorboard → Foamboard
The trilogy is sorted by taking the DURABILITY as a basis.
The 3 most important differentiating things that should be taken into consideration when choosing between these three materials are:
Durability
Price
Outdoor/indoor usage
General comparison
From the view of durability and density the best option is PVC.
The most affordable option of the three is the foam board. Accordingly later comes gatorboard and then PVC.
For long lasting outdoor usage, the choice here is PVC. For shorter usages and in good weather conditions gatorboard and foamboard can make it as well.
Now let's see what each of the materials represent from themselves:
PVC – foamed polyvinyl chloride, the second most used plastic after polyethylene
Gatorboard – polystyrene board covered with poly-coated paper and styrene surfaces
Foamboard – polystyrene foam core sandwiched between two clay-coated paper
| | Outdoor | Indoor |
| --- | --- | --- |
| PVC | yes | yes |
| Gatorboard | short term | yes |
| Foamboard | short term | yes |
Now that you know what so much about the materials themselves, we can refer to each of them separately.
PVC
PVC material is the most durable and densest of the three. It represents from itself foamed polyvinyl chloride. This material is often referred to as Sintra board, Foamex, Vinyl, PVC foam as well.
Because of its comparatively rigid structure PVC can be used for long-term indoor or mid-term outdoor applications.
PVC board signs are made of combining PVC cutting and printing together. Being a hard material PVC allows both CNC milling and digital cutting machine options. The cutting option depends on the customer's wish, anyway the result is going to be the same. PVC is a widely applicable material that's why you can see its "variations" everywhere. They make perfect Yard signs, Exit signs, Office signs, Traffic, Site, Safety, Storefront signs and especially house address and name plaques.
To get a PVC sign contact us or get a quote.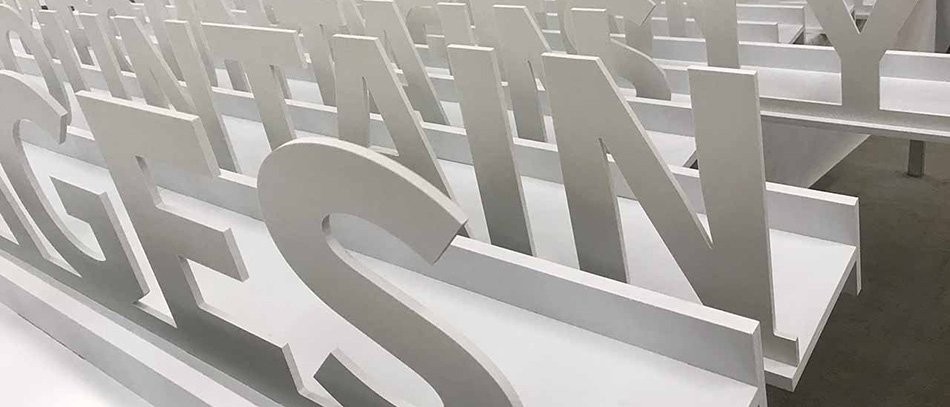 Gatorboard
Gatorboard is a step lower from PVC.
This is a polystyrene board covered with poly-coated paper and styrene surfaces. This is softer than PVC and harder than foam board. One of its advantages is that it's lightweight and can easily be mounted to many surfaces without any hardware.
Though gatorboard can be very well applicable for outdoor usages, ultraviolet radiation coming from sun rays may harm it, so special care should be taken for protecting it from direct sunlight. Especially prevent black gatorboard outdoor usage.
A gatorboard sign can make wonderful for storefront, wall sign both in the form of letters and boards, wall photo background and what not. Funny and other decorative CUTOUTS can also be made from this material.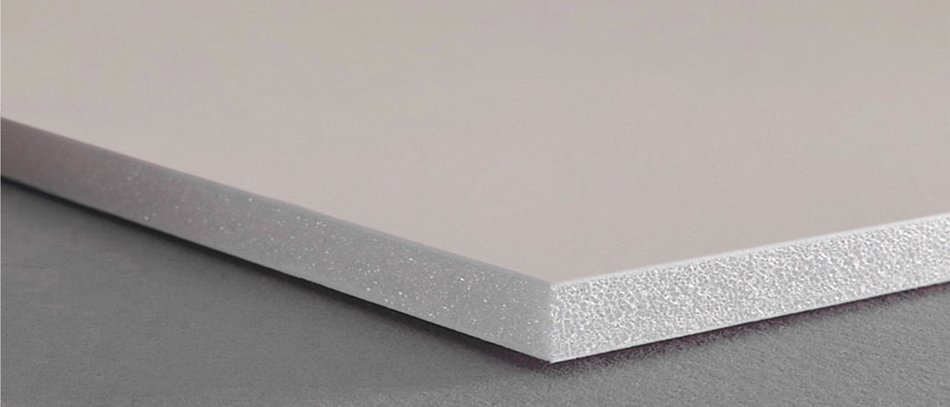 Foamboard
Foam board is the lightest material of these three. This is perfect if you need a one-time use and inexpensive sign. Despite its affordability foam board is no worse with its look than gator board or PVC. It can provide an excellent finish for printing signs or photos.
Take into consideration that foam is not as hard material as let's say aluminum, so we don't recommend putting grommets or drilled holes on your foam board print.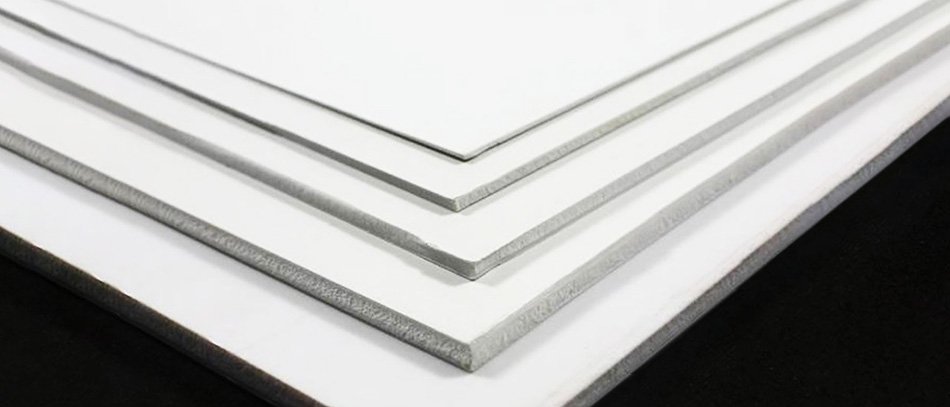 Best Usage Options
The fact that these boards cause confusion already means that they have many THINGS IN COMMON. Actually, they all are boards used for sign making. But let's see which of these materials is better to use for each type of sign:
Yard: Either for drawing attention to your house or for business purposes you can use PVC for making yard signs. As they have outdoor usage, PVC is the best option.
Exit: Who has not looked for the EXIT signs in a big mall or office at least once in their life? Those so much wanted signs can be made of PVC equally for interior usage and PVC for outdoor.
Office: Office board signs that tell you that your favorite director is sitting behind the door, directories that lead to this or that department, wall mounted photos that remind you of the bygone happy days (never to come back again) can be made of all of mentioned three them.
Safety: PVC made safety and emergency signs warn from coming danger. Being used inside, it is PVC that suits best as a material.
Storefront: If aluminum or acrylic is not what you need for your sign front, three of the materials can be applied.
House address and name plaques: If your family name is precious for you and you want to be remembered with its name, order a family or last name plaque. If address or name sign is what you need, just give us a call, well or just contact us. Just let me tell you that the most applicable material is PVC.
Stands: Stand signs are used for presentations, meetings, events or trade shows. Being held both outdoors and indoors they can use PVC for both exterior and interior usages and foam for short-time outdoor and long-time indoor usages.
Interior: For interior signs, gatorboard is the perfect option. It is lightweight, affordable and quite durable.
Now that you know the difference between PVC, Gatorboard and Foam board, choose the one according to your sign design and pocket.