Skip to content
Is the "big day" right around the corner? By "big day" I, of course, mean the wedding… and if it is… make sure to read up because some INCREDIBLY-CREATIVE wedding sign IDEAS are to come!
Anyways, let's kick off with…
1. Floor Decals
Floor decals or floor graphics are stickers that are stuck to the ground.
Just imagine the camera films you from above where you dance your first dance as an official couple and the floor depicts your names under you two. Your song is playing ♬ (the one you fell in love with it), you are together, your favorite people are around and everything is beautiful up to make your head spin…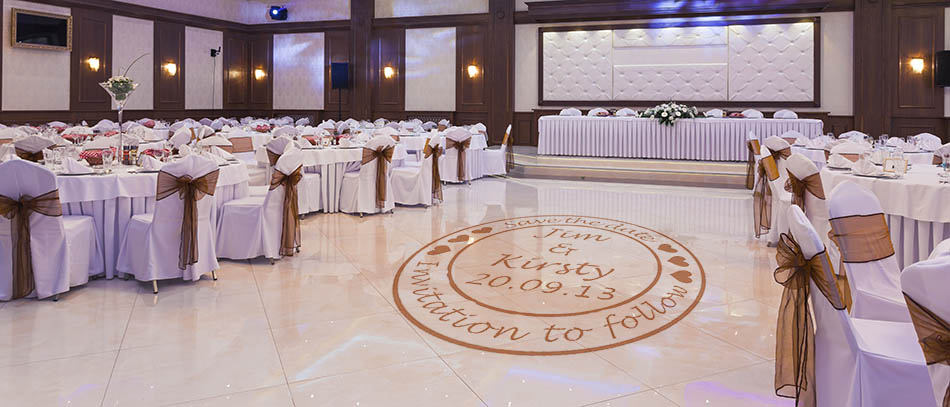 2. Hanging signs
The options for hanging signs are as many as your guests on the wedding day.
Everything depends on your imagination of course but here are some options we can suggest.
Here:
One option is writing a little love quote, phrase or your names on a wood sheet ( print, or engrave or vinyl lettering ).
Or make 3D letters of your names or the date of the wedding, love quotes and hang it from the ceiling, in the center of the hall, or near the wall and take nice photos there.
Another option is hanging the signs from the front door. Don't like the idea? Make an arrow hanging sign for directing your guests to the reception, WC, etc.
A well-spread trend have become hanging signs for chairs – for queen and king chairs of course.
And then a Just married hanging sign swinging at the back of your car…Like a movie right?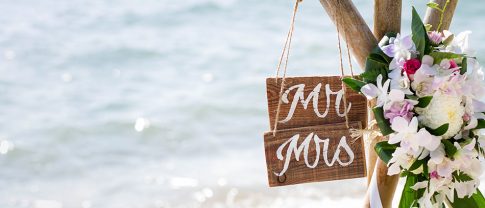 3. Stands
Wedding stand signs are just a bunch of options. The more you search, do more confused you get.
Well, let's see:
You can make stands from wood, foamboard, falcon board, gatorboard or PVC, where people can write their wishes, something crazy or anything from their wonderful mind. Don't even doubt their creativity.
Stands with your cutouts will let your guests take pictures with you without "bothering" you. You can choose any look and any position for your cutouts. You can cut out your heads from the stand and get another trend – WEDDING STAND CUTOUT. Guests put their heads in the place of your head and get a cool wedding photo.
Who will mind having funny wedding photos? NO ONE, cause this is the day of having endless fun.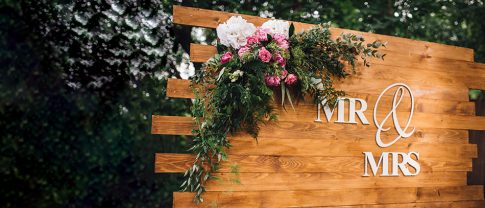 4. Yard signs
If your wedding is not on a rainy autumn day or a cold winter day, CONGRATULATIONS, your wedding has more chances of being full of creative stuff. Yard gives limitless possibilities of creative signs. The bigger the yard is, the more space there is for signs. So go ahead and choose your cool yard sign:
Is the yard too big to see the reception at once?
The wedding venue is hiding behind the trees?
Save your guests from losing themselves in that labyrinth by wedding reception signs or directional signs.
If you have separated a special place for parking, tell your guests where to park to free them from that unpleasant "activity".
Or just give a festive look to your yard by putting or hanging signs here and there.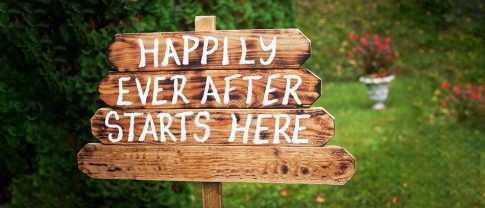 5. Directional signs
If you don't want to lose your guests on the way to the wedding ceremony, help them.
NO:
Not telling all of them the road by phone or waiting at the gate till they all come.
Put directional signs at places from where it gets hard to find the necessary place.
If the ceremony place is far from the city noise and in a decent place, most probably the guests will have some difficulties in finding it. Sometimes google maps may also be deceiving. Directional signs will NEVER be odd. We tell you this from our own and from other people's experience. Trust us.
It's even needless to speak of the importance of WC directional signs. Your guests will definitely appreciate your consideration, well, you know so much champagne, beer…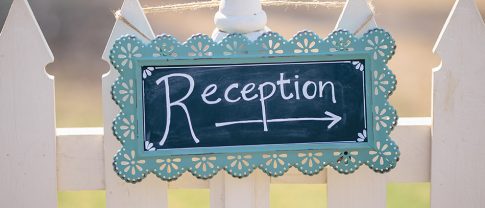 6. Car signs
How to decorate the wedding car?
You still think of it? The answer is simple: JUST MARRIED
Spread the happiness around with your car in the places you pass. Just remember how you smiled when such a car passing by you.
Some will even stick their names or Mr. and Mrs. with the date. If you have other ideas, you're most welcome.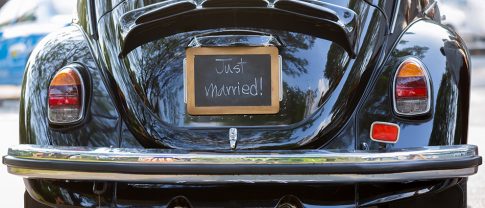 7. Banners
You're not going to stand at the front door saying hello to all of your guests. Instead, let your banner do the job for you. Make a personalized wedding banner with your photos from a lovely photoshoot or a selfie ( oh, those selfies ) you made at one of those times together. Write some nice words to greet the lovely people and make them feel they were EXPECTED and WELCOME.
8. Chalkboard signs
With a bunch of flowers on the head, Chalkboard signs seem to be created for wedding ceremonies. Aesthetes will definitely appreciate your sign choice.
How can you use these chalkboards?
Well, write the wedding schedule (do not forget the most important – wedding cake cutting )
OR
Welcoming greetings
Dates of your love story like "First met", "She said yes", "Wedding"
Love quotes
Something personal
Options are really unlimited.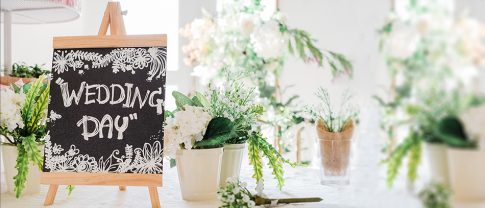 9. Types of vinyl on glasses
We know how important and precious your names are for you ( by the way they say that one's name is the best compliment for them).
SO, give yourself a compliment on your most important day sticking your name vinyl's on your champagne glasses.
Believe me later they become an inseparable part of your home decor reminding every time the great day you had.
More "glamorous" couples fall for Mr., Mrs. vinyl. Once having the glasses in these styles feel free to decorate your chairs as well as Mr., Mrs hanging signs, Mr., Mrs table sign-letters, Mr., Mrs hanging signs for cars…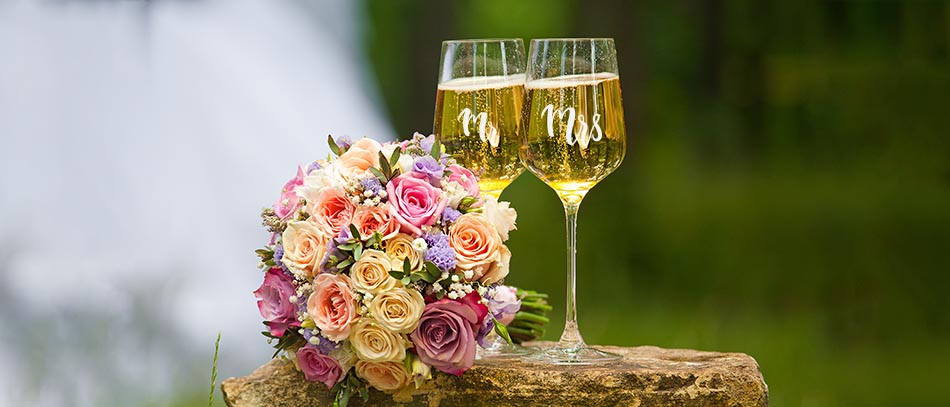 10. Wedding chair signs
Chairs are another important attribute of wedding. The King and Queen of the day are going to spend some part of their special day on their throne, don't they?
So personalizing them will give some fresh breath to the decoration and also another great place for the photograph to make great photos of the day.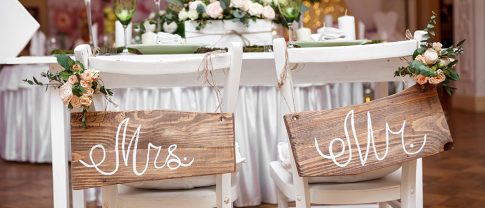 11. Thank you gifts, cards
However good time people spend at your wedding, they leave their often very important works honoring you with their presence. So you can say them thank you and give something as a small memory of the day.
What about thank you cards?
But not paper. We suggest you something really special, something that will make everyone remember your wedding even after decades. We suggest you wooden thank you cards, your thanks engraved on it. Cool right?
Thank you gifts' not forced format gives endless possibilities: everything from glass cans of honey to wood tags. We can suggest you really interesting options SUCH US:
Wood tags where you can have your names and wedding date engraved.
Acrylic or wood candle holders that will make elegant and at the same time useful gifts.
Acrylic souvenirs like heart shape ones are another elegant option. You can have anything printed or engraved on it. Don't forget about the decal applying option as well.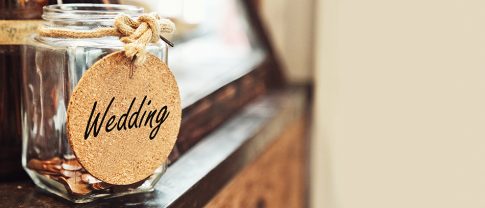 12. Invitations
The more elegant way of invitation is even hard to think of:
Acrylic invitation cards are the first step to making the impressive event. No more suspect that the ceremony will be on the high level and tasteful when getting these cards. They are the perfect variant of inviting your directors and other high position people to your wedding party.
Wooden engraved invitations are other elegant invitation types. They are even perfect if you have a wedding theme, especially vintage. Think of it!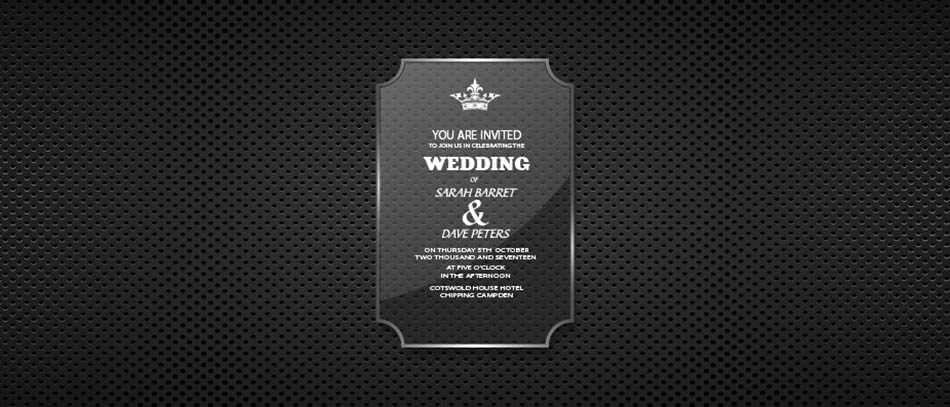 WE GIVE YOU IDEAS, YOU'RE THE ONE TO CHOOSE.
Here are some quote ideas for signs like:
Love is everywhere
She said yes
He asked, she said "Yes"
Just married
Best day ever
Happily ever after starts here
Mr. Right, Mrs always right
Last chance to run
Here comes the bride
This way to the "I do's"
We decided on forever
All of me loves all of you
Trust me you can dance – alcohol
Eat, drink, dance, we're getting married
Too late to run away
Because two people fell in love
Best day ever
Her one, his only
Not forgetting the most demanded ones:
Wedding
Just married
Welcome
Reception
Parking
WC