Outdoor and Indoor Halloween Store Signs: Lighted Options and More
Halloween is a festive occasion loved and celebrated by many. But how can you get the word out about your monstrous party specials for the public? With one-of-a-kind Halloween store signs, of course! These eye-catching promotional tools will draw attention to your store and pique everyone's interest.
There's only a month left until Halloween. Planning ahead of time is the best strategy. We'd like to share Halloween decor ideas for you to cast a spell over your entire neighborhood. 
Outdoor Halloween Store Signs
According to Business Insider, 148 million American adults plan to celebrate Halloween this year following the pandemic. Once you get these awesome decorative materials, you'll be ready to enjoy Halloween like never before. Use original store signs to wow guests with your artistic abilities. Emulate the enchanting spirit of Halloween with a mix of indoor and outdoor signs. Enter if you dare! 
Large Halloween signs for Spooktacular Branding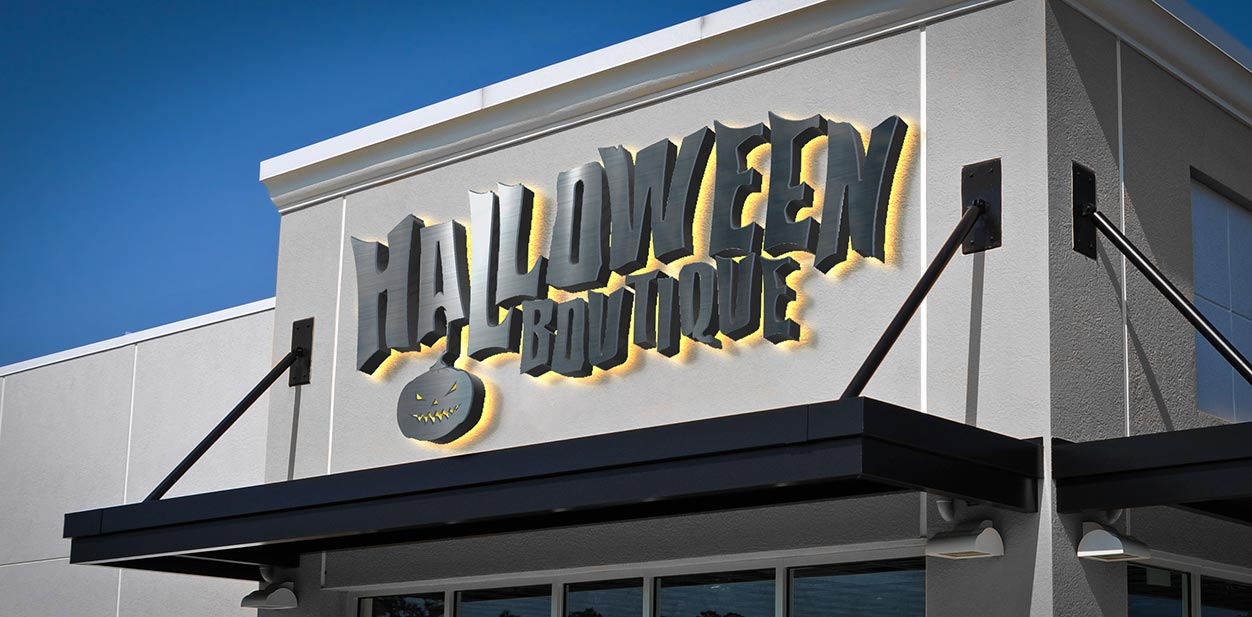 Trick or treat, be so sweet, give me something good to eat. It's almost Halloween! There are vast opportunities for businesses to offer 'fang-tastic' specials. Brand your store with beautiful – or should I say – frightening channel letters. Put these lighted Halloween signs in carved pumpkins to give your guests a ghostly greeting! 
Bring on the spirit of dreadful delights with your Halloween retail signs. Have them feature your spookified logo. Ghoul up your store with black and orange to spread the Halloween flair through town! Help people find their way with monster's feet leading them from the sidewalk straight to your store with massive pylon signs or smaller sandwich boards.
Order Halloween signs from Front Signs and rock this Halloween! Get a free quote.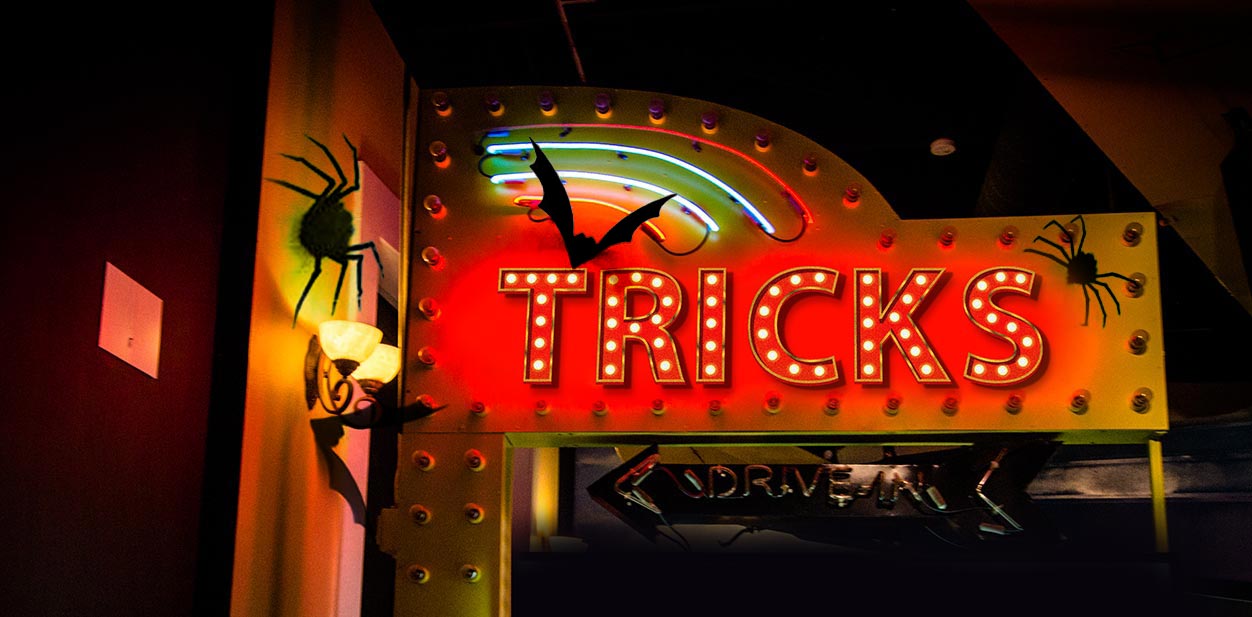 Lighted Halloween signs are a fantastic way to keep the holiday spirit alive even after the sun has set. No haunted store is ready without a pair of light up signs that have taken on the shapes of hair-raising ghosts. Spice it up with marquee signs for your fearsome exterior. 
Halloween marquee signs look amazing in the light or in the dark! Use light box signs to cast a creepy ambiance and create memorable holidays. Enliven your Halloween celebration with a "Happy Halloween" lighted sign. Don't forget about safety rules especially when installing lights outdoors.
Read the article to discover more light box sign benefits. 
Large Halloween backdrops for Promotions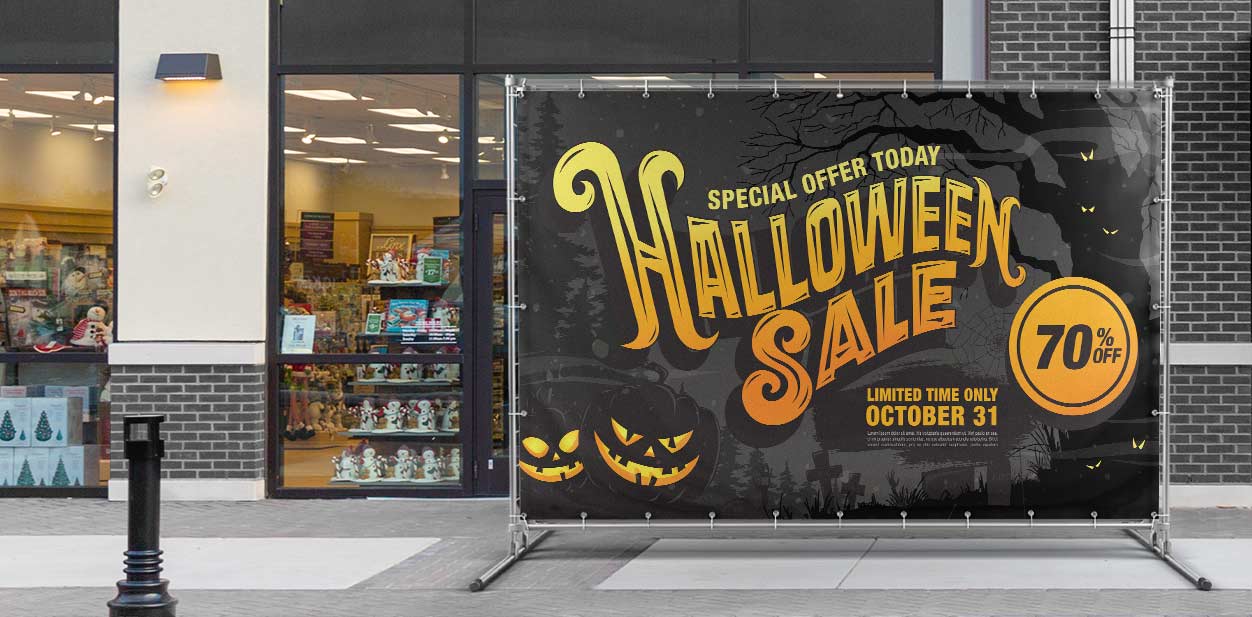 Set the tone for this year's Halloween celebrations at your store! Large Halloween backdrops are the fastest way to transform your shop into a place of haunting delights. Don't forget about spooktacular event signs for Halloween. They can be used to adorn any premise with twisted yet wonderful themes. 
Show off your seasonal sales on all kinds of kooky displays! Take advantage of the holiday shopping frenzy. Include something extra in your Halloween store signs. You can go with a sales offer, a freebie or sweet promotional items for their next store visit. 
Refer to our article on outdoor business sign ideas for more inspiration. 
Thematic Halloween graphics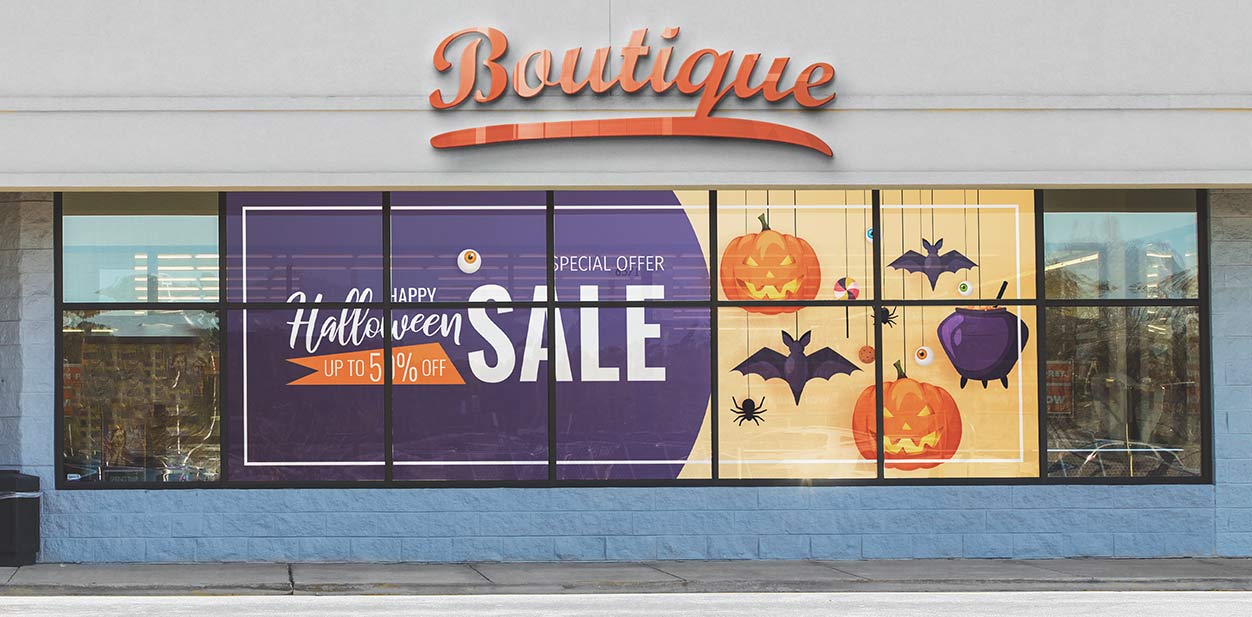 Are you considering putting up scary Halloween graphics outside your store? Do it right with chilling window decals and reap the rewards. These Halloween retail signs are light on your wallet but durable enough for outdoor use. 
Halloween store signs can feature a variety of witty greetings. To add a funky touch, put frightening phrases on the images. Go with anything from a simple 'Boo' to 'Please Park Your Brooms at the Door.' If you want to get a little bit wild, mix them up with lighted Halloween signs. 
Get your quote for tailor-made Halloween store signs and let's get the party started!
Indoor Halloween Store Signs
Create an eye-catching scene with 'stop-in-for-a-spell' building signs right at the entrance! Bring on your best game for Halloween using the most alluring ideas that come to mind. From lighted Halloween signs to Halloween-themed interior signs and custom shopping mall lobby signs, you're in for a treat.
Large indoor posters for Halloween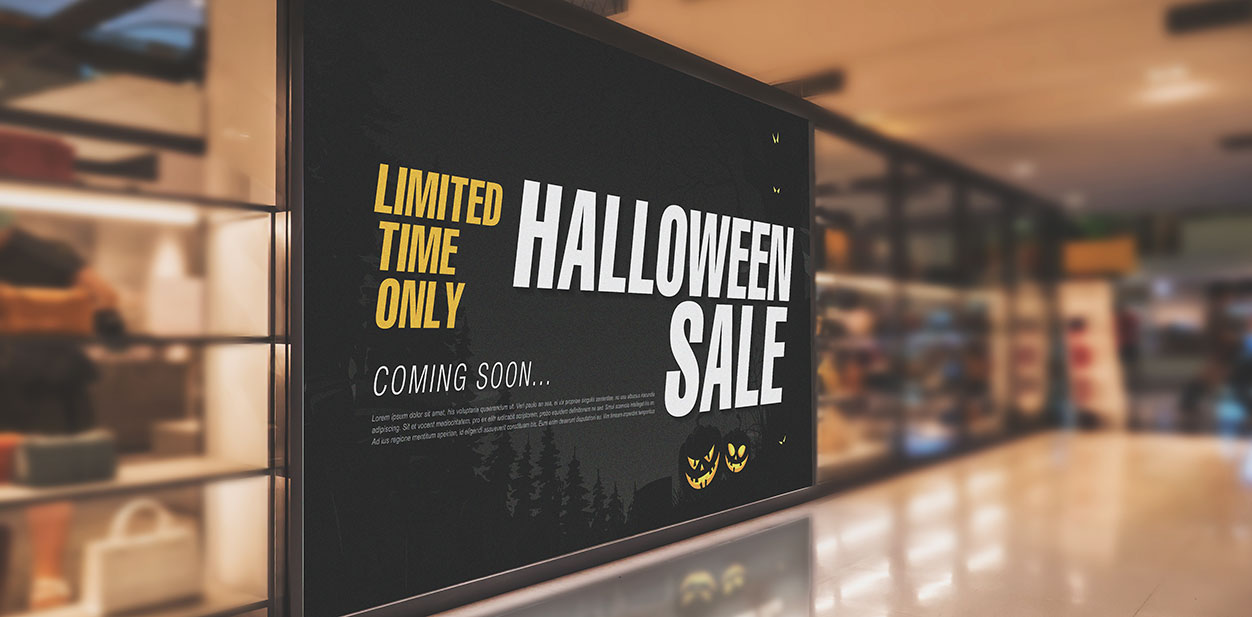 Large Halloween signs will create an extravagant looking space and advertise your Halloween products at once. Large format printing on business signs is always trendy. They offer generous space to include your Halloween message. 
Forgetting about the banners could be a grave mistake. Large Halloween signs give you the best value for your investment. They promote specials, decorate and boost sales. Halloween retail signs also offer annual usability so you can publicize future events in style. 
Custom design structures for malls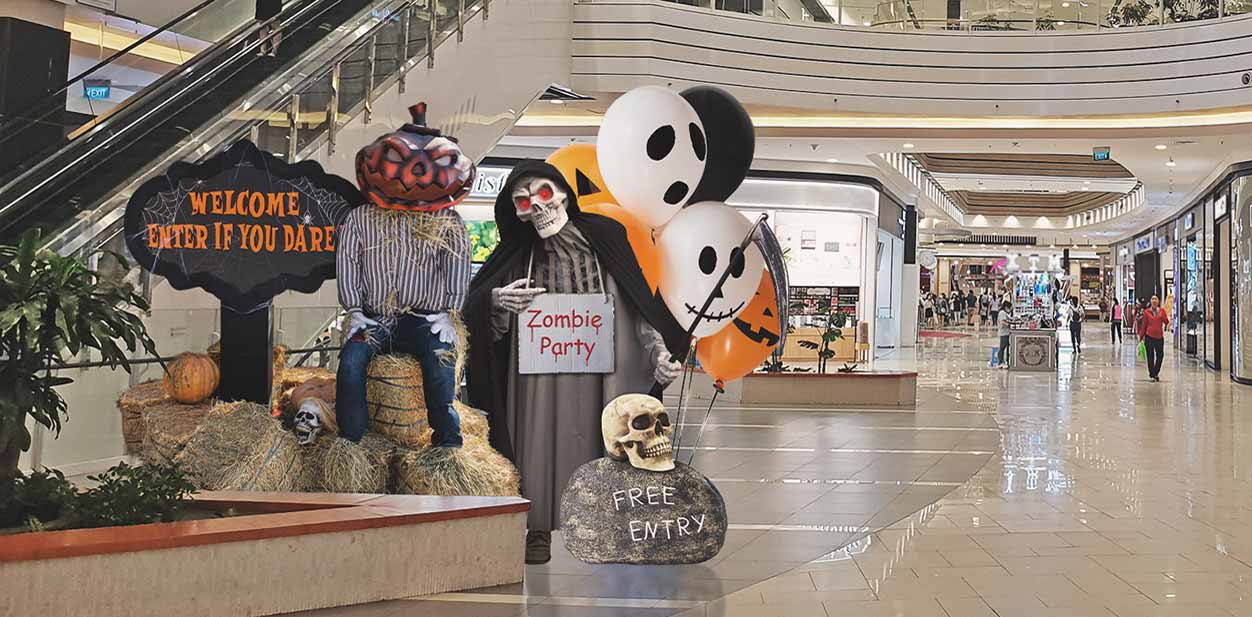 Make no bones about Halloween decorations and 3D signs becoming showier and stormier. Some in-store large Halloween signs are so impressive that they stand alone. Organize a collection of ghouls and thunder to terrify unsuspecting trick-or-treaters. 
Eerie and cheery, the best Halloween retail signs will turn on the alarms at your store. Break the boundaries with your designs. Traditional or classy, everything is possible with custom signs.
Contact us for a free quote on your custom Halloween signs! 
Indoor hanging Halloween store signs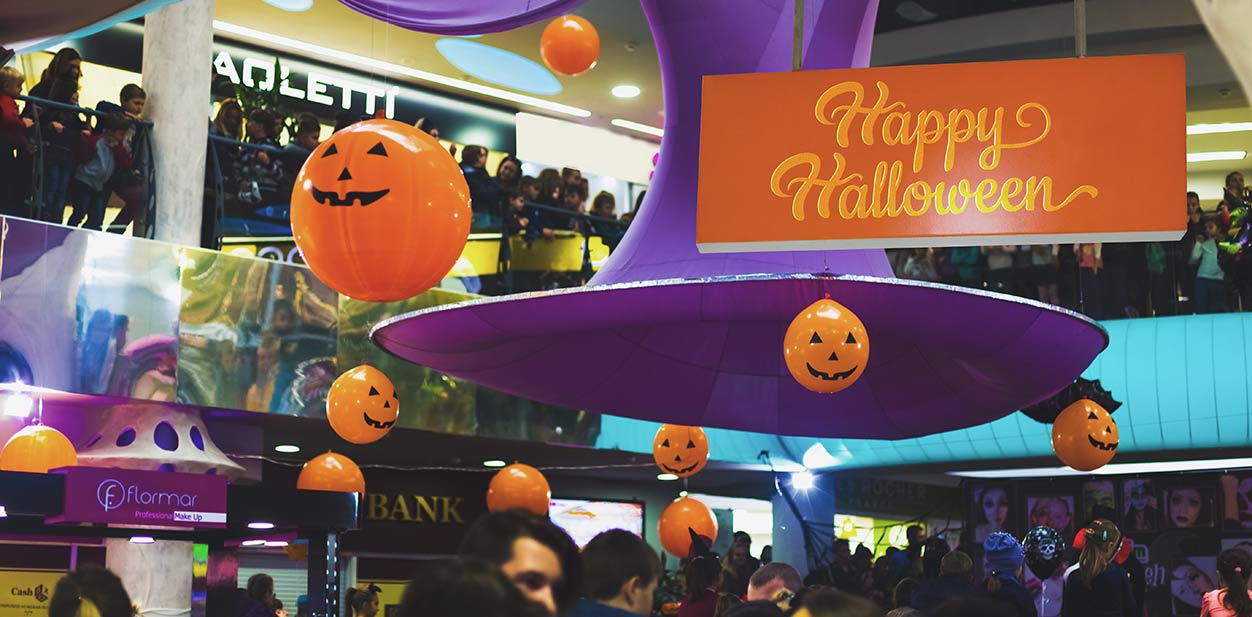 Hanging Halloween retail signs are used for decorational, identification and directional purposes. These tailor-made large Halloween signs may give a ghostly 'welcome,'  warn people to 'beware of zombies' or let them know to watch for 'creepy crawlies.'
The use of bright colors helps to create a strong contrast and capture attention. Halloween marquee signs are a great hanging option for places with high exposure. People will find what they need at your store and get into the mood for Halloween with a happy Halloween lighted sign. 
Have your custom Halloween signs in the shape and style you desire! Get a free quote now.
Halloween themed decorative signs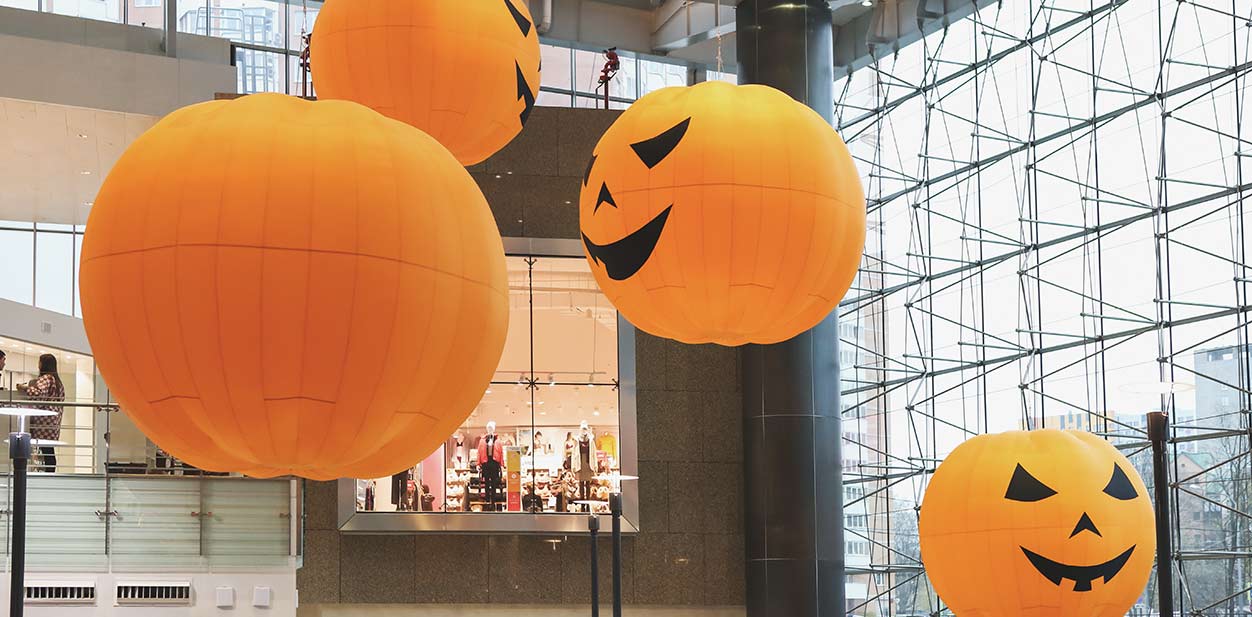 Every amazing holiday begins with a fantastic theme and Halloween is no exception. This monster of a holiday is the perfect time to plan a themed party. There are many ways you can achieve a perfect look for the occasion. Use everything from Halloween marquee signs to large Halloween signs to knock the stinky socks off your guests. 
Give attendees a good shock by hanging a Halloween boo marquee sign. They will add a frightful flare to your Halloween store party. The cut-out Halloween boo light up signs spell out the word 'Boo!' in a wacky Halloween font. Hang a Halloween boo marquee sign in front of your store to decorate. Let guests know they've arrived at your gates. 
Follow the link to explore more Halloween decoration ideas.
Create a mind-blowing scene at your store with witch silhouettes that respond to motion. Choose aesthetic decor such as witches' dresses, boots and hats. They'll serve as subtle indications of what's to come. To set a wistful tone, provide your decorative witches with their iconic broomstick.
Create the finest fright on the block with Front Signs, a one-stop signage company. We've got everything you'll need for spine-tingling store decor from the inside-out. Until next year, we witch you a happy Halloween!