Custom Gym Signs for Different Uses and Applications
Professional signage can take your gym to the top of the wellness game. We take pride in bringing custom gym signage to businesses operating in the fitness industry.
Indoor and outdoor business signs provide a better experience for your customers, making you the number one choice among competitors. 
Usage for Custom Gym Signs
There are a lot of beneficial uses for fitness center signs depending on your premise and gym type. From branding to safety, you can achieve all of your goals with the right gym sign board design. We're here to help you with an A to Z guide on custom gym signage for success. 
Branding Gym Signs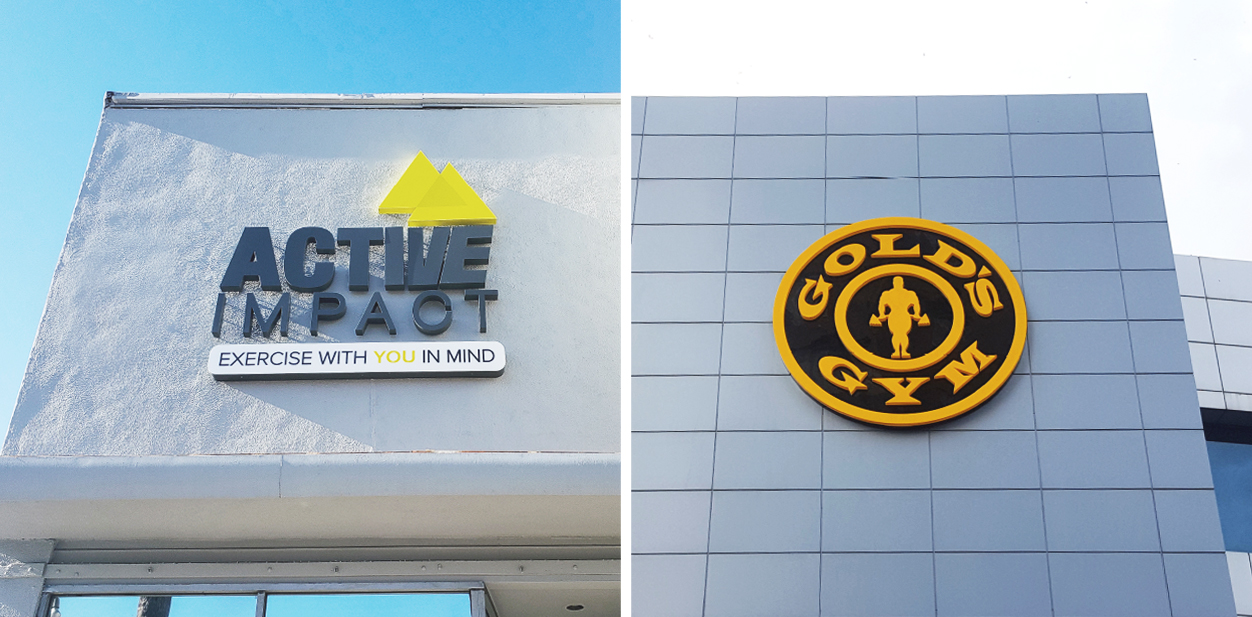 Branding is one of the primary goals of fitness center signs. You can achieve full gym branding with a range of sign types, sizes, illumination features, shapes and styles. We offer custom gym signs that will match your theme and vision with excellence. From channel letters and gym LED signs to printed gym wall signs and motivational gym banners, we've got you covered.  
Gym Building Branding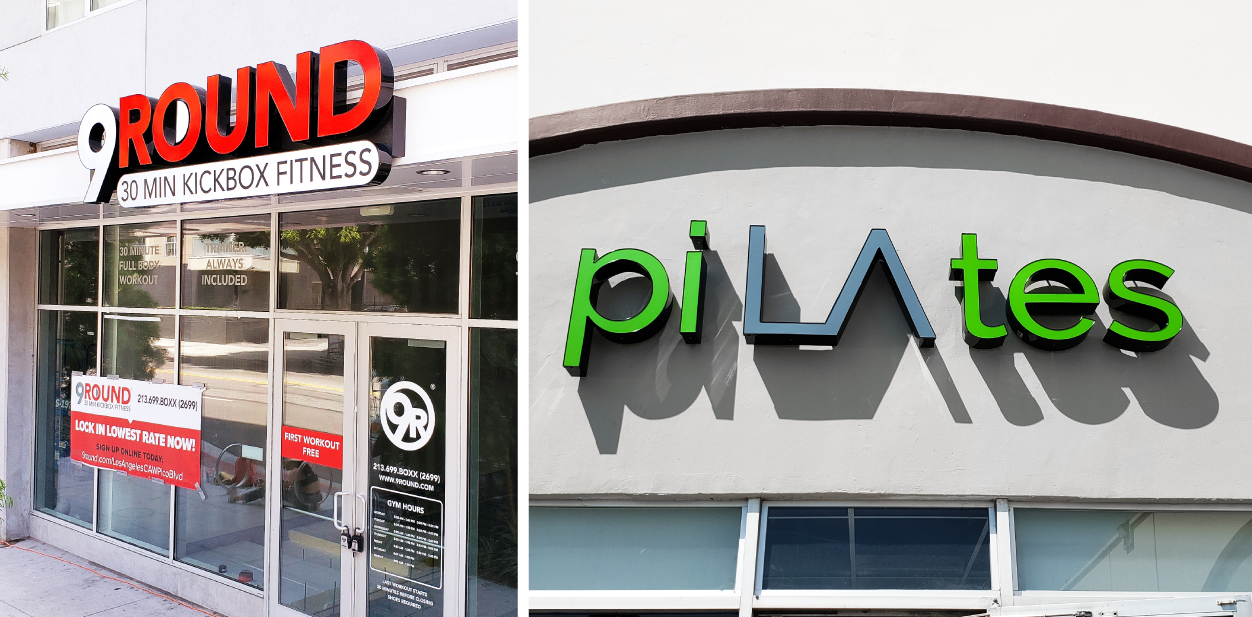 Impressive branding begins outdoors. With the help of  outdoor signs, your building can reflect what customers expect to see once inside. Combine gym LED signs and non-illuminated fitness center signs to display your logo. Use huge, radiant letters to showcase your brand name and attract customers from afar.
Have a gym sign project in mind? Get a free quote and consultation now!
Gym Interior Branding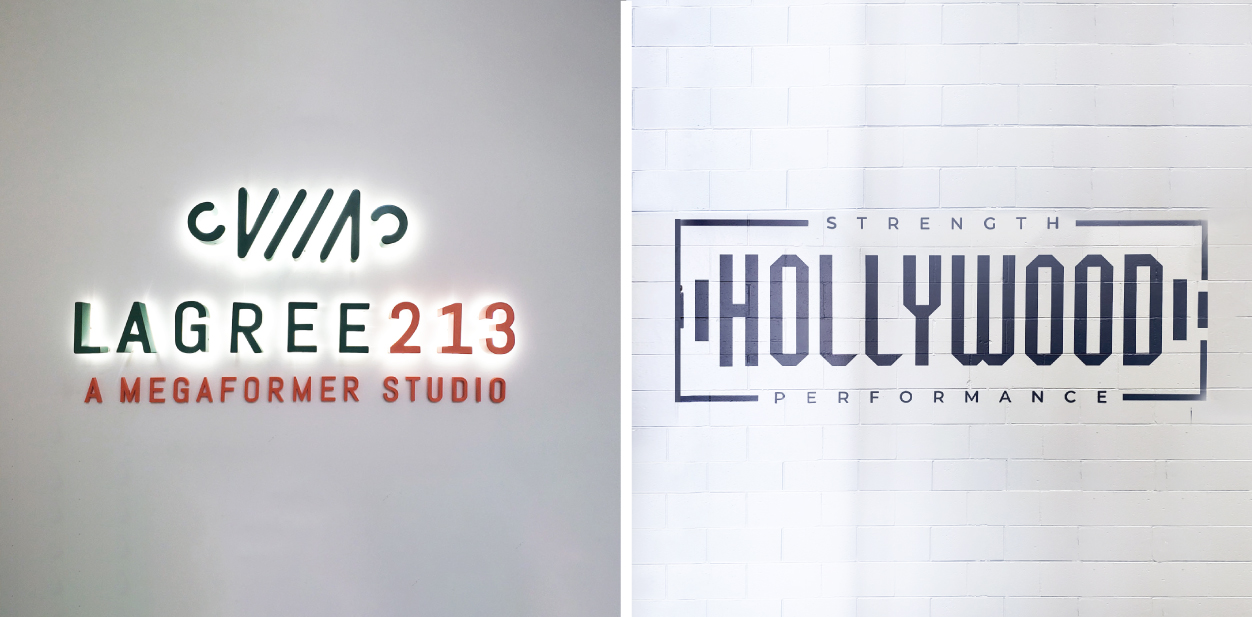 Exterior fitness center signs bring in new customers thanks to their exposure and visual appeal. Interior signs, on the other hand, help you make a lasting impression and enhance customer experience. Custom gym signage contributes to the overall look and feel of your fitness center. Each area should have well-thought-out signage to mark and decorate it. The professional atmosphere it creates is vital to success. Be sure your workout signs suit the lighting and color scheme of your space.
Gym Lobby Branding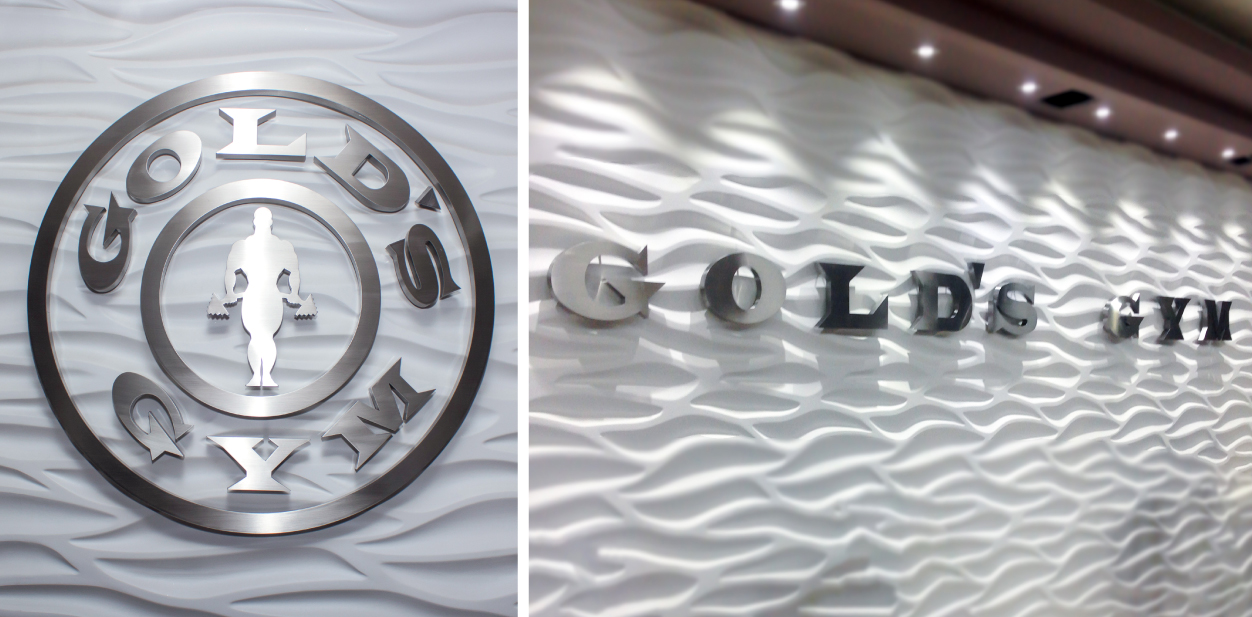 The reception area design of your gym plays a vital role in its overall appeal. As customers enter the gym building, lobby signs are responsible for making the first impression. Make sure your gym wall signs, motivational gym banners and all other featured mediums complement one another and include your gym logo. 
Gym Exercise Room Branding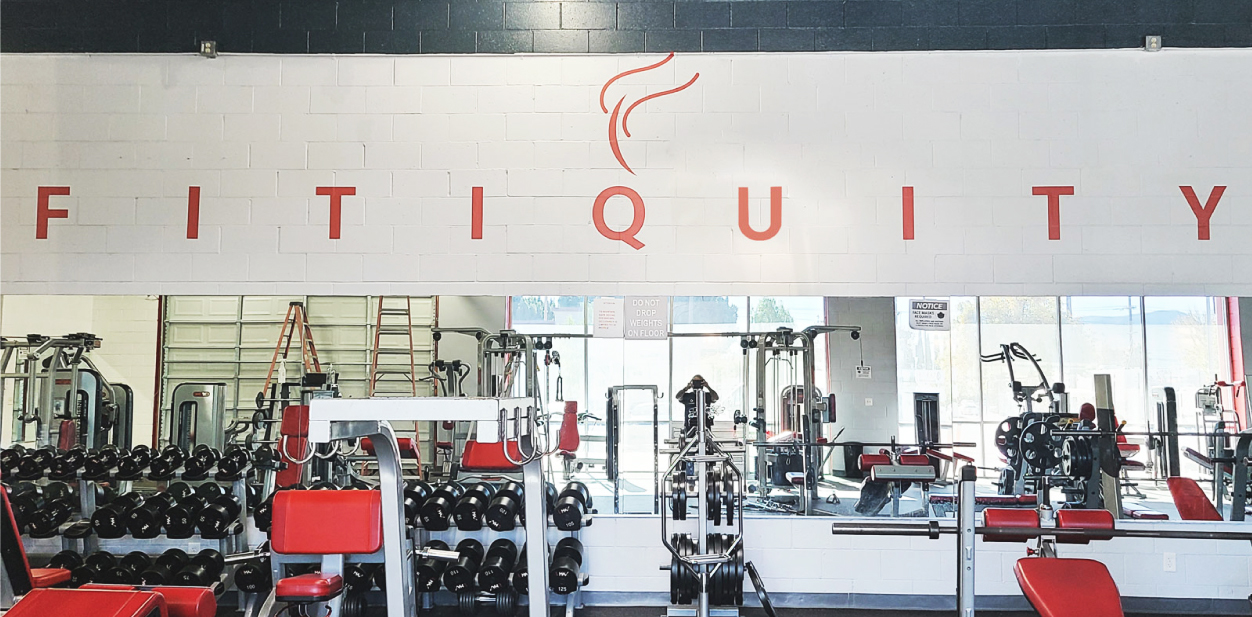 The exercise area is where gym goers spend most of their time. Make sure you incorporate engaging signage to brand this room. Don't overuse illuminated fitness center signs as they may have a tiring effect during workouts. Combine a subtle gym LED sign with 3D custom plastic signs to create layered dimensions. Use custom decals as full wraps for walls and windows or smaller ones for equipment branding. 
Gym Locker Room Branding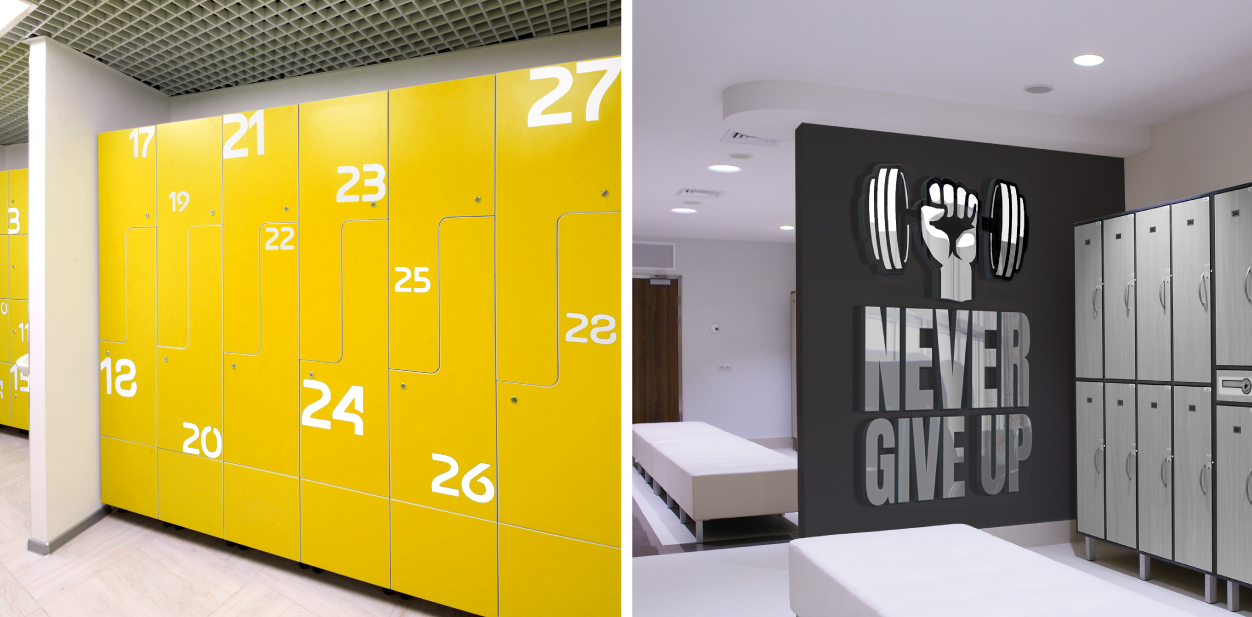 A last impression is no less important than a first. The changing room is the last place your attendees are going to spend time in. Take advantage of the opportunity for effective branding with custom gym signage. Create a welcoming environment with branded motivational signs for gym goers. This will establish an inviting tone and encourage people to come back for more.
Here is a list of 13 Inspiring Business Branding Examples for Strong Brand Positioning. Read the article to adopt the best branding practices for your business. 
Motivational Gym Signs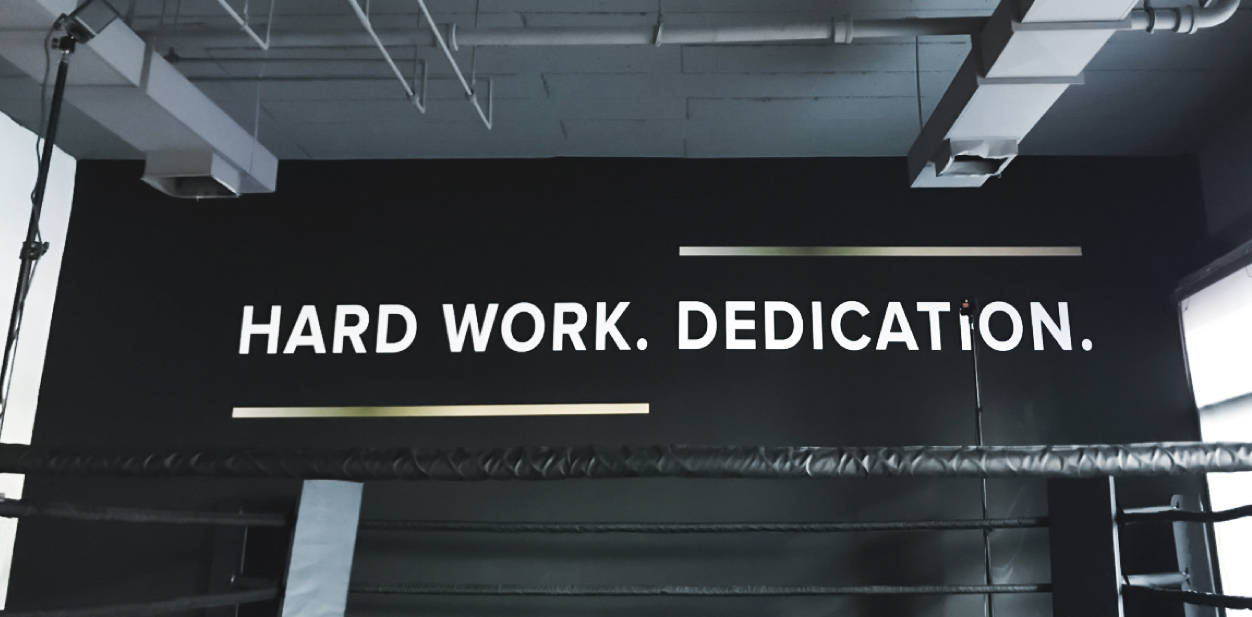 Motivated customers equal success in the health and wellness sector. Hiring professional personnel to reach this goal may be the first thing to come to mind – but gym design is just as essential. In fact, the positive effect motivational gym signs have on customer attendance will surprise you. 
Adhesive graphics and motivational gym banners are the traditional tools for interior design and branding in wellness centers. You can also go with trendy 3D signs to display your quotes and visuals. Using light up signs and letters for your motivational gym signs is a great way to outshine your competitor's aesthetics. These will add a bright touch to energize your attendees.
Check out these quotes to get ideas for your own motivational gym signs.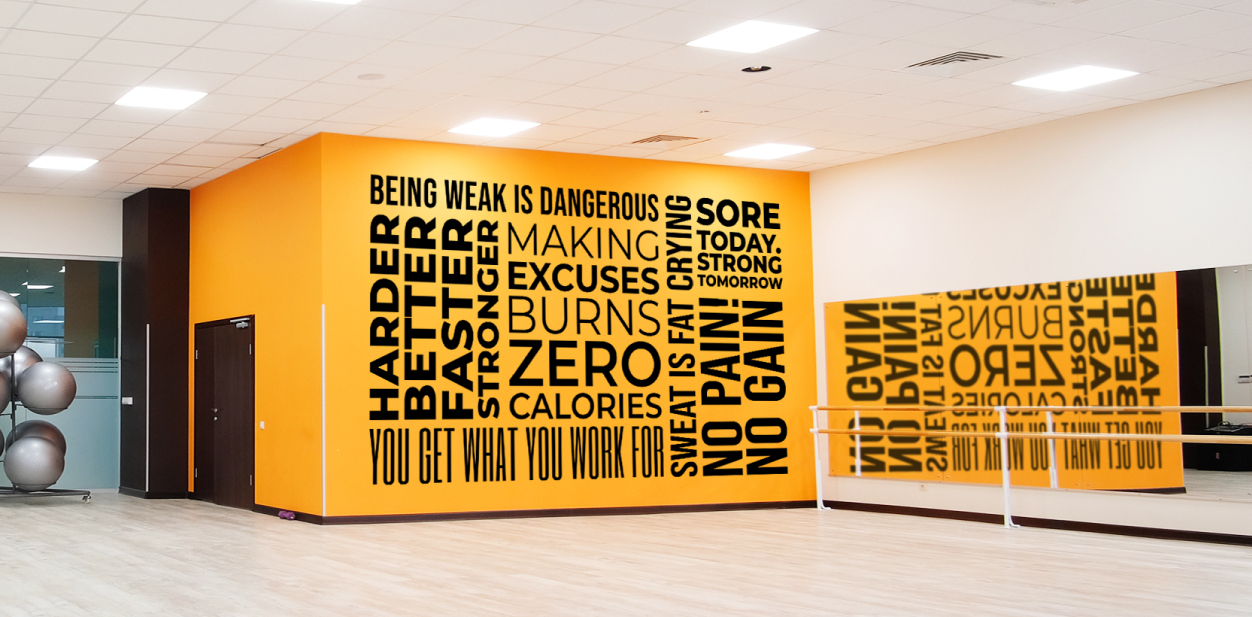 Send us your project idea to get a free quote now.
Decorative Gym Signs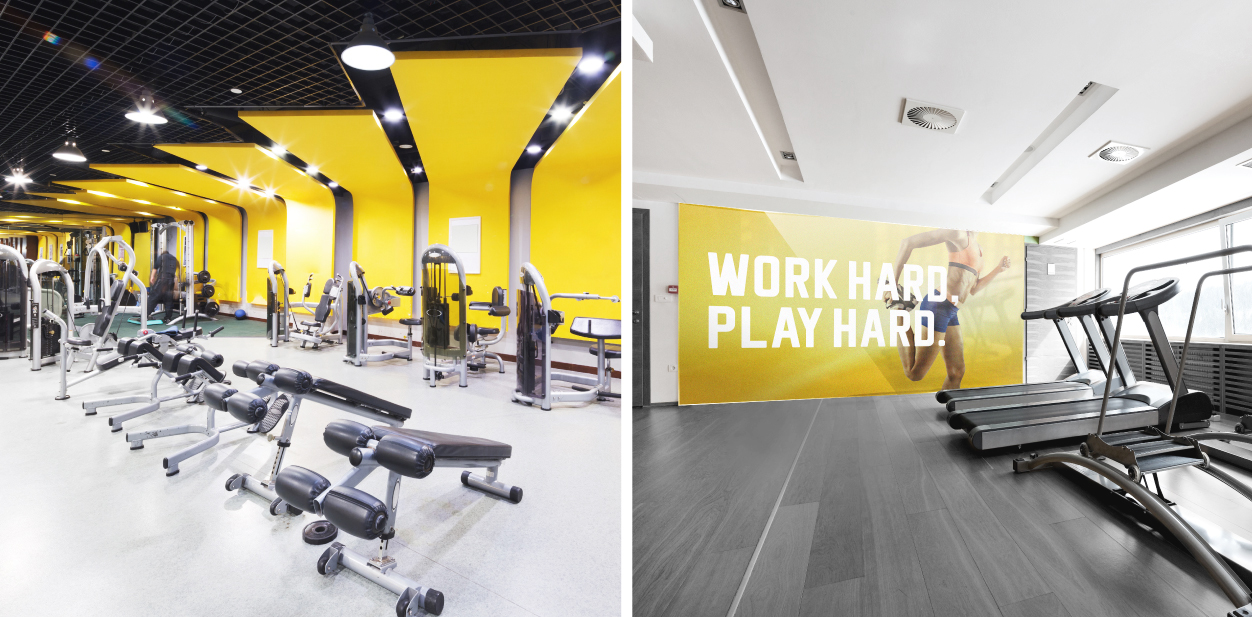 Aside from motivational gym signs and displays, decorations are another important aspect to creating the right atmosphere in your premise. Here you can use any material that fits your gym design concept. Use wooden signs to add a natural element or printed acrylic signs for vibrant graphics. Gym metal signs can be used to create an industrial style and so on.
Read our article on gym design and branding. Learn about the best practices as well as unique approaches to fitness industry design. 
Informational and Directional Gym Signs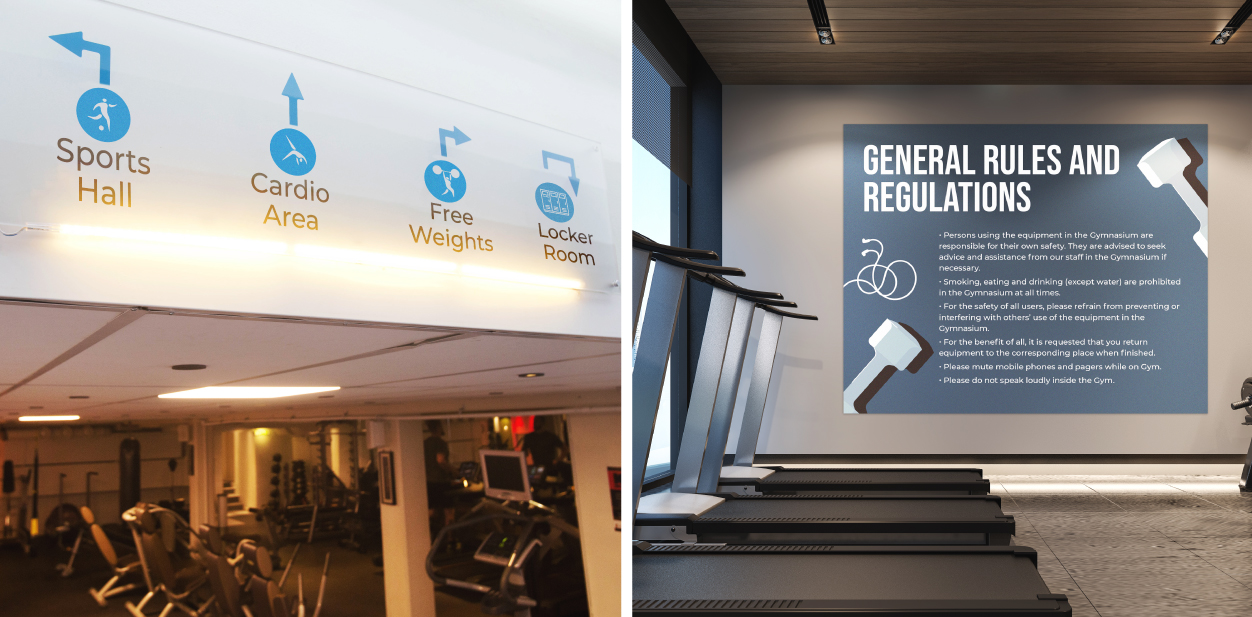 While decorating and branding are the exciting part of fitness center signs, you shouldn't overlook their more technical uses. Providing information like gym rules, workout hours and guiding customers through different parts of the building is crucial. Directional signs create a feeling of comfort for people as they make wayfinding easier. Banners, stands, and adhesive displays provide an ideal surface for messages like gym rules and special offers. 
Our specialists are here to help you with your gym signage projects. Get a free quote now!
Safety Gym Signs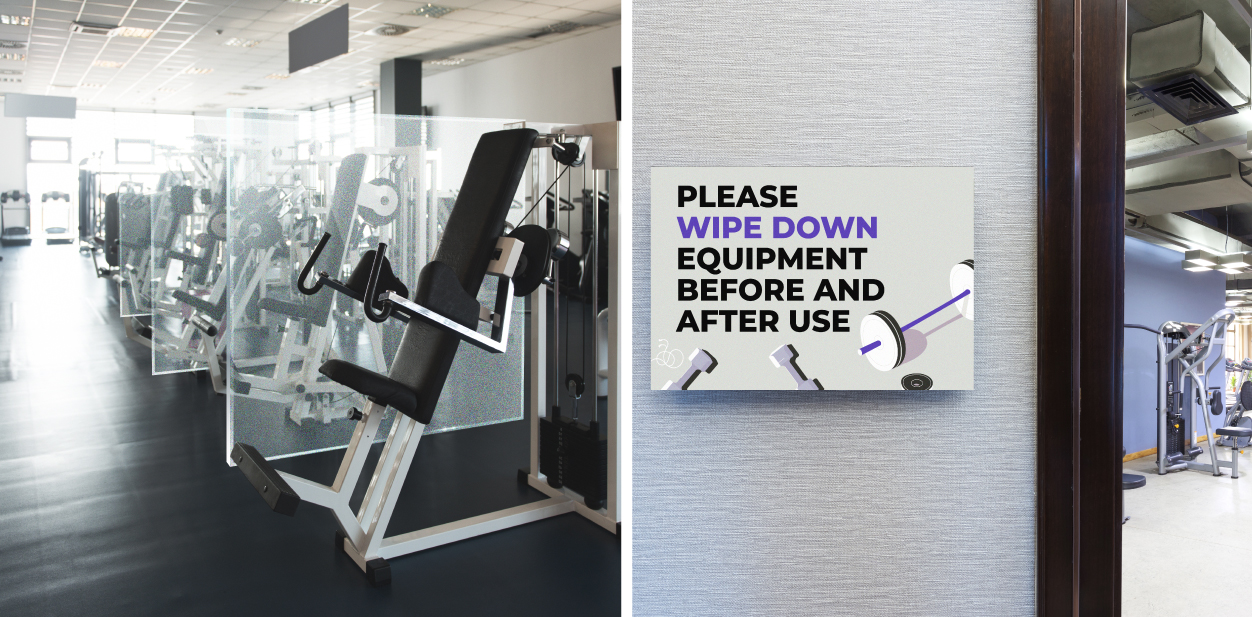 Put sneeze guards at the top of the list for providing a healthy atmosphere at your gym. They help in the fight against the pandemic challenges we've been facing since 2020. In addition, you may use instructional notes, safety workout signs and social distancing stickers. Aluminum signs are ideal for marking exits, hazards and other emergency guidelines. Certain safety signs are required by law so make sure to check regulations for your location. 
Read our article on the A to Z of Sneeze Guards to understand their benefits. 
Applications for Custom Gym Signs
Incorporate various fitness center signs into an overall theme to make the most of them. From outdoor illuminated or metal gym signs to interior gym wall signs, we offer everything for full branding. Here are the common areas of application to consider for your gym sign ideas. 
Gym Building Signs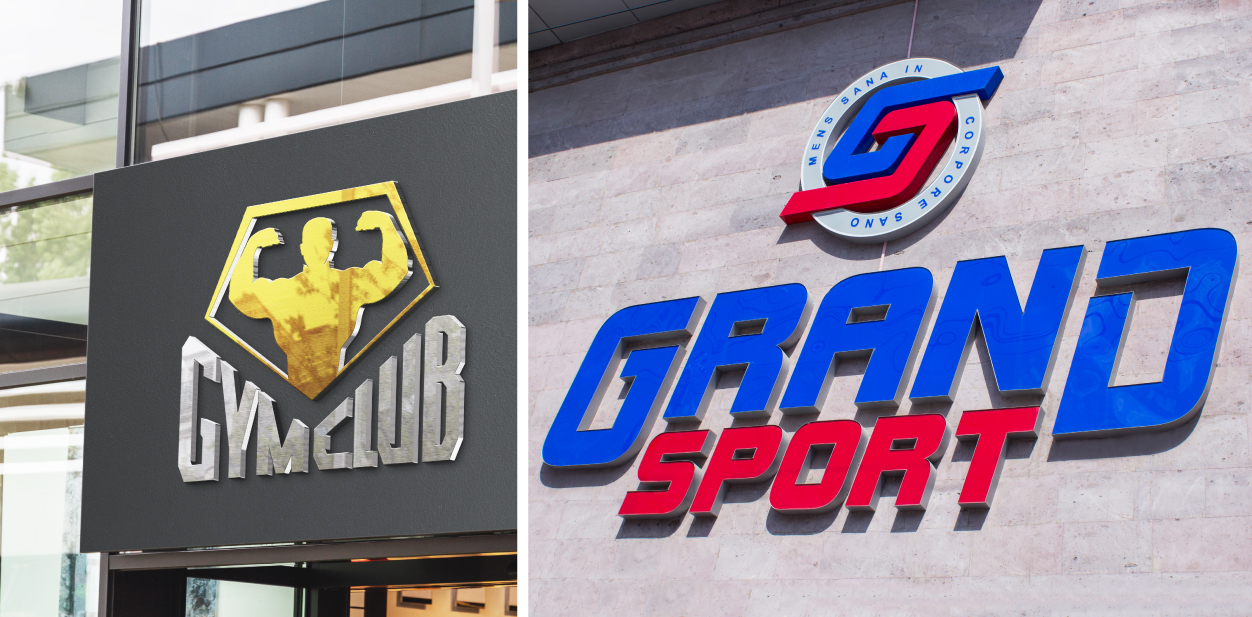 Capture the attention of potential customers with dazzling building signs. From displaying your logo with light box signs to providing service information with a gym sign board, you have a range of options for the exterior and facade of your property. 
Gym Wall Signs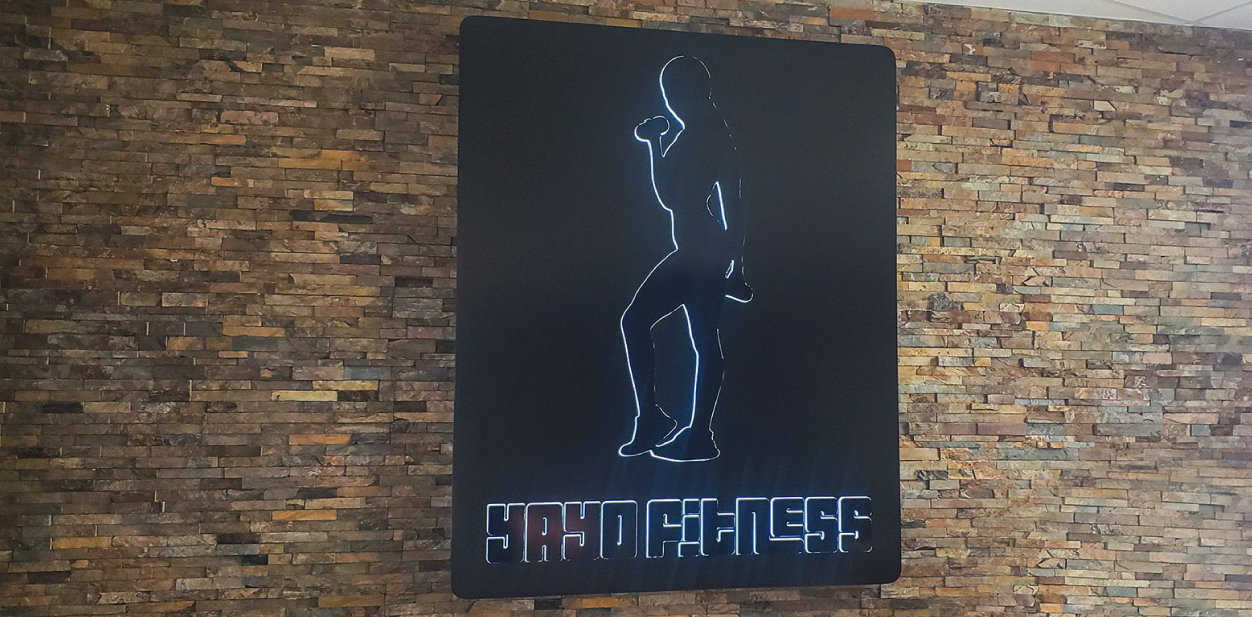 Leaving the interior walls of your facility empty would mean missing out on a huge opportunity. Wall decals are the go-to signage medium for displaying vivid graphics of any size. They make for great motivational gym signs and allow you to display any message or visual you like. You may also opt for dimensional gym wall signs accompanied by a gym LED sign to create an interesting design. 
Have a special image in mind for your own gym wall signs? Get a quote now!
Gym Floor Signs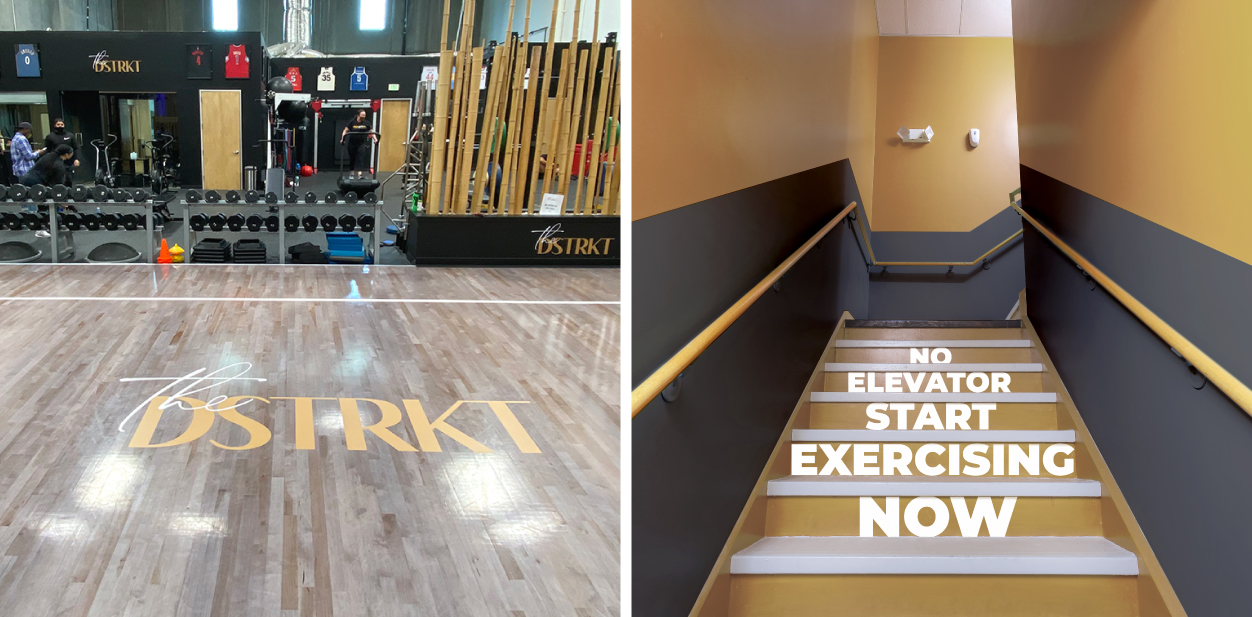 Use floor decals to display interesting graphics, your logo, motivational quotes or instructional workout signs. The floor provides a large surface area for branding and other messages and is especially visible during workouts. Invest in high-quality fitness center signs for the floor to make sure the entirety of your space looks its best from top to bottom.  
Gym Window Signs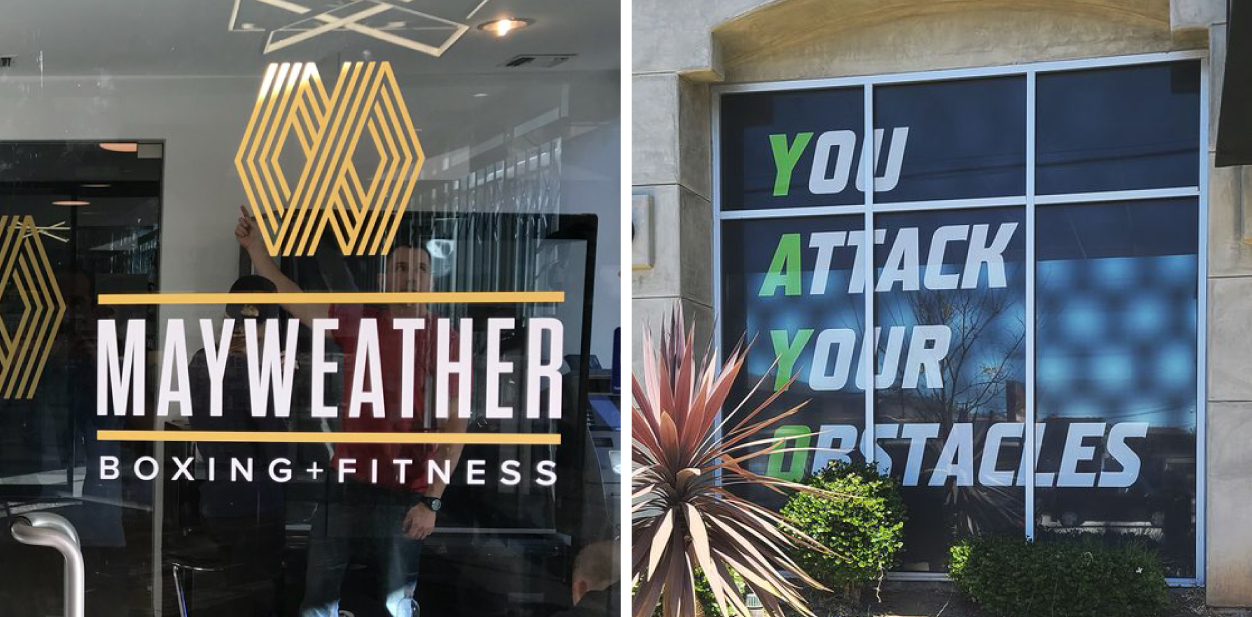 Window decals come in a few variations. They offer important features that might make them your best gym signs to utilize. From branding to establishing privacy with window workout signs, this cool medium for fitness center signs serves a distinctive purpose. We offer clear, opaque, frosted and perforated custom gym signs for windows. 
Gym Ceiling Signs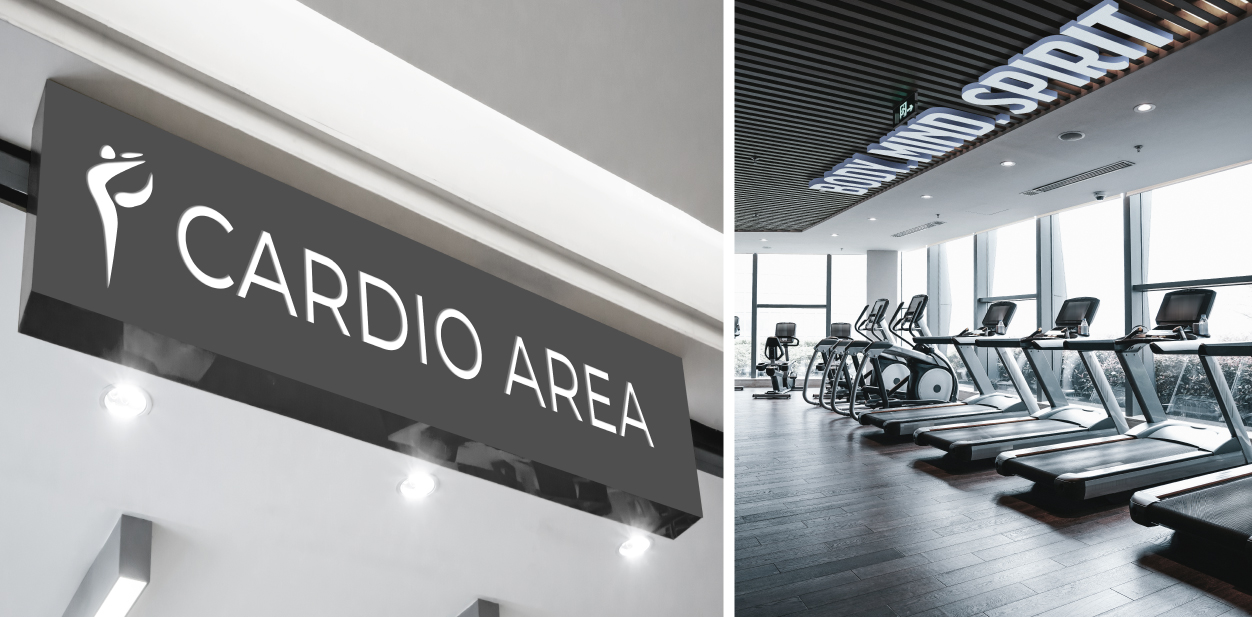 Add a special touch to your interior design with custom gym signs for the ceiling. Use decorative workout signs hanging from the ceiling or apply motivational gym signs and decals to display quotes or graphics. You can even use gym LED signs to enhance the look of your overhead lights.
Read our article on 9 Cool and Creative Sign Designs That Raise the Bar to get inspired! 
Services for Custom Gym Signs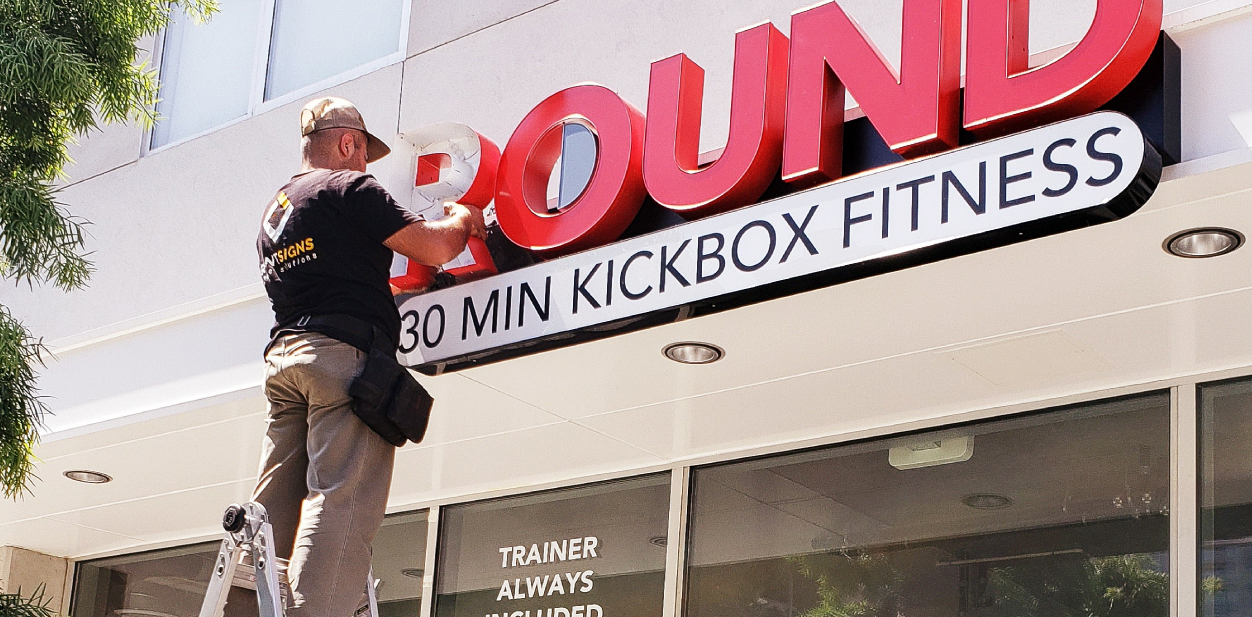 Front Signs is a one-stop signage company in Burbank, CA that offers professional services from design and permitting to manufacturing and maintenance. The most popular services we offer for custom gym signs are listed below.
3D Signage Rendering
To give you an exact idea of what your fitness room sign will look like before we manufacture it, we offer signage design and 3D rendering services for any of the custom gym signs you may need. Our professional designers ensure that the workout signs you get will fully satisfy your goals and expectations.
Large Format Printing
We offer large format printing services for gym banner signs and other graphics. Our facility is equipped with the latest technology and premium materials to achieve first-rate results. We'll provide you with gym wall signs, adhesive graphics, motivational gym banners and printed decor of all kinds. Choose the material and images you like and we'll craft the most exquisite displays you can imagine. 
Installation
Regardless of the type of fitness center signs you need, we're here to take on all the hassle of signage installation. Our expert crew will make sure your custom gym signs are installed in a timely and accurate manner as well as in full compliance with relevant rules and regulations. 
Do you already have a vision for what your fitness center will look like? We hope the collection of fitness center signs covered here has sparked your imagination. If you're not sure about your selection yet, contact our specialists to help you get started!