Popular College Signs: Types and Applications
Strong college signs are a part of every school's identity. They're synonymous with the reputation and legacy of any great campus. College signs brand, promote, inform, designate spaces and provide navigation. They're vital for creating a positive impression and bond for students, staff and alumni.
Read on to discover the most popular types of campus signage and their applications. We'll also cover illumination and installation options for university signage. Knowing these will help you customize them according to your needs. We provide end-to-end services for custom school signs. Contact our specialist for a free quote and consultation.
Types of College Signs Based on Location
Make the most out of your college signs by incorporating them into a larger theme. We have everything needed for a full interior and exterior make-over. You can choose from high-rise solutions and interior business signs to exterior LED school signs to make your design pop. 
Let's go over university signage to consider based on different areas of campus.
Outdoor Campus Signage 
Making your first good impression starts outdoors. With the help of outdoor signs, you can reflect what people should expect to see once inside. To draw in an audience from afar, use large, bright college signs to display your institution's name. Combine LED school signs with non-illuminated campus signage solutions to get beautiful visuals. 
Building signs on the roof attract attention due to their visibility and aesthetic appeal. Outstanding campus signage makes a lasting impression and enhances student experience. Rooftop channel letters can broadcast your institution's name and logo. These college signs should have well-thought-out features to complement an overall design plan.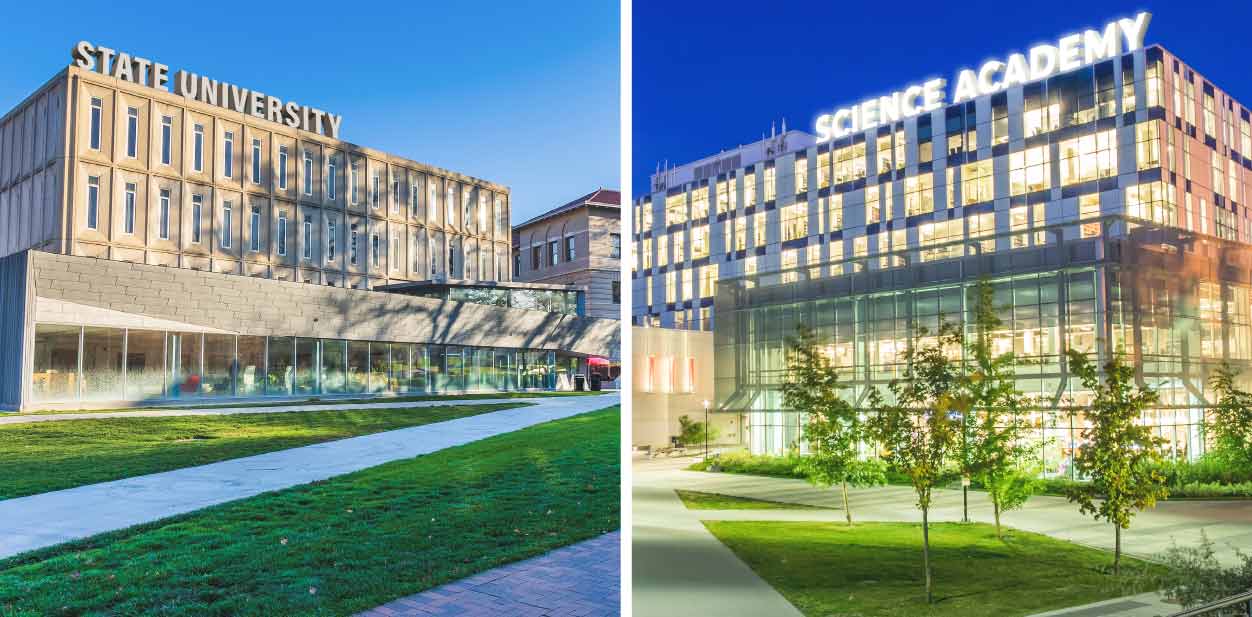 Check out the following article to get inspired by more business sign ideas. 
Above-ground

college signs
Monument signs are a sophisticated tool for distinguishing your school. They're also a classic feature for welcoming students. They're often installed at the entrance to an educational building to mark its authority. These campus signage solutions are highly customizable. You may get them tailored to meet your specific needs.
The front of a school building is an important area for making a lasting and positive impact. The role of big pylon signs is a crucial aspect of any prominent campus. These signs capture attention with their height and unique style. They serve as a guiding mark for school wayfinding signage and directories. Campus signage solutions merge to set the distinctive identity of schools and universities.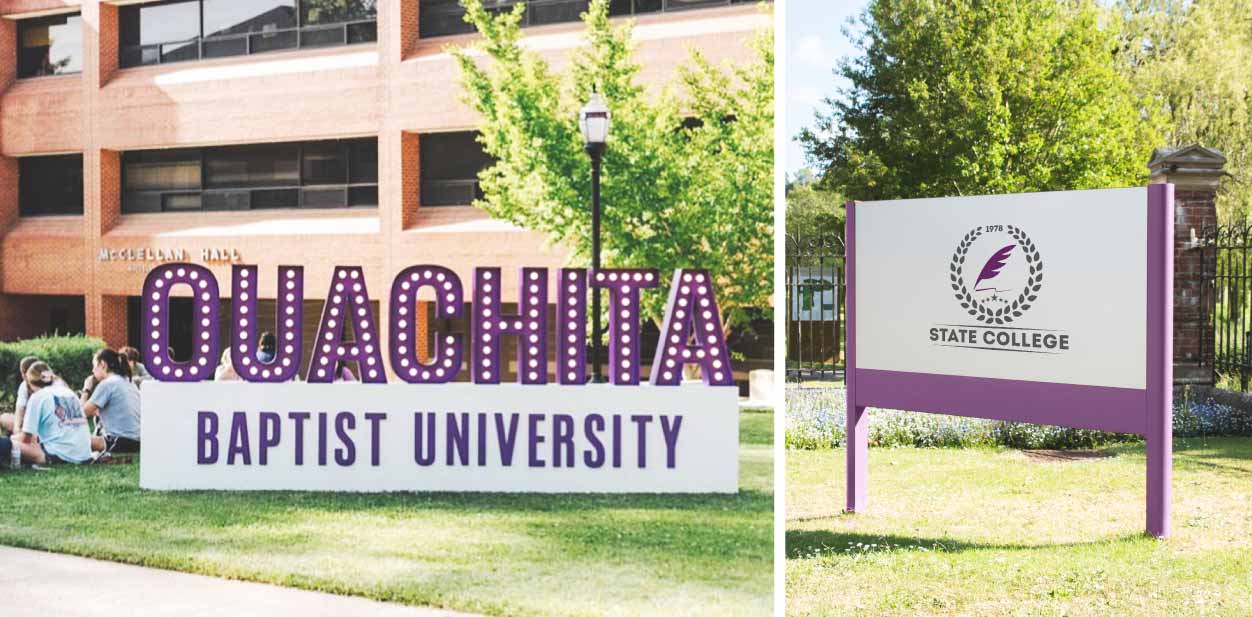 Front-facade college signs
Leaving your college facade plain would mean missing out on a great marketing opportunity. Architectural signage can elevate any building by replicating its style and materials. These make for great university signage as they can match and adorn any kind of property. 
You may also install high rise signs to complete your college design. Their elevation is a key feature that makes them one of the greatest campus signage solutions to use. These custom school signs are a top branding tool to establish recognition.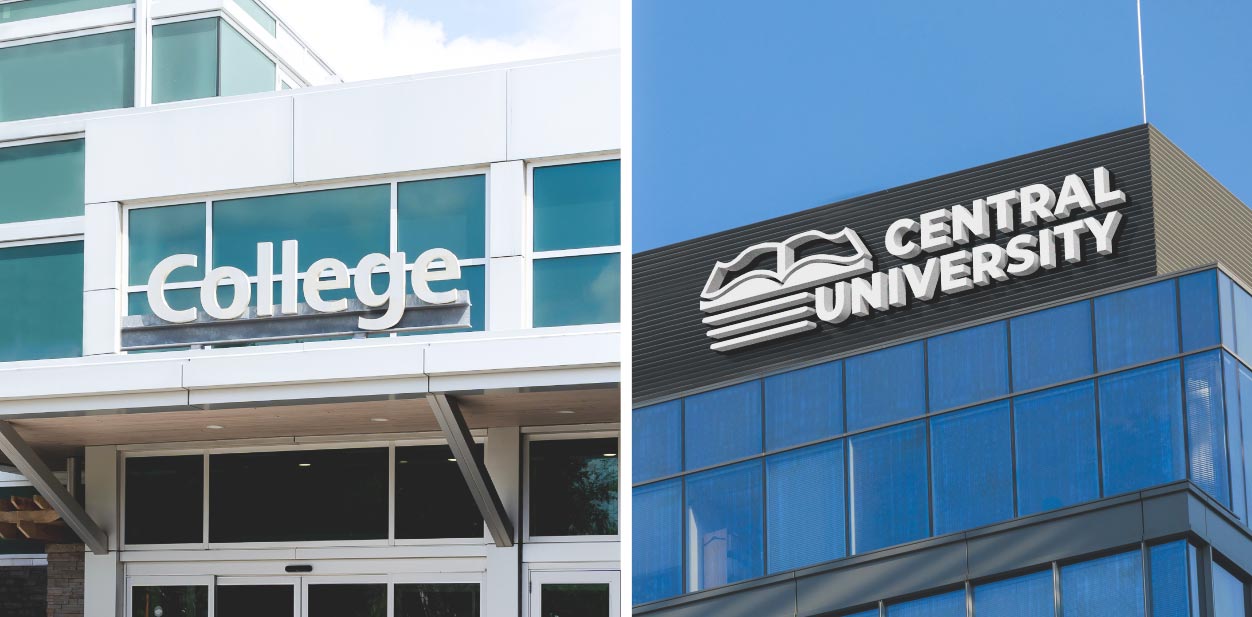 Want to get bespoke college signs tailored to your needs? Get a free quote!
Indoor University Signage
Outdoor design invites students in. Interior signs enhance their satisfaction while inside. To start, use school wayfinding signage to guide your students. Mark and decorate each area with a well-planned navigational system. The overall look and feel of the property are enhanced by these custom school signs. 
School

entrance and reception signs
Reception areas are the first interior that many students will encounter. Lobby signs convey competence, create a nice welcome and provide clear directions. These campus signage solutions enhance understanding of the campus and boost branding endeavors.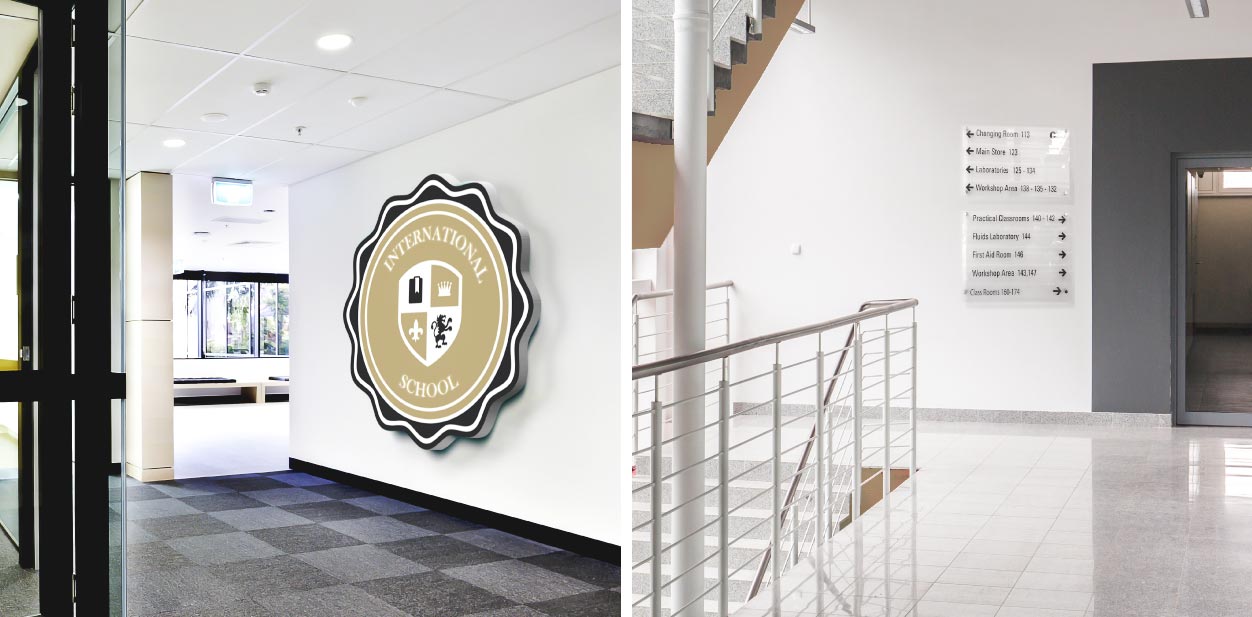 Explore more inspiring tips and insights for your corporate branding strategy.
Hallway university signage has numerous advantages for your school. Use custom school signs to improve communication and provide safety information. You may also use modern 3D signs to decorate upcoming events and publicize school activities.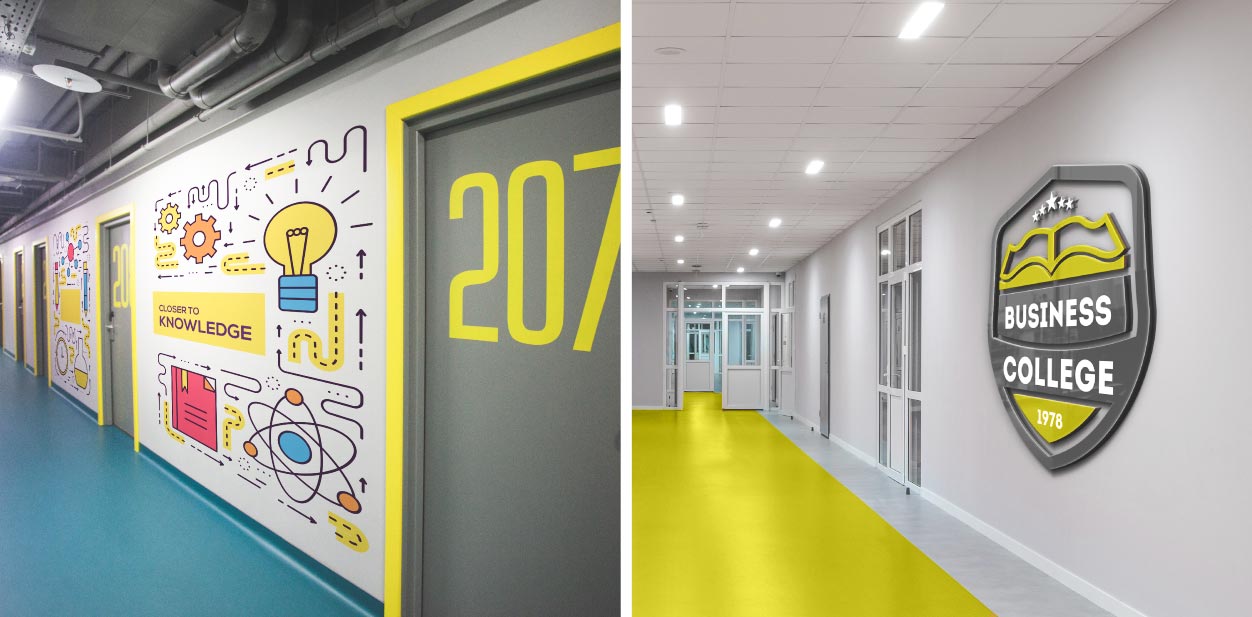 University classroom signage
Traditional options for classroom designs include decorative graphics and informative custom decals. Display your educational quotes and visuals to energize your learning environment. These will also decorate the negative spaces and add a playful vibe to your classrooms.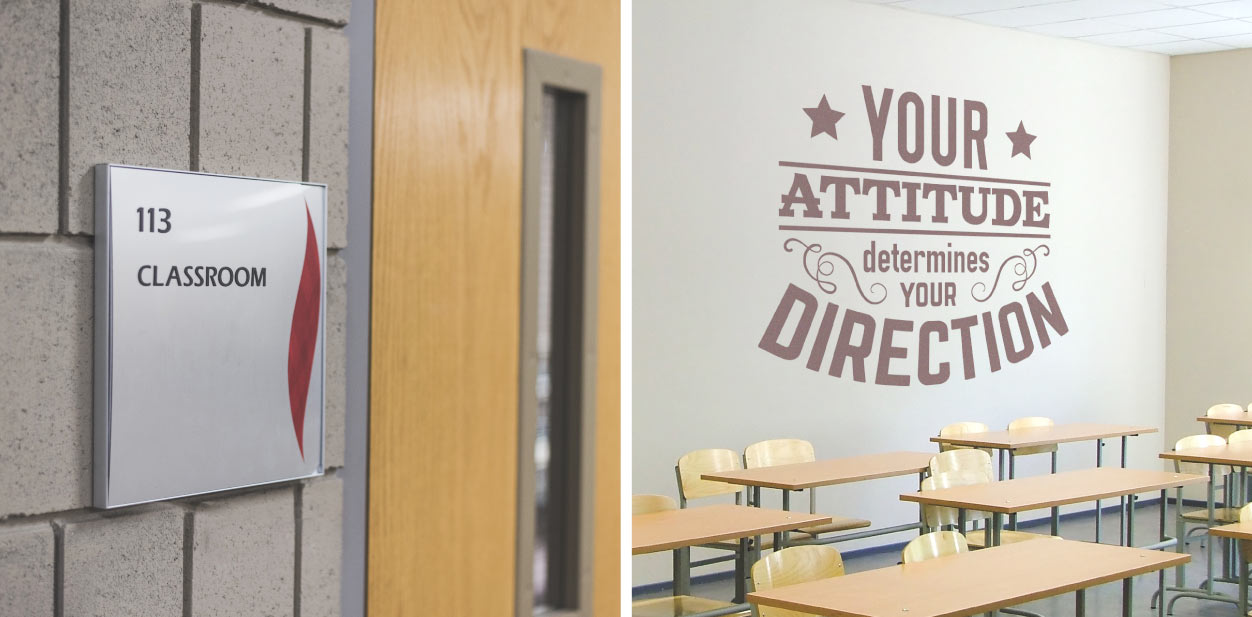 Contact our specialists to get a free quote and shape your classroom signage today!
Usage for College Signs
There are tons of reasons to install college signs throughout educational institutions. From campus wayfinding signage to safety information, such displays help students feel secure. With ease of mind, they can concentrate on their studies. 
Let's check out the general applications of campus signage below. 
Branding university signage
Campus signage is one of the most important aspects of branding. You may complete your theme with various types of college signs. Go beyond your imagination. Create custom school signs that complement a grand vision. Get bespoke school displays that are both sophisticated and functional.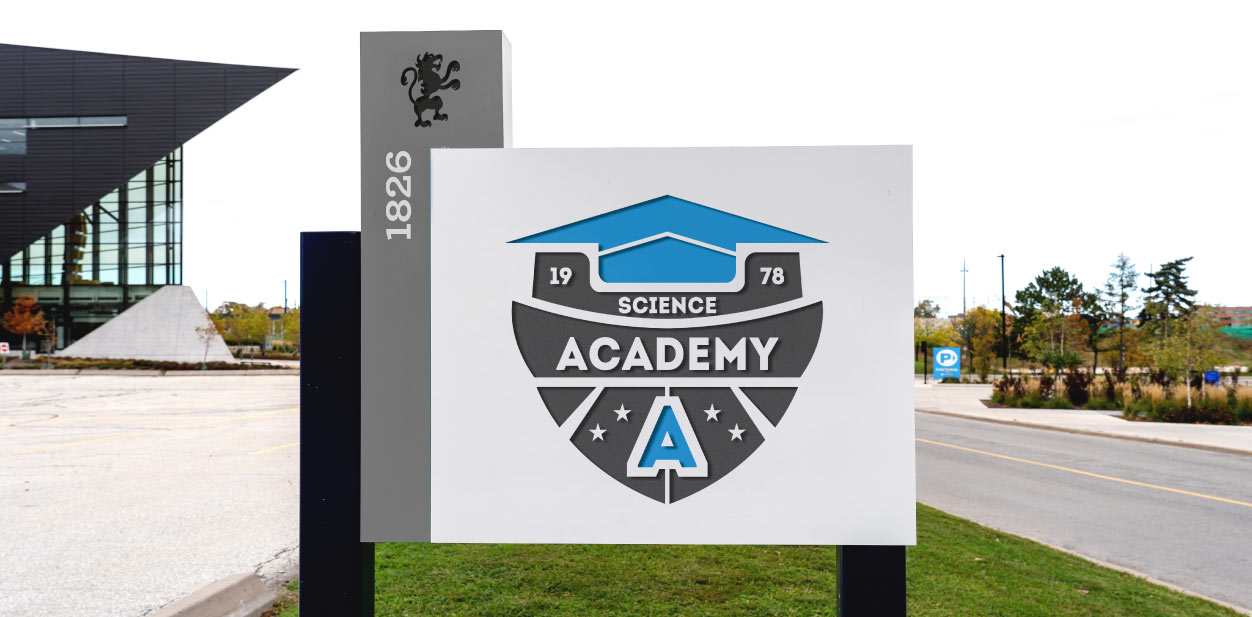 School wayfinding signage
School wayfinding signage is an important part of enhancing campus experience. When people are able to navigate your school with directional signs, they feel at home.  A good campus wayfinding signage system can direct everyone to important areas. 
Campus directional signs make it easy for students to go about their business. Well-thought-out campus wayfinding signage makes use of symbols to give clear directions.  It also leaves the impression that your institution is orderly and refined.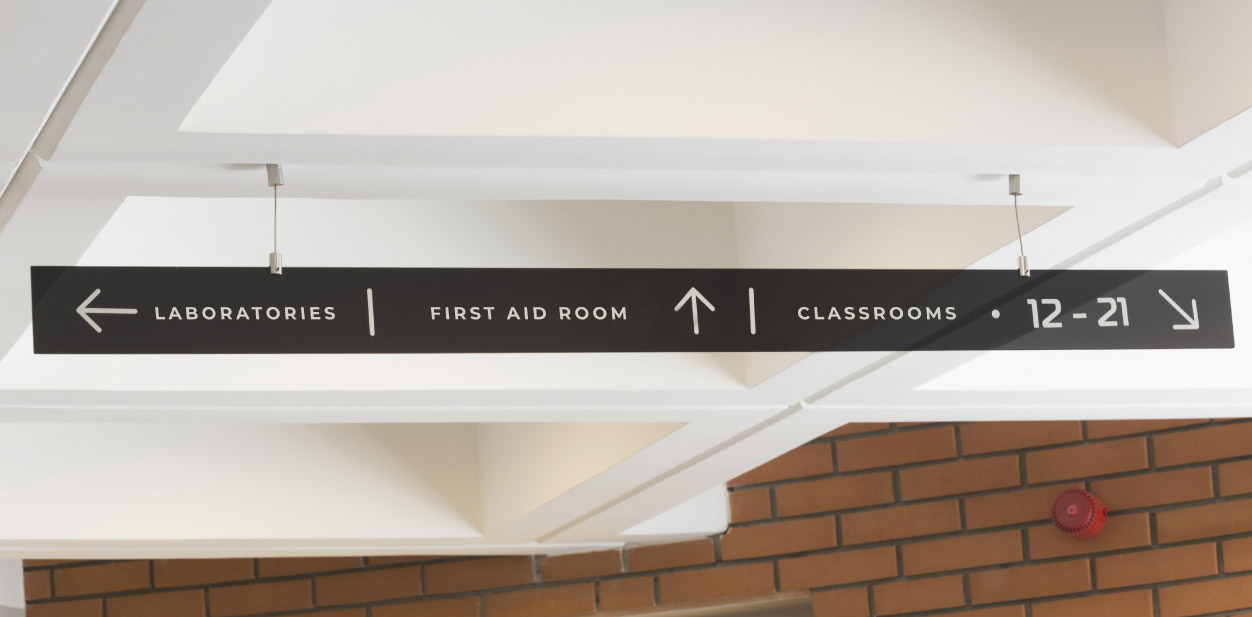 Get a quote for all of your school wayfinding signage ideas. Whether it's for a grade school or university, we'll make sure you get the best solutions.
Informational & safety

school display signs
Signage can convey life-saving information for a facility, especially during pandemic times. School display signs can showcase everything from classroom rules to emergency routines. These will ensure everyone's safety. 
School display signs also identify specific facilities like administrative buildings and so on. Provide information about the history of your institution with school display signs. Include the date of establishment, founding members and other historical points of interest.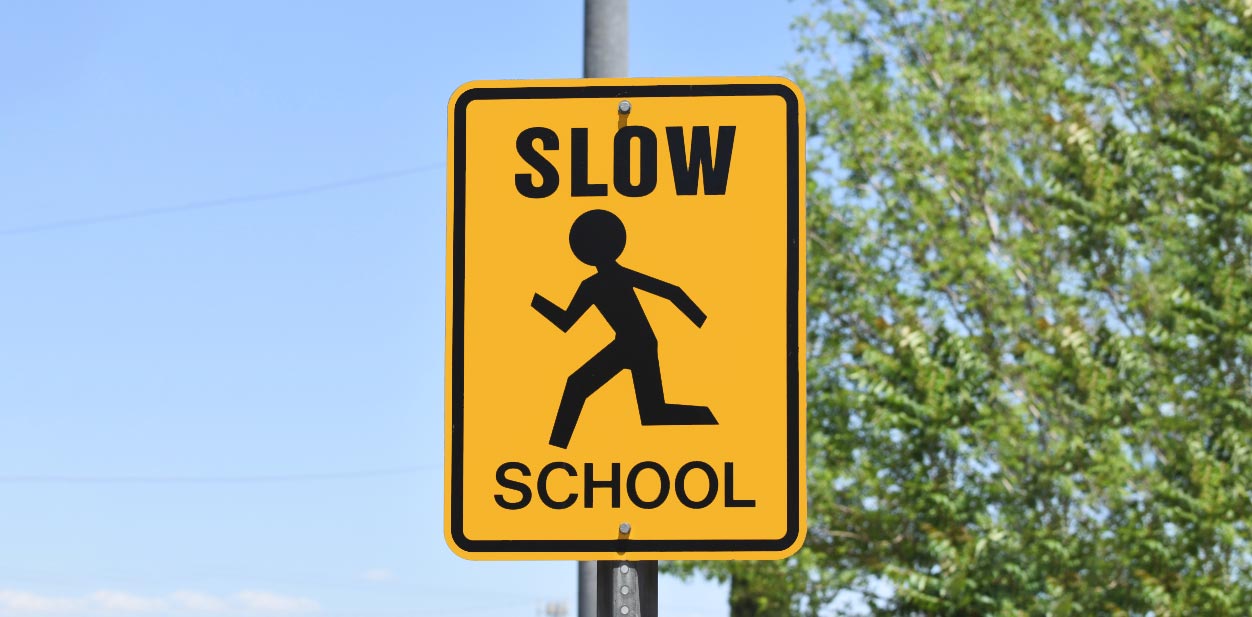 Get inspired by attractive campus signage design.
Installation Options for College Signs
There are three main types of installation options for university signage. It's important to mount your custom school signs in a way that will leverage their effectiveness. Let's find out which methods offer better exposure based on their setting.
Wall-mounted college sign
Do you need to adorn the walls of your premise? Wall-mounted campus signs are the way to go. These options are seen as a long-term solution for branding, informing and decorating. They work well for keeping the community involved in school activities. Use them to display fundraisers and other events. Most school wayfinding signage is also mounted to the walls.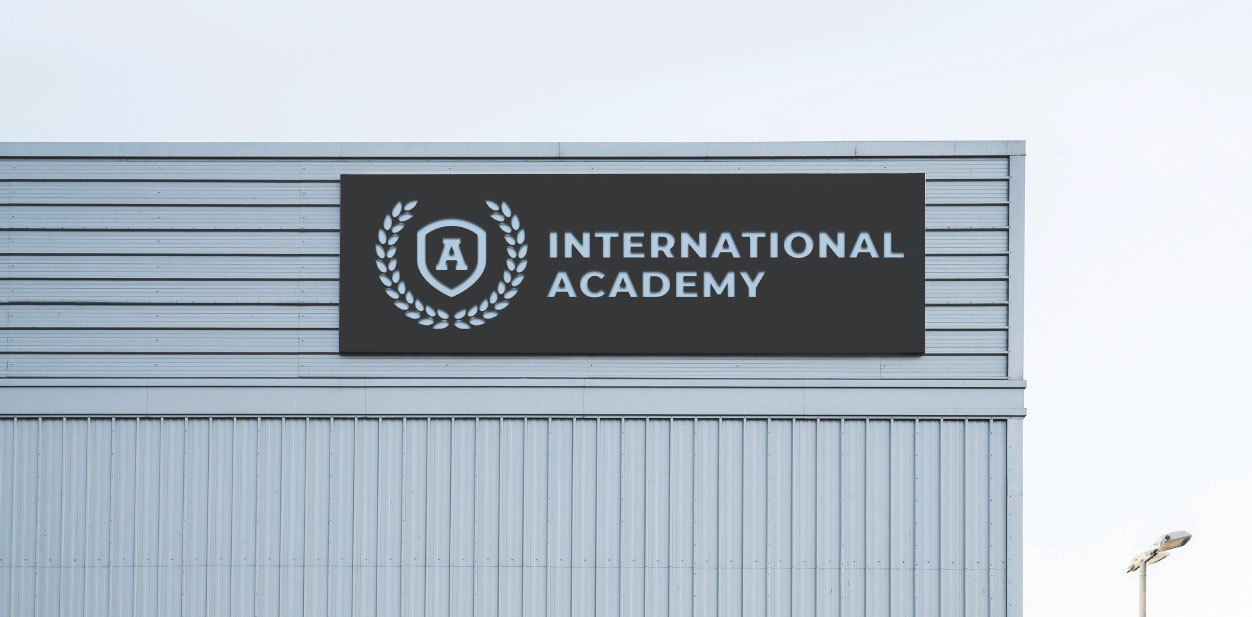 Free standing

campus signage 
Free standing custom school signs are double or single-sided structures placed on the ground. This creative style of campus signage boosts event attendance and garners public support. They serve as an effective means of communication and make a fantastic impression.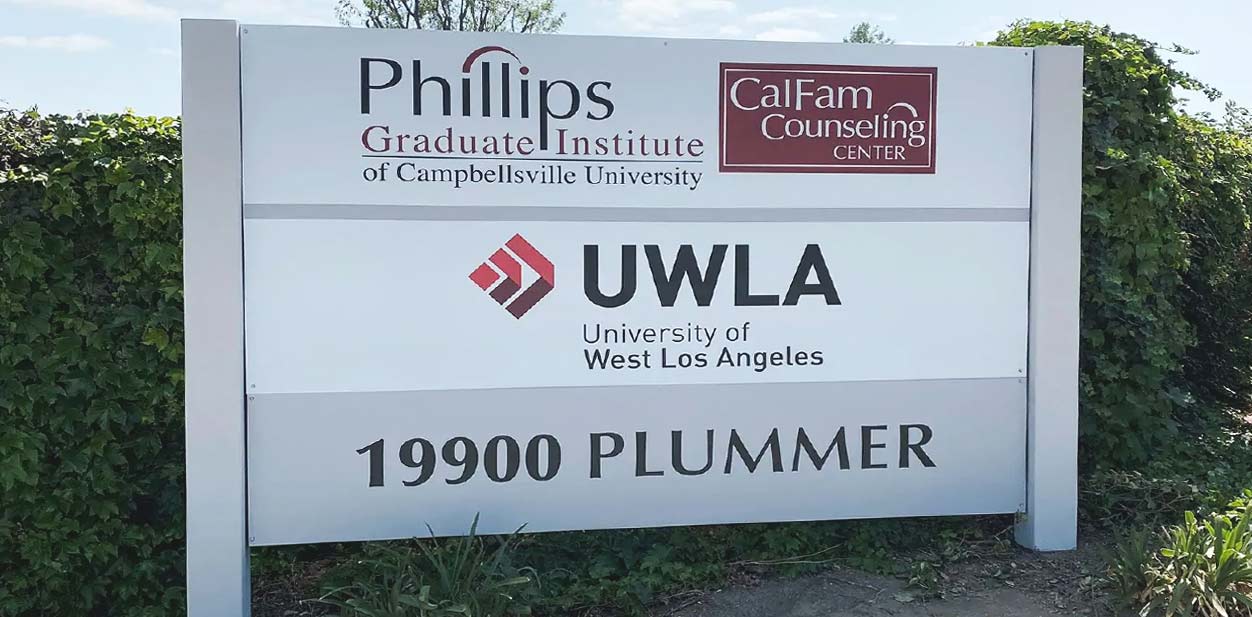 Spruce up your educational site with personalized college signs. Students will find your interior design more appealing if you hang up inspirational quotes at the gymnasium and in your hallways. It's easy to incorporate this concept into any overall design. Hanging signs range from banners to LED school signs so you have many options to choose from.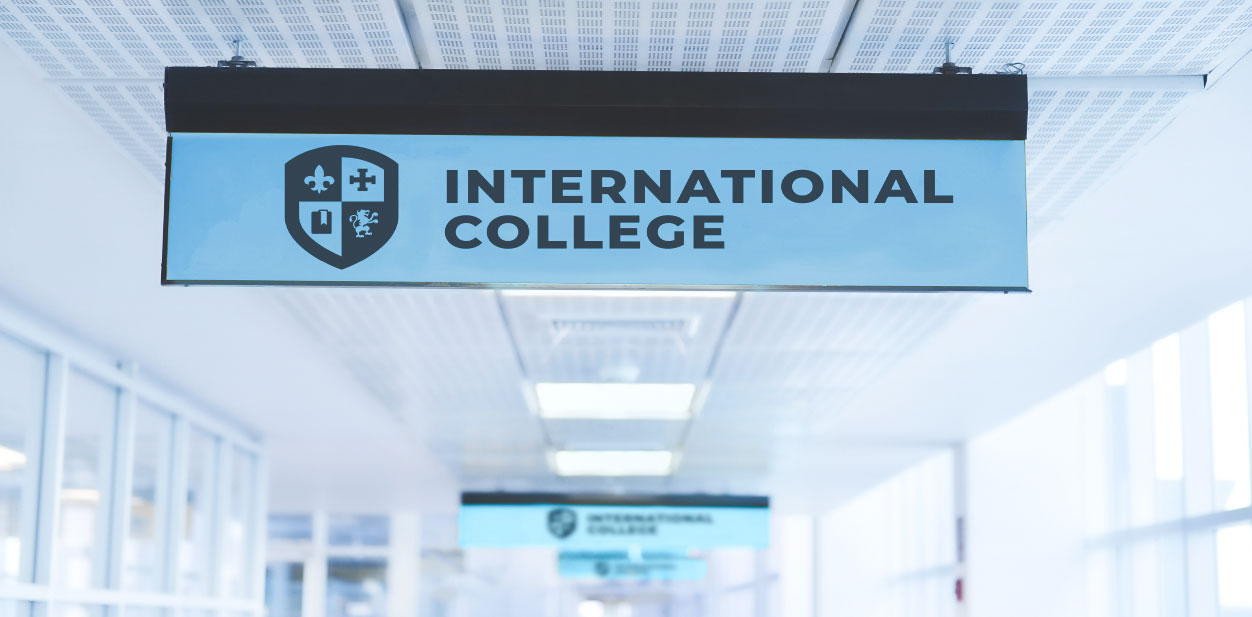 We offer college signs in various styles to suit your vision. Get your quote today!
Illumination Options for College Signs
College signs can be illuminated or non-illuminated. Both features are a welcome option when used in the right place with the right design. Let's see what kind of illumination options are available for custom school signs.
Making your mark on students and parents begins outdoors. Outdoor LED signs for schools provide community outreach by day and night. Installing outdoor LED signs for schools will show that your institution is up-to-date. 
Radiant displays like light box signs boost awareness and offer visual appeal. Outdoor LED school signs make your school easily identifiable. Apply your school's custom logo on impressive light up signs and announce your presence in style. 
The value of outdoor led signs for schools goes without saying. But don't let it underestimate the role of indoor lighting. LED school signs serve a range of purposes and offer many benefits for your school. 
Marquee signs are a great choice with gorgeous lighting features. These LED school signs would make a dynamic focal point to an auditorium. They also pair well with college wayfinding signage. Use them to mark a central hub for the navigation system. Leverage them to enhance branding and create visual appeal.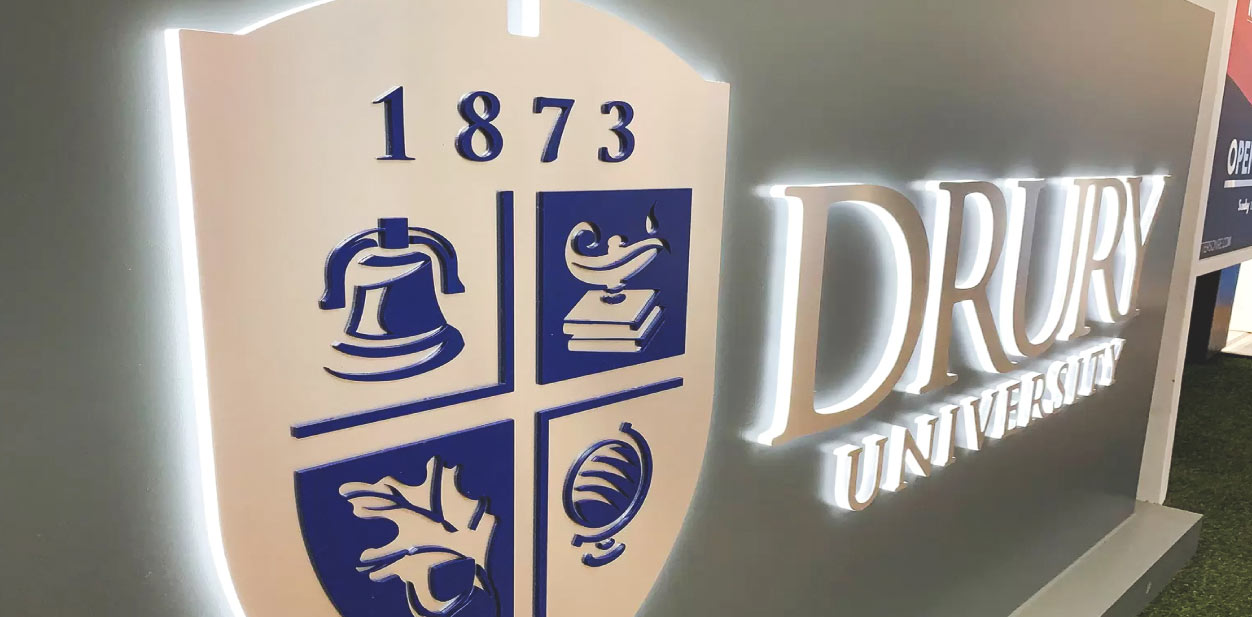 Our sign-makers craft unique LED school signs for a lasting impression. Get a quote!
Non-illuminated college signs
There are numerous elements to consider when selecting a college sign. The most common options are non-illuminated. Straightforward non-illuminated college signs are a low-cost solution for branding, decoration and announcements. They can be manufactured in a range of styles to attract attention. Use them in combination with illuminated options to inspire your students. 
Non-illuminated campus signage can also promote physical activity in students. Use motivational graphics on stairs and in hallways to create a lively atmosphere. Don't forget college wayfinding signage in every corner, whether illuminated or not.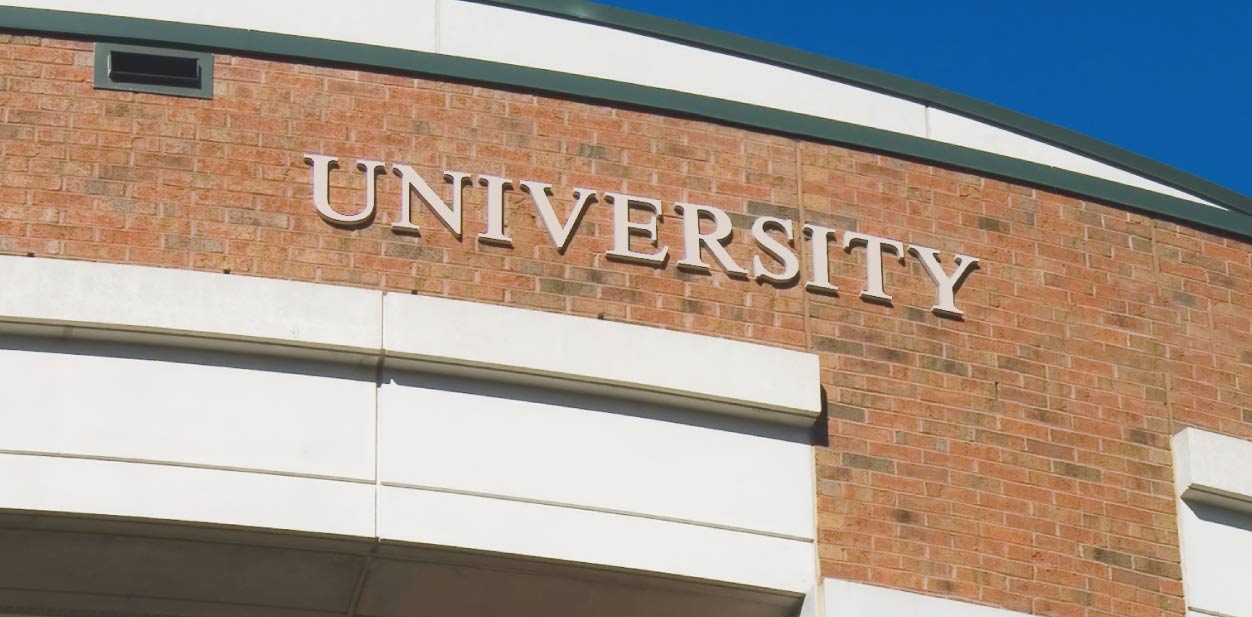 Services for Custom School Signs
Front Signs is a leading signage company based in Los Angeles and operating across the US. We have the skills and resources to achieve projects of any complexity. The most popular custom school sign services we provide are listed below.
Manufacturing
We offer manufacturing services for university signage. Our facility is equipped with cutting-edge technology and high-quality materials. Choose your favorite design and we'll craft it with style, speed and precision.
Large-Format Printing
For sizable campus prints like banners and adhesives, we provide large format printing services. Promote your message with colorful displays that can be used indoors or outdoors. The graphics will retain their vibrant appearance thanks to our cutting-edge UV printers.
Repair and Replacement
We provide exceptional sign repair services to exceed your expectations. We have the latest tools and master the techniques to get the job done with speed, quality and accuracy. Our experts will attend to every detail of your college sign maintenance. With us, you can rest assured that your legacy will live on.
We hope the examples of college signs presented here have offered valuable insight. If you're not sure about your selection yet, contact our team to discuss your vision.