Lighted and Non-Illuminated Christmas Retail Signs for Different Areas
It's the most wonderful time of the year! Time to dust off those Christmas retail signs and start sprucing up your business. Preparing for the holidays early on will allow you to beat the Christmas rush and let you feel creative with custom Christmas signs.
You'll be able to build up enthusiasm and expectation while testing out some new ideas for Christmas decorations. When designing your store for Christmas, you can also promote new holiday products with personalized Christmas signs. In this article, we've compiled a list of Christmas design ideas to make your magic happen!
Outdoor Christmas Retail Signs 
A well-designed interior may be fascinating, but the first thing people see is your building's facade. Adding outdoor store signs is a beautiful way to spread the Christmas Spirit. From large to small and lighted to non-illuminated outdoor signs, there are tons of options to create a festive atmosphere. 
Facade Lighted Christmas Signs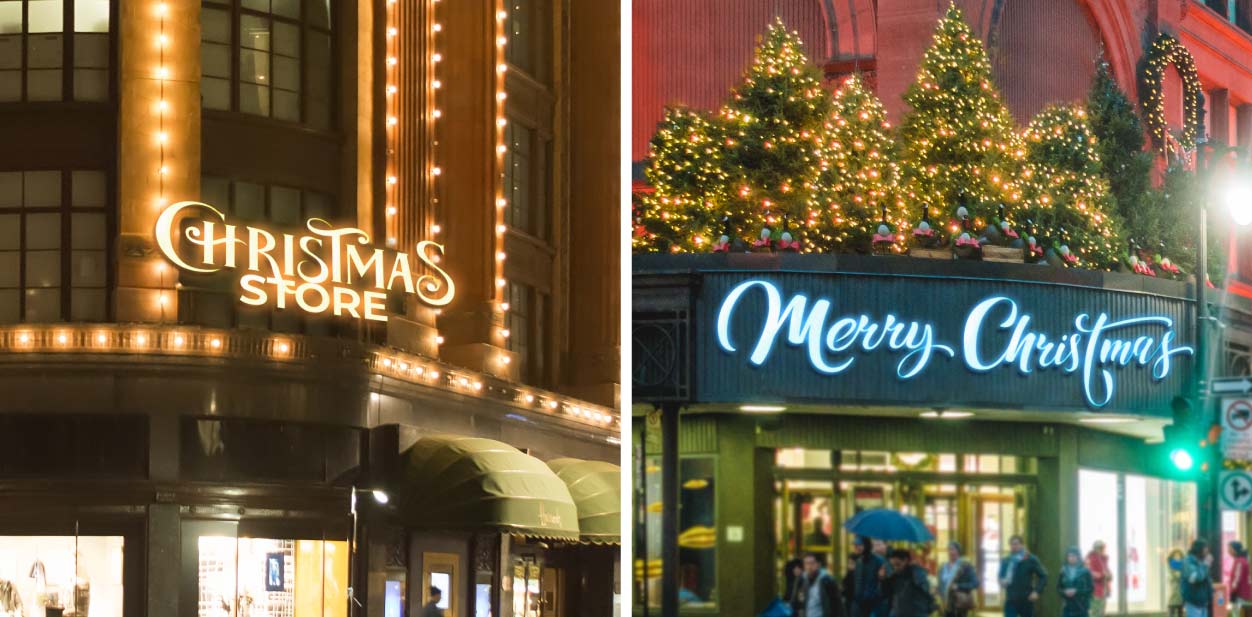 The ideal way to spread holiday cheer is by brightening up your Christmas shop sign. Not only can you use an LED Christmas sign, but you can also illuminate your building facade and add a welcome note to your entryway with lighted channel letters. Make sure your decor elements are customized for your business to boost your brand. Generate unique visual experiences with cheerful light up signs. Improve the mood of both your visitors and staff with these light up Christmas signs.
Read our blog on outdoor business sign ideas for more inspiration.
Large Frontier Christmas Signs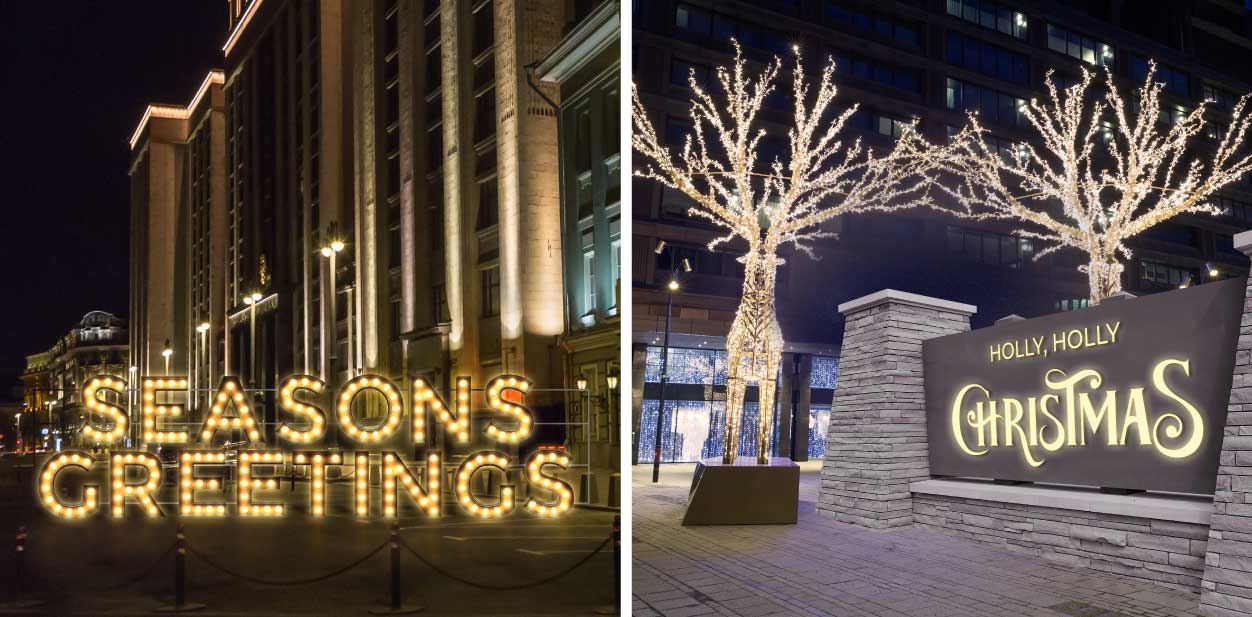 Lighted Christmas signs are an easy way to capture people's attention. Install large Merry Christmas signs in places with high exposure and point out the location of your store. Christmas-themed marquee signs can become the focal point of your store. These custom signs can be used for both decoration or branding. However, you shouldn't overlook other ornaments. Spruce up your monument signs and pylon signs to send out joyful vibes all day long.
Order your custom Christmas retail signs from Front Signs and rock Christmas this year! Contact us and get your free quote!
Custom Rooftop Christmas Signs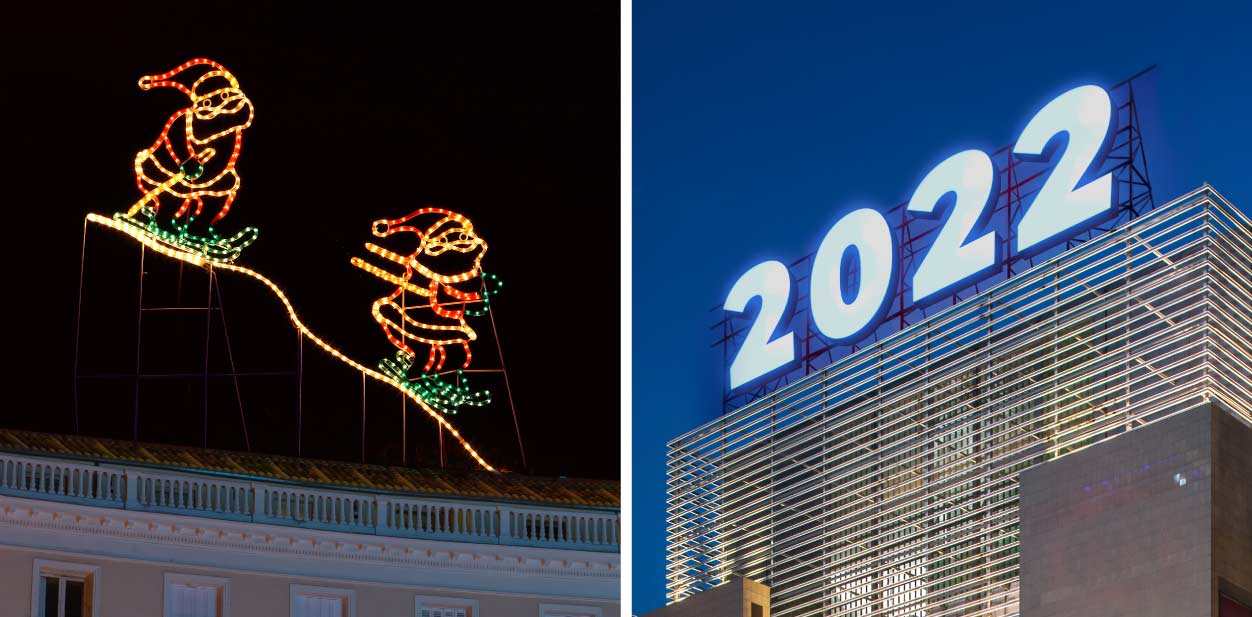 Put your customers in a good mood before they even enter your store with rooftop solutions. From a lighted Merry Christmas sign to Santa-faced light box signs, you'll add some holiday flair to your shop. Install illuminated Christmas signs and let your visitors share your Christmas mood on social media. Let them spread word of your powerful building signs and pique the interest of others. 
Follow the link to discover more light box sign benefits.
Large Christmas Wall Signs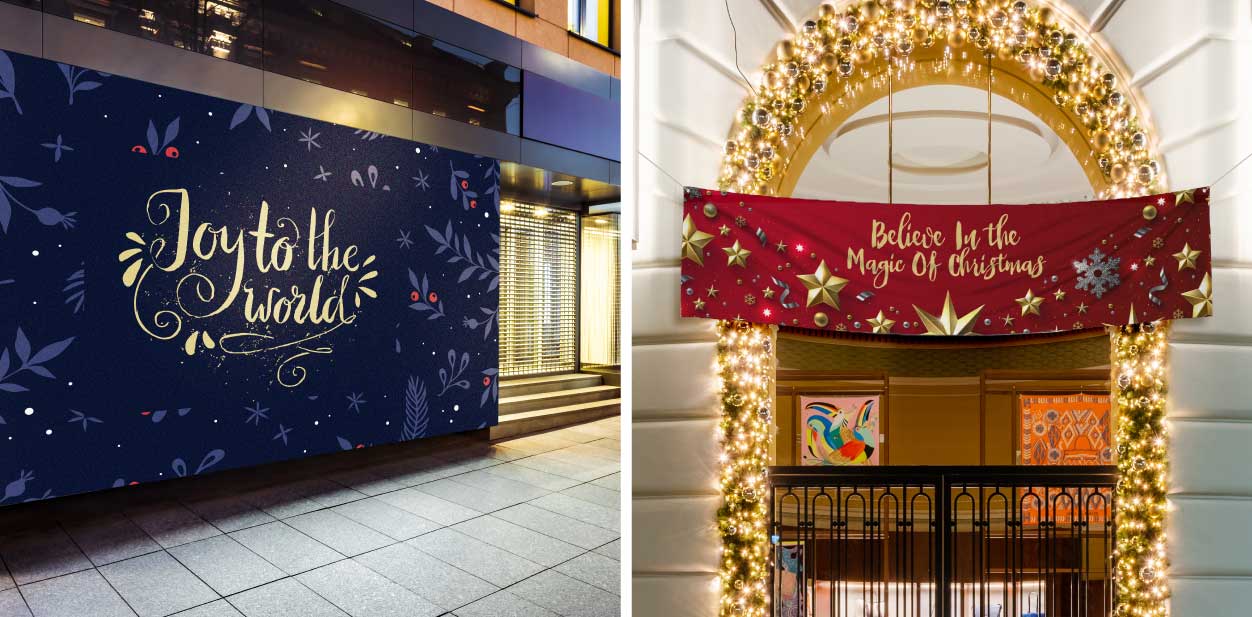 Preserving a cohesive style is vital to making a lasting impression. This can be accomplished by setting up large Christmas wall signs or graphics. Use colorful wall decals for your store and stick to the same theme for other design ornaments too. Large Christmas wall banners are used to create an attractive storefront and attract customers. They make creative event signs as well in case you're hosting one. We offer a high-quality large format printing service that will turn heads for many years to come.
Decorative and Promotional Christmas Window Displays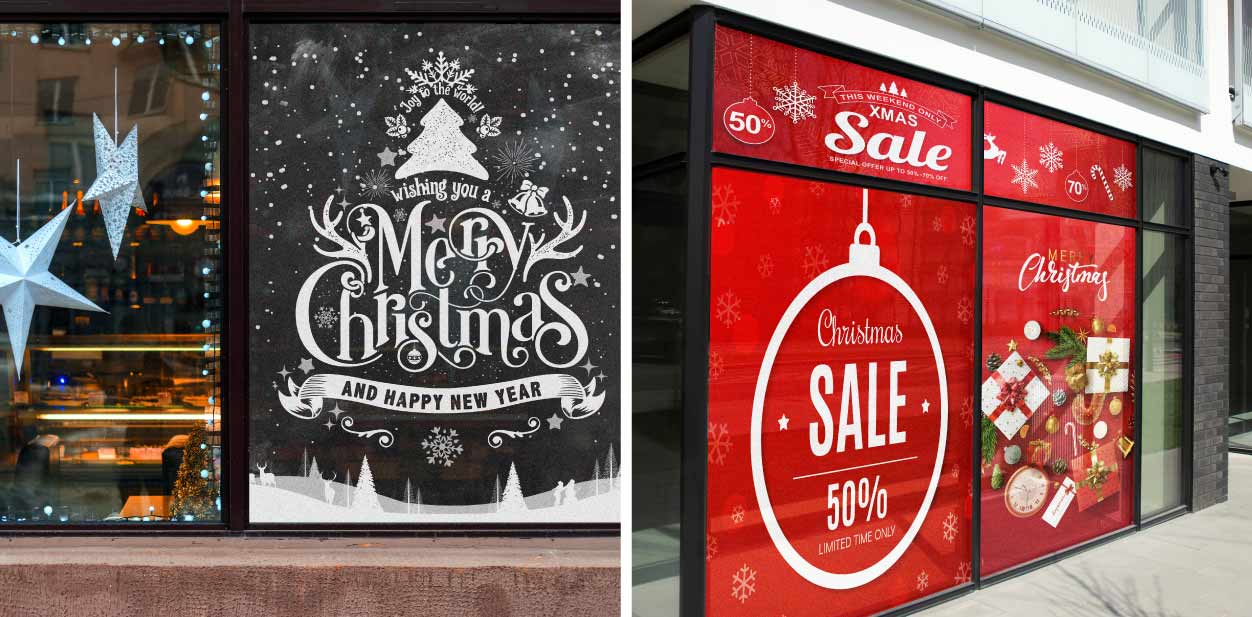 Window decals are some of the most eye-catching aspects of Christmas decorations. They come in select types to enhance your store's visual presence and goals. A large Christmas sign on windows also promotes seasonal sales and products. It's worth noting that according to a market research, the holiday season accounts for 25% of annual sales in the United States. Install thematic business signs and maintain your advertising at the highest levels to boost revenue.
Have your Christmas shop sign in any shape and style you desire! Get a free quote now.
Indoor Christmas Shop Signs
Indoor Christmas retail signs brighten up every room with enchanting decorations. Set the scene with exquisite interior signs that will redefine your signature style. Read further for more options on Christmas market signs to spread cheer from the inside of your store.
Christmas Shop Entrance Decorative Signs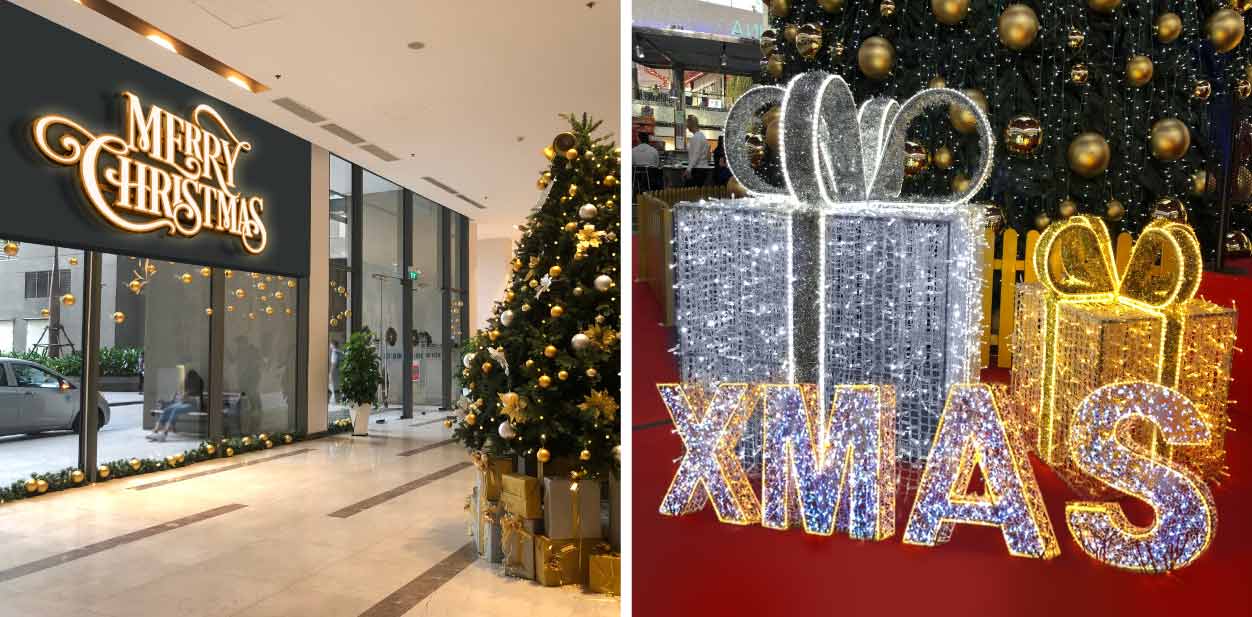 To create a perfect Christmas atmosphere, give everything a festive makeover. We're a one-stop signage company which can revamp your store in an innovative way during Christmas. From cheerful 3D signs to Christmas marquee signs, we'll make your customers feel as though they were entering a brand-new store. If you have glass windows or doors, install eye-catching graphics. Make use of colors that complement the overall theme. Don't forget to hang up some Christmas lights for an added charm.
In-store Promotional Christmas Displays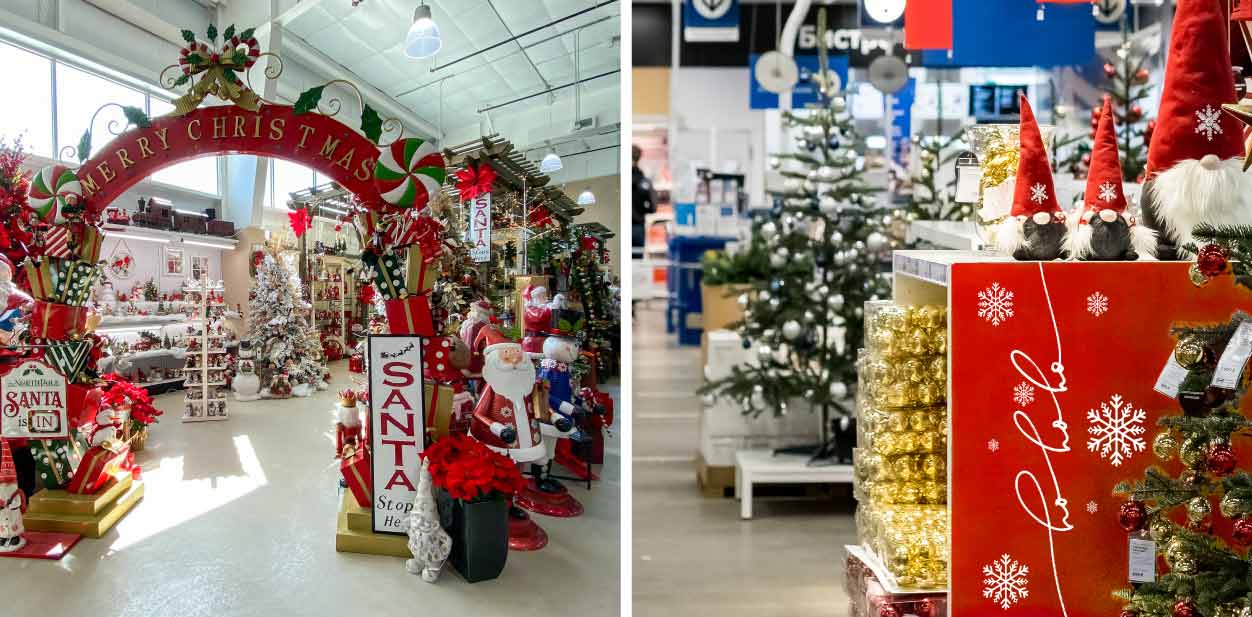 For entrepreneurs, Christmas is a time which can make or break their entire year. With Christmas retail signs, you'll inspire awe and enthusiasm. POP displays serve the purpose with excellence, but require a strong sense of design. The holiday season makes this requirement even more demanding. These giant Christmas signs will capture people's attention with product offerings and keep visitors in a holiday mood. Make sure to find the perfect balance. You should neither go overboard with too much decor on a Christmas shop sign, nor should it seem underwhelming.
Succeed in decorating your store for Christmas ahead of time! Get your quote now!
Huge Wayfinding Holiday-themed Displays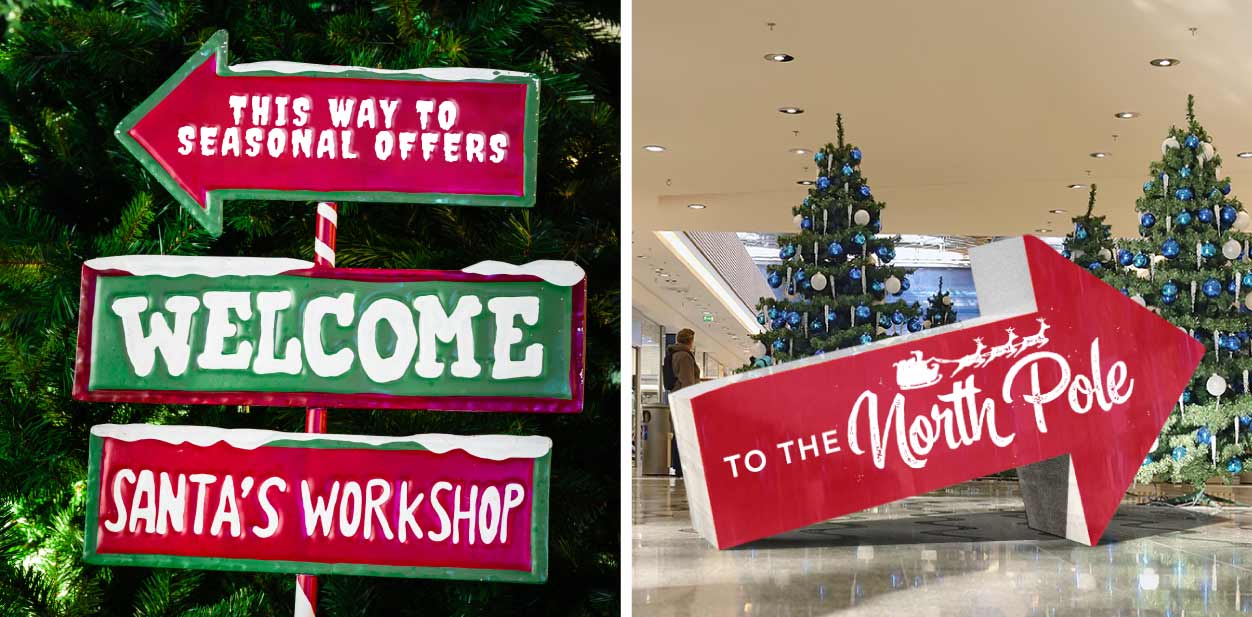 Ho! Ho! Ho! It's that time of year again! With so many striking Christmas decorations, stores also use directional signs to mark locations. Help your guests find Santa's Workshop, a favorite toy department, or other holiday places. A large Christmas sign can be made of different shapes, colors, and materials. Christmas marquee signs are a welcome option to direct traffic with illumination around the store. Make sure everybody sees oversized Christmas signs and finds their way.
Read the article to discover how to decorate your business venue for winter holidays.
Custom Christmas Lobby Signs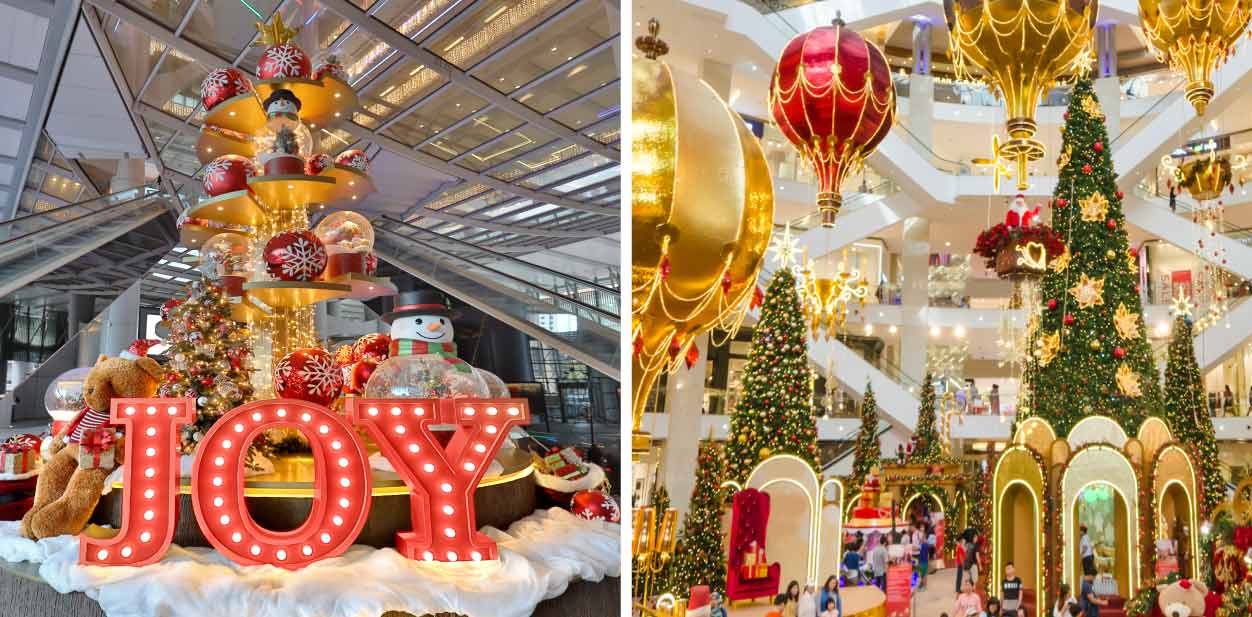 The main parts inside your store are already fitted with holiday designs, but don't underestimate the importance of the lobby area of shopping malls as well. Christmas-themed lobby signs are a great way to appeal to your visitors and coax them into making purchases. Use personalized Christmas signs to display new releases and services. Giant custom decorations are another great example to catch the eye and invite customers into your store.
Whether you want to promote specials or new items, a large Christmas sign can have a positive impact on customers. Your well-executed Christmas shop sign may eliminate guesswork from in-store buying and make the process easier for your customers.