Skip to content
A room should never allow the eye to settle in one place. It should smile at you and create fantasy.
Juan Montoya
If you're looking to order or purchase interior office signage, there's something you should consider.
This:
Beautiful design and catchy colors aren't enough to create interior office signage that clearly communicates your company's identity. You have to also carefully pick the right materials and finishes which will thoroughly convey your brand's image.
The blog is created to give a glimpse to:
Adopting the best materials that speak louder for design trends
Create material combo solutions to meet the technical requirements
Now, some winning material combinations that reach full market potential for interior signage.
7. Acrylic and Reflective Vinyl
Would never think of this combination, right?
While Acrylic soothes the look, reflective vinyl letters effortlessly provide a glowing royal touch and feel to the sign.
Acrylic plastic glass-like material has highest commercial quality. Compared to equally thick glass, Acrylic material has 17 times greater impact strength.
Reflective Vinyl traditionally is applied either to traffic signs or as a car eyebrow decal.
Recommended for hallways to give a natural look and shiny feel.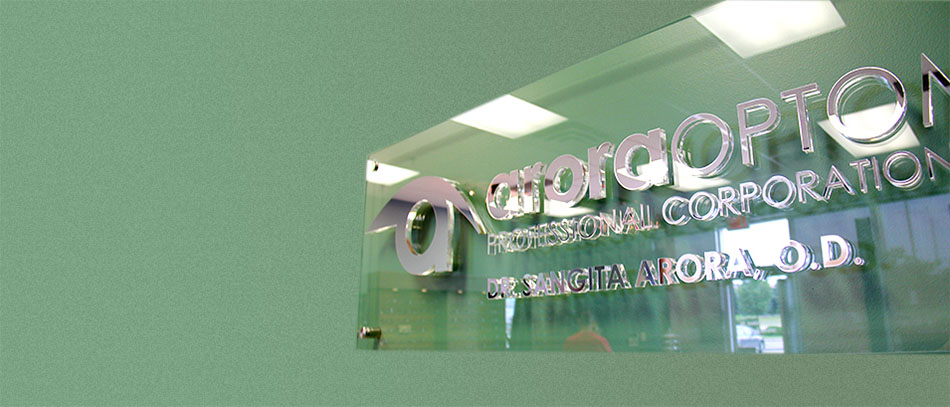 6. Frosted Vinyl and Glass
Another trending interior decor material is frosted glass. It is extensively used these days in major corporate interior decorations.
First things first, frosted vinyl and glass – Frosted glass superbly blends with the surroundings and leaves a delicate and stylish touch.
Frosted Vinyl is widely used as a partition in the offices. It is the best and ideal solution to somehow separate the glass doors and create private space for each set of workers.
Frosted glass creates a great highlight. Attractive and functional!
Highly recommended to give privacy with blurred visibility whilst a mild light transmission.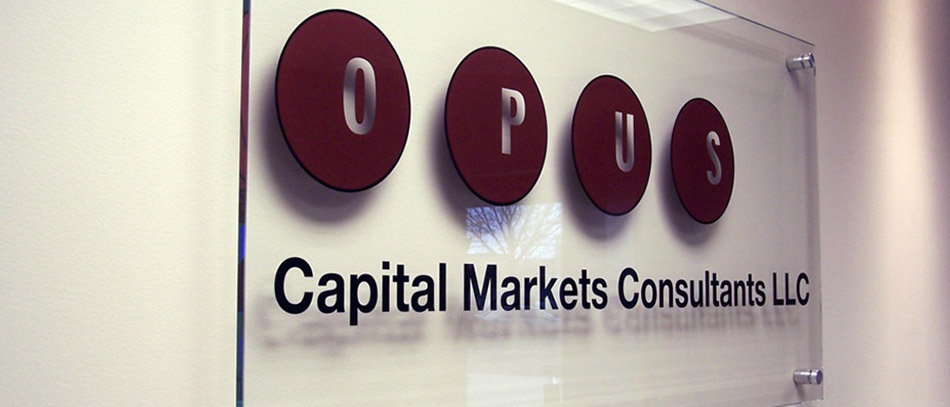 5. Brushed Aluminum and Wood
Among other specs of wood, perhaps the best one is that it effortlessly blends with any style and office layout. For those who admire the traditional style, opt to use wood and Brushed Aluminum to suit the contemporary style.
Aluminum has brushed finish only from one side. Nevertheless, there are mass applications and creative projects created from this type of material.
Aluminum and wood – two natural elements, combination of which allows creating any small or big item or sign.
The combo has an inviting interior finish. Recommended for any other brilliant industrial applications.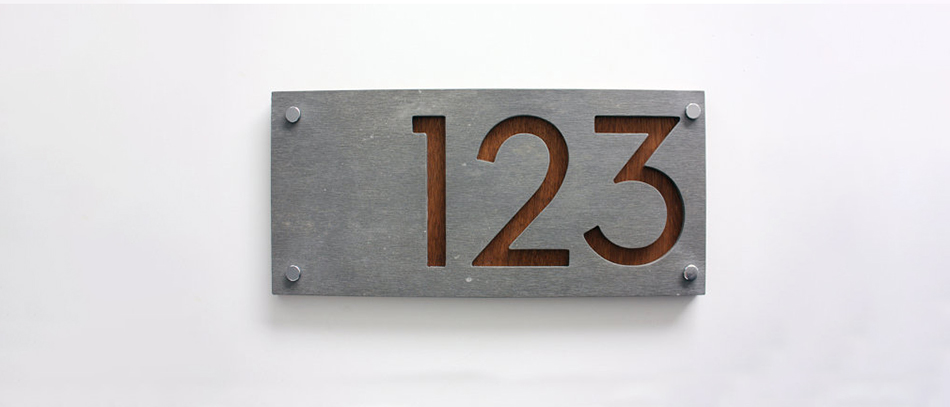 4. Metal and glass
Fairly simplistic materials on their own, glass work wonder with metal. It attracts attention, set the right mood and influence the overall emotions and perceptions of the insiders.
If it's hard to choose where to start, choose this solution for your next design project.
Clean and classy look and feel. Also recommended to use in the spaces which do not attract much attention to enliven with this good look.
3. Vinyl lettering and Wood
Create mood in small areas of the larger working space with Wooden signs. Using Wooden plaques and inspirational quotes with utility purposes.
If Wood is not polished good enough, it won't hold the vinyl letters. So, either have it thoroughly cleaned and polished or follow the example on the picture. Apply Vinyl lettering to Acrylic and screw to the wooden sign with standoffs.
Create a vibrant working space. Recommended: immediate WOW feel, no big bucks spent.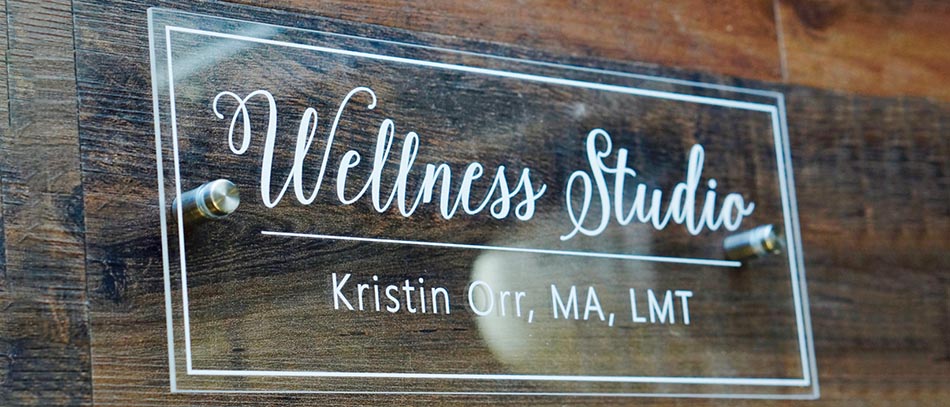 2. Acrylic and wood
Colorful, transparent, translucent! Elegant, Classy, sassy!  Combined with wood, the overview is just T-I-M-E-L-E-S-S.
A wide variety of colorful Acrylic material is available with Frosted, solid or clear effects. Combined finishes and types of these two materials leave everybody surprised.
Make the best use of the material combination. Recommended for all corners of the office décor.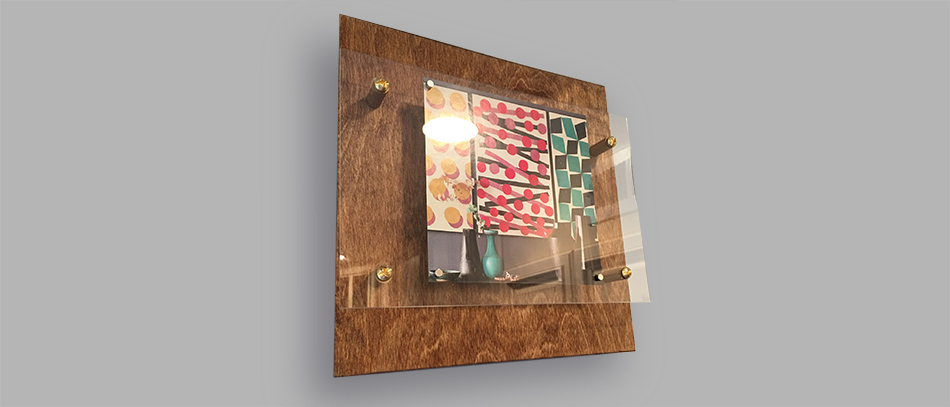 1. Aluminum and artificial grass
The combination of these gives the corporate signage upscale! Showcase, go bold and make the design come alive!
Apart from reflective and brushed finishes, Aluminum sheet, of course, has a mill or standard finish. To our great surprise, this standard white Aluminum looks just amazing, astounding /your preferred adjective here/.
Artificial grass adds great contrast to traditional signage.
This combo gives an authentic feel. Recommended for any company to make everybody dazzle all the more.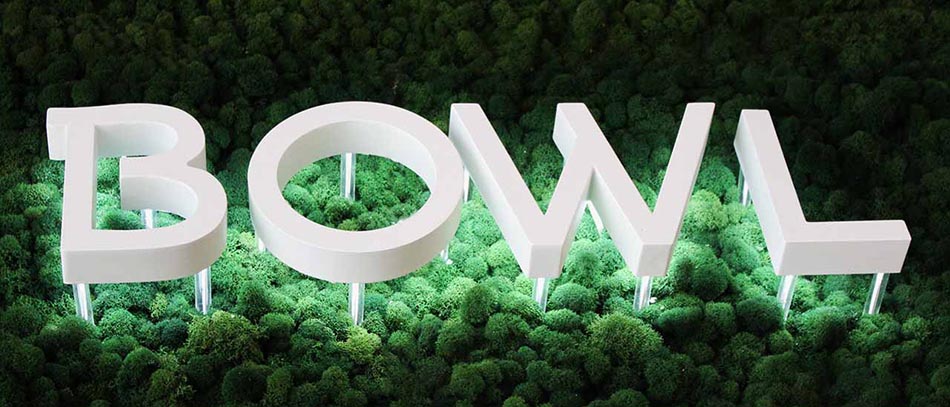 Also recommended to combine Acrylic panel sheet with artificial grass.
These combinations are nice ideas to turn into:
3D logo signs
Directional or wayfinding sign
Wall artworks
Tabletops signs
Tabletop menu board
Name plates
Standoff door signs
Number plaques
Illuminated Lobby signs
Wall-mount tenant sign
Corporate stands
Interchangeable door sign
Hallway dedication and honor sign
Decorative Stand sign
Room signage
Architectural signage
The client is impressed — and the employees could not care less.
Your Office premises need to speak volumes of YOU.
To achieve the perfect, impressive look, designers integrate various elements with a variety of finishes and patterns that all blend in one stunning corporate signage – living workspace.
All these examples mentioned above support both functional and emotional attributes and requirements of the interior design.
Looking for products that truly move people, here at Front Signs we know how to create one awesome-looking workspace.
We are active on Facebook
Follow our board of creative office space on Pinterest.
See our birdy tweets here.