16 Gym Design and Branding Ideas for a VIP Customer Experience
The fitness industry is evolving rapidly, especially in the post-Covid world. We all know that attracting and retaining attendees is the key to business success. So, are you wondering how to design a gym that will be a favorite for gym-goers and motivate a healthy lifestyle? Here is your ultimate guide on gym design ideas to decorate and brand your facility.  Take your fitness center to the next level with these commercial gym design ideas. Read the full article for a style guide and color suggestions as well as gym branding ideas. 
Gym Interior Design Ideas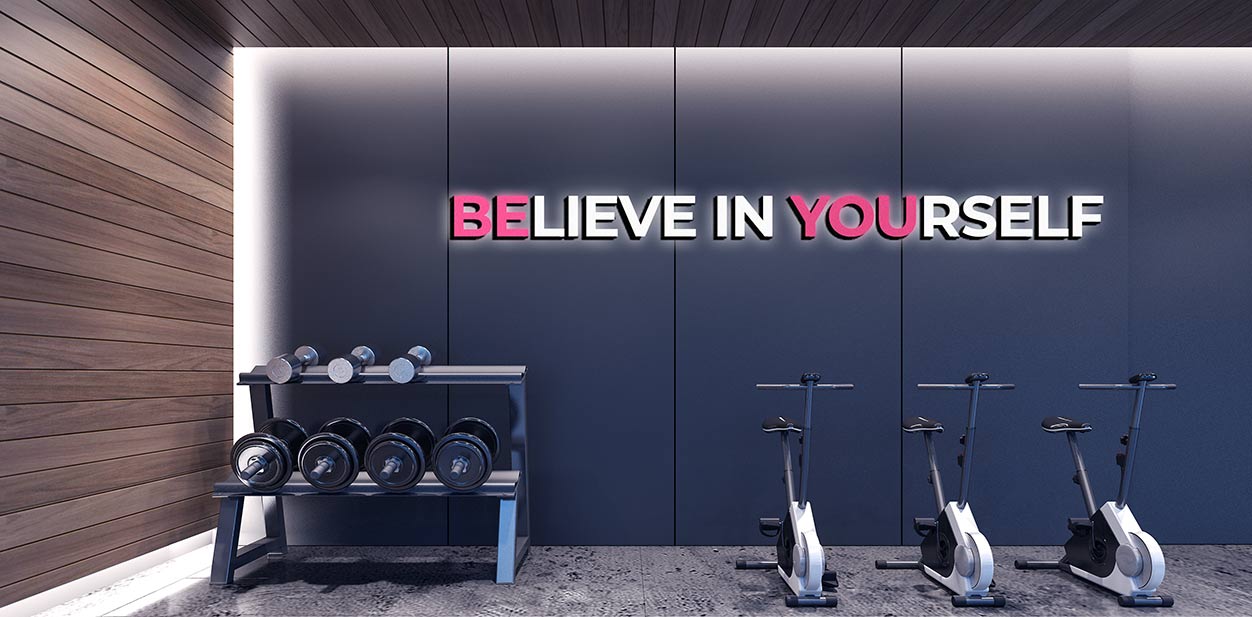 Think global when incorporating gym design ideas for your business. To start, use killer decor like channel letters as the focal point of your gym lobby design ideas. Make sure to incorporate fitness gym design ideas and accents for every room of your gym. Find interior signs, illumination solutions and more in the following section.
Gym Lobby Design Ideas 
The gym lobby is where the customer journey starts. Make sure it pops with a dynamic and motivating feel while offering convenience. Include lobby signs with an inviting color palette in your gym lobby design ideas. Decorate your reception area to make a lasting impression. 
Idea 1. Display oversized images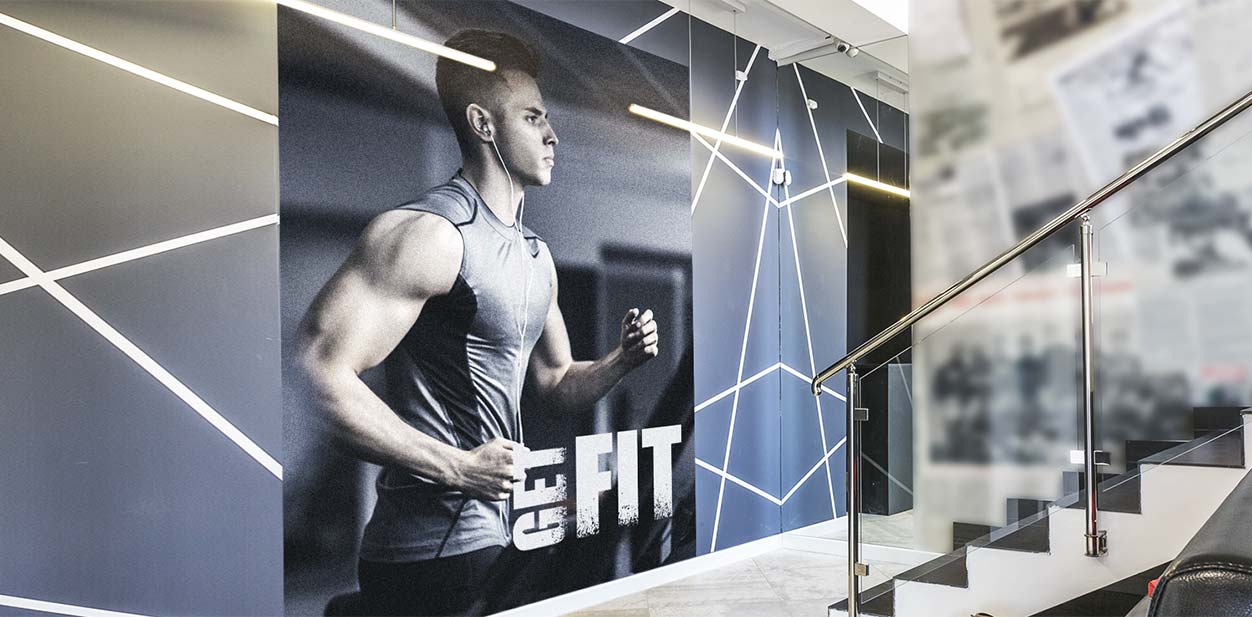 The effects of large-scale images displayed in gyms are immense. People come to your facility to get in shape. Show them what they can aspire to with vibrant adhesive wall prints. They're popular gym lobby design ideas used to cover walls, floors, reception desks and other surfaces with appealing graphics. With strategic colors and compositions, these gym interior design ideas can visually enlarge the space.
Idea 2. Create layers and dimensions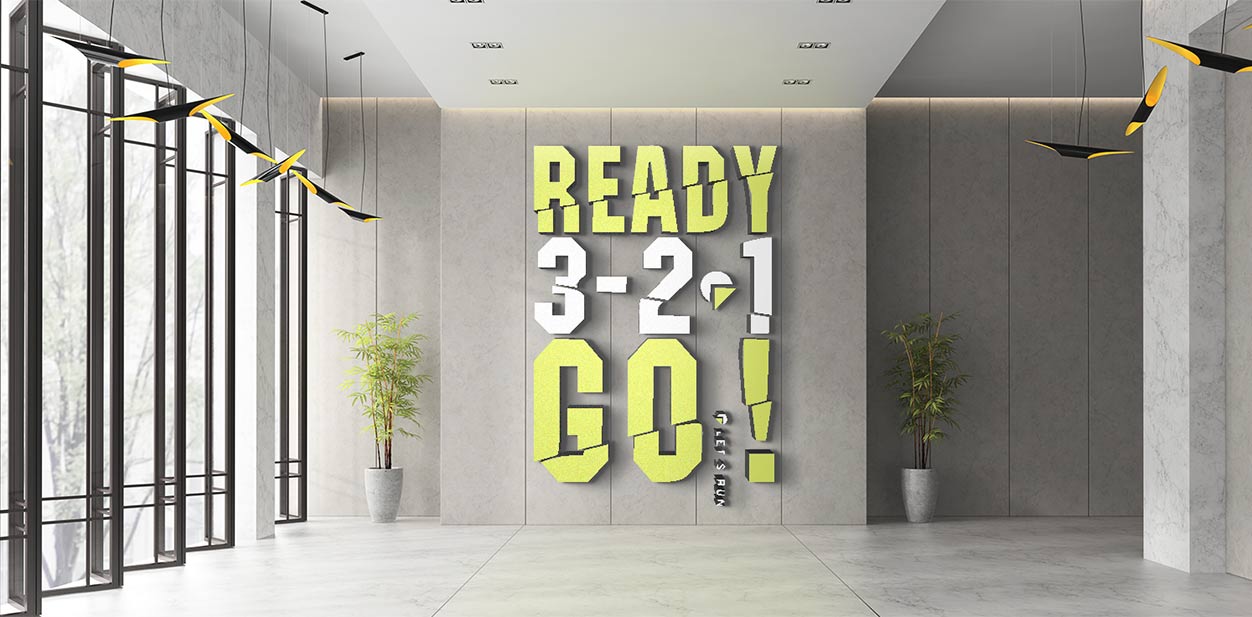 Use 3D signs and decor to add layers to your design. Go on with thematic schemes for free standing, hanging and wall mounted fitness gym design ideas. The selection will depend on the size of your lobby space. 
Idea 3. Design for customer experience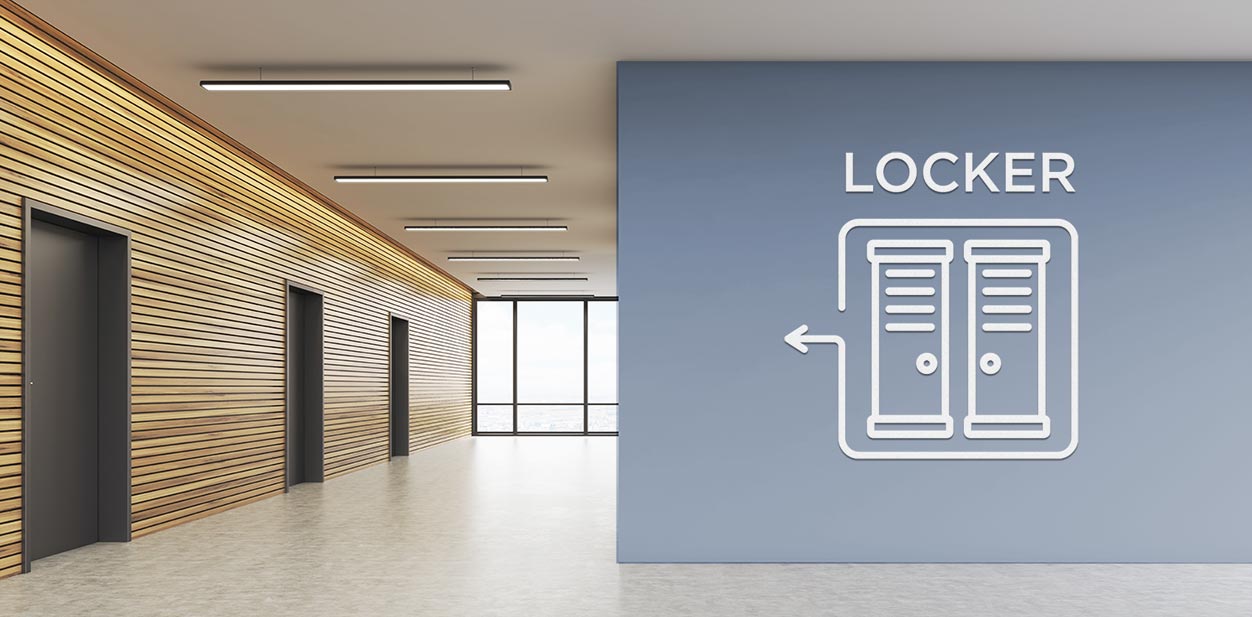 Good design adds clarity and convenience. This is especially true if you want to create an atmosphere where the gym attendees feel welcome. Include directional signs and informative gym lobby design ideas in your reception area. They can be easily integrated with your overall fitness center design concept. 
Front Signs is a California-based signage company. We offer unique signage solutions to businesses and individuals alike. Get a free quote now for your gym design project. 
Gym Exercise Area Design Ideas 
The fitness room is the main part of your gym layout. Its design should concentrate on elevating the training experience. It should also include exercise guidelines, instructions and safety information. Of course, gym branding design is also a vital aspect of this area. You can read more about branding later in the article. 
Idea 4. Cover dull surfaces with art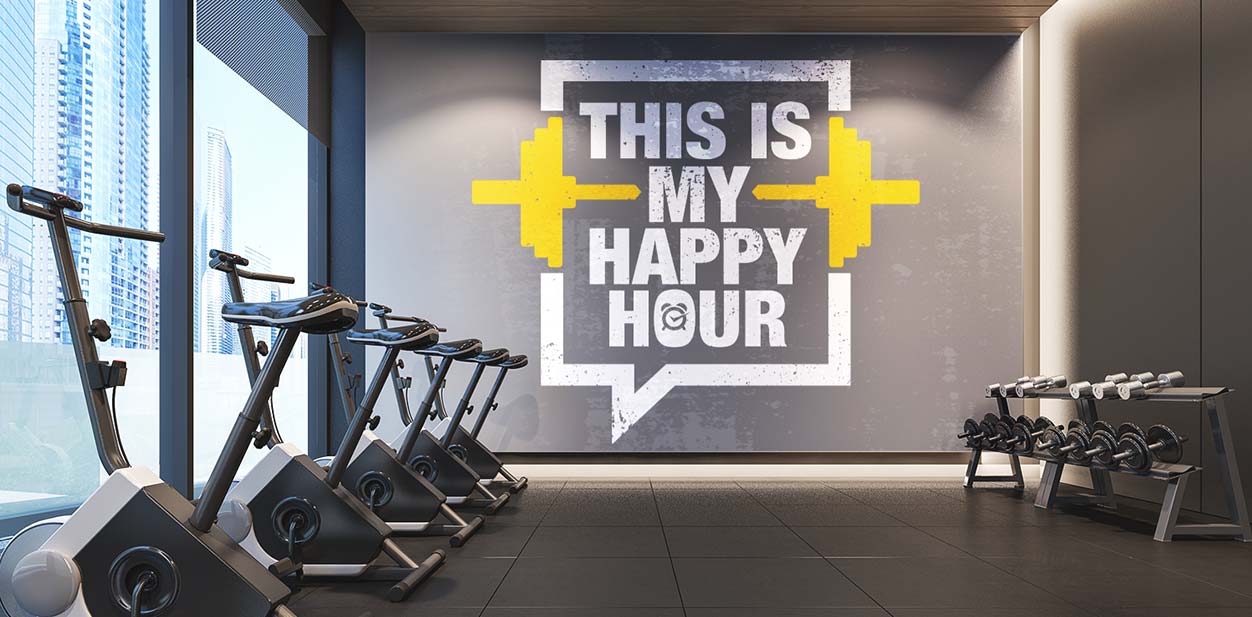 Art eases the mind and helps us concentrate. This is also true during a workout. When it comes to commercial gym design ideas, custom decals are a must-have. This versatile medium along with large format printing can serve multiple purposes and makes for cool fitness center design ideas. The easy-to-apply adhesives can display vivid and eye-catching graphics on any smooth surface. They make renovation a quick and easy process. You can also go with canvas or acrylic prints. Each has a unique appeal so the selection depends on your gym's style.
Idea 5. Make illumination part of the design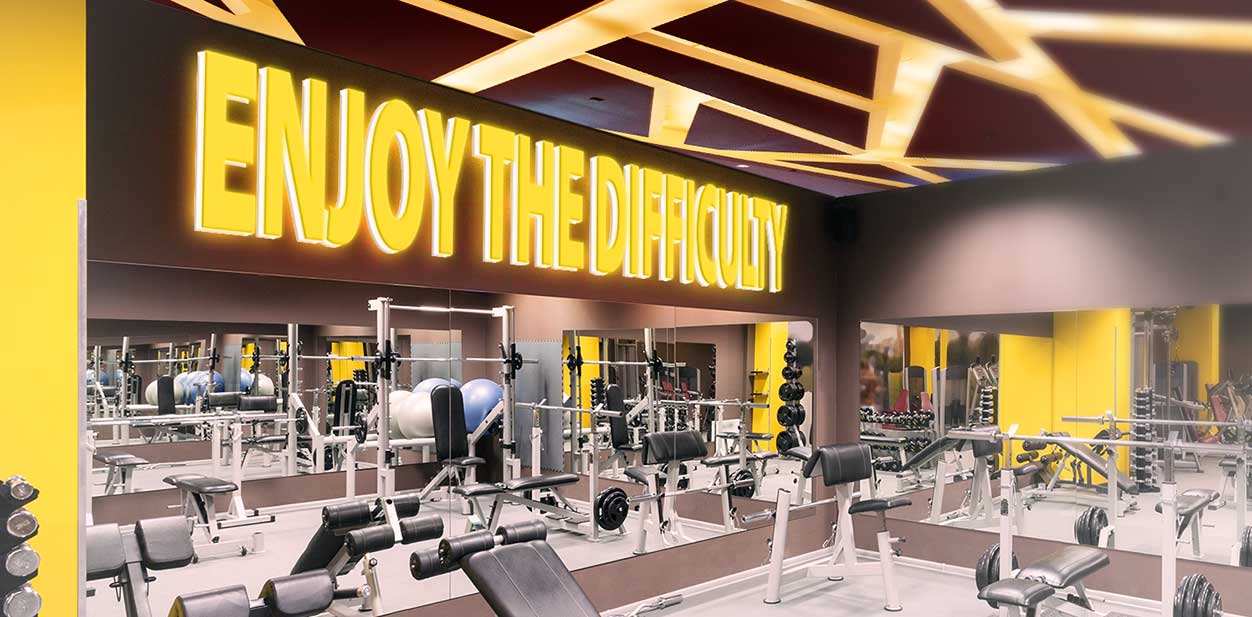 Illumination and design should go hand in hand when it comes to gyms. Grace DeSimone, the editor of the American College of Sports Medicine's Resources, explains that where there is more movement, there needs to be more light. Depending on the type of your gym, you may need different colors and intensities of lighting. In short, don't underestimate the importance of illuminated gym interior design ideas. Instead, leverage them to create a dynamic experience of gym goers. 
Idea 6. Include motivational phrases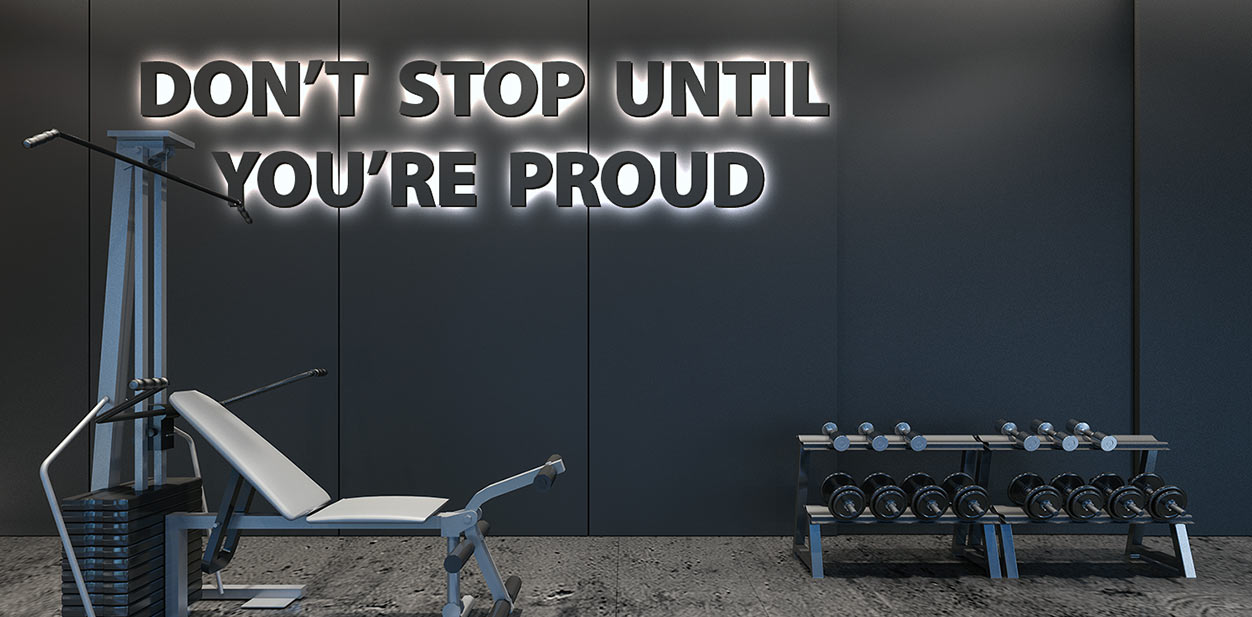 Gym design ideas are all about motivation. Displaying a quote on the wall, ceiling or elsewhere will make your interior design more appealing to customers. Integrating this idea into the overall design should be easy. You have plenty of options from stickers to illuminated solutions. Reverse channel letters, for example, can use a color that aligns with your theme to spell out inspiring quotes and phrases. They make your message radiate and are cool fitness center design ideas to consider.
Take into account the unique needs and preferences of your target audience. This will help you achieve great results with your gym interior design ideas. Get a free quote. 
Gym Locker Room Design Ideas 
The effect of the locker room design on gym attendance is greater than you may realize. It's where people head to when exhausted from a good workout and need as much comfort as possible. Mild colors, subtle lighting and airy decor can help people relax when they need it most.
Idea 7. Let the lockers pop with creativity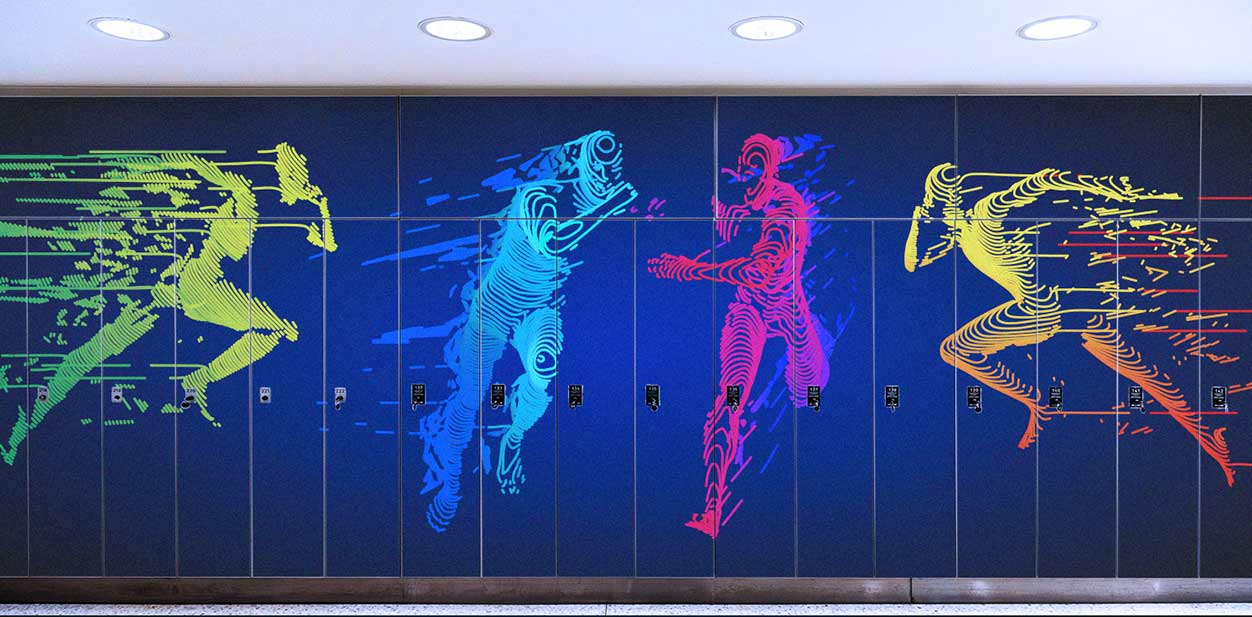 Aside from being a necessary part of the gym, dressing room lockers shouldn't be left out of your gym interior design ideas. They can display abstract graphics or thematic image prints that are easily replaceable for a fresh look. You can also simply paint them with a great color. The idea is to get creative with the gym design ideas for your lockers since they offer so much space. 
Idea 8. Integrate essential signage to your design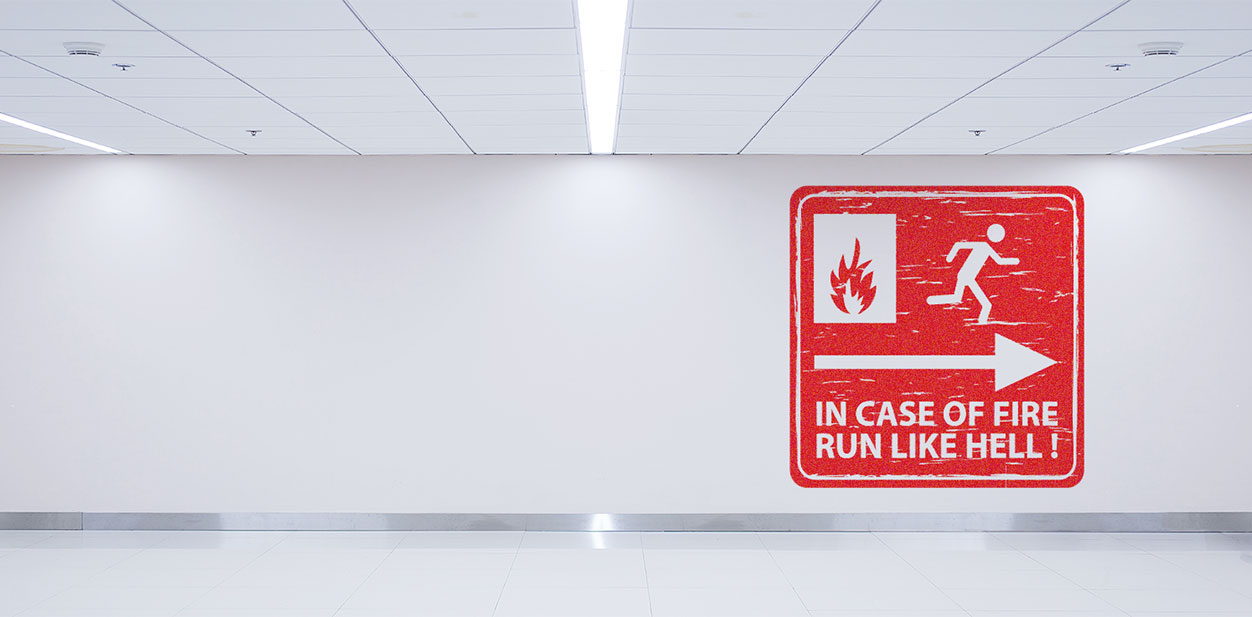 There is essential information gym properties must present that's often required by law. These don't have to be dull or unattractive though. Fire exits, wayfinding arrows and other safety signs can have an interesting flair and be part of the overall design thanks to your material and color selections. You should always be aware of local rules and regulations regarding mandatory signage.
Idea 9. Add illuminated decor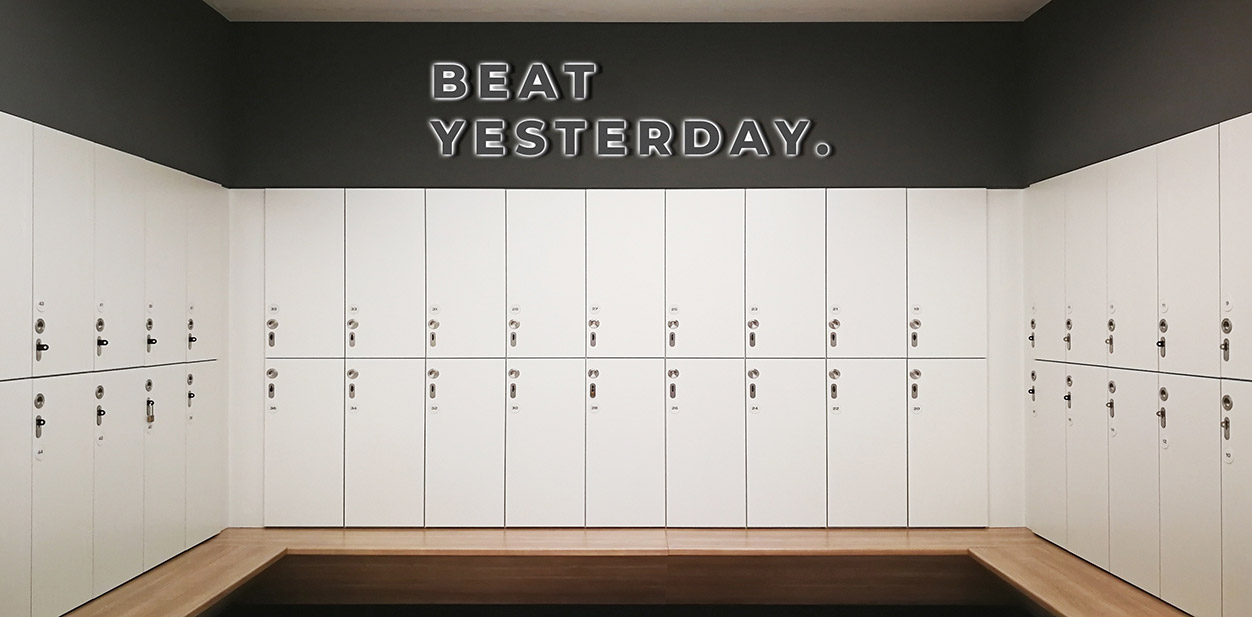 Whether you want to display a quote or the outline of a person running, illumination can make it appear really unique. Side illumination is a cool option for such gym interior design ideas. Halo-lit signs can become the focal point of your fitness center design ideas, be it for decorating the lobby, training studio or locker room. 
It's good to select an underlying theme for the gym interior design ideas in different areas of your facility. You can also go with original themes and illumination features. Just keep in mind that there should be a common thread that's representative of your gym's identity. 
Explore Custom Gym Signs. 
Gym Exterior Design Ideas 
Design has a great impact on people's experience before they even enter the building. Outdoor signs and other design elements will help you attract customers and enhance the appearance of your building.
When planning fitness center design ideas, the interior often comes to mind first. Exterior design is an undervalued but vital aspect of running a successful gym. Mixing decorative design elements with grandiose gym branding ideas will achieve a striking look and generate excitement for prospects. 
Idea 10. Use free window surfaces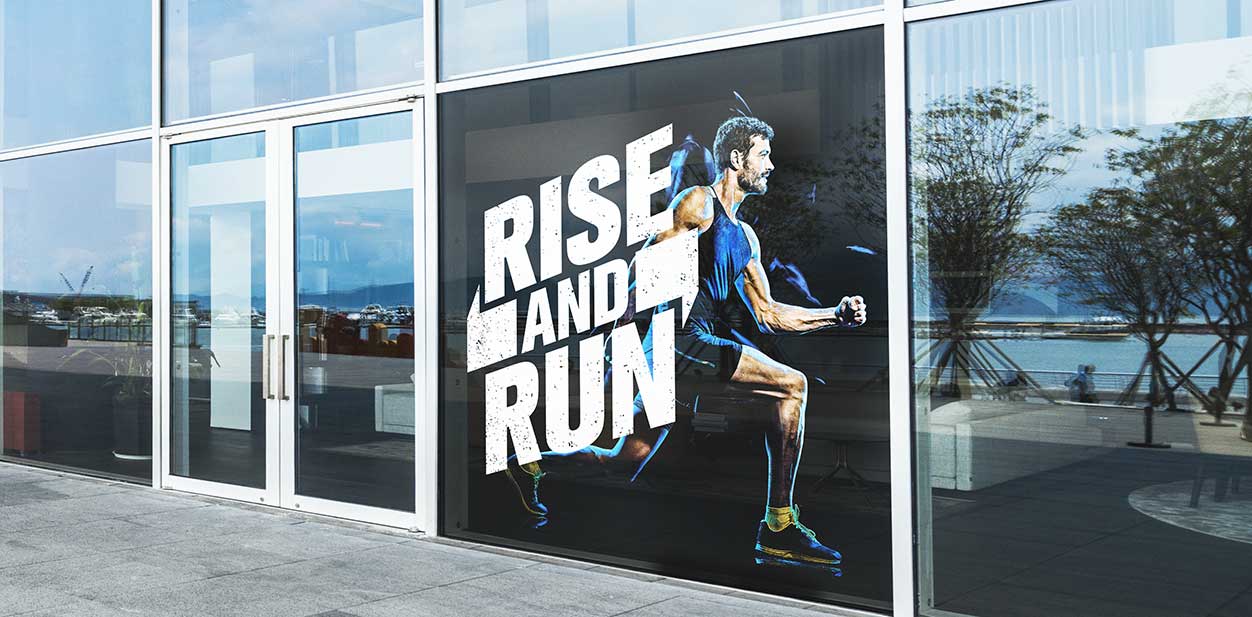 Adhesives for windows can be a great advantage for fitness center design ideas. While all types of window decals are used for decorative purposes, they also have features for blocking or blurring the view and providing privacy without obscuring light. Additionally, you can use window decorations for an attractive storefront display that will attract customers. 
Idea 11. Decorate the building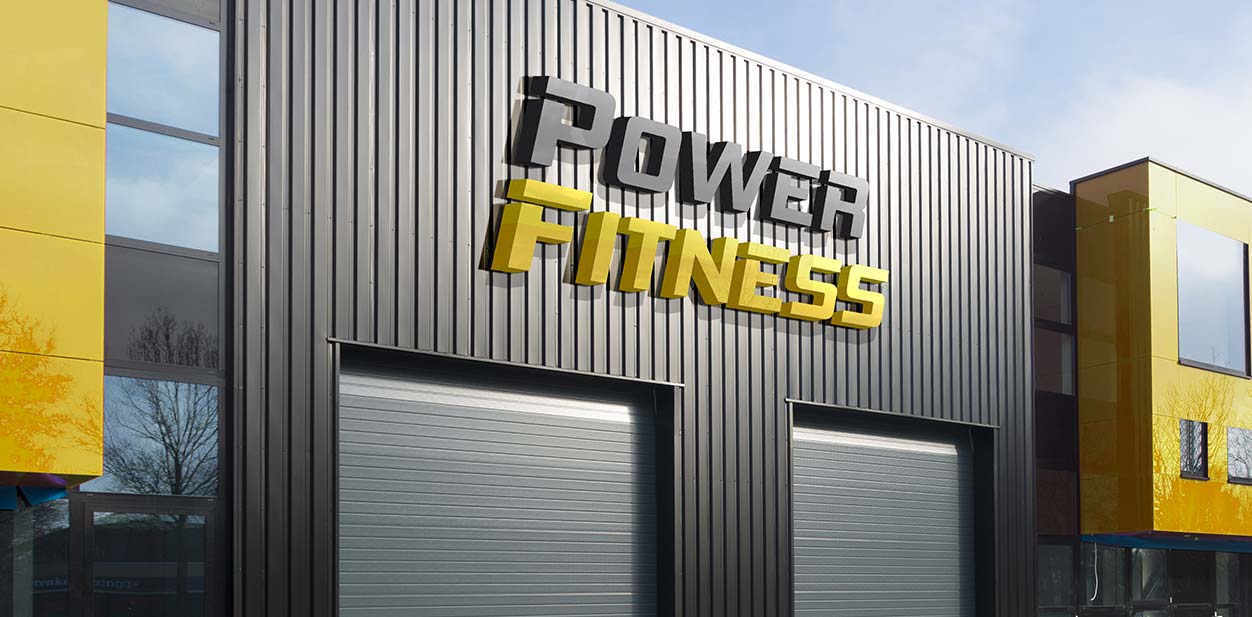 Use dimensional building signs customized in any shape, size, color and style you can imagine. This custom signage medium will bring to life your desired fitness center design ideas with depth and pizzazz. The displays are available in a range of mounting options that are suitable for any building facade. 
Idea 12. Use illumination for night visibility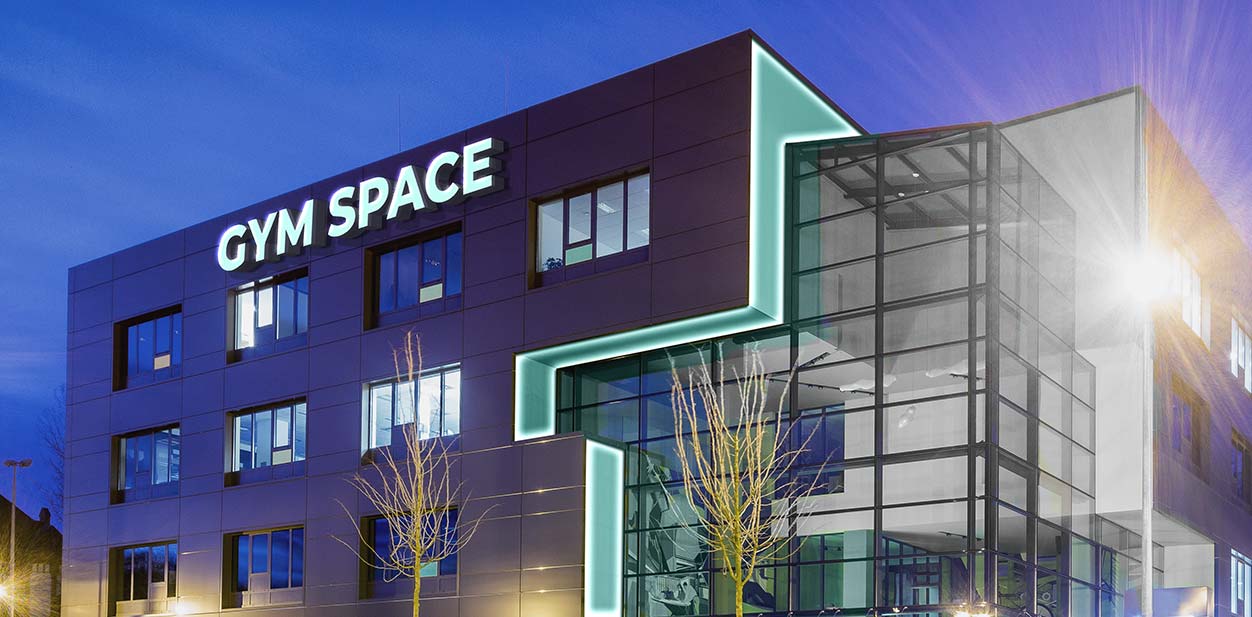 Bringing even more exposure, light up signs should top your list of commercial gym design ideas. If you're wondering how to design a gym, this option will easily make your business outshine the competition. The fully customizable features of these modern gym design tools give you a lot of creative freedom to satisfy your goals.
If you happen to own a gym that has an arena for sports activities, consider stadium signage as well.
Take a look at 15 Outdoor Business Sign Ideas to Boost Your Brand with effective designs. 
Gym Branding Ideas  
Branding and design should complement each other to maximize the impact of your visual identity. In fact, your overall design and gym branding ideas should represent your company image in perfect harmony. 
As of 2019, there are over 41,370 fitness centers in the US. Granted that last year wasn't the best one for the industry, 2021 is your opportunity to get back into the game with renewed energy. Great branding can put you at the top of the list for clients in your location. Here are the best gym branding ideas to get your business into full gear after the pandemic. 
Idea 13. Brand the exterior of your building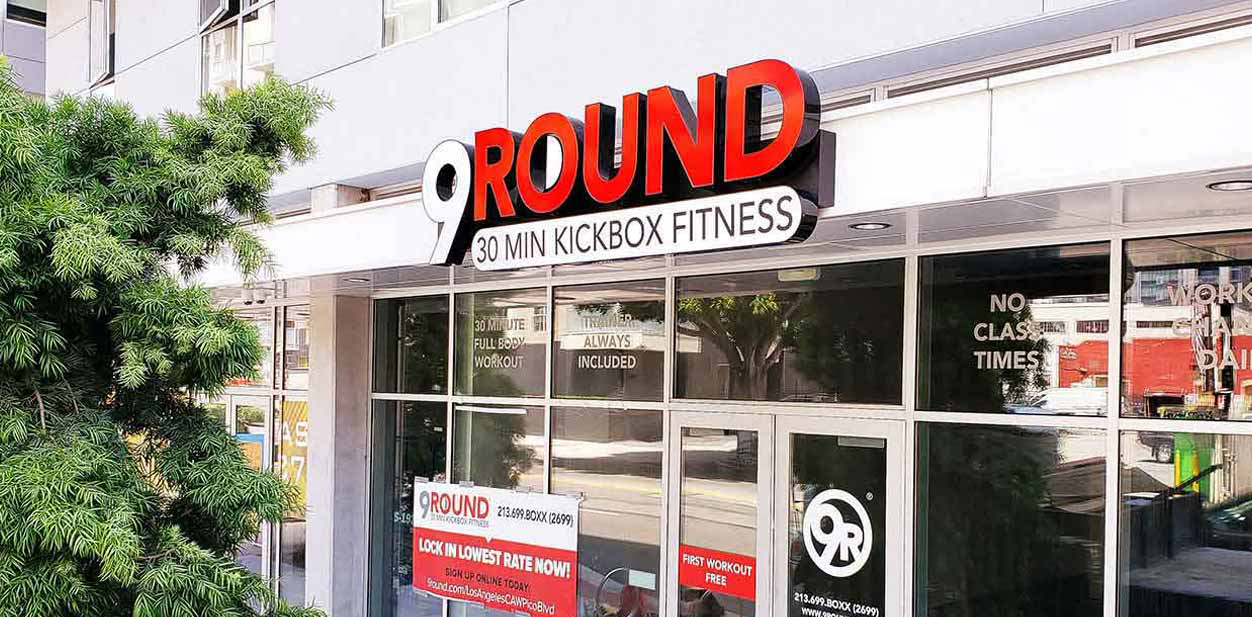 First and foremost, display your logo on the facade of the building with light box signs. They have a professional and eye-catching look. They'll help you stand out from the surrounding buildings and other competitors. 
Idea 14. Use your logo at every opportunity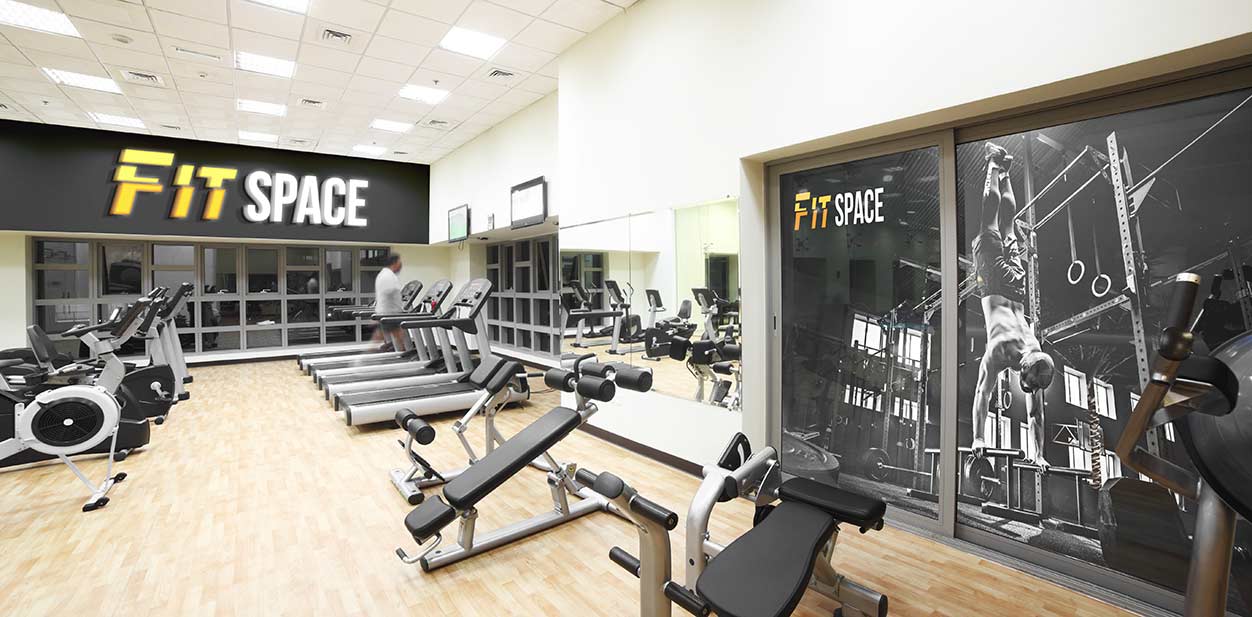 Signage that displays your logo should be a consistent part of your gym branding design. You can use them in the lobby, exercise areas, locker rooms and everywhere else you can think of including on your training equipment. Go on and strategically brand the space with your logo so it automatically becomes associated with fitness.
Idea 15. Attract customers from afar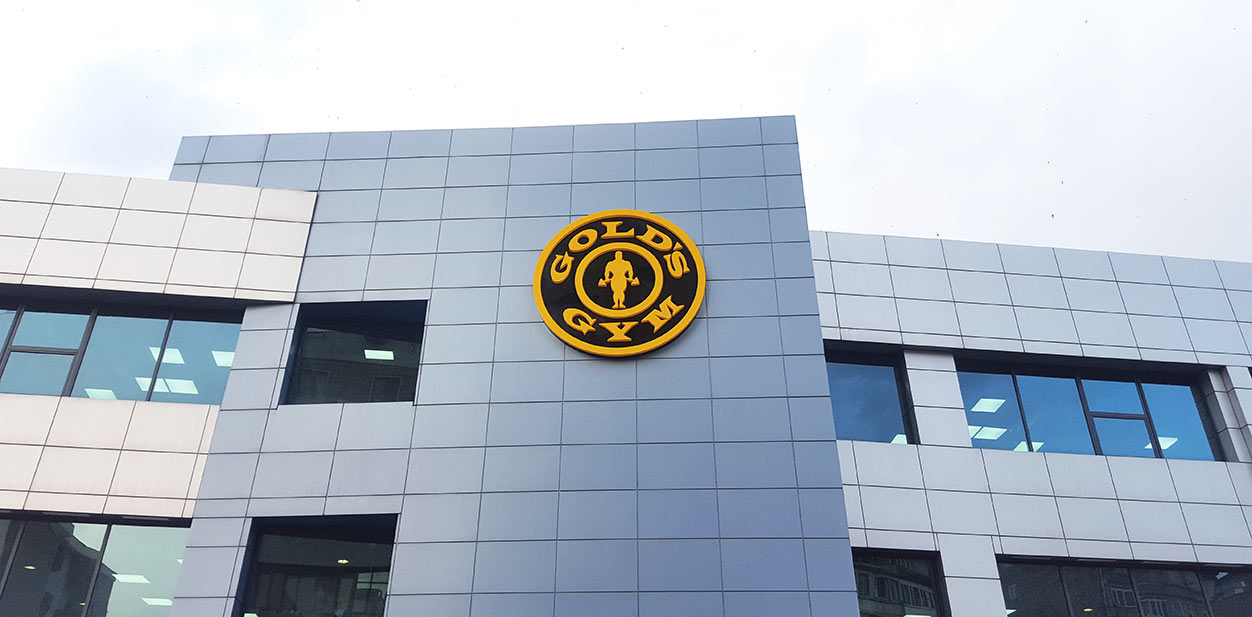 If you operate in a tall building then high rise signs should be the most prominent feature of your branding. Gym branding ideas with elevated signs are a powerful asset for achieving a recognizable brand identity. You can integrate letters, logo signs and other gym branding design elements for a complete look.
Ides 16. Set up an off-site presence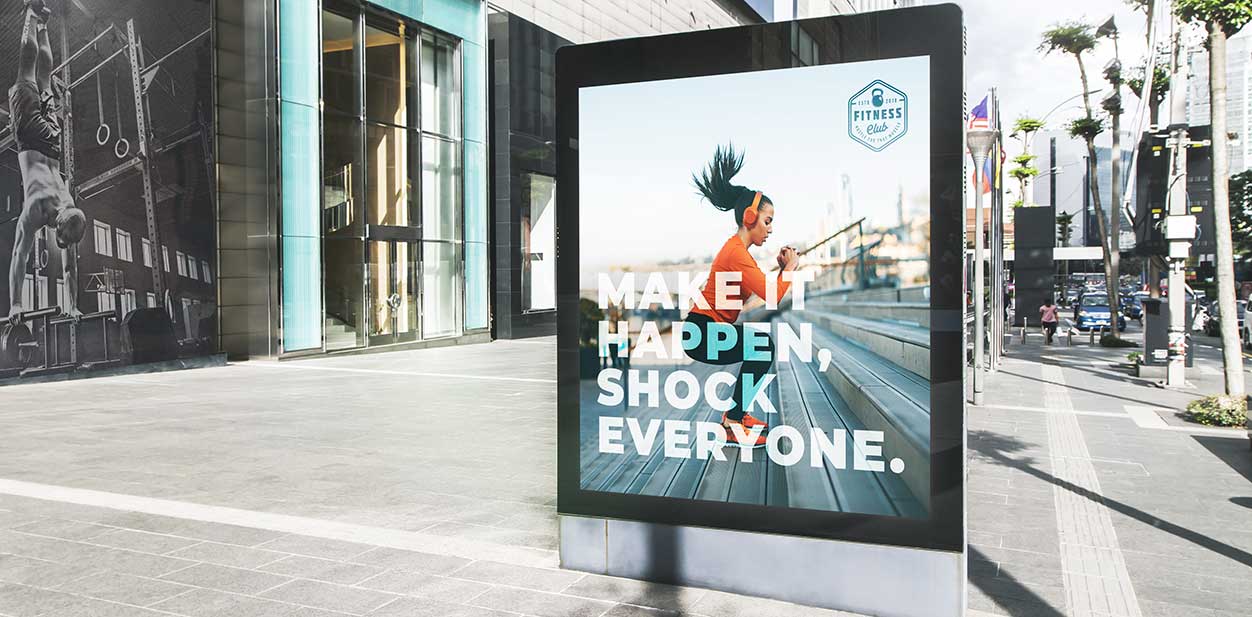 Pylon signs are perfect for outdoor gym branding ideas to establish your off-site presence. They're usually placed near highways to relay your location, services and gym branding design. You can also include any other information you find appropriate but keep it simple so drivers can scan it quickly. 
Branding is not only a company name and logo. It's an evolving process for attaining business success. Read our article on corporate branding strategies for expert advice on branding. 
Popular Styles for How to Design a Gym
Design doesn't equal decor – unless you're smart about it. Decor should be a part of your overall fitness center design concept and style. Colors, materials, shapes, illumination features and other elements come together to create the voice that speaks for your business. Here is how to design a gym with the top trending styles. Be sure to check the images for color schemes that go with each style. 
Modern Gym Design Tips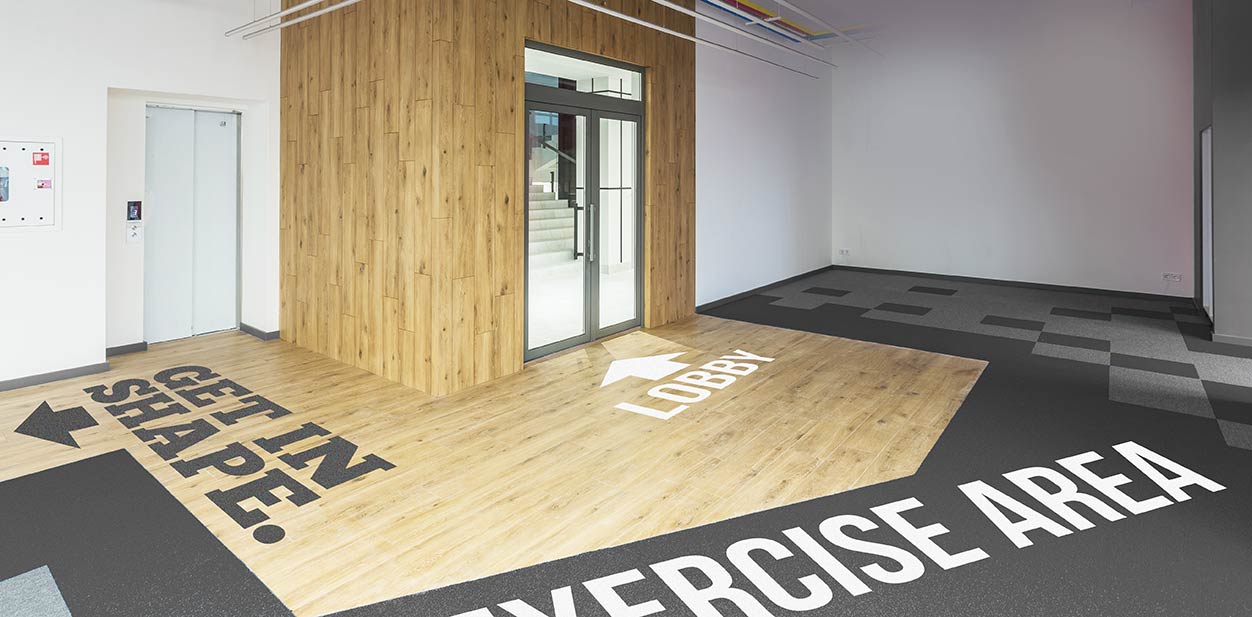 Modernism describes the interior style of the early to mid-20th century. It should not be confused with contemporary design, which we will cover next. Here are tips for your modern gym design ideas. 
Use natural materials and colors
Wood, natural fabric, metals and leather are all welcome elements for modern gym design ideas. Modernism rejects everything that shouts artificial. The color palette is usually neutral with a combination of organic colors like green and beige. 
Avoid visual noise as much as possible. Since you need a lot of equipment in a gym, simple decorations and neutral colors will create a sense of clarity and focus.
Leave the windows unadorned or use wraps that don't interfere with sunlight. Natural light will make the gym area seem more spacious.
Incorporate open-concept spaces 
Separate and designate areas with furniture, floor decals or decor rather than walls. Select modern gym design elements that are specific to the area you use them for.
Contemporary Gym Design Tips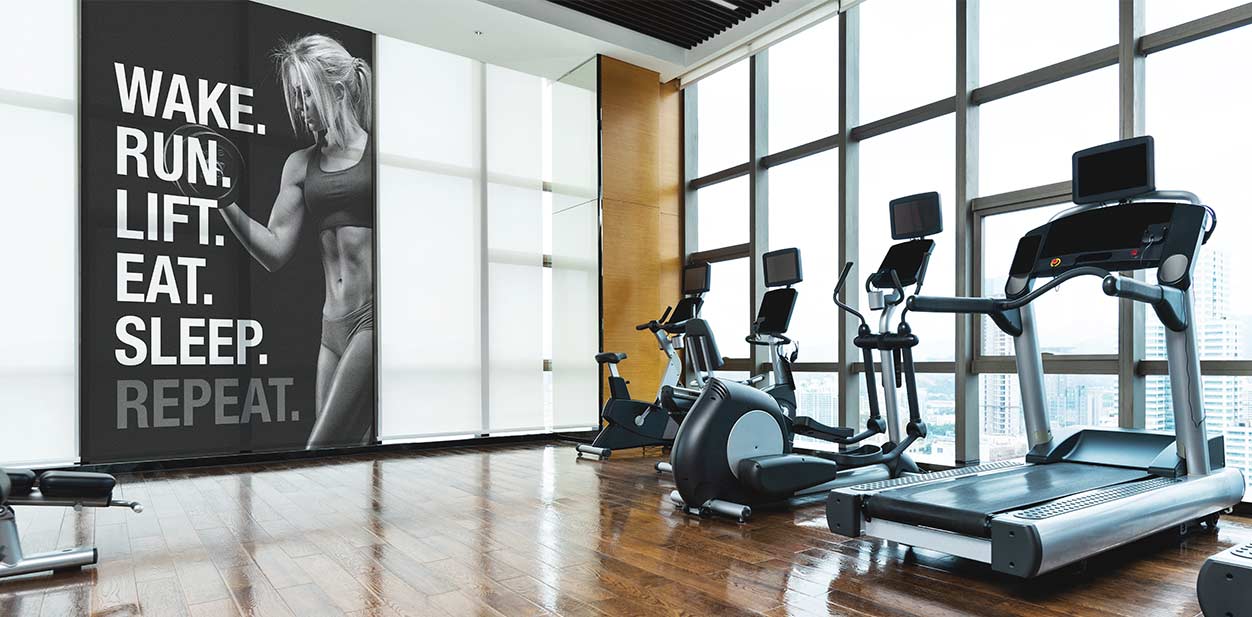 Contemporary gym interior design ideas have a tendency to incorporate a little something from other styles. To put it simply, contemporary design is defined by the here and now. So here is how to design a gym in this ever-evolving style.
Black and white for the win
The most popular color palette for contemporary commercial gym design ideas is black and white. Shades of grey are also welcome and they can be accompanied with a bold accent color like yellow. In general, you'll be on the safe side if you keep the color scheme on the neutral side with only one or two striking accents. 
Layered design solutions are welcome in contemporary design. Textures and geometric patterns are also a distinguishing feature of this style.
Include illumination in the design
While many other styles use illumination for solely functional purposes, contemporary design welcomes artistic creativity. Metal is the material of choice for these light fixtures. 
We specialize in bringing your most extraordinary gym interior design ideas to life with signage solutions. Get a free quote now!
Minimalist Gym Design Tips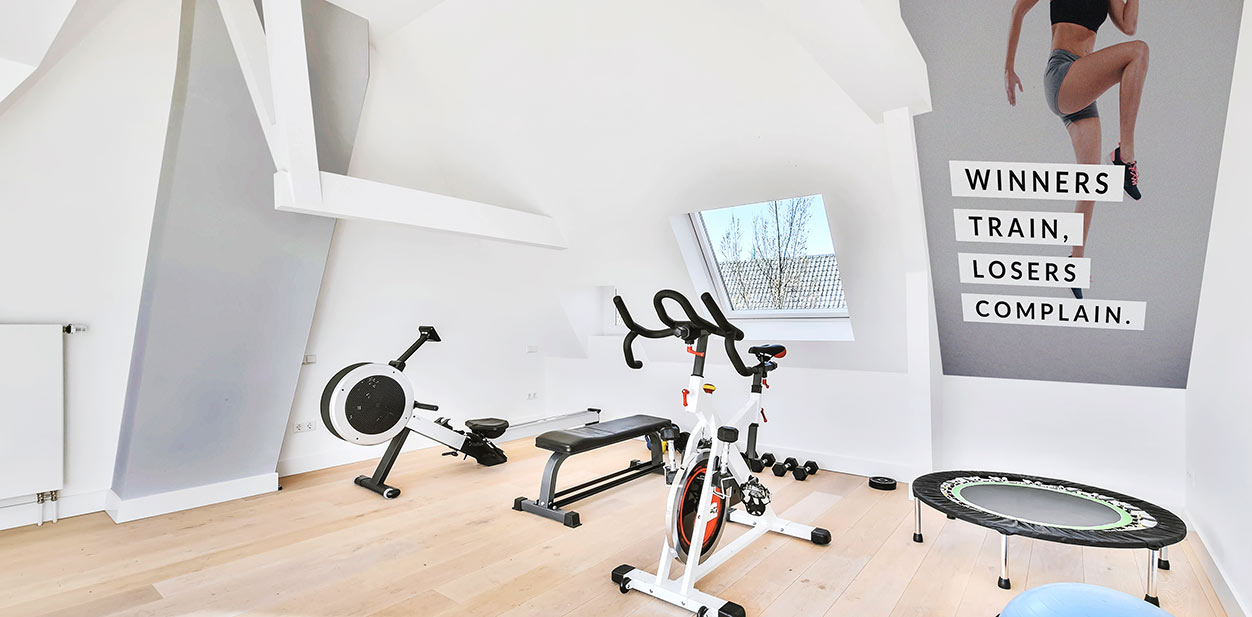 Minimalism is not about using less decor; it's about how that decor looks and functions. Here is how to achieve a minimalist aesthetic for your gym interior design ideas.
Each and every piece of design should have a certain function in minimalist gyms. Motivating the attendees is also on the list of important functions, just to be clear.
Use a monochrome color palette 
Choose one color and use different shades of it for fitness center design ideas that fall in line with the minimalist style. 
Saying that the core of minimalist design is to keep things simple is not reinventing the wheel by any means. The most direct way to do this is to keep lines clear, surfaces smooth and shapes straightforward. 
Industrial Gym Design Tips
Industrial gym design ideas are all about showing off materials and raw features. Though this may sound easy, industrial gym interior design ideas should be well-thought-out. Otherwise, the space may end up looking like it's in dire need of renovation.
Show off rather than hide
Exposed pipes, concrete walls, structural wood and rustic metal are all distinguishing features of this style.
This style relies on highlighting materials used for construction. Concrete flooring and metal furniture are good examples. Intriguing steel and wooden signs as well as brick walls take on a new look so we can appreciate raw materials for what they are. 
While the above-mentioned features may sound a little rough around the edges, adding plants will bring in a comforting feminine touch to soften up the space. It's also a great way to add color to the environment.
Integrate these fitness gym design ideas and branding tips to give your business a stylish and trendy boost. Create an atmosphere that inspires a healthy lifestyle and your gym goers will become loyal customers for life.
Use business signs for the design and branding of the indoors as well as outdoors of your fitness center. We're always ready to help you find exquisite signage solutions for your space. Contact us to get a free quote!