Medical Office Signs: Popular Types and Their Applications
Medical office signs are a critical aspect of health, safety and comfort. Let's go over the types, uses and applications of medical clinic signs so you know exactly what to get and why.
Types of Medical Clinic Signs
Medical building signs serve a variety of functions. They can be used both indoors and outdoors to direct, inform and mark your brand identity. The most popular types of medical office signs are listed below. 
Illuminated Medical Office Signs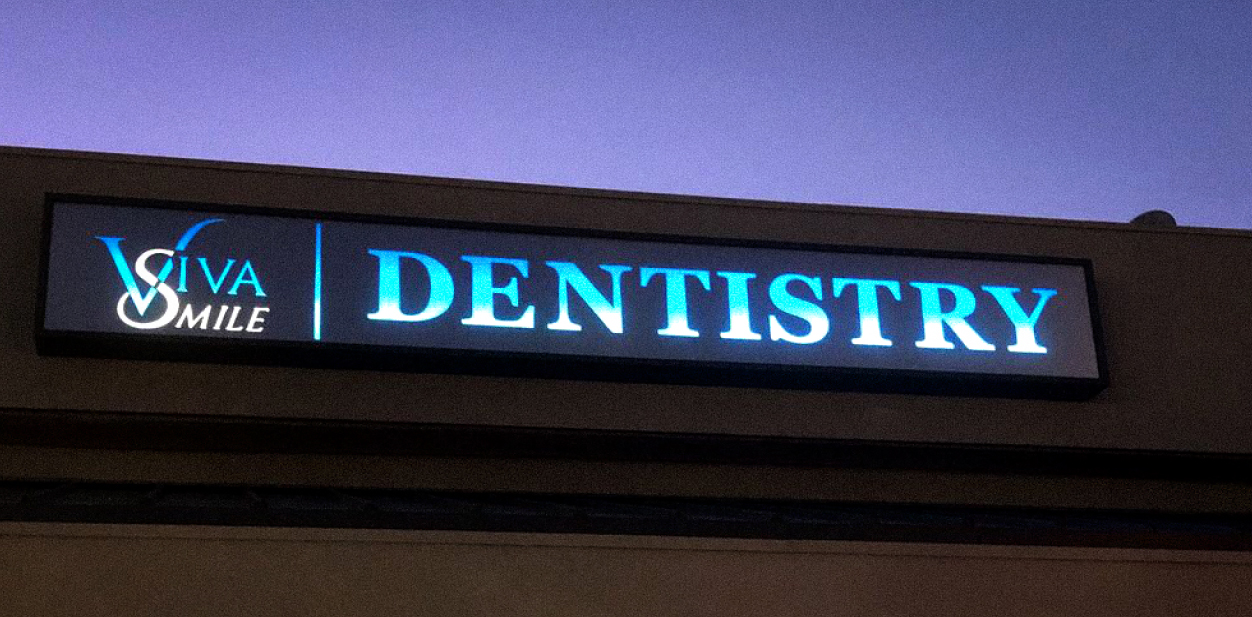 Illuminated medical office signs are the preferred solution for many healthcare establishments. The lighting of medical clinic signs can alter mood. It can also enhance or detract from the visibility of your message. Illuminated displays are an important factor of space design and come in several styles.  
Channel letters communicate a prominent message and are easy on the eyes. They're an excellent design for any medical organization looking to enhance authority. These displays have an elegant appeal to gain client trust.  
Light up signs and letters display your message with dynamic lighting and designs.  They'll capture everyone's attention and create a positive impression. Patients and visitors will appreciate the pleasant atmosphere created by these lights.
Light box signs boost your advertising and marketing efforts with an unmistakable design. These medical office signs are functional as well as decorative. The eye-catching style will identify your company and set it apart. 
Non-Illuminated Medical Clinic Signs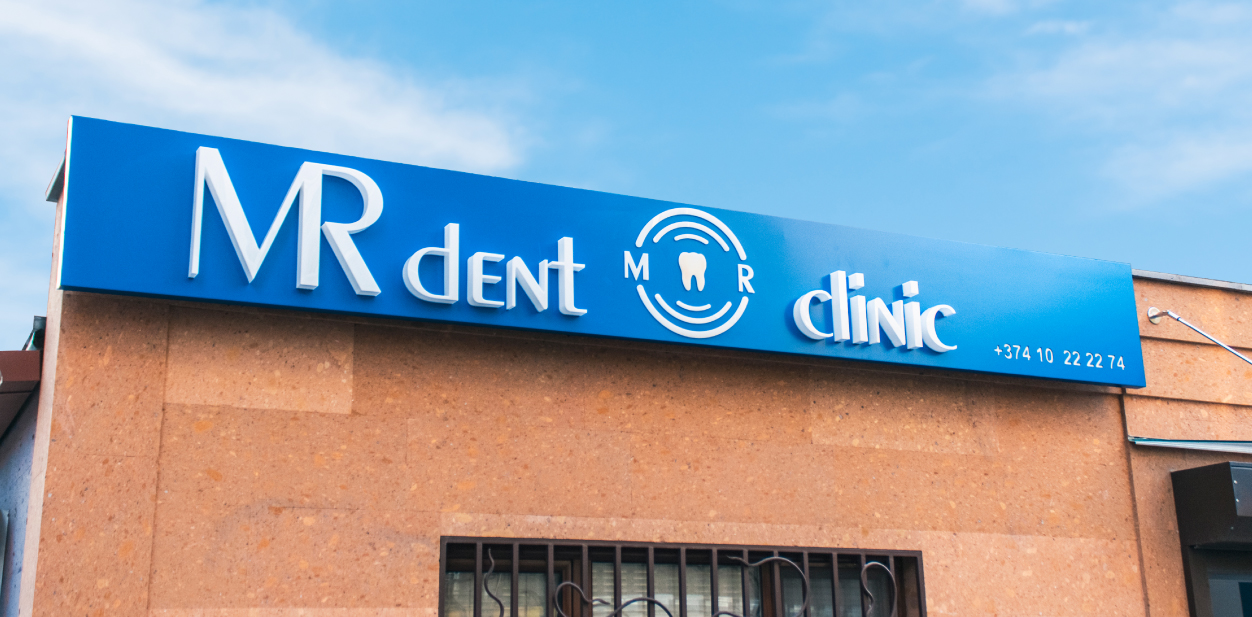 Illuminated solutions are not the only impressive means of branding medical centers. Consider non-illuminated options to bear your company's name and perform relevant functions. Non-illuminated business signs are a cost-effective way to promote a brand or message. There are many types with distinct characteristics that satisfy unique goals.
Want a medical office sign tailored to your specific needs? Get a quote!
Monumental Medical Boards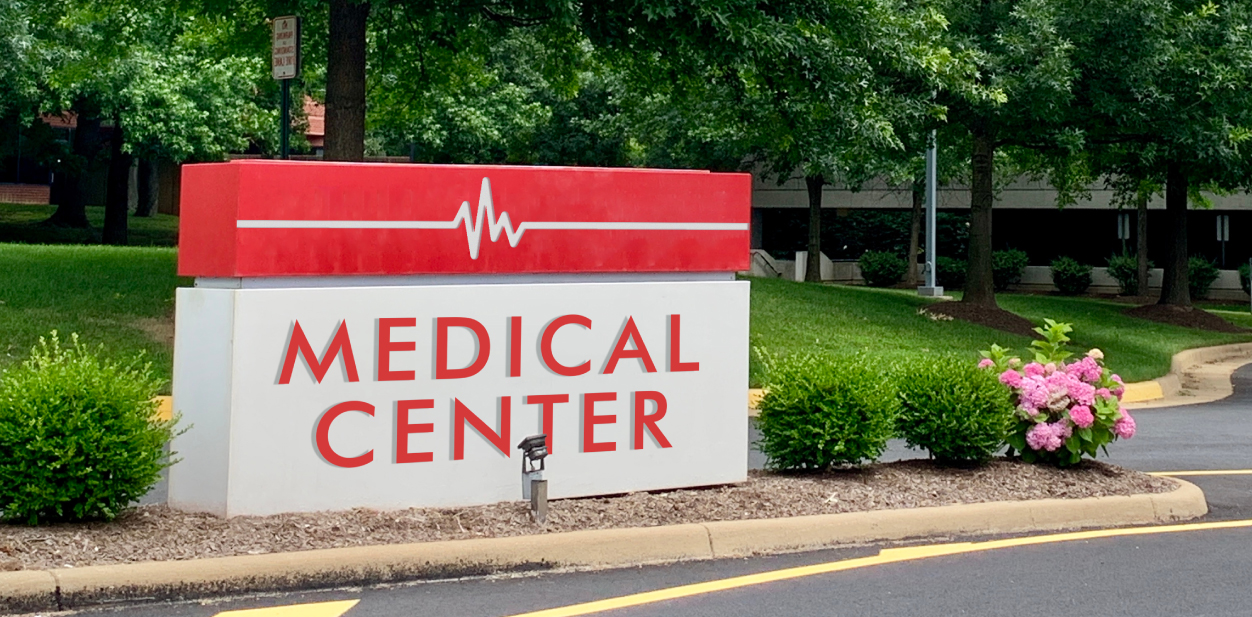 Monument signs mark medical properties, designate different wings of a hospital and point to parking lots. They present your clinic's logo, brand name or color scheme with a prominent look. The structures can be made of various materials such as acrylic, metal, stone and wood. These medical office signs are often visible from the road and easy to distinguish. 
Large Medical Office Wraps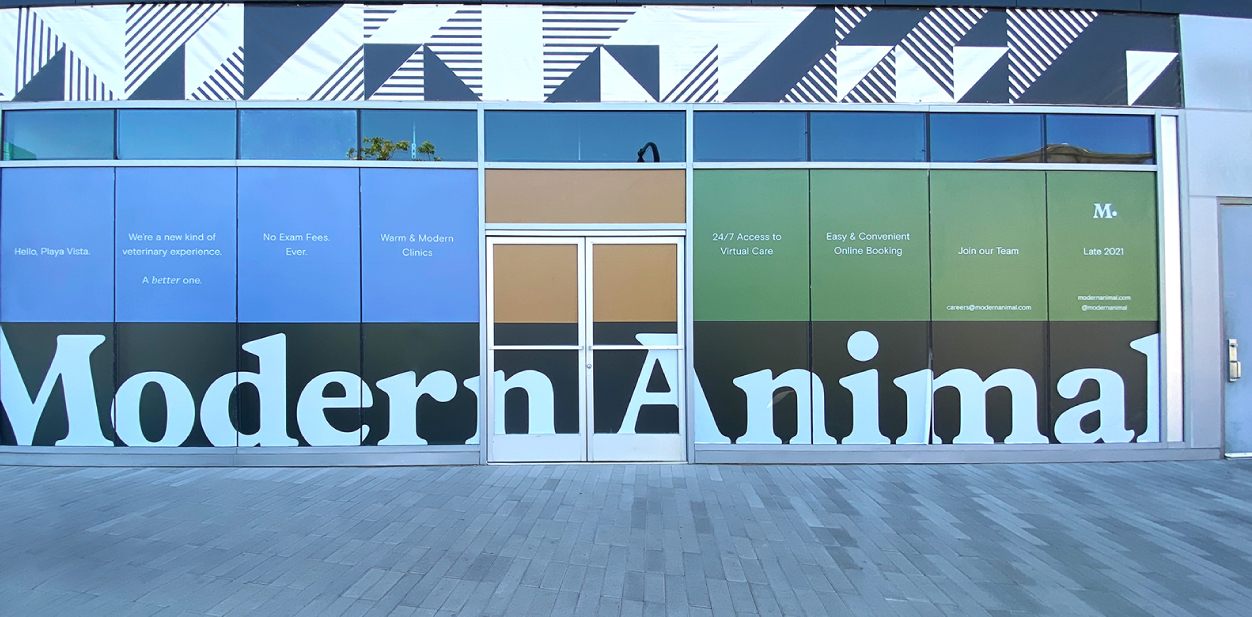 With innovative medical building signs, any space can take on a pleasant atmosphere. Versatile designs can set the tone for different areas of a healthcare facility. Custom decals can provide a relaxing, inviting or even motivating environment. Use them to welcome people, relay knowledge, provide privacy, decorate and more. 
Medical Office Window Signs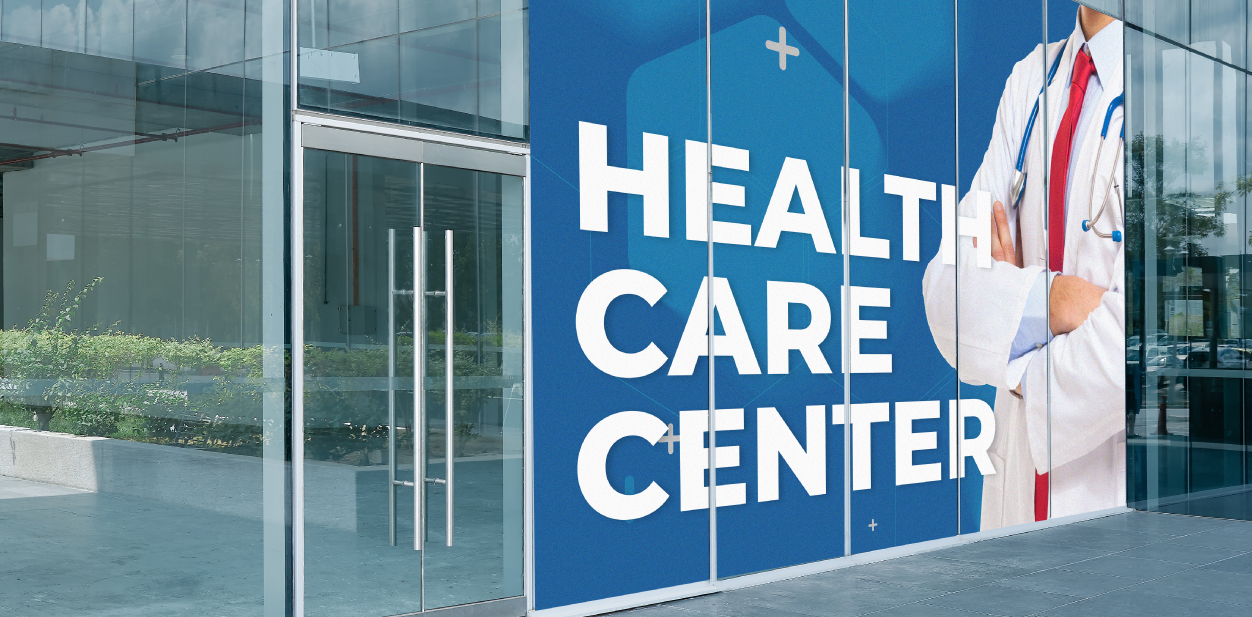 Window decals display of visuals or information without obstructing natural light. In medical centers, infographics add a sense of intrigue and give people something to look at. Similar decorations can include medical center logo designs. They offer a subtle but professional touch with clear, perforated or frosted finishes. The graphics add a splash of color and excitement to blank spaces.  
Medical Office Wall Signs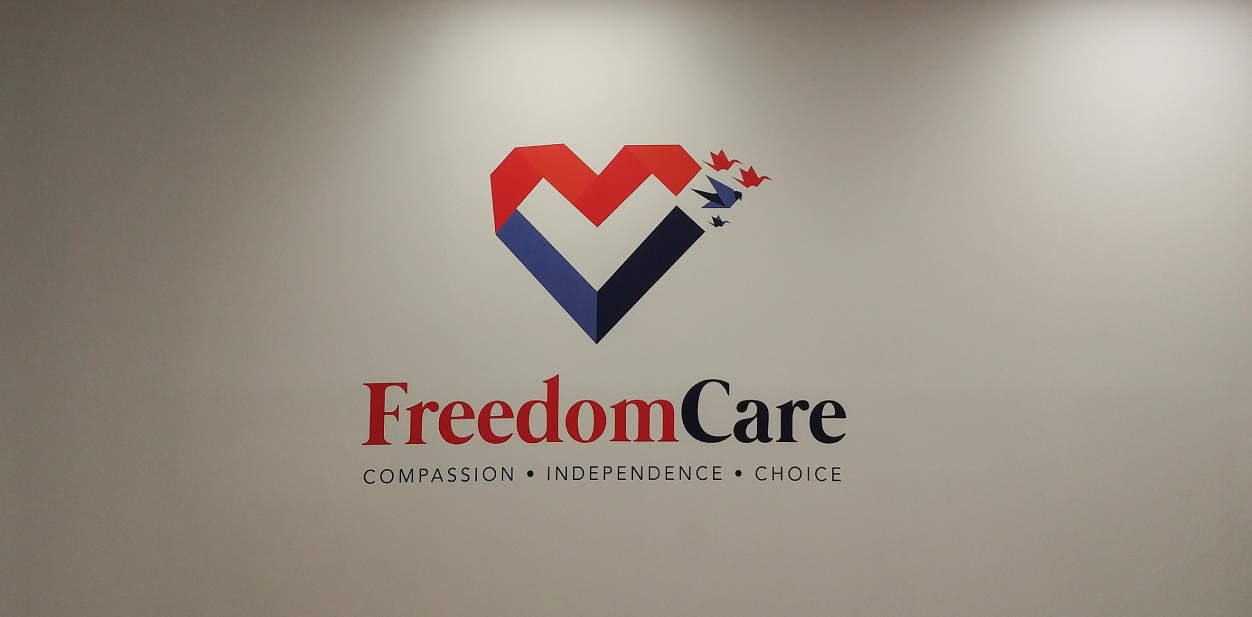 The white walls of medical facilities aren't usually conducive to comfort. Adding wall decals can help create a welcoming atmosphere that will relax patients. With the help of medical office wall signs, you can enhance the mood of staff and guests. Using medical office wall signs gives you the option to change out decor or fully remove it if needed. An optimal medical office logo design can represent your organization while sprucing up empty walls. 
Medical Clinic Floor Stickers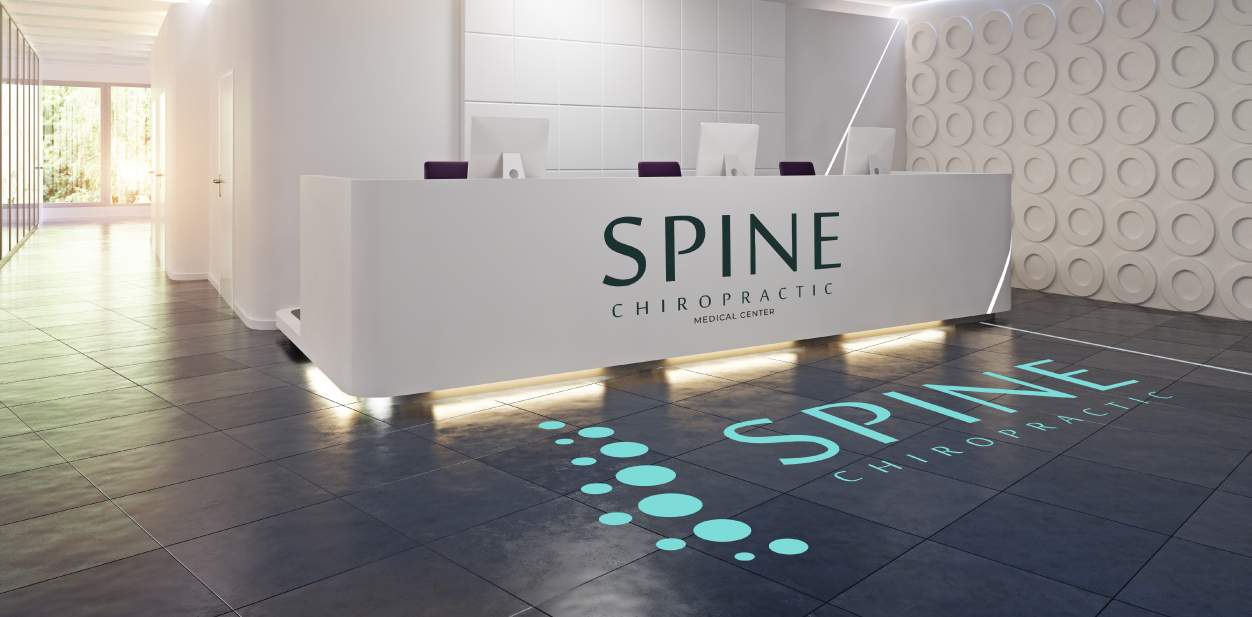 Floor decals are great to use in all types of medical centers. These custom medical office signs serve many functions. They guide visitors, section off areas or mark social distancing perimeters. They can even be used to decorate children's areas with fun graphics. They withstand heavy foot traffic, remain vibrant and take up very little space.
Dimensional Medical Office Signs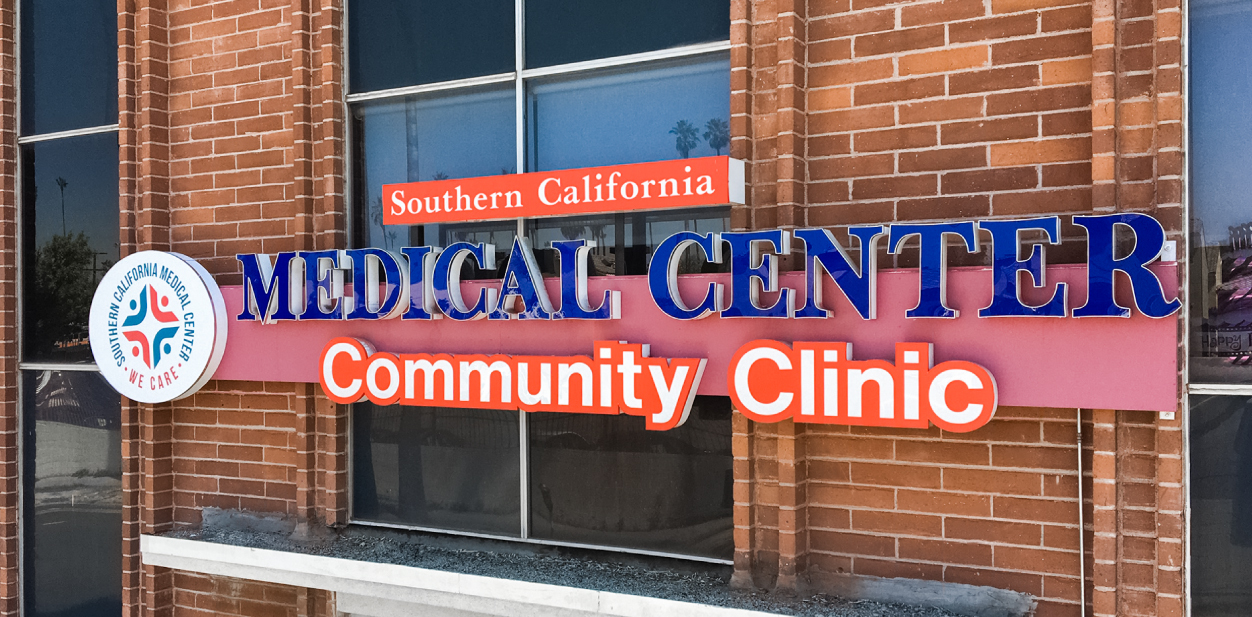 3D signs establish excellent business placement in both indoor and outdoor settings. They express your company identity with a variety of colors and styles. There are many versatile designs you can install for your medical office. With expertly designed 3D solutions, you can create a deep impression of your brand. 
Interested in custom medical office signs? Get a free quote and consultation!
Applications for Medical Office Signs
Medical offices employ visual communication tools in a variety of ways. Patients can recognize a premise by its outdoor medical office signs. They can learn healthy habits through infographics and get around with directional displays. Medical clinic signs can also bring a whole new level to the marketing efforts of a private practice. These solutions will let staff and visitors get things done in an efficient manner. 
Outdoor Medical Office Signs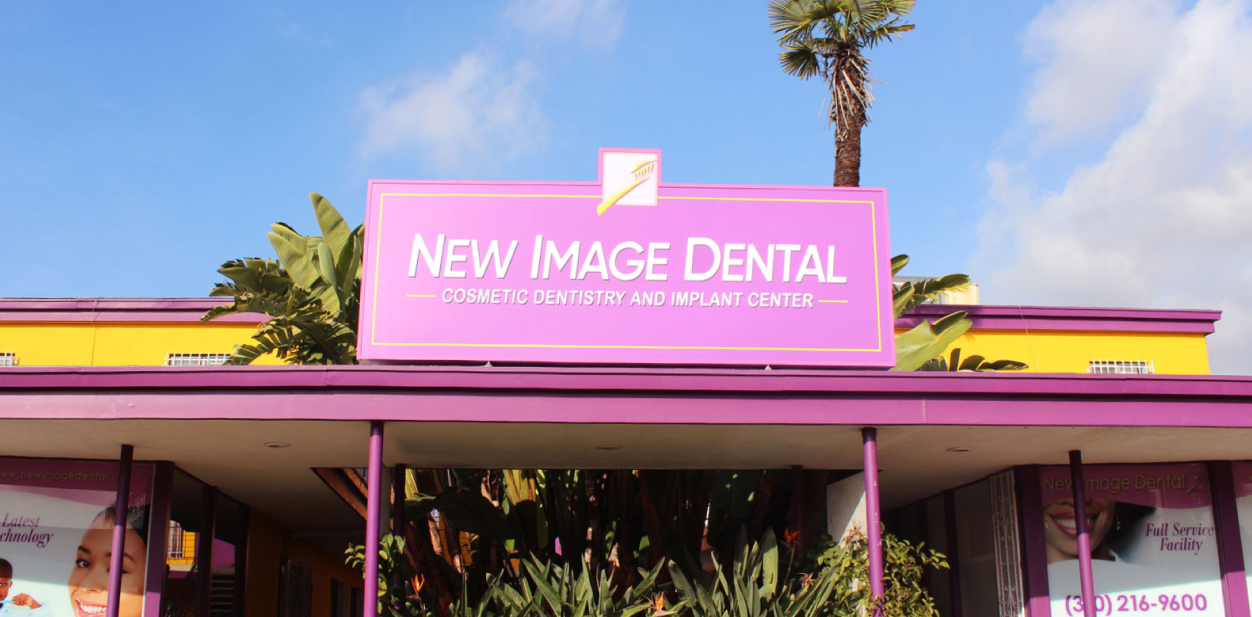 Arriving at a medical office necessitates the use of navigational clues. Outdoor medical office signs improve the flow of traffic. This affects the overall success of client-patient relations. 
Outdoor signs serve as a guidepost for people seeking medical care and treatment. Clear, well-placed architectural outdoor medical office signs can identify important buildings. They cut down critical wait time to receiving medical attention in emergency cases. They also link people to other departments in large facilities such as hospitals.
Building Facade Medical Signs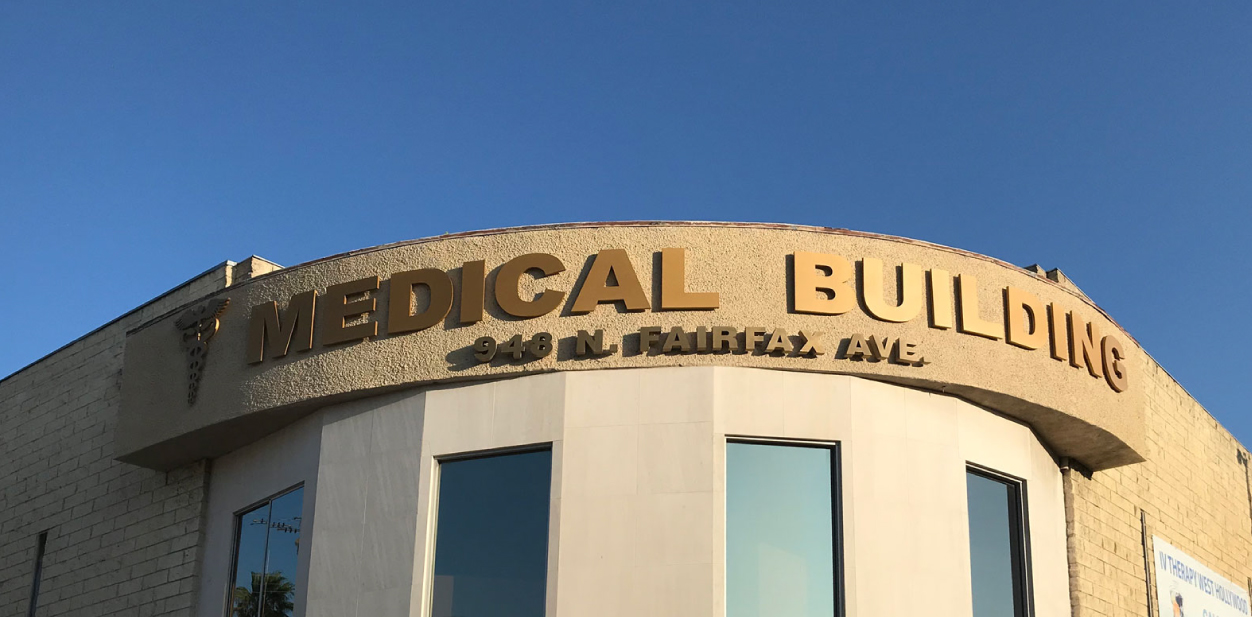 Medical building signs bring the recognition and authority to succeed in your practice. An iconic medical clinic logo design will draw attention and enhance your exposure. These high rise signs showcase your company's name and demonstrate your professionalism. Eye-catching building signs reach a large audience and familiarize people with your location. 
Pylon Medical Signs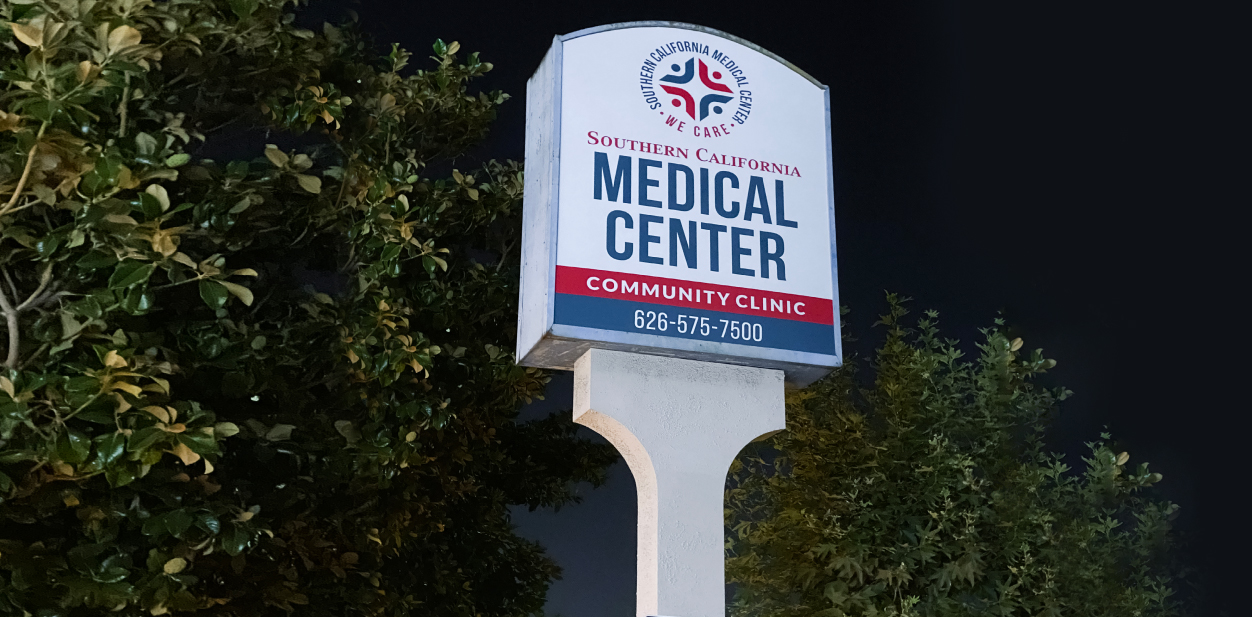 Pylon signs are tall and placed along the roadway so your location is visible to ongoing traffic. These medical building signs get the word out about your services in central city areas. They serve as a marker for your organization and help you stand out.
Read the following article for more outdoor business sign ideas.
Indoor Medical Office Signs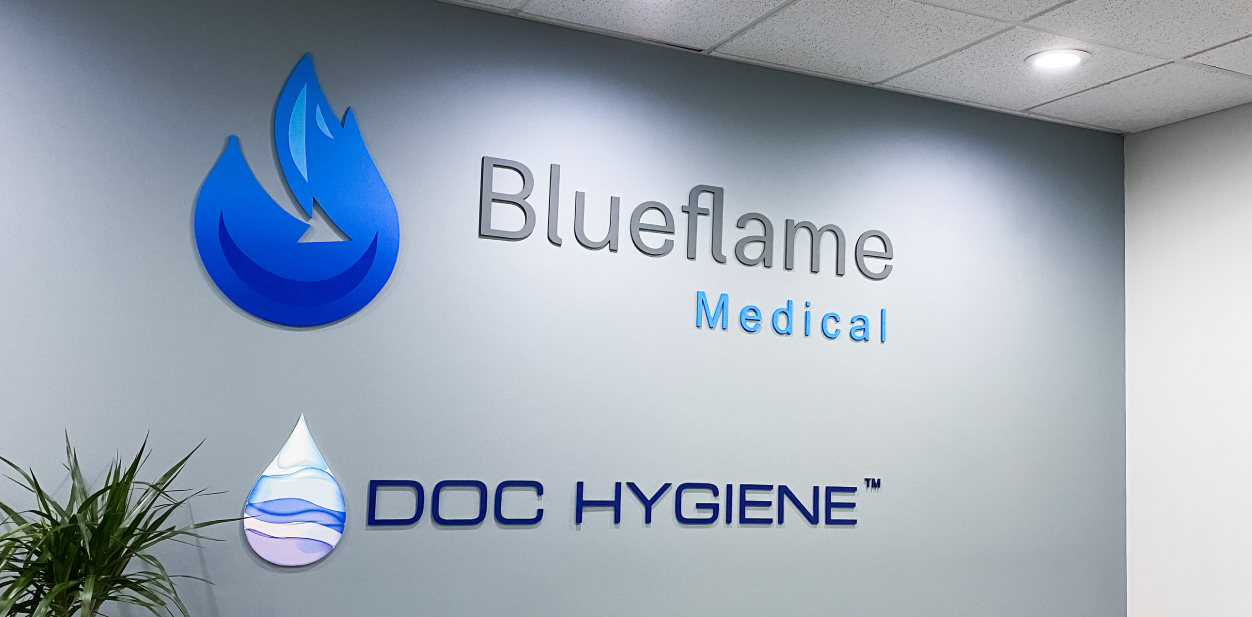 Interior medical clinic signs improve the office environment with useful information to visitors. Interior signs make your clinic look more professional and welcoming. 
With custom medical office signs, patients are reassured of your attention to detail. Thus, they know that you will take care of them. Use medical office signs to spread the word through satisfied clients. This is key if you're wanting to expand your practice.
Medical Clinic Reception and Lobby Area Signs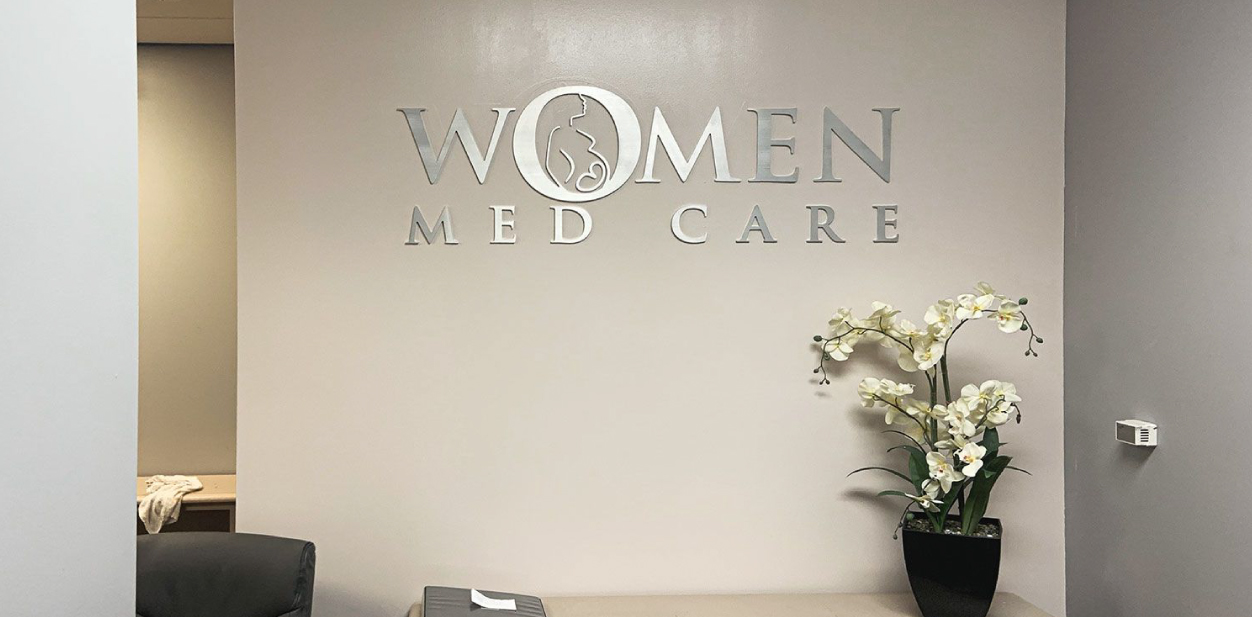 Lobby medical building signs make a difference in how you welcome guests. This is true if you run a rehabilitation or an urgent care center. Patients in the waiting area make a mental note of their impression and how the space made them feel. Good lobby signs can improve the tone for the rest of their visit.
Your medical center logo design will inform patients that they're in the right place. Leverage lobby medical building signs to instill a sense of care.
If you're looking for medical office signs for your clinic, contact us to get your free quote!
Custom Medical Office Interior Signage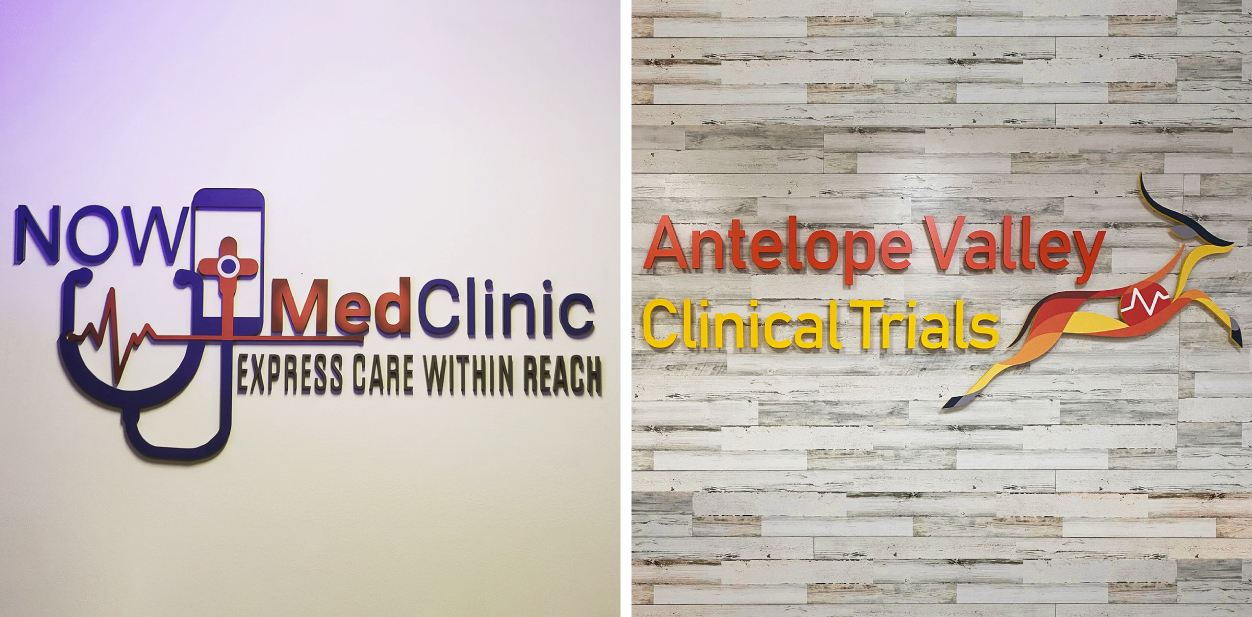 Custom medical office signs will help you project professionalism and increase patient trust. There is a great range of custom medical office signs to choose from depending on your goals and vision. 
Office signs build your clinic's identity and get the word out about your practice. Customize your medical building signs around your standards and values. We offer tailor-made designs regardless of how sophisticated your concepts may be.
General Purposes of Medical Clinic Signs
Custom medical office signs can elicit a sense of loyalty and stability. These solutions advertise your site's presence and exude its identity and authority. They serve different functions in medical facilities. The main ones are listed below.
Branding and Promotion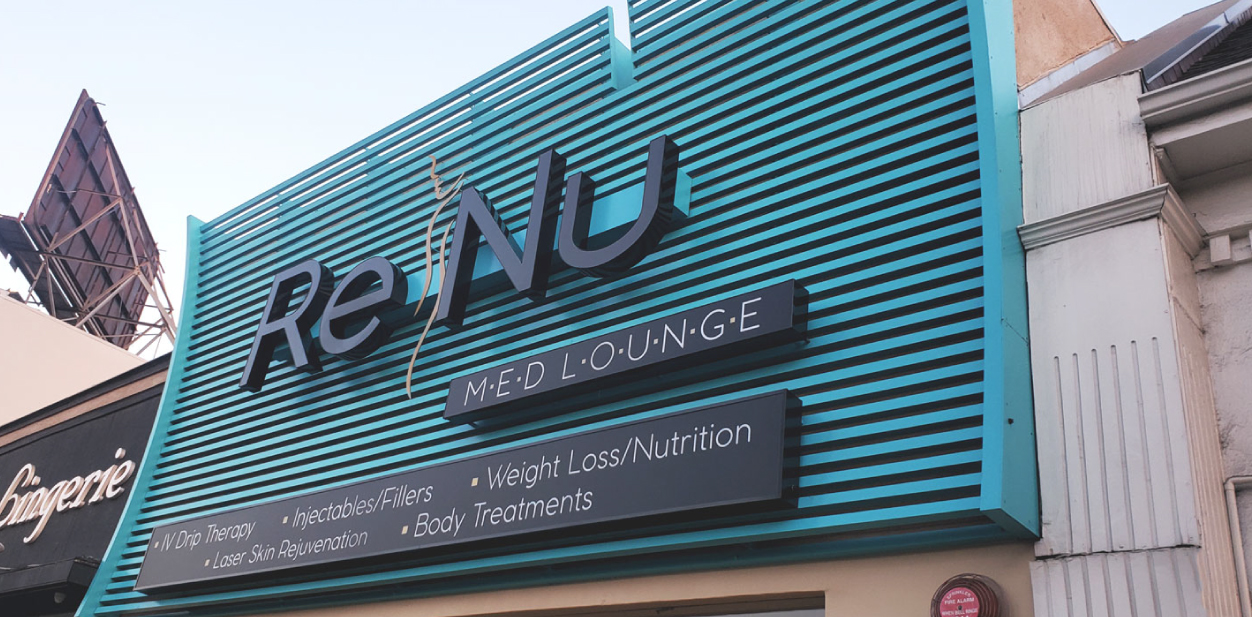 Outdoor medical office signs are where the brand-building process begins. Following that, an appealing medical center logo design should greet guests. Wayfinding displays can create a smooth workflow. Reverse channel letters can be the highlight of your branding. Create a uniform theme throughout your facility by matching each of these. 
Another factor to emphasize are the standards and core values of your center. Are you a family practice? Do you place a high priority on geriatric care, employee qualifications and so on? Medical building signs can be a great tool for presenting your principles to clients. 
Get inspired with these business branding examples and achieve a reputable standing. 
Decoration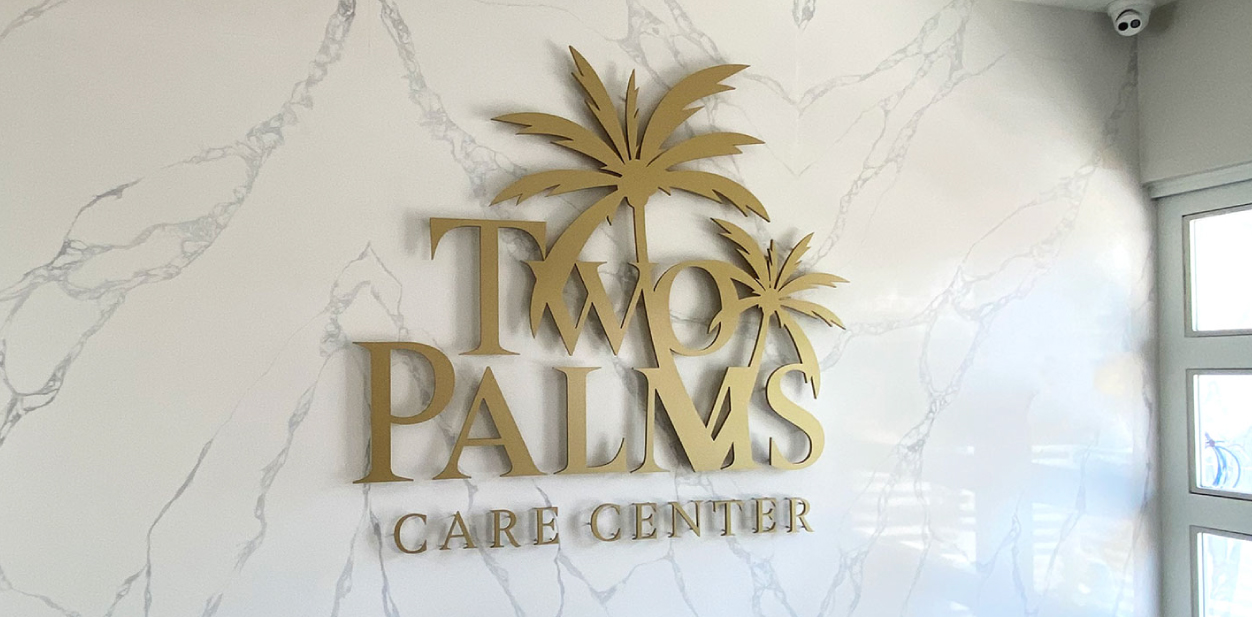 Research shows that good design can reduce stress in medical facilities. Patients aren't the only ones who are affected by high intensity situations. Healthcare employees may experience occupational stress which can affect their performance.
Decorative medical center logo design and other visual elements reduce environmental stress. This objective can be reached by versatile branding tools such as acrylic signs. Use decorative solutions to elevate mood and create a pleasant atmosphere.
Read the article in the link to get acquainted with more signage design ideas. 
Information and Directional Displays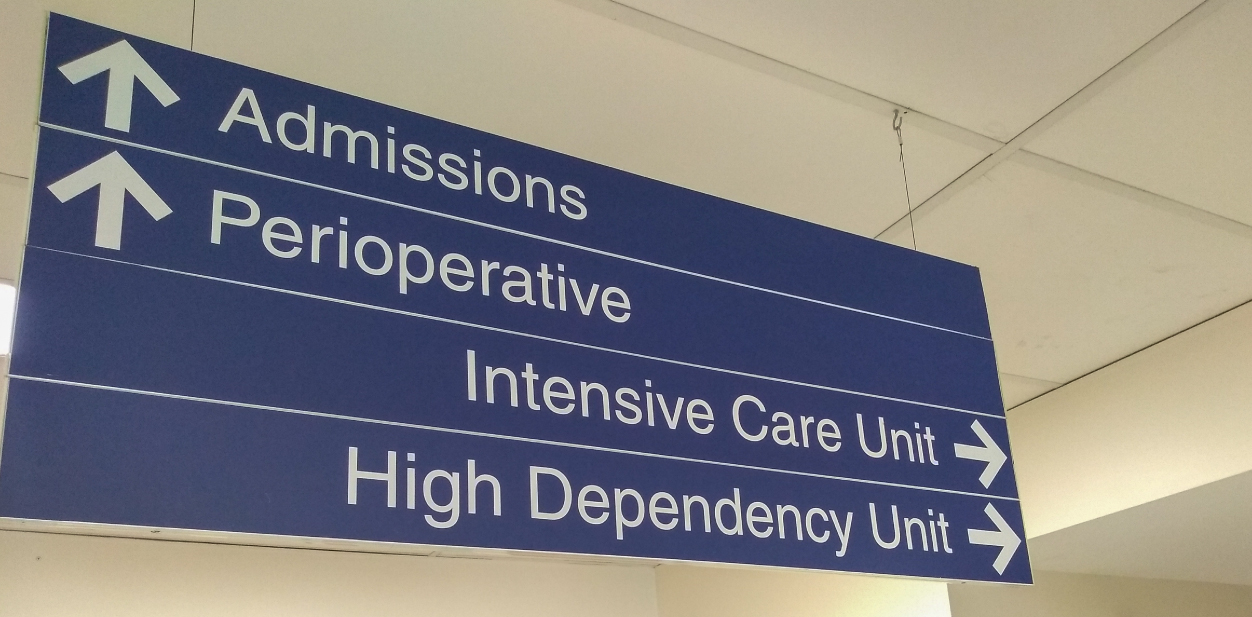 Medical office directory signs are used to help people locate their destination. They can be helpful in a facility that houses multiple physicians and specialists. Directional signs need to be designed in an appealing, intuitive and legible way. Medical office directory signs will help people find the information they need.
The medical facility's entry hall is the beginning of the wayfinding process. It's the best place to install medical office directory signs. People will appreciate the assistance with finding places in an efficient manner. Medical office directory signs can be hung from the ceiling, set up on the floor or mounted to the walls.
Health and Safety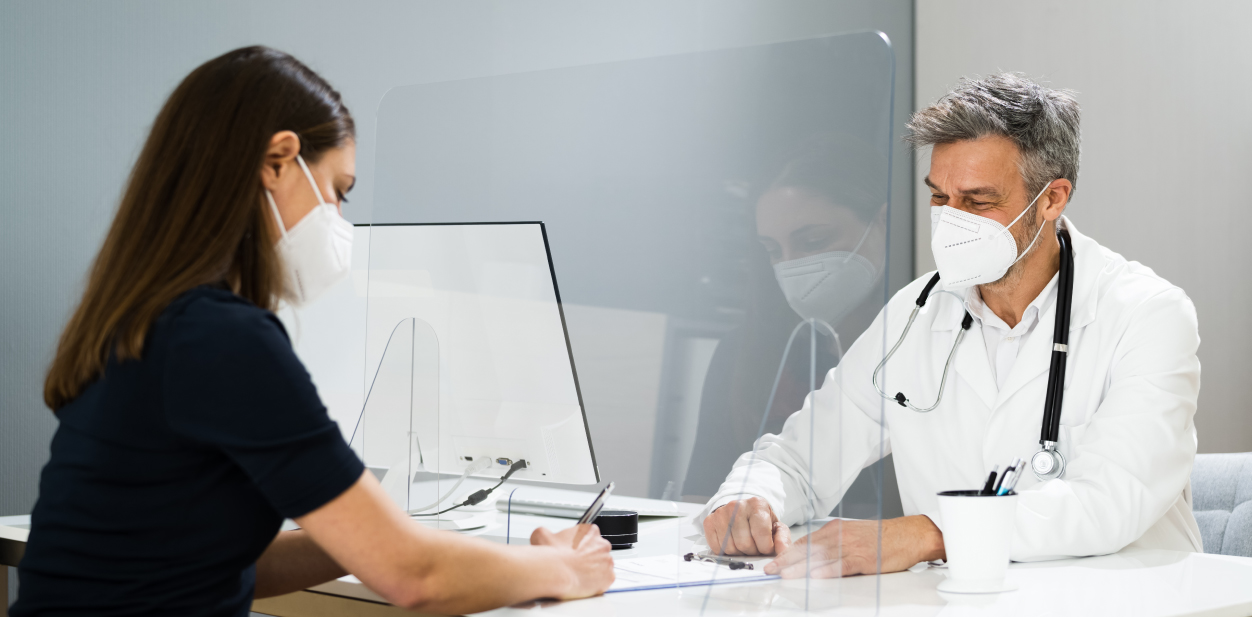 Aluminum signs are critical to making people aware of their surroundings. They're an ideal medium for informing personnel of hazards such as chemical threats.
In addition to the typical warning solutions, you can use sneeze guards. These will keep your clients and employees safer from infectious disease. They're made of high-quality materials and prevent particulates from spreading.
If you're considering safety solutions for your business, read The A to Z of Sneeze Guards. 
We hope we've answered all of your questions concerning medical clinic signs! Contact our signage company to get an estimate on the best solutions for your facility.