Skip to content
The Best Way To Introduce Your Products in Your Retail Store with Custom Signs
One of the most important cornerstones of your business is customer service. Many new business owners don't realize the massive array of resources available for providing a top-level customer service. In fact, custom signs used in the retail industry can be considered as an extension of customer service. A good sign that is delivering the right message is creating a service for each client that gets to see it.
What Your Product Retail Signage Should Be Able to Do
Create Interest
The custom signs that you are going to use to sell a product or introduce it has to be interesting enough that people will pay attention to it. It must grab their attention as quickly as possible.
Take Action
Once the signage for your products has grabbed the attention, it must entice the reader to take some form of action. Catching the attention can be done with the sign having a call to action to it. It may be to buy an item that is on sale. Or, maybe it's a buy one get one free promotion, for example.
How to Get Results with your Custom Signage for your Retail Store
Keep the Message Simple
People are at your retail store to see what you have and possibly make a purchase. Your retail signage should either be able to tell the potential purchaser more about the product if necessary and then create the desire to buy it. For either of these types of messages, you must keep it short and to the point. Consumers are not going to waste their time reading a long drawn out sign that has a confusing message to it.
Easy to Read
When you are delivering a message through your custom retail signage, you want the reader to concentrate on the content of the message. They should not be focusing on trying to read the font because it is too small or too fancy. This type of font is distracting and will not serve the primary purpose of your retail custom signage which is to inform purchasers about your product and entice them to purchase it.
Choose the Right Vocabulary
When creating content for other types of media, the vocabulary used in it is carefully chosen. The same should apply when you are creating the material for the message that your retail signage is going to deliver.
To boost sales of a product you want the customer to imagine being the owner of the item you are selling. Your words need to create a want and need on behalf of the consumer. By using the phrase "you" or "your" in your content you are personalizing the items for the buyer.
The Right Amount of Content
You will want to make the most of your retail custom signs, and one of the mistakes you may make is trying to cram in too much. You want to keep your message short but straightforward as well. You will only have a few seconds to capture and hold the attention of the reader.  It is entirely okay to have plenty of white space on your retail signage. White space makes it easier to read and allows the custom sign to look far more professional and attractive.
The Right Placement
The right placement of your retail custom signs is going to partly depend on the purpose of the sign.
The Windows
If you are going to be introducing the product or educating consumers about it, then you may want to place this type of retail custom signage in the window where it will draw customers into your store to learn more about it.
Near the Products
If the content of the sign is going to be about a sale or promotion then not only will you want to display this in your windows but you will want to have it shown very close to the items that you are promoting.
Use your Wall Space
One mistake that you may make is not giving clear direction as to where the products that you want to promote are. You can do this by making use of interior signs that can categorize different areas of your retail store.
What Kind of Custom Retail Signage?
One of the excellent opportunities that come with custom retail signage is that you have several options. These are options that pertain to the type and style of the retail signage.
Large Format Printing
If you remember to keep the message of your custom retail signage simple and short, then it will give you an excellent opportunity to use large format printing for your signs. The use of large format printing means they will be much more visible from a distance which can help to bring more customers into your business. You can get an eye-catching and full-color banner printing to attract the attention of customers.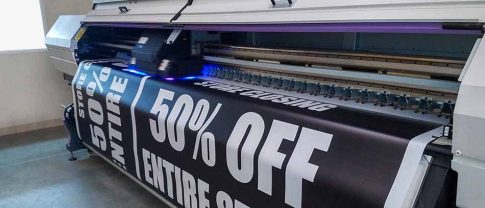 Vinyl Printing
Certainly, you want your custom signage for your retail store to be fun, exciting and versatile. One of the best options is vinyl printing. You can create your own message through the use of vinyl lettering.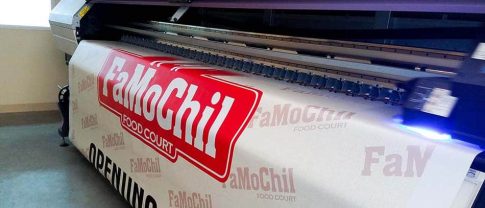 The Right styles
Choosing the right form of custom retail signage is just as important as the other components that make this type of marketing and advertising resource successful. The style will help to dictate as to where the signage will create the best results.
A-frames
A-frames are ideal for using outside of your retail store near it. For the windows, there are many great choices such as clear static cling signs, fabric banners, clear decals, or even frosted window decals just to name a few of many.
You can also use a variation of different types of custom retail banners or pop up displays.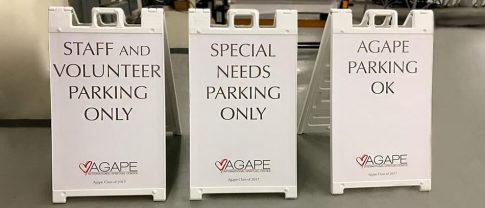 Included in all of these critical aspects of using retail custom signage equally as necessary is to ensure that you are using a quality and experienced printer to create them for you.