Winning Store Signage Ideas, Tips and Examples to Boost Sales
Visual communication tools are a powerful asset for the retail industry. They convey the image of your company and relay messages about your brand. Below, we'll cover a wide range of store signage ideas to guide you to the best solutions for your store.
Inspiring Retail Signage Ideas Based On Style 
Store signs are one of the most powerful advertising tools for retail businesses. They set you apart from the competition and earn recognition among customers. Brand designs are the face of a business and make the first impression. Good store signage ideas may favorably affect a company's profitability. 
Here are effective storefront sign ideas that will establish a company's image. They can take on a range of styles depending on your taste and requirements.
1. Modern store aesthetics 
Modern retail signage is a must for any business that seeks to make a mark in today's market. There are many trending options that business owners use to promote their brands. 
Light box signs ensure a strong commercial presence and amplify your message. Rear-illuminated design features add a modern touch to the displays. With this technique, the light shines out from the back, creating an attractive halo effect.
Channel letters grant a contemporary visual appeal with their elegance and versatility. A favorite amongst new businesses, this dimensional letter signage creates a spotlight with bright lighting and attractive designs. They have a modern and professional look, great as both interior and exterior building signs.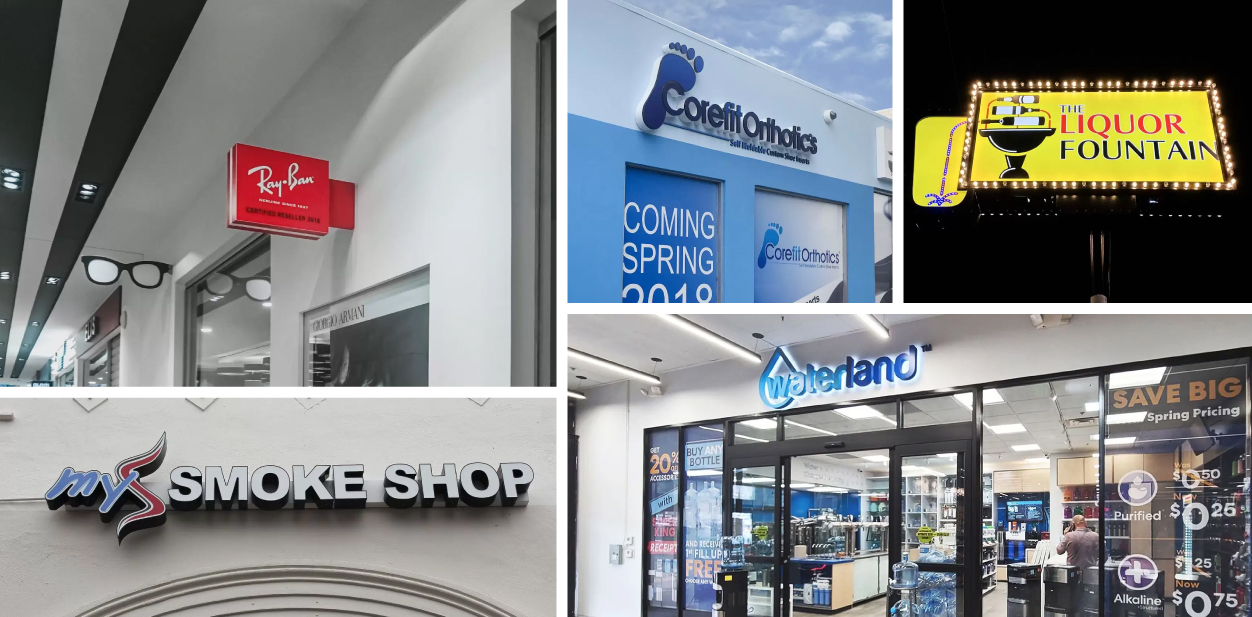 Discover the benefits of light box signs.
2. Rustic vibes for an alluring storefront
Wooden signs are lovely solutions for branding, decoration and promotions. They add a special character and charm to your storefront. They can be customized to suit various styles. 
Let your audience know about your eco-friendly intentions. With them, you'll gain the favor of shoppers who are conscious of environmental issues. Wooden materials are trendy for all kinds of indoor and outdoor applications.
3. Cool and elegant styling options
Acrylic signs provide a professional, high-end look for retail brands. The material can be adapted to versatile designs and is guaranteed to give off an elegant appeal. 
Cool storefront signs with glass-like features are utilized in branding as well as advertising. Strong and durable, this material is great for both indoor and outdoor applications.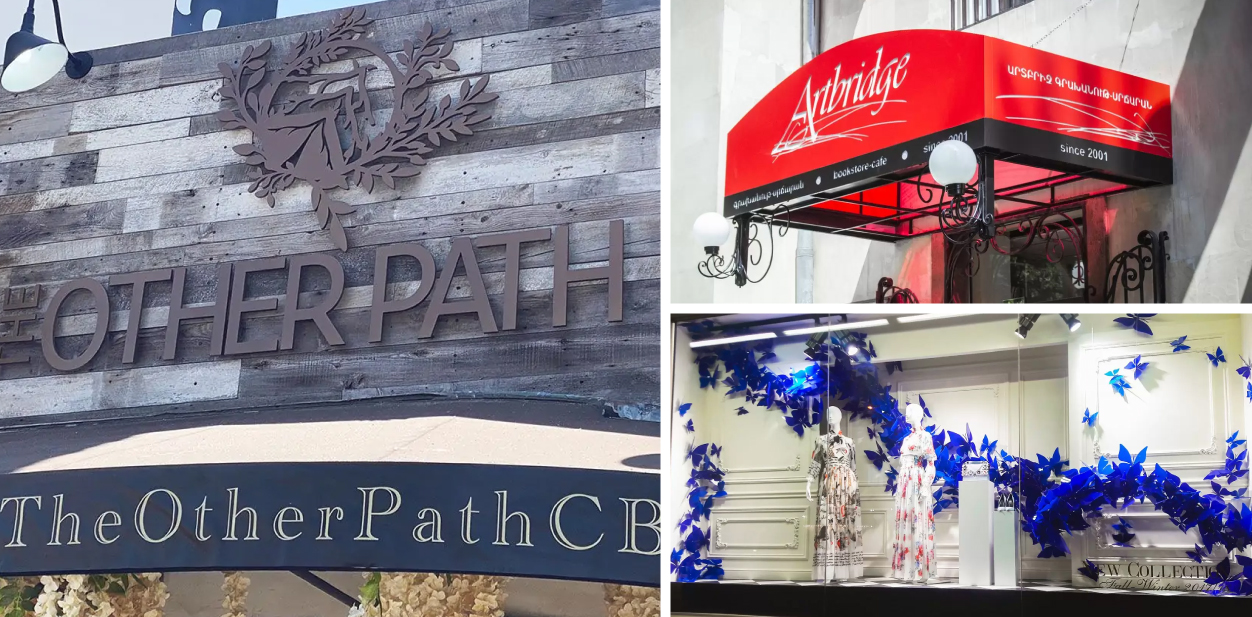 Want to get custom designs for your retail displays? Contact us! 
4. Solid style concepts for your storefront
Metal signs are durable, weather-resistant and come in a wide range of forms. They're ideal for both indoor and outdoor use. Your message will be delivered in a solid way to enhance your branding efforts.
These types of retail signage ideas make the most of your investment. Metal displays provide a very bold and professional appearance. They stand out with brushed, polished and mirrored finishes alike. Their shine and limitless options for customization are attractive features for branding. A few common options are pylon signs, light up signs and other custom signage options. To top, they're also the longest lasting and most recyclable materials used for branding displays.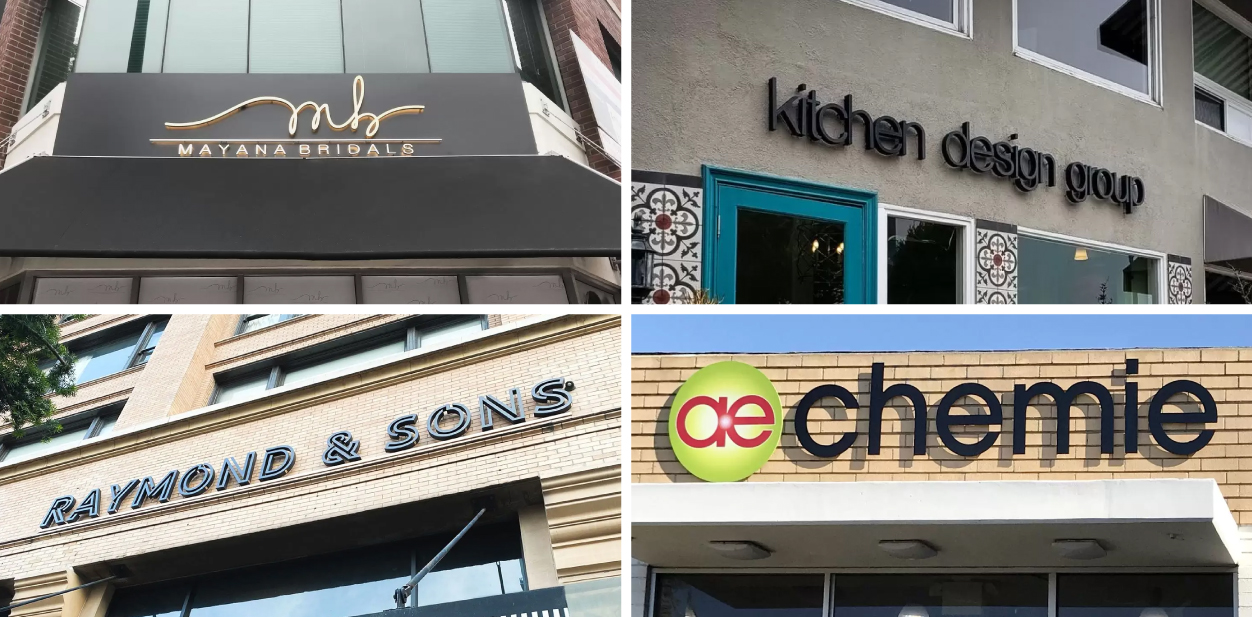 5. Funny storefront sign ideas
Alluring new customers to your store is critical for securing a steady stream of success. While traditional advertising methods should not be overlooked, going in a new direction can help you stand out.
Being creative with your retail signage ideas is one of the simplest ways to achieve this. Make your place distinct by using humor suitable for your target audience. 
Include funny sayings on sandwich boards. Even the way you invite people to drink a cup of coffee may leave a positive impression. You can provide a daily dose of smiles with similarly inventive pop-up displays. 
Want to get cute and funny design solutions? Contact us!
6. Custom style combinations
Your store design is critical in defining what makes your business distinct. You can stand out from the crowd by using the right elements. A cool mix of styles can turn any uninspired place into magic. 
Imagine a space with a mix of simple yet comprehensive designs. You can create a professional atmosphere with minimalist vinyl decals, transform bare walls with large format printing or liven things up with colorful custom banners. This combo is enough to make the most of your store's empty surfaces.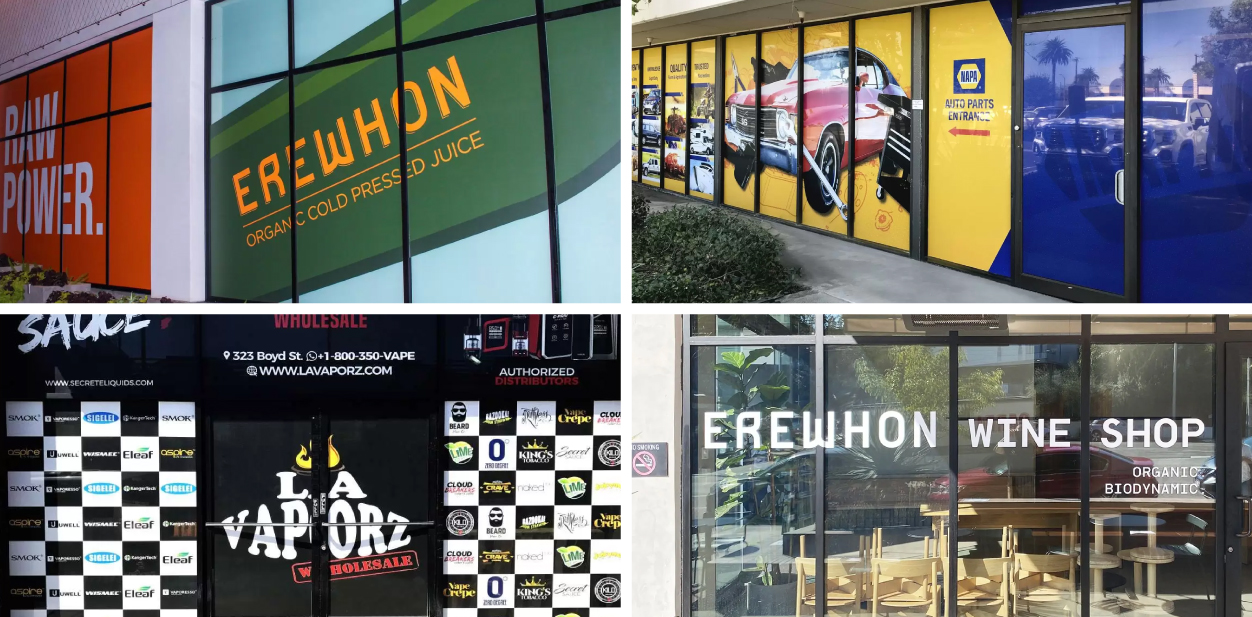 Follow the link to get a clear idea of your storefront sign cost.
Memorable Retail Signage Examples for Different Industries
Custom business signs help customers discover your business and keep it in mind. Inventive store signage ideas have a significant influence on people's buying habits. Let's check out popular retail signage ideas based on their industry.  
1. Charming visuals for boutiques 
Decor elements for boutiques should be refined and visible from afar. There are many boutique storefront ideas that truly enhance store design. Let's see some retail signage examples.  
Creative designs for clothing boutiques 
Illumination offers an irreplaceable benefit for all kinds of environments. Creative embellishments speak volumes based on various types of lighting. 
Backlit retail signage examples are charming options that highlight your company's name with an immersive effect. Colorful, glowing lights serve as a welcome beacon to alert customers of your presence. They can be used for a range of branding purposes.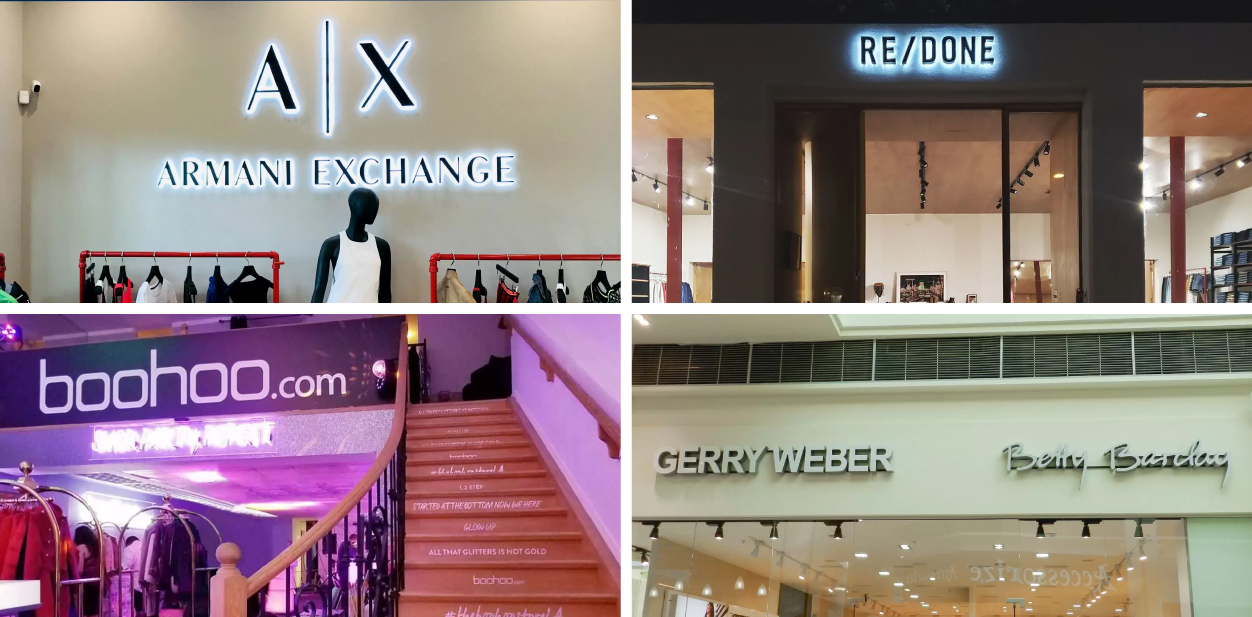 Window decals are a favorite among boutique storefront ideas. These design tools provide information about products in a visually appealing fashion. They're also used for branding the store by displaying a company's motto, name and logo. The decals are often large and legible to tell a story. 
An epic example of our boutique signs ideas is a combination of elements in gold and black. Beautiful butterfly-shaped decorations are affixed on the wall to harmoniously accent elegant black letters. This design distinguishes the brand's name with class and beauty.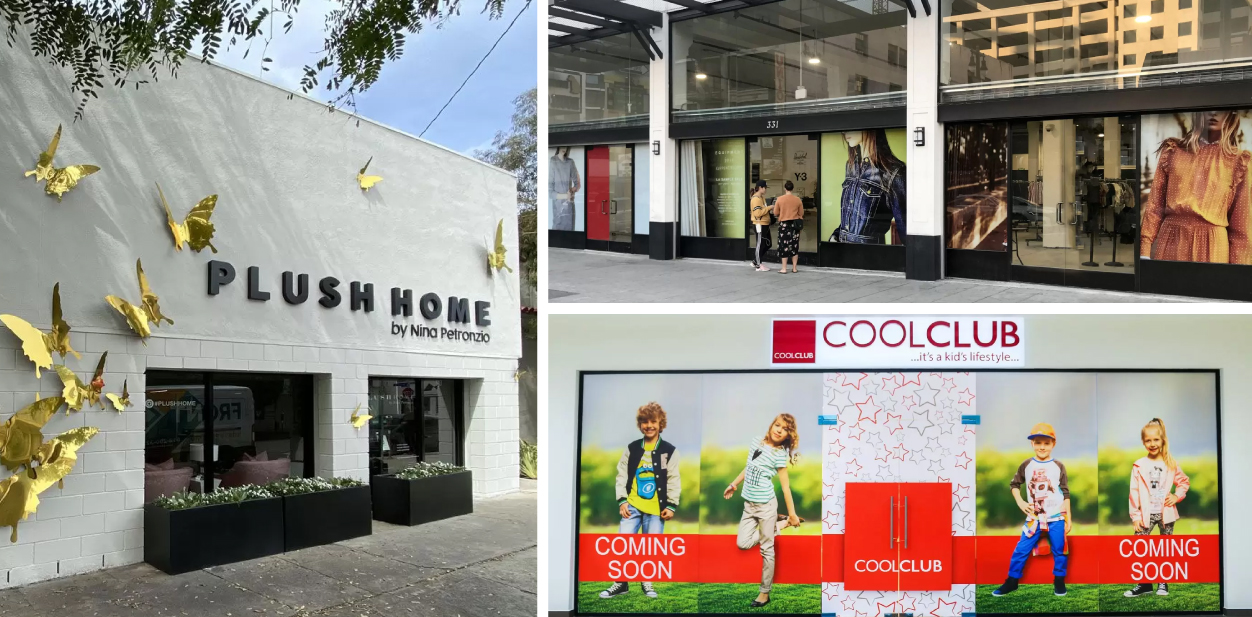 Impressive decorations for jewelry boutiques
Boutique storefront ideas are a tried-and-true way to captivate clients for any jewelry business. Lighted retail signage examples grant a luxurious look to your premise and provide radiance all day and night. 
These concepts are used both indoors and outdoors. Outdoor letters can be seen from afar and create an outstanding look for a store. They may also provide information about the jewelry store. Details such as the date of establishment can inspire confidence in future clients.  
Here's another example of in-store signage ideas with illumination and prominent lettering. These displays designate the companies with bold lettering and establish a refined atmosphere.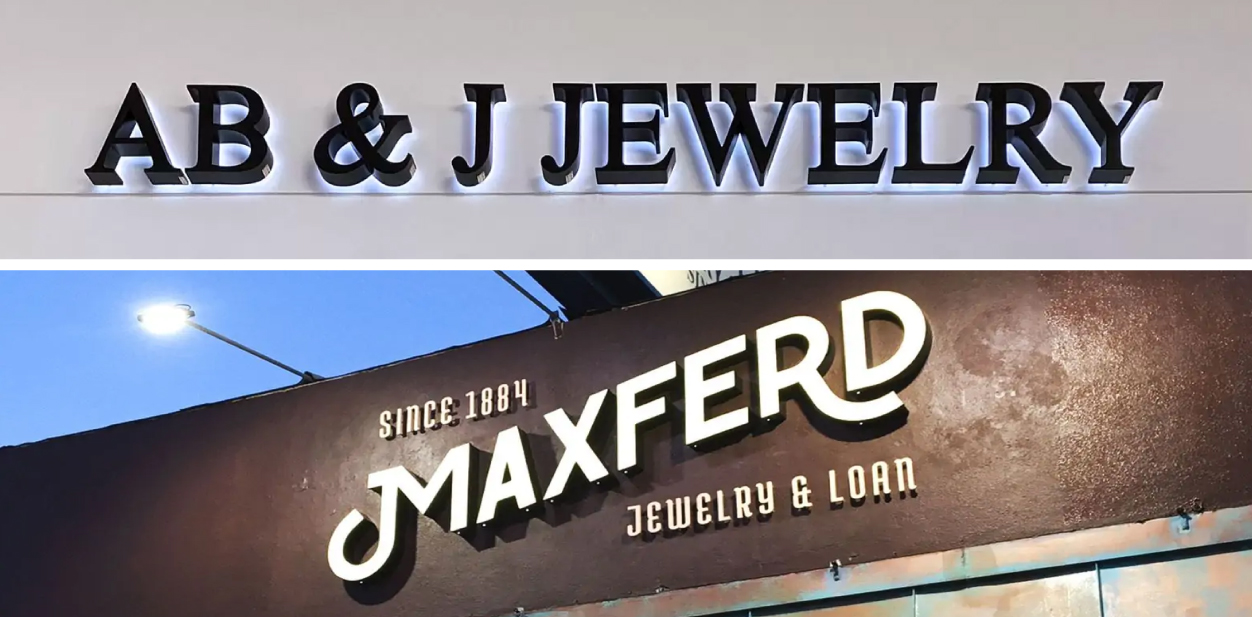 Gorgeous adornments for flower boutiques
A flower shop should be as lovely as the flowers it contains. One of our boutique storefront ideas is a vibrant centerpiece with a wooden background, LED illumination and a combination of aluminum and acrylic features. This can serve as a fantastic retail signage example for all kinds of industries.
To exude the fresh look of another plant shop, the owners opted to use green lighting. This creates a natural vibe and sets the tone for what's inside. Illumination provides extra brilliance and makes the store visible even at night.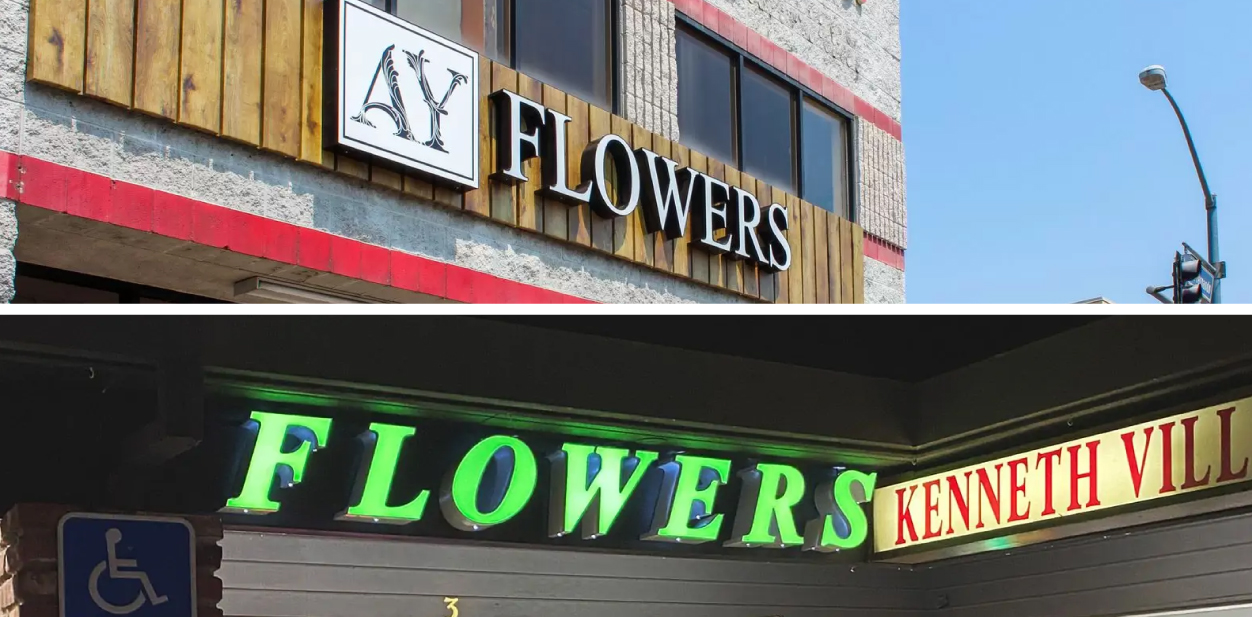 To get stunning visuals for your boutique, contact our specialists!
2. Creative design concepts for shopping malls 
Retail signage examples for shopping malls have a great reputation. Starting from these colorful escalator vinyls, you can discover which brands are sold inside the mall. Even if they're not well-known, the in-store signage ideas will help them stand out. 
One of our featured storefront sign ideas is a combination of a green wall, wood and LED lighting. This mixture has a charming appeal and is one of our favorite examples of interior signage. Such in-store signage ideas showcase the brand's logo while promoting eco-friendly concepts. They help to earn you a reputation for being conscious of the environment.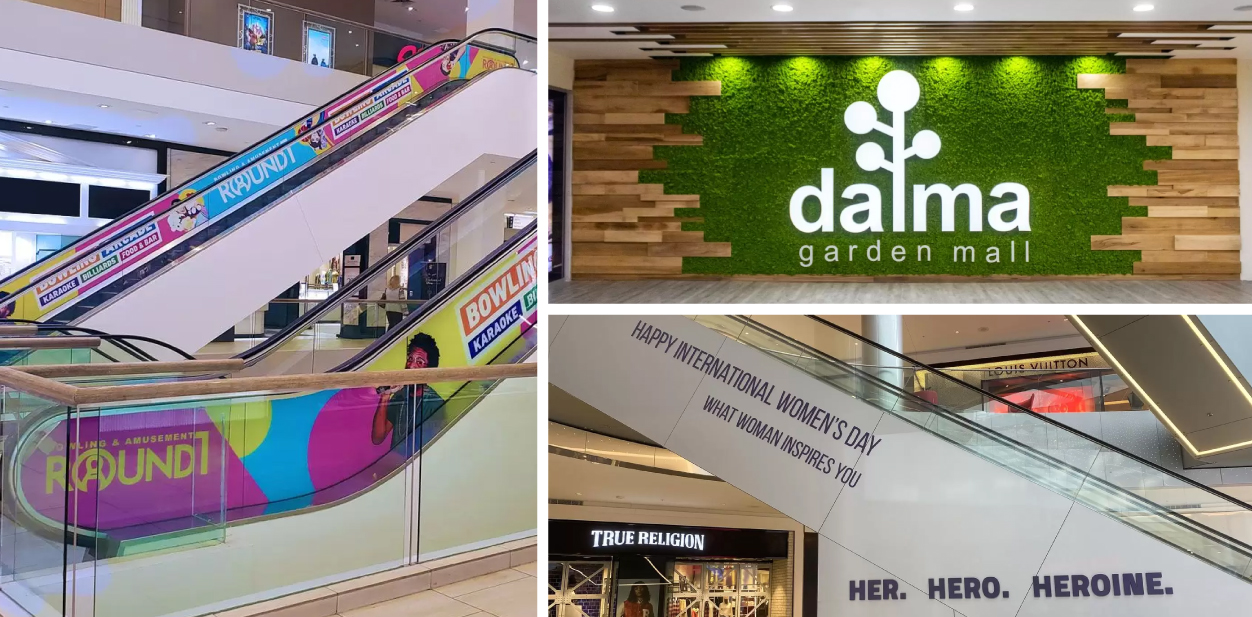 3. Cute design elements for pet stores 
Cute and at times funny pet store signs will make pet owners stop and consider buying a product or using your services. Contemporary designs with graphics and lighting are visual masterpieces for pet store signage ideas. Displaying a dog, cat or other beloved pet in the design is a distinctive style for this niche. 
A memorable logo, distinct font and powerful slogan help people find and choose their veterinarian. This is what the designers of "Melrose Vet" did for pet owners to turn to them for assistance.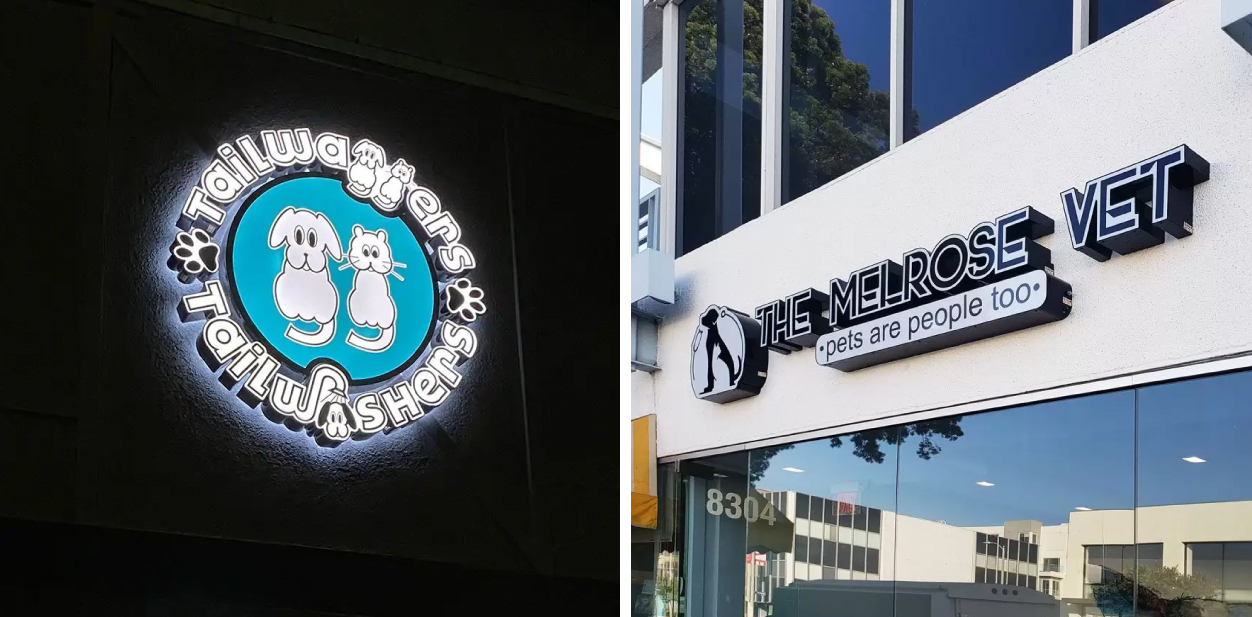 Are you interested in tailor-made design solutions for your store? Contact us today!
4. Ornamental design solutions
Today's optometrist is capable of much more than selling glasses. They offer not only vision but also style. Orion Optical conveys this using perfectly implemented retail signage ideas with a white and blue color scheme. This cool design clarifies the essence of the business using effective text, imagery and lighting.
Storefront sign ideas for TFC Pharmacy include illuminated options and a creative logo. It also contains the familiar 'Rx' symbol used by doctors to write out prescriptions. Here, it conveys authority. It has a simple yet impressive style that clearly defines the concept of the center.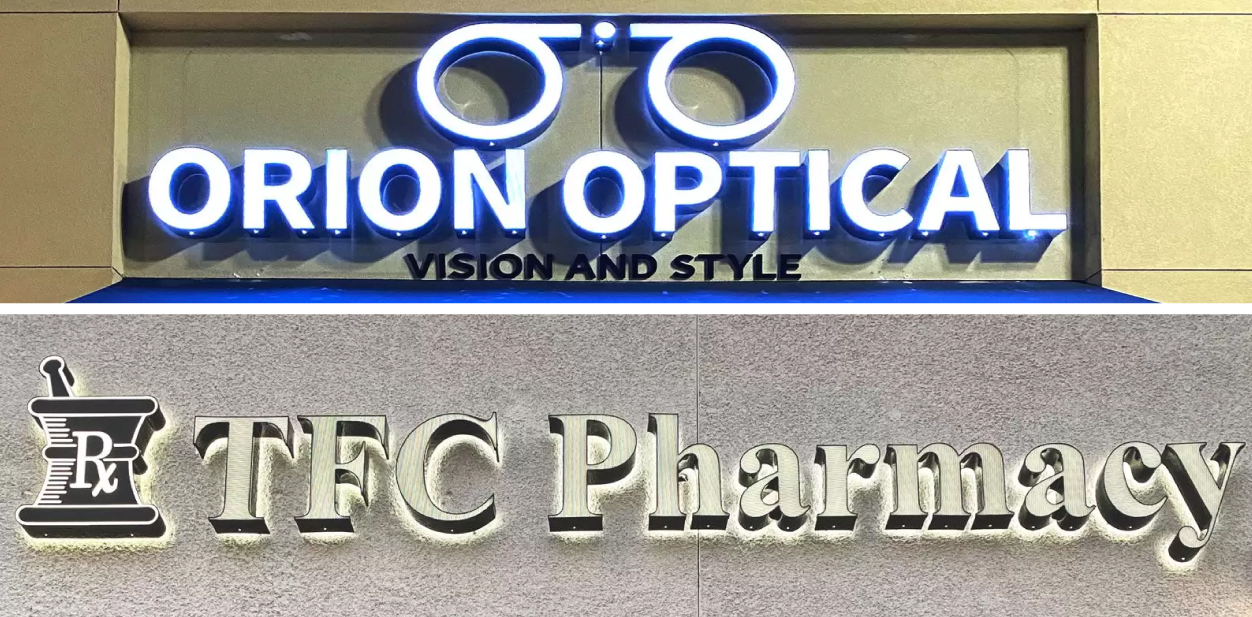 5. Luxury designs for food and beverage stores
The success of food and beverage stores is highly dependent upon their visual design. The store signage ideas for food centers convey functionality and at once adorn facades with appealing imagery. They give a taste of what customers can expect once inside. Creative logo signs pique curiosity and familiarize people with your brand.
Retail signage ideas for beverage stores often encompass big, bold and refreshing shapes. Eye-catching boxes with colorful illumination advertise tasty beverages to increase appetite as well as exposure.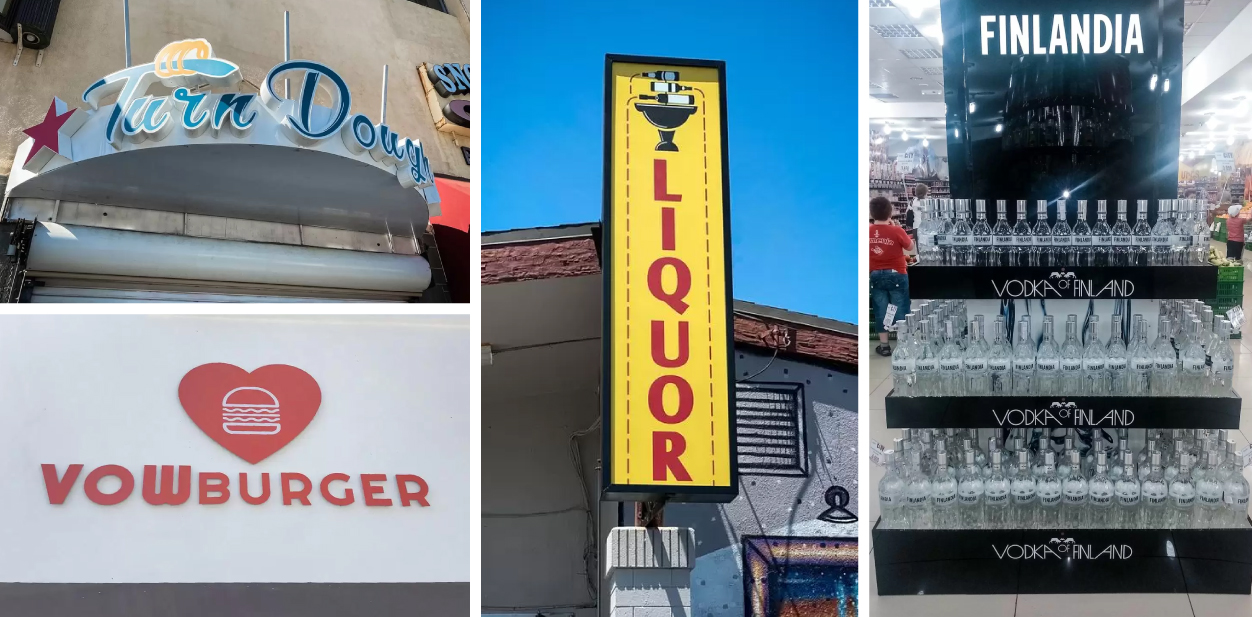 6. Automotive shop design options
Retail signage ideas for car dealerships often represent specific information about the make and models available. Designs include logos, symbols and showstopping illumination. In our examples for Mazda, Suzuki and Hyundai, the displays all have a blue design scheme with their logos. Their scale enhances visibility from afar and clearly defines each brand.
Store signage ideas can also convey useful information about the types of services offered in an auto parts store or at a mechanic. They showcase special items that are sold inside and give notice about the brands, services and products available.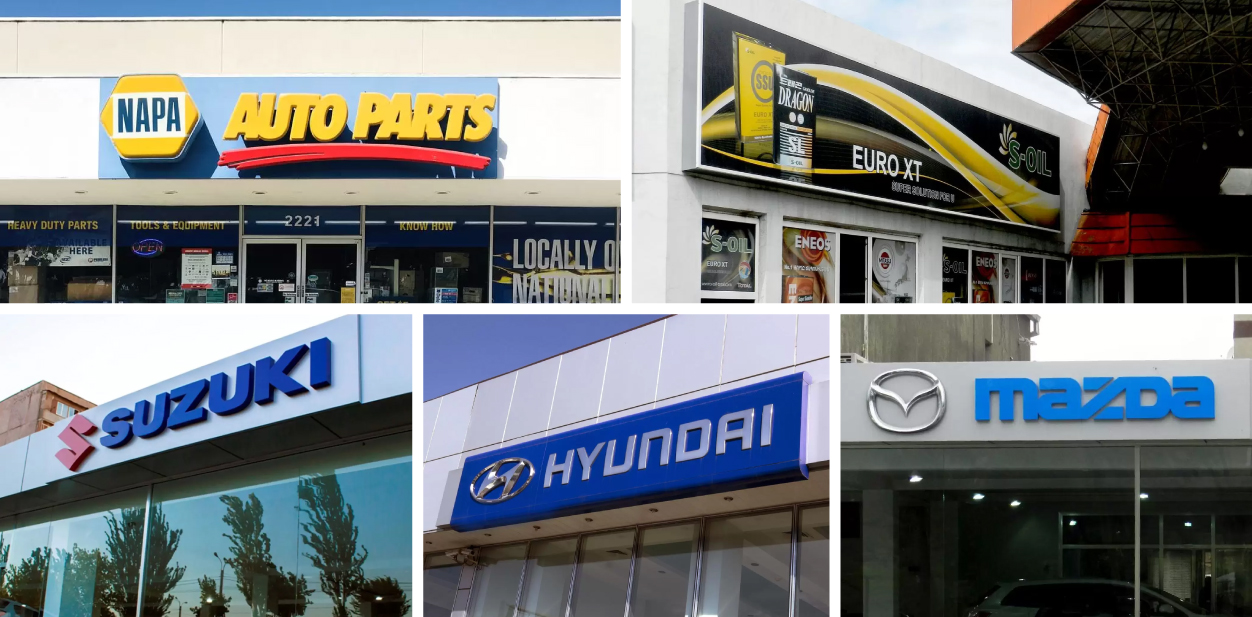 Follow the link if you need more outdoor business sign ideas. 
Store Signage Ideas & Best Practices For Getting Results
Is your company making the most of its store branding? Here are a few essential tips for storefront sign ideas to create a compelling image. 
Define the essence of your message
By polishing your storytelling, you'll create a narrative to influence your store's reputation. A great practice begins when you give your brand a face and a set of ethics. Concentrate on what you'll provide for each consumer that will improve their experience. 
Prioritize readability
Customer attention will initially gravitate to your message rather than your goods. That's why you have to choose clear fonts. If customers can't read your text quickly and easily, they'll go away fast. Small and elaborate scripts are harder to read, making it difficult to understand your message. Clarity is the priority so keep it simple.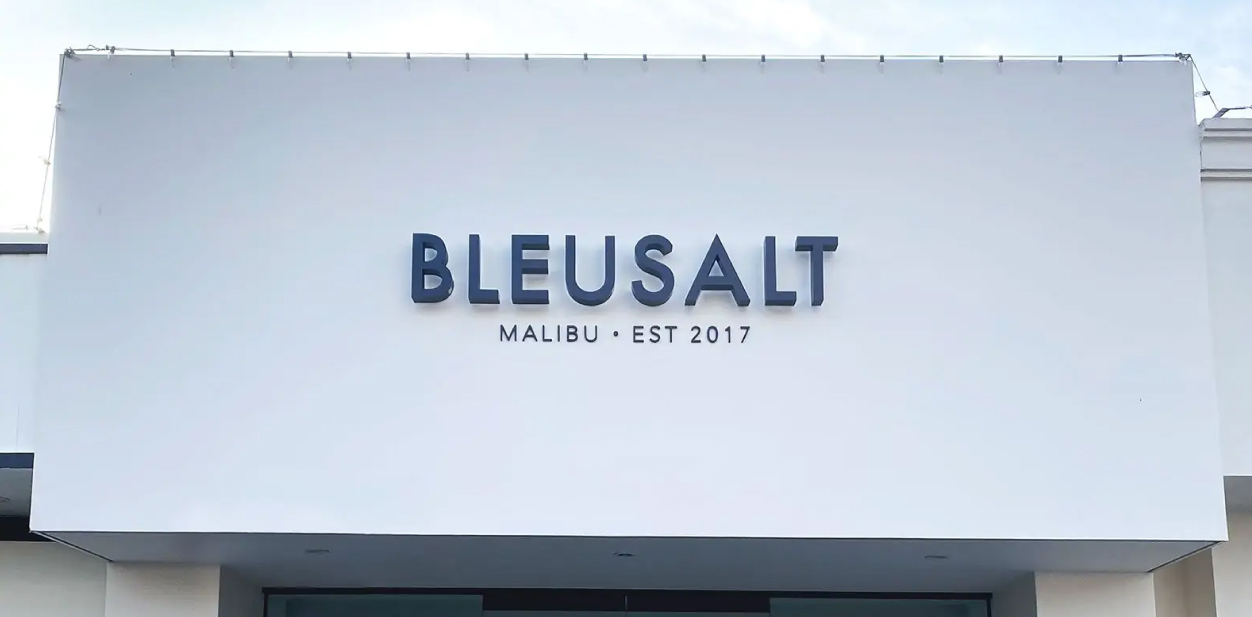 Emphasize color contrasts 
Retail signage ideas with strong color contrasts will make your text and visuals stand out. The greatest place to start would be with primary colors and their various hues. The higher the contrast, the more noticeable the boards will be. For long-distance viewing, a well contrasted design is essential. 
Optimize placement
Displays identifying your brand should be placed in the line of sight for your customers. They should demand attention! Optimizing size and angle are a must. The ideal positions face the greatest foot or car traffic and are high enough to be seen by crowds.
Keep things simple 
People prefer to receive concise communications. Remove the fluff from your design solutions. Make it simple with the essential message coming in short and clear. Customers won't love reading long sentences. A few words or even individual symbols will do best.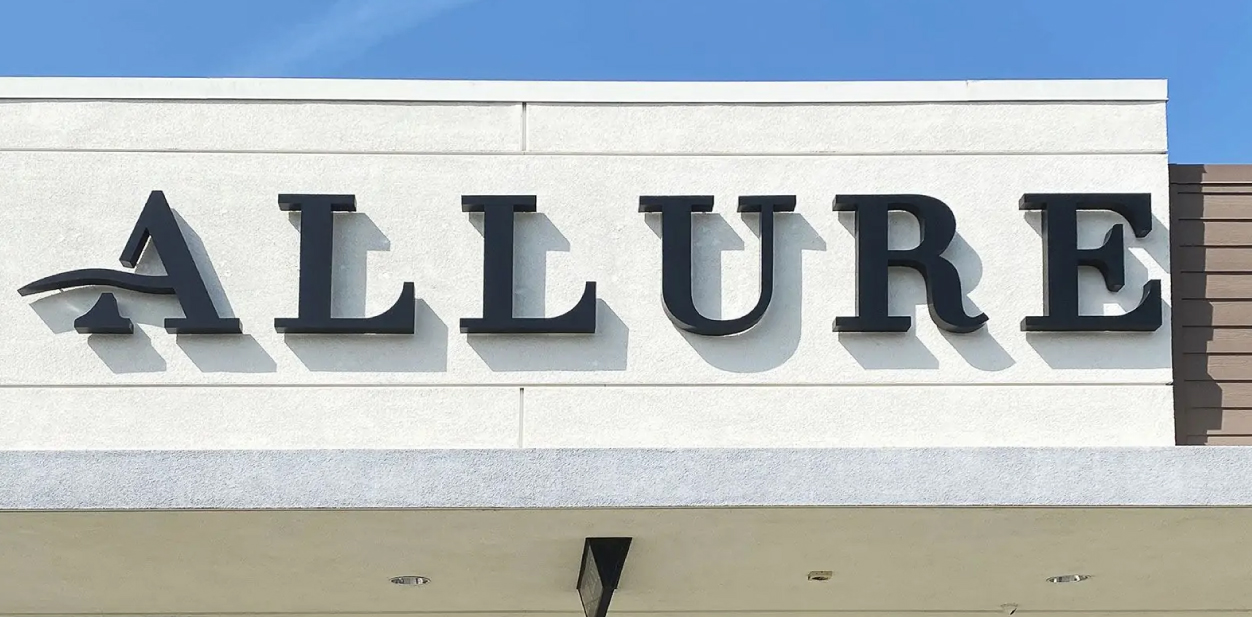 Make it alluring
Your store displays should have designs that provoke curiosity. You can use anything from funny storefront signs to elegant retail signage ideas to invite people to your store. Showcase something unique and attractive that makes you distinct from others. Custom shapes and beautiful colors can help you achieve this goal!
Clever Storefront Sign Phrase Ideas
Here are some popular sayings you can use for your storefront sign ideas.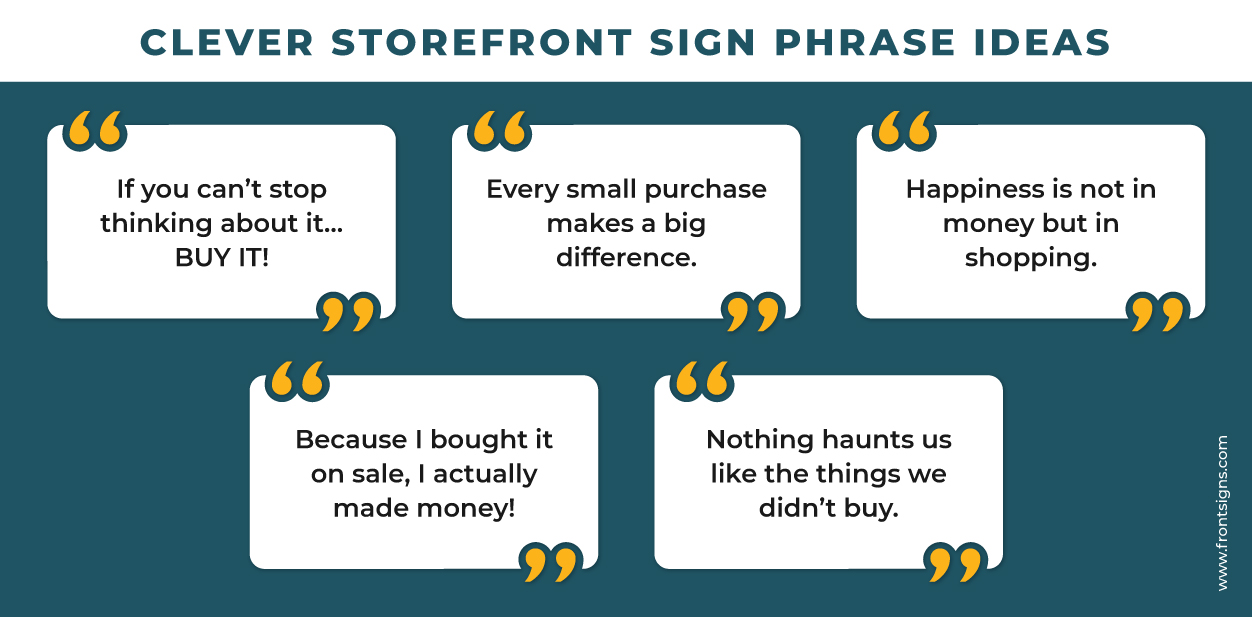 Investing in storefront designs is a worthwhile decision that will pay off in the long run. If you're still undecided about which advertising options are best for your company, contact us for a free consultation!